Kitchen island seating ideas — smart ways to use bar stools and dining chairs
These smart and stylish kitchen island seating ideas will help you make the most of your island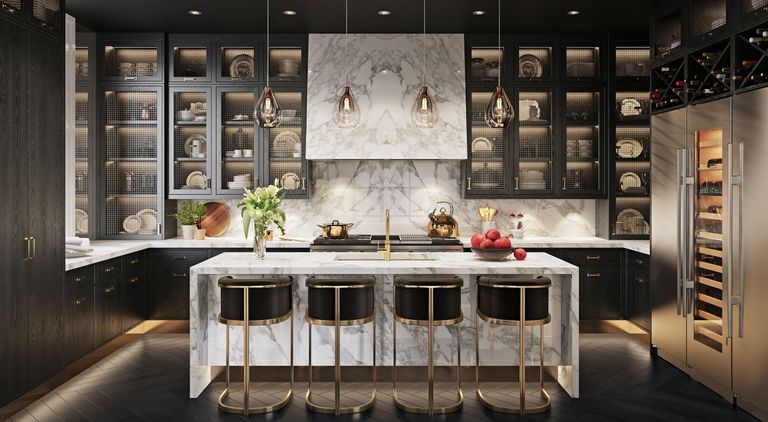 (Image credit: Smallbone)
At the top of many a homeowner's wish list is good kitchen island seating ideas.
Whether it's an all-singing, all-dancing workstation packed with appliances or just a place to sit to eat breakfast, an island that's thoughtfully conceived can be an invaluable centrepiece in a new kitchen.
Early planning on kitchen island ideas is key to a functional and beautiful design. Consider how you would like to use the island and what functions you need it to perform most. If you have plenty of room, perhaps that means attaching a table to include different levels for relaxed dining or doing homework.
Bar stools that allow people to sit at an island will always increase its versatility. Getting the seating right isn't just about finding the right stools to coordinate with your kitchen ideas either. It's also worth considering the size, shape and configuration of the island itself so everything works together.
Kitchen island seating ideas
From fitted kitchen island seating to dining options and simple bar stool arrangements, these are the best ways to take the weight off.
1. Create a lower level for seating
Create levels on an island to accommodate slightly more formal dining that can also double as a home office or homework station. This works well if you're not a fan of bar stools, too.
'When designing a kitchen island with seating, it's important to have an idea of how many people it should accommodate and for how long,' advises Melissa Klink, Head of Design at Harvey Jones.
'If the island provides the only eating area in the room, make sure to leave as much space as possible and invest in seating designed for comfort.'
2. Use a curve to create sociable island seating
The curved profile of this island countertop allows for plenty of seating in the shape of several bar stools.
The soft sweep of the stone overhang provides plenty of space for guests' legs and allows slightly more engagement between people than a simple straight line might.
The traditional style of this bespoke Martin Moore family kitchen design is echoed in the elegant upholstered stools with their patterned backs.
3. Create a seating niche with room for storage space
This long, slim prep island by Mowlem, painted in Farrow & Ball's Railings, features two areas for bar stool seating.
Rather than including an overhang on one side, a niche under the deep countertop has been created to give plenty of room for knees to sit comfortably. While at the end, where there's more room, the countertop continues into a deep overhang to accommodate the stools.
4. Position kitchen island seating to enjoy a view
When faced with a bank of cabinets along one wall, many designers will choose to run an island parallel to it and place any seating at the back, facing into the cooking area.
The designer who created this Naked Kitchens scheme employed a slightly different logic and has sited the island so that any seating faces the view through the window instead.
5. Make space for smart stools
A sleek design calls for a slick, modern kitchen island idea with a smart seating solution. Strictly a peninsula rather than an island, the seating area here has been formed using a table with an open-frame attached to the far end away from the wall.
'There are two key ways to incorporate kitchen island seating ideas. Either discreetly with an overhang, or more dramatically by creating a visually distinctive table area,' explains Richard Atkins, Design Director, DesignSpace London. This can be connected physically by possibly introducing contrasting materials and/or a different level.'
6. Build in a banquette for comfort
This classic yet elegant scheme incorporates banquette seating on one side of an island.
'Integrating bench seating with a kitchen island can be a space-saving solution in the kitchen, as this type of seating takes up far less space than having separate chairs around the table,' says Simon Taylor, managing director, Simon Taylor Furniture.
'If it is configured in an L-shape, you can enjoy informal family gatherings, or use the space to work from home. As a further way to optimise space, we add lift-up hinged tops on to handmade bench seats so that they double up as storage boxes so that clutter can be kept to a minimum.'
7. Add a footrail for comfort and stability
Large islands in bold, block colors can be broken up with the addition of bar stools.
In this kitchen design by Day True, the emerald green island features plenty of kitchen storage and space for guests to perch in the shape of on-trend wicker style seating. The pub bar-style rail around the base of the island helps to give additional foot support.
8. Choose complementary seating options
If there's space, choosing a larger kitchen island size can be the solution to a lot of problems. However, if there's lots of seating, you can end up with a view that's all chair backs and not much else.
Add interest by mixing it up a little with substantial stools with supportive backs to one side, and traditional round bar-style stools at the front where they won't block the view through to the kitchen.
'If you plan your island with a worktop overhang, you'll find it's helpful for tucking bar stools underneath,' says Roundhouse designer Oli Moss.
9. Create a curved design to be space-efficient
The designers at Searle & Taylor have used a variety of levels, shapes and materials to create a bespoke feel to this hardworking kitchen island.
'The shape and style of the island is subject to personal preference, and while a linear rectangular version is always popular, we also like to design islands with curves, or with curved additions to soften the look," says Darren Taylor, managing director at Searle & Taylor.
This cantilevered circular, walnut breakfast bar idea creates the perfect place to sit and chat, away from the prep areas on the rest of the island.
10. Add warmth with wood
This two-level modern island in You Snow Matt finish from Rotpunkt features pale oak additions. This gives its linear form a softer, more Scandi appeal.
The City Nature oak bench table creates another level of kitchen island seating. Elegant round-backed dining chairs sit neatly at the table when not in use. Clever open shelving with timber inlay means everything is to hand for laying the table.
What kitchen island seating is on trend for 2021?
Timber is still very much an option, but in slender styles of very dark walnut or even black, as well as white oak. Bentwood, bistro styles are back in fashion, and so are wicker styles supported by contrasting dark legs of wood or metal. Suede and leather remain popular upholstery options.