Kitchens for entertaining – 11 ideas for a stylish, sociable and practical design
Learn how to design a kitchen for entertaining from the experts, so you can create a beautiful space that is both fun and functional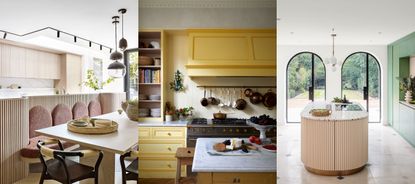 (Image credit: Gunter & Co | Paul Massey | Sheraton Interiors)
Designing kitchens for entertaining is something that first came about when open-plan layouts came into fashion – and there's no doubt that the popularity of kitchen diners will endure.
When designing an 'entertainment kitchen', there are many important elements to get right. This type of kitchen is a space into which we welcome guests, as well as one we enjoy day to day too – for everything from cooking and eating as a family to working from home. So, in other words, this type of kitchen needs to multi-task – so your chosen kitchen ideas need to be clever.
From seating to storage, layout, and lighting, there is much to consider for kitchens for entertaining, so we are on hand with a collection of inspiring ideas and advice from the experts so you can establish the right design for your space.
Kitchens for entertaining
Interior designer, Irene Gunter, of Gunter & Co says, 'nearly all the kitchens we design for our clients are designed with home entertainment in mind.
Considerations include the shape and size of a kitchen island or breakfast bar, what dining space we need to integrate, and how much fridge and freezer space we need to include, as well as ensuring there's enough space for a general family/relaxing area.'
Whether you're looking to update your existing kitchen, or are designing a kitchen in a brand new space, read on to discover what you need to include in your space in order to create the perfect entertainment kitchen.
1. Establish a functional flow
Ensuring that you and your guests can easily move through your kitchen space is key when designing a kitchen for entertaining.
From a seamless indoor-outdoor transition so you can easily get to your garden bar or outdoor kitchen, to establishing a harmonious flow around your kitchen island, thinking carefully about your kitchen layout ideas and where people will sit, stand and how they will move through the room, will help you get the most out of your space.
Shehryar Khan, director, Sheraton Interiors says, 'a rounded island comes into its own when entertaining, especially in kitchens with multiple entrance/exit points, making it easier for guests to socialize and encouraging smooth transition between spaces. A curved island can also include a more expansive seating area, allowing guests to comfortably eat and socialize around the island.'
2. Make a kitchen island central to your design
The kitchen island is often the heart of the kitchen – and for many of us, the heart of the home. It's where we can relax over a coffee, catch up on the weekend newspapers, have a quick natter, scroll through our phones and eat with friends and family.
A kitchen island or breakfast bar will boost your kitchen's social status immeasurably, and encourages your guests to gather around the space, making for an inviting and engaging atmosphere.
Kitchen island seating ideas can also make your guests feel even more relaxed. Select designs for comfort and functionality as well as looks. A high-backed upholstered stool offers similar support to a dining chair – pay attention to height, too.
Irene Gunter says, 'we recommend getting some extra bar stools in for special occasions. Don't forget the added extras make all the difference to your island – a seasonal flower display, some candles or lanterns or even some fairy lights will create the perfect atmosphere to impress your guests.'
3. Think seating
When guests are going to be seated at a dining table or island for a long time, comfort is key.
Upholstered chairs can provide the support that's required for several courses and a coffee, but your kitchen seating ideas should always have the correct ergonomics. You might want to include dining chairs that have arms in the mix, too. Even if your table doesn't have the dimensions to fit these along the sides, they're still worth considering for each end of the table.
For space efficiency, you could also consider built-in seating for the dining table. Banquette seating ideas can create the same balance of support and comfort as an upholstered dining chair and can be positioned along one wall or linked to kitchen cabinetry. Like an upholstered dining chair, it offers the opportunity to bring in color and/or pattern to the scheme and enhance the decorative detail of the room.
4. Zone the space for multiuse
When many of us think of kitchens for entertaining, we picture grand, open-plan kitchens made up of multiple zones, with distinct areas for standing, sitting, cooking and eating.
When hosting friends and family in your home, you want them to feel fully relaxed and at ease in your space, and having multiple zones in your entertainment kitchen can offer people the choice of where they want be.
In this space, by Caz Myers Design, zoned areas have been created for formal dining, relaxed seating, standing, cooking and even studying – a great example of a sociable space that is perfect for family kitchen ideas.
Caz Myers says of the design, 'when seeking to create a family friendly hub, it's great to incorporate a bespoke desk and study area. A quiet but connected space for homework or for everyday home admin. Ensure the desk area ties in seamlessly with the kitchen design by using elements of the same finishes but with a defining twist – here the timber is dominant, for example.'
5. Get the lighting right
Never underestimate the importance of good kitchen lighting ideas for entertaining
– think atmospheric mood lighting, similar to dining room lighting ideas.
'Pendants (or a series of them) looming over the kitchen island and dining areas are a firm winner. Ceiling spotlights will make your whole room perfectly lit and by using different circuits and remote controls, you can adapt for the ambience. If you're including interesting floor lamps, make sure you integrate floor-mounted sockets so there are no cables in sight,' says Irene Gunter.
The right mix of practical and ambient lighting, from spotlights to candles, will ensure that this multipurpose space has been designed for all manner of tasks and occasions.
6. Incorporate clever partitions
A great idea that can work in unison when establishing zones in your kitchen for entertaining, incorporating clever partitions and room divider ideas in the space can help establish cozy corners and a 'room within a room' effect.
Don't be afraid to disrupt sightlines into a kitchen – not every chef enjoys an audience. Opting for an open partition, such as shelving, can be a good way to create a sense of separation in a spacious kitchen-living area.
You can also create more subtle partitions, like in the kitchen shown above, designed by Gunter & Co. Irene Gunter says of the design, 'banquettes are a remarkably efficient way to squeeze more seating into a small area, and here, I was also keen to conceal food preparation mess from diners. The fluted wood cladding wraps around the island and rises above the worktop so that it can't be seen from the dining table.'
The elegant fluted cladding not only makes for a beautiful design feature, but helps to create an inviting nook of seating that feels separate from the main, busy kitchen space.
7. Invest in a quality range cooker
If your parties and gatherings revolve around delicious plates of food, then investing in a quality range cooker can transform the way you cook and host in your kitchen for entertaining.
Richard Moore, design director at Martin Moore says, 'a classic choice, AGAs epitomize warmth, comfort and a sense of togetherness, often forming a natural hub within a home. We love to frame an AGA within a chimney mantel, which helps to secure its status as a statement focal point in the kitchen.'
The constant reassuring heat of a traditional cast-iron range cooker will also naturally draw everybody towards the kitchen.
If you would rather be partying than cooking in your entertainment kitchen, then there are many other ways to use a range cooker – that don't involve cooking.
8. Take acoustics into account
Kitchens are necessarily full of hard surfaces, which will affect the acoustics of the room. Bear in mind, too, that if you're entertaining, you're likely to have music on and lots of people talking.
The remedy? Including soft surfaces and furnishings in the design of your entertainment kitchen. These might be in the form of upholstered chairs and banquettes, window treatments, and even rugs – although these should be positioned away from cooking and preparation areas.
And when you're looking for kitchen flooring ideas, consider a timber floor rather than tile, which is softer underfoot.
9. Keep things neat and tidy
This may sound obvious, but if you're frequently having guests at your home and want your kitchen to act as the main gathering and sociable hub, ensuring the area is organized and clutter-free can not only help make the space look more beautiful, it will make it feel more multi-functional and easy to use.
Magnus Nilsson, lead designer at Blakes London explains, 'making multiuse, hybrid living spaces work well is hugely reliant on practical kitchen storage solutions. We advocate concealing as much of the functional aspects of a space as possible. By hiding mess and unsightly items, such as computers, fridges or a drinks bar, behind complementary full-height doors, a room can be comfortably used for multiple purposes.'
10. Make space for a drinks fridge
Irene Gunter states, 'for a household that entertains regularly, we recommend installing a decent wine fridge. Whilst they can be an investment purchase, serving wines at their optimum temperatures is a sure fire way to add some magic to your home entertaining.'
A wine fridge doesn't have to be in your main kitchen space either, it can also be included in a utility room or walk-in pantry, whatever works best for your space.
Gunter also advices, 'if budget is an issue, we like to install a second fridge within the kitchen island. Where possible, we recommend installing this on the working side of the island so that it's out of the view of guests.'
If you don't have the space for wine fridge, why not explore home bar ideas or bar cart ideas instead, as these can be as big or as small as you like!
11. Ensure kitchen extraction is efficient
Extraction needs to be carefully considered, especially if it's over an island. Make sure that any open plan space has good air circulation – you don't want last night's food aromas to loiter.
A ceiling-mounted extractor can sometimes be quite intrusive, especially if housed within a conservatory-style kitchen. If this is the case, a down-draft extractor set into the surface of the island, or a discreet integrated ceiling-mounted model makes for a good solution.
How do you build a kitchen for entertaining?
To build a kitchen for entertaining, it's vital to focus on the room's layout so that there is enough space for guests to sit comfortably, without getting in the way of the cook. This might mean dividing the cooking and dining zones with a kitchen island or kitchen peninsula ideas, so that the cook can face outwards and still socialize with guests, but with a degree of separation.
Open-plan layouts also make coming together easy. 'A chef never wants to feel disconnected from their family and guests. An open concept living area not only allows for better flow when entertaining, but it also promotes interaction during both social gatherings and everyday activities, like enjoying your morning coffee, preparing lunches, or completing homework,' enthuses Benjamin Johnston, creative director, Benjamin Johnston Design.
Ensuring seating is comfortable so that you can linger in the kitchen is also important.
Lastly, you may want to consider a separate space for dirty dishes and some prep, too – a walk-in pantry with a sink may provide the perfect setting.
Sign up to the Homes & Gardens newsletter
Decor Ideas. Project Inspiration. Expert Advice. Delivered to your inbox.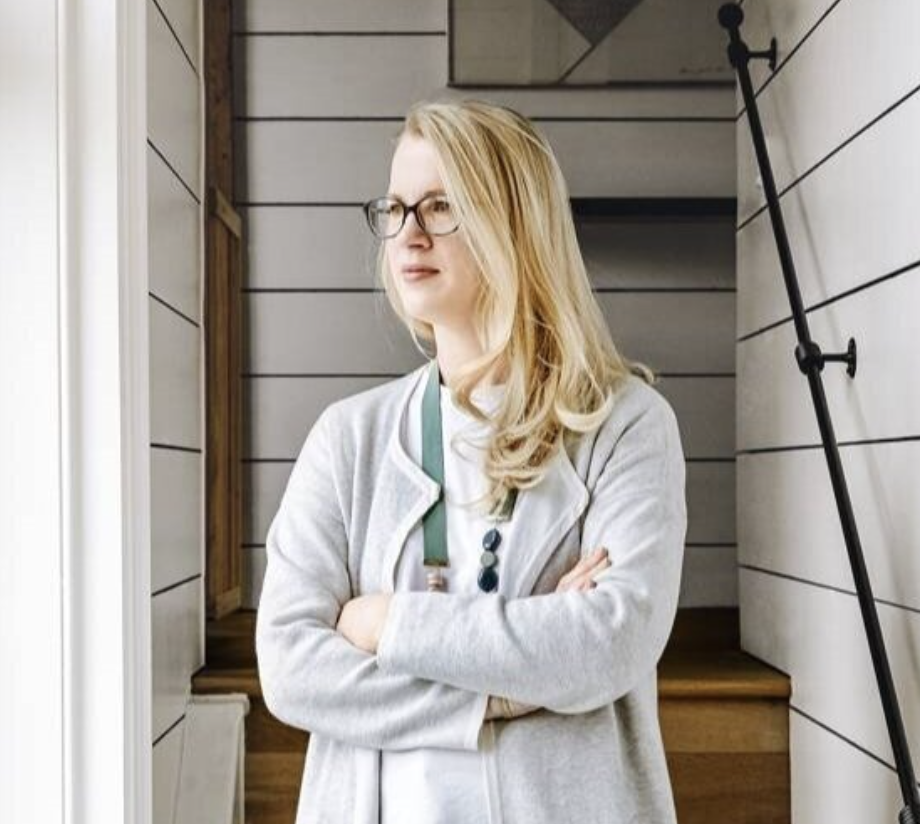 Irene studied Art History before training at the prestigious Inchbald School of Interior Design. As Creative Director of Gunter & Co, Irene oversees the design for every project alongside her team of designers who manage the day-to-day implementation. Inspiration for each project comes from a myriad of sources: from historical architectural details to contemporary building materials or vintage furniture to contemporary sculptures. Irene contributes to Homes & Gardens, writing about interior design and architecture.