How to buy the right couch for a small living room
Choosing the perfect couch for a small living room doesn't have to mean compromising on style – here's how to get it right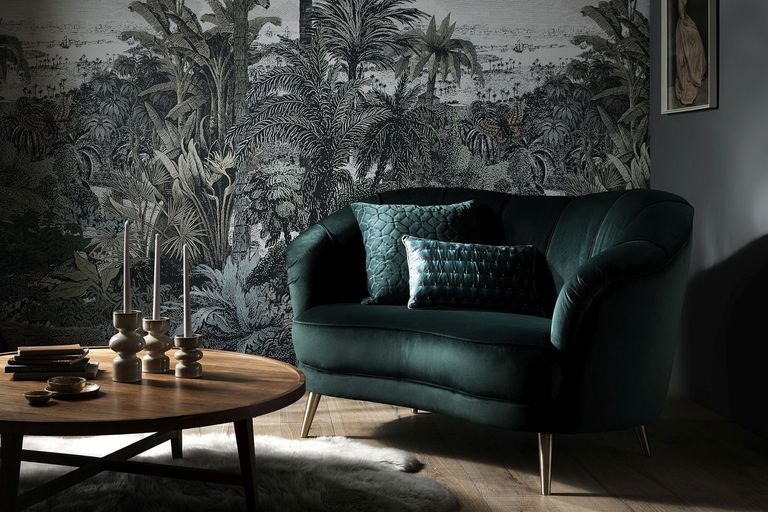 (Image credit: Sofology)
If your living room is on the small side, finding the right couch can feel like a bit of a headache. On the one hand, you want a couch that's big enough to properly relax on, but on the other, you don't want one piece of furniture to overwhelm the whole room. 
Our couches are one of the biggest investments in our living rooms and also the piece of furniture we physically interact with the most, so it's crucial to get your choice right. This handy guide will help you to find the right couch for your small living room, from outlining the most practical styles for compact rooms, to showing you how to measure up.
See: Small living room ideas – for more innovative ways to make the most of your space.
What couch style is best for a small living room?
A couch is a couch, right? Actually there are lots of different styles to choose from, so we've rounded up the best types for smaller rooms. Whichever style you choose, remember that a design with legs, which allows you to see the floor flowing beneath, will help to make your space feel larger.
And if your home is compact, then choosing a multi-purpose couch – such as one that doubles up as a sleeper or has built-in storage – could be the most practical solution. 
'Some sofas might look great online, but realistically it's important to to think about what fits your space,' Kelly Collins, Head of Creative at Swyfthome.com. 'This should be considered both in terms of getting it through the hallway and also in its final destination. For smaller spaces, consider sofas that are off the ground as they let light through and give the illusion of weightlessness.'
Here are the main types of couch available to help you choose the right one for your space:
Sectional couch
Also known as modular couches, these are made up of single-seat-sized units that can be set up in different configurations. An L-shaped couch with a built-in footstool is a great example. We often think of these as big couches but there are compact versions available.
Sleeper couch
A sleeper couch or sofa bed does exactly what it says – it folds out to create either a single or double bed. These are a great option for anyone without a guest bedroom, or those of us who fall asleep mid-movie...
Love seat
These compact couches are designed to seat two people, although you'd want to be close friends or family with the other person as they're pretty snug! They usually accompany a larger sofa but could be a standalone if you have a small living room and live alone.
See: Small living room lighting ideas – enhance a compact space with a well-lit plan
Click-clack couch
The modern sleeper of choice. These armless couches have a single, folded cushion overlaying a simple frame which folds down into a bed. They're not normally the most comfortable of beds, so definitely best for occasional use.
Storage couch
Storage couches have seats or a footstool that lifts up to allow items to be stored beneath, which can be a game changer in a small living room.
How do I choose a couch for my space?
Use these steps to find a couch for a small living room – and bigger rooms, too.
1. Decide who you need to seat
It may sound obvious but first things first – decide how many people you need to seat on your couch. This is normally the number of people in the household, plus one. 
Guests can easily be accommodated on armchairs or dining chairs, so there's no need to buy a bigger couch, or couches, than you need day-to-day.
See: Small living room storage ideas – make a compact space work harder
2. Mark out your ideal couch
Before you start adding that gorgeous velvet chaise to your shopping basket, stop and work out whether it's practical for the space you have. Use masking tape to mark out the best potential location for your new couch on the floor. Is there plenty of circulation space around it? Is it blocking the flow of the room? Does it look too big? 
Play around with the masking tape, perhaps trying two smaller couches, or a larger one and an armchair, to see what works best. If you want to be able to lie down on your sofa, check that you fit within your masking tape template. FYI, a couch that has a seat at least 22in deep will be comfiest for snuggling up on.
When you're happy, measure the shapes you've created on the floor – this gives you the maximum dimensions for your new couch or couches. As a rule, your sofa should be no longer than two thirds of the length of the room. 
3. Don't forget access
If your living room is on the small side, chances are your corridors or entranceway could be, too. Measure the width of any doors and work out whether you'll actually be able to get your chosen couch in. Some couches can be broken down into sections for delivery, so check before you buy.
4. Choose your fabric carefully
As well as looking great, you want your new couch to be practical and durable. If you have pets, a leather sofa probably isn't the best choice as claws can scratch or even rip through it. 
Similarly, if you have kids, make sure you choose a washable fabric that's durable and easy to clean. Always order a few fabric swatches – which are almost always free – and use these to not only get an idea of colour and texture, but also to try marking and cleaning.
5. Think color
Because of the cost involved in buying a couch, it can be tempting to opt for a timeless neutral color that will work however you choose to decorate the room in the future. Paler colors can also help to reflect light and make a small space feel bigger. However, don't be afraid to go for a bolder color sofa in a smaller room. If you combine a dark velvet sofa with dark walls, it can make the room feel cosy and cocooning, rather than emphasizing its size.
How should I arrange my couch in a small room?
In a large living room, interior designers will always advise bringing your couch forward from the walls to create a cozy, inviting feel. But in smaller living rooms, this isn't always practical. 
Instead, try to make sure only one side of your sofa is directly against a wall. Leave a gap of at least 12 inches in every other direction to create the illusion of space. 
And try not to place your sofa directly against a radiator as it can damage the fabric and will block heat.
Finally, don't push side tables directly up against the couch as it will feel cluttered. Circular tables can be a great alternative and stop it feeling like there's too much boxy furniture crammed into one room.