Sofa trends 2021 – stay ahead of the curve with the latest looks for lounging
From fabulous fluting to bold, bright and beautiful, these are the top sofa trends for 2021...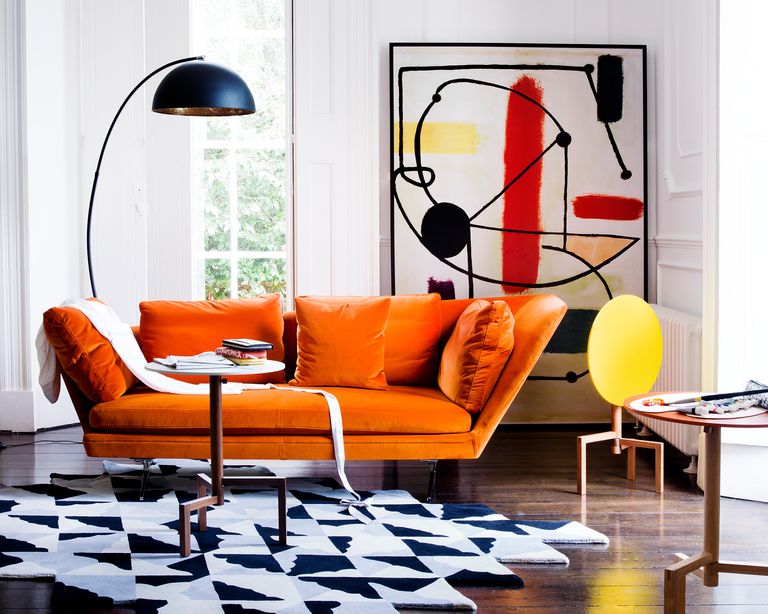 (Image credit: Future / Simon Bevan)
Buying a new couch can sometimes be a difficult task, with so many styles, fabrics and colors to choose from. But, thankfully, the process doesn't need to be a difficult one when you have insider expert knowledge on the biggest sofa trends for 2022 at your fingertips.
The overall feeling is that we are becoming less formal and are looking for hardworking sofas that are sumptuous enough to sink into but still look smart; we're moving away from matching sets and looking to add vibrancy through different shapes, colors, and textures.
Velvet is a strong and popular fabric as we move into 2022, and is now more practical than ever, often featuring easy-clean technology.
The top sofa trends for 2021
We've teamed up with a host of experts from the likes of Parker Knoll (opens in new tab), Habitat (opens in new tab), sofa.com (opens in new tab), Heal's (opens in new tab), and The Sofa & Chair Company (opens in new tab) to bring you the hottest sofa trends for the new year ahead.
1. Go for bold
Claire Wilks, Design Team at sofa.com (opens in new tab), says: 'As we enter a new year, spring 2021 will see homeowners search out warm positive colors and what better way to radiate a welcoming feeling than from your sofa.
Strong yet subdued colors such as our Paprika are warm and inviting. Paired with strong deep hues such as navy it becomes vibrant yet when surrounded by soft greys or off-whites, it is a calming space to retreat to.
'Light, pastel tones always work well in interiors but we're seeing homeowners become more adventurous with color by using brighter shades,' says Charlie Marshall, Loaf (opens in new tab) founder.
'With places like Pinterest and Instagram, there is plenty of good inspiration out there making it easier to get bolder colors right. We've noticed that customers are looking to come away from the grey and neutral shades and instead are opting to inject more color into their homes.'
2. Fabulous fluting
There's a definite focus on Art Deco in the interiors world leading into next year, taking inspiration from its curved lines and detail. 'Fluting emerged as big in sofa trends this season and it is set to continue into next year,' confirms Claire Wilks, design team at sofa.com (opens in new tab). 'Our gorgeously fluted Harper, Ruby and Albie collections are picture perfect sofas which pay homage to delicate fluting design.'
Suzy McMahon, buying director at Sofology (opens in new tab), agrees that fluting will be big in sofa trends for 2021, saying: 'This really is a versatile and liveable trend that lends itself to contemporary and classic schemes alike.
A continuation of a trend that initially re-emerged during 2020, for 2021 we're seeing it evolve into more intricate pleating combined with striking chunky quilting. A clever upholstery technique that creates a whole host of different looks, it's particularly eye-catching in rich velvets, allowing the curves of the flutes to beautifully catch the light.'
She continues: 'Offering a creative twist on the traditional and timeless Chesterfield style, our new Fluted Ivy design is a bestselling example of the trend. Featuring wide panel fluting on the sofa back and more intricate piping on the seat cushions it creates a contemporary, on-trend sofa design with a timeless Art Deco feel.'
3. Super-luxe quilting
Experts at Habitat agree that chunky quilting and sumptuous construction is key in sofa trends for next year. 'The idea of 'cocooning' is quite a central design concept for 2021 upholstery – looking at how to create your own private, relaxed space from which you can escape from the world outside,' says Kate Butler, head of design for Habitat (opens in new tab).
'Our new Emilio sofa embodies this idea with a sumptuous feather-filled duvet quilt topping that covers the sofa arms and back, visually encouraging you to relax and take some time out. This is a sofa that you can completely sink into with its soft squidgy, velvet cushions that still looks beautifully elegant due to its neatly tailored lines.'
4. Raw beauty
Nicola Bissoli, head of interior design at The Sofa & Chair Company (opens in new tab), says: 'Raw materials and unrefined finishes are without a doubt two of the biggest sofa trends we're seeing for 2021. Natural, pared-back designs are combined with heavy textures such as boucle, creating a lovely tactile look and feel.
Jo Butters, creative director at Parker Knoll (opens in new tab), agrees, saying: 'Interestingly we are seeing more customers move away from grey (which had become the new beige) in favour of rich earth tones, such as rust, green and blue.
With a worldwide focus on the conservation of the environment, influences of nature will likely be referenced within all parts of the home far beyond 2021.'
5. Eco cool
'Sustainable living continues to be at the forefront of customer's minds, so maintaining a responsible approach to sourcing is imperative,' says Kris Manalo, senior upholstery buyer at Heal's (opens in new tab).
'Our bestselling Mistral sofa has been revived for the new year to offer the perfect option for eco-conscious shoppers. Upholstered in 100% recycled fabric by Designers Guild, this sofa underlines our ongoing commitment to producing ethical designs which are beautiful, durable and timeless.'
6. Ahead of the curve
'Curved sofa shapes like our Palm sofa can often feel cosier than angular designs, allowing to make the most of the space in any home.
'Sweeping silhouettes and deep seats make curves perfect for stretching out and relaxing with family and friends. The Palm's contemporary modular style also allows you to choose the exact configuration to suit your room and lifestyle.
From entire curved corner units to cosy loveseats that work well for snugs and smaller living spaces, the Palm's flowing aesthetic was designed to mirror the curvature of the ocean shore, pleasing to the eye, and calming for the mind.'
7. Eclectic styling
The experts over at Parker Knoll (opens in new tab) also suggest there's been a move towards more informal and pliable sofa set-ups. 'Three-piece suites are a thing of the past – customers want to be more eclectic about the way they're decorating and furnishing their homes,' says Tom White (design director) and Jo Butters (creative designer) of Parker Knoll. 'Nothing has to match anymore; it doesn't have to be the same color, shape or pattern.
'It lends itself to the constantly evolving role our home now plays. Living rooms need to be versatile, sensory and tactile, so layering mixed plains with a variety of textures is an ideal way to achieve this with more regimented and formal schemes no longer relevant to our living needs. Inject personality into your scheme with an accent chair, such as our Shoreditch or the Fitzrovia, in a bold hue for a diverse look.'
8. Retro opulence
The curved sofa style is also part of a wider trend that looks to the past for inspiration, and then adds to it. 'An evolution of the Art Deco influence that has been a huge trend for the last few years, Retro Opulence is bolder and more glamorous,' says The Sofa & Chair Company (opens in new tab)'s Nicola Bissoli.
'The sofa trends we are seeing feature rounded curves and geometric patterns, as well as 1920s-inspired occasional chairs with scalloped shell-like backs create striking centrepieces for any living room, especially in rich tones of emerald green, royal blue or deep burgundy.'
9. Velvet crush
'Rich, plush velvets are certainly here to stay,' says Jo Butters from Parker Knoll. 'Homeowners are becoming braver with color and texture. Our matte velvets in solid colors, such as Bracklyn Teal (below), tend to be most popular, however this is being quickly followed by the more classic textured velvet finish that offers a look that's full of character and charm (above).
The dominant trend for vintage and upcycling means that for 2021, we'll likely see more of these distressed finished fabrics making a resurgence.'
Kate Butler, Head of Design for Habitat (opens in new tab), agrees the fabric's popularity is soaring - and is now more practical than ever. 'Velvet has become our biggest selling upholstery fabric at Habitat for 2020, and for 2021 we've introduced a brand new collection of colors and velvet constructions that will suit a larger variety of lifestyles.
One of our most exciting is a new Velvet AquaClean fabric (any stains can be removed just with water) meaning that velvet sofas are now on the agenda for a lot of families who wanted the luxe velvet look but were too scared to go for it before. In terms of key colors for 2021 – we're already seeing a strong demand in the last few weeks for colors such as dark moss green, ink blue and blush pink and expect these to become more popular into next year. '
See more: Paint trends 2021 – the colors you need for the ultimate wonder walls
Ruth Doherty is an experienced digital writer and editor specializing in interiors, travel and lifestyle. With 20 years of writing for national sites under her belt, she's worked for the likes of Livingetc.com, Standard, Ideal Home, Stylist and Marie Claire as well as Homes & Gardens.