The top sofa trends of 2023 – yes, this staple really can be reinvented
Think there's no way to reinvent the sofa? These are the latest couch trends for 2023, and there's plenty that's brand new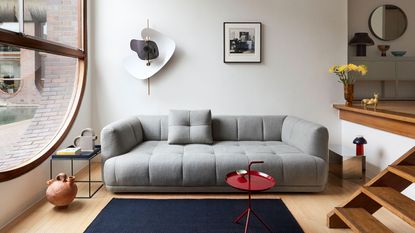 (Image credit: HAY)
What's fascinating about reviewing sofa trends every single year is just how inventive furniture designers are at coming up with a new take on a staple. This year, as every year, we have consulted trend and design experts, and spotted new looks, shapes, finishes and materials for couches ourselves from as far and wide as High Point Market in North Carolina to Chelsea Harbour in London.
From beautiful kidney bean-shaped designs to inventive detailing, these are the sofa trends that are going to dominate interior design trends for the year ahead. The overall feeling is that living spaces are ever more informal and so sofas, while sumptuous enough to sink into, still look smart. Designers are moving away from matching sets and looking to add vibrancy through different shapes, colors, and textures, too.
So, if you are in the market for one of the best couches, our pick of the top sofa trends of 2023 might just help with your decision process.
10 sofa trends to look out for in 2023
A sofa is one of the most important pieces of furniture that you will purchase for your home. As the central seat space that should be comfortable and supportive to sit in, crafted from durable, long-lasting materials, and ultimately look beautiful and embody your sense of style, this is a purchase that needs much thought and consideration.
We know that sofa trends can come and go, but these designs are what we think will start to appear in stores, and your living room.
1. Soft and sculptural shapes
Fluid, sculptural sofa designs featuring elegant curves have been popular sofa trends throughout 2022, and are still set to dominate in 2023. Helping to create a more relaxing and calming atmosphere, these softer silhouettes come in all shapes and sizes, from grand three-seaters to compact and cozy loveseats, and create a cozy, cocoon of comfort.
Suzy McMahon, buying director at Sofology says that 'curved sofa shapes can often feel cozier than angular designs. Sweeping silhouettes and deep seats make curves perfect for stretching out and relaxing with friends and family'.
2. Be bold and bright
'A sofa is a great place to really make an impact with a colorful, bold and bright design. Often the main focal point in a room, you can use your living room sofa ideas to celebrate a favorite color or pattern, or to create a stylish contrast with the color palette used in the rest of the room,' says Sarah Spiteri, Global Brand Director for Homes & Gardens.
A play on the gossip chair, the magnificent Easy Sofa from Verpan, shown above, may not be for everyone, but it represents just how adventurous and dynamic sofa design can be, and how this humble piece of furniture can really transform the look of your space.
The Easy Sofa's distinctive, layered structure and striking round shape, encourages a closeness and separation simultaneously, and marks an exciting – and truly unique of a design.
3. A quilted look
Establishing a neat, tailored look, a quilted sofa definitely has a classic, retro feel, and trend forecasters TrendBible say that there will be a rise in more 'modern quilting' for 2023 sofa design.
Shown above is the aptly named 'Quilton Sofa', designed for popular Danish furniture brand HAY by Jonathan Levien and Nipa Doshi. Described as a 'quilted landscape sofa system', the design has a relaxed, spacious and contemporary feel, with the quilted detail adding a sophisticated touch and a nod to styles and upholstery techniques of the past.
4. Cozy comfort is key
For many of us, the key things we look for when purchasing a new sofa is how comfortable and cozy the design is.
Of course, these factors are not so much sofa trends, more crucial requirements, however, the year of 2023 will see sofas that exaggerate these important features, with big, oversized designs with deep, plump cushions taking center stage.
Martin Waller, Founder of Andrew Martin says that 'a mix of both oversized sofas and chairs is key to making sure everyone gets a seat. Extra depth means these remain relaxing even with lots of people and an array of cushions are essential for both comfort and providing additional seating when necessary.'
5. Bouclé is still going strong
An enduring trend, we can't get enough of using beautiful bouclé in our homes, especially for our soft furnishings.
Extending the theme and importance of cozy comfort, the tactile, tufted texture of bouclé make it a wonderfully comforting material to use for upholstery, beautifully shown on the Ferm Living Catena Sofa above.
The experts at TrendBible say that 'bouclé is here for the long haul, and mixing it with natural woods or coated metals takes the material in various style directions, making it a versatile yet warming and comfortable choice.'
6. A mix of materials
This year, we attended High Point Furniture Fair in North Carolina, a huge event that showcases the latest in home furnishings styles, trends, and products.
One of the main things we took away for sofa trends for 2023 were designs that showcased a mix of materials, colors and patterns.
Homes & Gardens' global editor in chief, Lucy Searle, who attended the event, says, 'I saw lots of beautiful couches with exposed frames, from warming wood to sleek metal; this use of materials not only created a striking contrast, but allows for a real appreciation of the craftsmanship involved in creating the design.'
Explore our round-up of the High Point Market 2022 highlights – and the trends emerging for 2023.
7. Eco-conscious, sustainable design
Throughout interior industries and beyond, eco-conscious design is at the forefront; helping to establish an important new era that champions sustainable and enduring product design.
As consumers, we are asking more and more questions about how products are made, and whether they are environmentally friendly – especially when we are investing in new products for the home such as sofas.
'Sustainable living continues to be at the forefront of customer's minds, so maintaining a responsible approach to sourcing is imperative,' says Kris Manalo, senior upholstery buyer at Heal's.
From recyclable materials and greener manufacturing processes, to adaptable modular modules and parts that can easily be fixed and replaced, there is definitely a demand for brands to be more honest and open about their production and to produce enduring designs that meet sustainable requirements.
8. Colors of nature
Calming greens, deep blues and warming neutrals, all colors of nature, can help to created a more restful and grounding atmosphere when used in interior design.
If bolds and brights are not your thing, then do not worry, this sofa trend can cater for those who prefer a more neutral, subtle look.
'A strong color for 2022, and one that shows no sign of diminishing in popularity in 2023 is green. Natural interpretations of this typically restful hue are perfect for sofas, helping to create an uplifting mood. Particular favorites for 2023 are likely to be those that reflect natural tones, such as an olive or sage green, perhaps set again a natural background tone, we would also recommend deeper shades, such as a rich forest, fern or juniper,' says Suzi Rae, marketing manager at Sofas & Stuff.
9. A designer look with modern functionality
Another trend we took away from visiting High Point Furniture Fair was statement sofas that looked beautiful and luxurious, but still prioritized comfortable, reclining comfort and support.
It is fair to say, reclining sofas are often not the most stylish, and we couldn't be more on board with furniture brands and designers uniting exquisite, modern design with more practical and ergonomic needs.
We shouldn't have to choose between a sofa that looks good and one that is the most comfortable, these two features should always work together as one.
10. Adaptable, modular designs
2023 will see the rise of sofas intended to grow with spaces for years and years to come, embodying a flexibility which allows for designs to be modified over time and adapt to changing spaces and requirements.
Snug Sofa's head of product, Dani Burroughs, says that 'with trends changing from open plan to broken plan and back again, we need the flexibility to switch up our spaces whenever we feel like it. Rather than having to look for new furniture, a modular sofa will give you all the freedom you need.
Choosing modular means you'll never have to worry about your sofa being left or right aligned. Or, if you fancy a makeover, simply swap out the sofa arms for a designer-inspired side table. Better yet, transform a 3 seater to a 4 seater or even add a sofa bed to an existing sofa in a moment's notice with an easy slotting system.'
What sofa colors are in for 2023?
From 'new neutrals' to warming, bright color palettes, there are many sofa colors to look out for in 2023 sofa trends – as well as what couch colors to avoid.
It seems we are stepping away from neutrals such as gray and beige, and making way for a new era of neutrals with roots in the natural world, from deep sea blue to moss green.
Dani Burroughs from Snug says, 'we are definitely seeing a rise in blues – a deep blue with a grey undertone is the new hottest hue in town. Matching up with dark and dramatic or a calming and chic vibe, what's not to love?'
Contrastingly, we are taking more risk when it comes to using color in our homes, with many of us using furniture pieces such as sofas to make a real statement with color.
Charlie Marshall, founder of Loaf supports this and says, 'light, pastel tones always work well in interiors but we're seeing homeowners become more adventurous with color by using brighter shades. We've noticed that customers are looking to come away from the grey and neutral shades and instead are opting to inject more color into their homes.'
Sign up to the Homes & Gardens newsletter
Decor Ideas. Project Inspiration. Expert Advice. Delivered to your inbox.
Ruth Doherty is an experienced digital writer and editor specializing in interiors, travel and lifestyle. With 20 years of writing for national sites under her belt, she's worked for the likes of Livingetc.com, Standard, Ideal Home, Stylist and Marie Claire as well as Homes & Gardens.