Living room chandelier ideas – 15 beautiful centerpiece designs
Fall for living room chandelier ideas with traditional style or contemporary credentials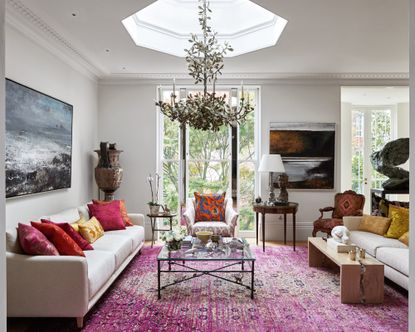 (Image credit: David Lovatti)
Sign up to the Homes & Gardens newsletter
Decor Ideas. Project Inspiration. Expert Advice. Delivered to your inbox.
Thank you for signing up to Homes & Gardens. You will receive a verification email shortly.
There was a problem. Please refresh the page and try again.
Living room chandelier ideas make for an eye-catching choice. And while traditional cut crystal might come immediately to mind, there's a world of choice from the classic to the modern when adding this centerpiece to a lighting scheme.
Essentially a branched light suspended from the ceiling, a chandelier can take many forms and use different material combinations, sizes and shapes, making it possible to complement any living room ideas with one of these ceiling lights.
Our collection includes chandeliers for rooms of all sizes and styles and we've asked interior designers to talk about their selections, too.
Living room chandelier ideas
Be inspired to include a chandelier in your living room lighting ideas. Our favorite living room chandelier ideas feature those with classic elegance, fabulous sparkle, striking modern lines and more.
1. Reflect the architecture of the room
When investing in a chandelier it's important to consider how the proportions and shape will sit within your living room. In this recent project by Maddux Creative, the large curvaceous bay windows are mirrored perfectly in the circular light, but this happened serendipitously.
'The client had bought the pair of antique Vilhelm Lauritzen chandeliers at an auction with the intention of having them in the basement of her home,' Scott Maddux explains. 'Given they were quite refined and delicate, we convinced her that they would be better placed in this more elevated and formal room. The glass tinkles as you walk through the space.'
2. Choose a deep color
Create an opulent yet modern living room with walls painted in a rich color teamed with velvet upholstery. As for living room chandelier ideas for a space like this, an antique ornate crystal drop chandelier will take center stage against the block color creating an impact without looking too fusty. The statement chandelier and original architectural features are a nod to the traditional while the dark toned color palette is deliciously contemporary.
3. Size down in an informal room
If you're looking for small living room lighting ideas, don't rule out a chandelier. Small chandeliers with glass shades are ideal for these as well as more informal living spaces.
This example was sourced from a vintage market by Howark Design for a house in the Greek islands. Creative director James Arkoulis says, 'We wanted to create a contemporary yet traditional family home which had a wonderful seafront location. The beautiful original floor tiles were the starting point for the design, and we built on this with the vintage chandelier, local Greek fabrics and ceramics which added color, texture, and pattern, while warm tones can be found in the dark wood of the vintage furniture. This felt authentic against the traditional whitewashed walls.'
4. Position a chandelier somewhere unexpected
When planning living room lighting, consider positioning a chandelier in a corner of your living room to create a reading nook rather than hanging it from the center of the room. One of our favorite ways to make a home look expensive, this quirky unexpected touch will bring light to a dark corner and create a talking point.
5. Consider colored glass
Fall in love with Murano glass as interior designer Martin Brudnizkii has. 'Murano glass chandeliers create a beautiful, diffused light which helps create a warm and welcoming atmosphere,' he says.
'I am not usually a fan of over-head lighting, but I always make an exception for Murano chandeliers. I loved the colour of this one and thought the elegance of the shape would tie in perfectly with my eclectic living room.'
When budgeting, don't forget to include the cost to install new lighting along with the price of the light fixture itself.
6. Be bold
Chandeliers are never going to be quiet and reserved, so why not go as bold as you dare? 'Statement chandeliers are the jewellery of an interior,' says Owen Pacey, Founder of Renaissance London. 'A great way to level up your living room is with a grand, statement chandelier, whether that's an ornate, rococo-style, gilt piece or a contemporary sputnik globe.'
Living room wall lighting ideas can also make a statement, but a chandelier makes such a decision utterly unmissable. This magnificent chandelier filled with natural motifs is an excellent contender to the room's other bold design features, from the octagonal skylight to the pink rug, all tempered by crisp white walls.
7. Keep it in proportion
Chandeliers aren't just for grand rooms, but what are the rules when it comes to the proportions of living room chandelier ideas?
'You can use a chandelier in any space no matter how big or small,' says Pacey. 'It's all about the design and size of the chandelier that you choose. Keep chandelier designs in proportion to the area.' In this small living room, an ornate crystal empire chandelier has been scaled down to suit the room, lending the space elegance without being overbearing.
8. Choose a timeless design
'Opt for something timeless,' suggests Matthew Currington, technical director at The Lighting Superstore. 'Go all out with an eye-catching, classic chandelier to create a focal point for the hallway, above a staircase or in your living room.'
An enduring favourite among living room chandelier ideas is the candle chandelier. It's a classic silhouette that can be interpreted in all manner of styles, but always adds a sense of elegance to the room. In this space, a beautiful example with crystal pendants makes an unexpectedly seamless pairing with the room's contemporary decor.
9. Keep it classic with crystal
One of the expert tips for lighting a living room is to consider how light will travel from your fitting to the rest of the room. Crystal has long been a favorite material for chandeliers for its ability to bounce light around any given space.
'Bring a refined touch to the living room with a crystal chandelier taking centre stage,' says Natalie Mann, new product development co-ordinator for Iconic Lights. 'The elaborate, intricate, and thoughtful design adds a touch of glamour and luxury to the space and creates an instant wow factor. Often associated with the Gatsby era, the timeless design features an assortment of crystals that distribute the light in a mesmerizing fashion, creating a soft and ambient glow.'
10. Get modern with a Sputnik chandelier
The chandelier has hundreds of years of history, and has continued evolving all throughout this time. The Sputnik chandelier – named for the famed satellite – is its mid-century modern incarnation, and one of the current living room lighting trends. Embrace asymmetry and dynamism with this one for a faintly space age look – in this room, the chandelier is paired with golden neon for a truly exciting lighting scheme.
11. Reimagine crystal's glow
Crystal is a chandelier stalwart because of its ability to refract light around the room – but in a modern scheme, why not think about using reflective surfaces for a similar effect? This living room features Cameron Design House's Torsa chandelier, which consists of light panels backed with highly reflective, mirror-shine copper, which also helps light travel around the room.
'The Torsa is the first piece in our collection which incorporates mirrored glass within the design,' says creative director Ian Cameron. 'The use of this dynamic reflective material really adds another dimension to the piece and evolves our collection of sculptural chandeliers even further.'
12. Choose a chandelier that doubles as a work of art
When thinking about how to design a living room, positioning art on your walls is always high up the priority list – but what about dangling it from your ceiling instead. Choosing a unique, design-forward chandelier design can see your light fitting double as a piece of sculpture. In this art-filled home in Pimlico, Yellow London fitted the living room with this stunning, bespoke chandelier, for which each drop was hand blown by a glass blower in Devon, England.
13. Get a soft glow with a globe chandelier
Soft lighting is an essential part of bringing together cozy living room ideas, and it's something that's perfectly possible to achieve with a chandelier, too. Globe chandeliers which channel light through translucent orbs – like the ones in this example – are great for creating a warm, diffused glow for your living room. Choose an architectural arrangement like this one to keep it feeling fresh and modern.
14. Give crystal a modern twist
Crystal's credentials as a functionally sound material for chandeliers have never waned, but you might want to see it in a more modern light in your home. The elegance of crystal is being constantly reimagined into new forms by designers, meaning you can find it in more contemporary silhouettes, like this flushmount-style chandelier, made up of hollow glass tubes. Its simple undulating form adds texture to the neutral living room ideas.
15. Shimmer with a shell chandelier
It's true that living room chandelier ideas can feature all sorts of materials, but the best are those which interact with the light itself. Shell materials like mother of pearl are a wonderful addition, causing a shimmering sensation when in contact with the bulb's glow. While natural materials like this are always great bohemian living room ideas, they can also be used to add a breezy but elegant touch to more formal settings, like with this delicate pastel blue example in a living room.
Can you put a chandelier in the living room?
You can put a chandelier in any room of the home which you want to feel elegant and a little bit special. As a result, they tend to be better suited for formal living rooms, as they inevitably communicate a feeling of grandeur, whether simple or traditionally ornate, but there are also chandelier designs that suit more informal spaces. They also make a wonderful talking point for guests, so it's important to have them in a room where they will be suitably admired and adored.
OKA's co-founder, Sue Jones, believes 'Lighting is one of the most important elements to consider when decorating a room. It's not simply a matter of function – a beautiful design will add interest and depth to your space, even when it's switched off. In a living room, hanging a statement ceiling light, such as a chandelier, directly above your coffee table will immediately draw the eye when people enter.'
How do I choose a chandelier for my living room?
The first thing you'll need to think about is size. Oversized chandeliers can work well and, as director of Original BTC Charlie Bowles points out, 'Playing with scale is a great way to create interest. Grand chandeliers are great for making a statement and creating an impactful silhouette.'
If you want to stay a little safer, however, keep your chandelier in proportion to your living room and save the more large scale examples for rooms that are either expansive or with high ceilings.
When it comes to the style, think about whether you want to run with your home's period, or create a contrast. A Sputnik chandelier can put a contemporary stamp on a period home, while still acknowledging the house's history. Alternatively, for a more bohemian look, focus on chandeliers that incorporate natural materials.
Sign up to the Homes & Gardens newsletter
Decor Ideas. Project Inspiration. Expert Advice. Delivered to your inbox.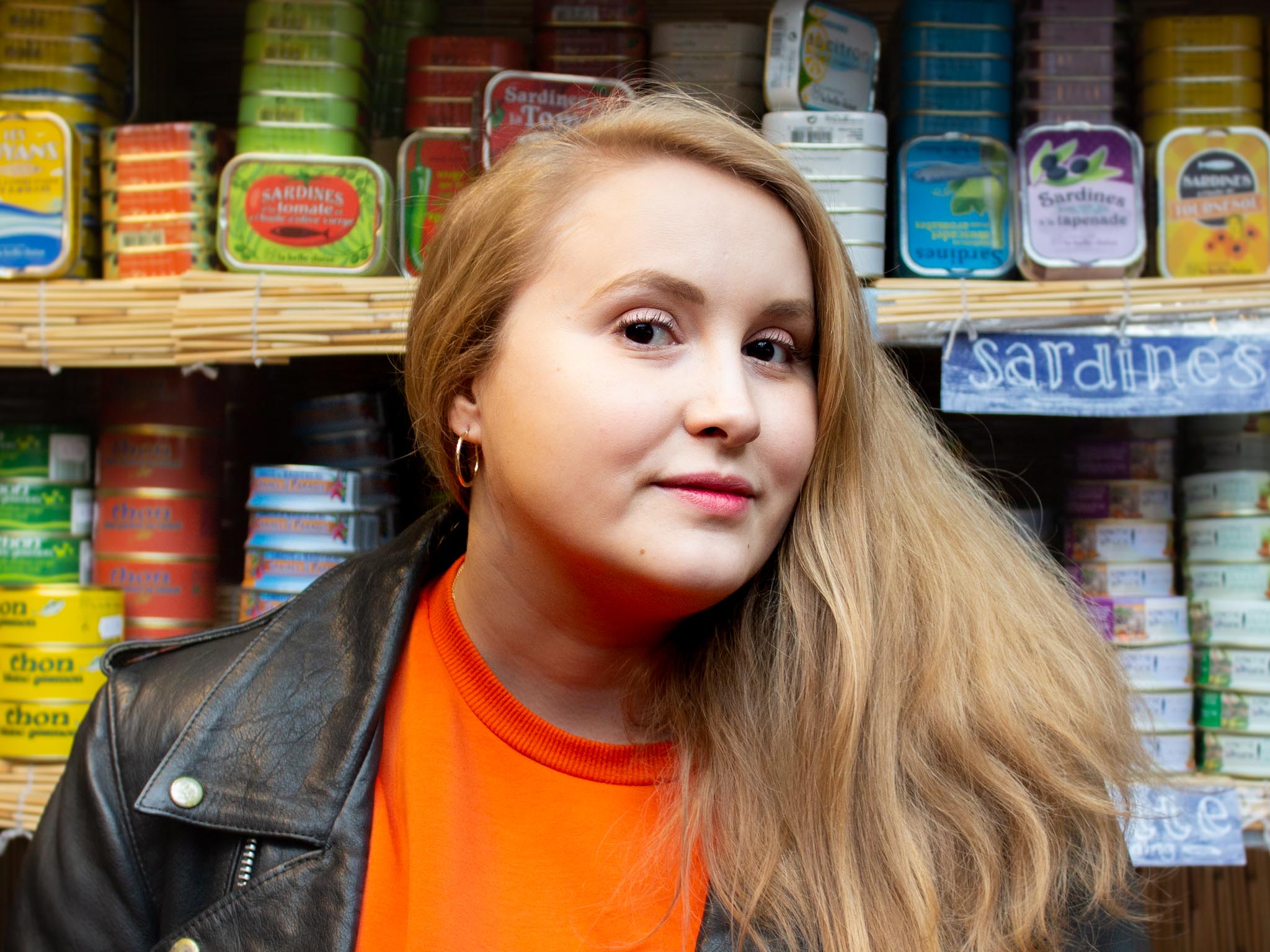 Ailis started out at British GQ, where a month of work experience turned into 18 months of working on all sorts of projects, writing about everything from motorsport to interiors, and helping to put together the GQ Food & Drink Awards. She then spent three years at the London Evening Standard, covering restaurants and bars. After a period of freelancing, writing about food, drink and homes for publications including Conde Nast Traveller, Luxury London and Departures, she started at Homes & Gardens as a Digital Writer, allowing her to fully indulge her love of good interior design. She is now a fully fledged food PR but still writes for Homes & Gardens as a contributing editor.