Best Black Friday home deals: holiday sales for upgrading, decorating and gifting
In the mood to shop? Our master list of the best Black Friday home deals has the freshest savings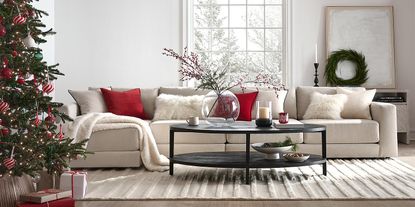 (Image credit: Crate & Barrel)
This year's Black Friday home deals are unlike any I've ever seen, and that's a great thing for consumers. Instead of the stress of the best Black Friday home deals being smushed into a single weekend, I've found that Black Friday 2022 has seen amazing deals dropping throughout November. We're in the swing of it now, with the very best savings happening at this very moment.
Whether you're shopping for a loved one and looking for the perfect holiday gift, or simply hoping to make a stunning statement in your kitchen, bedroom, bathroom (or all of the above) these are the very best Black Friday home deals around for 2022.
We've been diligently tracking everything from the latest mattress deals to where you can find a vacuum on major sale. We'll be updating this list continuously as more and more brands start sharing their best deals of the year, so you can shop early and save big.
Best Black Friday Home sales
---
Best Black Friday home deals
The Best Home sales: A-Z
From décor to kitchen accessories, we've scored the internet to find the very best home deals across the market, so you can see what you can save at your favorite retailer.
What is Black Friday?
A tradition in the United States since the 1950s, Black Friday and Cyber Monday are – quite simply – the biggest sales weekend of the year, starting the day after Thanksgiving. It officially starts the holiday shopping sales and the countdown to Christmas. You can shop everything from appliances to decor to furniture, and there's plenty of savings on home tech like TVs and smart speakers. This year, Black Friday falls on Friday, Nov. 25th, but deals are starting earlier than ever, so you don't have to wait until Black Friday to start saving.
What is Cyber Monday?
Cyber Monday falls directly after Black Friday and is the conclusion of the full-four-day shopping event, with many online-only deals. This year, Cyber Monday falls on Monday, Nov. 28th.
What is on sale for Black Friday?
Black Friday is your chance to save money on almost every product on the market. Both large retailers and small businesses participate, and offer everything from sitewide discounts to promotions on items that rarely go on sale. Check out sale and clearance sections too; sometimes you'll find an extra discount on items already marked down. There's no a better time to buy big-ticket purchases like mattresses, furniture, and pricey kitchen appliances, because you can save hundreds of dollars. It's also the perfect as get your holiday gifting underway and save a little money before the holidays.
Why is it called Black Friday?
While most of us see Black Friday as a good thing, the origins of its name have more negative connotations.
The term 'Black Friday' was first used way back in 1869 when American investors Jay Gould and James Fisk, and financier Abel Corbin, conspired to drive up the price of gold for their own gain. As a result, the US Stock Market lost 20% of its value, and the moniker 'Black Friday' was born.
From then on, the prefix 'Black' is associated with financial crisis, such as Black Tuesday (October 29, 1929) marking the start of the Great Depression.
This terminology then became a joke amongst the Philadelphia Police Department in the 1950s. Overrun by crowds and traffic heading to the city to snag a bargain, the PPD dubbed the phenomenon Black Friday, and the name stuck.
Is Black Friday the best day to shop?
It depends! That's one of the reasons we give it so much coverage. Sure, you'll receive markdowns on everything from furniture to toys, but it's followed by Cyber Monday, which is also a great day to score big too.
While this weekend is better sales-wise compared to others, some might argue that the post-Christmas sales are even better, and in some regard, they are. It's a case-by-case scenario.
Are Black Friday deals worth it?
In recent years, we've spotted everything from mattresses to furniture, and yes, even coffee machines marked down nearly half price.
That says, it (literally) pays be wary. A lot of the products sold on Black Friday are simply retailers clearing out old stock. Buying into older technology clearly has its setbacks in terms of compatibility down the line. But if you don't pride yourself as an early adopter or, for example, are looking for a second or third TV for a kitchen or bedroom, there's no harm in going for a slightly earlier-generation model.
A greater danger is that some retailers trick consumers by increasing the prices of items due to go into the sale days or weeks beforehand so that the discounts they offer seem more impressive on the day.
The best approach is to make a list of potential purchases beforehand. Read online reviews and make a careful note of exactly what you want by colors, styles and features. Once you've got the model numbers, stick to your list. Compromising on what you want guarantees buyer's remorse, and there's always the chance that a price could go lower if it isn't as low as you'd like.
Will my Black Friday purchases arrive by Christmas?
The short answer: read the fine print. Retailers like Walmart, Amazon, and Target offer everything from two-day to overnight shipping. Still, but due to the high demand for orders, you never know. It's better to always err on the side of caution and double, if not triple check.
Jaclyn is H&G's eCommerce editor and oversees all things shopping. She's also a bonafide sleep expert, and previously managed all sleep content on Homes & Gardens and Real Homes– in fact, she has passed our five-step certification process to become a verified customer advisor on mattresses. She regularly scouts out the best of the best for buying guides to help you fill your home with only the best. She joined the team in January 2021. She has previously worked with Apartment Therapy, The Kitchn, The Spruce, The Spruce Eats, and MyDomaine. When Jaclyn's not working, she loves browsing real estate listings, unwinding with a chilled glass of Rosé, and entertaining her Cavapoo, Reese.