Best portable blenders: 7 personal-sized blenders to take on-the-go
Wondering what the best portable blenders on the market are? According to our team, these 7 are top-of-the-line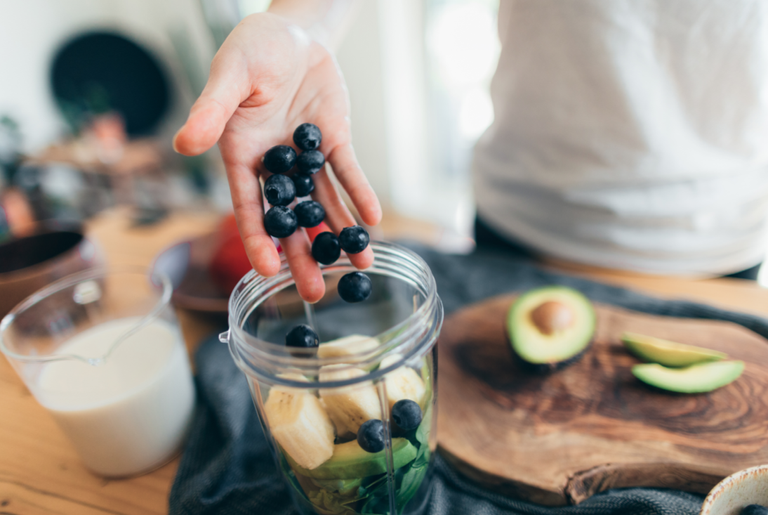 (Image credit: Getty Images)
Are you looking for the best portable blenders to make the perfect smoothie or other drinks, then one of your goals is probably to take that drink with you. With one of the best travel/portable blenders, you get that option in the easiest way possible.
Rather than a massive blender base and jug, having to decant your drink into a cup to take with you, personal size blenders can mix straight into a travel cup, so you grab and go when you're done.
There are plenty of options available, depending on whether you want to take a drink on the move after mixing at home, or whether you want a blender that you pack for vacation, making your own drinks when away. We've covered all of the options here, so you'll find the perfect model for your needs.
See more: Best blender – the top models for crushing ice and making smoothies and soups
Best portable blenders
1. Magic Bullet
The best portable travel blenders: Best for all-round use
Specifications
Capacity : 0.53-litres / 18oz
Dimensions: 4.01 x 4.48 x 11.61 inches
Power: 250W
Reasons to buy
+Lots of accessories+Simple to use+Light and easy to transport
Reasons to avoid
-Not so good for frozen ingredients-Blades aren't dishwasher safe
The original personal blender is still one of the best, and the Magic Bullet 11-piece set goes one step further, with everything you need to make and take drinks on the go.
With this set, you get the standard cup, a tall mug, short cup, recipe book, and blades for liquids and grinding. Given the low price, that's a lot of kit in one box.
Using the blender couldn't be easier: everything goes into the cup, then you press down on the top to activate the single-speed motor until you've got your desired mix.
With only a 250W motor, the Magic Bullet works best with softer fruits, and it can struggle to make its way through frozen ingredients. If you want frozen drinks, then you should look for a higher-powered blender.
For dry ingredients, you can switch-blades and effectively grind spices and seeds, making the Magic Bullet a handy cooking companion.
For its simplicity and low cost, the Magic Bullet remains the best overall personal blender.
2. Ninja Nutri Pro
The best portable travel blenders: best for tough ingredients
Specifications
Capacity: 0.7litres / 24oz
Dimensions: 15 x 6 x 6 inches
Power: 900W
Reasons to buy
+Simple to operate+Powerful motor+Well priced+Easy to clean
Reasons to avoid
-Loud-Doesn't handle dry foods
A lot of personal or travel blenders tend to have fairly low-powered motors, but the Ninja Nutri Pro ups the game with a powerful 900W motor. That puts it above some large blenders and gives you a bit more flexibility to the ingredients that you can tackle.
Soft fruits are handled with ease, but put in tougher fruits or even frozen ingredients and you can see what the 900W motor is really for: here, you get similar smooth results as you'd expect from a much larger blender.
This single-speed blender is also really easy to use: everything gets loaded into a cup, then you press down to engage the motor. There are travel lids for the included 18oz and 24oz cups, and everything (including the blades) can go in the dishwasher.
Although it can handle dry ingredients, the consensus is that the Nutri Pro doesn't do a particularly good job, with uneven chopping and blending.
With a rather chunky base, the Ninja Nutri Pro isn't particularly portable, but it's a great choice if you want single-serve drinks using a wide variety of ingredients.
3. Hamilton Beach Personal Creations Blender
The best portable travel blenders: best for frequent travelers
Specifications
Capacity: 0.41-litres / 14oz
Dimensions: 10.38 x 4.75 x 4.75 inches
Power: 175 watts
Reasons to buy
+Extremely small+Excellent price+Great for softer fruits+Dishwasher safe
Reasons to avoid
-Relatively small capacity-Lightweight motor
If you frequently travel but want to make your favorite smoothies wherever you go, the Hamilton Beach Personal Creations Blender could be for you. Little bigger than a travel cup, this is a blender that you can throw in a bag and take everywhere.
It's also cheap enough that you won't mind so much if it should get broken as you travel, or if you leave the blender in a hotel room.
There's a 14oz cup with a travel lid that attaches to the top of the blender. That's a little smaller than many other models, but you're sacrificing size for convenience, which seems like a fair trade-off.
Softer fruits and ingredients blend down well in the Personal Creations, but the 175W motor struggles with harder ingredients, such as frozen fruit. Some reviews point to the motor burning out, but just remember that this isn't a heavy-duty blender for the entire house, but a device that you'll use less regularly.
Even if you have other products on this list, the Hamilton Beach Personal Creations Blender could be a good addition for vacations or business trips.
4. Cuisinart CPB-300, 350-Watt BPA-Free Blender
The best portable travel blenders: best for multi-use
Specifications
Capacity: 0.47litres / 16oz
Dimensions: 1.75 x 6.75 x 14.75 inches
Power: 350 watts
Reasons to buy
+Advanced controls+Chops as well as blends+Step-up in power from most travel blenders+Lots of accessories
Reasons to avoid
-Not enough power for big jobs
Most personal and travel blenders are designed with the simple job of creating smoothies. The Cuisinart CPB-300 is built for more than that, shipping with a 32oz blender jar, 8oz chopping cup, and four 16oz travel cups.
That's not only a lot of flexibility, but for drinks on the go, you can either go most of the week without having to fully wash up, or you can take care of everyone in your family.
With a 350W motor, this model is more powerful than much of the competition, letting it power through most smoothies with ease, but some say that it doesn't cope so well with frozen ingredients.
You get more advanced controls on this model than with a typical personal blender, with high and low speeds, plus a pulse control.
The jug and the chopping cup give more options in the kitchen, too. There's a two-minute auto cut-off, though, so look for a full-size blender if you need to do bigger jobs.
If you're after a well-priced blender that does more than just make drinks for travel, this is a great choice.
5. Ninja SS101 Foodi Power Nutri Duo Smoothie Bowl Maker and Personal Blender
The best portable travel blenders: best for automated programs
Specifications
Capacity: 0.7-litres / 24oz
Dimensions: 10.79 x 6.69 x 6.69 inches
Power: 1200 watts
Reasons to buy
+Automated programs+Very powerful motor+Handles frozen desserts+Decent range of accessories
Reasons to avoid
-Not as flexible as a full-size blender-Loud
Personal and travel blenders tend to be very simple to use with a simple on/off control. If you want to make something a bit more complicated with ease, then the Ninja Foodi Power Nutri Duo Smoothie bowl Maker and Personal Blender could be for you.
This blender has a 24oz travel cup and a smaller 14oz bowl for making the likes of frozen desserts and nut butter. To accompany this, there are four pre-set programs: extract and smoothie for the travel cup, and spread and bowl for the bowl attachment. You can also manually pulse if you want more control over the finished product.
With a powerful 1200W motor, the product gets rave reviews for its ability to deal with tough ingredients, making perfectly blended smoothies and excellent butter and frozen desserts.
Everything is dishwasher safe, so cleaning up when you're done is really easy.
The downside is that the blender is quite loud, not particularly portable and, while more flexible than your average travel blender, it's not quite as powerful or useful as a full-size blender.
Still, if you want a smaller blender that can do a little more than just make smoothies for on the go, the Ninja Foodi is a great choice.
6. Tenswall Portable Blender
The best portable travel blenders: best for cordless users
Specifications
Capacity: 0.38litres / 13oz
Dimensions: 9.45x3.14x3.14inches
Power: N/A
Reasons to buy
+Small and lightweight+Battery powered+Simple to use+Great results if you follow the instructions
Reasons to avoid
-Ingredients need careful preparation-Small cup
If you're going camping, then it doesn't matter how small the blender is if you don't have access to power. With the Tenswall Portable Blender, you don't have to worry, as it has an internal battery. Charged via USB, the 2000mAh battery gives you around 12 uses.
There's a relatively small fixed 13oz cup, but this at least means that the blender is easy to carry around, as it's so small.
As the Portable Blender is battery powered, the motor isn't very powerful and it's not recommended for frozen fruit or ice. Tenswall also says to cut up fruit into 2cm before adding water, and it should be used by tilting, shaking, and then blending.
Provided the instructions have been followed, owners are impressed with the quality of the blended drinks, saying that this model competes well with more expensive plug-in models.
After use, clean water and a blending cycle can be used to clean it out. If you do wash with a sponge, be careful not to get water into the charging port.
More limited than the competition, if you have access to a power socket, you can get better blenders for not much more. If you regularly camp, then the Tenswall Portable Blender is a great way to make healthy drinks.
7. Add-on travel cups
The best portable travel blenders: best for those with a blender
Specifications
Type: N/A
Capacity: on a case-by-case basis
Reasons to buy
+Reuses your existing blender+A cheap upgrade+You get the power of a full blender+Gives you grab-and-go convenience
Reasons to avoid
-You still have a bulky base-Only good for use at home
If you've already got a blender, but want on-the-go convenience, it makes sense to see if there's a single-serve cup upgrade for your existing model.
These replace the regular blending jug with a smaller cup (typically 16oz to 24oz) and blades, so you can mix your drink, stick on the lid and take your smoothie with you.
The advantages of this method are that you get the full power of your main blender, so can tackle harder fruits and vegetables, and even ice, and you don't add another blender base into your home.
The main downside is that a smaller cup doesn't make your main blender any easy to carry around, so these options aren't very good if you need a blender to travel with.
Watch out for pricing as well. For example, if you take our top-recommend blenders, the Vitamix Personal Cup Adapter for the Vitamix 5200 costs more than most travel blenders on this list. Conversely, KitchenAid sells the 16oz Personal Blender Jar for $39.99, which fits the excellent K400.
How do I choose a good portable blender?
Portable blenders (also known as travel or personal blenders) are typically designed to make smoothies directly into travel mugs. They're built for quick, grab-and-go operation, and are designed to be easier and quicker to use than their full-sized models.
There are lots of different models and no right choice, as it depends on how you want to use the blender. If you travel a lot and want a blender that you can throw in your luggage, then size is all-important. Look for a smaller lighter blender, even if you have to compromise on a smaller travel mug as a result.
If you're going camping a lot and won't have power, then look for a battery-powered model that you can pre-charge and use when you're out.
Smaller blenders tend to have lower-powered motors, so will work well with soft fruits and for making most smoothies, but you'll find they struggle with (or can't handle) ice or frozen ingredients.
If you mostly make smoothies at home, then you can get a model with a bigger base and a larger motor. With a bigger motor, you'll be able to make a wider variety of drinks.
For home use, you may find it useful to get a blender with different accessories, such as a chopping bowl for preparing ingredients for cooking, or a grinder for dealing with spices.
How much should I spend on a portable blender?
As they're smaller and aren't as powerful as full-size blenders, prices are much lower. An entry-level blender should cost under $50, and give you basic smoothie making with softer fruits.
At the high-end, you can spend up to $150 on a model with more accessories and more powerful motors to give you more flexibility.
Is a portable blender as good as a full-size model?
A portable blender is different from a full-size one. Most portable models are designed to be quick and easy to use, with one-button operation and single-speed motors. They're typically as good as large models for smoothies.
Travel blenders are generally quite limited, though: you can make smaller quantities, they're not built to run for as long, and they don't have the controls of a full-size model.
You usually can't use hot liquids in personal blenders, either, as the travel cups are made from plastic that could be damaged by the heat.
If you want to vary what you can make, and have more control over the process, a full-size blender makes sense and, as our guide showed, you can always add a travel cup to your model to give you that blend-and-go convenience.