Cuisinart EvolutionX Cordless Blender review – is it a must buy?
The Cuisinart EvolutionX Cordless Blender is a strong contender in the field of personal blenders. Find out whether it stands up to its corded competitors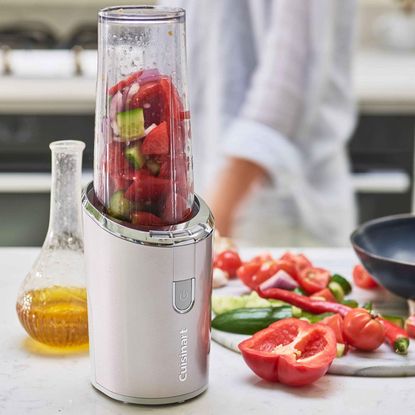 (Image credit: Cuisinart)
Though designed for use on the go, this neat little blender holds its own against corded single serve blenders. It has enough power for my daily smoothie or frappé and can also tackle other kitchen prep jobs such as making dressings and salsas with ease
Reasons to buy
+

Can be used anywhere

+

Compact and lightweight

+

Powerful enough for everything from smoothies to frozen cocktails

+

Good battery life
Reasons to avoid
-

Some prep involved to get frozen items to a suitable size

-

Doesn't work plugged in
You can trust Homes & Gardens. Our expert reviewers spend hours testing and comparing the latest products, helping you choose the best for you. Find out more about how we test.
If you are looking to buy a cordless blender, then the Cuisinart EvolutionX should be on your list. Released last year in a small line of cordless appliances from kitchen experts Cuisinart, the EvolutionX is a single-serve blender that packs more power than its compact package lets on.
This cordless blender isn't just designed for those on the go. With impressive power claims, it could be a great stand-in in busy kitchens where you need the best blender for small volumes of ingredients and don't want the mess and time associated with getting out your main blender. From prepping spice pastes, to even making guacamole this small blender promises to save time and effort for cooks or people who just love a morning smoothie.
We put it to the test over a few months using it both at home and out in the yard to make frozen cocktails and it has rightfully earned a place on our list of the best portable blenders. And, as many of us head back to the office – or even out on the road – the need for a handy cordless smoothie maker could become a must for more people. We tested it on everything from drinks to dressings and even for prepping a nut roast. Our full review explains all.
Cuisinart EvolutionX Cordless Blender specificiations:
Colors: silver in the UK, slate gray in the US
Type: portable blender
Weight: 4.4lb
Capacity: 16oz
Speed settings: 1
Material: plastic
Dimensions: L16.0" x W10.5" x H11.13"
Motor: 7.4 volts
Who is the Cuisinart EvolutionX Cordless Blender for?
If you enjoy a daily smoothie then the Cuisinart EvolutionX means you can make one on the go or at your desk when you reach the office. The power unit is small and light enough to put in a backpack or large tote.
It is also great for those who entertaining outdoors. Whether you want to make frozen drinks at your summer cookout, or even take it to a beach or campsite, the 20 minute battery life is enough for quick mixes and sauces.
First impressions of the Cuisinart EvolutionX: what do you get in the box?
The Cuisinart EvolutionX cordless blender comes with a rechargeable blender base, blender blade and a 16oz travel and BPA-free blending cup with lid. The blender blade has a plastic cap to screw on when the unit it not in use – a handy safety feature that also keeps everything clean. It also has an adapter plug and USB cable for charging.
The charging unit is compact and lightweight, weighing in at just under two pounds, while the whole set up is less than four pounds in total – including travel cup and charger. It has a single button for operation and a row of three blue LED lights that shows the unit is in operation and also indicated the charge level. Set up is easy: simply plug in the base unit until fully charged (this takes about two hours). The three LED lights will all be illuminated when the battery is full. Flashing lights show the unit is not fully charged.
We were pleased to see this packed and wrapped in paper and cardboard, showing a conscious effort to reduce plastic packaging.
How does the Cuisinart EvolutionX perform?
The first thing I made with the Cuisinart EvolutionX was a smoothie bowl. First, I made a tahini and macadamia butter to serve on top. The blender managed this with ease, taking just a few seconds to combine the ingredients – so fast that I actually ended up with a smoother butter than planned.
For the smoothie bowl itself, I used large chunks of frozen banana. This is the only time I have had a problem with the blender as the chunks of banana were a bit big and kept getting wedged between the blade and the side of the cup. After adding a bit more liquid (paying heed to the max fill level), and allowing the banana to soften for a few more minutes, I had no further issues. But did learn that while the blender is powerful enough for most jobs, you do need to watch the size of anything solid you put in it.
Since then I have made countless smoothies and they always turn out great, taking around 30 seconds to be well blended. If you add peanut butter or any high viscosity syrups, you may need a little longer for the blender to work all of the ingredients off the sides of the cup, but never more than a minute which just so happens to be the maximum run time of a single blending cycle.
Crumbs and grinding
Something I use the blender for a lot if making breadcrumb toppings or nut and seed dukkah to sprinkle on salads. I find the blender handles this best if you run it for a few seconds, then stop and shake, then run again. This stops the ingredients from working up the sides away from the blade. Again, it is very convenient for this type of recipe and takes the time and effort out of prep without generating too much washing up.
I made a whole nut roast using the Cuisinart to chop and prep the ingredients including making breadcrumbs, mincing mushrooms and onions, and chopping nuts. I usually do this with a food processor so it was great to have something smaller and speedier to do the job – though I did have to deal with each ingredient in turn.
Salsas
The Cuisinart EvolutionX blender is not just perfectly designed for single-serve smoothies and drinks, but is the perfect small appliance for making cooking pastes and salsas. There is no pulse function, so you have to press on and off where you might pulse with other blenders, but it does a good job of blitzing veg and fruit into tasty sauces. It is great for making pestos and dressings too, and you can store any leftovers straight in the fridge, using the travel cup lid.
Do note that you shouldn't blend anything too hot in the travel cup, so this is NOT for making soup in, though it can handle warm ingredients.
How good is the battery life of the Cuisinart EvolutionX?
The battery life is 20 minutes and I found this to be roughly how much time I got out of it between charges. This is more than enough time for several smoothies and plenty of time for prepping ingredients for meals.
The LEDs on the front of the unit show how much battery life is left. If the first LED is flashing (the rest will be out) then the battery is under 40 per cent full and you will need to prepare to charge it as you will only have a few minutes left. Battery life does not seem to be badly impacted by harder ingredients like solid fruit and ice.
One thing to note is that the unit doesn't work as a corded model – something I expected when the battery ran out. However, you can quick charge the unit if you run out of battery. If you charge for 15 minutes, you will get 25 seconds of run time which is usually enough to make a quick smoothies. You need to charge for 30 minutes to get a minute of run time from it, or the full two hours to get the full 20 minutes, so keep an eye on those LEDs to avoid running out of juice mid-blend.
Can the Cuisinart EvolutionX handle ice?
While the Cuisinart EvolutionX can handle ice and frozen ingredients, as mentioned before, you do have to watch the size of them. A standard sized ice cube will pose no problems, but anything slightly bigger will get stuck between the blade and the side of the cup. Once you know this though, you can prep ingredients accordingly, making sure they are not too big, or sitting them in the liquid you will be blending them with for a few minutes to soften.
The Cuisinart EvolutionX cordless blender is actually really good for frozen drinks and I have made iced cocktails and frappés with it with great results. I think this makes it perfect for enjoying a cocktail evening outside – no power required.
Cleaning the Cuisinart EvolutionX Cordless Blender
Cleaning is similar to other blenders of this type. Simple fill with a bit of warm water, some dish detergent and blend for a few seconds. After this you can simple rinse the components, or give them a quick clean with a brush and sponge. The base unit of course is wipe clean only.
The travel cup, lid and blade are all dishwasher safe on the top rack. All parts are quite easy to clean, though I recommend rinsing the lid as soon as you have finished use as there is a part on the underside of the spout that is prone to collecting thick liquids like smoothies. Once this is dried on, it can be hard to reach with anything but a brush. You will also want to remove the seal from time to time to get under it and keep it clean.
Should you buy the Cuisinart EvolutionX Cordless Blender?
Of the cordless blenders we have tested, this is certainly the most versatile as it can handle ice with ease. Therefore, we have given it five stars because while it might not be as powerful as some corded models, it does exactly what it is designed to do – smoothies and blended foods on the go – and it does it well.
In our NutriBullet GO Portable Blender review we found that it was best suited for very specific purposes, but the Cuisinart EvolutionX Cordless Blender can be used for more than just your morning commute.
If you want a smoothies maker you can take to work or use after the gym then this is perfect. It is also great for campers and road trippers, and we can see how parents could use it to make quick puréed baby food when out and about.
So, should you buy the Cuisinart EvolutionX Cordless? The answer is definitely yes if you want something you can use when a power supply is not to hand. Keen grillers could find it much more convenient than heading in and out of the kitchen while cooking outside on the best grill.
We also think it is a great blender for a small kitchen or apartment as it takes up very little space. Or if you already have a big blender or food processor, but hate getting it out and cleaning it up for small jobs, then this is the perfect appliance for quick and easy prep.
About this review and our reviewer
Lindsey Davis is our Editor in Chief of Homes Ecommerce – this means she works with her team to help you find all of the best products for your home, with our world-class buying advice.
She was given the UK version of the Cuisinart EvolutionX Cordless Blender (the Cuisinart Cordless On the Go Blender) which is the same as its US counterpart, but a lighter shade of silver-grey. Lindsey has been testing it for a few months in her home, using it for smoothies every few days and coffee frappés in the hot weather. Cuisinart have allowed her to keep the unit free of charge – so, she can update this review as she gets more use out of it.
Sign up to the Homes & Gardens newsletter
Decor Ideas. Project Inspiration. Expert Advice. Delivered to your inbox.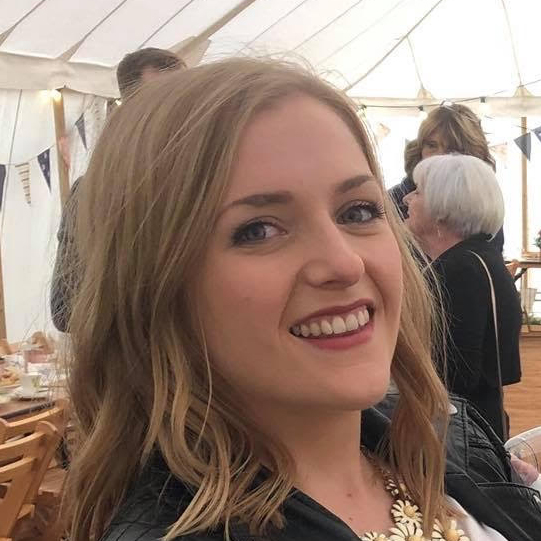 Ecommerce Content Director
Lindsey Davis has been writing about homes for most of the last decade. After a brief stint in children's publishing, she cut her teeth working on the website for UK brand Homebuilding & Renovating, writing about unique self build homes. She has since worked on the websites of other Future homes brands including Real Homes, Livingetc, Gardeningetc and Ideal Home where she helps readers find the best products for their properties. She lives in a British Victorian cottage which lacks in space, but makes up for it with period features aplenty. And, if she isn't busy redecorating her own home, she loves using the inspiration she finds in her working day to help her friends and family with their own projects.