Living room ceiling light ideas – 10 tips for statement lighting in your lounge
If your living room ceiling light ideas need a glow up, fill them with wow-factor and personality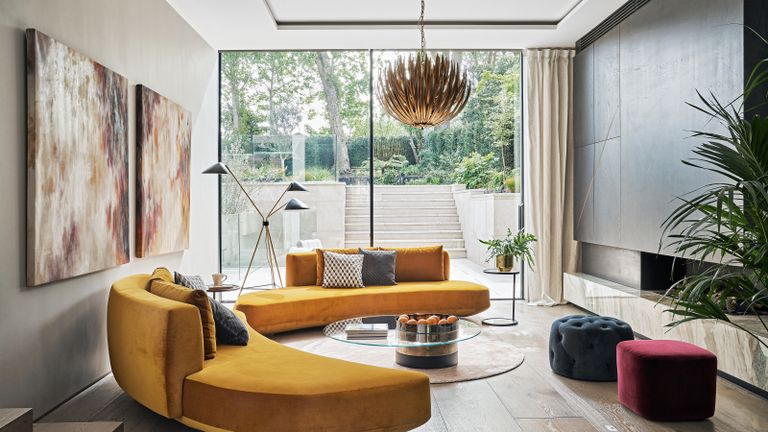 (Image credit: Davide Lovatti)
Living room ceiling light ideas are not just a method of illuminating the most important room in the house – they are a fixture that can make a major design statement.
Choosing lighting for your living room ideas that both work functionally and convey your personality can make the space feel even more like home.
Ceiling lights are the most important source of light in any room, but their position –most usually in the center of the living room, a major draw for the eye on entering – means they are crying out to be injected with personality and fun too.
Living room ceiling light ideas
From dramatic chandeliers to simple stylish pendants, we've found some truly inspiring examples of living room ceiling light ideas and asked the experts for their living room lighting ideas tips too.
1. Inject a design surprise
'A light is a good way to throw surprise in a room, to merge modern with traditional,' says Martin Waller, Founder of Andrew Martin. 'Putting an industrial style lamp or a graphic mid-century form in a traditional stucco setting injects excitement, equally an Art Deco chandelier in a stark, modern plan.'
While living room wall lighting ideas are also a great space in which to make a design statement, ceiling lighting can put the contrast front and center. In this home, a modern black light fitting breaks out from the home's traditional plaster mouldings.
2. Go big
This is not the time to be shy – oversized lighting is a growing trend in living room decor. In this example, a dark metal chandelier is not only tall, but sprawls dramatically across the central third of the room to create a really impressive feature. Of course, fixtures of similar dimensions wouldn't be suitable among small living room lighting ideas, but you can still play with a sense of scale in rooms of any size.
3. Choose a statement pendant
As living room lighting trends go, the statement pendant is one that's likely to stick around for a while to come, says Piero de Marchis, Founder of Detail Lighting.
'As designers and homeowners seek more uniqueness and individuality in their interiors, statement lighting and in particular statement pendants will become increasingly prevalent,' explains de Marchis. 'From sculptural singular wow-factor pieces to sleek cluster designs, striking pendant lighting will be a popular fixture in homes [in the next year].'
4. Use pendants to zone the room
When thinking about how to plan living room lighting, consider how you might use it to 'zone' the space. Pendant lights are great for creating a focal point usually in the center of the room or highlighting a significant seating zone, such as the one in this example, situated in a separate nook.
'Firstly, decide if you are having a central pendant,' says de Marchis. 'If so, it's important to know whether you are aiming to have this as a decorative piece or if it is going to be the main lighting source in the space. Usually we find that even with a bright pendant, there will be supplementary light needed as pendants can cast shadows.'
5. Rethink the chandelier with contemporary styles
Chandeliers aren't the sole preserve of period properties, and neither do they need to look like they've been plucked out of the 18th century. Take a contemporary approach to living room chandelier ideas instead – in this Salt Lake City home by designer Alice Lane, a sputnik-style chandelier gives off a mid-century modern vibe, made contemporary through the luxurious combination of brass and black.
6. Balance history and modernity
Among the white living room ideas here, the hoop light fitting designed by Laura Kirar for Arteriors aims to create a balance between traditional lighting forms and modern concerns.
'I'm more interested in reissuing classic concepts through my own modern lens,' says Kirar. 'As an artist, I design sculptural forms that resonate with a balance of historical and modern principles. I'm driven by the purity of authentic materials and artisanal techniques to create something original.'
7. Get on trend with natural materials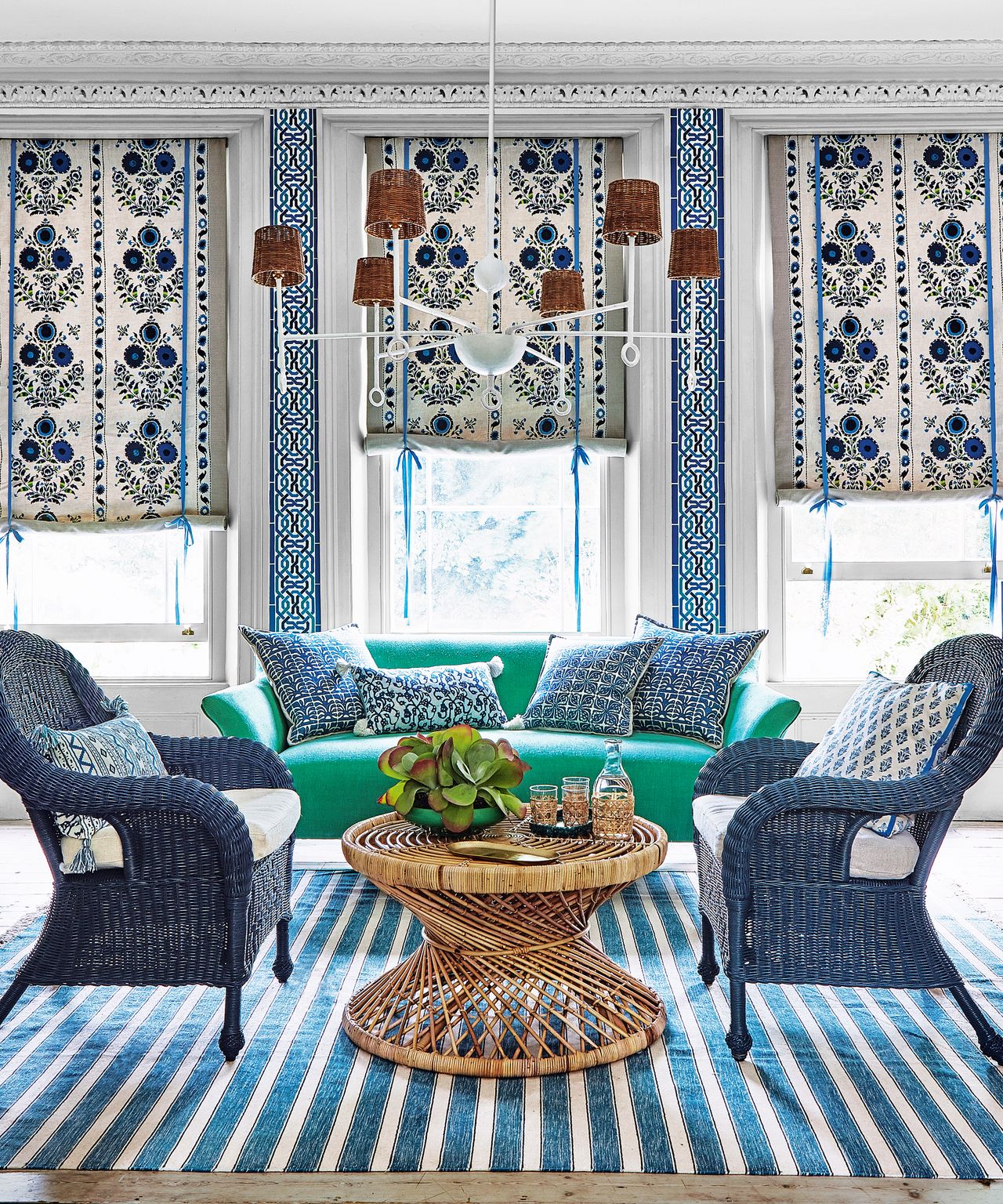 Natural materials like rattan, terracotta and wood are having a huge moment in lighting, and look great among bohemian living room ideas.
'Reconnect with nature and enrich your home with natural fiber lampshades and hanging rustic pendant lights,' says Matthew Currington, Technical Director at The Lighting Superstore. 'These pieces are surprisingly versatile; working in traditional, modern, and bohemian rooms.'
'Stick to earthy tones and neutral schemes to create a calming environment. Compliment with house plants, wooden furniture, textured furnishings to keep it stylish, yet understated.'
8. Go low with an overhead pendant
If you really want your ceiling lighting to be unmissable, dangle it so low that it sits right in your eyeline. This may sound like a daring and impractical strategy, but hanging a low pendant over your living room seating ideas helps to create a dedicated glow around the comfiest area of the room, and placing the light over a coffee table means no need to worry about people walking under it and bumping their heads. In this room, the metal lampshade also adds a modern industrial touch to a traditional space.
9. Make it contemporary with LEDs
For lighting that is contemporary in both look and technology, LEDs are an excellent choice. They can be used to create highly inventive and unusual light fittings such as this stunning gold hoop fixture with an LED bar across its center, or can be used more discreetly for traditional or modern downlighting.
Think about the perimeter,' says de Marchis. 'Lighting can be in the form of individual spotlights (surface or recessed) or LED linear lighting which is very popular now. Perimeter lighting helps define the size of the space and avoids any dark living room corners.'
10. Keep it simple
Of course, your ceiling lighting doesn't have to be a showstopping affair – keeping it simple and stylish can be just what a living room needs. In this living room, a very simple black lampshade around a pendant light is the perfect balance to the black table below and the white walls surrounding, offering a grounding antidote to the colorful, artistic scheme across the rest of the room.
How do I choose a ceiling light for a living room?
Choosing a ceiling light is hugely personal, but ensuring it's the right fit for your space can make or break a room scheme. First of all, consider the size of your room. Oversized fittings are on trend and can look great, but always ensure you have enough headspace if you intend to walk beneath. In smaller rooms, choose large fittings that have a lot of negative space – like sputnik chandeliers or lampshades with openings – to make sure the fixture doesn't feel too dominating.
I started out at British GQ, where a month of work experience turned into 18 months of working on all sorts of projects, writing about everything from motorsport to interiors, and helping to put together the GQ Food & Drink Awards. I then spent three years at the Evening Standard on the GO London team, covering restaurants and bars, and getting to eat and drink a veritable smorgasbord of wonderful things around the city. I left the paper in 2020 and went freelance, writing about food, drink and homes for publications including Conde Nast Traveller, Luxury London and Departures. A little less than a year later, I started at Homes & Gardens as a Digital Writer, allowing me to fully indulge my love of good interior design.