Hidden desk ideas – 10 clever, creative home office desks
Make working from home (almost) invisible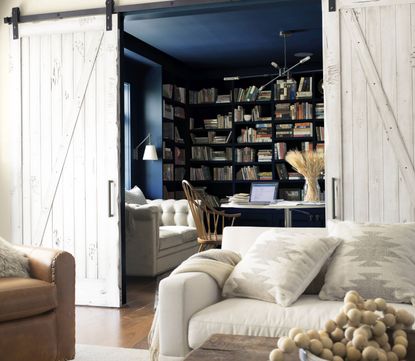 (Image credit: Benjamin Moore)
Working from home is the new normal for a huge number of us now – but many of us have yet to really have the time to consider how we tackle the sticky issue of finding a dedicated space, just for ourselves, away from other members of the family who are also working – or studying – at home.
But it's not just about finding space – the other factor is not wanting to be able to even see the office paraphernalia at the end of the day. It just makes it so much harder to switch off, right?
So if you don't have a separate room with a door you can close at 5.30pm, it's time to get creative with your home office ideas. But stylishly – and these hidden desk ideas are H&G's favorite ways to do so.
Hidden desk ideas
Your home office setup may not be ideal. Perhaps it's in a kitchen, bedroom, living room or just on your knees. It may be small – or perhaps you have a large dedicated space, but within an open-plan room?
Whichever – you will find these hidden desk ideas really, really useful. It's all about disguising the workspace in downtime, whether you close a door or just a lid.
1. Hide a desk behind a sofa
Console tables behind sofas aren't a new way to create hidden desk ideas but even small ones like this are a clever way to allow you to work in a shared space. Another reason this room by TG Studio works is that the sweeping windowsill is the perfect space to fan out paperwork while you work, while creating a sculptural display surface while you're not.
2. Build a hidden desk into little used floor space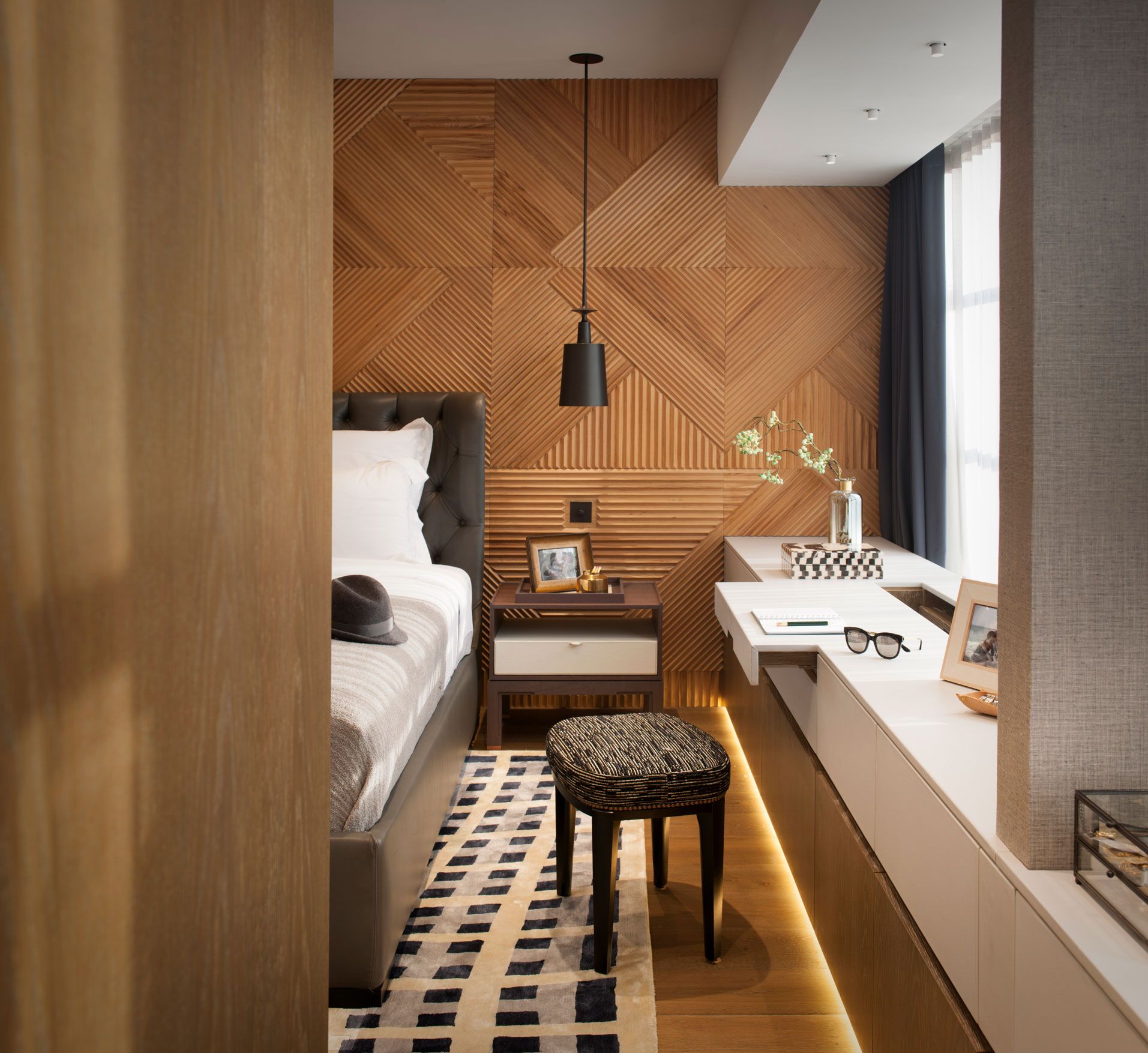 This extraordinarily clever idea by Thomas Griem's London-based TG Studio shows how work can be carried out in the smallest of spaces if you're creative. This built-in, slide out desk surface offers plenty of work surface space and storage beneath, with very little impact on the floor space.
'You don't need a lot of space,' says George Saumarez Smith, partner at ADAM Architecture in London. 'My office is 2.9m x 1.8m, and is a kind of nerve center for work. It stops work taking over the home.'
And, of course, with the idea above, when home working stops and you return to the office, this storage and desk space can be easily repurposed as clothes' storage and as a dressing table, with make up and jewelry hidden beneath.
3. Hide a desk under the stairs
Desks hidden beneath staircases can be really successful if they're subtly done. Yes, you can have units fitted to include storage and to match your staircase's intricate woodwork, but we like this simple contemporary approach, where a niche is cut out, painted and adorned with nothing more than a beautiful piece of wood. This approach keeps the space streamlined and visually uncluttered, perfect for a narrow space.
4. Use a bedroom alcove for a hidden desk
Bedroom alcoves are the perfect spot for hidden desks – small desks like this one being perfect for letter writing, laptop work and... just, quiet time, while armoires with pull-out desktops can combine storage for paperwork or clothes to suit your needs.
When contemplating a home office scheme, function – such as storage – must be central to your design, but does not have to be visually dominant. Choosing an eye-catching focus, such as a statement office chair or a beautiful antique desk, even a work of art, will distract from the room's purpose and make it feel as considered as a living space.
5. Turn a showpiece antique into a hidden desk
If aesthetics are important and your only option is a freestanding piece, why settle for a conventional desk and run-of-the-mill office storage when an extraordinary piece of furniture can be adapted perfectly well to suit your needs?
This hidden desk space was created by Melissa Hamilton of Chelsea-based Studio Indigo. 'For this scheme, we wanted to create a private study for the owner of the house,' says Melissa, who chose a warm, neutral wall color to set off the deep, rich shades of the furniture. 'It takes the form of a delicately hand-painted chinoiserie bureau in the master bedroom suite...[a] much loved antique found on [the owners'] travels.'
Although only used for correspondence, it's easy to appreciate how much storage there is available to hold everything needed for a small home office. Melissa is also at pains to point out that when a study area is included in another space, such as a bedroom, it is crucial to factor in how it will impact the wider scheme. 'Even when this desk is not in use, it is a very aesthetically pleasing arrangement,' she says.
6. Divide an open plan space with doors
If your existing office is part of an open plan layout and you simply can't get the peace and quiet you desire, then consider closing off the end you are working in with doors.
Sliding doors take up less space than hinged designs and if you choose ones that are full of character they will add a design statement as well as being practical.
Painting the office area in a darker more dramatic shade also zones it and makes it clear that it has a purpose compared to the rest of the scheme.
7. Hide a desk inside fitted wardrobes
2LG Studio was founded by creative duo, Jordan Cluroe and Russell Whitehead. They design bold and beautiful residential and commercial interiors and naturally, their home is the epitome of cool and colorful design.
'This is our home studio space; we live and work from here so it has to work hard for both of us. By day all the doors are open to our sample library and computers and by night we can tuck it all away neatly, close the doors and entertain,' says Jordan.
They chose a dramatic shade of electric blue for the interior which pops perfectly with the Floor Story rug that blends perfectly when the doors are open.
8. Reconsider windowless spaces you'd dismissed
Have a look around your home with fresh eyes – where is there spare space that you had previously dismissed as unsuitable, perhaps because it had no natural light? It may even currently be an enclosed cupboard with a stud wall that you can remove – or the back half of a long kitchen/diner and living space.
Rather than setting up the space as desk only, go broken plan, with glazed interior walls – and door – that allow natural light in, but keep noise from others out.
For this homework station, architect Chantal Michelin of Flower Michelin natural light was borrowed from a glazed extension. This smart space includes a desk that slides in to allow access to the cupboards below, thereby increasing storage possibilities. Plugs, the router and cabling are all hidden within the cupboards, along with a small printer.
9. Pick mirrored furniture to make your desk disappear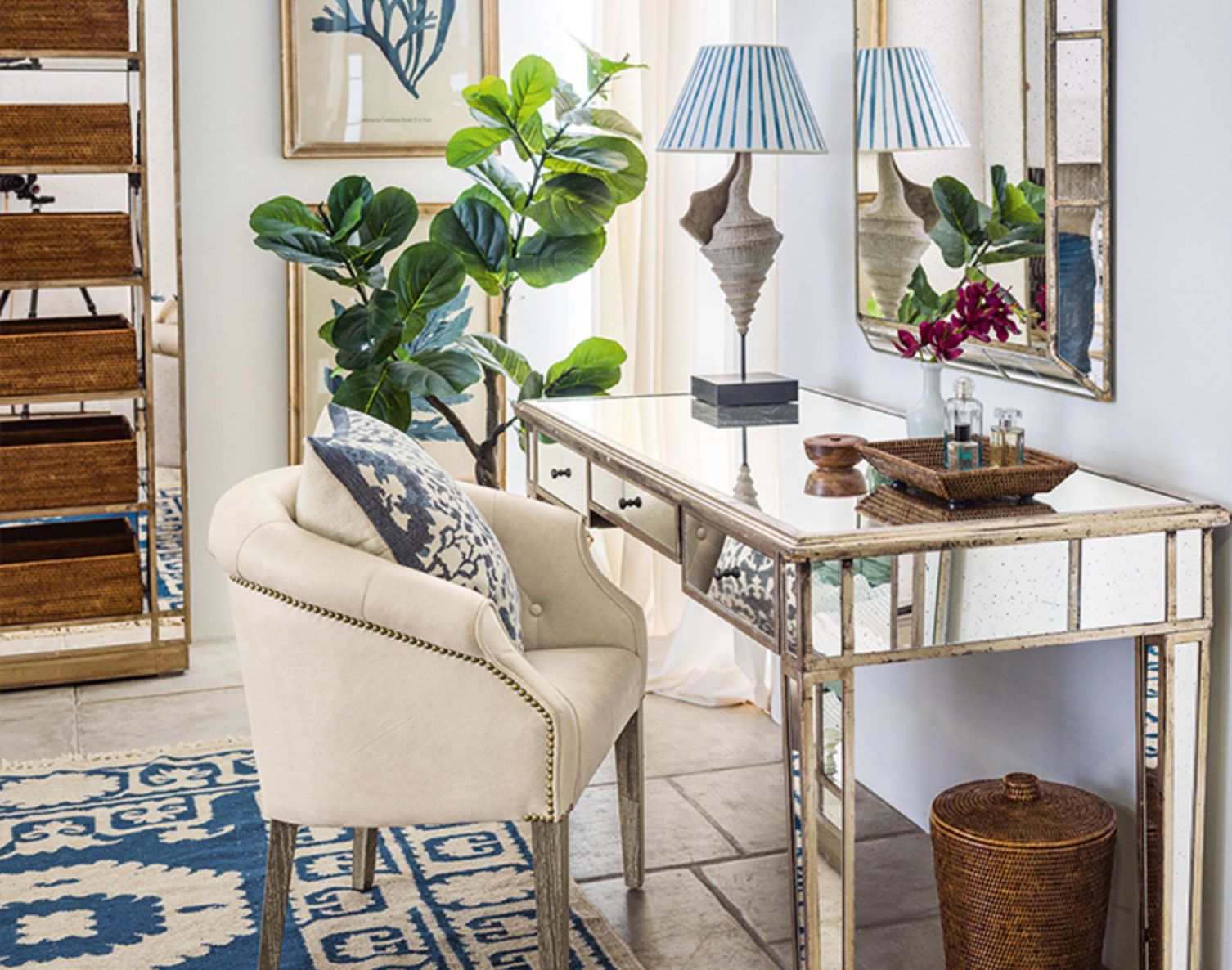 You've heard the phrase 'smoke and mirrors' and that is precisely the trick you can resort to if you are hiding a desk in a bedroom.
Elegant mirrored furniture, kept tidy and used carefully, will look beautiful, enhance your bedroom and won't take up visual space where you either want to disguise a study area – or in a small home office that relies on as much clever furnishing as possible.
And, of course, in a bedroom, a neat mirrored desk, like this Versailles desk by Oka, will look more like a pretty dressing table than a workhorse.
10. Invest in a purpose-built, standalone home office
This all-in-one option by The Dormy House is the very quickest way to create a hidden desk.
Doors closed, it looks like a smart piece of furniture – and you can have it painted and choose door furniture to suit your scheme. Doors open, and it's a perfectly functional small home office.
The clever bit is that the doors are double hinged so they can wrap around the sides and you can use them as a pinboard too. It comes with adjustable shelving, pull out shelves and the standard hole to hide all your wires. Storage underneath is key, so look for a design that gives you enough space for a printer and stationery.
How can I hide a desk in my living room?
Desks can be hidden in living rooms in a number of ways. The least obvious way to hide a desk is by placing it behind another piece of furniture, such as at the back of a sofa – this work particularly well in open plan spaces. Another option is to put a desk into a living room alcove – within an armoire is the best way to hide it but choose one with a light finish to ensure it doesn't look bulky. You can also hide a desk in a living room by using a screen to pull across it when not in use.
Sophie has been an interior stylist and journalist for over 20 years and has worked for many of the main interior magazines during that time, both in-house and as a freelancer. On the side, as well as being the News Editor for indie magazine, 91, she trained to be a florist in 2019 and launched The Prettiest Posy where she curates beautiful flowers for modern weddings and events. For H&G, she writes features about interior design – and is known for having an eye for a beautiful room.