Children's small bedroom ideas – 20 space-smart designs
Find solutions for children's small bedroom ideas, and combine fun with function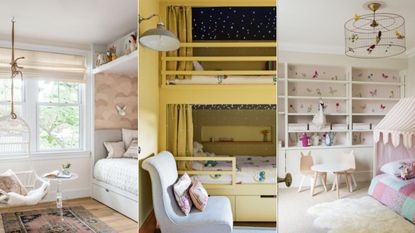 (Image credit: Anderson Wier Studio/Robert Radifera/Charlotte Safavi/Emma Lewis/Kelling Designs)
It's likely that your children's bedrooms will be small, which presents a tricky design challenge. We all want our kids to have a bright, uncluttered place to sleep, play and do schoolwork, but if space means you feel you have to choose function over form, these clever children's small bedroom ideas will offer you some easy inspiration.
'Often, the solution to children's small bedroom layout problems is built-in furniture that can maximize every inch of space,' says Lucy Searle, Editor in Chief of Homes & Gardens and mum of two. 'This is something we relied on when our kids were small and their bedrooms were space-challenged.
'However, it's an important lesson to learn that the furniture needs to be able to flex – they grow so quickly and their needs change just as fast.'
Below, we offer you a ton of ideas and advice so you can tune your kids' bedrooms to suit your child's needs and taste.
Children's small bedroom ideas
Planning successful small bedroom ideas, especially those for kids, depends on plenty of forward-thinking. Good storage, multi-functional furniture that serves a child's changing needs, and imaginative décor are all key.
A balance between form and function will result in a hard-working small bedroom layout that stands the test of time.
3. Maximize all storage solutions
You'll have been used, by now, to organizing a nursery, and applying the same principles to a child's small bedroom is just as important. Toy storage ideas and bookshelf ideas will be key, and if the shelving is adjustable, it can easily move from storing small kids' toys and books when they are young to schoolwork and gaming devices when they get older.
'When it comes to children's bedrooms, one of the most important considerations is organization. With careful and considerable planning, you can ensure that you maximize on the space available in even the smallest of rooms with enough storage to keep clothing, toys and other belongings organized, whilst leaving room for the bed and a place for study and play.
'By planning at the earliest stages, you'll be able to future-proof your child's bedroom with a strong foundation, only updating paintwork and general decor as your child grows and their interests change over time,' advises Emma Deterding, founder and creative director at Kelling Designs, who designed the room above.
2. Max out vertical space
Children's small bedrooms, especially shared bedroom ideas, need to make use of the walls as much as possible. The first step for a shared space, or one that can cater to regular sleepovers, is to consider loft bed ideas. Beyond that, ensure any storage fitted goes from floor-to-ceiling to maximize opportunities.
'Bear in mind that floor-to-ceiling storage will make the room's footprint feel much smaller. If, however, you look for pale kids' room paint ideas, not only will they keep the feel light, but will give the illusion of space too. Blonde wood is the perfect choice of timber, and it looks great with pastel shades. A clever paint trick that gives an illusion of space is ombre, as shown on the closet doors. Look out for rugs that have multiple colors for extra interest,' says Lucy Searle, Editor in Chief, Homes & Gardens.
3. Build a storage headboard to replace bedside tables
Being space-smart in children's small bedrooms means using every possible inch of space, and we love clever headboard ideas that provide enough storage to give you back valuable floor space that might traditionally have been used for other furniture, as above.
'Our third guest room (above) is a vibrant and colorful small children's bedroom, with a bright yellow armchair, complemented by blue and yellow soft furnishings and accessories.
'We worked with a number of upcoming artists to create a natural collection of pieces in various mediums that integrate additional color and interest to the space, playing with a clever and purposeful contrast between the angular and linear design and rounded and circular shapes within the art pieces,' says Laura Hammett, founder of Laura Hammett Interiors.
4. Carpet is soft underfoot for little toes
It's not all about storage, though we will come back to that. Designing kids' bedrooms obviously needs to take comfort – especially when they are little and you might be combining bedroom and playroom ideas – and sound-proofing into account, this will become more apparent when you are looking for teenage bedroom ideas.
'Flooring is an important consideration for a child's bedroom as it should help create a versatile room that is comfortable whilst also being a characterful space they love to spend time in.
'Although carpet ideas are typically considered first for a bedroom, both hard flooring and carpet can be suited to a child's bedroom. Carpet adds comfort, natural insulation and is an excellent choice, being warmer than hard flooring and softer on the soles of feet. It also adds a little cushioning to soften any little trips from those learning to take their first steps,' says Punam Chada at Carpetright.
5. Go for all white walls to lighten up
White bedroom ideas are always a great choice for small spaces, and the obvious solution for anyone looking for gender neutral nursery ideas, but consider the tone you choose carefully to make it feel welcome, and add color through accessories. This, also, will help you update the bedroom more easily and is a great choice for rented homes.
'White is the best option for a small dark room, it will instantly brighten and lift a space and you can then add color with accessories. Use a mid-toned wood for warmth and you can be contemporary with your choices – both the side table and book ladder have a modern feel,' says Jennifer Ebert, digital editor, Homes & Gardens
6. Choose dark colors for a cocooning effect
Rooms in the attic are often the template for children's small bedroom ideas, and the key to getting them right is to use color to make them feel cozy and welcoming.
Katie Lion, senior interior designer at Kitesgrove says: 'These attic rooms feel cocooning, so we wanted to highlight the subtle mustard tone in the headboard with pops of mustard in the cushions and blinds and punctuate these for added depth against the all green room.'
7. Hide storage in plain sight
There's so much to love about this bedroom, but let us draw your attention to the window area. Window seat ideas don't just offer the opportunity to create a cute spot to sit, they also give you a hidden storage opportunity and allow you to add extra color, focus and pattern to a child's small bedroom.
'When it comes to designing small children's rooms, I find that including a bunk bed or loft bed is perfect for small rooms shared by multiple children. More specifically, including a creatively designed piece that includes two beds, storage, shelving and a desk area streamlines the design process, so much so that almost no additional furniture is needed in the room,' says Sarah Jefferys, Founder of Sarah Jefferys Architecture + Interiors.
8. Stick to one material to enhance space
If you are going to do this, make sure that material has texture and depth: timber is perfect for this.
'It's such a small space – I stuck to one material for all the surfaces because I wanted to keep things uncluttered and not too busy with many transitions of materials. I didn't want a heavily striped pattern or something that would have overwhelmed this tiny room.
'Maple's light but neutral color feels very organic yet still cozy. If he wants to play, with one finger you can push the bed so it goes completely flush against the wall and opens up that whole front of the room for a little activity zone,' says Ginger Curtis, owner and principal designer of Urbanology Designs.
9. Choose styles that will have longevity
Buy once and buy well.
'Kids grow so fast so it pays to invest in classic furniture that will see you through growth spurts and still hit the style stakes. Furniture you can paint, repaint and reinvent will give you flexibility as your child's tastes change,' says Lucy Searle, global editor in chief, Homes & Gardens.
'And, of course, once they have left home, these pieces of furniture can be repurposed for guest bedrooms so easily.'
10. Incorporate storage into the bed space
Small bedroom storage ideas can be subtle, and can be about display, too, as in the space above.
'A built-in sleeping niche was the right answer for this pint-sized space. The bed appears to be recessed into the wall, creating a room within a room and making the most of the small footprint,' says Lori Anderson Weir, founder and lead designer at Anderson Weir Studio
11. Add an splash of color
Neutral bedroom ideas are ideal for enhancing small spaces, but for children's small rooms, you will always want to add color. Doing so through vintage finds is a great way to add character, too. Decorating with yellow and other uplifting colors helps to make the space feel perfectly suited to its young occupants.
'This small kid's bedroom in Toronto is tiny and I wanted to find a way to add some much needed storage and color to the space. Enter his camp trunk! It's filled with all of his books (he's an avid reader) while also serving as a bedside table and injection of color in an otherwise neutral room,' says Cindy McKay, founder of Cindy McKay Interiors.
12. Embrace minimalism in a small space
If you can pare back the clutter, particularly anything that takes up floor space, in children's small bedrooms, so much the better. Whether you are looking for bedroom ideas for girls or bedroom ideas for boys, the built-under bunks above are the perfect design for beds for small rooms.
With plenty of drawer space below the beds, there is room for clothing and toys, while the headboard area has been given over to what might normally sit within bedside tables. The result: more floor for flow and play.
13. Use paint to create an impression of space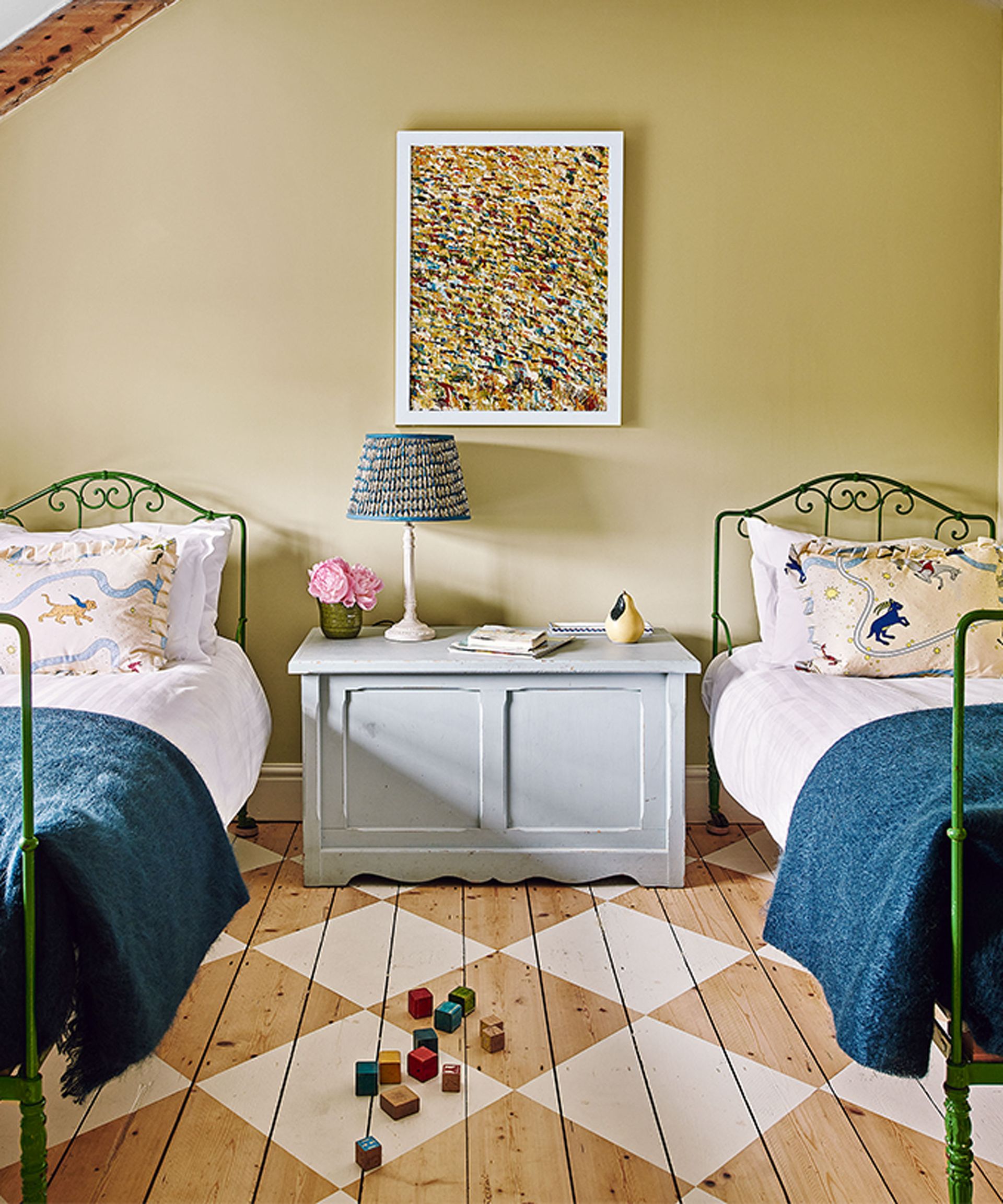 If you are looking for clever twin bedroom ideas that don't rely on bunks – perhaps you are decorating a space for visiting grandchildren – you will want to keep the scheme warm, classic and practical.
A wooden floor can contribute to this, especially if you paint the floorboards in a chequered pattern.
'I really recommend this approach if you are looking for nursery ideas where space is limited, too,' says Lucy Searle. 'Wooden floors look beautiful and are easy to clean but the diagonal in the chequered pattern is what tricks the eye to see the room as longer and wider. It's a simple visual trick designers use that can so easily be applied to your space.'
14. Hide away a desk for schoolwork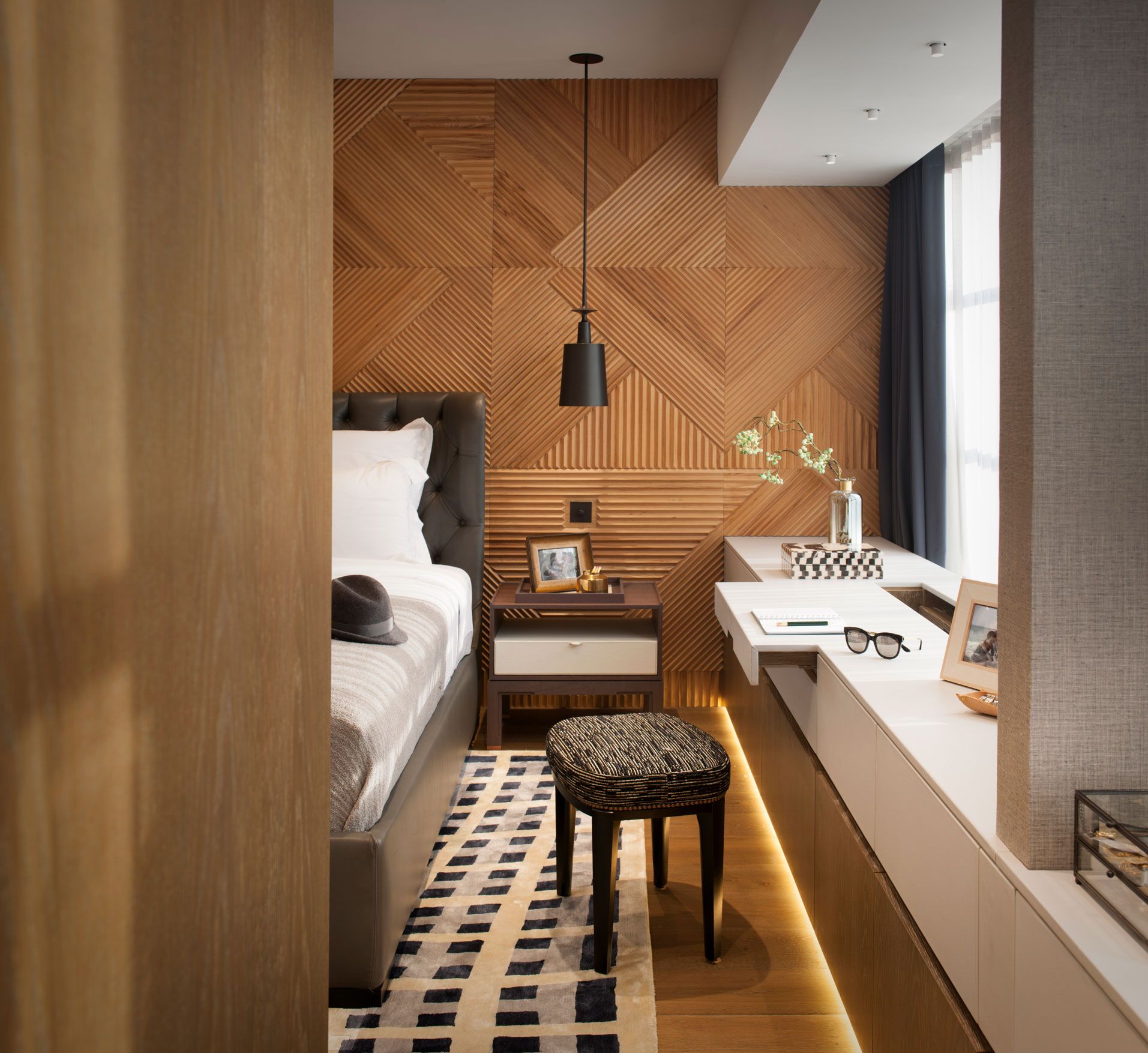 If your children's small bedrooms are also spaces for study, consider hidden desk ideas. This one above by TG Studio is, without doubt, the best we've seen, disguising storage beneath it, and sliding back in place to be come a seamless storage and display space. We love the under-lighting, too, which will create a cozy glow at night.
15. Go for a feature wallpaper – but limit it
If you are considering children's bedroom wallpaper ideas, our advice would be to limit the pattern to a feature wall or area of the space. Doing so will allow you to update the room quickly and easily with just a single roll or two of wallpaper.
'The design above, enhanced with the wallpaper, also zone the room cleverly, with one area clearly for sleep, the other for study,' says Lucy Searle. 'This makes a child's small bedroom feel bigger than it is.'
16. Organize a small child's bedroom
Colorful storage not only brightens up small bedroom ideas for kids, but it is also a compact and practical way of storing toys and other bedroom accessories.
'Organizing a small bedroom is particularly important for small children,' says mum of two and Editorial Director of Homes & Gardens Sarah Spiteri. 'They need a combination of storage solutions: low, open shelves work really well for little ones who want to access their favorite toys regularly; higher shelves can be used for the display of treasured gifts, while anything that isn't so visually pleasing can be hidden behind closed doors.'
19. Free up floor space
Built-in furniture is one of the most useful ways to make children's small bedroom ideas work. This clever bespoke design features bunk beds set into a wall with storage below and behind the beds. The upper level is accessed using stairs – while curtains provide privacy and sleep-inducing light levels for each child.
18. Add a splash of color with paint effects
White schemes don't need to be ordinary, as the contemporary paint effect here proves. That aside, shutter ideas are a great way to furniture children's small bedrooms. They provide the darkness and peace you need to encourage them to sleep through, while being visually minimal, help the room feel larger than it is.
19. Fit it in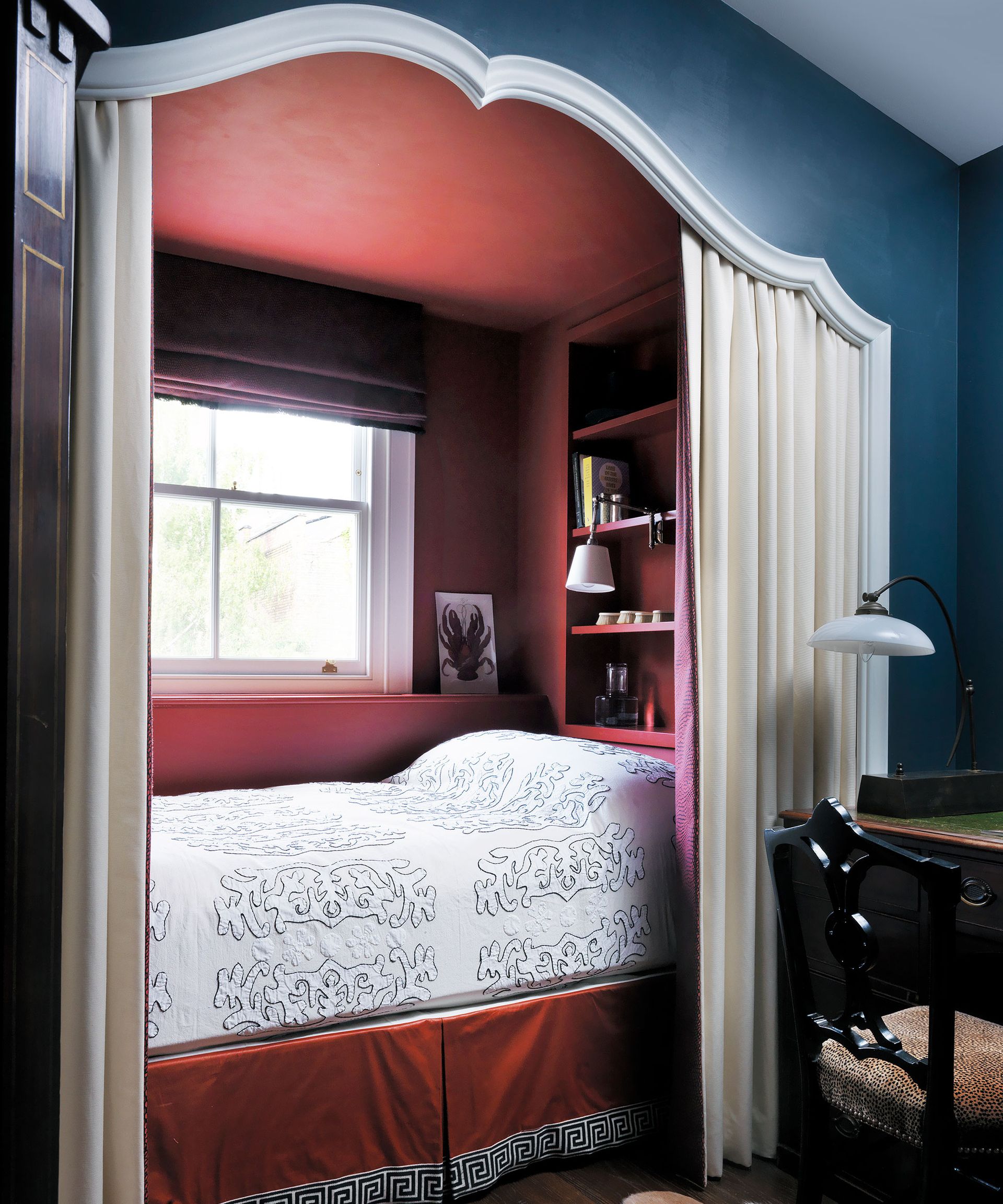 Nook bed ideas are ideal for maximizing the potential of a child's small bedroom (we love this idea for small guest rooms, too).
Teens will especially love this idea, as it provides them with a space for friends to sit when they come over, or a quiet nook for reading.
20. Raise the bed
In children's small bedrooms, raising the bed up provides the perfect solution for maximizing storage, play and study space.
This room feels calm despite its small size with light and simple cabinetry and plenty of space for everything a growing child might need in a bedroom.
How can I make the most of a child's small bedroom?
A child's bedroom needs to be a flexible space, accommodating their changing needs from babyhood through to teenage years. So it makes sense to ensure that big-ticket items such as beds, closets and chests of drawers will stand the test of time.
Add color, pattern and magical touches through fabric, bedroom lighting ideas, artwork and quirky accessories, or invest in some surprisingly grown-up touches such as a wooden canopy bed – a fun take on a traditional four-poster – and a pretty coronet with cascading fabric.
These beds are statement pieces and work beautifully against mustard yellows, grays and midnight blues. It all adds up to a smooth transition to teen years. But fairylights, tactile fabrics and easy access furniture add an informal note, perfect for early years.
'The zeitgeist is to avoid trends – instead embrace your children's passions and interests,' advises Ashlyn Gibson of Olive Loves Alfie. 'Choose storage that is easy for children to use themselves, such as wooden crates on casters that can be taken from room to room and can also double up as ride-ons.'
Don't forget to allow for plenty of free floor space. Installing a blackout blind and investing in a dimmer switch or night light will also make bedtimes easier.
How do you decorate small bedrooms for kids?
Putting together a cohesive, creative and practical scheme for a child's bedroom is no mean feat. The best way to create successful small bedroom ideas for kids is talking to them about their ideal room – after all they are the ones that will be living in it.
Listen to their ideas about color and style and then come to a practical compromise. There are plenty of ways that you can incorporate a favorite theme without having to repaint a room. Try starting with a neutral palette such as white or gray and then accessorizing with bedding, toys and prints.
The key is to introduce flexible and accessible storage, colorful accents, and one or two striking elements for a look that can evolve as your child grows.
Floor space is at a premium in a small room, so give the illusion of more space by installing floating shelves, investing in beds with wooden legs raised high above the ground, wall-hung units and storage that can be hidden behind a door.
What should I put in my kids' small bedroom?
It is important to start with the essentials: bed and storage. Both should be able to accommodate the child from toddler to teens, so buy a bed now that's full-size, and put in storage with shelves or rails that can easily be moved as your child's needs change. From here, there is plenty of opportunity to indulge in charming decoration and that crucial bit of extra aesthetic effort.
Although the possibility of your child growing out of a design should be considered, there's nothing to stop you from making sure they have their own lovely space for both rest and creativity.
How do you make a small bedroom for kids look bigger?
'If space is an issue, a bed with drawers underneath works really well as you can never have enough storage in a child's bedroom. Alternatively, one that incorporates a pullout bed underneath is ideal for sleepovers.
'Install a wall of shelving for toys and books too. If space is tight, try adding shelves above a desk, which can be used for storing homework as well as for display,' says Blanca Sanchez of Halo Design Interiors.
Sign up to the Homes & Gardens newsletter
Decor Ideas. Project Inspiration. Expert Advice. Delivered to your inbox.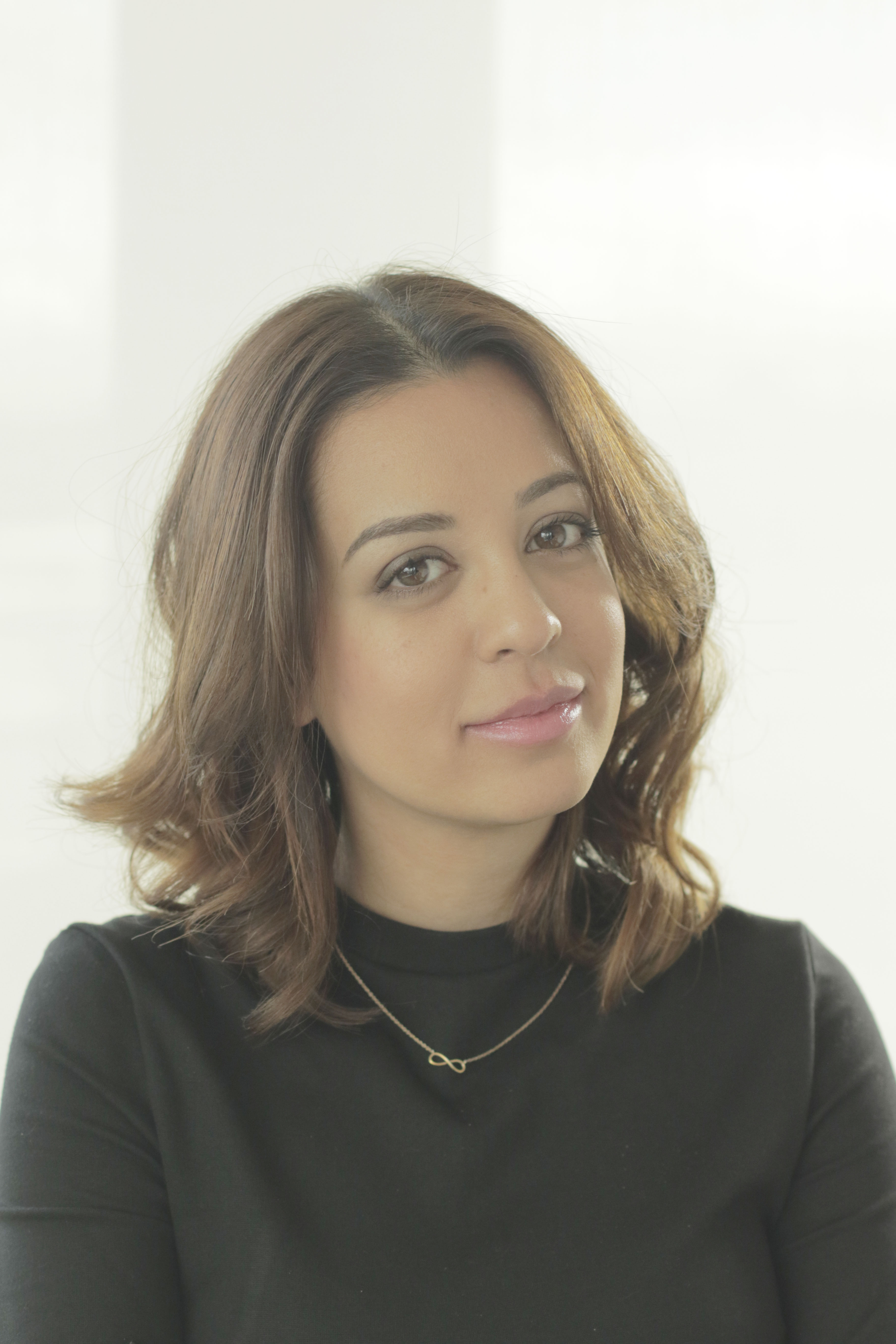 Jennifer is the Digital Editor at Homes & Gardens. Having worked in the interiors industry for a number of years, spanning many publications, she now hones her digital prowess on the 'best interiors website' in the world. Multi-skilled, Jennifer has worked in PR and marketing, and the occasional dabble in the social media, commercial and e-commerce space. Over the years, she has written about every area of the home, from compiling design houses from some of the best interior designers in the world to sourcing celebrity homes, reviewing appliances and even the odd news story or two.