Small bedroom ideas for kids – creative ways to make the most of your space
Find small bedroom ideas for kids that combine fun and practicality, even in small children's rooms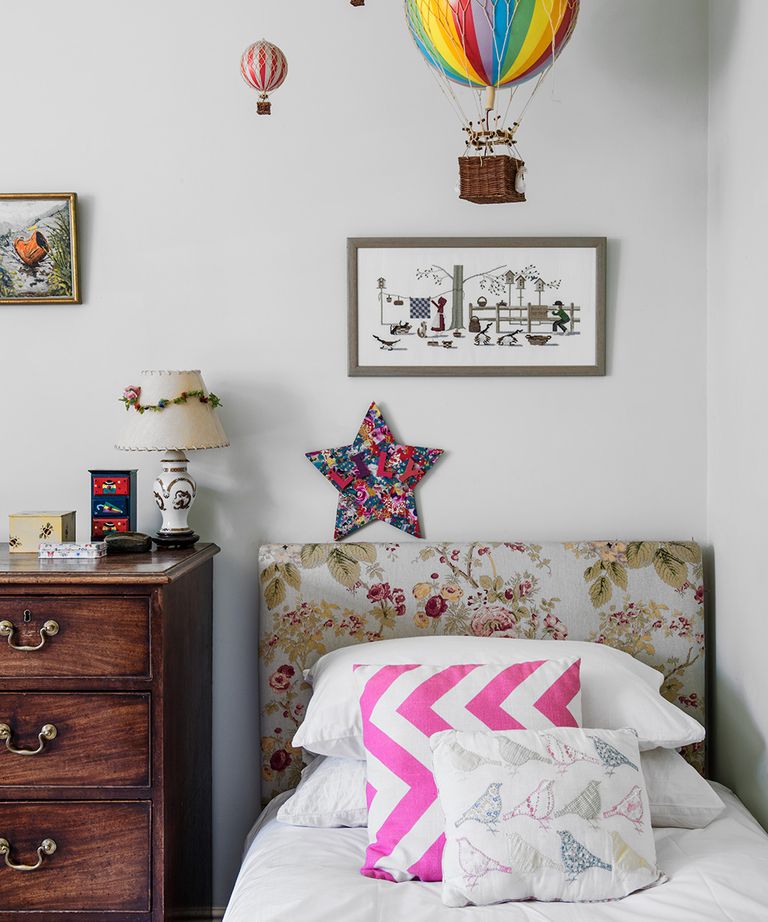 (Image credit: Jody Stewart)
Small bedroom ideas for kids can be challenging. We all want our kids to have a bright, uncluttered place to play and do homework, but they've often been stuck with the smaller or oddly-shaped rooms due to space issues.
Not to worry: with a little bit of inspiration, it can be easy and inexpensive to turn even the tiniest bedrooms for kids into fun, attractive, and organised spaces.
Small bedroom ideas for kids
Planning successful small bedroom ideas for kids depends on plenty of forward-thinking. Good storage, multi-functional furniture that serves a child's changing needs, and imaginative décor are all key.
A balance between form and function will result in a hard-working small bedroom layout that stands the test of time.
1. Embrace minimalism in a small space
A Scandinavian, minimalist style is a popular trend, alongside natural wood and brilliant whites. It's a clean, smart and versatile look that fits in well with other room schemes and can grow with your family.
2. Use a neutral color palette
Keeping color schemes as neutral as possible will help you adapt a bedroom theme easily as your children's tastes develop and change, as well as working equally well for girls' bedroom ideas and bedroom ideas for boys.
Gray and white work brilliantly with pink, red, navy or brighter shades like yellow or turquoise – vibrant accents like these can easily be changed as children grow.
3. Choose coordination
Ensure that the furniture in your children's room lasts a long time by picking neutral-colored matching items, including a bed, wardrobe and chest of drawers.
A wooden set in painted cream can be adapted to any color scheme, from bright colors for toddlers to cooler hues that will fit in with more grown-up bedroom ideas for teenagers.
4. Put it on a shelf
Make a display of books, teddies or dolls on a set of shelves lined up horizontally on one wall. This is a great way of keeping toys off the floor, yet still to hand when your child wants to get one down – perfect when considering playroom ideas too.
Ensure there is enough storage for toys, clothes and games with shelving, drawers, boxes and hooks. These can be painted or color coordinated to complement your overall scheme.
5. Go for a gender-neutral gray
Yellows, blues or pinks are usually the go-to colors for kids' bedroom ideas, but gray and white is a great choice if you want a timeles scheme that you can easily personalize or change over time.
6. Get to work
Just because a bedroom is small, it does not mean it can't be functional, practical and stylish. Many brands now make furniture fit for tighter or narrower spaces.
A well-organised desk area is ideal for crafts, drawing and eventually homework. Choose a white work space, which will go well with any color scheme or design, and ensure that it incorporates plenty of bedroom storage ideas for books, pens and arts and crafts items.
7. Organize a small bedroom
Colorful storage not only brightens up small bedroom ideas for kids, but it is also a compact and practical way of storing toys and other bedroom accessories.
If you are planning storage for shared bedroom ideas then provide each child with different colored baskets to store their belongings. This is a good way of avoiding fallouts over whose toys belong to who.
8. Let your child's imagination run wild
A small bedroom does not mean you have to skimp on creativity. Imaginative play can help bring a sense of fun and fantasy to a child's bedroom. Keep some role-play toys, such as mini kitchens and shops, within reach, so children can spontaneously decide when to use them.
Where space is tight, choose a children's bedroom wallpaper in which they can express their unabridged creativity. In the gallery wall ideas (opens in new tab) above, a picture frame-style wallpaper will allow your child to paste their favourite photos directly to the wall. Or, if your child is a Da Vinci in the making, they can paint straight on it and create their own imaginative wallpaper ideas.
9. Free up floor space
Transform a cluttered room by investing in clever and versatile storage. Floor space is at a premium in small bedroom ideas for kids, so hang furniture and storage on walls and the ceiling.
Clever combinations of floating shelves are great for displaying toys, books and maximising wall space.
10. Do not overcrowd a room
Look at the light and space you have available and work with that. Children of all ages, including teenagers, love lounging on the floor, so it's important they have floor space to stretch out and play, or chat with friends.
A lot of parents make the mistake of crowding children's bedrooms, so that all of its contents eventually end up downstairs.
11. Work with the architecture of your room
Make the most of the room's features when planning small bedroom ideas for kids. Whether it's a sloping ceiling or a kooky cupboard, create a feature that gives your child something interesting to look at when they go to bed at night.
If you have an awkward room shape, consider bespoke furniture options to make the best use of available space without the need to wedge a bed in or shoehorn a desk in the corner.
12. Hang it on the wall
Children's rooms are the perfect place to let your imagination go wild, especially when it comes to wall decor for the bedroom. Wall stickers are a budget-friendly option and can be changed easily, and are perfect when considering small bedroom ideas for kids.
Embrace bright colors, fun prints and playful accessories in your wall decor and beyond to create a personalized space for your little one. For kids' room paint ideas that will make the scheme effortlessly adaptable as your child grows, opt for neutral colors.
13. Plan accordingly
Built-in furniture is one of the most useful small bedroom ideas for kids. This clever bespoke design features bunk beds set into a wall of storage, and a floating desk (just seen) positioned beneath the window. The upper level is accessed using stairs – note how the treads segue with the shelving for a seamless effect.
The room is neutrally decorated so that it can be changed as the children grow. The choice of pale wood and gray painted tongue and groove gives this space a relaxing, Scandinavian vibe.
14. Go for a truly bespoke design
Opt for bespoke fitted shelving to maximise storage in small bedroom ideas for kids. This simple white painted system was designed to be robust enough for the children to stand on to reach the top shelves. A giant light-up anchor adds a fun decorative touch.
15. Create a show-stopping scheme
When decorating a child's room, think outside the box or, in this case, the treehouse. Themed bedrooms are fantastic for smaller spaces, and using one large piece of furniture can really make the whole space standout. Choose one theme and run with it.
Start with an eye-catching and, more importantly, sturdy piece of furniture and work around it. Great for rooms with high ceilings but minimal floor space, this treehouse bed is the ultimate show-stopper.
The alcove behind the bed has been papered with a montage of wildly exotic prints, which are all in-keeping with the jungle vibe. As this space is all about individuality, mix it up with a modern geometric rug and a glamorous metallic pouf.
16. Stimulate the senses
Create an interesting bedroom accent wall that will excite curiosities. Wall murals work brilliantly in small kids' bedroom ideas, as they don't take up any extra space.
A world map can work particularly well in a child's room, acting as both an educational aid and colorful décor. Track down a good-quality mural company that can create a bespoke design to perfectly fit your entire wall.
17. Stick to a simple scheme
Cream schemes don't need to be ordinary, as the contemporary hand-blocked wallpaper in this period property proves. The quirky alphabet design complements the stunning original features without stealing the show.
If your space is verging on the small side, then it is best to keep furniture to a minimum. A painted chest of drawers, wicker baskets, chequered blinds and a plantation-style armchair are beautiful additions to this traditional small nursery room.
18. Fit in
Maximise the potential of an eaves space in the loft by using the space around it for recessed storage and a bed with pullout drawers.
Teens will especially love this idea, as it provides them with a space for friends to sit when they come over, or a quiet nook for reading.
19. Raise the bed
In small bedroom ideas for kids, raising the bed up onto a platform provides the perfect solution for maximising storage space.
This room feels calm despite its small size with light and simple bespoke cabinetry and a vertical-striped paper that visually adds lost height to the room.
How can I make the most of a child's small bedroom?
A child's bedroom needs to be a flexible space, accommodating their changing needs from babyhood through to teenage years. So it makes sense to ensure that big-ticket items such as beds, wardrobes and chests of drawers will stand the test of time.
Add color, pattern and magical touches through fabric, bedroom lighting ideas, artwork and quirky accessories, or invest in some surprisingly grown-up touches such as a wooden canopy bed – a fun take on a traditional four-poster – and a pretty coronet with cascading fabric.
These beds are statement pieces and work beautifully against mustard yellows, grays and midnight blues. It all adds up to a smooth transition to teen years. But fairylights, tactile fabrics and easy access furniture add an informal note, perfect for early years.
'The zeitgeist is to avoid trends – instead embrace your children's passions and interests,' advises Ashlyn Gibson of Olive Loves Alfie. 'Choose storage that is easy for children to use themselves, such as wooden crates on casters that can be taken from room to room and can also double up as ride-ons.'
Don't forget to allow for plenty of free floor space. Installing a blackout blind and investing in a dimmer switch or night light will also make bedtimes easier.
How do you decorate small bedroom ideas for kids?
Putting together a cohesive, creative and practical scheme for a child's bedroom is no mean feat. The best way to create successful small bedroom ideas for kids is talking to them about their ideal room – after all they are the ones that will be living in it.
Listen to their ideas about color and style and then come to a practical compromise. There are plenty of ways that you can incorporate a favourite theme without having to repaint a room. Try starting with a neutral palette such as white or gray and then accessorising with bedding, toys and prints.
The key is to introduce flexible and accessible storage, colourful accents, and one or two striking elements for a look that can evolve as your child grows.
Floor space is at a premium in a small room, so give the illusion of more space by installing floating shelves, investing in beds with wooden legs raised high above the ground, wall-hung units and storage that can be hidden behind a door.
What should I put in my kids bedroom?
Whether you are looking for girls' bedroom ideas or boys' bedroom ideas, it is important to start with the essentials: bed and storage. From here, there is plenty of opportunity to indulge in charming decoration and that crucial bit of extra aesthetic effort.
Although the possibility of your child growing out of a design should be considered, there's nothing to stop you from making sure they have their own lovely space for both rest and creativity.
How do you make a small bedroom for kids look bigger?
'If space is an issue, a bed with drawers underneath works really well as you can never have enough storage in a child's bedroom. Alternatively, one that incorporates a pullout bed underneath is ideal for sleepovers.
'Install a wall of shelving for toys and books too. If space is tight, try adding shelves above a desk, which can be used for storing homework as well as for display,' says Blanca Sanchez of Halo Design Interiors.
Jennifer is the Digital Editor at Homes & Gardens. Having worked in the interiors industry for a number of years, spanning many publications, she now hones her digital prowess on the 'best interiors website' in the world. Multi-skilled, Jennifer has worked in PR and marketing, and the occasional dabble in the social media, commercial and e-commerce space. Over the years, she has written about every area of the home, from compiling design houses from some of the best interior designers in the world to sourcing celebrity homes, reviewing appliances and even the odd news story or two.