Box room ideas – clever ways to style the smallest room in your home
Designing a box room might seem like an unenviable challenge, but it doesn't have to be. In fact, their small size can make for the most inspiring of spaces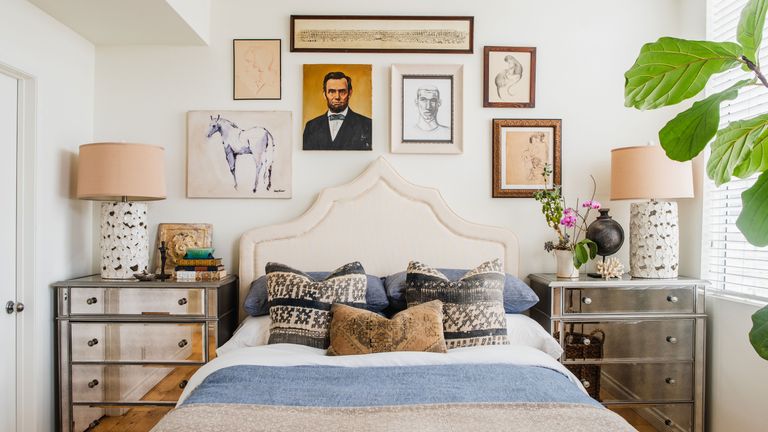 (Image credit: Hannah Wilson / Arndt Design & Build )
Looking for box room ideas? Our pick of the best box room design ideas will ensure that your tiny space is used to maximum efficiency. 
Even the most humble of small rooms has the ability to serve as a comfortable bedroom, office or dressing area, and clever use of furniture can turn it into a multi-functional space too, incorporating useful study and storage areas. Careful planning and a dash of inspiration are all that's needed to maximize a small room's potential.
Read on to find out how to create a box room – and for more bedroom ideas, don't miss our inspiring gallery.
1. Take an expert view on color in a box room
'Don't shy away from dark colors,' says interior designer Suzy Hoodless. 'You'll be using the bedroom primarily at night, so it's the perfect showcase for bold shades. Think cozy rather than gloomy: dark blues, mid-tone greys and warm greens are all good choices for a box room.'
2. Opt for fitted furniture in a box room
While freestanding furniture has its uses for both storage and display, there is nothing more efficient than well-designed, fitted furniture that allows you to squeeze every inch of use out of even the most unpromising corner, and a streamlined way. The key is to wake up to your home's hidden potential.
3. Include practical furniture
'No matter how small your box room is, a chair is always practical,' says Nicola Holden, Nicola Holden Designs. 'If it causes too much clutter, consider plumping for something unobtrusive – such an armless stool. Choose hard-working furniture such as ottomans and chests of drawers, and don't neglect forgotten areas such as those above a door, where built-in shelving can look effective.'
4. Make do with multifunctional storage
Start planning your box room by considering storage,' says Bunny Pocock, Turner Pocock. 'Go beyond joinery – a chest of drawers can act as a bedside table; a divan can hold hidden storage and an end-of-bed blanket box can double up as a laundry bin.'
5. Turn your box room into an office
It's time to stop working from your kitchen table – or bed – and make the space for a dedicated home office. The box room, no matter how small is the ideal setting – all you require is a discreet desk and an office chair. 
Give the space an element of creativity and fun with a statement wallpaper. It will make the perfect backdrop for all those Zoom calls.
See: Home office ideas – ways to decorate that are smart, practical and stylish
6. Invest is the best lighting you can afford
If your lighting budget runs allows, add small reading lights to you headboard. They are great for nighttime reading, especially if you share your room with a partner as they provide discreet, non-intrusive lighting. They also negate the need for a space-stealing bedside table.
7. Use a box room as a walk-in closet
If your box room is looking a little unloved, turn it into a fabulous walk-in closet. Once the domain of the rich and famous, walk-in wardrobes and dressing rooms rank high on everyone's wish list, and making space for one in your own home is easier than you think. 
When designing your walk-in room, think about your clothing and storage needs and plan around them. Factor in dual-level hanging areas, racks or boxes for shoes, deep shelves for knitwear and casual clothing, and drawers to keep pyjamas, lingerie and socks out of sight. 
Our dressing room ideas feature will provide you with all the inspiration and advice you need.
8. Transform a tiny box room in a stylish powder room
Make the most of unused space by installing a powder room or cloakroom – it will punch above its weight in terms of household usefulness. Properly designed and finished, a powder room is a great addition to your home. It not only adds value, it could also be really handy when you're entertaining. 
9. Fashion a utility room 
A box room doesn't have to be a bedroom. It can be what ever you need it to be, and so much more. Having a separate utility room opens up so many possibilities – it can function as a dedicated laundry area complete with washer, dryer and shelving for freshly ironed linen; it could be a messy old boot room where children can fling their football gear after a wet Saturday morning or it could even be turned into a hobby room where you have the peace and quiet you need to learn a new craft.
See: Clever utility room ideas for a well-planned space
10. Play with pattern and color in a small space
While it may seem counter-intuitive, color and pattern can work well on walls in smaller spaces. A wallpaper with a large-scale pattern tends to draw the eye in and had the effect of visually elongating a compact room. 
'Similarly, using an intense jewel paint color on the walls in a small room gives it a sense of drama whereas neutrals can make a box room feel uninspiring,' says founder and creative director of Designers Guild, Tricia Guild. 'Bolder palettes tend to be especially suited to guest bedrooms, where the color comes as a pleasant surprise when the door is opened and helps to give the scheme a more intimate feel.'
11. Create a child's bedroom or play area
Putting together a cohesive yet stylish children's room is no easy feat, especially in a box room. The key is to introduce accessible storage, colorful accents, and one of two striking elements that can be changed easily. 'If space is tight, a bed with drawers is a good idea,' says Blanca Sanchez at Halo Design Interiors. 'Alternatively, one that incorporates a pull-out bed underneath is ideal for sleepovers.'
What can I do with a box room?
The proud owners of compact city apartments, crash-pads, house boats and cute country cottages know how to be clever with space, and such focused thinking can be good for any home, helping to streamline space and create optimum storage. If you are hoping to take to create your very own petit designer box room, then you'll be surprised to know that there are many ways to make you small room beautiful. 
The experts – from architects to designers – recommend that you start by focusing on lighting. The right lighting can easily make or break a scheme – so this needs to be your first plan of action. Once you've mastered box room lighting, then consider a carefully-curated color palette. While it may seem counter-intuitive to go for a bold color in a small space, a box room is the perfect place to experiment. Be brave. 
What's more, don't be afraid to go big when it comes to furnishings. 
'An oversized accessory – in a box room – will look much better than a number of smaller pieces,' says Mary Barber-Fray, Mary Barber-Fray Interior Design.
How do you make a box room look nice?
If budget allows, consider having wardrobes built in. A good wardrobe will last you for life, so it's worth saving up and spending as much as you can afford to. A statement wardrobe might seem attractive, but your tastes might evolve over time so, if you're spending a lot or are at all unsure, it's safer to err on the side of caution and choose a classic style you won't tire of, that will slot seamlessly into future decorating schemes.
How do you maximize space in a box room?
The best way to maximize space in a box room is with well-placed mirrors. Not only will a statement design add a focal point to your small box room, but it will help make the space feel bigger and brighter by reflecting light. Choose a mirror that suits your existing décor and works with your look. With so many designs available, you'll be sure to find something to complement your scheme, whether it's a sleek  contemporary design or a shabby-chic piece.