Small bedroom layout ideas – how to arrange a small bedroom
These small bedroom layout ideas cover everything you need to know about how to arrange a small bedroom, to make the most of even your tiniest space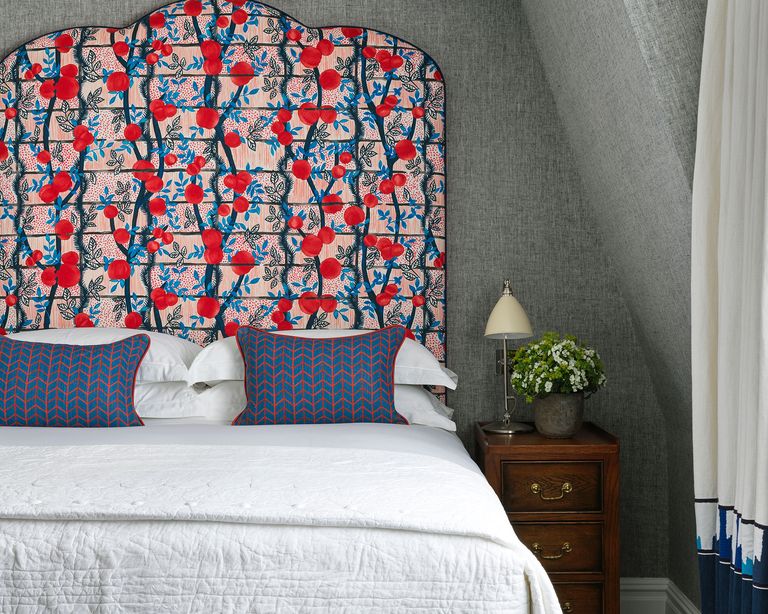 (Image credit: Kit Kemp)
Small bedroom layout ideas are essential when designing the more petite spaces in your home, so we've broken down our top tips on how to arrange a small bedroom.
From tiny box rooms to awkwardly shaped loft spaces, small bedrooms all come with their own unique set of problems. People often struggle with storage, how to create an effective furniture layout and finding small bedroom ideas to make these compact spaces look bigger than they really are.
Bunny Turner, of Turner Pocock, explains why small bedrooms can actually be a blessing. 'We actually really enjoy designing small bedroom spaces as it's much easier to make them feel cosy and inviting, and it forces you to put the practical wardrobe storage elsewhere.'
How do you arrange furniture in a small room?
Fitting furniture in a smaller space can seem tricky, but there are some things to keep in mind which simplify the whole process.
'The key is to try to avoid placing furniture on all sides of the room. Keep spaces clear between furniture to allow for flow, and make sure that the pieces that are selected serve their purpose well,' advises Bunny Turner of Turner Pocock.
Being selective and clever with furniture and its purpose also helps when considering what you need in the room.
Sharing some of her small bedroom storage ideas, Bunny says: 'We often use chests of drawers as bedside tables to maximise on the storage achieved, and we usually hide additional storage within the bed divan room.'
Where should a bed be placed in a small bedroom?
By their very nature, beds can be a fairly cumbersome problem when designing the layout of a bedroom, particularly when space is tight in box rooms.
To make a beautifully dressed bed the focal point, place it in the middle of a wall, with equal space on either side for small storage units and lamps. If, however, you wish to prioritize floor space, then you have to think outside the box.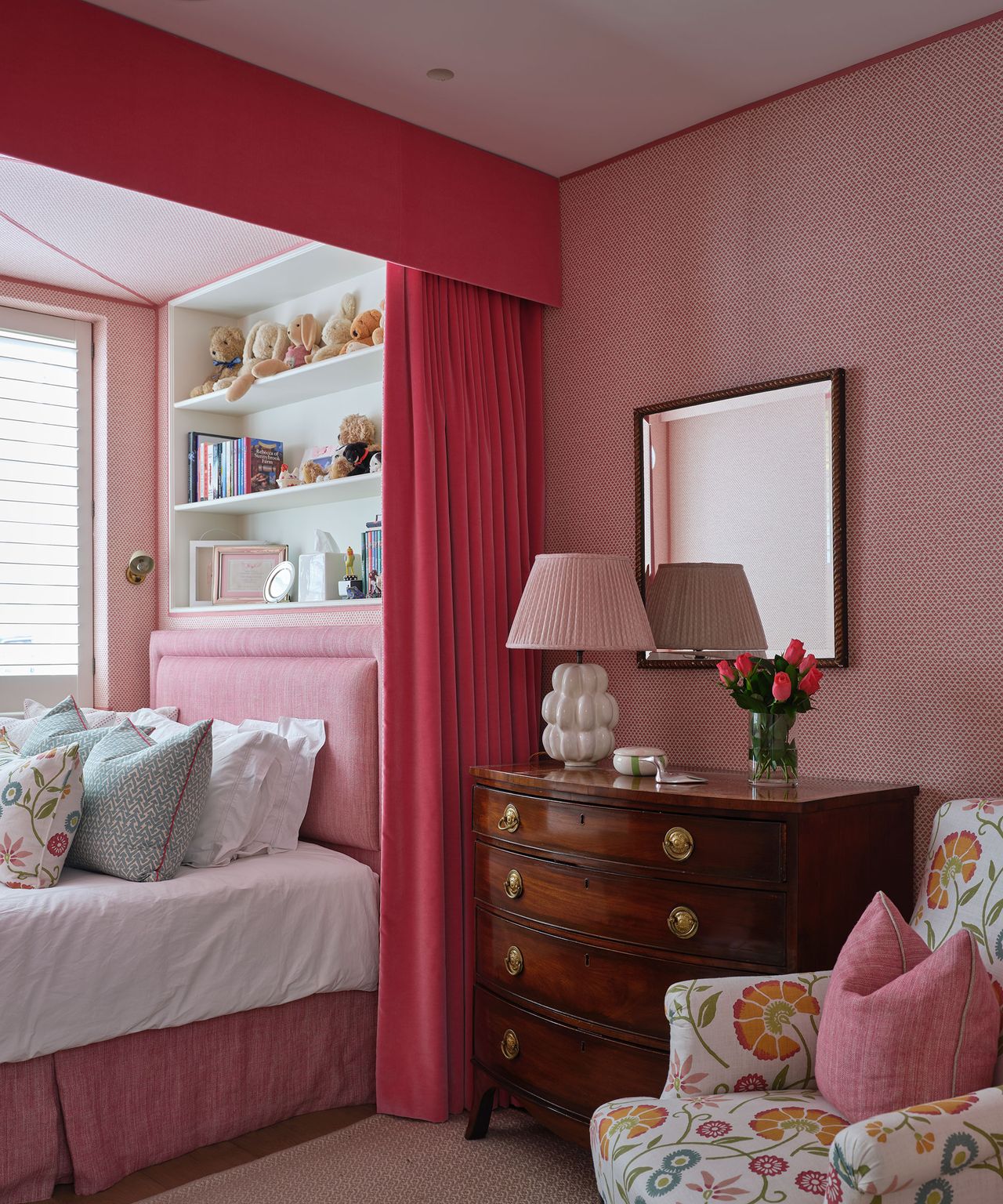 One solution, illustrated here by this Wendi Wolf Lewitt design, is to create a sleeping alcove. No only does this add floor space, but it creates a restful nook where you can switch off – perfect if the person living there has to work or study in the same small space.
As a bonus, if you build in an alcove you can include storage space under the bed and shelves behind the bedhead, too.
What is the best way to organize a small bedroom?
Organization is vital in any small room, but in bedrooms, where rest is the endgame, it's even more important.
'I think the key in a small bedroom is still to try and fit in the ingredients that everyone needs – really good bedroom lighting such as reading lights (if needs be, wall lights, but I always prefer a table lamp if possible) – and a bedside table with a drawer or two,' says designer Ben Pentreath.
Make use of every awkward space you can. Bespoke fitted shelves can turn a tight corner into a useful spot of storage. Solutions like placing a mini Lazy Susan in the corner of a unit can add space and practicality.
It's not only the practical things that are worth consideration. 'It's lovely if you've got space for a small chest of drawers, which means that you can put out some books and a bunch of flowers if you've got friends staying,' advises Ben.
How do you create storage in a small bedroom?
Storage is one of the biggest issues with small bedrooms. The trick here is to be clever about how you use your space.
Beata Heuman made the most of this small room by including a beautifully upholstered chest at the foot of the bed. By using a gorgeous fabric, it becomes a focal point for the room and doesn't scream out the fact that it's actually a practical storage solution. In addition to being the perfect container for thick jumpers, boots or blankets, it also provides a place to sit and get ready for the day ahead.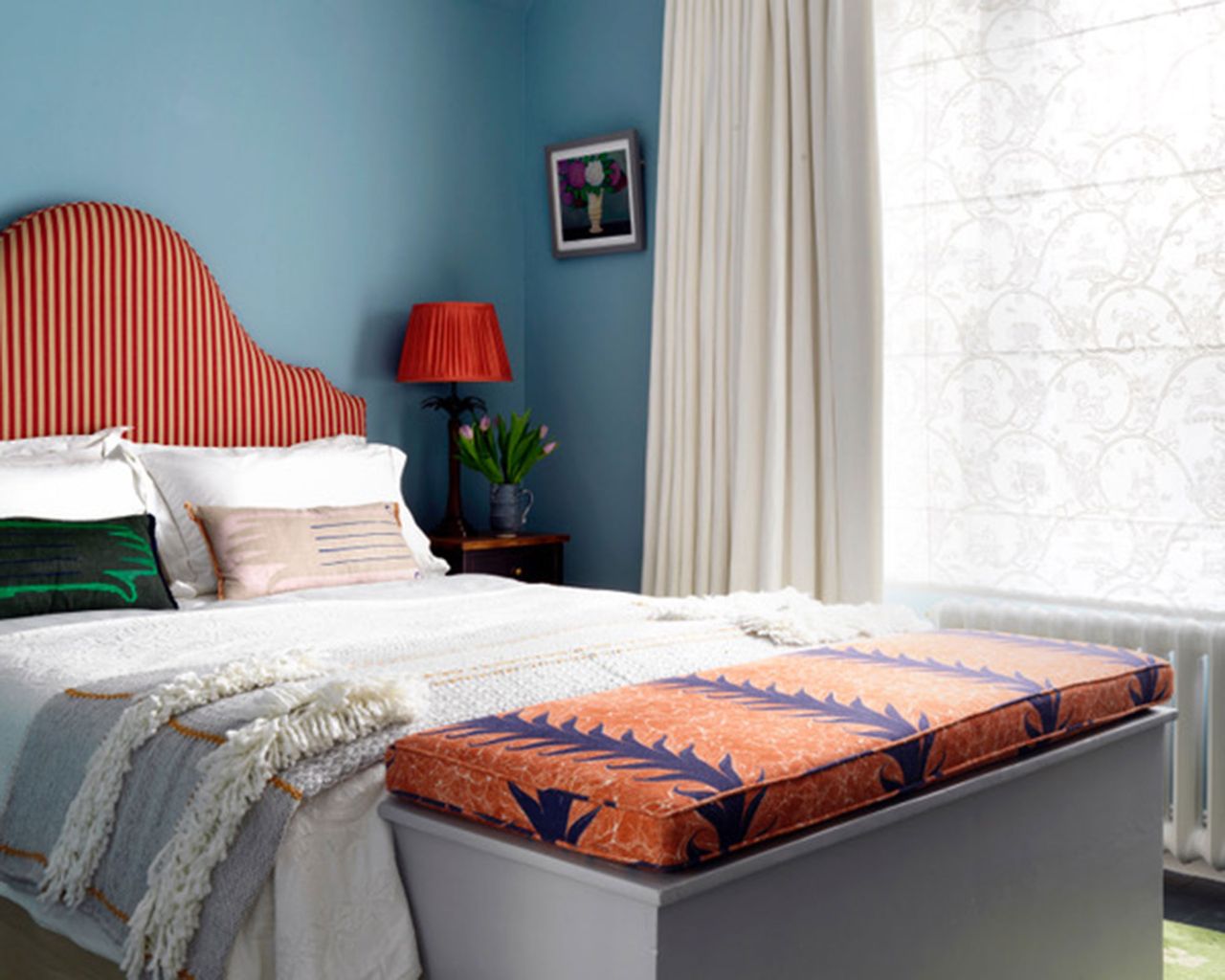 Space under the bed, or a divan with built in drawers, can be utilized for items like shoes and bags, too. And if you're investing in a new wardrobe, look for layered, tall options; you can get hooks to pull the top layer down so you're not constantly stretching upwards.
With your storage, make sure to also consider the use of the room. For example, if you are decorating a guest bedroom then you can get away without a wardrobe; a generous hook over the door should suffice.
How can I rearrange my bedroom to make it look bigger?
When considering how to lay out your bedroom to maximise space, there are a number of things to take into account.
The pictured small bedroom design, from Thorp, illustrates a few other ways to arrange the room to look bigger. 'The triple panels on the door are proportioned to make the room seem much taller than it is,' notes founder Philippa Thorp.
Further, symmetry will make the room feel calmer and more spacious than it might actually be, so see if you can fit in matching bedside tables and lamps. Kit Kemp suggests to 'add mirrors either side of a fireplace with a foxed mirror glass to maximise the feeling of light and space.'
For rooms with wardrobes, Kit suggests: 'Mirror the back of the wardrobe space, so when you open the wardrobe door in a bedroom the mirror makes the cupboard feel more luxurious and bigger.'
How do you make a small bedroom look bigger?
How you decorate a small room can have a huge impact on how spacious it appears.
'If it is a small bedroom in an attic or with sloping walls, we often continue the wallpaper over the ceiling to give an overall effect and maximise the feeling of space,' says Kit Kemp. 'Using a very large painting or wall hanging in a small room often makes a room feel bigger, too.'
Statement prints on headboards also trick the eye into thinking the space feels larger, by distracting you from the rest of the room.
Take into account prints used on the wall. When considering bedroom wallpaper ideas, a slightly larger repeat in the pattern can suggest the feeling of more space than there actually is.
How do I arrange a child's small bedroom?
Children's rooms are often comparatively smaller rooms than the adults in a house. While of course the kids are small, they tend to accumulate an awful lot of stuff very quickly.
Which is why Katie Cox, interior designer at Ham Interiors, says that, 'when coming up with small bedroom ideas for kids, incorporating clever storage is always a good plan!'
Consider built-in joinery to maximise space. Katie then suggests to 'use oversized baskets, to make clearing away toys quick and easy'.