Relaxing bedroom ideas – 12 soothing sleep spaces
Create the perfect space to de-stress with these relaxing bedroom ideas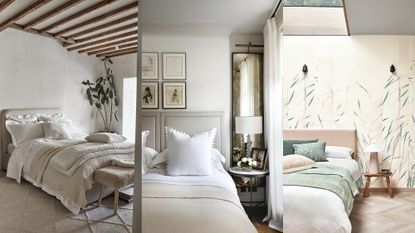 (Image credit: The White Company / Paul Raeside / Villa Nova)
Relaxing bedroom ideas should be a top priority when it comes to home design. In our fast-paced modern world, it's essential to have a space to de-stress, unwind and get a good night's sleep.
If you're embarking on a new bedroom design, there are so many ways to create a restful backdrop, from soothing wall colors inspired by nature and ambient lighting to well-thought-out storage ideas, not forgetting the all-important comfortable bed.
However, for those looking for a quick update, there are plenty of bedroom ideas to instantly make your space feel more relaxing, from adding some luxury bedding and air purifying plants to a beautiful window treatment to control light and privacy. Alternatively, just a simple room diffuser and the warm glow of candles can be enough to bring a sense of calm.
Whether you're looking to bring calm to a small bedroom or a luxurious master bedroom, these relaxing bedroom ideas and expert tips will help get you inspired.
Relaxing bedroom ideas
Relaxing bedroom ideas are not just about creating rooms that look good, but feel good, so when designing a soothing space it's important to take a holistic approach and engage all the senses. Think about cozy bedroom ideas like tactile textures and soothing, low-level mood lighting, as well as ways to deaden sound and create a quiet space.
While the bedroom color ideas, bedroom lighting and the bed ideas you choose are all key factors in designing a bedroom, for interior designer Nichole Schulze, co-founder of Los Angeles interior design firm cutlerschulze, creating a restful space all starts with well-thought-out bedroom layout ideas.
'A bedroom should be a serene and conducive to relaxing and restful sleep. With that in mind, we try to avoid overly complicated furniture layouts, furniture placed at odd angles or beds under windows. All of which could be distracting and impair a good night's sleep.'
'As a basic rule of thumb, we generally try to place the bed on a wall away or opposite the entry door, it helps ensure there is enough circulation and a natural walkway around the bed,' adds Nichole Schulze.
1. Choose a botanical wallpaper
Nothing calms the mind like time spent in nature, so when looking to create a relaxing bedroom or a zen bedroom, seeking inspiration from the natural world is a great place to start.
Depicting flowing wild grasses in calming pastel shades, this Kishi wall mural from Villa Nova creates a soothing backdrop for sleep. Featuring an array of pastel shades the print makes a great base for building a color scheme – here the gentle pink, green and beige tones have been picked out for use on bedding and cushions.
2. Think about lighting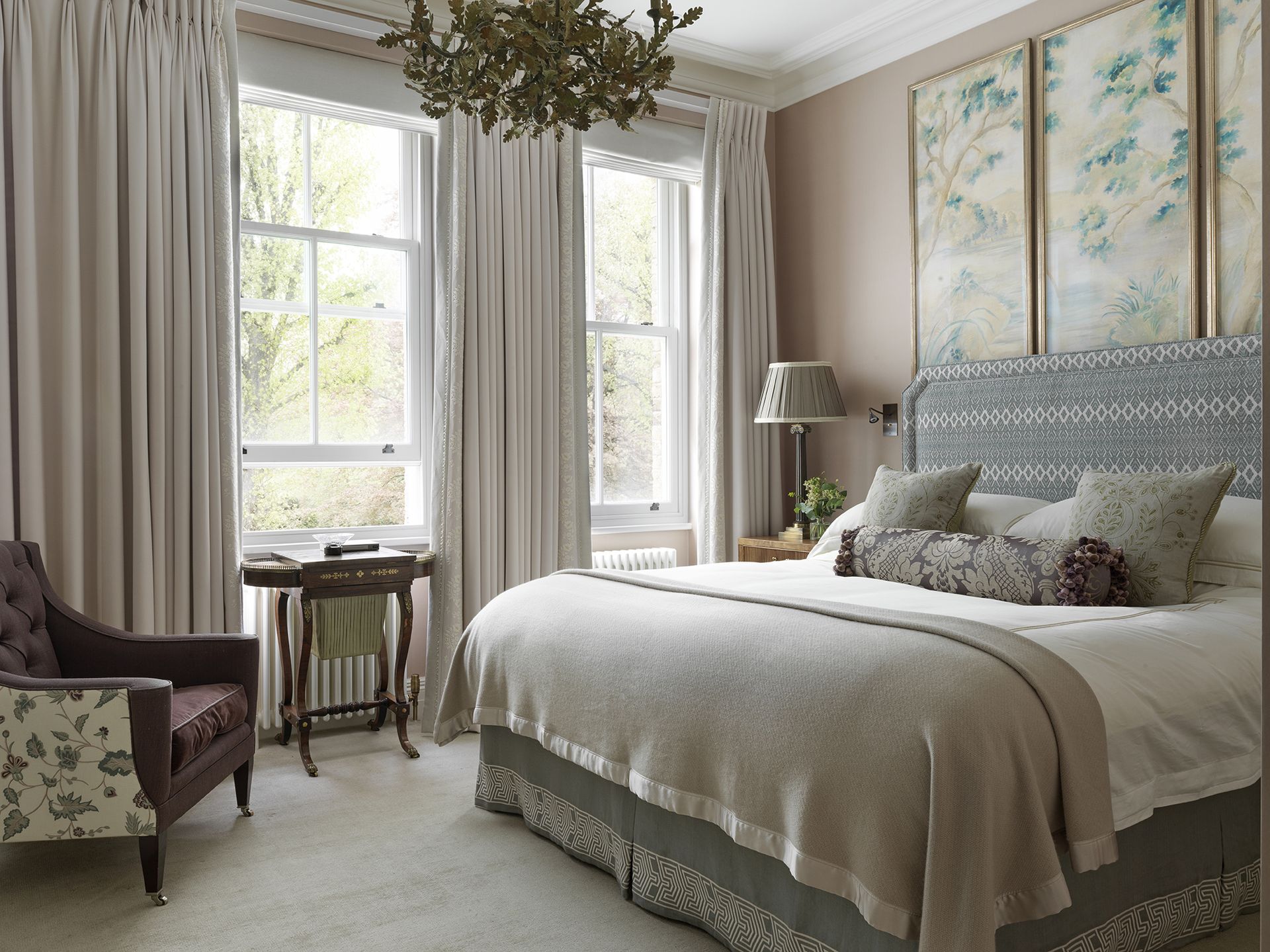 For Katie Glaister, founder of K&H Design, bedroom lighting is one of the most important aspects of a relaxing bedroom. 'To achieve a relaxing ambiance for both day and night, think table lamps, wall lights, and dimmable switches,' she advises.
'High levels of lighting are not needed, think soft lighting and reading lights. A central pendant is practical and will add layers to the design of the room, but they are not always necessary if there are already enough down lights.'
It's also worth remembering that window treatments play a vital role in controlling the light levels in a room. In this bedroom designed by K&H Design, Katie Glaister opted for a combination of Roman blinds and curtains, purposely choosing a white fabric to make them more discreet. 'We took care to ensure that the curtains for these three sets of windows did not dominate the room. The roman blind behind gives an extra layer of warmth in the winter.'
3. Create a canopy
If you have a small bedroom, then opting for white walls and flooring is guaranteed to bring a fresh, quiet feel to the room and will maximize the feeling of space. For a luxurious centerpiece reminiscent of a luxury Caribbean hotel, why not choose a bed with a fabric canopy as shown in this white bedroom idea?
With a frame covered in the gently patterned Damaris in Gris fabric from Romo, this bed feels floaty and enveloping and will help the mind drift off with thoughts of distant lands.
4. Choose a soothing blue
If you're looking for a restful bedroom paint idea then you can't go wrong with a pastel blue. Conjuring the sea and sky, it's guaranteed to bring a fresh, breezy feel and is particularly. Inspired by flax flowers, Neptune's Flax Blue, pictured above, makes a lovely base for many other accent colors – to warm up the look try adding pops of Burnt Sienna.
'The beauty of Flax Blue is that it can be used everywhere in the home, from kitchen cabinets, a fresh lick on the bedroom walls, to upholstery and accessories, it's a light and easy addition,' says George Miller, home designer at Neptune Fulham. 'While it's not an overstated color, it also won't go unnoticed. Burnt Sienna, on the other hand, offers earthy hues of orange, a statement shade evocative of hot, sun-blushed terracotta tiles and can be paired nicely with Ink, or Salt, and is even the perfect contrast to the cool Flax Blue.'
5. Introduce cozy carpet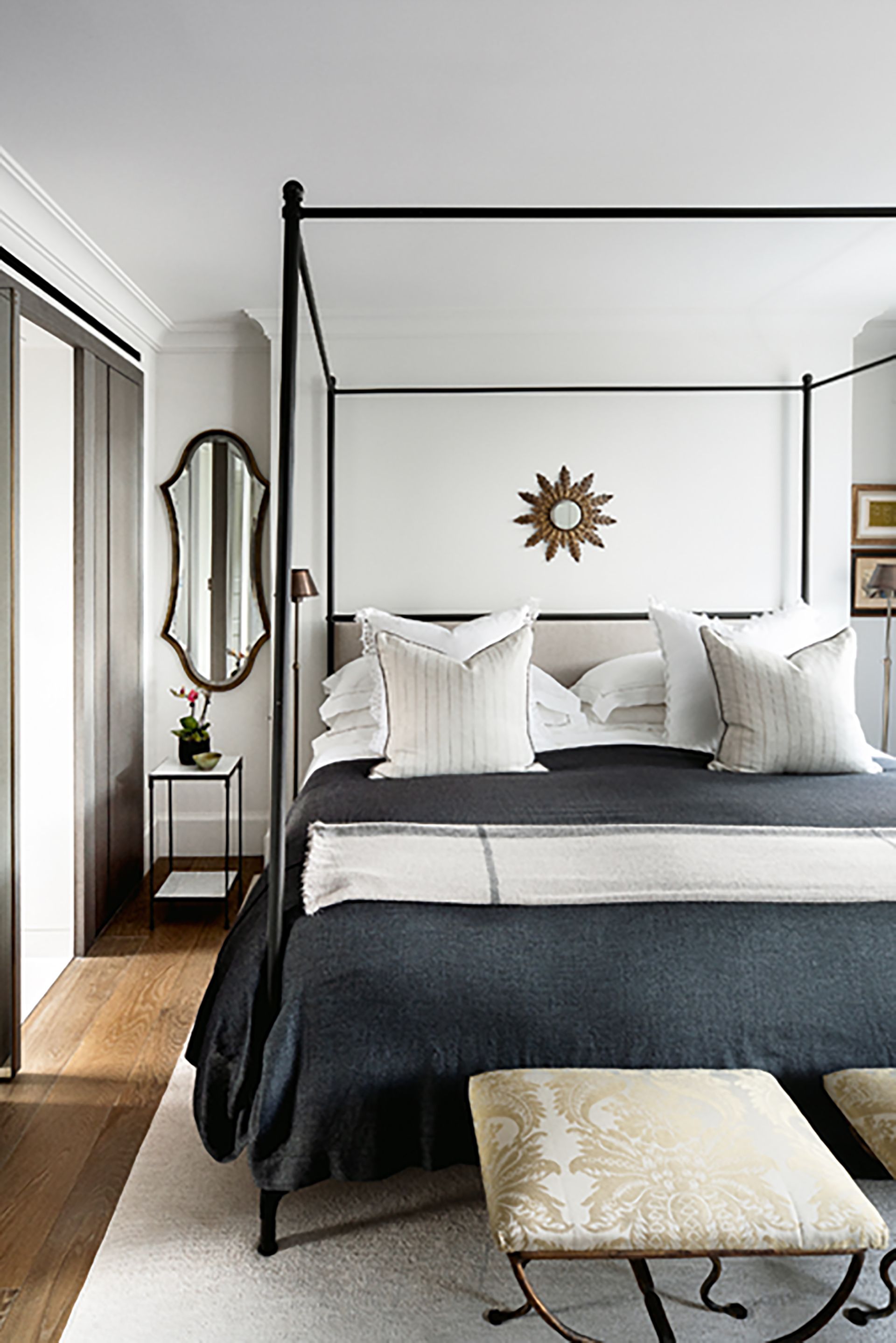 Choosing a fitted carpet for your bedroom flooring ideas, or adding a deep-pile rug to a hard floor, is a wonderful way to bring warmth and comfort, plus will provide a soft layer to sink your feet into when you get out of bed. Choose a neutral design made from sustainable natural materials like wool suggests Jodie Hatton a residential design manager at Brintons.
'Wool provides luxury underfoot and helps to insulate your home,' plus it 'absorbs sound to give a sense of calm and tranquillity,' says Jodie Hatton. 'Wool has hypoallergenic and anti-bacterial properties so by using it on the floor it makes the air that we breathe cleaner and better.'
'A neutral color palette is best suited to rooms you spend a lot of time in, such as a bedroom or living room, where relaxing tones are key to creating a happy space,' she adds.
6. Make the most of the view
Bringing the outside in is a brilliant way to bring a sense of calm to a bedroom, so if you're lucky enough to have a large, rural vista then showcase it as part of your bedroom design.
In this large main bedroom, the view is the commanding feature in the room, so the homeowners arranged the bed facing the window plus added a bespoke window seat leaving space beneath for storage. To block out the light the homeowners opted for full-length lined drapes.
7. Invest in good quality bed linen and throws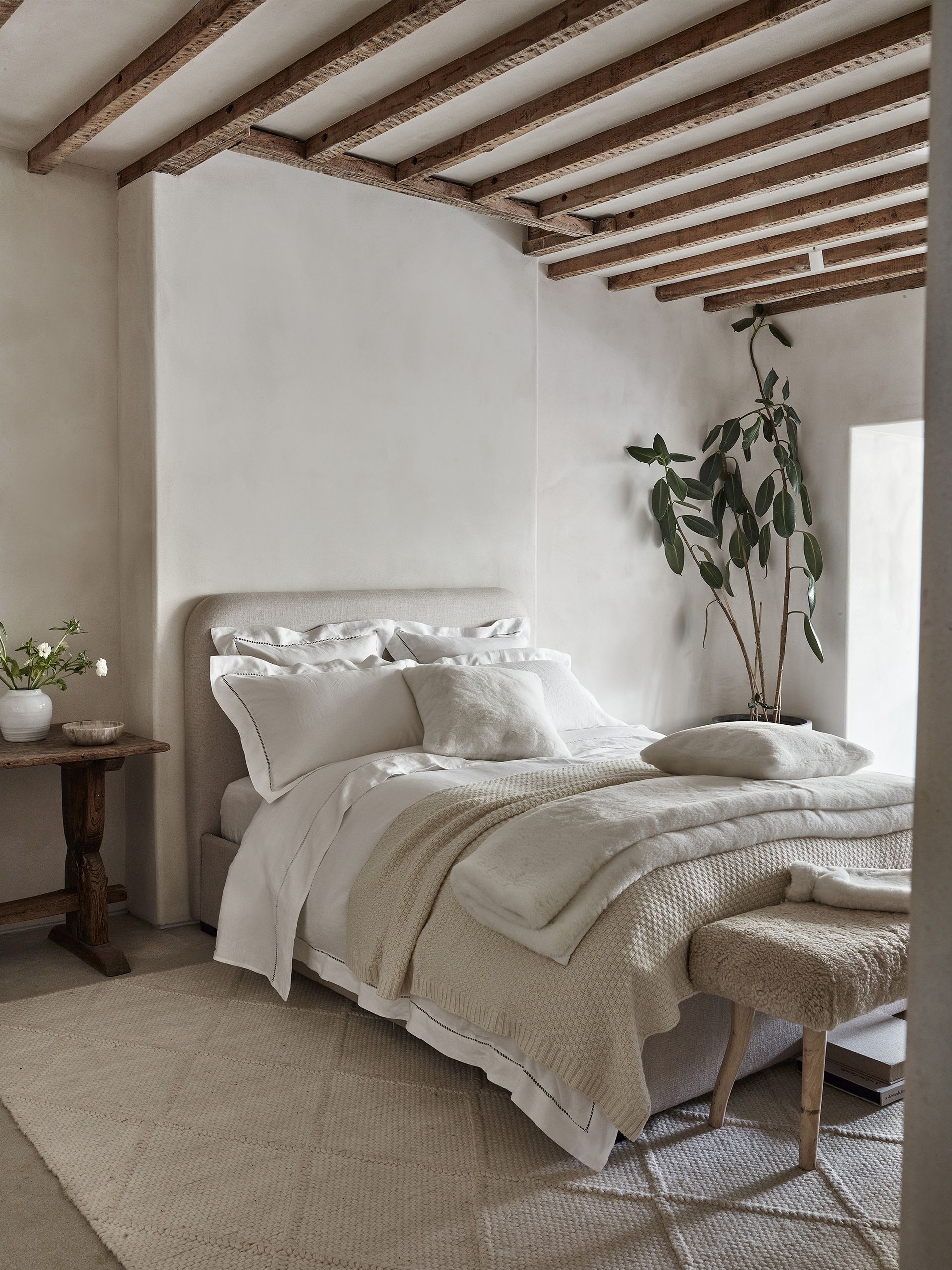 When it comes to relaxing bedroom ideas, arguably the bed and bed linen are the most important purchase. Whether you prefer sheets with a luxurious silky-satin feel, or something light and breathable, getting the bedding right is important for getting the best night's sleep. As winter approaches it's handy to have a selection of throws to layer up, too, these not only provide extra warm layers at night, but also helps create texture within the room which is essential if you're considering neutral bedroom ideas.
When choosing bedding, be sure to consider quality says advises Chrissie Rucker, founder of The White Company. 'Invest in a high-quality bed and mattress that moulds and supports your body correctly, plus great-quality linen, duvet, pillows, and a cloud-like mattress topper. It can feel like a big investment but, in the long term, it is worth it as great quality will feel better and last longer.'
8. Introduce house plants
Not only is decorating with plants visually appealing – bringing color, shape and vitality into a bedroom, it can also help purify the air while you sleep. According to the NASA clean air study, varieties such as English Ivy and Peace Lily can reduce levels of harmful pollutants in the air such as benzene, trichloroethylene and formaldehyde, helping detoxify your sleep space.
9. Add a comfy seat
While sleep may be the main purpose of a bedroom, they can also be great rooms to escape the chaos of the household and take some quiet time for yourself. If space allows, why not add a cozy armchair in the corner or place a small sofa at the end of the bed?
10. Consider window treatments
Window treatments can easily be overlooked, but they provide the essential function of controlling light levels and privacy and can instantly alter the mood of a room. When it comes to bedroom curtain ideas, 'sheers and lightweight fabrics made from natural fibers would be the best option for a relaxed, soft and floaty look,' advises Hayley McAfee of Villa Nova. However, for a restful environment, she also suggests choosing something with a blackout fabric.
'This is tricky if you want to create a soft, floaty feel, so you could either layer two pairs of curtains a sheer at the window with an additional heavier or blackout fabric that you draw at night-time or pair the lightweight curtains with a blackout blind, in a soft color,' adds Hayley McAfee.
11. Choose a neutral palette
Decorating with neutrals and desaturated shades is guaranteed to create a restful feel in a bedroom – to prevent it looking cold and sterile, consider warm, earthy tones such as beige bedroom ideas, plus it's important to factor in different tonal depths and textures explains interior designer Achille Salvagni.
'The best neutral space will have a mix of different palettes of whites, creams, taupes, as well as a mixture of materials that play and challenge one another within the single tone interior. For example, alongside the upholstered elements I choose carefully the natural textiles we use, these include materials such as sheepskin, wool, mohair, and velvet, and layer with cushions.'
He also likes to use carpet to add a tactile element to a room. Try 'either hand-tufted wool or silk against a hard wood or stone floor for contrast,' he says.
12. Choose an upholstered headboard
An upholstered headboard idea is a wonderful way to bring softness and texture into a bedroom whilst also providing a visual focal point and a comfy backdrop to sit up against on those lazy mornings. In this luxury bedroom designed by Ina Rinderknecht the headboard's curved design brings an intimate and cocooning feel, while the wall lights provide a soothing warm glow.
'My client for this project is a busy CEO who wanted to come home to a haven of tranquillity and calm. We wanted the penthouse to feel like a custom-made hotel suite,' says Ina Rinderknecht. 'To achieve this, we installed precise lighting to create a mood that is equivalent to a 5-star suite. The wall lights in the bedroom, and the curved headboard, are reminiscent of interior hotel designs. The client can feel as if she is sleeping in the finest suite, from the comfort of her own home.'
How can I make my bedroom more relaxing?
There are so many ways to make a bedroom more relaxing, from changing the wall color and re-configuring your layout, to simple additions like a cozy armchair or a cozy throw.
'Use warm, gentle colors and textures to create a space you want to retreat into and let go of the day's stresses and ensure the layout helps the energy flow around the room,' advises interior designer Camilla Hampton. 'A high bed always makes me feel like I am climbing up and away from the floor!'
When thinking about restful bedrooms adds Chrissie Rucker, founder of The White Company suggests to 'design it to have a great-looking, blissfully comfortable bed, with lighting that can be lowered and add softness. A soft rug underfoot, a voile blind that blows in the wind, textured throws and cushions.'
However, even subtle updates like adding fragrance and a few accessories are enough to create a more calming environment says Kate Salmon, our head of home and gift buying at Oliver Bonas. 'Aroma diffusers are particularly effective as they are designed to mist and infuse a room with soothing fragrance oils. Another way to make a bedroom more relaxing is by layering cushions on the bed combined with a sumptuous, soft touch velvet quilted bedspread that can really help create a sense of tranquillity.'
Sign up to the Homes & Gardens newsletter
Decor Ideas. Project Inspiration. Expert Advice. Delivered to your inbox.
Pippa is Content Editor on Homes & Gardens online contributing to Period Living and Country Homes & Interiors print issues. A graduate of Art History and formerly Style Editor at Period Living, she is passionate about architecture, creating decorating content, interior styling and writing about craft and historic homes. She enjoys searching out beautiful images and the latest trends to share with the Homes & Gardens audience. A keen gardener, when she's not writing you'll find her growing flowers on her village allotment for styling projects.