Zen bedroom ideas – 10 blissful schemes for rest and relaxation
Create the ultimate relaxation spaces with these zen bedroom ideas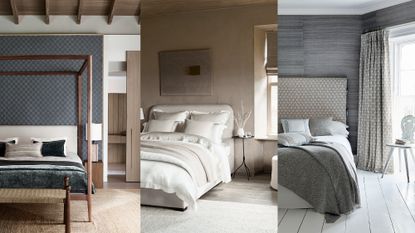 (Image credit: Mark Alexander / The White Company / James Hare)
Zen bedroom ideas are steadily growing in popularity. In a post-pandemic world we are becoming increasingly aware of how our environment impacts wellbeing and the importance of designing restful spaces to help calm the mind.
The concept of zen can be difficult to understand but in essence the term takes its name from zen Buddhism which aims to find enlightenment through meditation. Being in a state of zen is commonly defined as to be in a place of ultimate calm where the mind is emptied of thoughts and free to connect with intuitive feelings.
So how does this translate to bedroom ideas? Zen bedrooms are tranquil spaces that are free of distractions and aim sooth the mind and senses. From the bedroom color ideas you choose to the layout, materials and furnishings, there's a lot to think about when designing a relaxing bedroom, so here we've gathered an array of beautiful looks and expert tips to help you achieve your dream sanctuary.
Pippa has written hundreds of articles on interiors and decorating, may of which are on bedroom design. She spends her days searching for inspiring decorating ideas and seeking out handy advice from interior designers to share with the H&G audience. As fall approaches and we get ready to hunker down she's been looking into how we can make our bedrooms feel more relaxing.
Zen bedroom ideas
When designing a zen bedroom it's important to take a holistic approach and think not just about how the space looks, but how it feels.
'A bedroom is a space which should feel calm, cozy and enveloping as soon as you step through the door. Decorating bedrooms is about ensuring you relax and sleep well,' says Saffron Hare, creative director of James Hare.
Zen bedrooms often conjure minimalist spaces, and, while these may seem straight forward to achieve, there is a lot more to it than meets the eye. Here we share some tips on how to create a space perfect for embracing slow living.
1. Bring the outside in
Time spent in nature is proven to help calm the mind, so when creating a zen bedroom, taking inspiration from the natural world is a great place to start. To feel immersed in the nurturing qualities of nature why not hang a floor to ceiling botanical wall mural?
'As we continue to focus on the importance of well-being in the home, biophilic design continues to be very popular, not only giving an instant connection to the beauty of the natural world but also offering a sense of escape and relaxation,' says Andy Greenall, creative director at Paint & Paper Library.
This large scale Folia bedroom wallpaper, 'depicts a dreamy, ethereal landscape of leafy silhouettes on a contemporary ombré ground, producing a subtle flow of pattern across the walls which is perfect for creating a serene and calm atmosphere,' adds Andy Greenall.
2. Decorate with green
Synonymous with nature, decorating with green makes an obvious choice when it comes to zen bedroom paint ideas.
'Green is fundamentally a calming color - the color of nature and the outdoors – and a color that gives us hope, the color of life and vitality. Greens are about renewal, growth, and harmony,' says Patrick O'Donnell, brand ambassador at Farrow & Ball.
'Tranquil and muted greens are ideal for bedrooms as they are flexible and restful, as well as being the perfect backdrop to shabby chic furniture and well-loved fabrics. They respond particularly well to pinks, brown-based neutrals, yellow-based neutrals, and despite the old saying "blue and green should never be seen", they layer brilliantly with blues.'
3. Keep it simple
When creating a zen bedroom less is often more. Keeping bedroom furniture to a minimum and choosing high quality, streamlined pieces in natural materials like wood will help achieve a fuss-free look perfect for achieving a meditative mood, plus wood is sustainable.
In this simple bedroom the warm tones of the sleek wooden furniture are beautifully offset by cream and muted ocean blue which brings soothing color without disturbing the calm of the space. With its subtle checkerboard effect this Sett wall covering in Lake by Mark Alexander brings delicate texture that gently echoes the simple lines of the room and furnishings.
4. Think about lighting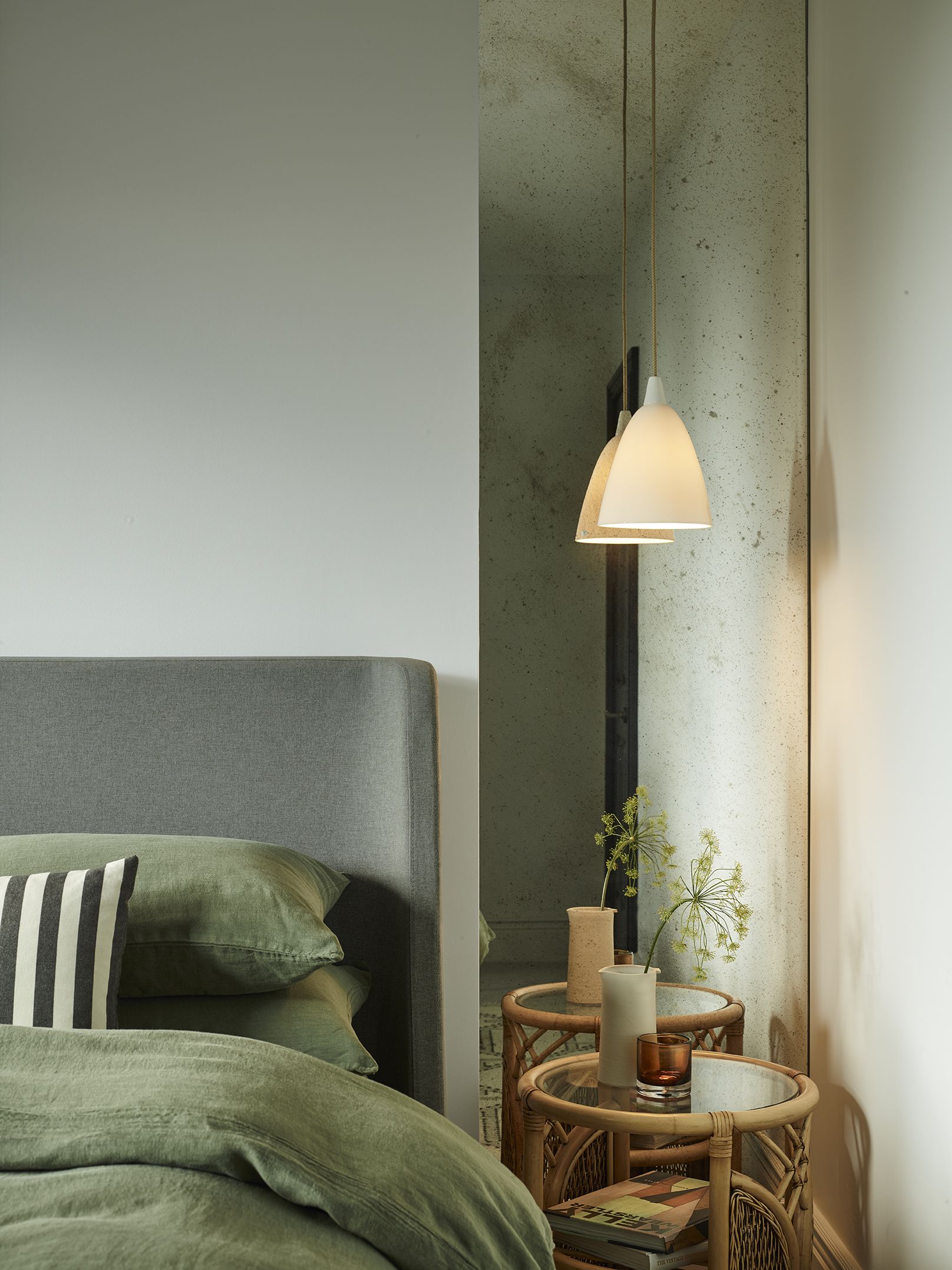 Having plenty of ambient, low-level bedroom lighting is essential in a zen bedroom to create that relaxing mood, but it's also important to factor in task and accent lighting to ensure the space is functional as well as relaxing.
'Consider different types of light fitting, not just the light they provide. Wall-mounted lights are great space-savers in small, low-ceilinged rooms and are ideal for creating a clean, boutique hotel look,' says Charlie Bowles, director of Original BTC. 'Remember to illuminate areas such as dressing tables, wardrobes and reading nooks where more focused task lighting is required… and think creatively: floor lights with adjustable arms or even a pair of low-hanging pendants can make dramatic bedside lights.'
As well as the type of fitting it's also important to think about materials of the lighting adds Charlie Bowles. 'Bone china is an ideal choice, bringing a lovely softness of finish and a beautifully translucent glow. This soft light is ideal for creating a cozy bedroom atmosphere that makes you feel instantly comfortable and relaxed.'
Here, hanging ceramic pendants from Original BTC save space while the mirror behind them helps enhance their warm glow and reflects extra light around the room making it more uplifting.
5. Decorate with natural materials
Surrounding ourselves with materials like wood, jute, linen, cotton and wool is a wonderful way to feel connected to nature, plus they are sustainable and biodegradable, too, so we can sleep easy with the thought that we are minimizing our impact on the environment.
To create a cozy room sanctuary don't hold back on layering up the fabrics and soft furnishings. Here tactile textures like sheepskin, chunky woven knits and linen help create a welcoming, layered space.
6. Choose warm neutral colors
Decorating with neutrals is guaranteed to keep bedrooms feeling calm. While white and grey can look stylish, they can feel stark and cold – if you're after a more cosseting, cozy space consider warmer neutrals like taupe and beige bedroom ideas.
'Colors of nature, such as earthly beige and warm clay and all shades of green have been a firm favourite for the last seasons, however, over the past year nature has become even more important. The outdoors has been an escape, somewhere to go to recharge our batteries or even just take a break from everything. We now want to channel that feeling in our home too, with warm, cozy shades inspired by the natural world,' says Justyna Korczynska, senior designer at Crown.
7. Factor in plenty of storage
The best zen bedrooms are places free from distractions, where the mind and easily unwind. To keep your space as clutter-free as possible it's essential to factor in plenty of bedroom storage.
When it comes to fitting bedroom storage, 'think about storage in the planning stages of a project and make sure to use every nook and cranny. One trick is to use the full length of wall space so that fitted joinery and display shelves maximize the space on offer,' recommends Katie Glaister, founder of K&H Design. 'We encourage clients to work out beforehand the number of items that need to be stored away by measuring the linear meterage of all shoes, clothes, books, etc, to ensure the design will fit everything in.'
To enhance the feeling of calm in this bedroom the space has been zoned with the storage and dressing area separated from the sleep area with the clever addition of a sheer bedroom curtain.
8. Keep it streamlined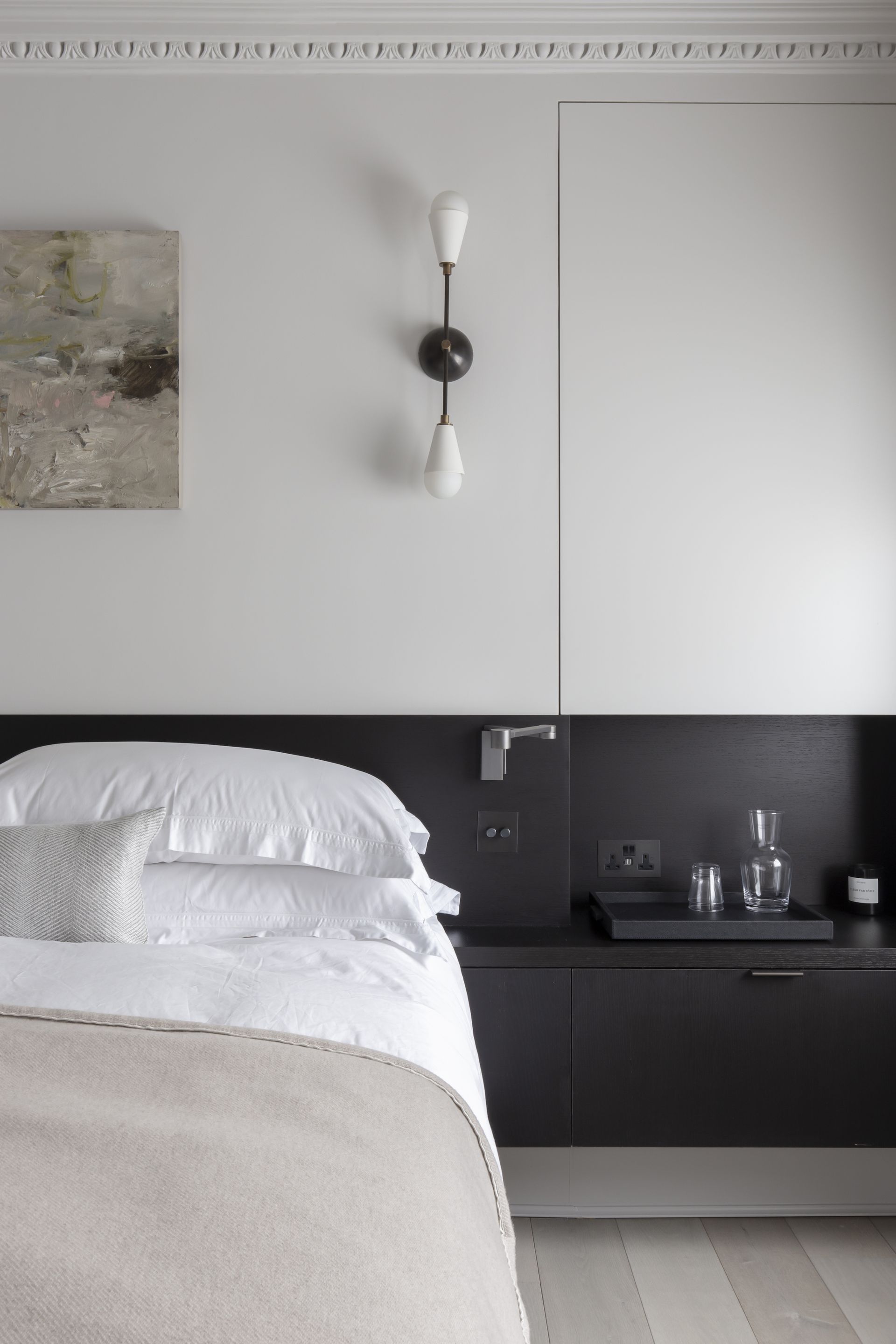 Bespoke joinery is a great way to achieve a neat, streamlined look as it can be tailored to around architecture and designed to be as discreet as possible. In this black and white bedroom, TR Studios cleverly integrated storage under a fitted bedside table, and have cleverly disguised it by painting it the same color as the wall.
To keep the space feeling sleek furnishings have been kept to a minimum – rather than have a headboard, the designers chose to fit the bed flush with the wall for a minimalist look and have instead used the black paint effect to frame it.
9. Choose luxurious textures
Decorating with grey in a variety of subtle variations is a wonderful way to create a calm and sophisticated space. In a monochrome scheme it can be tempting to pop in bold accents or artworks, however, in a zen bedroom, to keep the space feeling calm and relaxing as possible, forgo the artwork and consider introducing gentle interest through luxurious materials and delicate prints instead.
When creating a relaxing bedroom, 'we often suggest using the same color throughout,' advises Saffron Hare, creative director James Hare. 'One of the ways to achieve rich, deep colors is to use silk, which is beautifully versatile as it can be paper backed and used as a wallcovering, as well as used for curtains, headboard, and throws. Silk is sustainable and natural too, which is guaranteed to create a very zen feeling.'
10. Bring softness with carpet
When it comes to bedroom flooring ideas carpet is a great choice for creating a soothing sleep apace as it provides softness underfoot, insulates your space and helps deaden sound.
'Carpets are also synonymous with comfort which is why they are the most popular choice for flooring in rooms such as the bedroom. People want to feel relaxed before they go to sleep and soft, neutral tones such as dove grey, and taupe are good for this because of their harmonious, calming qualities, Mike Richardson, general manager of Kersaint Cobb.
For those considering what material to choose, wool has multiple benefits. Not only is it sustainable, recyclable and biodegradable, it is hardwearing and has hypoallergenic and antibacterial properties which helps keep the air cleaner.
How can I make my bedroom feel zen?
There are many ways to make a bedroom feel zen. Choosing a simple bedroom layout, soothing wall colors and decorating with natural materials will all help create a restful and meditative space.
'Greens, blues and neutrals always work well in a bedroom. Anything that brings to mind our natural surroundings tends to create a calming and restful atmosphere,' says Emma Sims Hilditch, founder of Sims Hilditch.
It's also important to think about how it feels so consider factoring in plenty of tactile, cozy textures suggests Katie Glaister, founder of K&H Design. 'Layer the room with a sumptuous cut pile rug, add a cashmere throw to the bed and use boucle, soft linens and mohair for the cushions and soft furnishings.'
While colors, furnishings, layout and lighting will all have a big impact on the space, even just a few small updates like adding in house plants or floaty voile curtains can elevate a bedroom into a more relaxing space.
'Small finishing touches in a bedroom make a real difference and make if feel extra special. I love to have some flowers from the garden or a pure white orchid,' says Chrissie Rucker of The White Company. 'A bedroom should smell lovely too, scent diffusers are fantastic for this as you can easily control the scent level by adjusting how many reeds you use. A lovely relaxing scent such as lavender will the room feel instantly more restful as does the soft flicker of a scented candle before your go to bed.'
What colors are zen?
When decorating a zen bedroom it's best to choose soft, desaturated colors as bold tones can feel jarring and overstimulating.
'Use warm gentle colors and textures to create a space you want to retreat into and let go of the days stresses and strains and ensuring the layout helps the energy flow around the room,' advises interior designer Camilla Hampton.
'To create a warm, cozy and relaxing bedroom we suggest more earthy colors, we love Farrow & Ball's French Grey that we recently used in an attic bedroom,' says Katie Glaister, founder of K&H Design.
Decorating with white and neutrals is guaranteed to bring a light, airy and uplifting feel, but soft pastel shades can also work well. What shade you choose will depend on the look and feel you're trying to create. 'As a guide, warm colors such as red, orange and yellow are considered to be stimulating while cool colors such as blue, lilac and green tend to be more restful. It's useful to consider these factors when designing spaces, we live, work and play in,' says Justyna Korczynska.
Warm colors will bring walls in to create a cozy feel, alternatively, if you're after a calm yet fresher feel, or to make a small bedroom feel larger, try a soothing light blue.
Sign up to the Homes & Gardens newsletter
Decor Ideas. Project Inspiration. Expert Advice. Delivered to your inbox.
Pippa is Content Editor on Homes & Gardens online contributing to Period Living and Country Homes & Interiors print issues. A graduate of Art History and formerly Style Editor at Period Living, she is passionate about architecture, creating decorating content, interior styling and writing about craft and historic homes. She enjoys searching out beautiful images and the latest trends to share with the Homes & Gardens audience. A keen gardener, when she's not writing you'll find her growing flowers on her village allotment for styling projects.