Bedroom window treatment ideas – 10 designs that elevate your bedroom windows
From curtains to beautiful blinds and sleek shutters, we explore our favorite bedroom window treatment ideas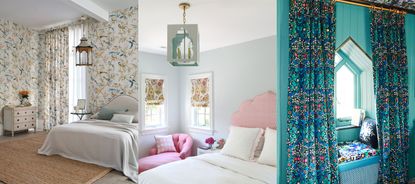 (Image credit: Villa Nova, Romo)
Bedroom window treatment ideas are not only practical, but they can act as stylish, decorative designs for your bedroom that make a real feature out of your windows, as well helping to pull together your entire bedroom scheme.
When exploring window treatment ideas, there are many options to choose from, however, the main categories you will come across are curtains, which are categorized as 'soft' window treatments, and blinds and shutters, which are 'hard' window treatments.
For bedroom window treatment ideas, you want your chosen designs to be able to effectively block out the light so you can have a comfortable sleep space, as well as carefully considering how they can make your bedroom ideas feel more cozy, stylish and full of character.
Bedroom window treatment ideas
To help you make the right choice for your bedroom window treatment ideas in your space, we have curated a collection of inspiring designs, from elegant curtains to traditional wooden shutters.
1. Keep things cozy with curtains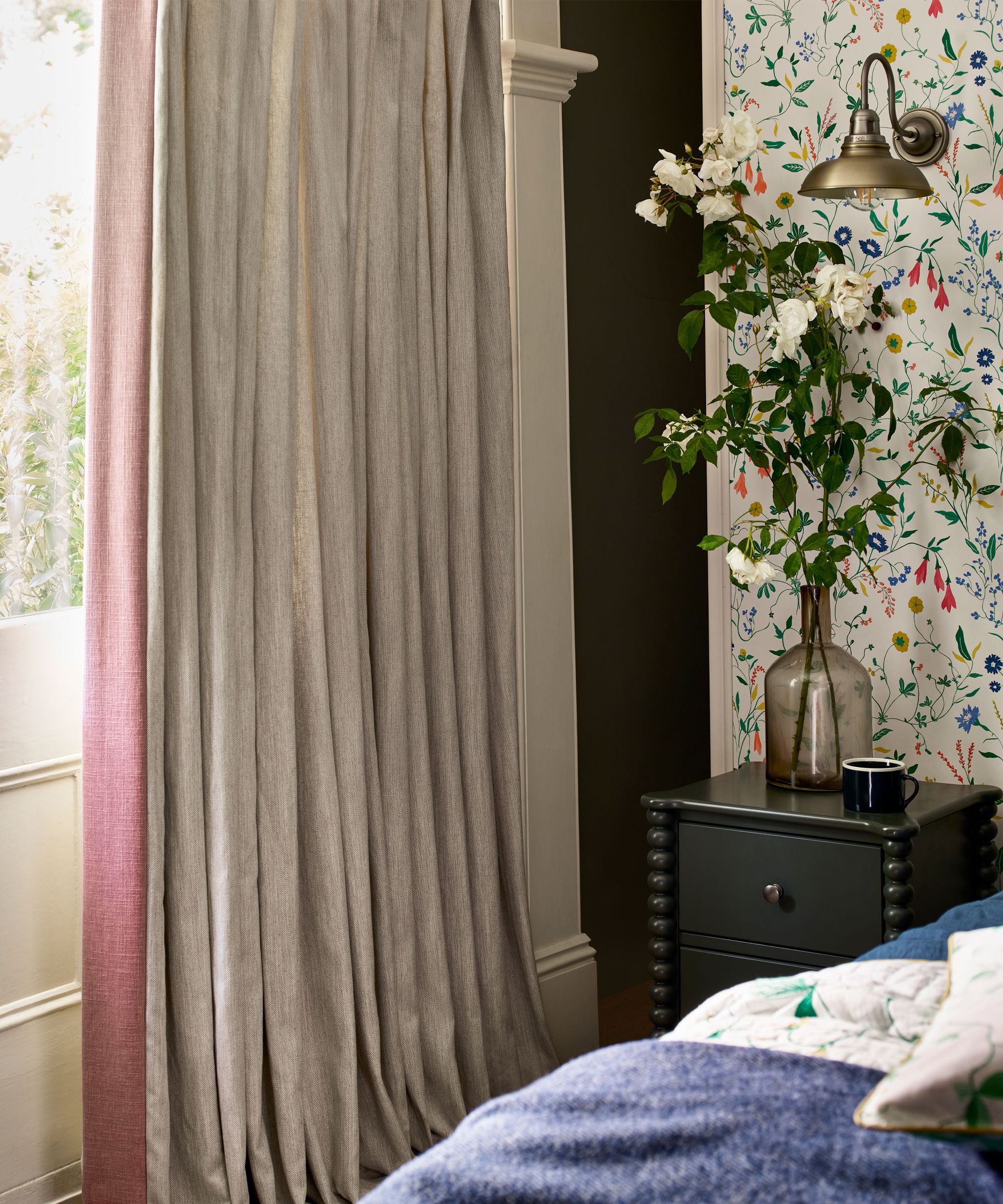 Of course, you cannot go wrong with curtains. One of the most popular choices for bedroom window ideas, curtain ideas can add soft, tactile texture to the space, as well as add beautiful color and pattern.
Curtains are great for making a bedroom feel more inviting and cozy, with blackout designs the perfect option for establishing a restful environment.
In this bedroom, the two-toned pink and gray curtains from John Lewis hang beautifully from the larger window, and work with the floral wallpaper, furniture, lighting and accessories to create an elegant, modern country feel – a great look for country bedroom ideas.
Whether you keep things simple with more neutral curtain colors, or create a bold element of contrast with modern curtain ideas, there are so many options to choose from, no matter your style.
2. Add pattern with a Roman blind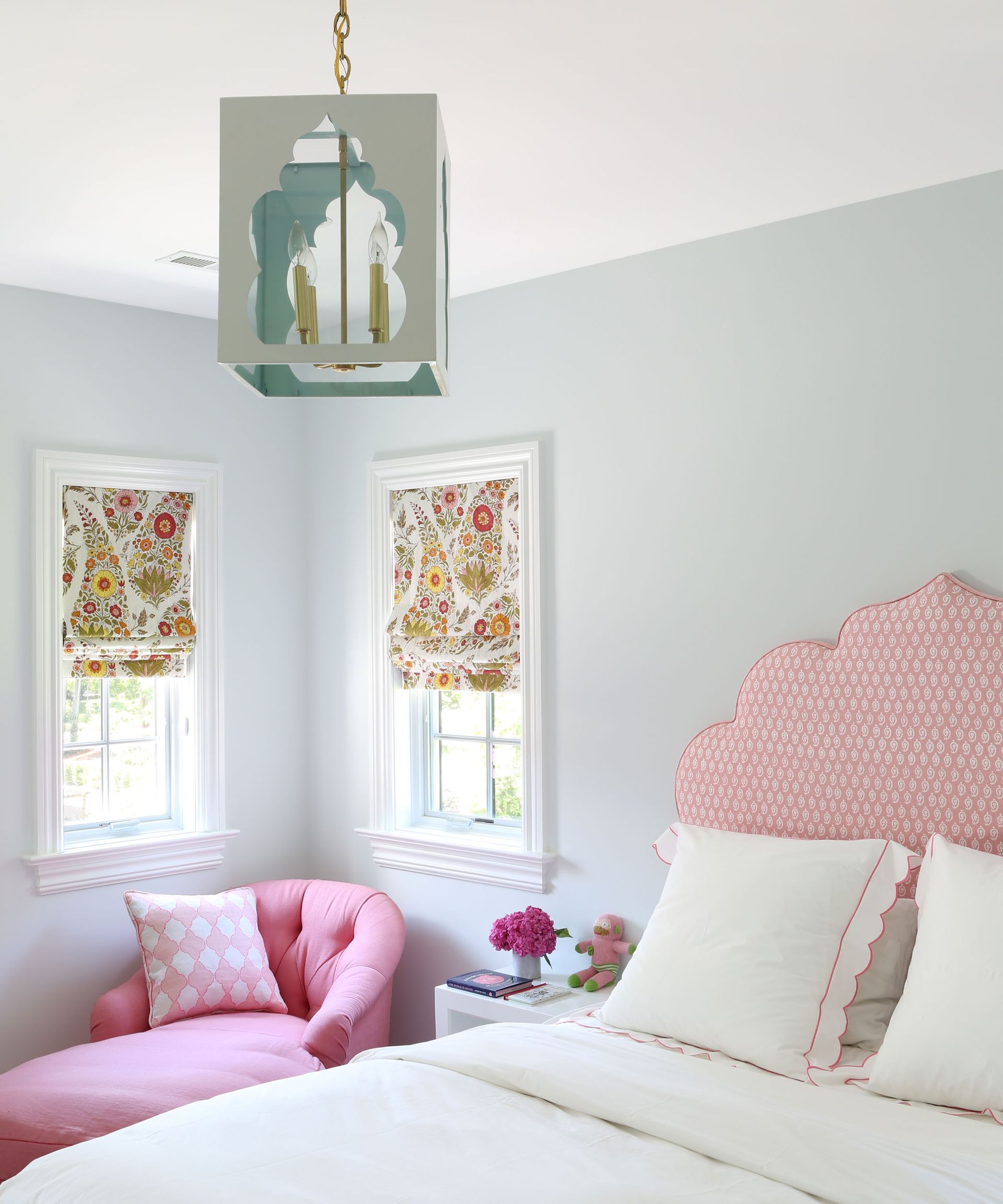 For window blind ideas, a roman blind is crafted from a piece of pleated fabric, with many patterned designs creating eye-catching decorative focal points in a room, as well as adding warming texture.
In this light and bright girl's bedroom in a family home designed by Elizabeth Cooper Interior Design, she states that, 'I selected furnishings and fabrics in a color palette that the young girl could grow into and are also appropriate for a teenager.'
The blinds, made from a fabric by Raoul Textiles, add stylish character and a beautiful mix of colors to the space, working with the patterned headboard to create a timeless bedroom space that feels calming yet full of pretty pattern and soft shapes.
3. Style your windows with shutters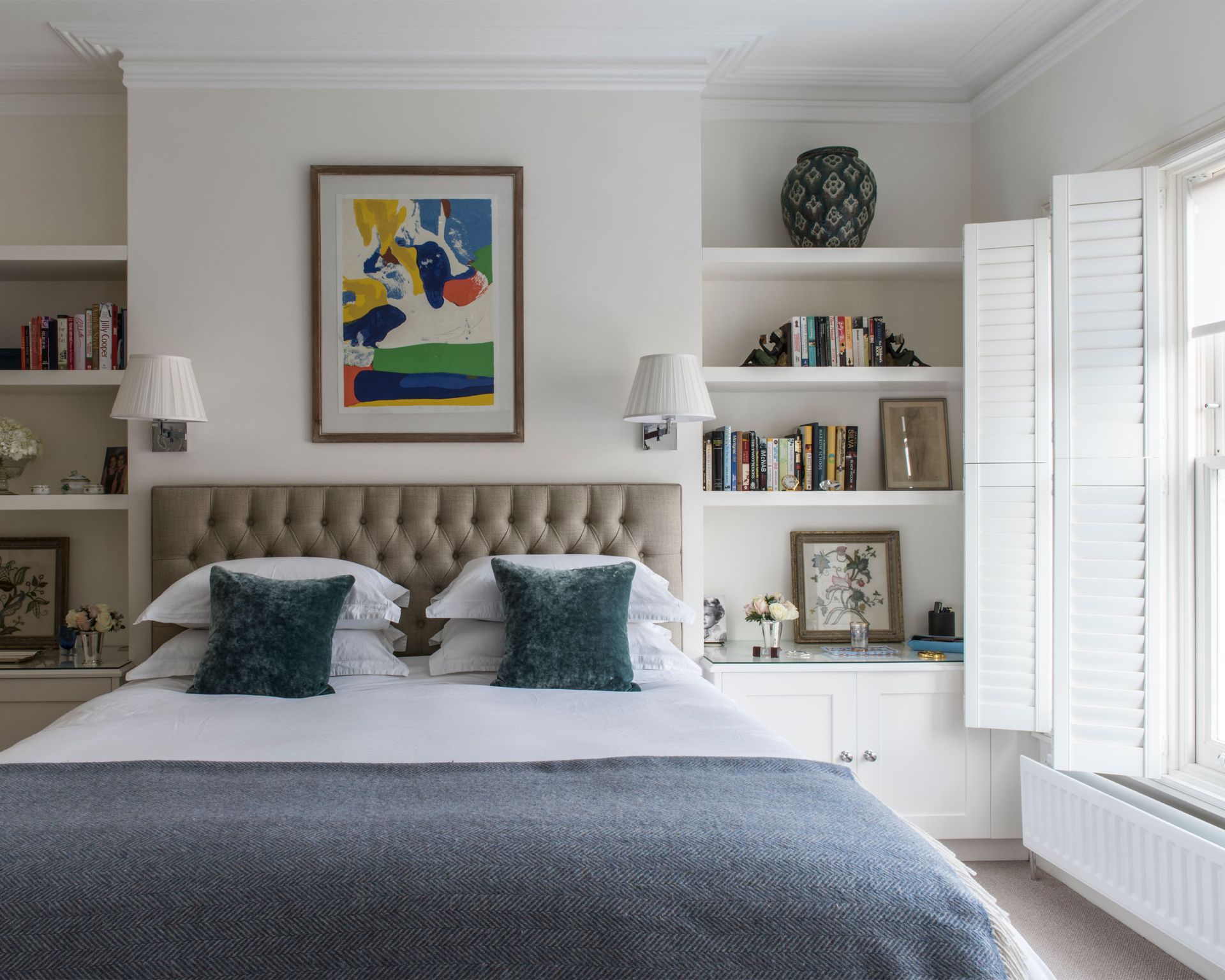 Dating back to ancient Greece, wooden window shutters are one of the oldest and most effective bedroom window treatment ideas.
With many designs used as both practical and decorative window treatments indoors and outdoors, shutter ideas have rapidly increased in popularity over the last few years. Adding stylish wooden character to your windows, as well as effectively letting light into a space whilst adding privacy, shutters can effortlessly integrate into homes both classic and contemporary.
Sally Denyer, Shutterly Fabulous' digital marketing manager states, 'offering complete privacy and light control as well as noise and heat insulation, shutters are the ideal window dressing for the bedroom. They offer homeowners complete versatility in both function and design, as well as providing the option for various atmospheres to be created at different times during the day.
If you prefer to sleep in complete darkness, a solid panel wood shutter is the perfect option. Creating a near blackout effect when closed, the panels are also beautifully constructed, adding an exquisite traditional appeal to interior schemes. Alternatively, full-height shutters or tier-on-tier slatted shutters offer more light control variance, allowing you to tilt the slats to any angle that suits your mood or the time of day.'
4. Coordinate your window treatments with your wallpaper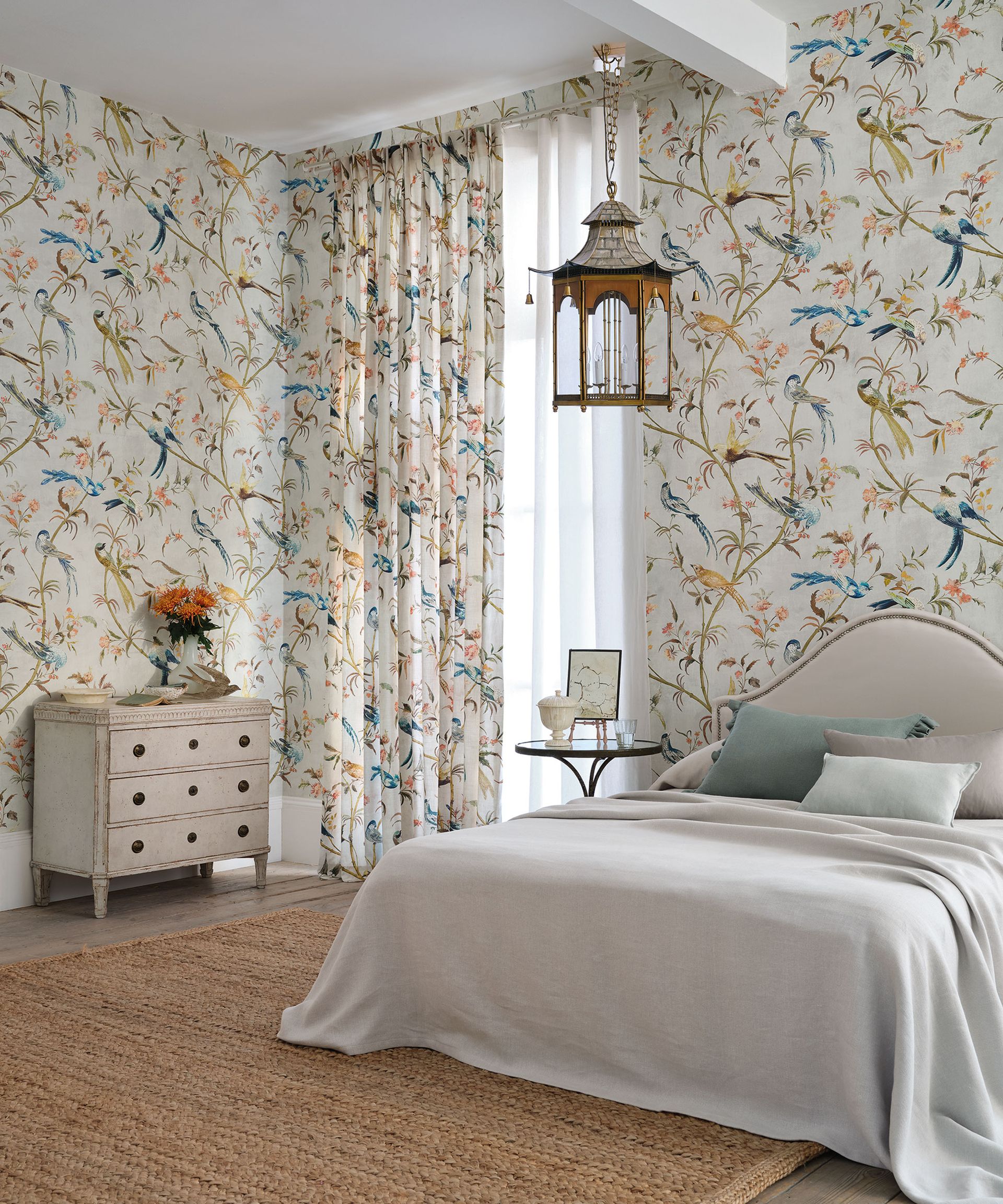 Whether you opt for a matching blind or curtain, coordinating your bedroom window treatment ideas with your bedroom wallpaper ideas can create a cohesive, well-thought out look and theme that feels wonderfully elegant.
With many brands offering printed designs across fabric, accessories and wallpaper, you can create beautiful, unified schemes with ease, and make your bedroom window treatment ideas feel full integrated into your scheme.
As shown in this bedroom, with curtains and wallcoverings from the Villa Nova Romo Pluma collection, the delicate floral and fluttering bird design used across the large curtains and wallpapered walls, transforms the bedroom into a tropical paradise and makes a real statement of the space.
5. Create a layered look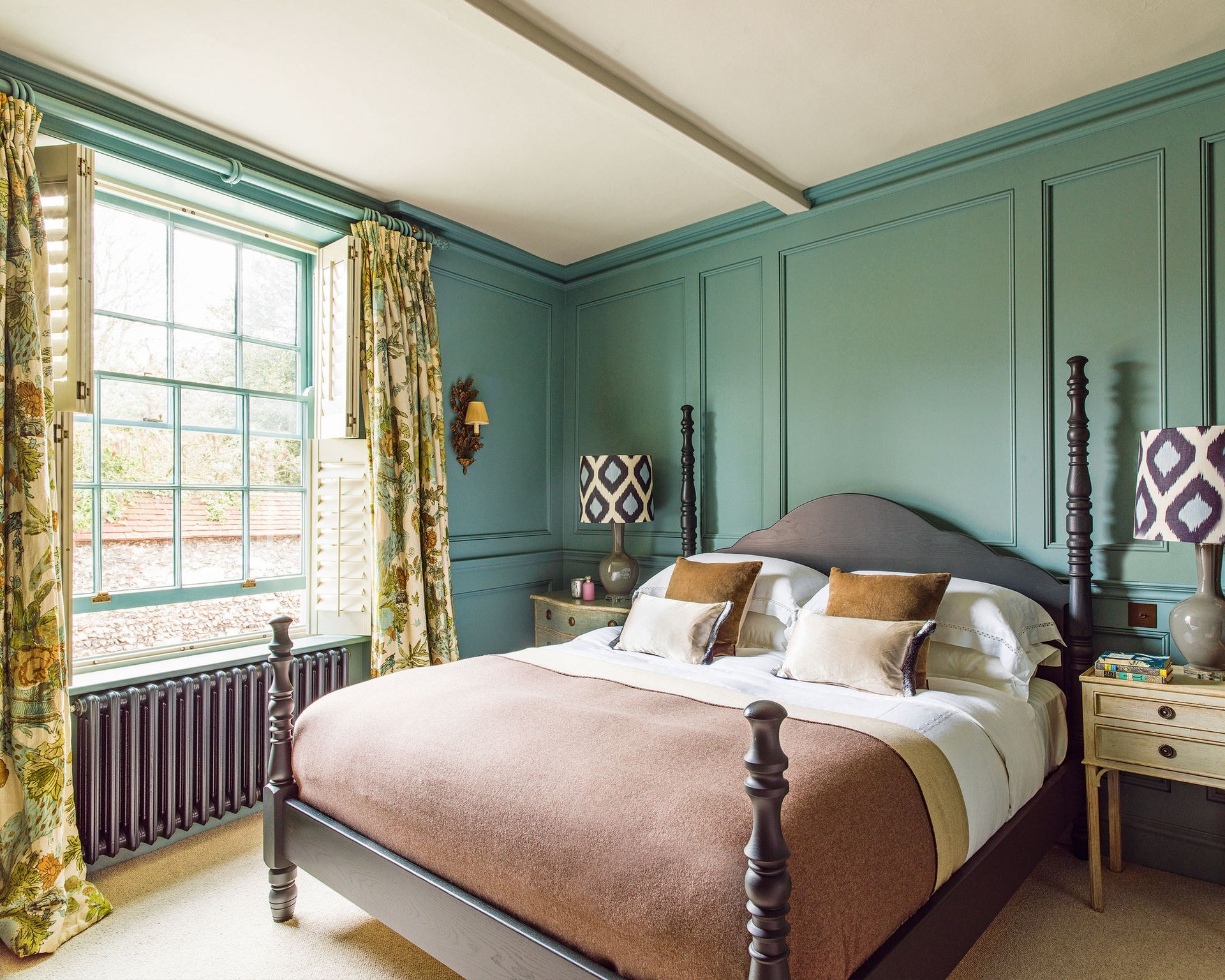 If you are struggling to decide on what bedroom window treatments are best for your space, why not use more than one?
Many window treatments are often used in combination, whether that's curtains and blinds, or shutters and drapes. This can create an elegant, layered look where different materials unite to both practically cover the window and add textured decoration to the space.
In this bedroom, the windows have been dressed with traditional white wooden shutters and country curtains in a traditional floral pattern.
Shutters and curtains work well together, creating the perfect balance of beauty and functionality. Shutters can be used to block out light and add privacy, with the curtains adding warmth, softness and a more decorative element to the window display.
6. Zone the space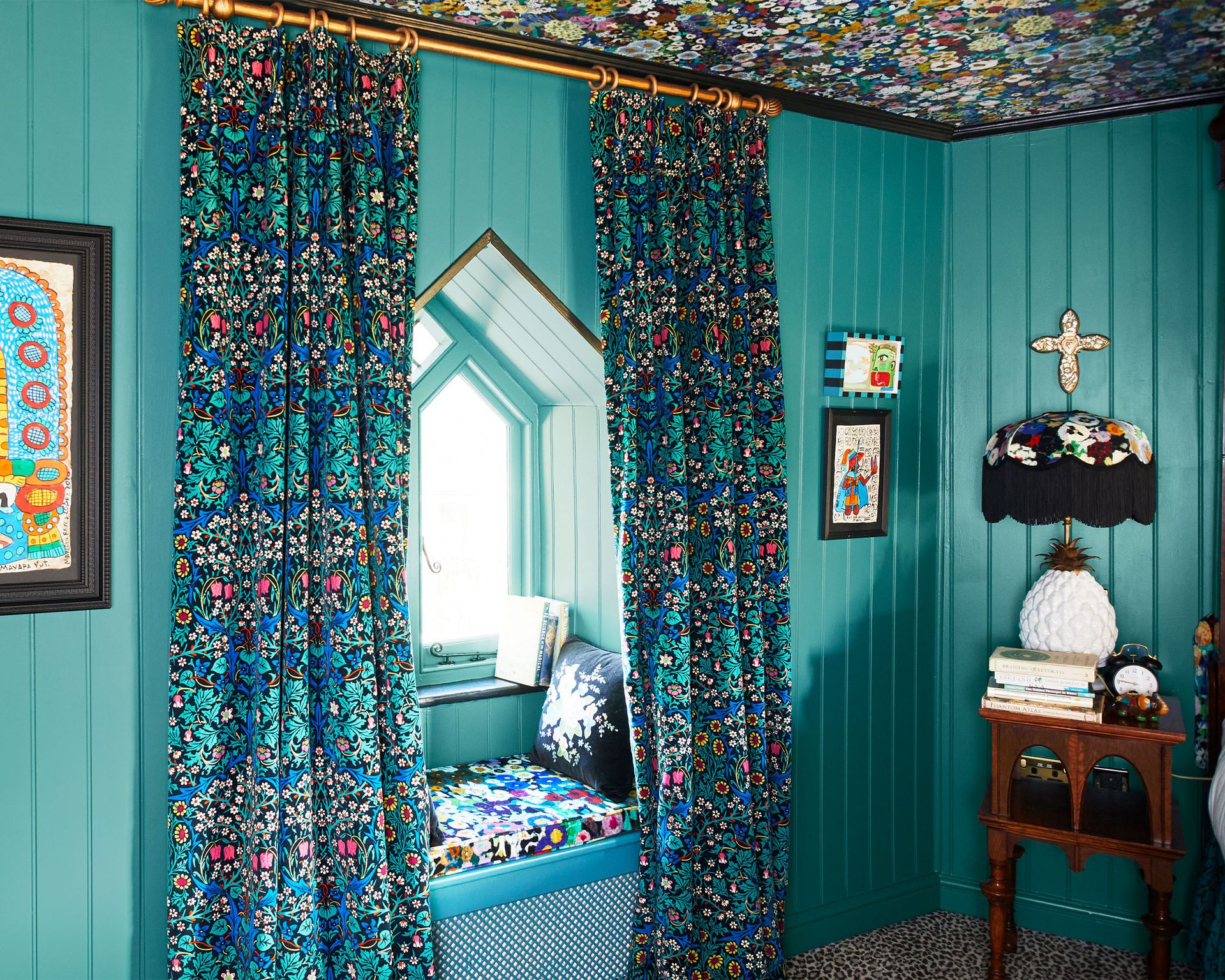 Whether you're exploring window seat ideas to create a cozy reading nook, or want to make a feature out of an old, traditional window, using you window treatment ideas to zone and enhance your window space can help create appealing visual interest and an attractive focal point.
In this vivid blue bedroom, decorated by House of Hackney, the eye-catching pentagon window shape has not only been enhanced by the recess and cozy window seat, but the long, blue patterned floral curtains help to draw focus to the area.
Exploring scale in interior design can help to add drama and impact to a space, and for bedroom window treatment ideas, pairing larger, longer curtains with a smaller window can not only create a striking design feature, but it can be a clever trick to enhance the feeling of space in a room, making the windows feel bigger than they actually are.
7. Opt for Venetian blinds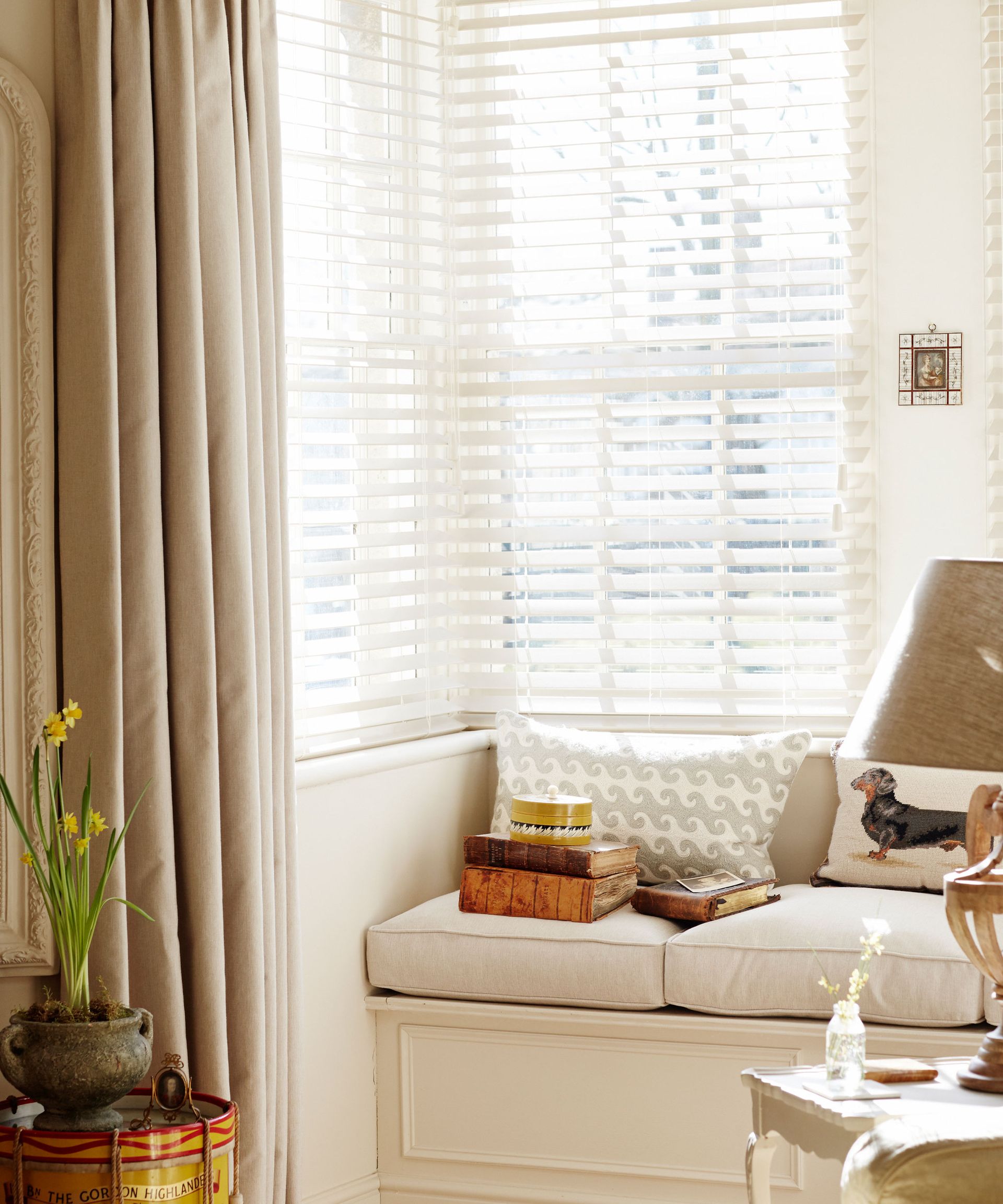 Similar to shutters, a Venetian blind can be a practical choice for bedroom window treatment ideas, as you can easily control the amount of light that comes through your windows, as well as adding much needed privacy.
Defined by adjustable horizontal slats, these types of blinds, usually crafted from wood, metal or plastic, create a neat and streamlined look, and often come in a more simple palette of neutral colors.
Ideal for both classic and contemporary interiors, a Venetian blind is a sleek and timeless option for your bedroom window treatment ideas.
8. Pick the best style of window treatment for your window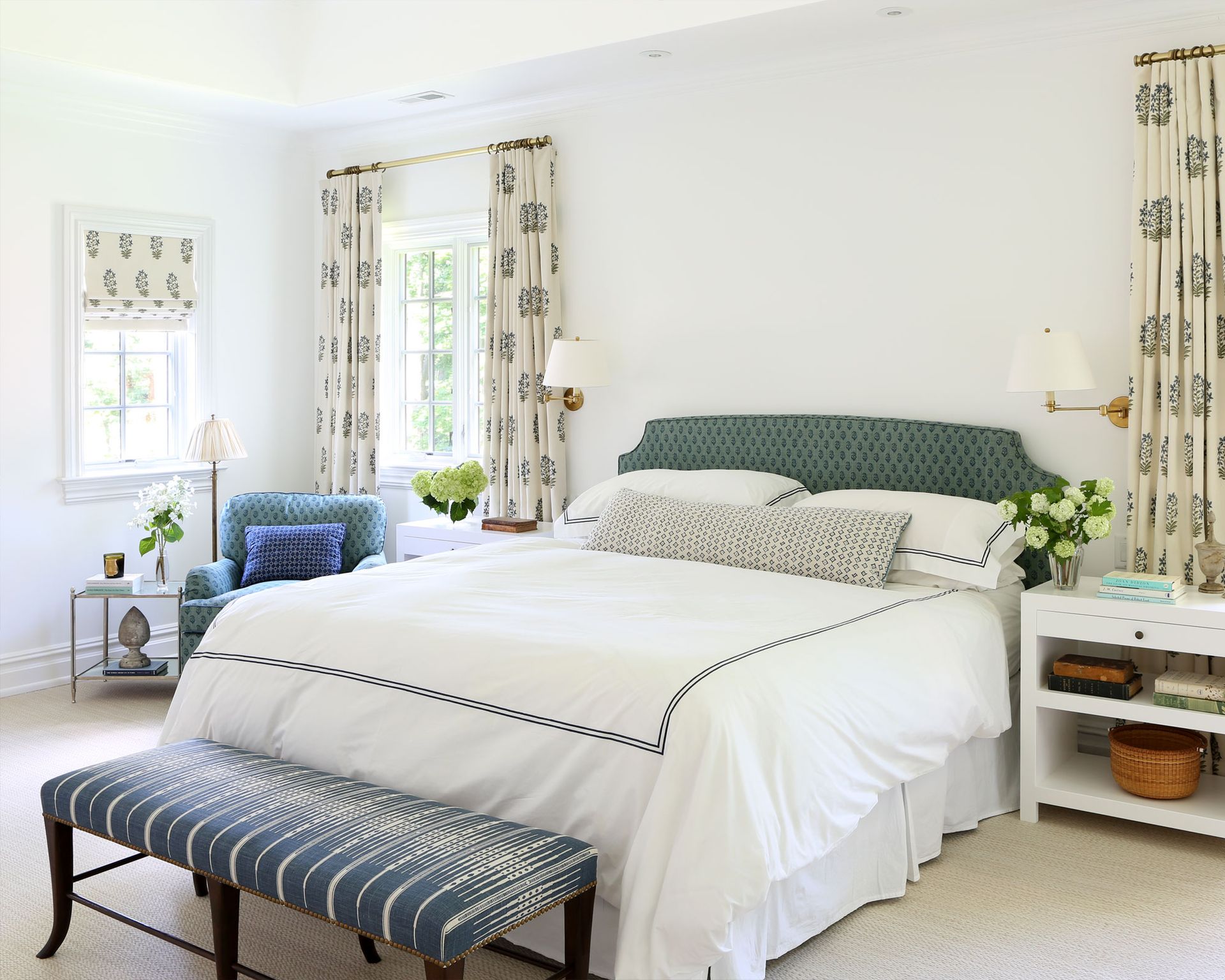 There are certain bedroom window treatment ideas that are better suited to particular window sizes and styles. For example, shutters are great for large bay windows, especially when paired with curtains, and compact, smaller windows are often best paired with blinds.
In this bedroom by Elizabeth Cooper, the larger windows either side of the bed have been dressed with long curtains, making the bed area feel more cozy, warm and comforting, whereas the smaller window beside the armchair has been dressed with a blind. Unified by the same elegant print, each window in this bedroom has been dressed accordingly to size and location.
Just like working out how to choose the right windows for your home, careful consideration should be applied when choosing the best style of window treatment for your bedroom space.
9. Create a practical and stylish design with window film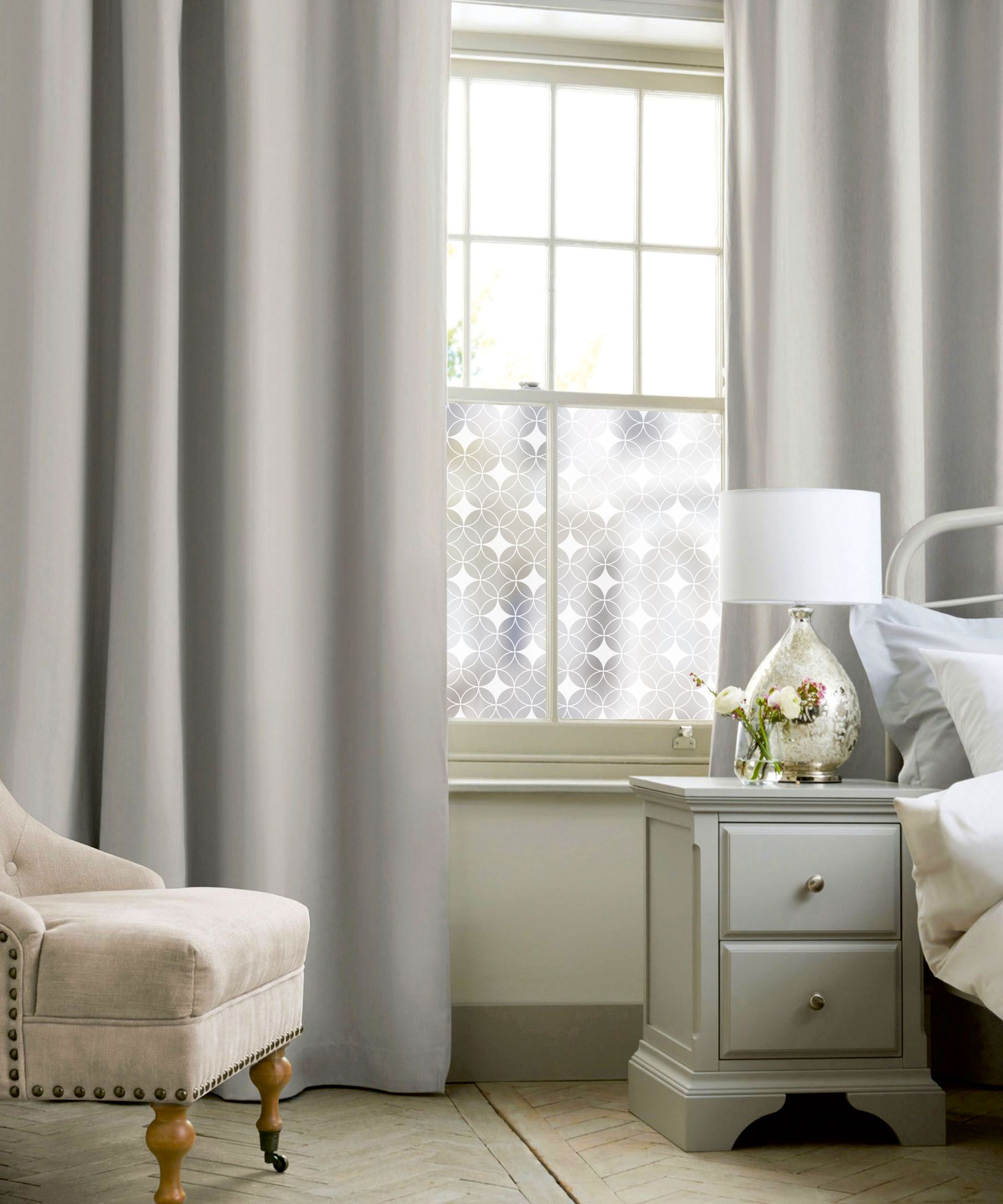 For a more unique and modern bedroom window treatment idea, window film can not only recreate a look inspired by the artistic and intricate beauty of stain glass, but can be a stylish way to add privacy to your bedroom windows.
As shown in this calming gray bedroom, the Corvus Patterned Window Film by Purlfrost is defined by an eye-catching, colorful geometric pattern with a frosted effect.
A great alternative to curtains and blinds, window film is an innovative way to transform the look of your windows with color, pattern and depth, perfect for adding a unique element of privacy to your bedroom space.
10. Add grandeur with a pelmet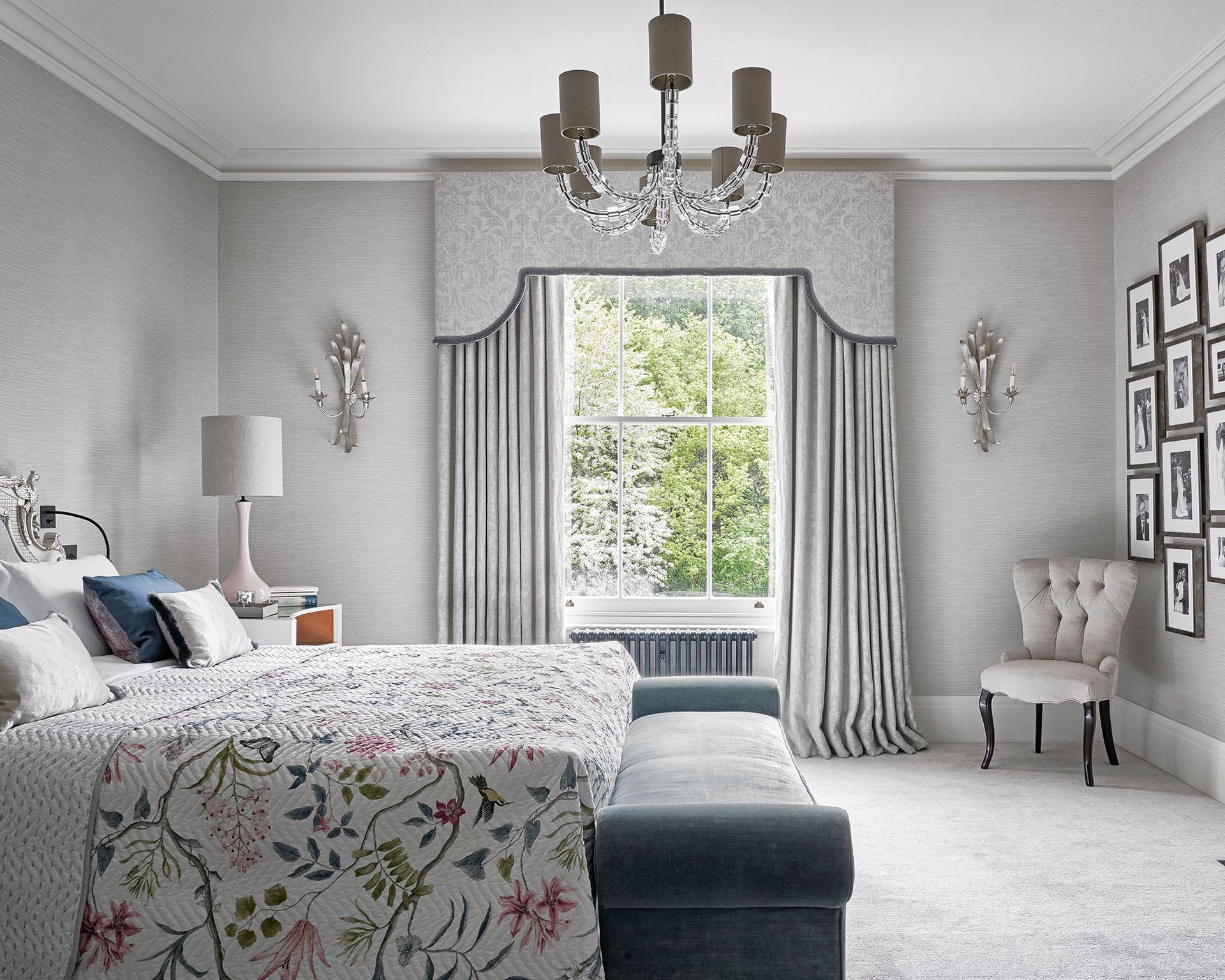 Pelmets are used as decorative panels above curtains, often to conceal curtain racks, poles and other installation elements, they can also add an extra dimension of shape, texture and material.
Often associated with more traditional bedroom ideas, a pelmet can make your curtain window treatments feel more luxurious and well-established – a great curtain trick for making your curtains the star of the show in a room.
How can I make my bedroom window look better?
To make your bedroom window look better, choosing curtains or blinds with a beautiful, eye-catching print will combine both stylish decoration with practical design.
Do not underestimate the presence curtain and blinds can have in a room, these window treatments are a great way to make a statement, as you can enhance your windows and overall room design with stylish color, pattern and texture.
Of course, there are many softer, more subtle designs to choose from that can still make you windows look better with inviting texture and material.
What can I put on my windows instead of curtains?
Instead of dressing your windows with curtains, there are many different types of blinds to choose from, as well as traditional shutters and more unique options such as window film techniques.
Using a mixture of window treatment ideas in a room, especially if you want to create a layered look, or have windows of different shapes and sizes, will create a stylish scheme where you windows are both beautiful and functional.
Sign up to the Homes & Gardens newsletter
Decor Ideas. Project Inspiration. Expert Advice. Delivered to your inbox.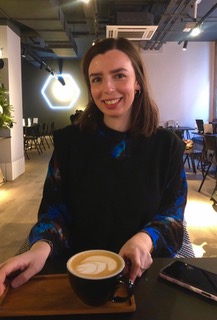 Zara joined Homes & Gardens in February 2022 as a Content Editor. After studying English Literature at University, she worked as an Ecommerce Website Editor, Content Writer and Buying Intern at multiple independent businesses within the luxury retail and lifestyle sectors. Her role at Homes & Gardens unites her love, experience and passion for the world of design and desire to create inspiring written content. She enjoys nothing more than discovering new trends, brands and products, whether that be in fashion, interior design or lifestyle.