How to measure for curtains
Need to know how to measure for curtains? This is how to ensure your window treatment fits perfectly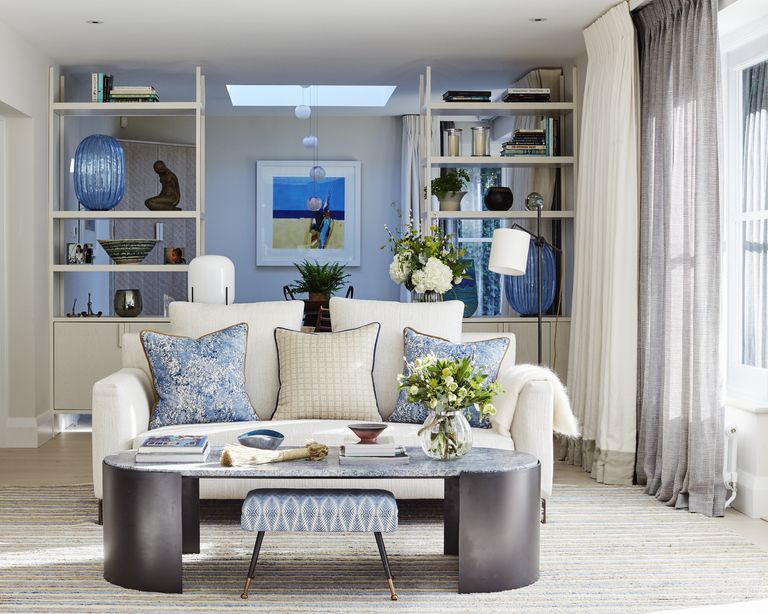 (Image credit: Brent Darby)
Curtains create an attractive window dressing with a look that can be as opulent or simple as you prefer. But it's crucial to know how to measure for curtains to achieve a beautiful drape, and a stylish result.
Curtains may be sized to open during the day and cover the window for complete privacy and coziness at night, or to gently diffuse the light all day long, or they may be decorative panels that hang at the sides of the window. However, whichever option you go for the right fit is crucial. Curtains that aren't wide enough won't show the fabric to its best advantage, and those that aren't long enough can look old-fashioned.
This is how to measure for curtains – one of the most elegant of window treatment ideas.
How to measure for curtains
Key to the process of how to measure for curtains is accuracy, and it's essential to have a steel tape measure because fabric versions can stretch resulting in incorrect measurements. You might also need a step ladder, as well as somewhere to record the measurements.
Curtains are available in standard lengths, of course, but our guide applies to custom curtains. If you do need to invest in standard curtains as a short-term fix, you'll frequently find 63, 84, 94, 108, and 120 inch lengths (and in the UK often 137, 182, 228, and 274cm). Always opt for a longer rather than shorter curtain length if you are using these and they don't match your measurements.
Consider curtain length
Generally curtains should be floor length or longer for best effect. That's even the case if they hang behind furniture as they should never look less than generous. Floor-length curtains are often preferred for living rooms, while those that puddle on the floor can be a good complement to a formal dining room, for example, and you might want to choose them for a bedroom, too. If you do want curtains that puddle on the floor, you can add between 1 and up to as much as 12 inches for a truly lavish look.
Do bear in mind that curtains that puddle on the floor aren't easy to open and close, so are best for dressing windows rather than creating privacy. They're more inclined to gather dust, too, so do need more maintenance.
Curtains that finish at the window sill can be appropriate for a kitchen, for instance, where they'll look awkward in living spaces and bedrooms.
Decide on the position of the curtain rod
Curtains should, in general, be hung both higher and wider than the window. The reason? The window will feel bigger, but it will also allow maximum light into the room. With the curtains open, all the glass will be exposed and the room brighter.
If you still need to control the light coming into the room when the curtains are open, hang a shade inside the window that complements the curtains.
You can hang curtains with or without a rod, but if you are hanging them with one, plan to position the curtain rod around 8 to 10 inches (20 to 25cm) above the window and so that it extends around 10 to 12 inches (25 to 30cm) on each side of the window. In a room with very high ceilings, you could place the rod some 12 to 24 inches (30 to 61cm) above the window, or fix it just below the crown molding.
Measure the length of the curtains
How to measure for curtains like an interior designer? First of all, bear in mind that you should always take several measurements of the length to allow for flooring that isn't completely level.
Measure from the top of the rod to three-eighths of an inch (1cm) above the floor for floor-length curtains. Another 1 to 3 inches (2.5 to 8cm) added to the length will brush the floor, while an extravagant puddle requires adding 6 to 12 inches (15 to 30cm) to the rod to floor distance.
Measure the width of the curtains
Knowing how to measure for curtains includes being savvy about their width. This is the case for all curtains that close to cover the entire window, but decorative panels are different as they simply frame it.
Measure the total length of the curtain rod between finials to supply to your tailor. Custom-made drapes will have the correct fullness according to their type, which can be between 1.5 and three times the width of the pole.
How do I know what size curtains to buy?
If you've discovered how to measure for curtains and are opting for standard curtains, be aware that the width will be the first measurement stated, followed by the length. Curtains may be sold as a single panel, and therefore you will need more than one for a wider window.
Use the width of the curtain rod, and be aware that you will need to multiply this width to get the correct fullness. Otherwise? The curtains will hang flat, which isn't desirable. Use 1.5 times the width as the minimum, but two times will look more generous, while three times is recommended for sheers and linens.
Side panel curtains don't close across the window but instead frame it as well as making it look wider than it really is. In this case, you can simply choose the panel width you prefer.
How wide should curtains be for a 60 inch window?
For a 60 inch (152.4cm) window, you need curtains with a finished width at least 1.5 times that, but better are those with twice that width and even three times the width for sheers.
Therefore, for a 60 inch window, you need two panels of 60 inches each for twice the width and a luxurious gather.
Sarah is a freelance journalist and editor. Previously executive editor of Ideal Home, she's specialized in interiors, property and gardens for over 20 years, and covers interior design, house design, gardens, and cleaning and organizing a home for H&G. She's written for websites, including Houzz, Channel 4's flagship website, 4Homes, and Future's T3; national newspapers, including The Guardian; and magazines including Future's Country Homes & Interiors, Homebuilding & Renovating, Period Living, and Style at Home, as well as House Beautiful, Good Homes, Grand Designs, Homes & Antiques, LandLove and The English Home among others. It's no big surprise that she likes to put what she writes about into practice, and is a serial house renovator.