Modern curtain ideas – 12 charming and contemporary curtain designs
From vibrant color palettes to artistic patterns, explore our favorite modern curtain ideas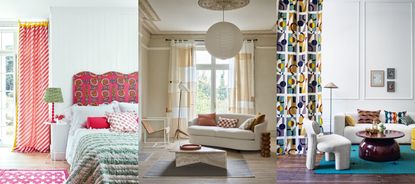 (Image credit: Future | One Represents Ltd | Jon Day Photography)
Our modern curtain ideas show how curtains can be used to transform a room and design scheme with color, character and elegant contemporary style.
Curtain ideas are one of the most popular window treatment ideas for the home, seen as an essential feature by many. When planning the curtains for an interior design, of course there are many practical features that need to be considered, such as the type of curtain and how to measure for curtains. However, choosing curtains should also be a fun and creative process where you can explore beautiful texture, pattern, color and exciting modern curtain design.
Curtains are an important part of a room, and your choices should be well-thought out and carefully planned - they can really make or break a scheme. Many modern curtain ideas focus on creating an element of contrast in a space, extending a color palette for a more immersive look, and adding depth and inviting texture to a space.
Modern curtain ideas
From beautiful abstract patterns to more serene and simple looks, we have curated an inspiring collection of modern curtain ideas that can add impact, style and a unique design feature to your home.
1. Embrace a colorful, geometric pattern
This living room is a beautiful example of mixing bold colors, striking shapes and contrasting textures to establish an elegant, modernist look.
The Centaure patterned curtains by Pierre Frey, inspired by shapes and colors of the Constructivism art movement, are defined by an eye-catching, geometric blue and yellow print. Adding unique, vivid visual interest to the space, the contrasting color combination is further enhanced by the blue rug, yellow coffee table and scatter cushions.
Creating a colorful presence in the room, you can get lost in the curtains' intriguing, graphic modern pattern, just like a work of art or wall-hanging, with this design establishing a stylish focal point in the space - a great look for living room curtain ideas.
2. Keep it cool and contemporary with gray
A color that has proved itself to be one of the most popular choices for decorating in the modern home, gray room ideas can create a cool and contemporary feel.
As shown in this living room, designed by Ginny Macdonald Design, the gray curtains work with the eye-catching, gray painted ceiling trim to enhance the modern look, defined by a soothing, neutral color palette.
Macdonald states of the curtains, 'we were thrilled to be able to work with Holland and Sherry to have custom embroidered sheer panels made for the windows in this family living room'.
The gray curtains' subtle pattern adds an elegant, decorative touch to the overall masculine, minimalist design.
3. Choose a bright, block color design
As the popular saying goes, sometimes less is more, and no matter your style, you cannot go wrong with a block color curtain design.
In this modern bedroom, defined by striking, contemporary color palette, the bright green, velvet curtain works well to establish a stylish contrast with the blue painted walls, patterned headboard and bedding, with the pink accents uniting the scheme as one.
The simple, block color curtain design works to maximum effect to add tactile texture as well as a bold colorful statement in this inviting bedroom space.
4. Use an uplifting color palette
Colorful room ideas are renowned to make us feel more happy, and choosing to be more adventurous with your curtain color palettes can help to make a room feel more personal, unique and joyous.
In this bedroom, the white painted, paneled wooden walls allow for the curtains, patterned headboard, and colorful accessories to truly take center stage.
The curtains are defined by a dark pink, diagonal striped pattern, with a contrasting yellow trim, and work with the other colorful elements in the space to establish a playful and uplifting atmosphere - a fun option for bedroom curtain ideas.
Decorating with stripes has always been popular in interiors both classic and contemporary, with this diagonal striped curtain design a great option for a more modern striped look.
5. Make and impact with an ombré look
An ombré curtain design can add a beautiful blend of colors to a space. As shown in this modern dining room, the Ombré Sunset Curtains, designed by Clarissa Hulse for Curtains 2 Go, are defined by her signature watercolor style.
Starting with a deep purple at the bottom, moving through to red, pink and orange, this palette of vibrant colors creates a warming and inviting atmosphere. The white used then adds balance to the design, with the curtains a great choice for both bold and more simple interior designs.
These curtains set the scene for the rest of the room, with the furniture, lighting and accessories chosen in the same palette of rich, sunset inspired tones, establishing a colorful space that feels cozy and unique.
A beautiful design that will impress your guests for dining room curtain ideas.
6. Create a serene sanctuary with sheer curtains
Sheer curtains are utterly timeless; creating a soft, floaty look full of movement that feels relaxed and elegant – they are also a great option if you do not want to completely block out the light from your window.
Design director at Villa Nova Hayley McAfee states, 'a sheer curtain never goes out of style, these can work in any type of home, whether traditional or modern. Furthermore, they are the perfect partner, when paired with heavier drapes they can easily create an interior that has a refined, soft look. You may want to replace a sheer curtain to a heavier weight fabric for practical reasons during the winter months, but this is down to personal preference. '
In this tranquil white bedroom, the softness of the white sheer curtains enhances the calming sleep space, creating a light and airy feel that is restful and full of inviting natural light.
7. Choose an artistic, abstract design
'Rather than acting as the final finishing touch, many modern curtain designs act as the central focal point in a room, capturing the gaze with striking visual interest through unique patterns, prints and color combinations,' says Homes & Gardens editor in chief, Lucy Searle.
In this living room, a calming design where natural materials and grounding color palettes unite with more modern geometric forms, the bespoke patchwork curtains from Marram are made from naturally-dyed, antique French linen and upcycled cotton, a wonderfully sustainable choice that enhances the overall organic look and feel in the room.
Like a beautiful piece of modern art, the abstract printed design frames the tall windows and enhances the use of contrasting shapes and materials throughout the space.
8. Keep things sleek and sophisticated
'Whether you have tall windows in a larger space, or more traditional, compact designs in a cozy cottage, a pleated curtain can establish a sleek and sophisticated look, adding a sense of structure, neatness and formality to a space,' says Jennifer Ebert, Homes & Gardens' digital editor.
In this stylish living room, the old is united with the new, as the traditional building is refreshed with a modern and minimalist interior design. The tall, pleated gray curtains from Mark Alexander at Villa Nova, not only enhance the height of the tall windows, but add a comforting element of softness to the overall industrial decor style.
Featuring a subtle geometric print, this curtain design shows that modern curtain ideas do not always have to be big, bright and bold, rather, many spaces benefit from a more refined, understated look.
9. Unite clashing patterns and styles for a maximalist look
Embracing a 'more is more' approach and turning to maximalist decor ideas can create a design bursting with character and personal style.
Using your curtains to create contrast and uniting clashing prints and patterns can make a space feel more interesting, refreshing and modern.
In this cozy corner of a living room, the Vixen wallpaper and matching Csardas curtains and cushion by Mind The Gap, establish an exuberant, elegant contrast. The different patterns and styles of print come together to create a unique design that is rich with color and texture, establishing a unique and vibrant atmosphere in the space.
10. Be bold with black curtains
A tricky design to get right, many of us are quite cautious when it comes to decorating with black and black room ideas, as you do not want a room that feels too overwhelming or oppressing.
However, when done in the right way, a beautiful black room can feel luxuriously elegant, cocooning and contemporary - plus, black goes with almost every color on the color wheel, making it a hugely versatile choice.
In this small media room, designed by Genna Margolis of Shapeside design, she states of the space, 'we really weren't sure what to do with this room at first, it was so dark and got very little light, this led us to the idea to lean into the darkness and do a dark room that would be used for media.'
The black curtains work with the black painted walls and sofa to create a snug and cozy space that is perfect for relaxing in front of the TV.
Black curtains definitely make a statement and are certainly not for everyone, but they can work well in bedrooms and family tv rooms.
11. Use multiple curtain designs for a rich, layered look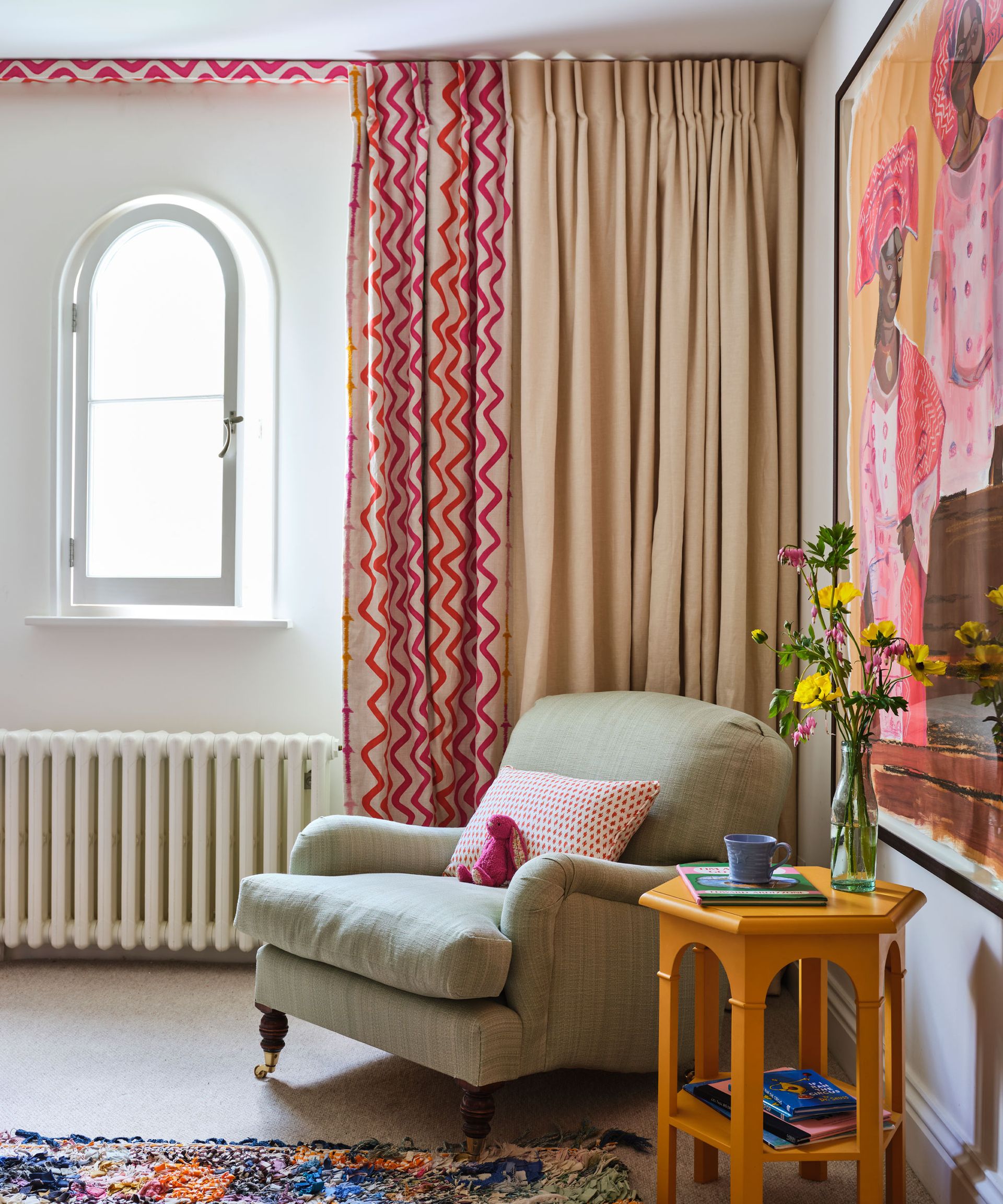 Using more than one curtain can be great for both practical and decorative reasons. Whether you want to pair sheer curtains with a blackout material, or simply want to unite different colors and patterns, there are many options to choose from.
In this colorful girl's bedroom, by Kate Guinness Design, the vivid Rick Rack fabric by Kit Kemp has been used as the leading edge for the curtains, with the cream set adding a balance and instilling a sense of calm and neutrality.
The use of multiple curtains can only create an elevated feeling of texture and softness in the space, but they can be used to create a layered design with a mix of colors, patterns and styles.
12. Modern curtain ideas are not just for windows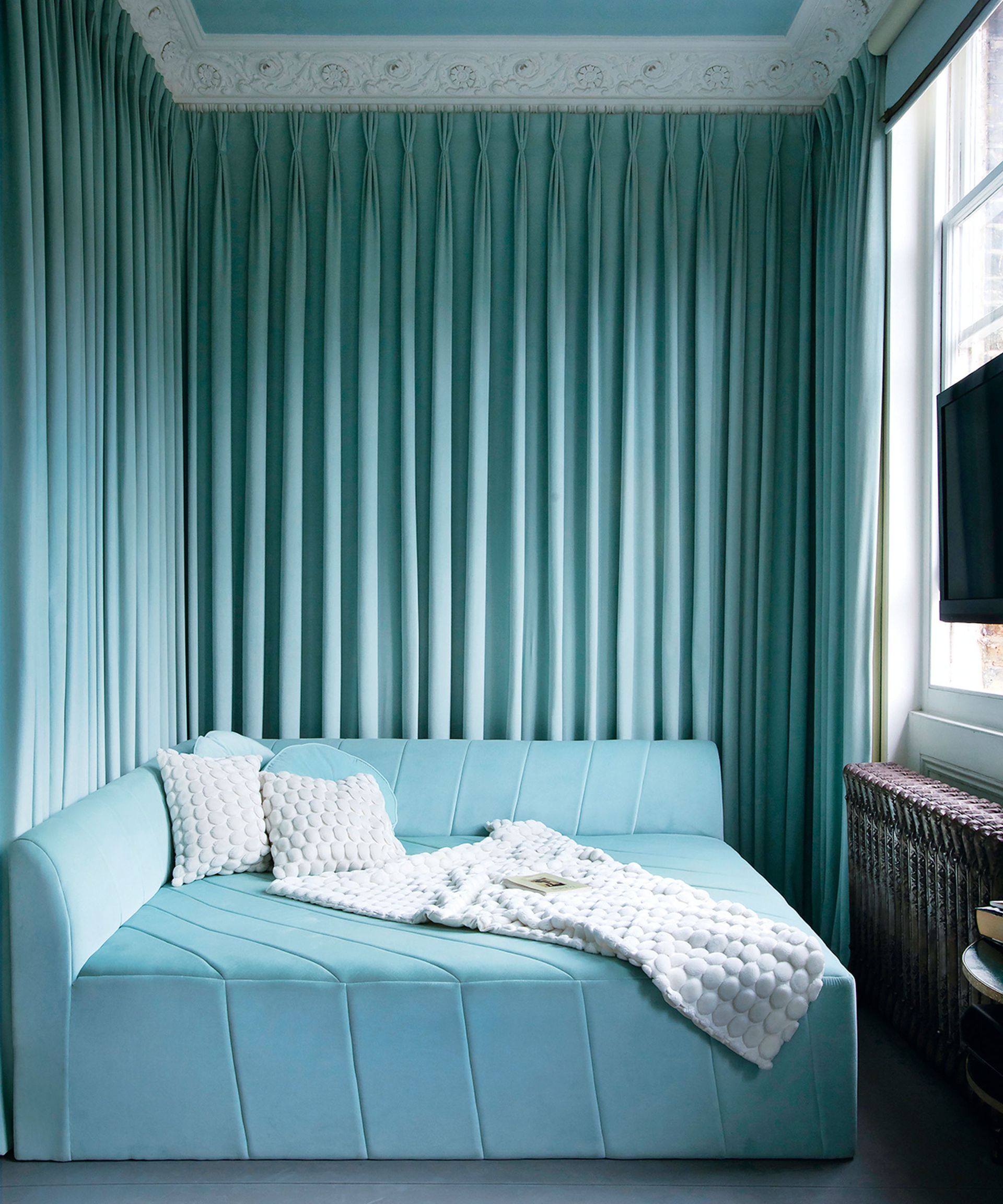 When we think of curtains, many of us will automatically think of window treatments and ways we can enhance these features with beautiful fabric and design, however, modern curtain ideas can be used across the home for both aesthetics and to improve the functionality of a space.
Whether you want to use a curtain as a room divider in a open-plan space, or create a dramatic design feature with a walled curtain, like in the beautiful blue room above, modern curtain ideas don't just have to be for your windows - and it gives you a chance to be more creative and experimental with your fabrics.
How do you make curtains look modern?
There are many ways you can make curtains look modern. As we have explored in this piece, curtains should be seen as a key decorating tool in a room, a chance to enhance a space with beautiful pattern, color and texture.
Embracing more impactful curtain designs can create a striking focal point and modern design feature in a room, and working with multiple textures and types of curtain can create an elegant, layered design that can make a space feel more inviting and cozy.
Hayley McAfee states, 'one of the main fabric trends for curtains I see is patterned and motifs. Curtains are becoming a center piece for the room, as such, there is a willingness to go bolder with the fabric choice.
Alternatively combining natural textures to create a soft, 'cocooned' feel is also proving popular. This can be created by having a heavier blind with floaty curtains of even by adding a border to the bottom section of the curtains in a different texture, so for example a pair of linen drapes with a border of velvet.'
Sign up to the Homes & Gardens newsletter
Decor Ideas. Project Inspiration. Expert Advice. Delivered to your inbox.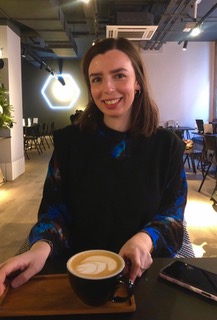 Zara joined Homes & Gardens in February 2022 as a Content Editor. After studying English Literature at University, she worked as an Ecommerce Website Editor, Content Writer and Buying Intern at multiple independent businesses within the luxury retail and lifestyle sectors. Her role at Homes & Gardens unites her love, experience and passion for the world of design and desire to create inspiring written content. She enjoys nothing more than discovering new trends, brands and products, whether that be in fashion, interior design or lifestyle.