Types of curtain explained – make the right choice for every room
Find the best types of curtain for every window in your home with our expert guide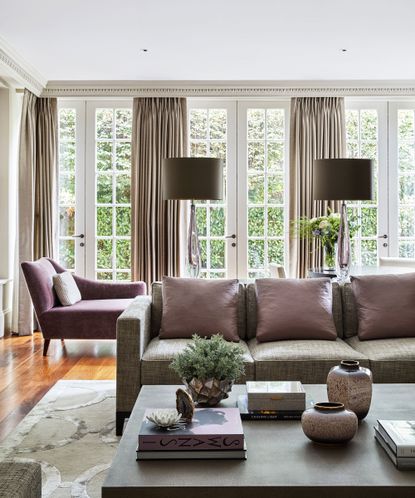 (Image credit: Future)
Selecting the right types of curtain involves a consideration of whether a traditional or more contemporary look is desired, as well as how casual, formal, simple or elaborate a window treatment is desired.
Whatever your window treatment ideas, it pays to be in the know about choosing both the headers and the fabrics that contribute to their final appearance in order to provide the perfect frame for the window, regulate the light that reaches the room as required, and complement the style of the room.
Here, we examine the different header types and how they influence the look curtain ideas, along with how the choice of materials contributes to the way in which curtains hang, and how much light they block or allow through.
Types of curtain
When thinking about types of curtain, consider the header, which determines how you hang curtains, the pleats into which they fall, and the fabric. The latter influences how much light reaches the room as well as the appearance of the curtains – from light and floaty to more opaque and from simple in style to elaborate.
Curtain header types
Different headers create different pleats, but also differences in fullness. Here are the the types of curtain header to choose from:
1. Pencil pleats
Pencil pleats are a popular gathered curtain header type that creates plentiful pleats for the curtains and a relaxed and casual effect. Avoid thick fabrics and be aware that this heading isn't ideal for wide windows because the fullness of fabric required means they don't stack neatly.
2. Pinch pleats
Pinch pleats are sewn into the fabric and create an elegant look. Select from single, double or triple pinch pleats; the former two are simpler in appearance while the latter requires more fabric and provides a more classic finish.
'Double pleat curtain headings look smart and tailored,' says Ann Grafton, managing and creative director, GP & J Baker. 'Offering classic elegance to both traditional and contemporary rooms, they work perfectly in country and town houses alike.'
3. Tailored pleats
Tailored pleats are similar to pinch pleats, but rather than the fabric fanning out above and below the pinch, it is pinched at the top of header. The effect is more contemporary.
4. Box pleats
Box pleats are more formal in appearance and are wide and regular. The width of the pleats can be varied within a range, but it is fixed once they are sewn into the curtains. Box pleats are suitable for heavier as well as lighter fabrics. More widths of fabric are required than with some other header alternatives.
5. Goblet pleats
Goblet pleats create a tall, slim goblet shape at regular intervals at the top of the curtain. The look is formal and elegant. It may be used for dress curtains that remain fixed in place. If the window is wide, it's not the best option as the goblets won't stack neatly to open the curtains.
6. Tab tops
Tab tops are fabric loops that fit on to the rod. They create a look that's informal and leave the rod itself on show. They'll let in more light from the window because of the way in which they hang below it. Alternatives to tap tops with the same casual style are tie tops, where the curtains are attached to the rod with knots or bows.
7. Eyelets
Eyelets (also known as grommets) are rings fitted into the curtain fabric so the curtains can be hung directly on the rod. The result is a curtain with wide regular pleats. The look is contemporary.
8. Ripple folds
Ripple folds are an alternative sleek and modern header. The ripples hold their shape even when the curtains are being open and closed. They require a ripple fold track and carrier.
9. Rod pockets
Rod pockets allow the rod to be inserted into the curtains. Curtains with this heading have an informal gathered look. Be aware that they are more difficult to open and close than curtains with other headers.
Considerations when selecting a header for your curtain type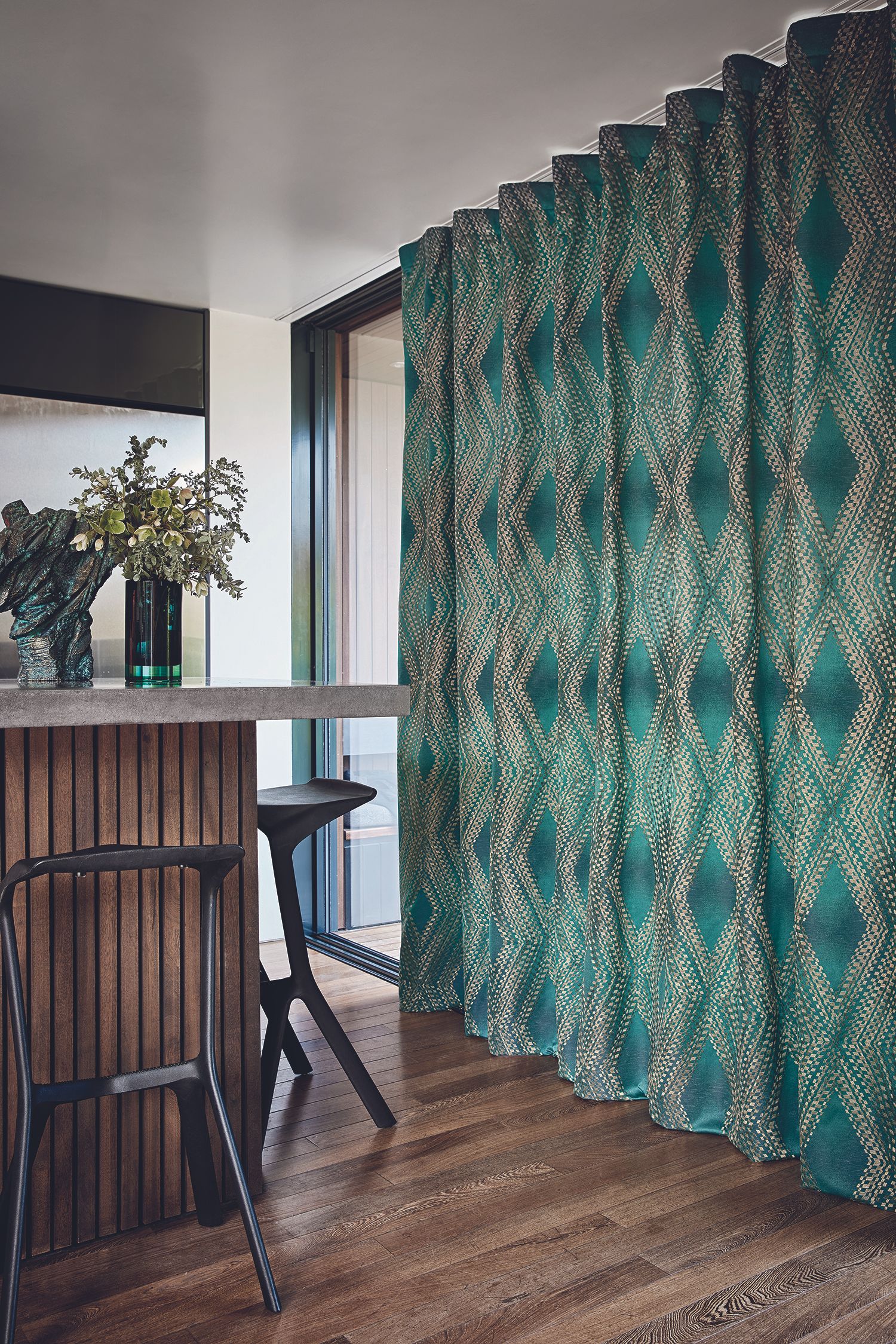 When selecting a header, bear in mind the height of the window. 'If you have a tall window with long drapes, opt for a deeper heading,' says Hayley McAfee, head of Villa Nova at Romo. 'Not only will this sit better, it will also create an effortlessly sophisticated look.'
Your choice among the types of curtain header should also be influenced by a fabric's pattern if this is the option preferred to a plain.
'The most important thing to think about is the scale and style of the pattern,' explains Hayley. 'For example, if you are aiming for a large-scale floral design avoid pinch pleats as the pattern can fall irregularly between the folds; instead aim for a classic pencil pleat or a ripple heading. Alternatively, if you have a smaller scale design this will work well with most headers to effectively show the pattern.'
Types of curtain material
The fabric selected for curtains might be sheer or semi sheer, depending on the amount of light you want to filter. Sheers look pretty and light, but semi sheers bring these qualities, too, and provide more privacy.
If the curtain is to be more decorative than light filtering, window scarfs are an alternative. These frame its top, draping in soft folds. They can also be combined with traditional curtains for an opulent effect.
To keep a room private and block light effectively to avoid early dawns or streetlights disturbing sleep, opt for blackout curtains, which have a liner that stops the light reaching the room. They can also provide some noise insulation.
Heavier drapery fabrics are an alternative – think wool and velvet. Thermal linings can be used with these if necessary.
There is a wide choice of different types of curtain fabric to select from. Linens and linens blended with manmade fabric hang well and feel soft, and have a relaxed look. Silk is luxurious but can be damaged by the sun, so consider the orientation of your window as well as local climate. Velvet drapes beautifully and has enduring style.
What type of curtains are best?
The best curtains will have a style that complements the room – whether it's a more formal or relaxed space. Selecting from plain or pattern, and the color and detail are also important.
Fabrics should always be chosen with the atmosphere desired in mind. 'Weathered linens or textured stripes are ideal for a relaxed, informal look, whilst exuberant prints and embroideries create layered, confident interiors,' says Ann Grafton.' It is also important to consider whether the curtains need to keep out the cold – rich woolen plaids and lush velvets are ideal for this.
'Add interest to your curtains by using a fun trim or contrast fabric along the leading edge, or why not embrace the trend of adding a small print, check or stripe as a lining fabric to really create a statement?'
What are grommet curtains?
Grommet top curtains have metal rings set into the curtain fabric. They are also known as eyelet curtains. The rings slide smoothly along the rod to open and close the curtains and the easy movement makes them a good choice for wide windows.
The regular intervals between the grommets create uniform pleats so the fabric doesn't require dressing. Their look is contemporary, and they are therefore a happier complement to modern room schemes rather than those with traditional style.
Sign up to the Homes & Gardens newsletter
Decor Ideas. Project Inspiration. Expert Advice. Delivered to your inbox.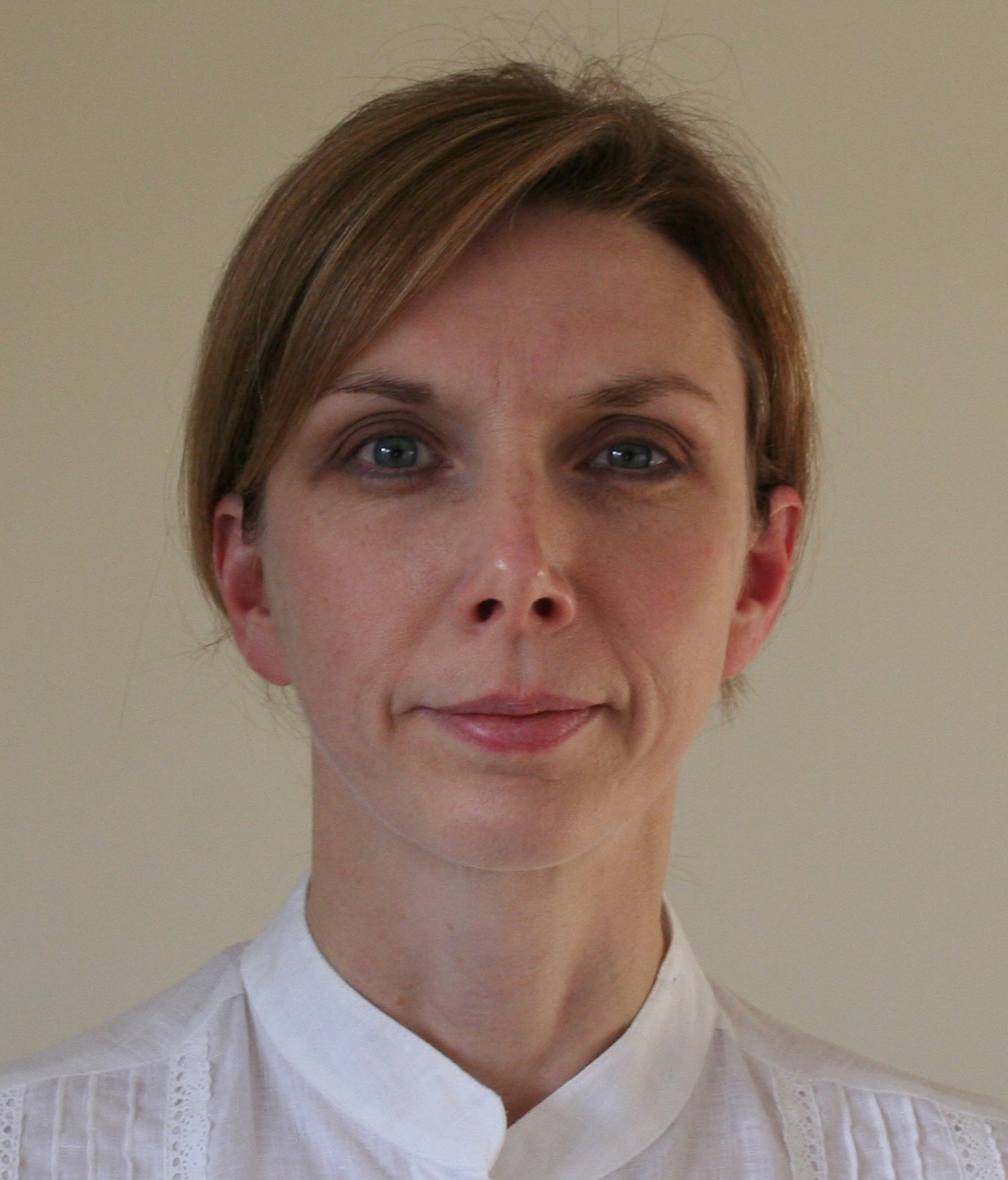 Sarah is a freelance journalist and editor. Previously executive editor of Ideal Home, she's specialized in interiors, property and gardens for over 20 years, and covers interior design, house design, gardens, and cleaning and organizing a home for H&G. She's written for websites, including Houzz, Channel 4's flagship website, 4Homes, and Future's T3; national newspapers, including The Guardian; and magazines including Future's Country Homes & Interiors, Homebuilding & Renovating, Period Living, and Style at Home, as well as House Beautiful, Good Homes, Grand Designs, Homes & Antiques, LandLove and The English Home among others. It's no big surprise that she likes to put what she writes about into practice, and is a serial house renovator.