Window blind ideas – 10 ways to use blinds to enhance your space
Window blinds can be plain and practical, or bold and patterned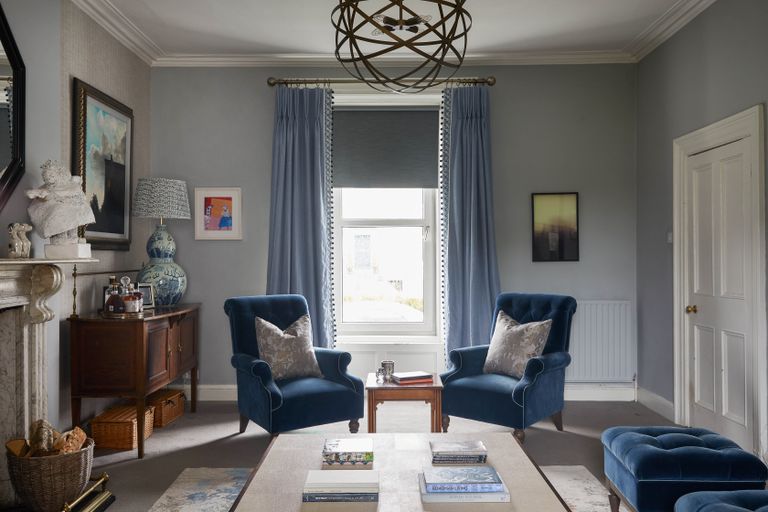 (Image credit: Sara Cosgrove)
Window blinds are that finishing touch, the icing on the cake so to speak that can pull a whole scheme together, especially if they're well matched colorwise. 
Practical too, they can be used to control the amount of light that flows through your windows and give you much needed privacy in bathrooms and bedrooms. 
They can be used in both contemporary and classic settings, all that's needed is a different blind design, from a Roman to a roller, and your glass extension will have that modern edge. 
Window blind ideas 
We've put together some stunning window blind and curtain ideas to inspire you, from crisp modern living designs to teaming blinds with curtains for a cohesive look. 
1. Match your blinds to your curtains for an eye-catching look
This beautiful living room is for those who love color – inky blues, scarlet, acid yellow and green all working together in mostly blocks with the odd hint of pattern.
The swathe of turmeric drapes and blinds completes the look, they add that new layer of color that enhances the spaces and prevents the back wall from essentially being a dark wall, instead, the matching window treatment brings the whole look together perfectly.
2. Use your window blind style to mimic furniture
This modern living room is all about the curves – from the sweeping corners of the sofa to the round pendant and slimline side table. 
If you then hung up a standard window blind, it would visually create a harsh horizontal line behind the sofa which would compete with the soft nature of the furniture. Instead, Irene Gunter, Founder of London based Gunter & Co, has used a beautiful drapey fabric that has movement rather than a stiff Roman blind. 
3. Go for an ethereal style blind in bathroom
Henriette von Stockhausen, Founder of VSP Interiors explains her choice of blind in this stunning bathroom:
'This curtain treatment is very decorative without being too heavy – it lets the light through but gives privacy from the outside at the same time. We often use voiles like this in bathrooms to add softness and prettiness.'
The use of the voile accentuates the curves of the ornate vintage mirrors on each side of the window and most importantly, doesn't distract from the architectural detailing in the room.
4. Choose a darker blind to add depth when using drapes 
If you don't want to go down the matchy matchy route with your blinds and drapes then opt for a darker blind. Darker colors add depth, and when you have a blind behind the drapes you want it to add depth, not visually sit 'forward'. 
A textured plain fabric works well in this Sara Cosgrove designed living room as it allows the drapes with added trim to be the star of the show, which is fine – the blind in this scheme has the supporting role so to speak.
5. Or go for a print to make the window blind stand out
On the opposite end of the scale – when you do want your window blind to be the focal point or, the scheme is eclectic as is the case with this Farrow & Ball bathroom, then you can choose a whimsical print that has a linear quality. 
This window blind works because the black outline matches the color painted on the door and floor tiles, so the eye is drawn to these three aspects and therefore flows around the room evenly. 
6. Opt for pale and interesting to enhance a window
When you are designing a room, it pays to look at what natural features the space has. For example, this beautifully wide bay window is stunning enough without covering it up with a heavy window blind. Instead, off white window blinds have been hung that accentuate the bay window whilst allowing a little natural light in and most importantly, not detracting from it. 
It's important in a neutral scheme that the colors you choose all balance well, this is key to a cohesive and stylish scheme. 
7. Choosing the right window blind fabric is key
Whether it be simple sheer roman blinds or tailored roller blinds with a hand-embroidered trim, windows treatments can act both functionally as well as decoratively within a room,' says renowned interior designer, Louise Bradley.
'Depending on how you choose to use the space can help guide you with your choices of fabrics. For example, a living room might not need blackout linings, while a bedroom may benefit from complete darkness to help with a peaceful night's sleep.'
8. For a modern scheme opt for a roller blind
Let your interior guide you, this contemporary space is all about angles and lines, so choose a window blind that follows that feel.
A roller blind is ideal, you can choose a design that's semi-transparent and almost becomes a work of art itself – the way it frames the outside scene within the window frame is fabulous in this minimal living space. 
9. Use your window blind design to complement your interior 
What we love about these window blinds is how the ribbon trim ties in perfectly with the vertical lines of the four-poster bed. These small yet important details are what makes an interior design scheme stand out. 
The white fabric of the blinds also matches the bedding, nightstand and lamps. 
Although the blinds are integral to this bedroom, they're not the stand out feature, this doesn't take away the importance of them, but instead shows how you can balance key elements successfully. 
10. Be inventive and mix bold color 
Farrow & Ball's Stone Blue is a timeless shade that can warm up a room and it works particularly well on woodwork if you want to go for a less conventional look than the standard white. 
So how do you then match a window blind to a strong color? Choose a fabric design that has a similar shade in it that complements rather than takes over. In this case, the window is the dominant feature so the blind needs to be more subtle. This stripe works well and tricks the eye into believing that the window is taller than it is. 
What type of blinds are in style? 
As you can imagine, there are many different types of window blinds, it can be a bit of a minefield. However, it's best to think about what kind of look you want rather than what's in style.
You can be guided by your interior design style – is it a modern home or a period property? With the former it's best to go for clean sleek designs like roller blinds and wooden designs.
For a period property you can choose Roman and Venetian styles, both lend themselves to older homes and have a softer profile visually.
How do you dress a window without curtains?
The best way is to use a window blind instead if you want to direct the light and have privacy. They look great on their own and if you have windows with architectural detailing the blind needs to be simpler, if the window frame is plain you can go for a bolder blind in a patterned fabric.