Window blind ideas – 20 beautiful ways to use blinds to enhance your space
Window blinds can be plain and practical, or bold and patterned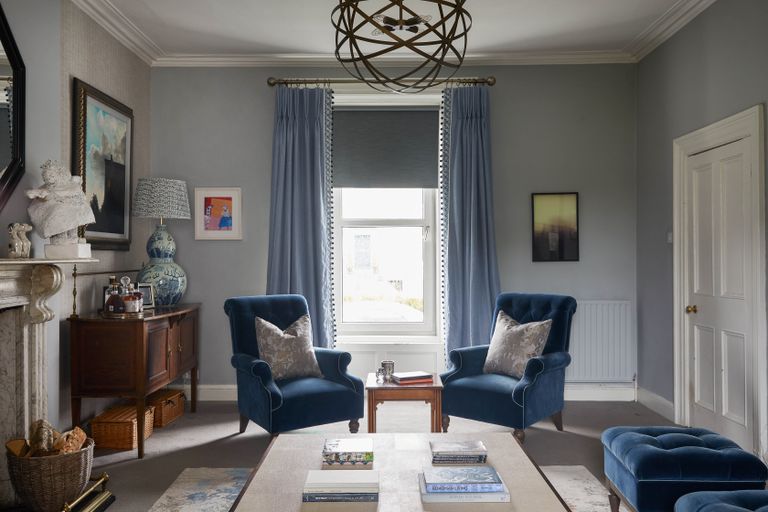 (Image credit: Sara Cosgrove)
Window blind ideas are that finishing touch, the icing on the cake so to speak that can pull a whole scheme together, especially if they're well matched colorwise.
Practical too, they can be used to control the amount of light that flows through your windows and give you much needed privacy in bathrooms and bedrooms.
They can be used in both contemporary and classic settings, all that's needed is a different blind design, from a Roman to a roller, and your glass extension will have that modern edge.
Window blind ideas
We've put together some stunning window blind and curtain ideas to inspire you, from crisp modern living designs to teaming blinds with curtains for a cohesive look.
1. Match your blinds to your curtains for an eye-catching look
This beautiful living room is for those who love color – inky blues, scarlet, acid yellow and green all working together in mostly blocks with the odd hint of pattern.
The swathe of turmeric drapes and blinds completes the look, they add that new layer of color that enhances the spaces and prevents the back wall from essentially being a dark wall, instead, the matching window treatment brings the whole look together perfectly.
2. Use your window blind style to mimic furniture
This modern living room is all about the curves – from the sweeping corners of the sofa to the round pendant and slimline side table.
If you then hung up a standard window blind, it would visually create a harsh horizontal line behind the sofa which would compete with the soft nature of the furniture. Instead, Irene Gunter, Founder of London based Gunter & Co (opens in new tab), has used a beautiful drapey fabric that has movement rather than a stiff Roman blind.
3. Go for an ethereal style blind in bathroom
Henriette von Stockhausen, Founder of VSP Interiors (opens in new tab) explains her choice of blind in this stunning bathroom:
'This curtain treatment is very decorative without being too heavy – it lets the light through but gives privacy from the outside at the same time. We often use voiles like this in bathrooms to add softness and prettiness.'
The use of the voile accentuates the curves of the ornate vintage mirrors on each side of the window and most importantly, doesn't distract from the architectural detailing in the room.
4. Choose a darker blind to add depth when using drapes
If you don't want to go down the matchy matchy route with your blinds and drapes then opt for a darker blind. Darker colors add depth, and when you have a blind behind the drapes you want it to add depth, not visually sit 'forward'.
A textured plain fabric works well in this Sara Cosgrove (opens in new tab) designed living room as it allows the drapes with added trim to be the star of the show, which is fine – the blind in this scheme has the supporting role so to speak.
5. Or go for a print to make the window blind stand out
On the opposite end of the scale – when you do want your window blind to be the focal point or, the scheme is eclectic as is the case with this Farrow & Ball (opens in new tab) bathroom, then you can choose a whimsical print that has a linear quality.
This window blind works because the black outline matches the color painted on the door and floor tiles, so the eye is drawn to these three aspects and therefore flows around the room evenly.
6. Opt for pale and interesting to enhance a window
When you are designing a room, it pays to look at what natural features the space has. For example, this beautifully wide bay window is stunning enough without covering it up with a heavy window blind. Instead, off white window blinds have been hung that accentuate the bay window whilst allowing a little natural light in and most importantly, not detracting from it.
It's important in a neutral scheme that the colors you choose all balance well, this is key to a cohesive and stylish scheme.
7. Choosing the right window blind fabric is key
Whether it be simple sheer roman blinds or tailored roller blinds with a hand-embroidered trim, windows treatments can act both functionally as well as decoratively within a room,' says renowned interior designer, Louise Bradley (opens in new tab).
'Depending on how you choose to use the space can help guide you with your choices of fabrics. For example, a living room might not need blackout linings, while a bedroom may benefit from complete darkness to help with a peaceful night's sleep.'
8. For a modern scheme opt for a roller blind
Let your interior guide you, this contemporary space is all about angles and lines, so choose a window blind that follows that feel.
A roller blind is ideal, you can choose a design that's semi-transparent and almost becomes a work of art itself – the way it frames the outside scene within the window frame is fabulous in this minimal living space.
9. Use your window blind design to complement your interior
What we love about these window blinds is how the ribbon trim ties in perfectly with the vertical lines of the four-poster bed. These small yet important details are what makes an interior design scheme stand out.
The white fabric of the blinds also matches the bedding, nightstand and lamps.
Although the blinds are integral to this bedroom, they're not the stand out feature, this doesn't take away the importance of them, but instead shows how you can balance key elements successfully.
10. Be inventive and mix bold color
Farrow & Ball's Stone Blue (opens in new tab) is a timeless shade that can warm up a room and it works particularly well on woodwork if you want to go for a less conventional look than the standard white.
So how do you then match a window blind to a strong color? Choose a fabric design that has a similar shade in it that complements rather than takes over. In this case, the window is the dominant feature so the blind needs to be more subtle. This stripe works well and tricks the eye into believing that the window is taller than it is.
11. Channel the ruffle trend with a ruched blind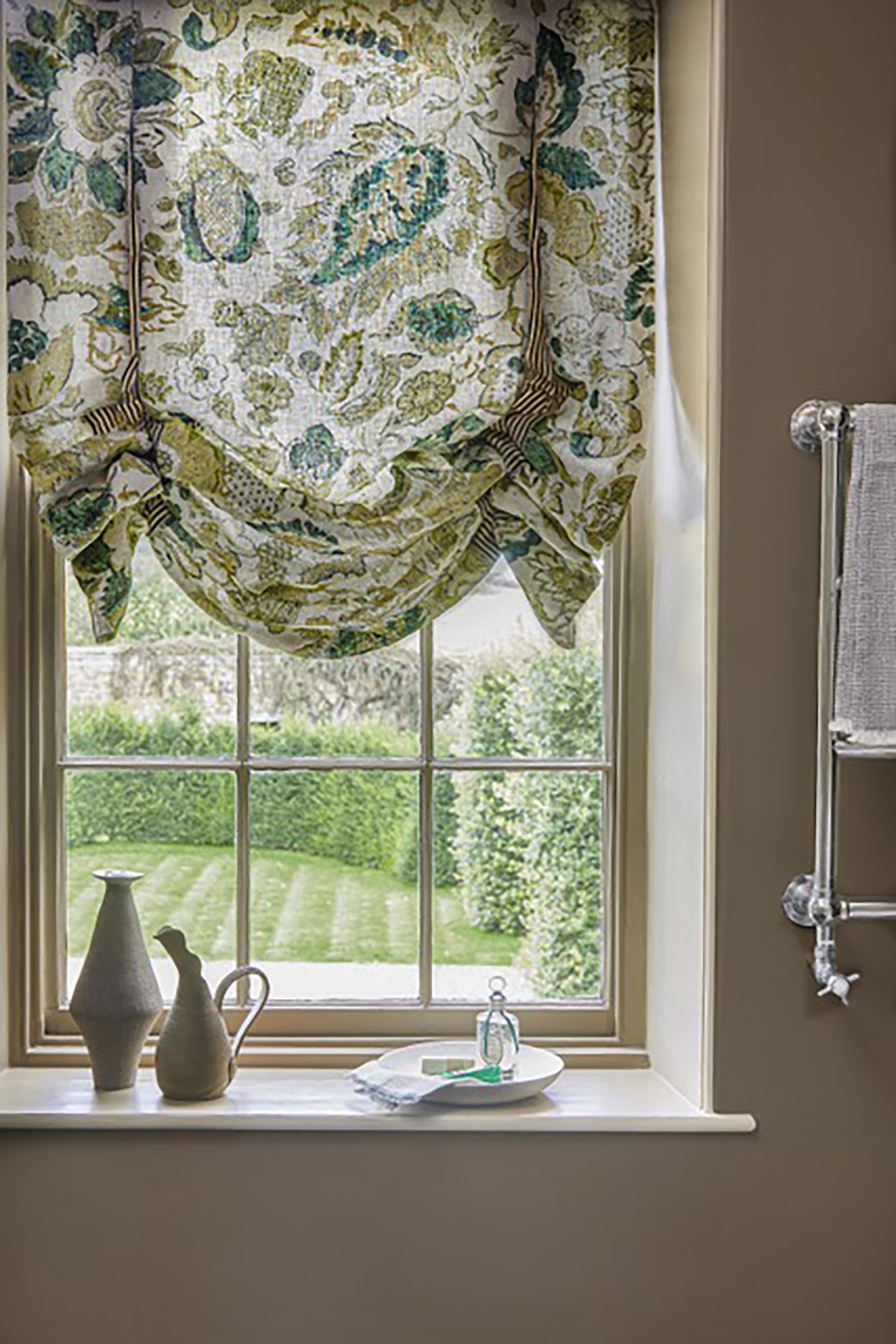 Making a feature of bathroom windows with a fabric blind is a brilliant way to inject pattern, color and personality into what can feel cold, clinical spaces. Ruffles are all the rage at the moment so why not create a nod to the look with a ruched 'London' style fabric blind?
'Bathrooms often feel stark and cold, full of hard surfaces and bright white finishes, adding a large scale floral fabric ruched to create a 'London' blind with a contrast or striped trim delivers a touch of whimsy, creating a considered and joyful interior,' says Richard Smith, founder & creative director, Madeaux (opens in new tab)
12. Balance light and privacy with a venetian blind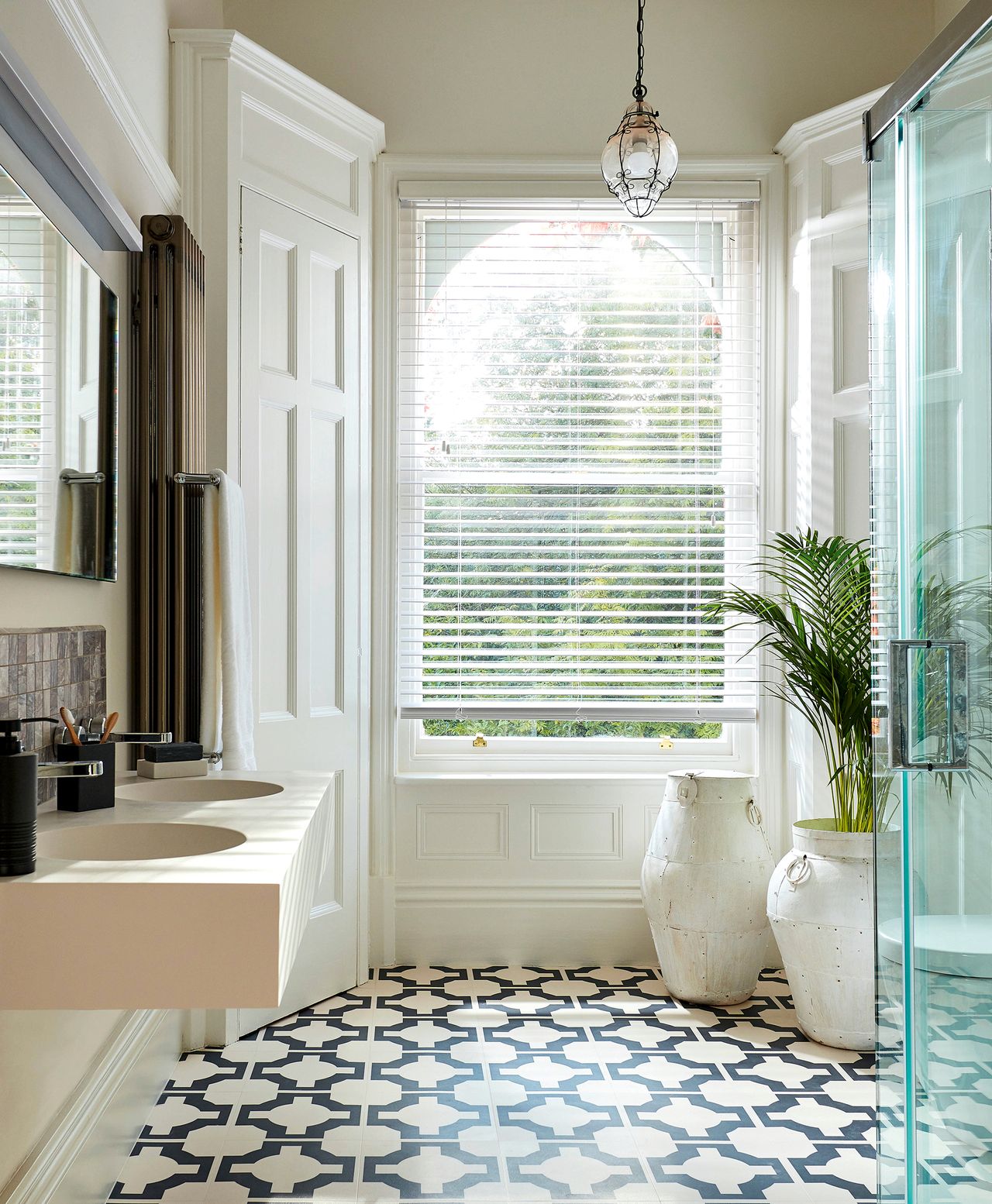 Venetian blinds have adjustable horizontal slats, also known as louvres, which allow you to control light levels whilst maintaining privacy – this makes venetian blinds a perfect choice for bathrooms, plus, depending on the material they can be water-resistant and can be easily wiped clean which is important in moist areas.
'As bathrooms are usually quite steamy rooms, roller blinds with polyester or polyester mix fabric are practical choices as they are resistant to damp and humid conditions and are easy to wipe clean. Alternatively Wood Impression venetian blinds offer the look of real wood but with the water resistance suitable to a bathroom environment,' says Leah Aspinall, Head of Creative at of Blinds2Go (opens in new tab)
13. Inject color into a home office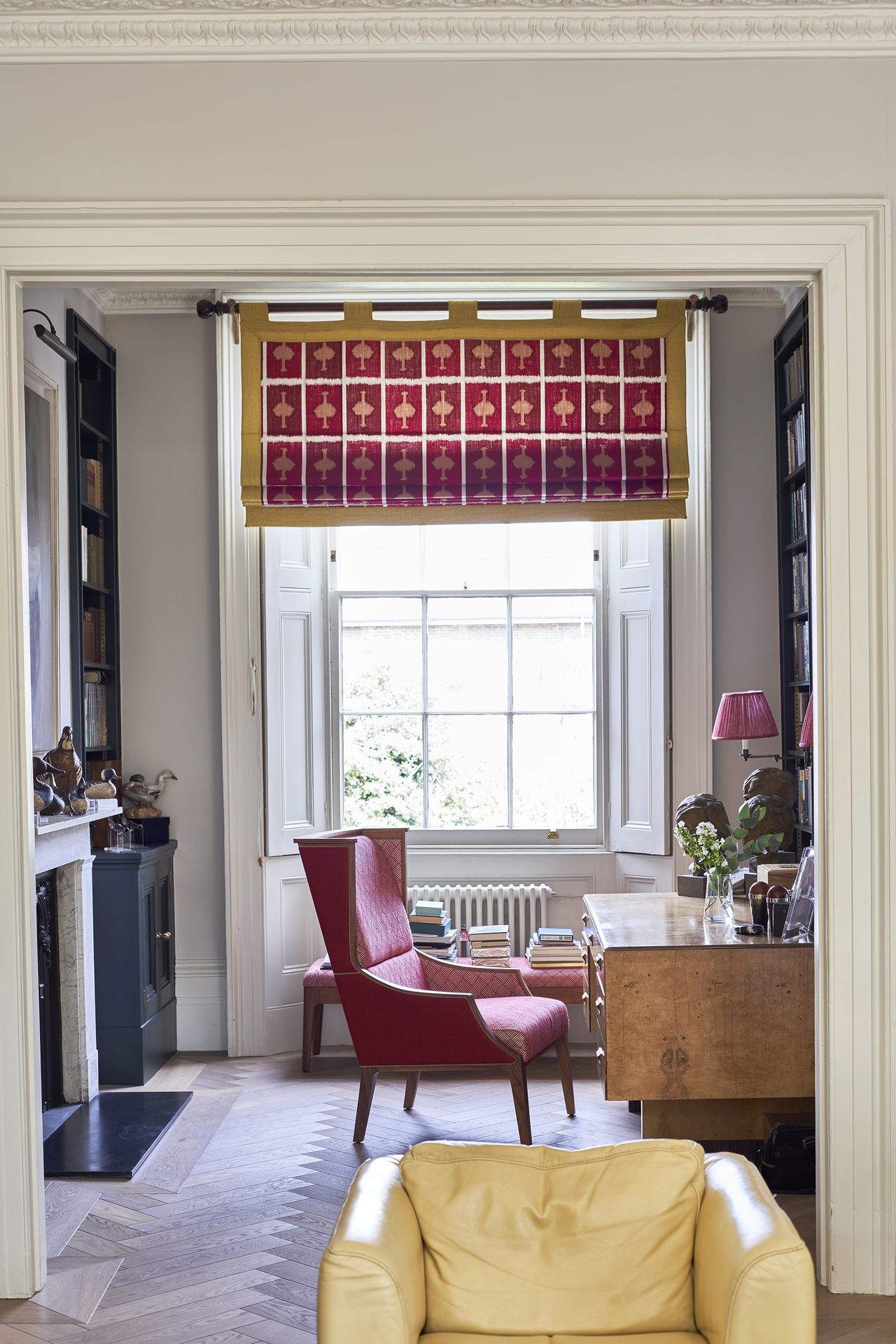 Adding a blind to a window is a brilliant way of creating a decorative focal point within a room where the space for wall art may be limited. No matter how large your window, hanging a roman blind in a colorful geometric fabric is guaranteed to liven up a neutral corner and is a brilliant way to bring personality to a home office where the walls may be given over to bookcases. Pictured is a blind in Ozone in Ruby bordered with Alto in Lemon, both Christopher Farr Cloth (opens in new tab).
14. Add a roller blind pelmet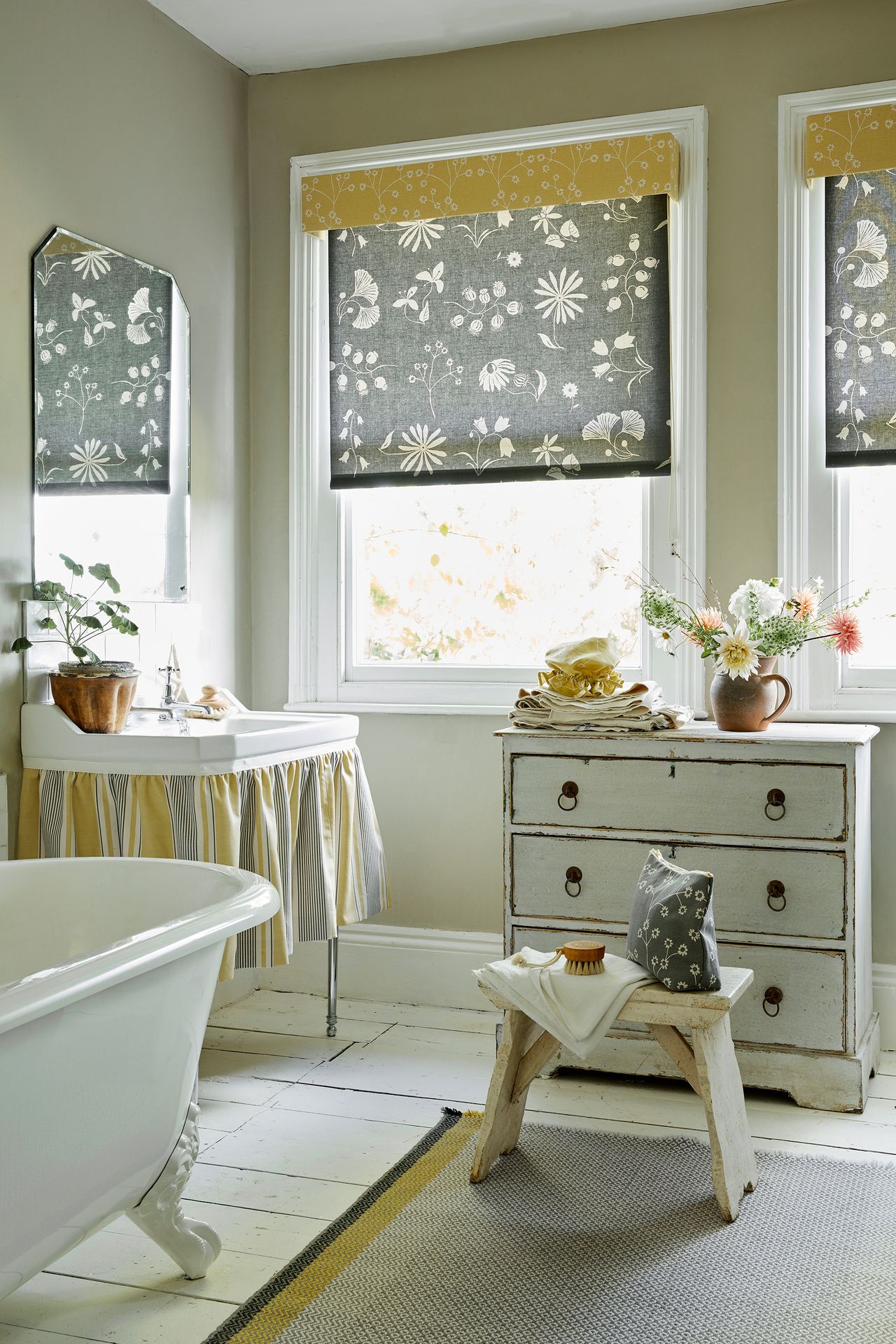 Roller blinds are a brilliant choice for bathrooms as the fabrics are processed which means they are more resilient in humid rooms and can be wiped more easily. They also have a number of other benefits as the founder of Loom & Last (opens in new tab), Harry Cole, explains.
'Roller blinds are a great choice if you are looking to maximize daylight and make smaller windows appear taller. Neat and tidy they roll up, taking up just a small portion of the windowpane ensuring full visibility and sunlight throughout the day.'
To bring a touch of pattern and natural charm to a neutral bathroom consider a blind in a stylized floral print. While they are easy to fit into recesses, the tops of roller blinds can be an eyesore, so why not hide them with a pelmet?
'If you're installing a roller blind in a recess, you can now choose to have a smart pelmet made in a matching fabric to cover the roll. This has revolutionised the use of roller blinds, making them much more attractive and so usable in all rooms of a house! You could even choose a contrasting color for a playful twist,' says Vanessa (opens in new tab)Arbuthnott (opens in new tab).
15. Bring a timeless feel with stripes
Roman blinds are a brilliant way to bring warmth and texture to practical spaces like kitchens which can run the risk of feeling cold and where curtains may not be suitable. For a look which will endure across the years you can't go wrong with a timeless stripe teamed with green cabinets, as shown in this beautiful kitchen by Vanrenen GW Designs (opens in new tab).
'We chose this striped fabric because the colors aligned perfectly with the kitchen color ideas – it's also not a regimented stripe which makes it appear so much softer,' says Louisa Greville Williams, Vanrenen GW Designs.
16. Hang blinds outside the frame for a seamless look
If you're looking for window treatment ideas for a large window consider hanging a series of fabric blinds outside the frame and flush beside each other – this will achieve a seamless look whilst giving control over the light levels of individual bays. Choosing a small repeat design in a neutral shade will help the space appear larger as opposed to large statement designs.
'Whether a blind is hung inside or outside a window frame depends on what you are trying to achieve,' says Louise Wicksteed, design director Sims Hildtich. 'For instance, if you are installing a blind to cover a large window with a seat built in, the blind might extend beyond the frame. Likewise if you wish to create more of a 'blackout' effect.'
Before you decide on the positioning of a roman blind there are other things you need to consider, explains Leah Aspinall, Head of Creative at Blinds2Go (opens in new tab).
'Where you hang your blind will depend on whether your window has a recess or not and also what obstructions there are to fitting the blind inside the recess, such as handles, window fittings and the direction the window opens. If there are no obstructions then it depends on personal preference but most people prefer to fit their blinds inside the recess and curtains are fitted outside the recess.'
17. Match blinds to your wallpaper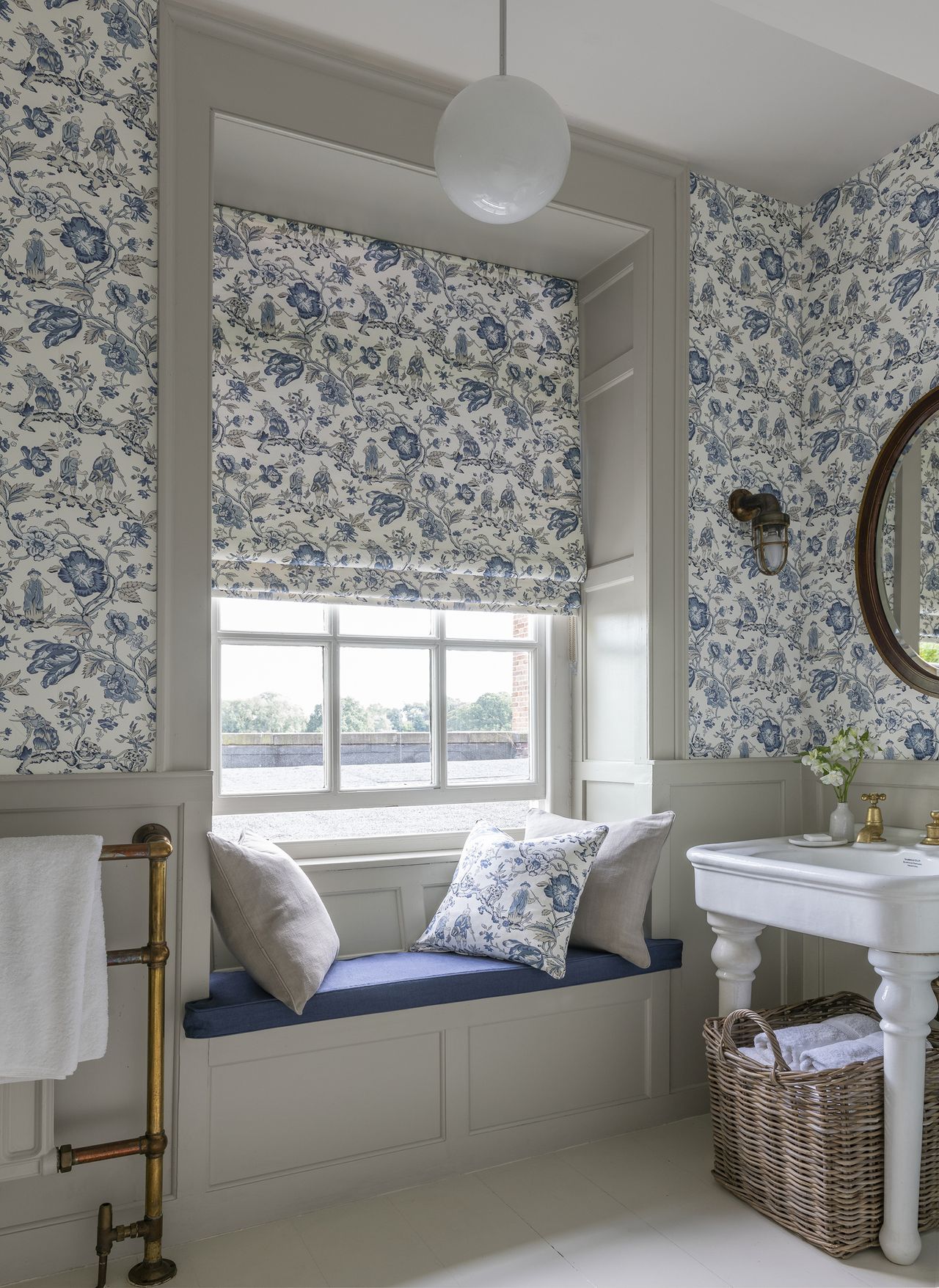 If you love print why not inject a double dose of it by using the same design on blinds and walls? Traditional bathrooms with grand proportions are great spaces for using decorative prints as the designs are allowed to really shine, while making the space feel more cosy and intimate. For classic elegance perfect for a traditional bathroom you can't go wrong with a sinuous chinoiserie-style design in blue and white such as this Les Pecheurs design from Warner House (opens in new tab).
'Bathrooms are a great place to create a sense of drama so be brave and use the same pattern on all the walls and even the same design on blinds or curtains. Whether you are going for a classic or an ultra-modern look, there is a wide choice of designs to suit all styles,' says Lee Clarke, director at Warner House.
18. Block out the light with blackout blinds
If you're looking to block out light or add an additional layer of insulation to your windows then black out blinds are a good solution, says Harry Cole, founder of Loom & Last (opens in new tab).
'Blackout blinds are the perfect addition to any room, whether you are looking to block out an early morning sunrise from the bedroom window or prevent a conservatory from getting too hot or too cold throughout the changing seasons. The thermal properties offer all-year-round benefits; preventing draughts and loss of heat in the colder months, while also working to keep the home cool in the summer by blocking heat transfer from the sun.'
'Whether you're looking for privacy, style, or both, blackout lining can be added to either roller or roman blinds. If the fabric or pattern is a key part of your design scheme, roman blinds are the best option. The header rail allows visibility of the fabric pattern, whether the blind is up or down, while the traditional pleats are a stylish addition that make a feature out of the window,' he adds.
19. Pair plain fabric with printed designs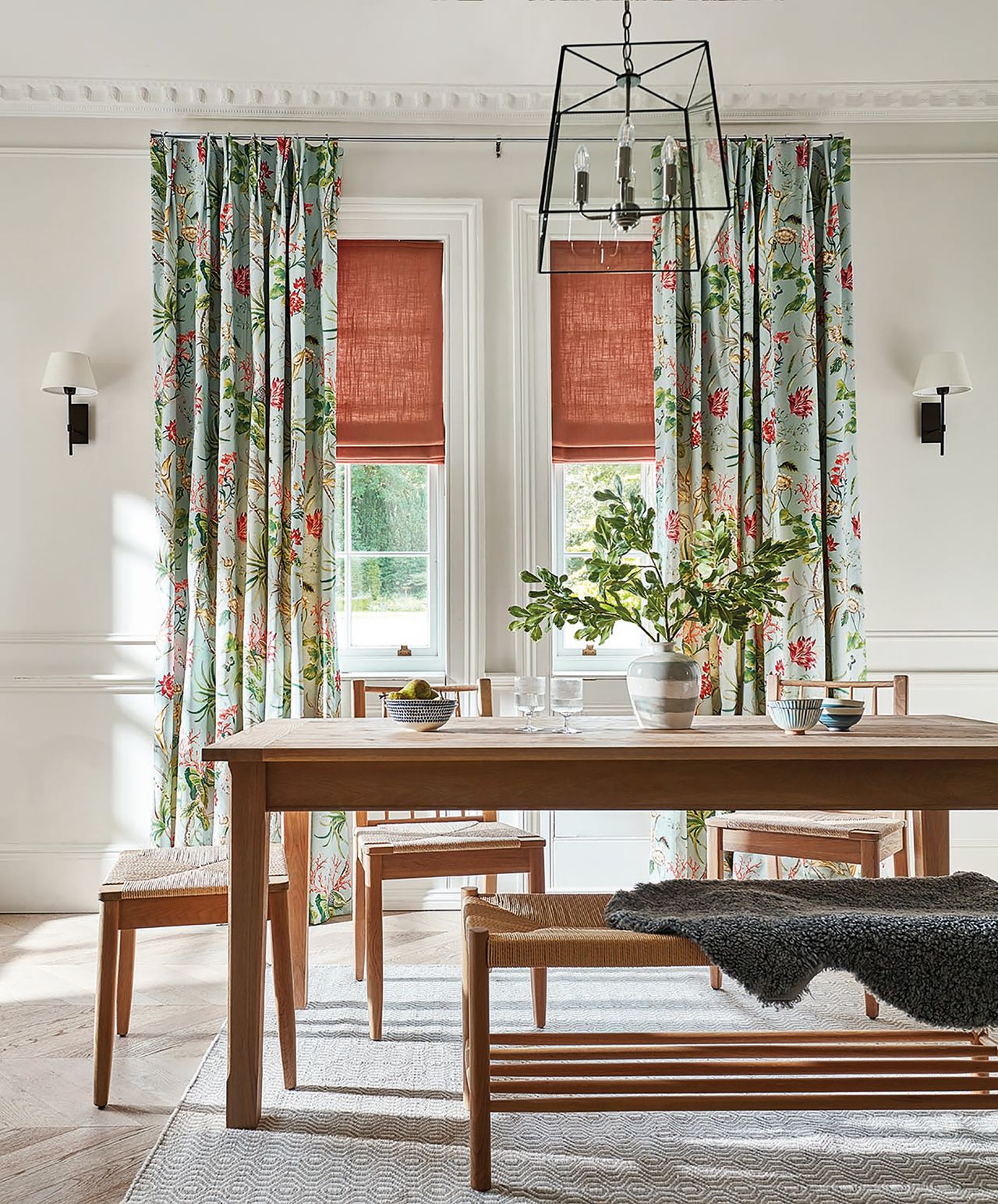 Pairing blinds with curtains gives flexibility over light levels and whilst also providing an extra layer of insulation, but they can also create a beautiful feature in a neutral room. Combining curtains in a beautiful botanical design with plain roman blinds in a contrasting shade is a fun and cheerful way to bring color, pattern and warmth to entertaining spaces such as dining rooms.
20. Double up blinds for ultimate light control
Bay window ideas are a beautiful architectural feature – and allow huge amounts of light into a room – for window treatments that give privacy without having to sacrifice on light levels then sheers blinds are a good solution. For increased control over light levels consider pairing sheer blinds with a roman blind in a heavier fabric.
'For bay windows we often use a combination of blinds and curtains. Sheer blinds are a great choice as they allow a certain amount of light into the room. The addition of curtains or roman blinds in a heavy weave enables the light to be completely blocked during the evening and at night, creating a restful environment,' says Louise Wicksteed, design director for Sims Hilditch (opens in new tab) interior design.
What type of blinds are in style?
As you can imagine, there are many different types of window blinds, it can be a bit of a minefield. However, it's best to think about what kind of look you want rather than what's in style.
You can be guided by your interior design style – is it a modern home or a period property? With the former it's best to go for clean sleek designs like roller blinds and wooden designs.
For a period property you can choose Roman and Venetian styles, both lend themselves to older homes and have a softer profile visually.
How do you dress a window without curtains?
The best way is to use a window blind instead if you want to direct the light and have privacy. They look great on their own and if you have windows with architectural detailing the blind needs to be simpler, if the window frame is plain you can go for a bolder blind in a patterned fabric.
Pippa is Content Editor on Homes & Gardens online contributing to Period Living and Country Homes & Interiors print issues. A graduate of Art History and formerly Style Editor at Period Living, she is passionate about architecture, creating decorating content, interior styling and writing about craft and historic homes. She enjoys searching out beautiful images and the latest trends to share with the Homes & Gardens audience. A keen gardener, when she's not writing you'll find her growing flowers on her village allotment for styling projects.