38 country decorating ideas – stunning rustic style for your home
These country decorating ideas take inspiration from the natural world to bring color, pattern and texture to room schemes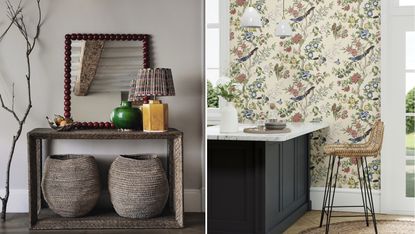 (Image credit: Oka/Sanderson)
These easy – and beautiful – country decorating ideas will effortlessly introduce rural style to your home. Picking up on the key elements of the look, from natural materials to color and pattern, they'll bring a softness and warmth to your living spaces for an inviting interior with an elegantly rustic touch.
Country decorating ideas: perfect your rural style
Putting a country twist on to your decorating ideas is about narrowing your focus to truly delight in the best of rural looks and lifestyle. If a material is natural; if a surface has character; if a color can be seen in the landscape outside your window, then chances are you've got it right.
The beauty of country style is that it embraces so many looks, from elegant rural homes to smaller cottages, from barns to cabins. What connects them all is a comfort, warmth and natural elegance that feels beautifully homey.
1. Add characterful lighting
Country homes often feature thick stone walls and low ceilings, so a practical as well as aesthetically pleasing approach is needed to lighting ideas.
'A layered decorative lighting scheme ensures your lighting adapts to the different uses of a space,' explains Hollie Moreland, Creative Director at David Hunt Lighting (opens in new tab), whose Scallop light pendants feature in the dining area here. 'An open concept kitchen dining room, for example, needs task lighting for cooking, but softer warmer lighting for entertaining.
'Layer your lighting so you can add and remove light sources for different uses and to create different atmospheres. I love to see unexpected lighting – a pretty table lamp in a country kitchen, rather than the typical living or bedroom, will add a homey and whimsical feel to the space.'
2. Bring in floral fabrics
If all-over chintz and the cottagecore aesthetic is too full-on for your taste, but you don't want to forgo florals altogether, consider brining in single piece that will provide the botanical fix.
In this simple space, with white walls and a wooden floor, the sofa really stands out. It's upholstered in a fabric from the new Water Garden Collection at Sanderson (opens in new tab). Complemented with a botanical print above and a bouquet of fresh blooms at the side, it's a masterclass in making a subtle statement with your country decorating ideas.
3. Style an elegant welcome
The hall sets the tone of the house, so be sure that your entryway styling creates the sense of warmth and welcome you expect from country decorating ideas.
This tonal palette combines soft stone and berry colors, coming together in a beautiful console table display that turns an everyday space into a place that draws the eye.
'Collect a branch or some foliage from the garden and pair with trend-led pieces such as the bobble-frame mirror, for a look that's the epitome of modern country decorating,' says Andréa Childs, Editor of Country Homes & Interiors (opens in new tab) magazine.
4. Choose slimline furniture
Not all country homes are graced with spacious rooms but that doesn't mean you should miss out on the classic rustic fixtures and furniture such as a pantry. Make the most of vertical space by choosing tall, slimline pieces.
Conversely, if you have low beams or a dropped ceiling, choose low and wide cabinets and chests of drawers that make the most of the horizontal space.
'With slim storage pieces, designed especially for smaller kitchens, there's no kitchen too small for our larder or wine store,' agrees Dani Taylor, Product & Creative Director at Cox & Cox (opens in new tab).
5. Add a vintage touch in the kitchen
Historic flora and fauna designs bring a pretty vintage feel to a scheme when you're considering country kitchen ideas. It's a look that pairs beautifully with a simple Shaker style kitchen.
'The new Water Garden collection from Sanderson is all about discovering documents in our archive that had previously been untouched. Whether drawn, printed or painted, we're celebrating their authentic beauty and the host of eastern cultures that came together to create something so special,' explains Rebecca Craig, Head of Design for Sanderson. 'Along with a touch of glamour, subtle metallics and vibrant colours blend to give our country aesthetic an elegant, contemporary twist.'
6. Cozy up in the bedroom
Don't be afraid to pile on the linen, blankets and comforters as an element of your country bedroom ideas – the more, the better!
'Country cottage bedrooms are all about creating a cosy and inviting space,' confirms Molly Freshwater, Co-Founder and Creative Director at Secret Linen Store (opens in new tab). Layering different blankets and throws in contrasting textures is an easy way to create this.
'In the warmer summer months I like to layer flat sheets as alternatives to heavy blankets, making my bed look a stylish focal point in the room.'
7. Panel the kitchen
Wall panelling ideas are a wonderful way to add warmth to a country kitchen. There's something about cladding and enclosing the space that brings a sense of security that's fitting for this heart of the home.
'For an even greater sense of enclosure and comfort, paint the panelling a dark shade of navy, charcoal or forest green,' suggests Andréa Childs, Editor of Country Homes & Interiors. 'These deep colors are very earthing.'
Panelling also provides the opportunity to add a shelf or two, which you can accessorize with decorative items to bring personality to the space.
8. Throw down a rug
Deep-toned wood floors are rich in texture and patina, but they can darken a room considerably, 'sucking up' any light that falls into the space. The answer is to throw down a rug that's lighter in color and has a pattern that brings vibrancy to the scheme.
Here, the rug by Oka (opens in new tab) mirrors the shape and color of the ceiling above for a harmonious country decorating idea for a dining room.
9. Use artistic inspiration to build a scheme
A much-loved piece of art is an ideal starting point for a scheme. Pulling out key tones from the artwork for curtains, upholstery and accessories offers a joyful cocktail of yellows, pinks and nutty browns.
The painting here, used as the inspiration, is from an ever changing eclectic selection at the Wilson Stephens & Jones Gallery (opens in new tab). Affordable chairs (opens in new tab) from Ikea have been given a unique look with wonderful loose covers in pretty prints from The Fabric Collective (opens in new tab), and gloss yellow painted legs. A simple woven rug adds that essential modern country finishing touch.
10. Create a fresh, modern scheme with a medley of green and white prints
For a contemporary take on classic country living room ideas, make fresh and vibrant patterns the stars of the show. Combining a variety of prints, all in fresh greens and whites, ensures this room feels calm and not overwhelming.
Here, there is a wonderful mixture of patterned textiles, from the cushions and lampshade, to the curtains and rug underfoot. The clean white space and white pieces of furniture ensure all the green pattern doesn't dominate. Warm wood, brought in through the coffee table, console and flooring, bring in the essential natural element key to any country scheme.
11. Use a playful mix of patterns for a vibrant and inviting feel
A bedroom is an ideal space to play with pattern. The exuberant headboard (opens in new tab) is the focal point here, with its wonderfully wavy design and fabulously bright and bold fabric (opens in new tab). Then the eye is invited to take in the dynamic, diagonal striped curtains (opens in new tab), the colourful bedside lamp, patterned quilt and cushion, and finally the pink woven flatweave rug. All work together to complement the overall joyful scheme.
White tongue and groove panelling is a simple way to add a country feel to a space. This combined with all the color and pattern makes for a very upbeat and contemporary feeling country bedroom, especially if you are lucky enough to be able to open the doors out onto the prettiest of gardens, on a summer's morn.
12. Layer up a diverse selection of designs and patterns for a eclectic yet cohesive look
Three diverse patterns – a perky floral wallpaper, a modern African print upholstered pouffe (opens in new tab)and a classic trellis (opens in new tab) design on the front of a classic chest of drawers – have been cleverly layered to work together harmoniously.
This is a perfect example of modern country. Many of the elements in isolation could be seen a quite country, but somehow the combination adds up to a thoroughly modern look. Fresh, clean, upbeat and very characterful. We also love the touch of flouro brought in with the shade and lamp, (opens in new tab) a clever resin version of a classic turned wood lampstand.
13. Renovate a fireplace
If you're lucky enough to have an original fireplace, consider restoring rather than replacing. It will become the focal point of your country decorating scheme, bringing authentic warmth and period style to your property.
'If it's covered, pull away plasterboard to see what you're working with – we've come across rare Minton tiles and exquisite marble before now,' says Owen Pacey, restoration specialist and founder of Renaissance London (opens in new tab).
'If you decide to replace, it's worth contacting an antique fireplace specialist; many offer a part-exchange on the fireplace you're removing if it's in good condition.'
14. Showcase natural stone flooring
When you're deciding on your country decorating ideas, don't discount your property's existing flooring. Natural stone and brick sets bring texture and color to a room, and can be softened with a rug if you want a little comfort underfoot.
'The key to achieving a stylish country living room is to hone in on the texture and character of natural surfaces,' says Merry Albright, creative director at Border Oak (opens in new tab).
'Here, the green oak structural frame brings in natural warmth that softens the impression of the stone floor. The secret to success in a country scheme lies in celebrating the imperfections of these natural materials.'
15. Layer textiles for country boho style
For relaxed country bedroom ideas, draw inspiration from global-inspired designs by blending embroidered patterns, weaves and subtle block prints on slubby linens.
Choose an earthy palette of teal, terracotta and leaf green, brightened with a white or cream background. As a general rule, offset bold designs on cushions with smaller-scale prints on quilts and throws.
16. Put up open shelves in the kitchen
Too much cabinetry can make a country kitchen look stiff and formal. And practically, it can be tricky to fit wall units in older rural properties where wonky walls, low beams and various nooks and crannies are part of their charm.
Open shelving allows you to combine storage with style, and the fixtures can be adapted to suit the specific challenges of your space.
For streamlined, attractive storage, decant foodstuffs into jars and choose an edited palette for crockery and glassware.
A plain background will make make these ordinary items stand out, so they become a style statement in their own right.
17. Treat your bathroom to 'living room' finishes
A pretty fabric blind, framed artworks and smart wall lights with pleated shades look as at home in among your country bathroom ideas as they do in a sitting room. Importantly, they bring softness and color to this often cold and functional space.
Coordinate your colour scheme with the adjacent rooms and accessorize with cut-glass and crystal jars for a classic country house look.
18. Choose fall tones for a warm look
'We're seeing a lot more terracotta, clay and rust colors coming through,' says Charlie Marshall, founder of Loaf (opens in new tab). These tones are ideally suited in a country setting and can be softened with a neutral off-white backdrop.
Velvet is a relatively new trend that's gaining traction on sofas, and a great way to fast track a bit of luxury into your country decorating ideas.
19. Build in a mud room
Having a dedicated space to store boots, rainwear, dog leads and all the other bits and bobs you need for venturing into the great outdoors is ideal in a country home.
Built-in cabinetry for storage, a bench for pulling off gum boots and hooks for coats are prerequisites. If space and plumbing allows, install a sink for easy clean-ups, dog washing, flower prep and cleaning the mud from homegrown veggies.
Practical flooring such as stone or tile will mean dirt can be swept and mopped away – add a washable rug for a touch of softness.
It's the details that will take your mudroom from a space you want to keep hidden, to one that's a fully integrated – and stylish – part of your home. Country decorating ideas can include woven baskets for your kit and clobber, a fabric blind for a touch of colour and pattern, plus pictures and plants for personality.
20. Create a work-from-home space
If you're skipping the commute to work from home, ensure you include an attractive desk space in your country decorating ideas.
'Keeping clutter tidied away creates a much-needed sense of calm,' says Anna Trinder, owner of The Dormy House (opens in new tab). Investing in some key storage items can help eliminate stress and restore order. 'If you need a printer, consider a dedicated table on castors that can be easily moved when needed, and tidied away again afterwards.'
Pretty noticeboards will make your desk area feel more homely, while an upholstered screen can also provide privacy and shield your screen from sunlight.
If you don't need a dedicated home office, but simply desk space for household admin, consider a console table or slim desk that feels a part of your home's overall decor scheme.
A piece of natural wood furniture, with a deep drawer for hiding away paperwork or a laptop, is perfect. An artwork will provide a 'view' if you're not close to a window.
21. Make the most of the view
The default when compiling rustic decorating ideas is to plan country curtain ideas, window treatments and trimmings. But there's an argument to skip this step when a room isn't overlooked – often a perk of living in a countryside location.
When you're adding on to or improving a property, you can take the view into consideration when choosing glazing. Opt for large windows or doors with large panels of glass for unrestricted sight lines into the garden and surrounding area.
Complement nature outside by choosing natural materials for your interior, such as wooden floors, wool or sisal carpets, and linen or cotton soft furnishings.
22. Consider your lighting scheme
Lighting can make or break 
the atmosphere in your living room and shouldn't be forgotten when planning your country decorating ideas.
Design experts love a layered approach that can be dialled up, or down, as required. Interior designer Nicky Dobree (opens in new tab) recommends using plenty of lamps to cast a soft, warm light across the room at a lower level.
Instead of a lone central pendant, she prefers indirect spotlights, 
on dimmers if possible. 'They're more discreet and can be hidden in the beams,' she says.
23. Use wallpaper to create a 'wow' welcome
Paint is often seen as a safer surface choice in a hallway, but a pretty patterned country wallpaper idea is a great way to add an instant hit of personality to this welcoming space. Plus, as you don't tend to spend too long in a hall, you're not likely to get as tired of a busy scheme as you might in a living space or bedroom.
Complement the colors with co-ordinating furniture pieces and lots of natural materials to keep the look grounded and reflective of the country setting.
24. Incorporate vintage details and quirky displays
Country style tells a story of place and people. Even if your home doesn't have original features, you can add to its character with antiques that relate to the period in which it was built, its former owners, or your own tastes and interests.
Search for vintage treasures in local antiques stores, barn sales and house clearances. The colour, patina and design of these authentic finds will bring depth and richness to your decor scheme.
Objects don't need to be valuable to create a stunning addition to your room scheme. Some of the simplest country decorating ideas come from carefully curated collections, chosen for their color or form, and displayed to create a focal point.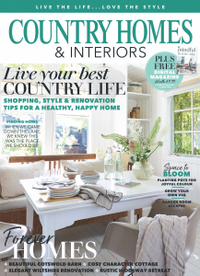 (opens in new tab)
This feature was created by H&G's sister brand, Country Homes & Interiors.
Subscribe to Country Homes & Interiors for more country life and style inspiration. Each issue is packed with stunning real homes, beautiful interior design ideas, seasonal food and gorgeous gardens – plus crafts, interviews and country lifestyle.
25. Bring nature inside with plants and flowers
Foliage and floral motifs are a key motif in country-style fabrics and wallpapers. But bringing living nature into your home in the form of plants and flowers will give an extra dimension to your decor.
Use the sculptural forms of house plants to add drama, color and movement to schemes. Choose your greenery to suit the room – moisture-loving for a bathroom, for example, or shade tolerant in a room that doesn't get much sun.
Forage for foliage and blossom-heavy branches, or buy locally grown flowers, to create seasonal displays. It's a wonderful to way to showcase the beauty of nature in your home.
26. Play with pattern
Introducing more than one pattern into a room is a subtle balancing act.
The key is to stick to two or three designs distributed evenly throughout the room, including at least one neutral pattern, such as a stripe, plaid or check. These add subtle interest without overwhelming the space. Offset the patterns with white walls and natural finishes.
To create a cohesive scheme, create a scrapbook of patterned fabrics, wallpapers and paint colors that you love when compiling your country decorating ideas, to make sure nothing jars visually.
When mixing patterns in the same colour palette, vary the scale of the print to add interest.
27. Put a classic dresser in your kitchen – and make it pop!
A freestanding kitchen dresser with shelves for displaying tableware and handy cabinets beneath is a country kitchen classic. But paint it a bold color when you're planning your country decorating ideas to give this traditional piece a modern makeover.
28. Add a window seat
The thick walls of many older country properties create a natural inset at the window, creating the perfect spot to build in seating.
A built-in window seat will create a seamless look and gives the opportunity to add storage beneath a lift-up lid. Add a made-to-measure seat pad for comfort.
If you don't want to add a built-in window seat, you can use an ottoman or blanket box to fill the space to create a similar effect. Window seat ideas has tips from interior designers on how to make the most of this feature in your country-style home.
29. Show some style with tiles
Create a colorful kitchen backsplash to make your kitchen's vertical surfaces shine behind your range or cooker with tiles that contrast with the rest of your kitchen scheme. This works especially well against cabinets painted in a pale or neutral tone, adding personality to your space.
30. Soften a room scheme with curtains
Never underestimate the cosseting capabilities of curtains. They can be used to dress even the smallest of windows and will help keep the heat inside while bringing visual softness to your scheme.
There is a host of options for window treatments and curtains when it comes to country decorating ideas. For curtains that fit the bill all year round, consider lining a bold floral with a classic check, plaid or stripe.
Opt for a simple heading that can be threaded onto a pole; this will ensure the curtain is easily reversible, allowing you to change the look with the seasons.
31. Make dining a relaxed affair
Relaxed style is the essence of a modern country look. In a rustic dining room, ease the formality by mixing up your seating options – dining chairs, stools, bench seats and built-in banquettes can all be combined for an eclectic look.
Add a soft linen table cloth to ease the mood further. Finish with handmade crockery for pleasingly irregular place settings.
32. Cook up some color in the kitchen
Painted cabinetry will bring bold block color to your country kitchen. While blue and grey kitchens have been the go-to shades for a number of years, the country palette is expanding to include deep plums, pinks and heather tones.
Painting your island a standout shade will help to create a focal point in a larger room, as this design from Drew Forsyth (opens in new tab) shows.
33. Brush up on paint in the bedroom
When you're looking for country decorating ideas for the bedroom, think beyond the usual feature wall. Country style is all about character, so getting creative with color and paint is a fast fix for an original look.
In this scheme, the terracotta color wraps around the lower half of the room, creating a cocooning effect that's perfect for a bedroom. The warm, earthy hue immediately brings a rustic atmosphere to the space.
34. Go bold with florals
Florals are a staple of country style – what other pattern is so redolent of cottage gardens?
For a contemporary twist, go for a vintage print in zingy shades on a sofa armchair or footstool, like this design from Sofa Workshop (opens in new tab) that reinterprets a vintage print from London's Victoria & Albert museum.
Bold designs draw the eye, so keep the rest of the room relatively neutral to give them space.
35. Hone a hero hallway
A hallway justifies just as much attention as a sitting room or kitchen, especially as it's the first area of your home a guest will see. Don't skimp on this space when decided on country decorating ideas for your property.
Hanging beautiful curtains at the windows and artwork 
on the walls and using attractive furniture anchors a hallway and helps to generate 
a warm and welcoming entrance. Here, Stephanie Dunning of Dunning & Everard (opens in new tab) has used a large French console table with useful storage baskets beneath.
36. Bring in lots of texture
'Texture is an important aspect of choosing textiles for a country home,' says Sam Hood, creative director at Amara (opens in new tab). 'For winter, look for the softest wool throws in chunky and rib knits, and faux fur cushions.'
In the summer months, lighten the look but retain the tactile vibe with slubby linens and cotton waffle weaves.
'Neutral colours are great for developing a warm look that will resonate well in a country home,' says Hood.
37. Fold up a pretty blind
The clean lines of a simple Roman blind make it ideal for working areas where a fussy, decorative design will look out of place. But in a country home, there's still plenty of scope to include colour and pattern, like this decorative woodland pattern.
'Our Abbey Gardens collection features illustrated fruits, flowers and birds on a lightweight cotton fabric,' says Nicola Brumfitt at Prestigious Textiles (opens in new tab).
If you want to maximize the light in darker country rooms, tailored blinds are the way to go. Blackout linings are a good idea as this ensures the fabric doesn't look overly yellow when the light shines through.
Choose a pretty foliage print to complement your countryside view.
38. Set a beautiful country table
Everyone enjoys a beautifully laid table, even if the menu itself is fairly relaxed – and it's the perfect country decorating idea. Channel your English eccentric and layer stripes, gingham and pattern galore. Add texture with bamboo and rattan pieces. Mountains of seasonal blooms in clashing colors. Vintage wine bottle lamps add a bistro feel.
What is country-style decorating?
Country-style decorating has a direct connection with nature and landscape, both in the materials it uses and the colors and motifs it features.
Wood, stone, fabrics such as linen, cotton and wool, plus materials such as rattan, sisal and willow, all feature.
Colors reflect the great outdoors, taking their cues from heaths and moorlands, hills and mountains, lakes, lochs and coastal landscapes. Within these gentle palettes, there is scope for more vibrant hues – think the colours of wildflowers, country gardens, blossoms and fruits.
While country style can range from the formality of grand country houses to more rustic schemes, there's a sense of character, authenticity and seasonality that runs throughout.
And don't just think of this as a look for rural homes. It's increasingly popular in cities, towns and suburbs, too.
What is the difference between country and farmhouse style?
Farmhouse style takes all the elements of the country look and adds a chic, modern twist.
Colors may be more muted. Prints will feature geometric and graphic patterns, rather than simply foliage and floral designs. Contemporary materials such as concrete, metal and sleek, synthetic surfaces will be mixed with more typical country staples such as stone, slate and wood.
The result is a cleaner, more casual version of country.
What are some good country colors?
Plan your palette of country decorating ideas around soft, chalky greens and blues, gentle pink and primrose yellow, cream and clay tones, plus richer shades of terracotta, nut brown and ochre.
'There's a multitude of shades to choose from to help you create a modern country aesthetic,' says Cathryn Sanders, Marketing Manager for Earthborn (opens in new tab). 'From nature inspired olive greens and deep blues, to the more uplifting lemons, it's all about bringing a welcome dose of colour back into our homes. Opting for bolder hues will enhance your living spaces and really make a statement.'
'Fabrics in chalky colour palettes based on heritage prints always work well in country interiors,' says Debbie Leigh, Design Manager at fabric company, ILIV (opens in new tab). From a practical point of view, it is wise to stick to calming and serene tones to create a feeling of space in a small country room.'
If you are wanting to go all out and create a bold country interior, then look for large-scale floral blowsy prints, velvet and embroidered fabrics, as these work perfectly in country interiors and will make an instant impact.'
Mixing coordinating fabric patterns and layering soft furnishings will instantly create a country, cozy ambience. Incorporate plenty of blankets, throws and varying cushion sizes into your scheme.
What are key pieces of country furniture?
'Today's modern country interiors combine cool contemporary colours with a timeless, classic feel that's just as at home in a London townhouse as a country pile,' says Adam Brown, Director, The Painted Furniture Company (opens in new tab).
To achieve this look, consider selecting solidly built wooden furniture pieces which will stand the test of time. 'Although exposed wood always looks great, painted furniture is another fantastic way to unify a scheme or add bursts of colour,' Brown says. 'When paired with natural textures and rustic accessories, it is easy to create that effortless country feel.'
As the kitchen is the heart of any home, a country scheme will ideally have a soild wood table and chairs for the family to gather around. Freestanding units are also a must-have for this look, as they give a more relaxed feel than fitted cabinets. A classic kitchen dresser is ideal for showing off your crockery collection.
'The use of color is also very important in creating a country-inspired scheme,' Brown continues. 'One of The Painted Furniture Company's first products was our bestselling Oak collection in a grey green; a color we always called the "Cotswolds window frame colour". This subtle, yet beautiful shade has continued to be one of our most popular options through the years, and is the epitome of modern country living.'
Andrea has been immersed in the world of homes, interiors and lifestyle since her first job in journalism, on Ideal Home. She went from women's magazine Options to Frank. From there it was on to the launch of Red magazine, where she stayed for 10 years and became Assistant Editor. She then shifted into freelancing, and spent 14 years writing for everyone from The Telegraph to The Sunday Times, Livingetc, Stylist and Woman & Home. She was then offered the job as Editor on Country Homes & Interiors, and now combines that role with writing for sister title homesandgardens.com.