Subscribe to Country Homes & Interiors – save money & never miss an issue
Subscribe to Country Homes & Interiors magazine and enjoy gorgeous real homes, beautiful interiors ideas and country lifestyle inspiration delivered direct to you every month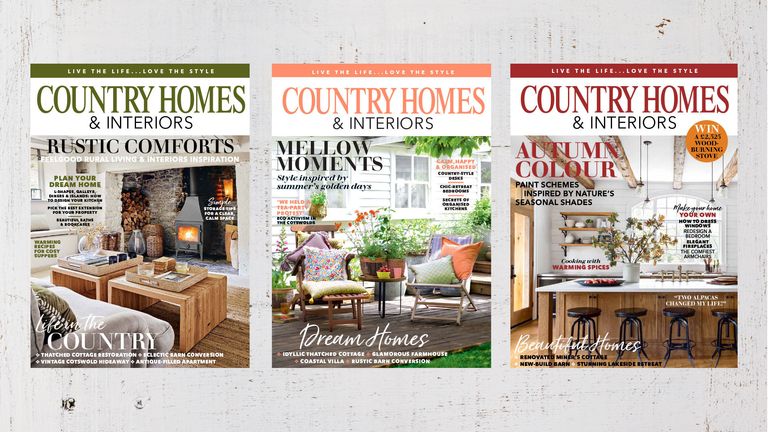 (Image credit: Future)
Subscribe to Country Homes & Interiors today – the UK's premier title dedicated to modern country life and style.
Each issue is packed with stunning real homes, original looks and interior design ideas, seasonal food and gorgeous gardens – plus crafts, interviews and country lifestyle inspiration.
Treat yourself or a country-loving friend to a print or digital subscription and we'll deliver it direct to you every month, so you never miss an issue. Postage and delivery costs are included in the price of print subscriptions.
We ship internationally, so you can enjoy your favorite magazine wherever you live. Subscribe to Country Homes & Interiors today.
Why subscribe to Country Homes & Interiors?
Step inside stunning country homes. From Georgian houses to barn conversions, cozy cottages to contemporary oak-frame builds, you'll meet the owners and discover their renovation stories and style secrets.
Browse our edited pick from the best artisan, designer and big-name brands, so you can furnish and decorate your home with style and confidence.
We bring you the best of seasonal living, with garden tips and inspiration, delicious recipes, and craft ideas using foraged and natural finds.
Find trusted, expert advice on renovations, restorations and builds, to make your country home more beautiful than ever.
Read interviews with crafters, designers and makers, rural entrepreneurs and country dwellers and learn about their skills and passions.
Subscribe to Country Homes & Interiors and make sure you never miss out on all this content every month.
Or why not buy a subscription for a friend? It makes the perfect thoughtful gift.
Take a look at some highlights of a recent issue, below, and see what you can enjoy with a regular subscription to Country Homes & Interiors…
Image 1 of 20
Image 1 of 20
Image 2 of 20
Image 3 of 20
Image 4 of 20
Image 5 of 20
Image 6 of 20
Image 7 of 20
Image 8 of 20
Image 9 of 20
Image 10 of 20
Image 11 of 20
Image 12 of 20
Image 13 of 20
Image 14 of 20
Image 15 of 20
Image 16 of 20
Image 17 of 20
Image 18 of 20
Image 19 of 20
Image 20 of 20
Andrea has been immersed in the world of homes, interiors and lifestyle since her first job in journalism, on Ideal Home. She went from women's magazine Options to Frank. From there it was on to the launch of Red magazine, where she stayed for 10 years and became Assistant Editor. She then shifted into freelancing, and spent 14 years writing for everyone from The Telegraph to The Sunday Times, Livingetc, Stylist and Woman & Home. She was then offered the job as Editor on Country Homes & Interiors, and now combines that role with writing for sister title homesandgardens.com.