21 country curtain ideas – window dressings for rural rooms
Choose the ideal window treatment – from country curtain ideas to perfect blinds and shutters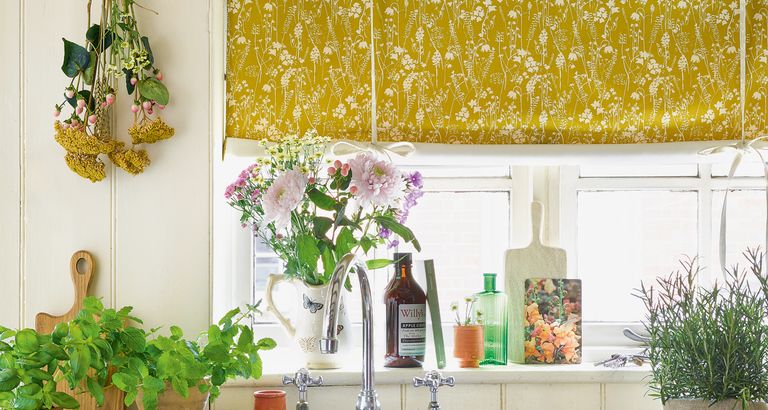 (Image credit: Future)
There's nothing like the perfect window treatment to set off a room – so we've rounded up our favorite country curtain ideas to get your design pulses going.
Just the thought of a country home conjures up thoughts and feelings of a welcoming warmth, which is hard to achieve in reality without something to keep out the cold or soften harsh light.
Whether you love a heavy drape curtain, sheer voile, Roman blind or a shutter on your window, there's the ideal window dressing for your country home. Equally, whatever the quirks of your house, such a bay windows or deep alcoves, there is a perfect window treatment fit.
Read on to discover how to update your home with these country curtain ideas.
See more: Country ideas for your home on our dedicated page
1. Choose the right country curtain color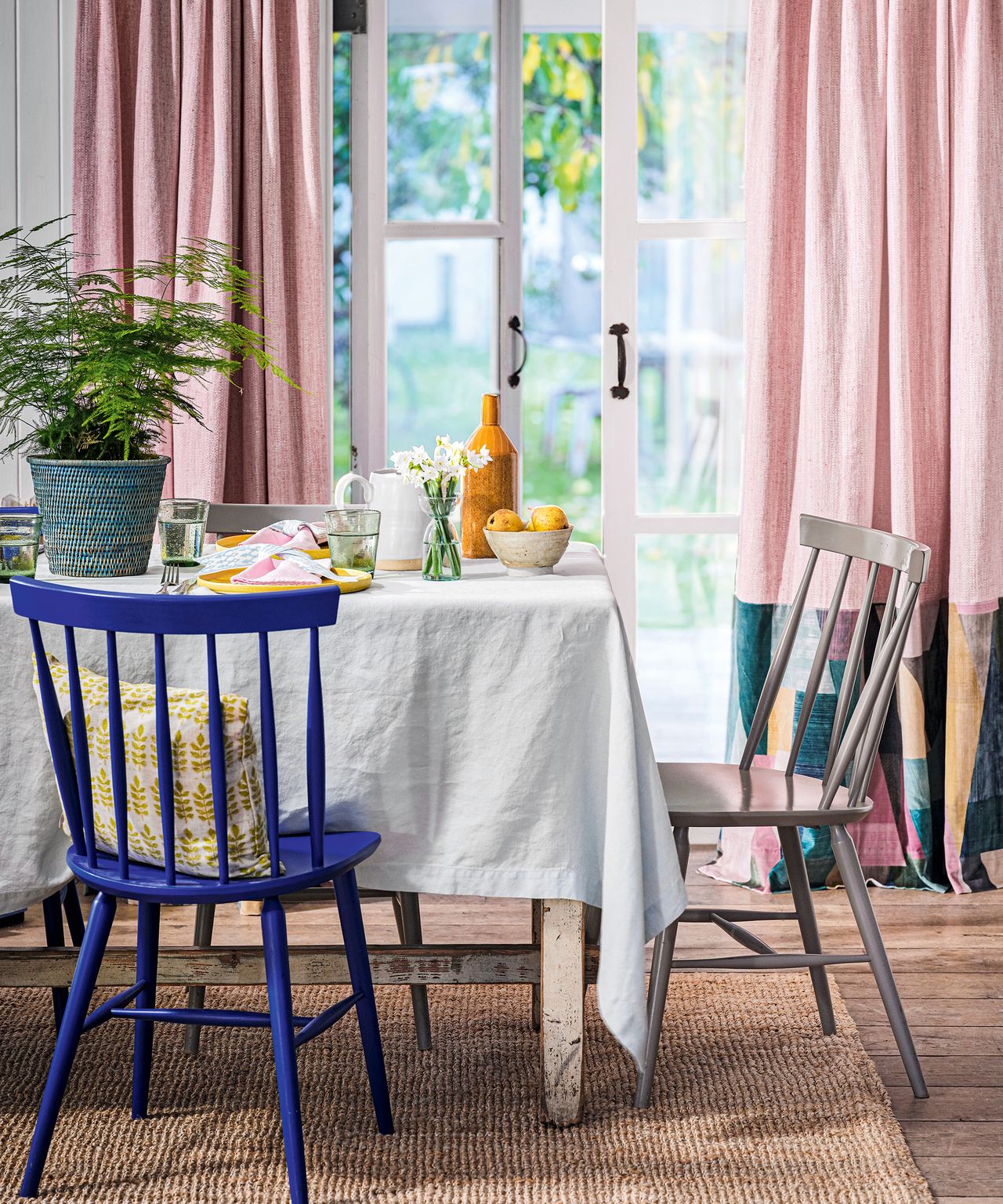 The color of country curtains is mostly determined by the shades you already have in your space, and whether you want the curtains to make a statement or gently meld in.
'Pale earthy blues and greens can provide a relaxing haven whilst rich shades of plum or scarlet create an intimate space and luxuriant tones of ochre or burnt orange can induce a feeling of warmth,' says Romo's Emily Mould.
Another approach is to take into account your rural surroundings. 'Country house window treatments suit colours that bring the outside in as this helps create a gentle harmony with the outside,' advises Philippa Thorp, director of Thorp.
2. Make plain curtains more interesting for a country-style room
If you're concerned that a block color or neutral shade of curtain is going to be too simple, or you're looking for an easy way to update and refresh your plain curtains, there are a few options you have without replacing the fabric.
Tiebacks come in all shapes as sizes, from dainty ribbons to oversized tassels, so you can update these easily with the season.
Another approach is to change the curtain pole - although you would have to check with the company if your current curtains would fit on these - types of hooks and the weight of the fabric need to be taken into account. New finials on either end would also provide a mini facelift.
3. Choose the best pattern for country curtains
When choosing a patterned fabric for your windows - one thing that's easy to forget in the selection process it to make sure it looks just as good when the curtain is pulled back.
For the pattern itself, just as with the color, 'consider whether you want to make a statement with a strong pattern or contrasting texture or whether you want a subtler look,' advises Emily Mould of Romo.
'A bold, large-scale design can create a striking focal point and will work best when used for large windows where the full repeat can be fully appreciated,' continues Emily. If you have smaller windows, opt for a small-scale pattern to create a more refined look.'
4. Match curtains to a traditional country window treatment
Traditionally, country homes would be built with solid shutters, to maximize the warmth retained indoors.
If you're lucky enough to have these in your home, a refresh of paint will make them a lust-worthy feature. If you prefer more softness, adding curtains around these works wonderfully, too.
5. Pick white curtains for a small room
White country curtain ideas, or at least pale neutrals, seem like a no-brainer selection as they are sure to match most schemes, but is it sensible?
On the plus side, you will achieve a light look to your windows, even if you have chosen a heavier fabric, and not distract from any other strong designs in the space. Additionally, you don't have to worry about the sun fading the color.
That said, there is the practical consideration of dirt to contend with. Curtains are one of the least regularly cleaned items in a home, and so a white curtain will show any soiling, either from dust on a windowsill or dirty paws on the drape of a floor length curtain. If possible, choose a stain resistant fabric to prevent this from becoming an issue.
6. Pick sheer curtains for dark rooms
Sheers provide a lovely and gentle touch to a country window which beautifully filter light into a room.
If you still want the privacy offered by traditional curtains, then consider pairing these with a decorative voile to stop the windows from looking bare when the curtains are open, while offering an opportunity to play with pattern.
Sheer fabrics also work well to soften the 'harder' areas of the house, such as bathrooms. Choose a design with spots of color for impact and to add interest to what is often a neutral space.
7. Combine curtains with blinds for a sumptuous look
The short answer to this is – absolutely do.
Curtains and blinds are a wonderful combination, and give you the best of both worlds. By layering these two up you also have the opportunity to play with color and pattern - two different patterns can be a fun addition, although do stick to one key shade to ensure cohesion.
Bedrooms in particular will benefit from this combination, as the blind effectively blocks out sunlight, and the curtains can provide extra softness and decoration.
8. Get curtain length just right
When deciding how long or short you would like your country-style curtains to go, take into account what type of window you are dressing.
Cottage or dormer windows suit curtains to the windowsill, while floor-length is the the best for tall sash windows and bays.
'If you want to puddle your curtains, go for no more than 15cm extra length to ensure the effect looks intentional,' says Harry Cole, founder of Loom & Last.
Shutters, too, have sizes which work best dependent on the window in question. 'Large windows are best suited to shutters with wider louvers (89mm and 114mm) whilst smaller windows proportionality suit shutters with 64mm louvres,' advises Murray Clark of Shutterly Fabulous.
9. Dress a country bedroom for comfort
Bedrooms are the perfect place to indulge your softer side with curtains.
Simple patterns and tonal shades are the way to go in these spaces, as it is primarily an area for rest and relaxation. A lovely way to add decoration here is the use of a pelmet, which will frame the window while creating the illusion of height and neatly concealing poles and tracks.
10. Match country curtains with blackout material
In a bedroom, country curtains are often light and filmy, but that won't block out the light, so consider also blackout blinds or lined curtains for your bedroom so you can effectively block out unwelcome light. 'I always line curtains,' says Victoria Walker, product manager at Hilarys. 'It makes them look fuller, helps reduce light leakage and provides extra privacy.'
Another alternative is adding a layer of voile, which are sheer and translucent and a great way of letting the light in while still offering privacy.
11. Combining curtains with shutters
'Country houses also benefit from shutters where possible as well as curtains not only for practical reasons but together they frame the window and set off the view,' says Philippa Thorp.
As lovely as shutters are by themselves, windows can sometimes look bare without additional dressing, so by layering up in this way you can achieve a neat solution without detracting from the window's elegance.
12. Use country curtains to dress awkwardly shaped windows
Country homes are more likely than most to have awkwardly shaped or sized windows.
If you wish to dress a tiny window, you could use a curtain to lengthen the appearance of the space, even if the fabric ends up being considerably bigger than the glazing. Patterns help, too. Vertical stripes, for example, naturally trick the eye into thinking something is taller than it is.
In terms of shutters, 'if you have an irregular shaped window such as an arch, bespoke shutters are the best option available,' says Murray Clark of Shutterly Fabulous.
See more: Country curtain ideas for living rooms – window dressings for rural settings
13. Know when to swap curtains for blinds
Curtains are a failsafe in nearly every situation, and it isn't hard to make them look good. Once you've found the right material, you can tailor these to fit your space and create the atmosphere you require.
'Consider the quality of the material; an elegant lightweight sheer can gently diffuse the sunlight whilst dressing your windows with more substantial fabrics such as luxurious wools or sumptuous velvets can help prevent drafts and retain heat,' notes Emily Mould, design director of Romo.
If, however, you're not wedded to curtains, or have an awkward shape to deal with, then tailored fabric blinds make a sleek alternative to curtains that are certainly worth considering. Aligning two or three across a wide window offers flexibility, ideal for situations like dressing a bay window.
'Roman blinds are ideal for bedrooms, as they provide privacy and you can adjust the amount of light,' adds Chris Lapthorne, head of marketing at Luxaflex.
14. Tiny space but wonderful view? Do without curtains
As much as we love choosing the perfect curtains for a window, not every piece of glazing needs dressing.
Barn conversions, are one of the best country examples of this as they often feature impossibly high ceilings with extra tall and wide windows. Typically, the lower half may have curtains to keep in warmth and add privacy, but the top half stays bare. This is mostly due to practicalities, but also allows light to filter in without sacrificing all warmth.
Of course, curtains are far from the only window treatment around. Blinds and shutters can easily used in their place. 'Shutters provide a practical and stylish alternative to curtains and can accentuate the character of a country-style property,' advises Murray Clark, director of Shutterly Fabulous. Both of these options are also great for a more minimalist approach, which is ideal when dealing with tiny cottage windows.
Another approach is to use window film, which works as a decorate way to add privacy into your home, without taking up any space; especially helpful in smaller homes - Surface View have a great selection.
15. Curtains in a kitchen? We say yes, but...
Bypassing often bulky curtains in favor of a space-saving window treatment is particularly effective in rooms where you'd like to keep areas clear, such as above worksurfaces or sinks in a kitchen.
The clean lines of a classic roller blind are ideal in these spots for an added softness. Another direction to go in are shutters, which have the added benefit of being easily to keep clean in a potentially messy zone.
When selecting kitchen shutters, note that, 'If the panels are to be regularly opened, then choose smaller panels which can be folded back to the side of the windows,' says Murray Clark, director of Shutterly Fabulous.
'If the shutters are unlikely to be opened regularly then larger panels allow increased light to enter the room when the louvers are adjusted.'
See more: Country curtain ideas for kitchens – dress your windows in beautiful and practical ways
16. Pick curtains to match the room's tones
Ready-made curtains are ideal if you need something in a hurry and they are an affordable choice if your windows are standard sizes, or if you are looking for something simple like voile panels or curtains for a small window.
Here, tactile fabrics and graphite accents add depth to this scheme where the clean lines of crafted wood furniture take center stage. The vertical lines on the tongue-and-groove panelling contrast beautifully with the horizontal lines on the curtain.
17. Line curtains for warmth and luxury
Although some lighter weight fabrics are suited to a relaxed look, most curtain fabrics benefit from lining to boost the quality of their drape, as well as protecting the face fabric from sunlight.
Lining also boosts heat retention, and you can buy thermal lining which is helpful if you have large expanses of glass. Here, smart asymmetrical banding has a strong modern look.
18. Theme your scheme
Curtains are a visually pleasing way to work in trends and themes. Inky dyed textiles with soft blurry edges and ombre, watercolour washes create a painterly effect. The ombre effect in the curtains is subtly echoed in the cushions and rug.
19. Add a pelmet
Consider how to complete your look. You might choose to fit a pelmet across the top of the window to conceal the track. You can also use a pelmet as a decorative feature or to create the illusion of height. Usually made of plywood or MDF, they can be painted or covered in fabric.
20. Co-ordinate with and frame a window seat
For a crisp, modern look, blinds are very effective, and can be just as eye-catching as curtains. Bought ready made or made to order in the same way as curtains, they use minimal fabric, they tend to be cost effective, and can be used alone or layered under curtains. The Roman blind, which draws up into horizontal pleats when raised, has a soft and dressy look, tying beautifully with the window seat below.
21. Add detailing with trimmings
A white sheer provides privacy while still allowing soft light to filter through its fabric. Here, delicate embroidery has been used to add a pretty detail, creating a subtle statement on a simple design.
How do I measure for curtains?
Measure twice, cut once isn't just a rule for carpentry. Curtain fabric can be expensive, so you want to be precise in your measurements.
In fact, even if you have chosen to use a made-to-measure service, we would recommend having an idea of your measurements in advance. This will allow you to more accurately calculate fabric quantities and labor costs.
If at all possible, it's best to install your tracks and poles before you measure, for a more accurate account. Make sure to take into account the space needed for the curtains to be drawn back either side of the window, which is usually around 15-20cm/6-8in depending on the thickness of the fabric.
How do you modify curtains?
One thing people seem to forget is that curtains can offer much more flexibility than they suggest.
When having curtains made, if you choose a double lining, you can reverse the pattern or color. Opt for a simple heading that can be threaded onto a pole; this will ensure the curtain is easily reversible, allowing you to change the look with the seasons.
Alternatively, invest in clip-on thermal panels to bulk out summer curtains to keep things cozy over the winter.