Colorful bedroom ideas – 10 favorite schemes chosen by experts
If you are looking for colorful bedroom ideas, these rooms are a great place to start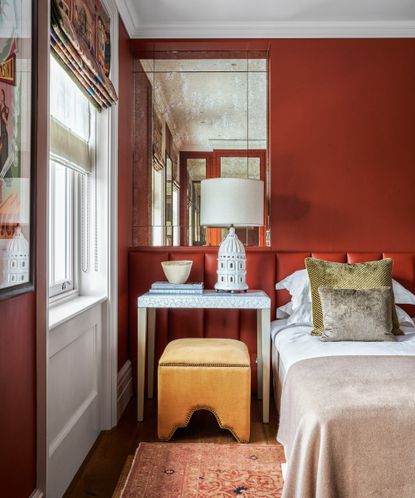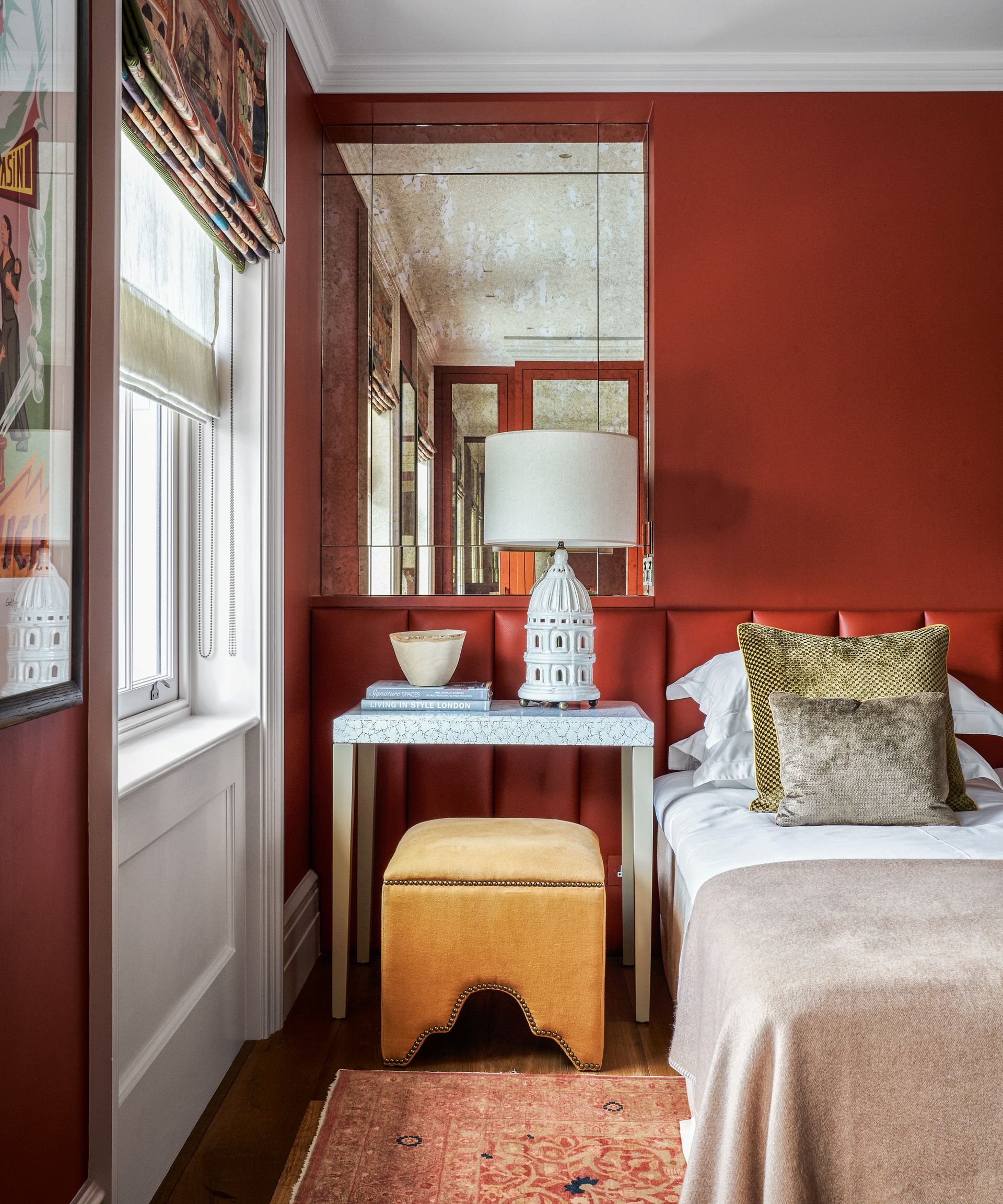 (Image credit: Davide Lovati)
Colorful bedroom ideas can reflect our personalities, can correct the warmth of the light that comes into your space, and can even affect poor proportions positively. And, because bedrooms are rarely seen by anyone but ourselves, we can pick colors that we really, really love.
More than any other bedroom ideas, color can create atmosphere, too – perfect if you want to conjure up a haven to retreat to at the end of the day.
'Bedrooms are a really personal space which should provide a feeling of sanctuary within the home. The warmer and muted neutrals and natural hues are perfect for creating a comforting environment in spaces where we want to relax,' explains Ruth Mottershead, creative director at Little Greene.
Colorful bedroom ideas
If you are looking at bedroom color ideas and wondering whether to stray from the safety of neutrals, these colorful room ideas will give you a boost. We've spoken to 10 of our favorite experts and asked them for the colorful bedroom ideas they love the most.
1. For the love of lavender
Who better to ask than H&G regular Jonathan Alder about the colorful bedroom ideas he favors most? Unsurprisingly, this famed lover of color has chosen a playful shade that will suit anyone looking to adventure – but not too far – from grey bedroom ideas.
'I've always been lavender sceptical, perhaps because I'm insecure in my own masculinity? Well, I'm insecure no more! Lavender is the pastel du jour and I am obsessed with it. Lavender feels dreamy and floaty and surreal. And lavender plays well with others – navy, chocolate brown, taupe, and white.'
2. A beautiful rich rust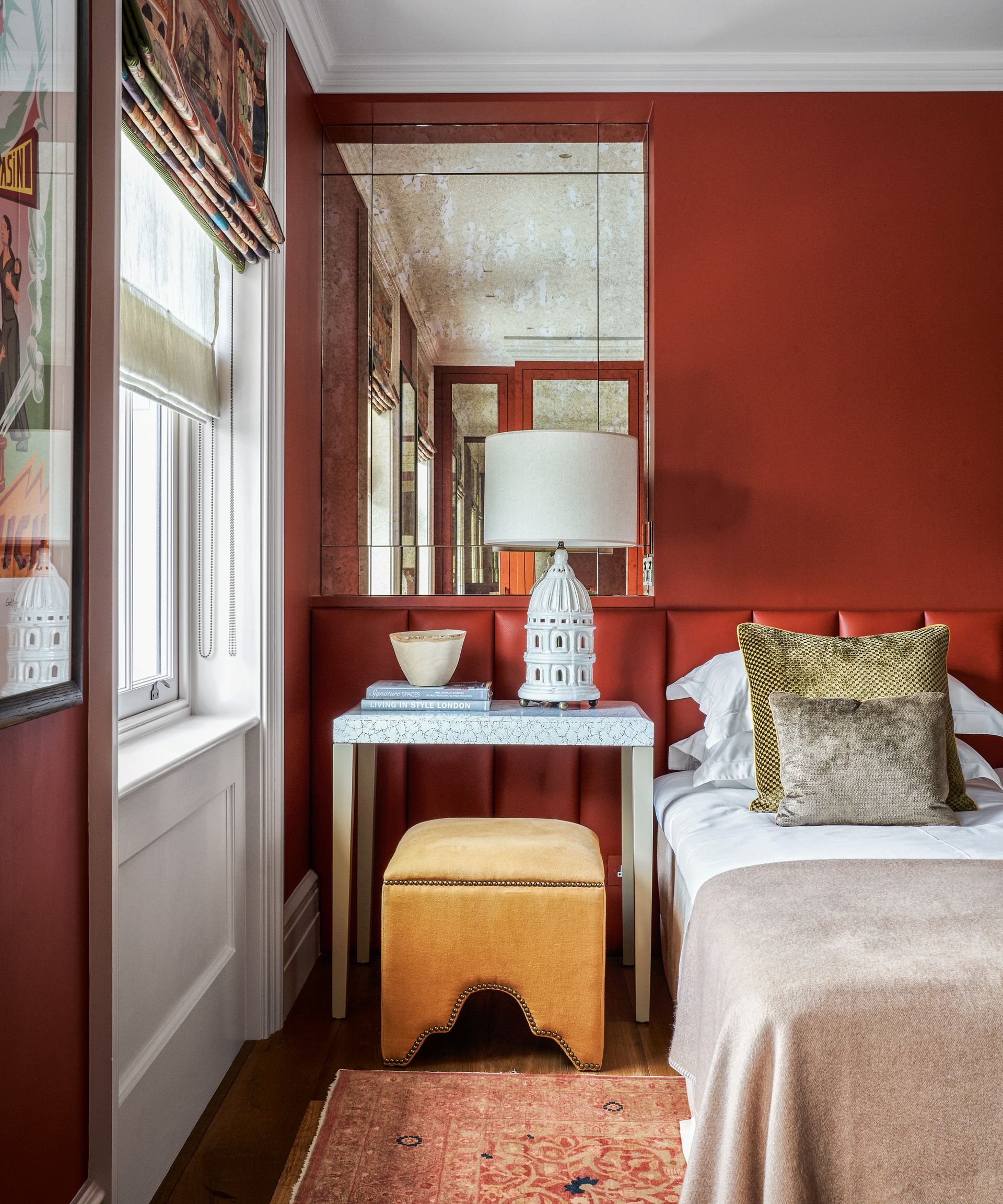 'Small rooms, even poorly lit, can take more color than you can imagine,' explains Patrick O'Donnell, Brand Ambassador at Farrow & Ball.
'Farrow & Ball's archive color, Etruscan Red, exudes richness and depth, and the earthy notes feel incredibly warm. These shades are ideal in bedrooms with darker furniture – to make them soften into the walls. Extend the wall color over doors and fitted furniture to extend the sense of the length of the walls.'
What is the best color for a bedroom that you want to feel really warm, especially by lamp light? Etruscan red is deep and dark, and will look almost brown under lamp light. If you want to go brighter so that the room remains red even under artificial light, as in the room above, choose zingy colorful bedroom ideas.
3. The ice-cream shade of pink
We asked the paint specialist Annie Sloan, for her favorite color for bedrooms:
'Pink paints are fabulous and instantly bring warmth and sophistication to a space when used correctly. A pastel pink ceiling casts a soft-focus rosy glow on inhabitants, ideal in dining spaces or bedrooms. Offset any potential over-sweetness and steer your interior towards Beverly Hills comparisons rather than love motel associations by investing in a more premium paint with a high concentration of pigment.
'Use vertical stripes to make walls appear taller, plus it's a great way to incorporate more color into your home when you can't decide on a wall color or if you'd like to experiment with a statement shade without committing to a whole wall of color.'
4. Mid-blue with a bright yellow accent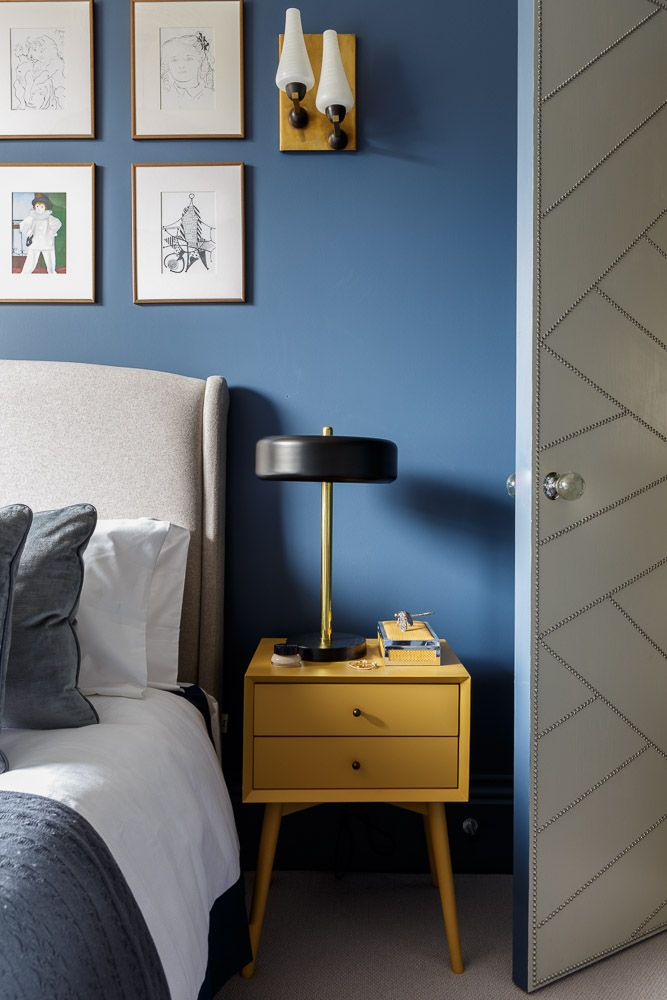 Blue bedroom ideas needn't feel cold, according to Irene Gunter, founder of Gunter & Co.
'Whenever we're working on the interior design and cornerstone finishes of a project, such as choosing the right paint color for a bedroom, we consider everything from light (is the room north- or south-facing?) and how it affects color, to how the room will be used and how the paint color will tie in with the interior scheme of not only the room, but also the house as a whole.
'I love using rich blue colors in north- and south-facing rooms. In naturally dark rooms, this gives a cosy feeling whereas in bright rooms it creates an uplifting and bold statement,' advises Irene Gunter.
5. Be bold and paint the ceiling
Colorful bedroom ideas aren't limited to the walls – extend your paint effects to the ceiling, too.
'A graphic ceiling of hand-painted stripes adds a wonderful design dynamic to a room otherwise painted in a restful green,' says Patrick O'Donnell, Brand Ambassador at Farrow & Ball.
'And the whimsical painted faux headboards add a secondary nod to the playfulness. No room should ever take itself too seriously, and this space delivers smiles by the bucketload.'
6. Choose powdery, plaster shades
Andy Greenall, head of design at Paint & Paper Library gives his advice on this contemporary pairing of colors:
'It's important to consider the function of the room and the atmosphere you want to create when choosing colors for any room. Private spaces like bedrooms are perfect for indulging in bold and beautiful tones that will appeal to you; I recommend looking at deep and warmer shades to provide that cosy and tranquil feel – the rich and bold 'Beetlenut' on your panelling works fantastically against the soft and warm 'Plaster V' to create a striking bedroom design that still feels cosy and warming, whilst a deep red like 'Grenache' can be used on your woodwork, doors and any wooden furniture for added depth to your scheme.'
7. Love green? Pick a trio for a colorful, yet soothing scheme
Green bedroom ideas are very now.
'At the moment, we are all seeking soothing, earthier tones, to recreate the soothing properties of our natural surroundings. A natural palette of earthy tones works particularly well to evoke a sense of calm and restfulness,' advises Ruth Mottershead, creative director at Little Greene.
'The true color of nature, green is perfect for bedroom schemes. The gentle blue-green 'Aquamarine' is beautifully complemented by the subdued 'Aquamarine Pale' and can be paired with a darker green like 'Ambleside' for added depth to your scheme. These colors combine so well with natural wood including structural wood as well as wooden and rattan furniture for added tranquility.'
8. Pick pastels for relaxing yet colorful bedroom ideas
'Bedrooms are deeply personal spaces and should be decorated accordingly. Of all the layers that make up an interior, color is perhaps the most versatile and can be chosen for myriad reasons – to highlight areas, change the perceived shape of a room, create warmth, intimacy or drama – but, hopefully, they will always bring solace to the occupant,' explains Joa Studholme, color curator at Farrow & Ball.
'Light is one of the most important things to take into consideration when choosing colors for a bedroom. The amount of natural light and the direction that the room faces will have an enormous impact on a color's appearance. The same color can look different from room to room, at different times of the day and even in different seasons. This is what makes the color so exciting and alive!
'In south-facing rooms Cromarty is a peaceful option, and bedrooms feel much more restful if all the trim and the walls are painted in the same color, so that your eyes aren't distracted by the contrasts.'
9. Combine pastels with bolds for colorful bedrooms
Choosing adventurous color combinations for rooms can really bring them alive, especially if they have little going on architecturally. If you find coordinating tricky, using a color wheel is helpful.
'I love this color scheme of teal, blush pink and mustard,' says Patricia Gibbons, design team at Sofa.com.
'When creating a color scheme like this for your bedroom opt for a streamlined palette using two main colors to create a balanced and cohesive feel throughout the room, and a third as a less used accent.
'If you have an upholstered headboard for example, this would be one of your two dominant colors in the space, choose a wall color to complement. The general rule of thumb is to pair a color with a neutral as the foundations if you are going for a traditional scheme.
'We are also seeing customers seek out paint or wallpaper in a similar color to their bed and soft furnishings for a striking yet unified look.
'You can always incorporate various pops of color and pattern on accent pieces and through the use of accessories. This will create impact by adding depth and character, tying everything in together harmoniously.'
10. A warming claret with pattern
The beauty of this cocooning claret is that normally the tendency would be to lighten up a dark small bedroom with a pale shade, but instead both walls and ceiling are painted in this velvety color, and it's certainly caught our attention as a cozy shade to consider. The light floor, patterned headboard and console act as a contrast to keep the scheme balanced visually.
'We worked with a palette of rich colors to make the most of the daylight on offer in the property, using a warm and rich shade in this darker space. Together with a beautiful collection of artwork and a curated mix of antique and bespoke designed furniture pieces, this home room is like a warm hug,' says Irene Gunter, founder of Gunter & Co.
How do you plan colorful bedroom ideas?
To best plan colorful bedroom ideas, start with the one that resonates with you the most. It could be a deep dark shade that makes you feel calm and safe, or a bright, uplifting color that makes you feel refreshed in the morning. Green is known for its relaxing properties and a pale blue is great for making a bedroom feel larger if it's on the small side. Then it's a case of picking a shade that suits your bedroom's light levels – both at night and during the day – and the warmth of the light. East- and north-facing bedrooms get colder light; west- and south-facing get warmer light.
Sign up to the Homes & Gardens newsletter
Decor Ideas. Project Inspiration. Expert Advice. Delivered to your inbox.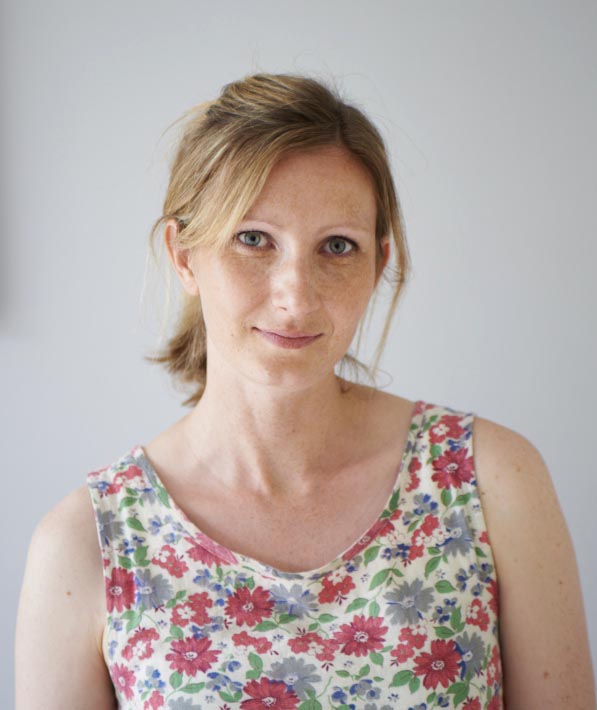 Sophie has been an interior stylist and journalist for over 20 years and has worked for many of the main interior magazines during that time, both in-house and as a freelancer. On the side, as well as being the News Editor for indie magazine, 91, she trained to be a florist in 2019 and launched The Prettiest Posy where she curates beautiful flowers for modern weddings and events. For H&G, she writes features about interior design – and is known for having an eye for a beautiful room.