Hallway wallpaper ideas – smart statement wallpapers for your hall
Create a beautiful entrance to your home with these elegant ideas for dressing your hallway walls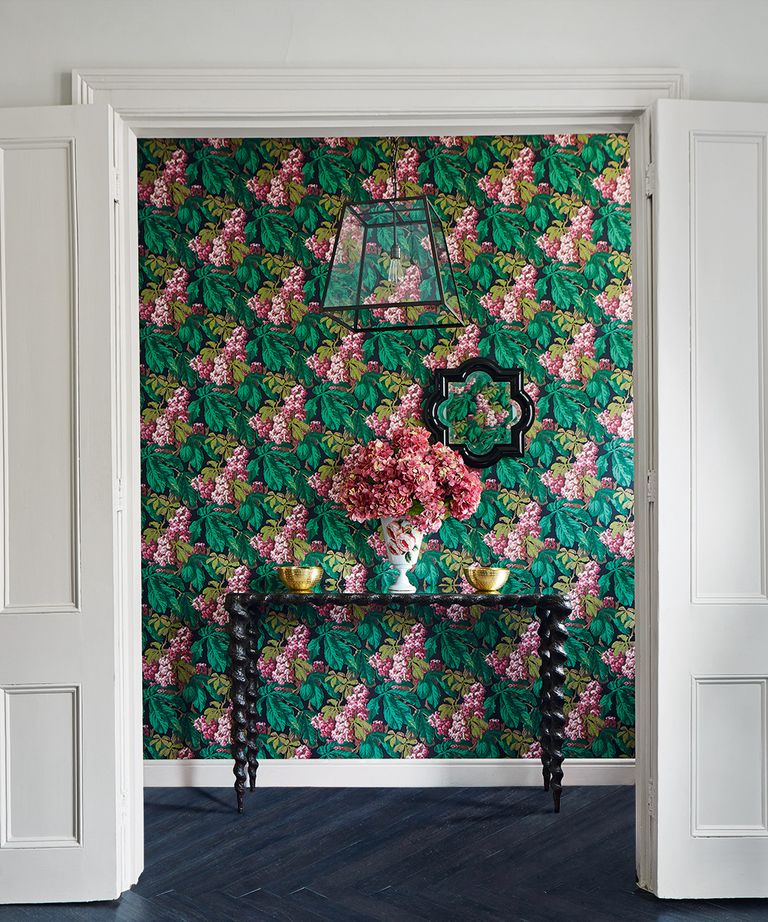 (Image credit: Jan Baldwin)
Are you looking for hallway wallpaper ideas? Creating a decorating scheme is a bit like a love affair, and it's certainly as much about the heart as it is the head. When choosing fabric and wallpaper, the questions we ask ourselves are: 'Do I love it enough? Is it a perfect match for me? Will it last?'
The variety of fabrics and wallpapers before us is now so extensive that preliminary research will always pay dividends, especially in such adventurous times for design. New developments and incremental advances in technology are giving designers greater freedom to pursue ideas, shaking off the restrictions imposed by traditional production methods.
See more: Hallway ideas – because first impressions count
Whether your style is classic, contemporary or an effortless mix of both, a greater understanding of the practical elements will advise your head, so you can follow your heart.
Should I wallpaper my hallway?
Yes! Hallway wallpaper is a brilliant way to transform a space that is otherwise just a thoroughfare or – worse – a dumping ground. Narrow corridors can be given instant character, dark spaces can be cheered up by light-reflecting designs and large hallways (lucky you) can be given a ton of character with wallpaper.
See more: Wallpaper ideas – expert tips and decorating tricks for every room
Hallway wallpaper ideas
These hallway wallpaper ideas cover every size and shape of hallway. For best effect, choose a light-enhancing wallpaper that will make your hallway feel larger and use the decorating tricks we mention below to correct poor proportions. Lastly, ensure the wallpaper you choose for your hallway is wipeable and will stand up to the knocks and scuffs it will endure.
1. Bring the outdoors in with nature-inspired prints
Marthe Armitage is truly special in the world of wallpaper. More artist than designer, she's hand-blocked her botanical wallpapers on the same press since the 1950s. Paired with a painted bench, her Flora print brings the spirit of the summer garden inside.
Note the white background of this wallpaper design – it will bounce lots of light around the space, making it feel as larger as possible.
See more: Country wallpaper ideas for kitchens – beautiful rustic looks for your cook space
2. Be bold with a floral focus
If your hallway is flooded with natural light you can afford to use a wallpaper with a more dramatic, darker color scheme. This scheme celebrates the resurgence of rich, bold prints by showing them off in a neutral, pared-back setting for an easy-to-live-with look.
Used in a hallway, this joyful and intricate wallpaper is the perfect choice for creating an eye-catching first impression. A generous arrangement of faux pink hydrangeas echoes the colour in the pattern behind.
3. Pick graphic chevrons for a contemporary look
Whether emblazoned on silk and velvet, or hinted at in muted flooring, this striking motif gives schemes a refreshing graphic edge. It also creates a visual trick: the diagonal lines will trick the eye into seeing the hallway as longer and taller.
4. Choose Oriental inspiration for instant character
From the sophisticated, cultured yin of Chinoiserie to the softly elegant yang of Oriental landscapes, China's rich heritage is a stylish source of decorative beauty. A careful mix of pattern, accessories and furnishings lends a complex sophistication and creates a sense of depth.
The opulence of pieces such as the table and mirror is tempered by the comparative rawness of plain ivory linen upholstery and rustic baskets. These features act as a soothing counterpoint to the brightly coloured figurative wallpaper.
5. Carnival of color – for bright, modern hallways
Evoke the exuberant style of Latin America with vivid shades and bold pattern for hallway wallpaper ideas with sunny appeal. When using a lot of hot, spicy shades, introducing a crisp, black and white pattern will act as a focal point and keep the look modern.
6. Hang a mural to create a scenic scheme
From hand-blocked panels to digitally printed vistas, murals of picturesque landscapes are an expensive way to bring epic scale and romance to a scheme. The slender tree branches of this pastoral mural are perfectly echoed in the minimal lines of the crisp, modern furniture.
7. Choose cool blue hallway wallpaper for a calming scheme
We embrace our inner nomad with a considered mix of Eastern, African and South American patterns paired with natural materials, rich textures and bold hues for an elegant, worldly look at home. This wallpaper reminds us of heady summer days spent gazing at the ripples on the water's edge.
What wallpaper makes a hallway look bigger?
The chevron effect above is a really good example of how striped wallpapers can make small hallways feel larger. The stripes hung vertically will draw the eye upwards, making a low-ceilinged hallway look taller; hung horizontally, stripes will make a short corridor feel longer; and diagonal stripes will exaggerate a hallways length, width and height.
Another clever trick is to use wallpaper with a metallic or reflective finish – or one that has at the very least a light background beneath the pattern or motif. All of these wallpaper tricks will reflect the light and make your hallway feel lighter, brighter and bigger.
What is the best wallpaper to hide bad walls?
Textured hallway wallpaper is the best for covering bad walls because the raised designs will disguise any lumps and bumps beneath. A busy wallpaper pattern will also make bumps and dips in hallway walls visually recede. Avoid pale, plain or reflective wallpapers on bad walls because these will just highlight the lumps and bumps. If the wallpaper you've chosen is in the latter group, it would be better to replaster before wallpapering.