Hallway wallpaper ideas – 20 statement wallpapers for your hall
These hallway wallpaper ideas will help you create a beautiful entrance to your home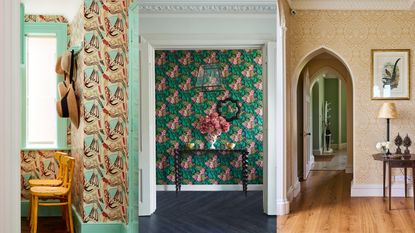 (Image credit: Yellow London/Matt Clayton/Jan Baldwin/Jonathan Gooch)
Sign up to the Homes & Gardens newsletter
Decor Ideas. Project Inspiration. Expert Advice. Delivered to your inbox.
Thank you for signing up to Homes & Gardens. You will receive a verification email shortly.
There was a problem. Please refresh the page and try again.
Hallway wallpaper ideas are perfect for making a big first impression. When used just beyond the entryway, they are one of the first design decisions guests will encounter when they walk through the door, so make them count.
Including wallpaper among your hallway ideas not only helps bring visual interest to transient spaces, they are also a vehicle for showcasing your personality. Occupying only a small part of your home and one that is used for short periods of time, hallways are also the perfect location for those big patterns that might feel overwhelming elsewhere – so think big with wallpaper ideas in these spaces.
Hallway wallpaper ideas
From entrance halls festooned with florals to clever optical illusions that will make compact corridors feel bigger, we've put together some stunning hallway wallpaper ideas inspiration and asked the experts to share their top tips.
1. Keep it light and bright
By their very nature, hallways have the unfortunate habit of coming over a tad dark and pokey. If you're plotting a wallpaper to go with your narrow hallway ideas, keep things light and bright to keep the space feeling as large and airy as possible. In this hallway with a staircase, a pale, faintly patterned blue and white wallpaper is used with white painted woodwork to allow the beautiful dark wooden staircase to really stand out without darkening the whole space.
2. Horizontal lines will make a hallway feel longer
Bringing large scale pattern into a space comes with the opportunity to play a mind trick or two. For small hallway ideas, consider a pattern or texture that will create an optical illusion, making the space feel bigger. Horizontal lines will make a compact space feel longer, drawing the eye down the corridor. These don't need to be garish or too obvious either – pick a trending grasscloth like in this example to subtly elongate your hallway.
3. Embrace nature
If you love to have a big bunch of flowers greeting guests among your entry table decor ideas, take it one step further and allow nature to wind its way across your walls.
'What better way to welcome the family home or offer an enticing entrance to guests by extending nature into your home through a floral wall covering in the hallway,' says Lizzie Deshayes, Co-Founder and Design Director at Fromental. 'The exuberance and optimism of nature in full bloom lifts the spirits and floral wallpaper adds depth and colour to a sometimes-overlooked space.'
For more natural inspiration, view our collection of green hallway ideas.
4. Pair with colorful paintwork
Don't forget about those hallway paint ideas just yet – just because you're not painting a wall, it doesn't mean you won't need them. Contrast can be used effectively to really highlight a hallway wallpaper.
What makes this wallpaper really stand out in this example is the vibrant yellow picked from the wallpaper's motif, and used it on the surrounding trim, great for yellow hallway ideas.
5. Stay in touch with period features
If you're blessed with a historic home crammed with period features, use your wallpaper to make the most of it. Choose some of your favorite aspects – be it a standout piece of hallway lighting like a chandelier, or a moulded plaster border – and look for wallpapers that accentuate patterns in them. In this beautiful hall space, the pointed arch of the Gothic revival door is mirrored in the pattern of the wallpaper.
6. Go big, bold and beautiful
Your hallway might be small, but there's no reason why it can't be mighty. Hallways are actually an excellent home for exuberant, maximalist wallpapers – perfectly placed to make an impact on entrance, but not so big that the pattern eventually overwhelms, great for red hallway ideas.
'A hallway quite often has very little else in it so wallpaper is a way to add interest and bring in color and pattern – in my view the bigger and bolder the better,' says Beckett. In this hallway, a vibrant floral wallpaper bursts through the open doors, framed and accentuated from this angle by the white paint in the room beyond.
7. Make use of your dado rail
If you're just about to rip out what you think is an outdated dado rail, hold on a minute. Yes, they are largely defunct in protecting walls from chair backs, but they are still pretty useful in adding visual proportion to a room – exactly what you may need in an awkward hallway.
To make a feature of it, use wallpaper either exclusively below or preferably above the dado rail to create vertical layering. Get your hallway carpet ideas in on the act pattern act too, and use the lower half of the wall for a visual rest.
8. Stamp your personality onto the space
Wallpaper is a great way to stamp your personality all over the room – and with so many patterns, textures and prints available across countless styles, it's possible to make it as unique as you are. Florals aren't for everyone, so choose a pattern that communicates your style, from graphic prints to quirky illustrations. In this hallway, a wallpaper bedecked with knotted rope communicates a love of the sea, and a beachy vibe.
9. Travel to another world with a mural
In their very essence, hallways are areas of the home that people travel through – so why not take them somewhere amazing? A corridor's elongated nature makes it a great canvas for mural wallpapers, allowing the full picture to play out uninterrupted. In this grand hallway, a painted, magical landscape featuring fruit trees, rolling hills, giant lizards and dancing unicorns. The addition of a seat by the entry table creates a spot for guests to sit and admire.
10. Don't forget the ceiling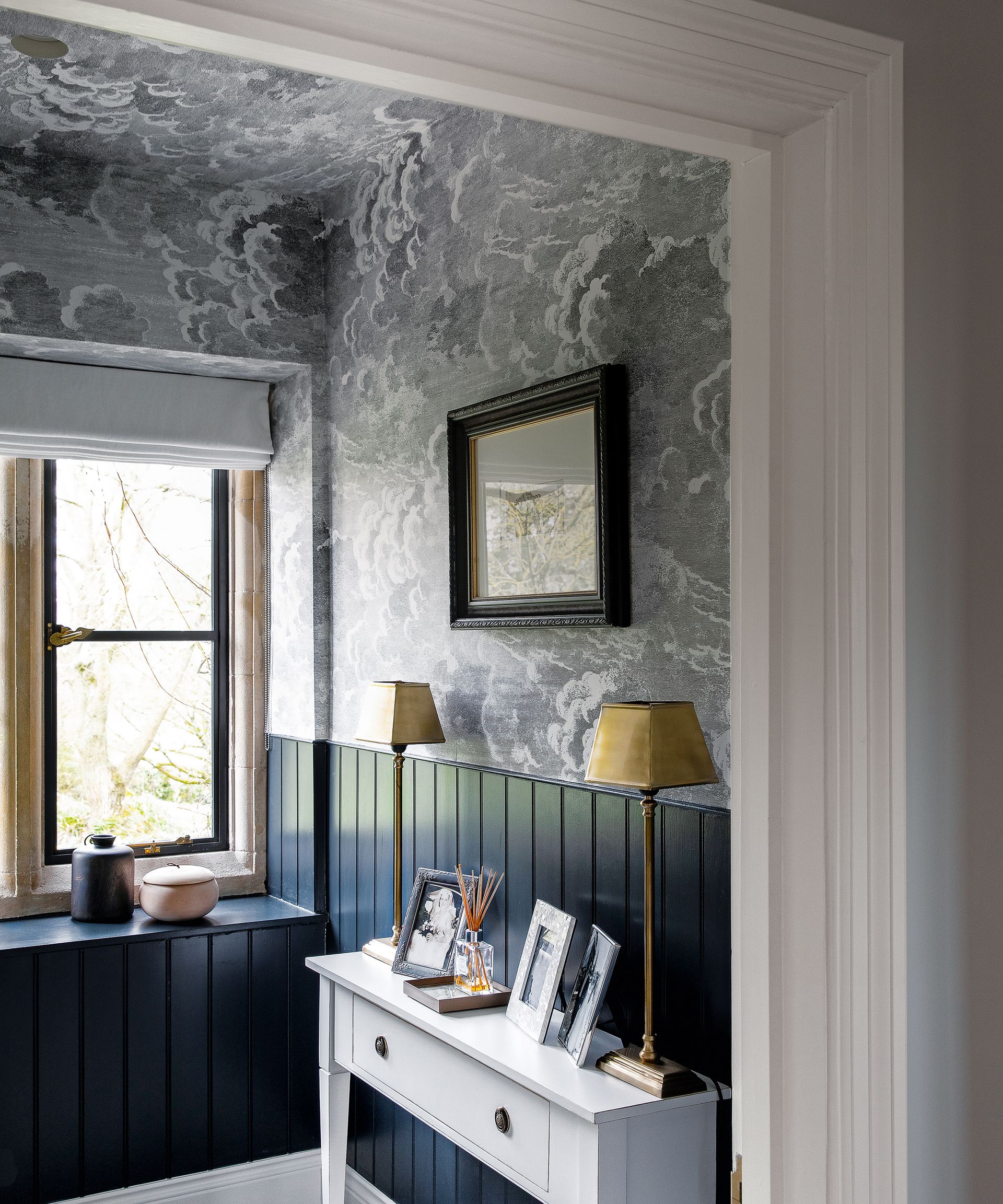 Wallpaper isn't just for walls. Get creative and turn your nook of a hallway into an exciting design moment by embracing ceiling wallpaper ideas. In this example, a grey hallway space by the front door is turned into an atmospheric corner by the use of a storm-reminiscent pattern on the walls that hangs overhead too. The ceiling is given emphasis by the use of paneling on the lower half of the wall, nudging the visual interest upwards.
11. Take your staircase to the next level
Many hallway spaces don't include just one storey, but two. If you have staircase ideas to contend with too, consider how your wallpaper will travel upwards – and even make a feature out of it. In this example, wallpaper is used not on the wall that travels along the side of the staircase, but at the far end. When viewed singularly, the silver birch patterned paper makes the space on each level feel taller – and when viewed altogether the spaces appear to connect and give the impression of a forest growing up through the house.
12. Be on trend with green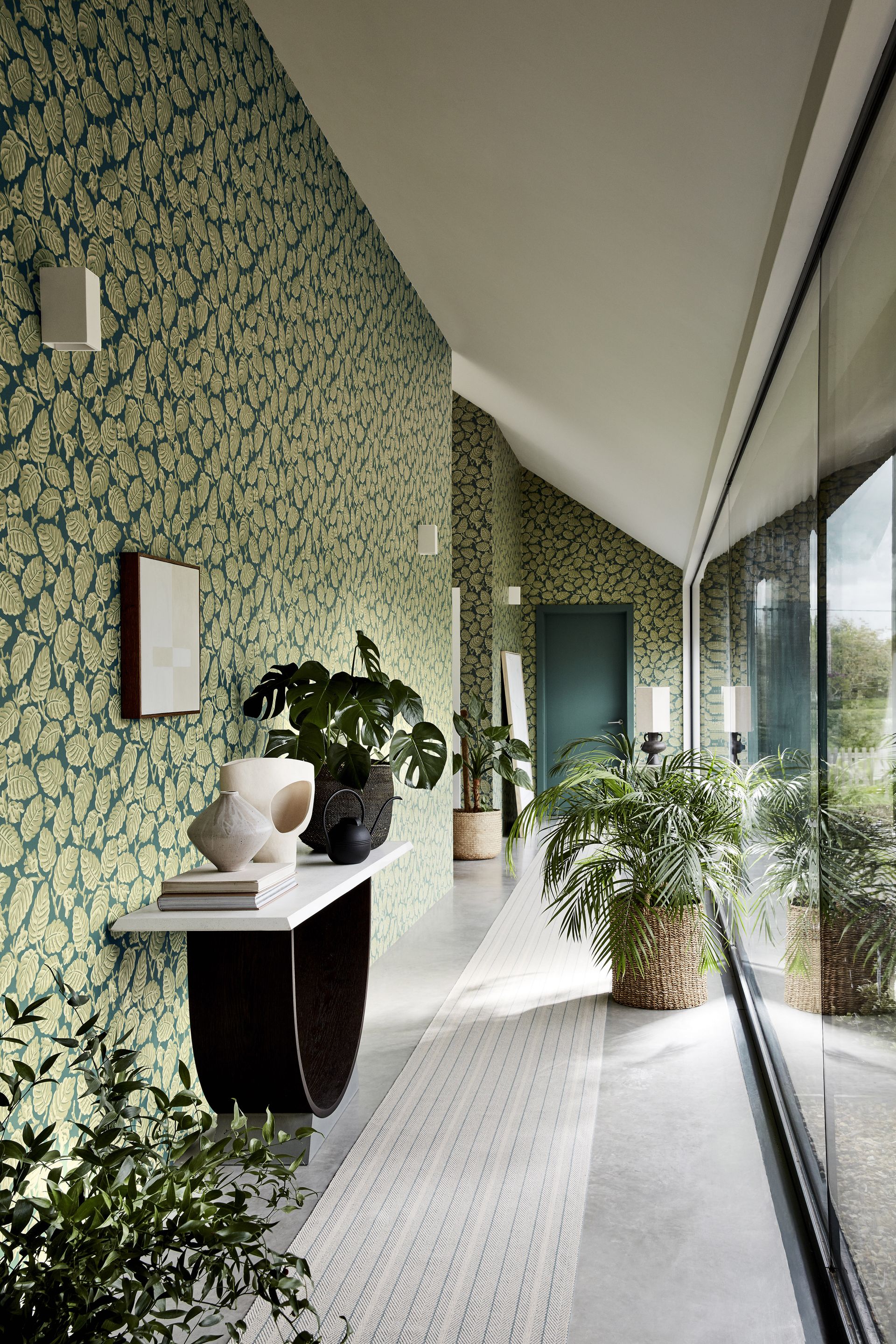 Being stuck inside for much of the last couple of years has made us want to bring the outdoors in – as such, green has become a hugely popular hue in interior design. It's a great choice for modern hallway ideas, and for combining with more traditional, florally inspired wallpaper designs like the one used in this example. To inject some fun and freshness, mix and match different tones of green, including bright accents.
13. Make a lasting impression with a monochromatic scheme
The accent wall is one of the most popular recent trends. It is a classic design device, which draws the eye to a specific area. Marrying the paint color of the walls with the wallpaper will ensure the contrast isn't too harsh, so the scheme feels relaxing.
Striking, cool and confident, black and white is always a winning combination and will make a dramatic statement in a modern hallway. Create a perfect balance of the two neutrals, by using equal amounts of each.
14. Contrast colors in a small hallway
Clever color combinations are very popular at the moment, perhaps as a counter-reaction to the many tonal greys from the past decade.
Decorate with a palette of blue and green in your small hallway ideas. This combination is often described as the modern monochrome, and it is easy to see why. Where once blue and green were never to be seen together, in fact, these hues sit particularly well together, so offer great scope for pattern mixing. See our blue hallway ideas for more inspiration.
'We all experience color differently from one another and each will have an energy that appeals. Work with your instincts, assert your whims, and look at the clothes in your wardrobe for color inspiration for your modern hallway,' advises interior designer, Andrea Maflin.
15. Introduce wood-effect wallpaper
If you love the look of wall panelling, but don't want the commitment or upkeep, then look at wood-effect wallpaper instead. It's often used in architecture to create texture and interest, and here it's been added to create a character feel within a modern room that's limited on architectural detailing. The warmth of the wood used also makes a minimalist decorating scheme instantly more welcoming, too.
16. Bring the outdoors in with nature-inspired prints
Marthe Armitage is truly special in the world of wallpaper. More artist than designer, she's hand-blocked her botanical wallpapers on the same press since the 1950s. Paired with a painted bench, her Flora print brings the spirit of the summer garden inside.
Note the white background of this wallpaper design – it will bounce lots of light around a small hallway, making it feel as large as possible.
17. Define your hall with bold wallpaper
The transient nature of hallways make them a great place to go bold with your wallpaper ideas. Any space where you spend limited amounts of time means you are less likely to get tired of your color or pattern decisions, so be brave and experiment with wallpaper trends.
For hallway ideas with dramatic impact, go for large scale repeats. Alternatively, murals are having a moment with wallcoverings right now, and halls are the best place for these. Many murals are also available as traditional, super-scaled up wallpapers, too – perfect if you want to cover the whole stretch of a hallway.
18. Go big with oversized florals
Florals are big news for 2022 interiors and can be adapted to suit any space, even if you have a small or are looking for narrow hallway ideas. These new season designs have upped the style stakes and make it easy to work beautiful flowers into your décor.
Start off by thinking about color. The palette you choose will guide your decisions when it comes to choosing floral designs and will act as the basis for pulling your scheme together.
19. Play with pattern and color in a narrow hallway
A hallway landing is often overlooked as a vehicle for adding texture and color, and is often just thought of as a dead space, but it can become a welcoming focal point and add intrigue to your home.
Most abstract paper won't look out of place, especially if used with a heady collection of other designs. This geometric design excites and adds interest to the hall like no other. For a more focused design, pick out one color from your chosen paper and use it on doors and woodwork.
20. Go for dark and dramatic florals
If your modern hallway is flooded with natural light you can afford to use a wallpaper with a more dramatic, darker color scheme. This scheme celebrates the resurgence of rich, bold prints by showing them off in a neutral, pared-back setting for an easy-to-live-with look. Used in a hallway, this joyful wallpaper is the perfect choice for creating an eye-catching first impression.
What kind of wallpaper is best for a hallway?
Choosing the best wallpaper for a hallway is really down to what kind of hallway you have. If you have a small hallway, consider using horizontally striped wallpaper to elongate the space by drawing the eye to the end of the passage. Similarly, if you have low ceilings, a pattern with vertical linear direction will help the space feel taller, while light colors will stop the space feeling dark and pokey.
If you're not too worried about making the most of a compact space, then the best wallpaper is one that shows off your personality. With an entrance hallway, this wallpaper will be the first design choice any guests see when they enter your home, so make sure it's one that communicates your style effortlessly.
'A hallway or corridor is an ideal environment for decorating with wallpapers,' says Sarah Macgregor, Design Director for Colefax & Fowler and Jane Churchill. 'First impressions are important and it is possible to make a welcoming impact with either a handcrafted small scale block print or the warm inviting texture of grasscloth.'
'Don't choose wallpaper in isolation when decorating. I'm a great believer in getting the whole scheme in your hand before you shop. Consider it all simultaneously, advises Martin Waller, founder of Andrew Martin.
'And just because a wall is papered doesn't mean you can't hang art over it. Kit Kemp, who we collaborated with for her eponymous collection, demonstrates this exuberantly in her schemes. Wallpaper and art combine to add such interesting layers to a hallway.'
Should I wallpaper a narrow hallway?
Although wallpapering a narrow hallway might seem like a recipe for sensory overload, it is perfectly possible to make it work. Narrow spaces are more likely to collect shadows, so try to keep the space feeling as open and airy as possible with light colored wallpapers. If you're still worried about the use of pattern feeling overwhelming, consider only using wallpaper on one side of the hallway, and paint the other side, ideally in a pale shade.
What kind of wallpaper is best for a modern hallway?
To discover modern wallpaper that you will not only love, but will want to live with for years to come, spend time gathering samples from different suppliers. Try them out on your walls so you can test how each style works for you. If you are drawn to a particularly vivid or striking paper, think about using it in an entryway, where you can really make an impact.
Looking to the past for inspiration can help you to achieve original interior styles. New printing techniques have made it easier than ever to create your own designs or choose specific colors and themes, so your wallpaper can be completely personal to you.
Like with paints, the look of wallpaper changes depending on the time of day and light available. Hallways typically have limited natural light available, so before committing, stick up a few A4 size sheets of your choice across the length of the hall. Check how the print and colors look throughout the day to ensure you like them as much at night time as you do with the morning light.
Sign up to the Homes & Gardens newsletter
Decor Ideas. Project Inspiration. Expert Advice. Delivered to your inbox.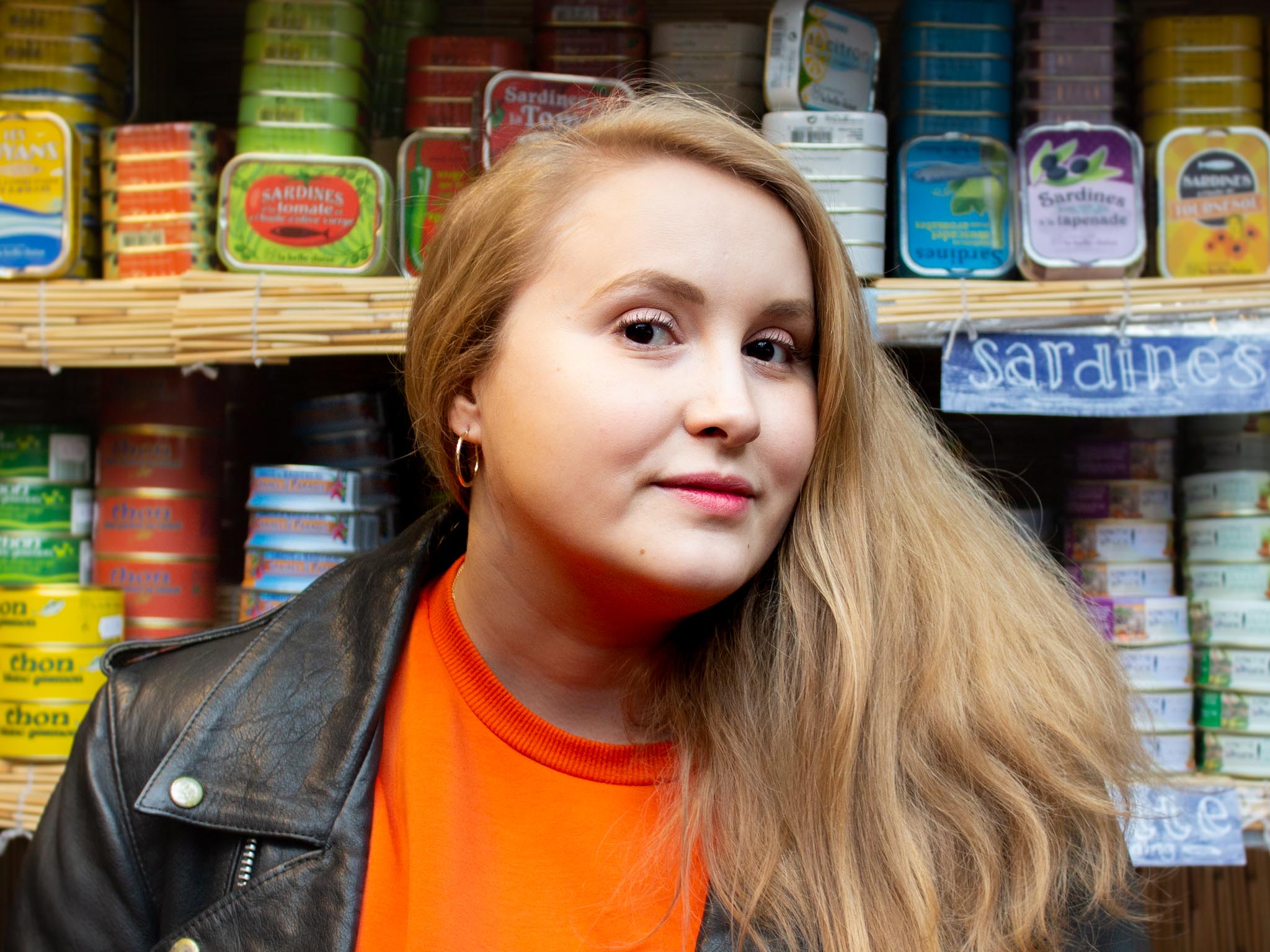 Ailis started out at British GQ, where a month of work experience turned into 18 months of working on all sorts of projects, writing about everything from motorsport to interiors, and helping to put together the GQ Food & Drink Awards. She then spent three years at the London Evening Standard, covering restaurants and bars. After a period of freelancing, writing about food, drink and homes for publications including Conde Nast Traveller, Luxury London and Departures, she started at Homes & Gardens as a Digital Writer, allowing her to fully indulge her love of good interior design. She is now a fully fledged food PR but still writes for Homes & Gardens as a contributing editor.