Modern hallway ideas – 10 tips for creating a contemporary hall
Balance cool, clean design with personality in your modern hallway ideas – and remember, a little goes a long way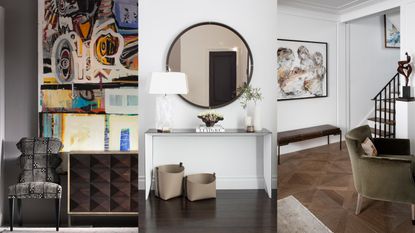 (Image credit: Andrew Martin/Claudia Afshar Design/Meghan Bob Photography/Paul Raeside)
Modern hallway ideas should be all about 'less is more' – largely because this part of the house often doesn't have that much space to play with.
Sticking with the modernist mantra will not only keep your hallway ideas feeling cool, clean and stylish, but paring things back will help with this potentially pokey space feel open and bright – exactly the kind of entrance you'll want for your modern home.
'Your hallway is the first point of entry. It should shout out to you that 'I am home' every time you step through the front door, that you are in your favourite and most comfortable place in the world,' says David Harris, Design Director at Andrew Martin.
Modern hallway ideas
From slick and stylish console tables to modern neutrals and even glass walls, we've put together some stunning modern hallway ideas, and asked the experts for their advice on creating a entrance perfect for your here and now.
1. Keep it light and bright
Whether at the front of the house or somewhere in its midst, hallways are often in danger of feeling dark and pokey. Maximizing light flow throughout a space is a cornerstone of modern design, so keep this in mind, especially for narrow hallway ideas. Whether you're lucky enough to have lots of natural light in the space or not, sticking to light colors like white or pale neutrals on the walls will help the space feel bigger and brighter.
They will also feel coherent if the rest of your home is largely neutral. 'We would recommend thinking carefully about the color scheme you choose and ensuring that whatever colors you pick for the hallway are complementary to the other areas,' advises Duggan.
2. Choose a modern mirror shape
For a quick check-in on your outfit before leaving the house, a hallway mirror is essential. Not only are they useful, but a mirror can be an excellent aesthetic addition – work them into your small hallway ideas to help the space feel larger, or make a design statement with your style, shape, size and frame choice.
To achieve a modern look in your hallway choose something simple, but captivating. Swap ornate frames for contemporary shapes: in this room, interior designer Claudia Afshar has chosen a perfect circle, a modern favorite. Suspended over the entry table with brown-tinted glass, it's a design choice that is both clean and sharp, but soft and welcoming at the same time.
3. Pick a slick console table
'A console table – ideally with a drawer – provides a useful place to store keys, post and fresh flowers,' says Duggan. For a modern approach to this hallway furniture staple, pick the slickest you can find.
With a necessity to be slim and unobtrusive, console tables are already genetically wired to work with modern design principles, and often look best when at their simplest. If you want to create some visual interest, think architecturally: with this feature table, the visual interest comes from the curved legs, rather than from any fussier details. You can then add more personality through your entry table decor ideas.
4. Make your neutrals modern with grey
A neutral palette is a cornerstone of many a successful modern design scheme – but to bring your space really up to date, go for grey. Among the most popular hallway paint ideas of the moment, grey's darker tones can create drama, while lighter versions work as a contemporary alternative to white, as demonstrated in this hallway. Choose warm undertones for a welcoming feeling, or cooler tones for elegance.
5. Channel your personality with artwork
'A hallway should give your guests an insight into who you are, and what your house and interior says about you,' says Harris. 'Choose colors and modern hallway wallpaper ideas that show off your favorite piece of art, textiles, photographs or whatever you wish to adorn your walls with.'
If you're looking to inject personality into your hallway, you can't get more unique than displaying a piece of artwork you love. 'Artwork can have a dramatic effect without taking up any floor space,' adds Duggan. 'I love to use grids of artwork in narrow hallways to maximize feeling of space.'
This is exactly what has been done in this hallway by Andrew Martin, where a grid of statement abstract painting has been back with a dark grey wall – you might not expect as such, but darker tones are an excellent backdrop for showing off art.
6. Make a statement with contemporary chandelier lighting
Hallway lighting ideas are a hugely important part of making these small spaces work. Be sure to layer you lighting to make sure every nook and cranny is well lit – and, if you have a tall enough ceiling, consider making a grand entrance with a chandelier.
No, they're not just for stately homes – choosing a contemporary-style chandelier or statement pendant can set your modern design intentions right from the front door. Consider sputniks-style arrangements, or an artistic approach, such as this globe chandelier made up of dozens of porcelain butterflies.
7. Keep an entryway bench minimal
Taking things back to basics is key for a successful modern scheme – but that doesn't mean you shouldn't make yourself comfortable. While you might be trying to minimize furniture, an entryway bench is still a practical necessity for taking shoes on and off. The key to making it feel modern is keeping the design as simple as you can.
In this white hallway, a bench with thin black legs and a leather seat adds a little bit of dark drama, as well as some texture, but doesn't overwhelm. If you are planning to use a bench for hallway shoe storage, counteract any bulkiness with light colors and a minimalist design.
8. Stand the test of time with natural stone tiles
'Hallways are the busiest thoroughfare of your house with people passing past each other at the busiest time of day,' says Harris. While you may want your finishes to be stylish, you'll need them to be hardworking too.
'Natural stone flooring can be one of the most forgiving floor coverings if the right stone and finish are chosen,' says Isabel Fernandez, Director at Quorn Stone. Whether polished and neat or open to a little texture, large tiles of natural stone are a great way to achieve a modern look with added grandeur. 'Naturally some stones will be denser than others which provides more durability, however all natural stone will be subject to a little wear and tear over the years'
9. Embrace mid-century modern design
Of course, 'modern' means different things to different people and eras. Mid-century modern design has made a comeback in recent years, so feel free to get stuck in with trends and pieces from the thirties up to the sixties.
If you want to go back to its earliest years, consider the subtler, more geometric aspects of late Art Deco, as demonstrated in the console table and wall sconces of this stylish space. As mentioned before, your hallway should complement the rooms around it, so keep this in mind if you're working with mid-century modern living room ideas too.
10. Open up with an industrial chic Crittal wall
Getting light into an entrance hallway can be tricky if you've only got the window in the top half of the front door to play with. One pretty extreme answer is to get rid of one hallway wall altogether, and replace it with glass. That's exactly what's been done in this home, where the hallway looks directly into the living room through a full Crittall wall. Not only does it allow the hall to access light from the adjacent room's windows, the Crittall wall adds a very modern, industrial-chic look.
What color is best for a modern hallway?
Neutral colors are the backbone of many modern design schemes. For hallway walls, think towards the paler end of the neutral spectrum – modern design thrives on bountiful light, so you'll need to make sure you maximize it in narrow or small hallways. Then, you can pair those lighter backdrop colors with dark furniture and accessories, creating drama and a sense of crispness.
Grey is an elegant backdrop neutral, and can be matched with white or black accents. If you've chosen warm neutrals for your walls, try using dark woods.
If you are stuck with a whole host of period features in your hallway, an alternative way to bring them up to date is to contrast them with a contemporary palette of bold colors. Accent your traditional features with white to make them feel fresh.
Sign up to the Homes & Gardens newsletter
Decor Ideas. Project Inspiration. Expert Advice. Delivered to your inbox.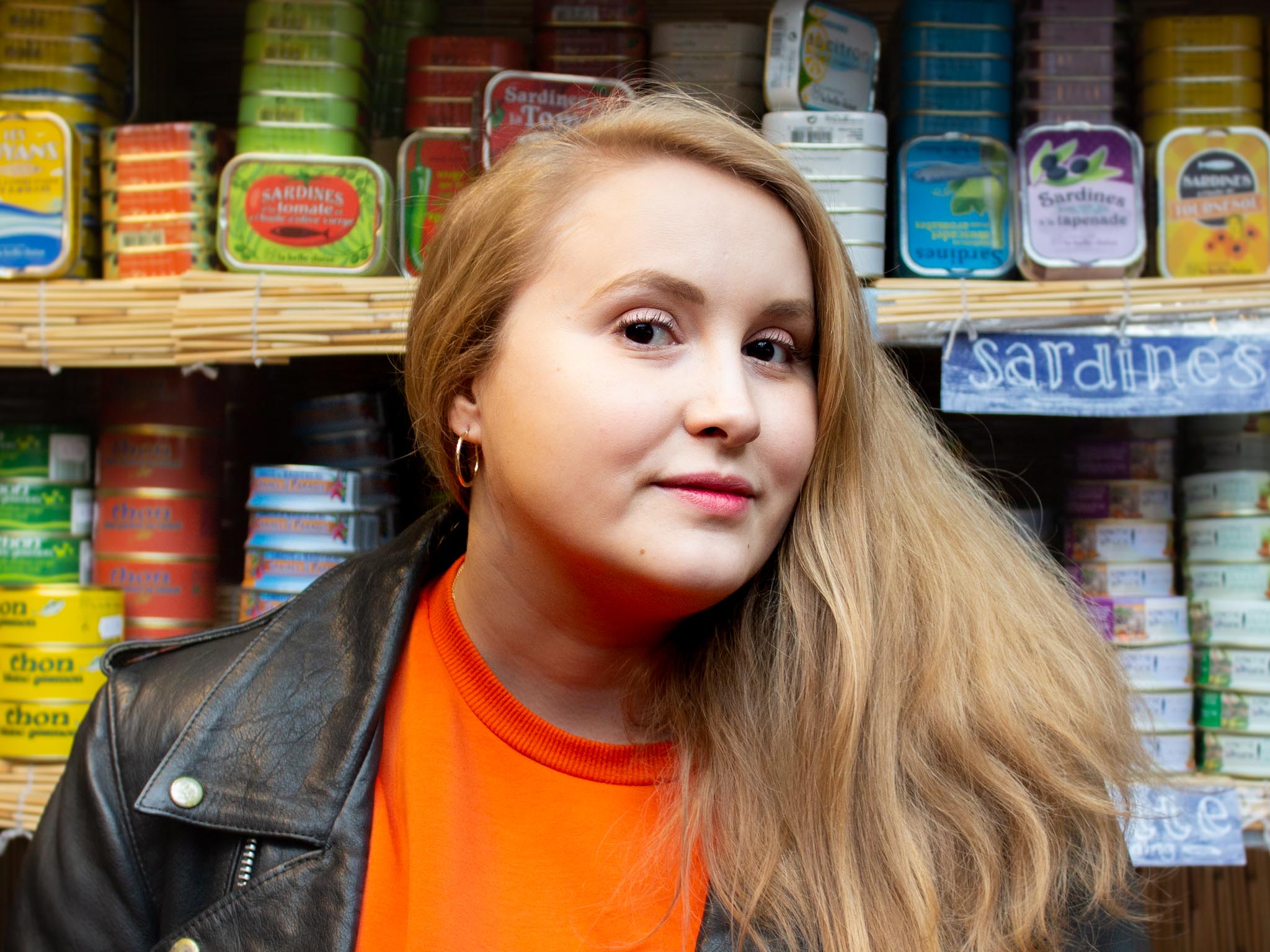 Ailis started out at British GQ, where a month of work experience turned into 18 months of working on all sorts of projects, writing about everything from motorsport to interiors, and helping to put together the GQ Food & Drink Awards. She then spent three years at the London Evening Standard, covering restaurants and bars. After a period of freelancing, writing about food, drink and homes for publications including Conde Nast Traveller, Luxury London and Departures, she started at Homes & Gardens as a Digital Writer, allowing her to fully indulge her love of good interior design. She is now a fully fledged food PR but still writes for Homes & Gardens as a contributing editor.