Small entryway storage ideas – 10 chic and practical ways to make the most of a tight space
No matter how limited your square footage, make it work harder with these small entryway storage ideas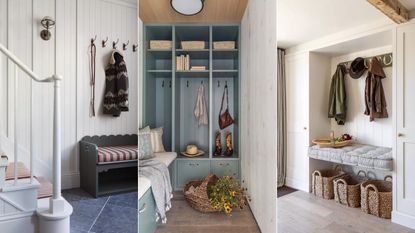 (Image credit: Alexander James / Julie Soefer / Jonathan Bond)
Entryways have to work hard. Small entryways have to work even harder. We ask so much of these spaces, they are the introduction to our homes so need to reflect the style and feel of the rooms beyond, but they are also very busy spots that see a lot of traffic and can be prone to becoming dumping grounds for shoes, bags, dogs leads, etc. So there needs to be a balance here between looking lovely and being able to cope with all the stuff we throw at our entryways – of course, that's where creative and efficient storage comes in.
Now in a small hallway things get trickier. You don't have lots of room to lean half into the aesthetics of the room and half the practicalities, you need to blend the two and any storage you bring into the space needs to both look good and work hard. Not the easiest. So we asked some of our favorite designers how they tackle storage in a small entryway...
1. Get the balance between pretty and practical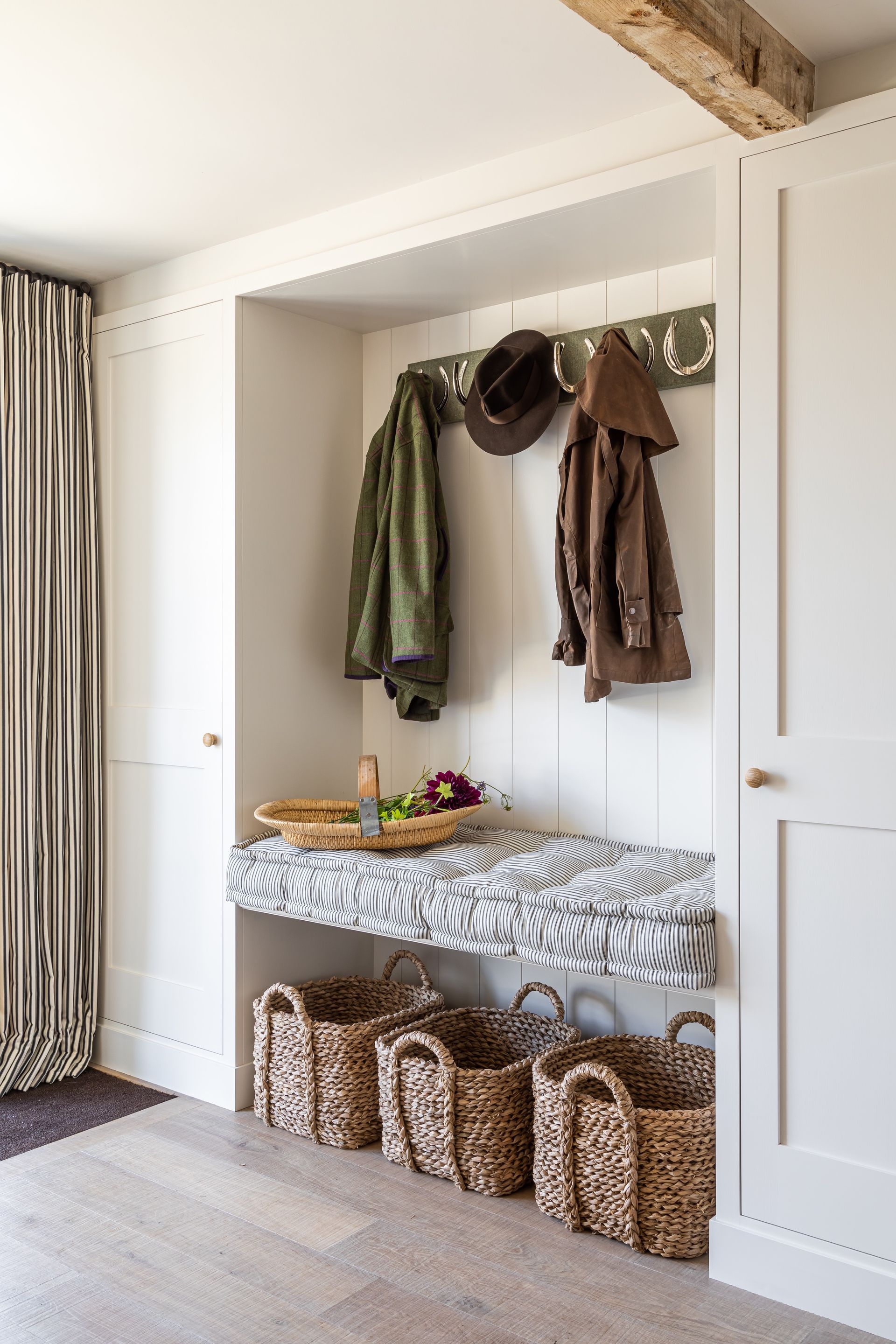 When it comes to that balance between form and function, the best, easiest, quickest solution is baskets. Baskets look lovely and will add a nice natural texture and color to your entryway, and they also are great for collating clutter. No one need to know the chaotic content of the baskets, but they are ideal for shoe storage and any other paraphernalia you might need to grab as you leave the door like toys, school bags, or the dog lead.
Go as big as you can with the design. We love the baskets use here by designer Samantha Todhunter. They look cute but are also sizeable and sturdy enough to be really useful. The handles are a great addition too as you can easily pull them out and see the entire contents. Sliding them under the bench makes use of the dead space and also means the contents of the baskets stay pretty much out of sight.
'Storage is essential in a small entryway or foyer because you want to avoid making the space feel crowded, but also want to have ample space for shoes, coats, and all the other items that inevitably end up in an entryway. I love artful wall hooks, entryway benches with hidden storage, and woven floor baskets that can easily house any number of items,' suggests designer Kathy Kuo.
2. Create a beautiful (and practical space) with unique pieces
This small entryway designed by Elizabeth Hay is proof that a space can be both practical and incredibly beautiful. It can be easy in a small space to start focusing purely on that functionality of the room and forget that statement pieces can be hardworking too. A vintage bamboo bench topped with a pretty fabric still serves the same purpose as a bland wooden one right? So do let aesthetics play some part in your storage decisions, after all the entryway, no matter what size, is the room your guests will always see and it needs to set the tone of the rest of the home.
'In this home, the lift opens directly into this apartment so we wanted to keep it light. We wallpapered it in glass cloth and we custom made the bone inlaid shoe cabinet and then made a practical bench with a lovely handwoven Ikat Mallorca.' explains Elizabeth Hay.
We would recommend shopping second-hand for storage pieces if you want a more unique look. Vintage wardrobes can actually be a great alternative to more classic pieces of hallway storage – they add plenty of character and make for the perfect place to hang coats. Make measurements of what will realistically fit in the space and always have them to hand in case you come across something that might work.
3. Go built in to really maximize space
When it comes to storage in a small space, the best way to really maximize every inch of space is to go built-in. It will allow you to get the most storage from the tight space, but it also creates a really seamless look, free from the visual clutter you can easily create in a smaller space.
'Arguably, the best storage option is built-in storage that keeps everything hidden away behind closed doors,' suggests designer Irene Gunter. 'It can be custom-built to fit perfectly in the available space and designed according to your exact storage needs. For example, in this project, the entrance hall was small, so we got creative with vertical wooden paneling on the walls. This not only draws the eye upwards, making the hallway seem taller and more spacious, but it also allows for intermittent shadow gaps that disguise wardrobe doors, behind which is a wealth of useful coat and shoe storage.'
4. Make space under the stairs
If you have been blessed with any form of space under the stairs make use of it – it's dead space that can be invaluable in a small entryway. Again, the best option to make the most of this space is to go built-in. This is often an awkwardly shaped space and you will make far more of it if you go bespoke with the cabinetry – plus adding doors will hide the clutter and can look really elegant.
In this entryway designed by Studio Peake the under stairs have been turned into two hardworking cupboards that blend subtly into the rest of the room. This means the rest of the space can be kept clear of any other freestanding furniture (bar a cute ottoman that's the perfect perch for putting on shoes).
'A hallway is the first part of your home that anyone will see when they enter, so it's important to make sure it's a true reflection of your personality and style.' explains Emma Deterding, founder and creative director, of Kelling Designs. 'And when it comes to storage, it is definitely something that is important to consider. As the main entrance and exit to the home, it's an area with high footfall and somewhere where you'll want to be able to store coats, bags, boots, and shoes (especially if you don't have a utility or boot room). If built-in joinery can be incorporated into the design, then consider using the space under the staircase or creating a run of cabinets along one wall. Not only will this provide all the storage for things like coats, shoes, and bags, but it'll keep everything organized and out of sight.'
5. Do a wall hooks bench combo
If built-in storage isn't an option, this combination is a great way to add storage to your space without adding too much bulky furniture. Wall-mounted shelves and hooks allow a convenient place to hang coats and store small items and don't take up any floor space. Adding a bench underneath allows for a place to sit and put on shoes, but the low-slung design also doesn't overly fill the space – as seen in this entryway designed by Ham Interiors, plenty of storage but it still looks open and not cluttered.
'A well-designed hallway is crucial for setting the tone of a house, as it is the first space guests encounter, so it should be warm and inviting,' says founder Tom Cox. 'A bench can provide a functional and beautiful touch, while storage solutions can maintain tidiness.'
Irene Gunter adds, 'If built-in storage isn't an option, consider a storage bench that offers space to stash shoes as well as somewhere to sit when taking them on and off. They come in various designs and sizes to fit the available space including solutions with an integrated coat rack. And wall-mounted storage is an excellent solution for those who want to save on floor space. It can be in the form of hooks, racks, or shelves.'
6. Create a mudroom in miniature
The idea of a mudroom when space is tight may not seem all that realistic. But just look how much designer Marie Flanigan has done with this small narrow entryway. With a clever built-in design, Marie created a mudroom in miniature, it's got all the aspects you would find in a full-sized mudroom just on a small scale, still with plenty of both open and closed storage and a handy storage bench.
'For this country home, we loved the idea of a quintessential mudroom. There wasn't a ton of space, so we maximized storage and function. The homeowners love to walk the grounds and needed a place to take off their boots and shoes before entering the home, so we made sure to include a small bench with drawers below,' she explains. 'Further, Texas weather is a complete anomaly, so locker-style built-in cabinetry with hooks allowed for easy access to jackets, umbrellas, and bags. The shelving at the top of the built-in gives additional storage for smaller items, keeping the mudroom feeling open and accessible. Overall, when you're working with a smaller space, think about how you want the space to function and plan the layout accordingly.'
7. Ensure everything is multifunctional
Multi-functionality is key in a small entryway. Anything you bring in needs to be working hard and if it can do more than one job, great. The bench used here is the perfect example, firstly it looks great, secondly, it provides seating for putting on/taking off shoes and thirdly, you have all that great storage space underneath. You can make any bench more multifunctional by maximizing that space underneath. Be sure to slide some baskets under there for more neat storage.
'Keeping in mind the minimum hallway width requirement of 36" (42" is preferable though), you can easily add storage to a hallway with shallow depth cabinets and benches,' suggests Samantha Struck of StruckSured Interiors. 'A bench with a dedicated cubby under it for each kiddo is a great way to dedicate space to each person while ensuring it looks tidy. Limit each person to one hook so you don't start accumulating multiple items per person. Keep furniture low to avoid it feeling looming or too heavy in the hallway.'
8. Pick a cute console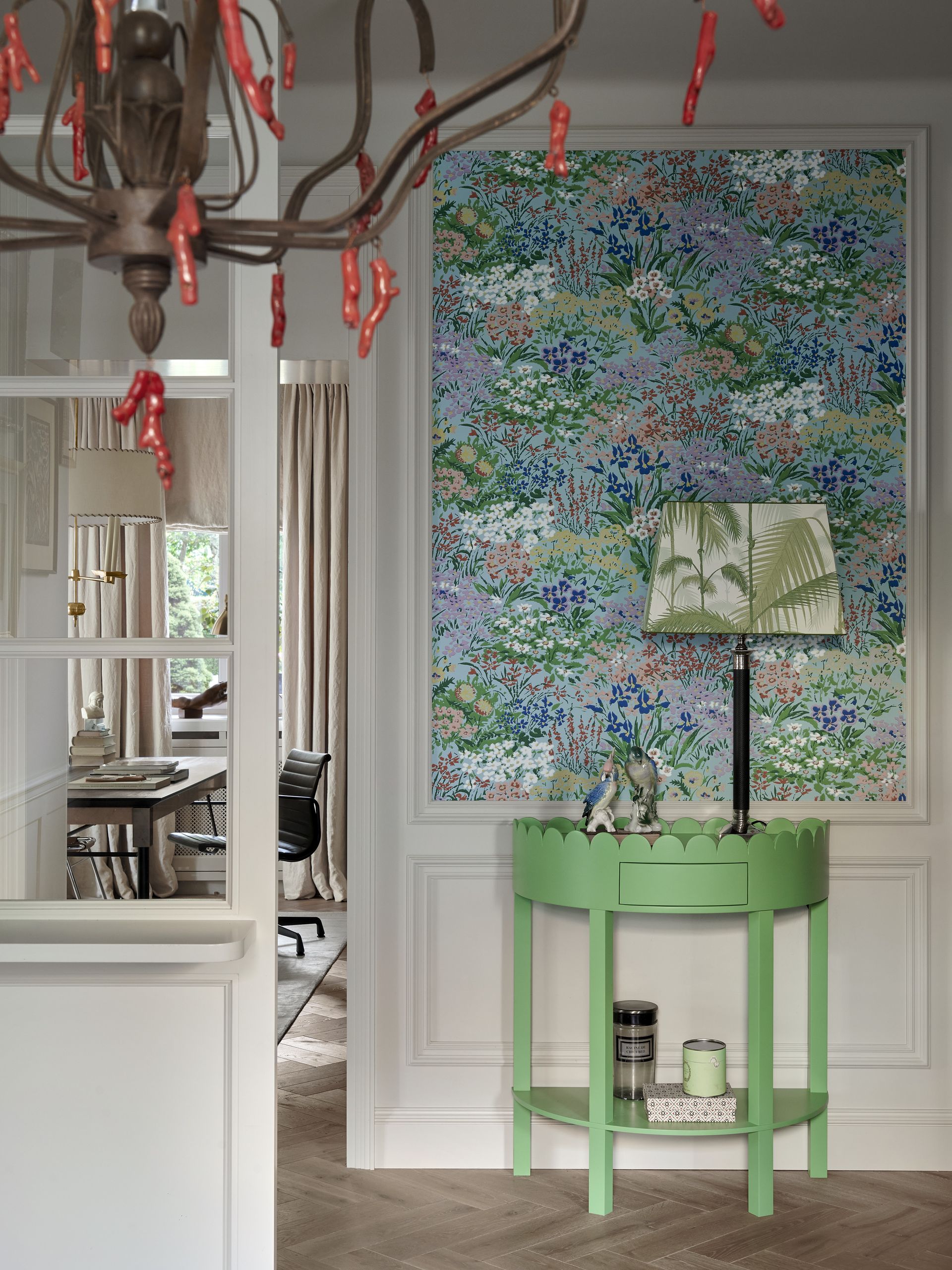 A console is a classic piece of entryway furniture, and while it might feel like too much of an aesthetic luxury when space is tight, they are often designed to be slimline and can be an ideal way to squeeze in some storage to a small hallway. In this hallway designed by Colombe the narrowness meant there wasn't much room to play with but this quirky colorful console provides a spot to throw down keys and mail as well as gives an opportunity to add some decor.
'Freestanding pieces such as a console table will not only allow you to display personal touches and prized possessions but will also be practical to drop smaller items such as keys and mail as you go in and out of the house,' suggests Emma Deterding. 'It will also give you a surface to add some decor so people coming into your home get a sense of your personal style and what to expect. Dress the console with decorative vases and objets, display your best family photos, and bring in a touch of nature with plants. A pair of matching table lamps will help create symmetry and balance and opting for lampshades and upholstery in bright colors and bold patterns will allow you to bring your personality into the space, whilst setting the mood for the rest of your home.'
9. Float your storage
This is a great tip for any small room if you want to create the allusion of more floor space. Wall mounting your storage pieces (shelving, racks, benches, etc) so they float a couple of inches from the ground frees up the floor space underneath. The eye still flows uninterrupted across the floor, creating the illusion of a larger, more open space. And when floor space is lacking, little tricks like this can make all the difference.
This small beach house entryway designed by Brad Ramsey Interiors is the perfect example of how it can work. Using a console or set of drawers in this nook would only add as much storage, but choosing a design that sits slightly off the floor adds far less visual clutter to the space. 'Most of the time, beach houses don't need a lot of storage at the entry. Just a place to offload beach bags, sandals, and sunscreen bottles. So, an open console with space around or below it usually works great! I love to use the entry to thoughtfully give a taste of the rest of the design aesthetic throughout the house. It's like a sneak peek of what's to come!' says founder Brad Ramsey.
10. Keep it traditional with a vintage style rack
We see luggage racks being used in small entryways all the time. They really are the perfect multifunctional storage piece that's perfect for a tiny space since they take up zero floor space and do far more than just wall hooks. A downside to just using wall hooks is that they offer zero closed storage, so everything is on show. However, with a rack, there's space to hang but there is also that top shelf that's really handy for storing bags, umbrellas, sports gear, etc. Make this space even more useful by adding a row of baskets to help organize the clutter and make space for smaller items.
And of course, these retro-style racks look lovely and add a vintage vibe to an entryway – getting that balance between being pretty and practical spot on. You can find plenty of affordable replicas but you'll often see them for cheaper on online marketplaces or second-hand stores if you are after the real thing. And our advice is to look for a design that has a rail and S-hooks that you can move and add to if needed.
Sign up to the Homes & Gardens newsletter
Decor Ideas. Project Inspiration. Expert Advice. Delivered to your inbox.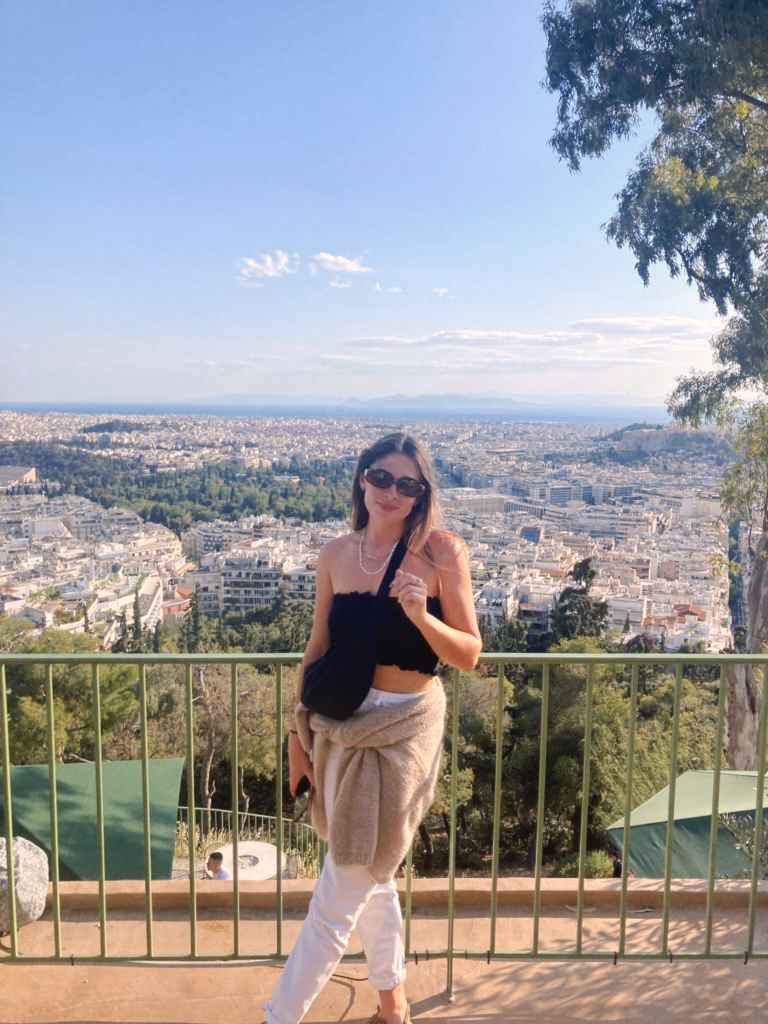 I am the Head of Interiors at Homes & Gardens. I started off in the world of journalism in fashion and luxury travel and then landed my first interiors role at Real Homes and have been in the world of interior design ever since. Prior to my role at H&G I was the digital editor at Livingetc, from which I took a sabbatical to travel in my self-converted van (not as glamorous as decorating a home, but very satisfying). A year later, and with lots of technical DIY lessons learnt I am back to writing and editing, sometimes even from the comfort of my home on wheels.