Hallway lighting ideas – 10 tips for illuminating your home's entrance
Make an entrance with hallway lighting ideas, from statement chandeliers to discreet ways to light small spaces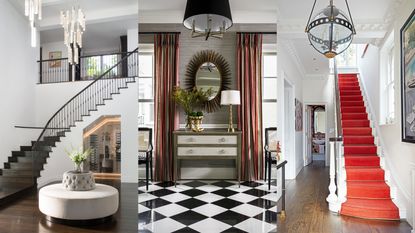 (Image credit: Claudia Afshar/Megan Bob Photography/M.Lavender Interiors/Chris Bradley Photography/Anna Stathaki/Anna Statham)
Sign up to the Homes & Gardens newsletter
Decor Ideas. Project Inspiration. Expert Advice. Delivered to your inbox.
Thank you for signing up to Homes & Gardens. You will receive a verification email shortly.
There was a problem. Please refresh the page and try again.
Hallway lighting ideas have the power to offer guests a warm welcome, dazzle them with style or turn the moment you arrive home after a long day into an even greater joy.
Thinking carefully about lighting your hallway ideas is important to making the space work – whether it's an entrance foyer or a thoroughfare elsewhere in the home, these spaces can be dark, narrow and devoid of natural light. Bringing light into them in a way that makes this potentially awkward nook look and feel its best will totally transform your scheme.
'The hallway is often overlooked when decorating, but it is crucial to get it just right as it is the first thing that your guests will see when they come into your home,' says Kerry Laird, an interior designer at Fishpools. 'Introducing the perfect lighting will not only brighten up the space but also elevates the atmosphere by creating an eye-catching and ambient mood.'
Hallway lighting ideas
From statement chandeliers that add wow-factor to tall atriums, to petite wall sconces that brighten up the smallest corridors, there is a solution for every home. We asked the experts to share their favorite hallway lighting ideas, and found some dazzling examples of where light really makes an entrance.
1. Illuminate small spaces with sconces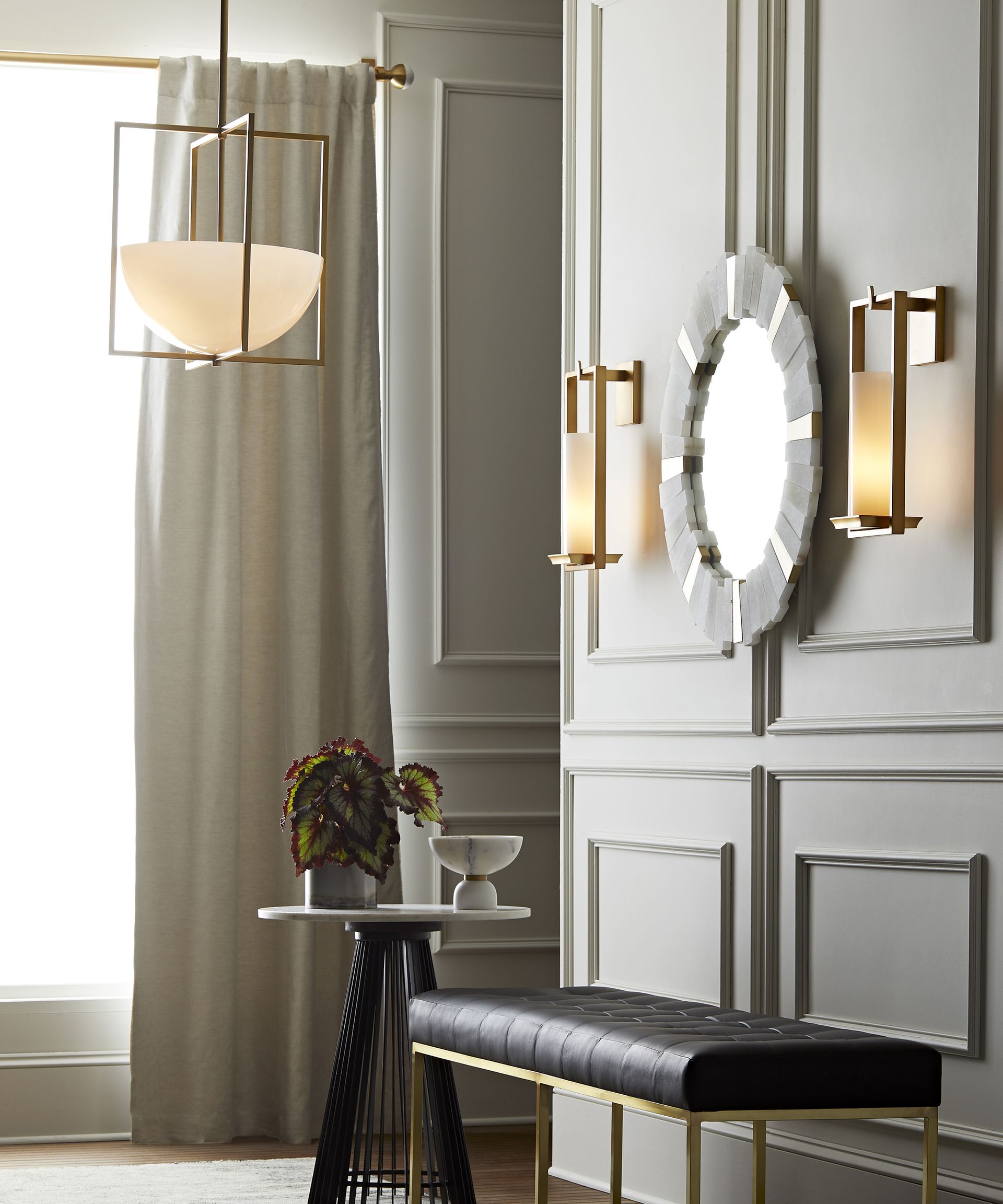 'As much as we love finding the perfect console and table-scaping with an oversized lamp and candles galore, if space is at a premium, it makes more sense to opt for sconces,' explains Lara Hadad, Design Ambassador for Arteriors. Wall mounted sconces work well among small hallway ideas, distributing light from top to bottom in the space, without limiting head height or taking up room on the floor.
'Discrete and atmospheric, wall lights take precious little space and can provide a decorative flourish. We have seen lovely examples of customers using wall lights in pairs or trios along the length of the hallway, which looks particularly stylish and creates an welcoming, warm glow.'
2. Think multi-directional for narrow hallways
Lighting a long thin room requires some lateral thinking – especially if you're looking for narrow hallway ideas that make the space feel bigger.
'Up-lighting is a tried and tested method when it comes to creating space, by illuminating the ceiling and making a narrow hallway feel larger,' says Niki Wright, Founder of Lightsandlamps.com. 'Try to use lighting that really works hard for the space. A ceiling fitting that shines light in more than one direction will work well.'
In this hallway by Yellow London, a sputnik chandelier with orbs that point in all directions across the space not only creates a focal point, but ensures the light is spread across the room.
3. Make a statement with oversized lighting
If you're lucky enough to have a big entrance hall to hand, embrace full-on grandeur with a over-sized pendant or chandelier.
'We are seeing a trend for large statement lighting in hallways,' says Hadad. 'It lends personality and makes a statement as soon as guests enter the home. Entrance halls offer a great opportunity to employ an oversized chandelier especially over a staircase.'
In this entrance hall designed by Claudia Afshar, a spectacular modern chandelier descends from the center of the room above a seating area, dripping light beams through the double height space.
4. Stay subtle with table lamps
'If statement hallway lighting seems too much, try a subtle approach, and create a more inviting ambience with a table lamp,' suggests Laird. The mid-level lighting of a table lamp will create a soothing glow – pick one that you really love, and it'll double up as a sculptural piece like the ones in this hallway.
'A muted lampshade that can be adapted to any interior vibe is a great alternative. Position on an entryway table and add some accessories such as a standing picture frame or house plants to complete the look.'
5. Put the spotlight on ornaments
If the hallway is where you've chosen to display a much-loved painting or antique, don't let it get lost in the dark. 'Highlighting a favourite picture on the wall or ornament on a side table can also enhance the space and help introduce more light into the room,' says Wright.
'Choose a slim light for smaller hallways as a sleek addition to a minimalist space or to work effectively as a spotlight style to draw attention to hanging pictures and ornaments,' says Laird. In this example, barely-there spotlights have been installed over the paintings in the hallway to ensure they are the centre of attention night and day.
As well as using spotlighting for prettier pieces, think about teaming it with your hallway storage ideas to make life a little easier. 'On a practical note, wall lighting is great for illuminating a specific area like a coat hanging space or accessory table,' Laird adds.
6. Add elegance with pendants
Along with paint colors and hallway wallpaper ideas, lighting can make a design statement too. If you want to put your lighting front and center of the scheme, consider putting it closer to your guests eyeline with pendant lamps.
'Statement pendants work well on tall ceilings,' says Natalie Mann, New Product Development Co-ordinator for Iconic Lights. 'It draws the eye up and accentuates the height. Don't be afraid to add more than one pendant, why not add three in a row for the ultimate wow-factor.'
'In long corridor hallways leading from room to room, matching pendants create harmony and an interesting design statement,' adds Hadad.
7. Bounce light with a mirror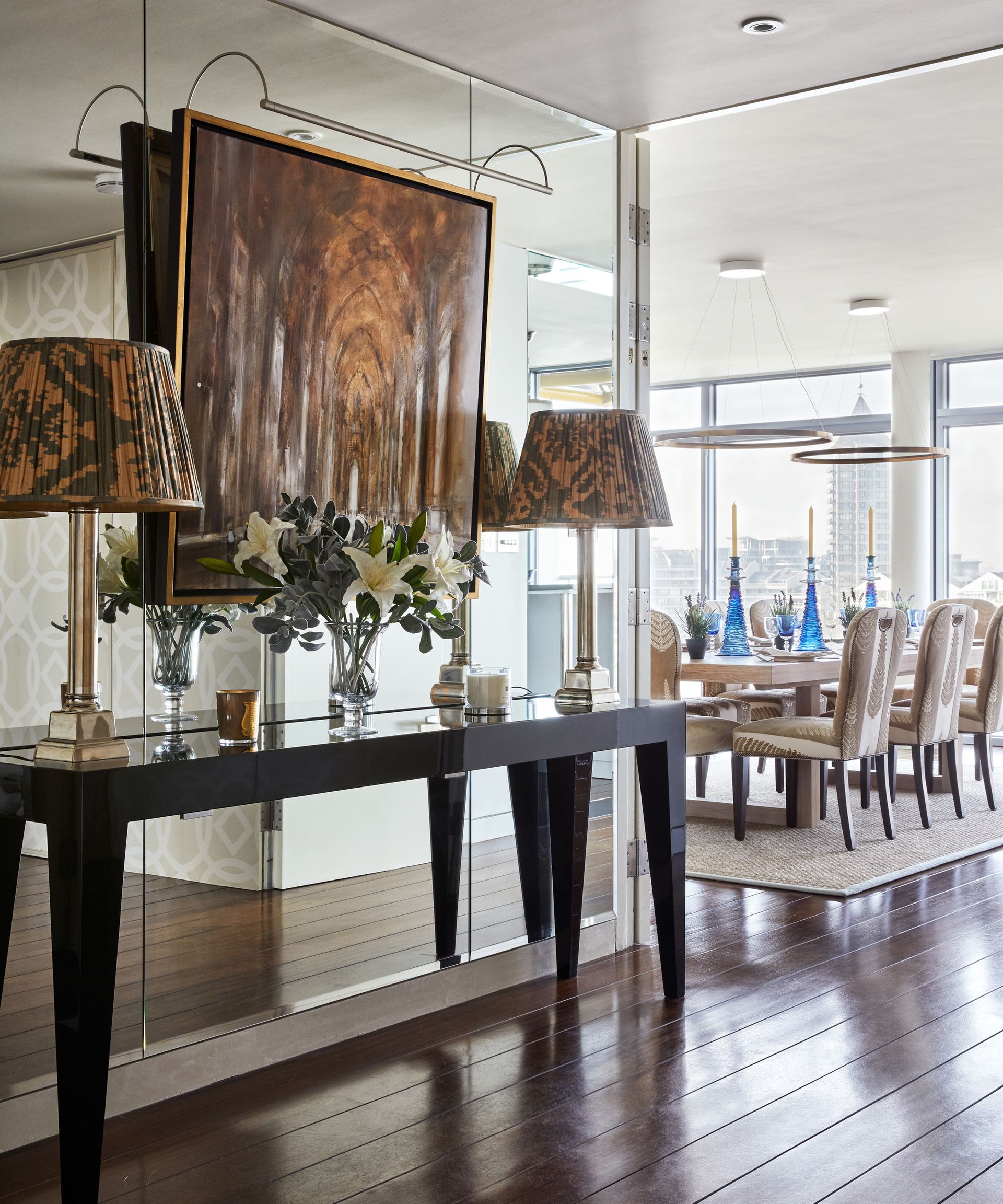 While not strictly a lighting suggestion, consider positioning your hallway mirror in such a way that maximizes the impact of your chosen light fittings. In this room, a mirrored wall has been placed behind a console table bedecked with two lamps. As well as making this darker part of the open plan layout feel bigger, the mirror will reflect the light when the lamps are turned on, doubling their impact.
8. Layer your lighting
In a space likely to be beset by dark corners and narrow widths, it's important to think about lighting from side to side, and from top to bottom, like designer Mark Lavender has done in this entrance foyer.
'Layering lighting is key in any space, but particularly in corridor hallways which typically lack natural light,' says Hadad. 'If you have plenty of both wall and floor space, incorporate a mixture of sconces, lamps and overhead fixtures – whether that be from a singular statement chandelier or multiple pendants. Combinations will offer pools of illumination throughout, rather than harsh lighting from a single, central source.'
'Boost the brightness in awkward corners and alcoves with wall lights, downlights or sconces,' adds Mann. 'Often hallways lack natural light. To counteract that, consider staggering wall lights along the wall. This will help to boost the light through dark or narrow hallways.'
9. Get in touch with period features
As your home's first impression, the hallway is a place where you should make your design intentions clear. When choosing the style of your lighting, consider the overall scheme of your home. If you're in a period home, lighting may be an opportunity to add a touch of modernity to a scheme. Consider modern interpretations of classic lighting styles, such as Victorian-style orb lanterns, like the one used in this townhouse.
10. Welcome guests with warm lighting
You don't just need to think about the design of your lighting, but the color of it too. 'Choosing the correct light bulb can make the world of difference in enhancing the light that flows through the home,' says Mann. 'A warm white bulb is best for the hallway as it creates a warm, ambient light that feels welcoming.'
What is the best lighting for a hallway?
To choose the best lighting for your hallway, you really need to think about the unique shape and size of the space. If you are lucky enough to have a large entrance hall, think about including dramatic chandeliers and hanging pendant lights. While this all sounds like great fun, lighting a big space means you will need to think about layering light sources throughout – using ceiling lighting and mid-range lighting – to avoid dark corners.
For smaller corridors, choose more discreet lighting that stays closer to the walls and the ceiling. 'To compensate for lower ceiling heights, try to avoid choosing oversized pendants or chandeliers on long chains,' says Hadad. 'If you do decide to include overhead lighting, flushmounts are a great choice, they can still offer a decorative element if you choose wisely.'
If you do want to hang lighting, keep it small scale. 'Exposed bulbs are a great way to avoid overcrowding in a narrow hallway,' suggests Laird. 'Not only do bare bulbs exude character, but they also add vintage charm. Additionally, exposed bulbs are extremely versatile and will suit most colour schemes.'
How do you illuminate a hallway?
While a hallway should feel welcoming and stylish, it also needs to be a place where you can easily get ready to leave the house. Therefore, you need to make sure your lighting scheme works for all eventualities.
'As hallways are often function over form, effective task lighting is crucial,' says Wright. 'Using a ceiling light is always practical, but you also need different levels of light – for example, the use of table lamps will add ambience. To maximize the light in a dark hallway, try using a row of ceiling lights to open the space.'
Sign up to the Homes & Gardens newsletter
Decor Ideas. Project Inspiration. Expert Advice. Delivered to your inbox.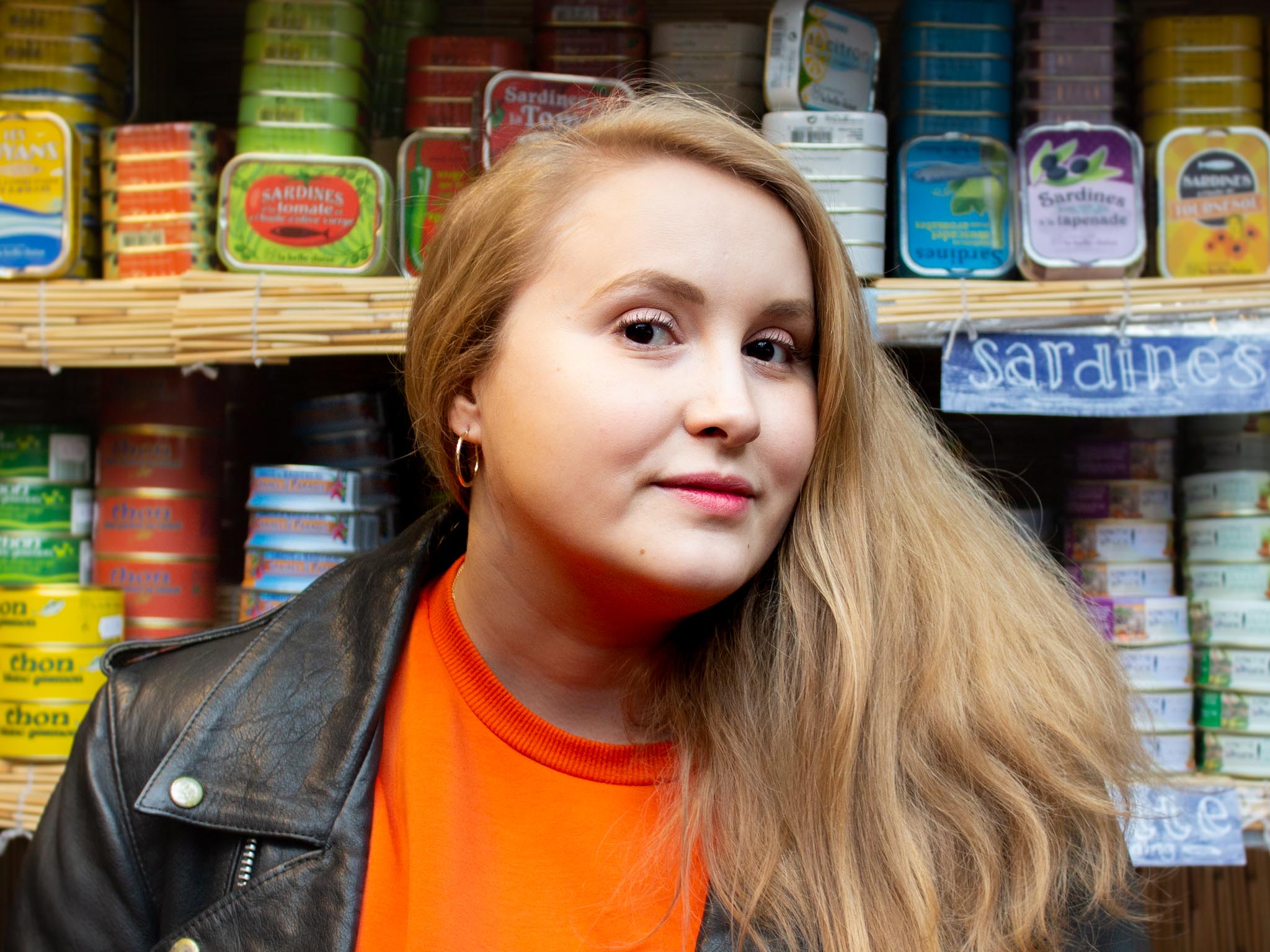 Ailis started out at British GQ, where a month of work experience turned into 18 months of working on all sorts of projects, writing about everything from motorsport to interiors, and helping to put together the GQ Food & Drink Awards. She then spent three years at the London Evening Standard, covering restaurants and bars. After a period of freelancing, writing about food, drink and homes for publications including Conde Nast Traveller, Luxury London and Departures, she started at Homes & Gardens as a Digital Writer, allowing her to fully indulge her love of good interior design. She is now a fully fledged food PR but still writes for Homes & Gardens as a contributing editor.