Sustainable bathroom ideas – 10 ways to an eco-friendly wash space
Looking for sustainable bathroom design inspiration? Each one of these stunning spaces has utilized methods that are kind to the environment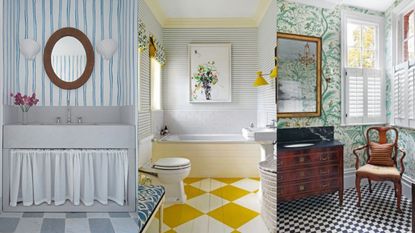 (Image credit: Tamsin Johnson Interiors / Salvesen Graham/Aurelia Skincare / HÁM interiors/Alexander James)
If you search for 'sustainable bathroom ideas' or 'eco-friendly bathroom ideas' on the web, you won't get nearly as much inspiration or help as you would if you were, say, shopping for eco-responsible furniture.
Which means you need to be creative when looking for bathroom ideas that match up to the rest of your eco home improvements. Much of what you can do, other than shopping for new elements responsibly, is to think where there might be opportunities to upcycle or reuse everything from sanitaryware to flooring.
Below, we offer inspiration and advice on how to conjure up your own sustainable bathroom ideas that aren't just earth-friendly but beautiful, too.
Sustainable bathroom ideas
What are sustainable bathroom ideas? Think everything from repurposed storage furniture, reconditioned sanitaryware, eco paints and shopping sustainably for responsibly sourced tile materials right through to energy-efficient appliances, such as boilers and eco heating.
1. Repurpose and reuse
Designing a bathroom with longevity in mind is crucial for a more sustainable future. In this bathroom design for C.P. Hart, interior designer Peter Mikic's main objective was to choose products that would stand the test of time.
The project favors recycled materials, including bathroom flooring ideas made from recycled shipping pallets and terrazzo bathroom tiles from stone offcuts, but, Peter believes, it is shopping for solidity and endurance that will keep bathroom fittings out of landfill for years to come.
2. Restore order with a resurfaced bath
Looking for bath ideas that don't cost the earth? A statement bath can swallow excessive budget, not to mention excessive landfill space. If you love the shape and style of an existing bath but it's no longer sanitary, consider having it professionally restored.
Here, the property's original bath was stunning, just sadly not up to modern hygiene standards. 'It was re-polished and resurfaced, giving it a new lease of life and providing a real focal point as you enter the room,' says Ripples' designer Alfie Guard.
3. Salvage sanitaryware
'Everything apart from the wallpaper in this space is antique. We kept the original butler sink and zinc backsplash and added an incredible antique WC from The Water Monopoly,' says interior designer Henriette von Stockhausen, director, VSP Interiors.
'For similar items, I would suggest scouring reclamation and salvage yards. Always check the compatibility of salvaged fittings with your builder and plumber as water pressure and pipe dimensions can be an issue.'
4. Furnish with vintage pieces
Decorating with mirrors will make a small bathroom look bigger, but a shapely vintage mirror, as in this project by Tamsin Johnson Interiors, will add welcome texture to the bathroom's hard surfaces, too.
Good ventilation is vital if you are thinking vintage bathroom ideas, particularly mirrors. If the room fills with moisture that is left to linger, the mirror's backing may break down or corrode. Vintage mirrors with frames made from moisture and mould resistant materials will naturally last longer, but decent mechanical extraction is the best way to protect your purchase.
5. Work the walls with wood
Naturally aged and distressed, reclaimed floorboards bring rustic charm to bathroom paneling ideas and can prove surprisingly resilient.
The floorboards used here came from a local salvage yard. 'They have just been cleaned up and given a clear wax finish to protect from moisture,' explains Emily Girling, project manager, Mark Lewis Interior Design.
Leaving the old saw blade marks and nail holes intact retains a reassuring sense of history.
6. Refresh floors with paint
If your bathroom flooring is structurally sound and undamaged, a fresh coat of paint can be incredibly effective, as Salvesen Graham proves in this bathroom in the home of Aurelia Skincare founder Claire Vero.
'Painting the floors, particularly in pattern, is an excellent way to make a big impact without requiring a huge budget. And you're not buying new or adding to landfill, so it's sustainable too,' says Mary Graham, co-founder of Salvesen Graham.
7. Upcycle, stylishly
Transforming vintage furniture into a vanity unit holds obvious design and eco appeal. Source furniture that is solidly built, capable of carrying the weight of basin and countertop without buckling.
Also think about height; for comfort, around 35-37in is ideal. Some storage may be lost to plumbing but upgrading old hinges and runners will provide smoother access to space inside.
'We love how the history and timeless beauty of antiques helps offset the starkness of bathroom sanitaryware,' enthuses interior designer Kate Cox, HÁM interiors.
8. Find a new purpose for natural materials
Maria and Paul Le Mesurier, founders of WoodEdit furnituremakers, are skilled at repurposing. The curtain pole in their bathroom is a huge fallen branch, brought in from nearby woodlands and attached with two brackets.
'It adds texture and warmth to the bathroom in a sustainable way,' says Maria. 'The linen shower curtains were previously bed sheets. We try to avoid waste whenever we can but without compromising on style.'
9. Reinvent sanitaryware
With a little thought and creativity, an old cast iron bathtub can be treated to a fresh new look.
'This bath is actually freestanding; an old roll-top my client sourced in pristine condition. We boxed it in with reclaimed teak to make it more practical in its new use in a family bathroom,' recalls interior architect Anthi Grapsa.
Undamaged enamel is key when reusing cast iron baths – avoid rust marks or blistering inside unless you are planning professional restoration.
10. Shop for vintage lighting
Bathroom lighting ideas can be sustainably sourced, but when buying vintage light fittings for the bathroom – like these exquisite antique wall lights from 1st Dibs in this project by Charlotte Lucas Interior Design – it is essential they are rewired to meet modern standards.
Depending on the proximity to a water source, like the shower, bath or basin, you may also need to consider safety ratings, which essentially means they will be safe installed near to water.
How do you make an eco-friendly bathroom?
To make an eco-friendly bathroom, look at which elements you have already that can either be reused or repurposed and next shop in salvage yards for those that can't. Failing that, shop carefully for new pieces made out of either recycled materials or materials that can be recycled in future, which means avoiding all forms of plastic. Paint finishes for bathrooms tend to be designed to withstand moisture but do look for those with low VOCs or use low VOC paint in areas of the room that won't be splashed regularly. Rethink heating, too: underfloor heating is generally more efficient than radiator heating, so not only will it be more comfortable but it should help you cut energy bills, too.
How wasteful is taking a bath?
Taking a bath is wasteful compared to taking a shower if you fill it to the top, according to the US Environmental Protection Agency (EPA), which says a full bath takes 70 gallons of water compared to a shower which takes up to 25 gallons. However, if you don't fill the bath to the top and share the water (perhaps using it after your children have bathed), it can come out around the same.
Sign up to the Homes & Gardens newsletter
Decor Ideas. Project Inspiration. Expert Advice. Delivered to your inbox.
Linda graduated from university with a First in Journalism, Film and Broadcasting. Her career began on a trade title for the kitchen and bathroom industry, and she has worked for Homes & Gardens, and sister-brands Livingetc, Country Homes & Interiors and Ideal Home, since 2006, covering interiors topics, though kitchens and bathrooms are her specialism.