Terrazzo bathrooms – 12 ideas and design advice
Enduringly popular in Europe, terrazzo bathrooms are having a moment worldwide – and no wonder. These are our favorite designs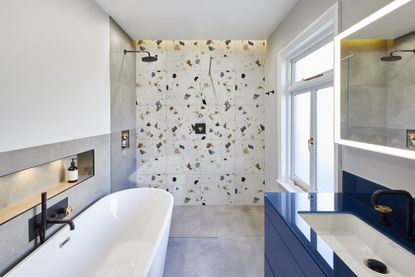 (Image credit: Ca Pietra)
Sign up to the Homes & Gardens newsletter
Decor Ideas. Project Inspiration. Expert Advice. Delivered to your inbox.
Thank you for signing up to Homes & Gardens. You will receive a verification email shortly.
There was a problem. Please refresh the page and try again.
If you are looking for ideas for terrazzo bathrooms, this is the place to be. This fascinating material brings texture, color and individuality to a bathroom – while being incredibly practical and hardwearing, too.
The texture of flecked terrazzo tiles in a bathroom – or indeed elsewhere – can conjure sun-baked escapes to the Italian countryside. Our thoughts? Terrazzo is set to remain one of the most popular bathroom ideas, as we work to make our homes luxurious and relaxing sanctuaries.
Terrazzo bathrooms – ideas, tips and design advice
If you're browsing bathroom wall ideas for something a little different, terrazzo might well be the perfect find. Fascinating, on trend, colorful, textural... it's practical, too.
Getting terrazzo in bathrooms right is something of an art – here we take you through the steps to take to pick everything from the right color scheme to the right material, with a little help from the experts.
1. Combine different styles of terrazzo
Terrazzo bathrooms can be subtle decorated – and in doing so, you can combine different types or looks of this richly-textured material. That means bathroom floor tile ideas can be combined with contrasting terrazzo on other surfaces.
Terrazzo comes in many forms, but the main types of authentic terrazzo are cement- or resin-based. For this bathroom in The Siren Hotel, design development firm ASH NYC cleverly combined both types of terrazzo according to use.
The flooring is a cementitious terrazzo, which feels soft underfoot and is extremely durable but requires annual resealing. The chequerboard installation is a smart visual technique for diluting terrazzo's bold impact.
The eye-catching basin is resin-based terrazzo, which comes in bright colors and has a smoother, hygienic finish that's easy to clean and less prone to cracks than cement-based terrazzo, no sealing required.
2. Match the wall and floor to double the impact
In this bathroom, Studio Ogee takes the terrazzo down the wall and across the floor, making it a striking focal point – an ideal look if you are researching modern bathroom ideas.
'We love working with terrazzo and one of its main benefits is just how flexible it can be,' enthuses Nicoline Sandwith, director, Studio Ogee. 'It works on so many levels in terms of providing pattern, color and a sense of dynamism and movement.
'From a distance, the speckles almost blur to give a surprisingly crisp and seamless look that's perfect for a modern bathroom.'
The designer has also taken terrazzo in a more feminine direction by picking up the subtle powder pink aggregates in the tile and matching to the paint color on the door – Temple by Paint & Paper Library. Warm gold brassware further dilutes terrazzo's industrial heritage.
3. Use terrazzo to enliven small bathrooms
Allow terrazzo tiles to do the talking by choosing simple monochrome fittings and furniture, as Simply Bathrooms Ltd has in this small but bold bathroom.
'We never shy away from color in a compact bathroom as it brings wonderful depth into a small space,' says director Neil Harrold. 'The terrazzo's natural patterning adds interest and color without the need for an overly complicated design, involving multiple tile styles.
'A practical benefit of terrazzo tiles is the pattern goes all the way through, so cut edges look just as beautiful as the face of the tile, perfect for smart storage niches in the shower.'
4. Choose large-scale terrazzo to make a statement
Looking at terrazzo bathrooms with a contemporary feel? The size of the flecks are key. When developing Marmoreal for Dzek, designer Max Lamb sought to 'celebrate the stoniness of stone' by using the largest possible aggregates as the primary marbles.
'This generous scale reveals more of each stone's textural and color subtleties than traditional terrazzo,' explains Brent Dzekciorius, founder, Dzek. 'It's a balance between the natural and manmade worlds. Marmoreal's random patterning creates a warm natural energy and can do the heavy lifting as a feature surface on floors and walls, as shown in this Berlin shower room by David Kohn Architects, or it can be used in complementary pieces like fireplace hearths to complete more subdued interiors.'
5. Use terrazzo as a small and single focal point
Smitten by terrazzo bathrooms but concerned yours might look too chaotic? Keep it contained by investing in one focal point, like this funky freestanding unit by designer Italian brand Globo Ceramica. This is a wonderful addition to your list of master bathroom ideas, since it will create a focal point, without making the room feel busy.
'Flecked with multiple colors, a terrazzo basin is a fun way to tie paint colors and brassware finishes together,' adds Kirsten Wain, designer, West One Bathrooms. Here, darker flecks on the basin complement the black brassware, but brushed brass would work equally well for a softer look.
If a basin still feels like too much commitment, seek out terrazzo accessories such as toothbrush holders, soap pumps and trays.
6. Use practical terrazzo lookalike porcelain tiles
If you're looking for a new take on bathroom tile ideas, get your terrazzo bathroom hit for less with lookalike porcelain tiles, which are around half the price of traditional terrazzo per square meter and low key on the maintenance front, too.
'Traditional terrazzo often has limitations associated with cost and also the thickness of the tiles which can affect their usage,' explains Louisa Morgan of Mandarin Stone. 'Terrazzo inspired porcelain tiles are the perfect way to enjoy the visual impact of traditional terrazzo but with all the practicalities of a porcelain tile. Cleverly printed graphics on porcelain creates a very durable material, available in minimal thicknesses and with no maintenance.'
7. Go dark for a sophisticated twist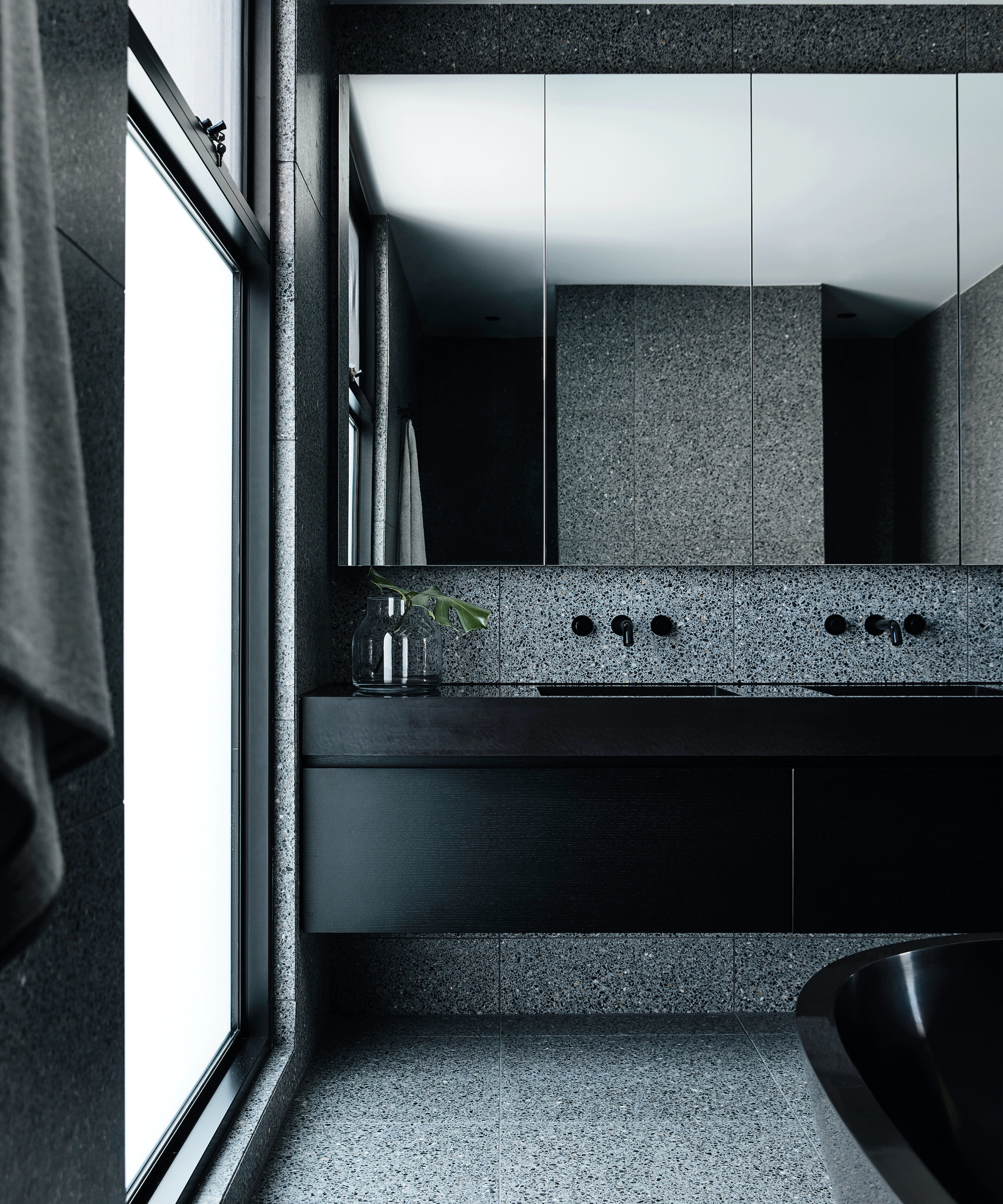 We're all familiar with terrazzo's playful side – hello, retro fun in ice-cream hues – but dial it dark and terrazzo bathrooms suddenly become far more grown-up and sophisticated – perfect for spa bathroom ideas.
Melbourne-based studio Biasol designed this ensuite as a deeply immersive space, using rich black Eventide terrazzo by local firm Fibonacci Stone on floors and walls. The result is dramatic yet cocooning.
'Chiaroscuro, translating to "light-dark" in Italian, inspired and guided the design language as we balanced natural light and dark surfaces to create both voluminous and intimate spaces that have a calming effect,' explains Jean-Pierre Biasol, founder of Biasol.
8. Use terrazzo as a half-wall with tiles
Venturing on the safe side, a half-wall will concentrate terrazzo's speckly busyness below eye-level, allowing you to bathe in calmer surroundings. Here, soothing green subway tiles above the terrazzo offer a fail-safe way to foster a relaxed environment.
Meanwhile, a roll-top bath, which leaves more flooring visible, makes the most of terrazzo's eye-catching pattern underfoot. It's worth noting that both porcelain and cement-based terrazzo is good at conducting heat so works well with underfloor heating, which will help take the chill off and keep flooring puddle free.
9. Mix terrazzo with natural materials for a muted look
We've all got the memo that neutrals are big news this year, but how can a material as characterful as terrazzo be made to conform? US-based interior design firm Hive LA Home recommends keeping terrazzo bathrooms grounded by combining with natural materials, like this wall-hung oak vanity topped with natural marble countertops.
The use of concrete basins and cement-based terrazzo, both in muted tones, enhances the sense of harmony for a look that's relaxed, simple and fluid. Add white walls and muted backsplash tiles for a look that champions calmness and celebrates the laidback appeal of the neutral trend.
10. Play with different scales of the same pattern
Experimenting with different scales of the same pattern is a popular way to add interest and dynamism when decorating with wallpaper and fabrics. It also allows you to use the same colorway from floor-to-ceiling, while retaining clear definition between horizontal and vertical surfaces.
Available in three patterns, from small-scale Minimal Pink to outsized Rock Pink, Reed Harris' Medley terrazzo-inspired tiles enable you to harness the same technique in the bathroom.
Use the largest scale pattern more sparingly for maximum effect without overpowering and go smaller scale across large areas to give eyes a chance to rest.
11. Go floor to ceiling in terrazzo bathrooms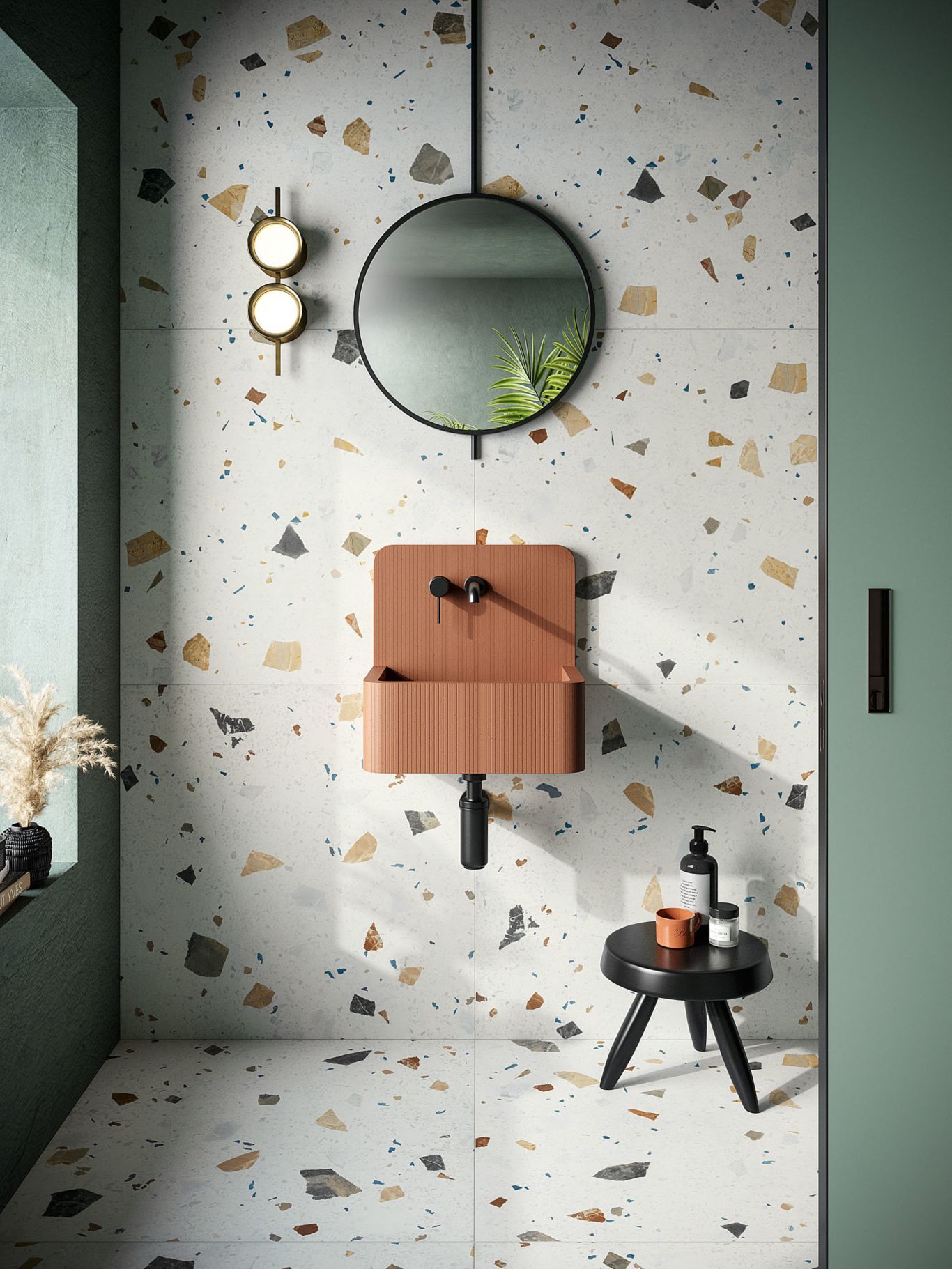 If you love terrazzo bathrooms that go for a matched look, with the material on both the floor and wall, the best option is to choose larger, well-spaced flecks rather than an intensely busy terrazzo. Doing so will ensure a more restful feel – but it still pays to be restrained, limiting the terrazzo on the walls to a panel or backsplash, rather than covering every available inch with it. The bathroom pictures above are all great examples of terrazzo used with perfect restraint.
12. Create a focal point with a terrazzo wall
If you are looking for shower room ideas that are interesting without being overpowering, terrazzo is a great choice. Here, in a long, narrow bathroom that packs in a shower, bath, vanity and more, it creates a focal point that draws the eye the length of the room, while its light colors and subtle pattern enhance the space.
Is terrazzo suitable for bathrooms?
Yes, terrazzo is more than suitable for bathrooms.
'Terrazzo tiles are not just for floors anymore and look stylish used on countertops, as backsplashes, and on walls too. Whether you're creating an industrial look, or an open plan living space, terrazzo can complement pretty much any style, including outdoor spaces,' say the experts at Ca' Pietra.
'When it comes to real terrazzo, expect a vintage, handmade charm, often blended with a marble content that makes them very durable and perfect for busy homes. Over time, real terrazzo tiles will create a beautiful lived-in look.
'Terrazzo tiles come in all shapes and sizes, and in different materials too, including porcelain that mimics the original perfectly. By using porcelain, it makes the tile low-maintenance and lighter in weight which makes them perfect for cladding walls.
'If you want to use them in a bathroom, make sure you find out the slip-rating.'
Can terrazzo be used in a shower?
Yes, terrazzo can be used in a shower. Bear in mind that terrazzo-look porcelain tiles are lighter so may be more practical for use on partition walls, for example, but overall, terrazzo is a practical, durable surface that can take the wear, tear and wet conditions of a shower room. Ensure the terrazzo on the floor of a shower is slip-proof.
What is terrazzo made of?
'Dating back to the 15th century and initially created in Venice, terrazzo is a unique and attractive material, originally formed by mixing a range of natural stone and glass,' say the experts at Ca' Pietra.
'The traditional way of creating terrazzo tiles is to mix recycled glass and natural stone, such as marble, granite and quartz. It is then polished, honed or sandblasted depending on the desired finish.'
Why is terrazzo so expensive?
The process of making terrazzo is an extremely involved and expensive process, and ultimately creates a costly end product, say Ca' Pietra's experts.
'Terrazzo-effect tiles offer a more cost effective, yet just as hardwearing, product. When it comes to terrazzo-effect tiles, porcelain is the perfect material to turn to. Porcelain tiles are incredibly durable, making it a fantastic alternative to natural stone, without compromising on style.
'They are also much easier to install, thanks to the many different sizes available.'
Sign up to the Homes & Gardens newsletter
Decor Ideas. Project Inspiration. Expert Advice. Delivered to your inbox.
Linda graduated from university with a First in Journalism, Film and Broadcasting. Her career began on a trade title for the kitchen and bathroom industry, and she has worked for Homes & Gardens, and sister-brands Livingetc, Country Homes & Interiors and Ideal Home, since 2006, covering interiors topics, though kitchens and bathrooms are her specialism.