Shower room ideas – looks and layouts for a bathroom focused on the shower
These beautiful shower room ideas will provide plenty of inspiration to help you design the best space for your bathroom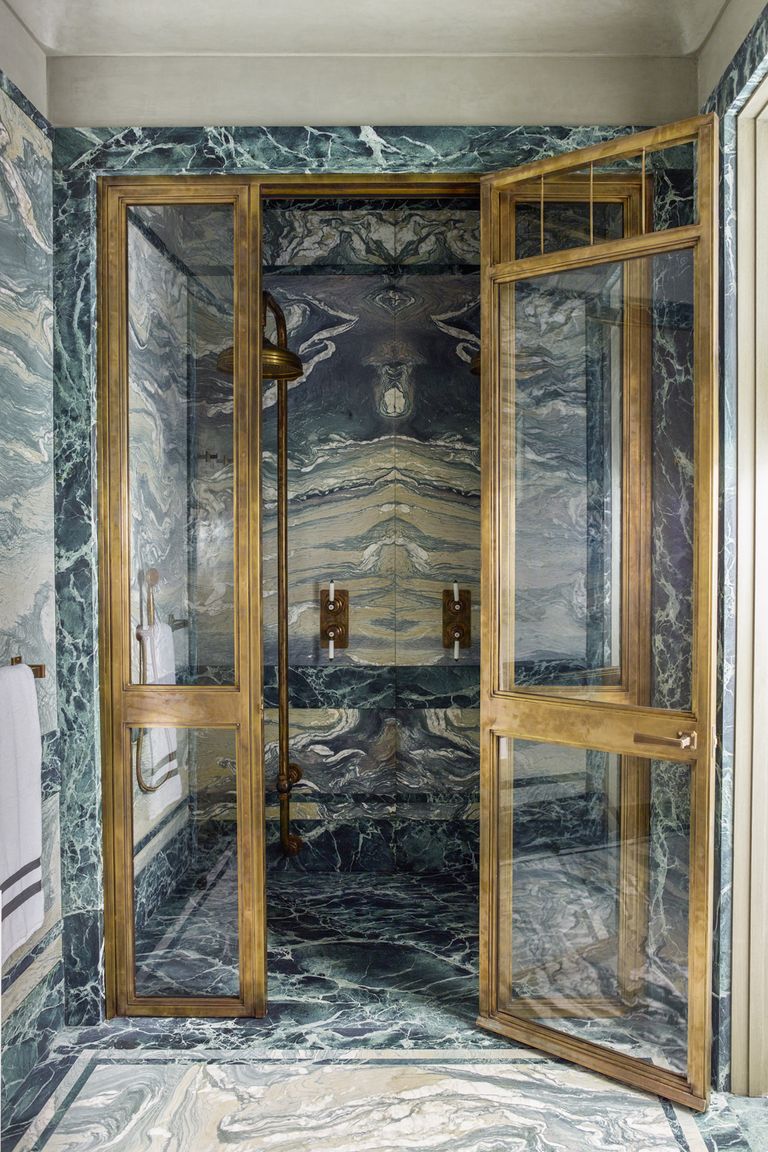 (Image credit: Photography/Drummonds)
These shower room ideas will work in most spaces, as having a shower in your bathroom is usually a high priority whether you have the room for a separate bath or not.
A shower room with an enclosed area is usually the most straightforward solution to install. 
However, walk-in shower ideas and wet room ideas may also be worth considering for optimising space and accessibility in your bathroom.
SHOWER ROOM IDEAS
These days, with frameless glass panelling, low-level shower trays, bold brassware and a wide variety of tiling options available, it is easier than ever to create a shower room design that suits both your style and needs.
1. Sleek sophistication
Gone are the days of stark white spaces with chrome fittings being the only bathroom ideas on offer. 
High-end bathroom designs now feature matt-black, nickel and brushed brass fixtures and fittings, which look even more luxurious when paired with dark finishes. 
We've also seen terrazzo re-emerging as a popular bathroom tile idea.
2. FIT RIGHT IN
If you are installing a shower enclosure into an alcove of your bathroom, think about how you could maximise the rest of the space.
Here, rather than fit the enclosure across the full width of the narrow room, consideration has been given to bathroom storage. Bespoke floor-to-ceiling shelving can house toiletries, towels and any decorative pieces where standard-size storage may not fit.
3. INDUSTRIAL CHIC
Exposed pipework on a shower is a traditional look that can be given a modern update with an on-trend matt-black finish.
Make sure to look out for designs with thermostatic valves, which maintain a safe and constant temperature and have a shut-off safety function to prevent nasty scalding.
Having both an overhead and a handheld shower is useful, too.
4. SPA-LIKE STYLE
Marble is often found in five-star hotels and spas as it provides a sophisticated look and comes in large formats. If you are specifying marble in your shower, make sure you add an anti-slip coating to the floor.
5. TWICE AS NICE
Where space allows, side-by-side or face-to-face overhead showers add a sense of luxury – whether you want to share or simply have more room to move is up to you. An enclosure with a central opening minimises the risk of water escaping.
6. PLAN TO PERFECTION
When you are planning shower room ideas for your bathroom, make sure you consider the plumbing requirements of your design. 
'If you are remodelling your bathroom, remember that the existing hot and cold water supplies may need extending,' advises Martin Carroll, managing director of Duravit UK.
'The waste pipes will also need to be carefully planned so they connect into the existing system, and you may need new central heating pipework for any additional radiators or towel rails. Don't forget to allow for the boxing-in of surface-run pipework so that it's neatly concealed,' he adds.
7. SPLASH OUT
When considering how to choose a shower that will be right for your space, there are a few options to weigh up. 
'There are three main categories; a pivot door type with conventional hinges, sliding doors, and a simple walk-in set-up without doors at all,' says Phil Etherden, managing director of The Albion Bath Co.
'Additionally, and perhaps more importantly, always look to choose a shower head that matches your water system,' he adds. 'As a simple rule-of-thumb, lower pressure requires a smaller head.' 
8. ZONE WITH TILES
Define your shower room by tiling the wet zone in a different format to the rest of the space. If you are designing a new shower room, consider boxing in new pipework for a sleek finish.
By building out from the original wall, you can also create recessed shelving to house shampoo bottles within the showering space.
9. GO NATURAL
Wood can evoke a calming connection to nature, but isn't the most practical option in a bathroom. Instead, look out for wood-effect porcelain and ceramic tiles – many modern designs now have a textured feel for a more authentic finish.
10. SHINE A LIGHT
Bathroom lighting ideas are an important part of any scheme, and lighting must have the right degree of water protection within a shower room.
'The suitability of any light for bathroom use – wall light or pendant – depends on its IP rating,' explains Charlie Bowles, director of Original BTC. 'If the light will be within 60cm of a basin, bath or shower enclosure (zone 2), choose a light rated IP44 or above to guard against spray and condensation.
'If the light is further than 60cm from a bath or shower enclosure (un-zoned), you won't need higher than IP20,' he adds. 'But if the lights are to be located over or in the shower (zone 1), they'll need to be at least IP55.'
HOW DO YOU PLAN A SHOWER ROOM?
How you plan a shower room will depend on the size on your space. You should firstly consider whether you want a complete shower enclosure, or would prefer a walk-in or wet room design.
'Once you've decided on one of these options, take a look at the range of shower trays, shower floors, shower screens and enclosures available, the different sizes to suit your situation, and whether you have the space for additional areas such as a sink and or vanity area,' says Nicholas Cunild, managing director of Matki.
After you have established what can fit in the space, you can then pick out finishes and colors of brassware and tiles that will suit your style.
CAN YOU HAVE A WALK-IN SHOWER IN A SMALL BATHROOM?
Yes, you can create a walk-in shower design for a small bathroom - with careful planning. There are many reduced-depth shower trays available that can be installed at a low level for a step-free design. 
Alternatively you could consider creating a wet room – this requires tanking (waterproofing) which can be a larger investment and upheaval.
Opting for a frameless shower panel is a useful idea for a small bathroom that can enhance the illusion of space. It provides a seamless look while still protecting other areas of the bathroom from getting wet.
WHAT TILES ARE BEST FOR A WALK-IN SHOWER ?
Non-slip tiles are best for a walk-in shower - in fact, they are a pretty essential requirement for all shower room ideas.
Check the level of slip resistance of your tiles before purchasing. If you do not wish to tile the whole space, wall panelling can be a practical alternative to traditional tiles.
'Wall panelling can help you achieve a high design look,' explains Steph Harris, product manager for Showerwall. It allows you to reflect the latest bathroom trends such as terrazzo, maximalist prints and large veined luxury marble. And at the same time it offers all of the convenience of a smooth, grout free, high performance surface that's hygienic and easy to clean and maintain.
'Even the popular metro tile finish can even be achieved through bathroom wall panelling, thanks to the broad scope of designs now available. Large format panelling is easier to keep clean, plus it's faster and more straightforward to install than small format tiles,' she says.
Yvette's first steps into interior journalism came several years ago when she joined the team at specialist consumer magazine Kitchens Bedrooms & Bathrooms, which is where her love for home design (and obsession for decorating) began to truly flourish. She worked on the title in a variety of positions, before being appointed as Features Editor on Essential Kitchen Bathroom Bedroom magazine, further cementing her voice as an expert in the three core rooms of our homes. 
During her years working in London, it became a running joke that Yvette wanted a fully stocked cocktail trolley in her apartment but would need to leave the city if she wanted to afford – and comfortably fit – one in her own home. Funnily enough, in 2019 she did exactly that, and can now be found sitting happily in her spacious Bristol adobe, cosmopolitan in hand. 
With a keen eye for new trends and innovations, Yvette continues to write about homes and interiors as a freelance journalist, sharing tried and tested advice for renovation projects and top tips for transforming your home into something beautiful.