Paint finishes for bathrooms explained
Here, we explain paint finishes for bathrooms so that you can create a blissful space with paint perfectly designed for the purpose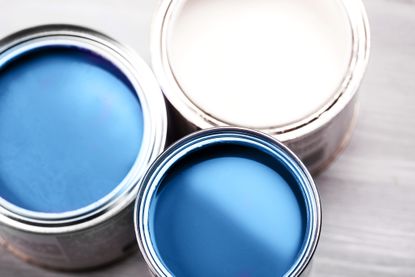 (Image credit: Getty Images)
Bathroom paint finishes need a little more consideration than those chosen for living spaces and bedrooms. As a general rule, a modern formulated paint such as acrylic eggshell or satin should suffice, though you can purchase paint finishes that are specially made to resist mold and mildew.
'Bathrooms and areas that are exposed to more moisture require a moisture- and mildew-resistant, easy to clean finish,' says Helen Shaw, director at Benjamin Moore. 'Most manufacturers have specialist products which can cope with these conditions.'
Below, we explain the best bathroom paint finishes so that you can apply your chosen bathroom paint ideas safe in the knowledge that they will be durable as well as good looking.
Which paint finishes are best for bathrooms?
The best paint finishes for bathrooms are those designed for use in steamy rooms; eggshell; satin; and semi- or high-gloss. Each will be suitable for different surfaces in bathrooms, and each will provide different paint sheen levels.
'Paint for the bathroom should be designed for damp, steamy environments and be resistant to mold,' says Marianne Shillingford, creative director at Dulux.
James Greenwood, paint and wallpaper expert at Graham & Brown suggests 'ultra-durable, scrub resistant and moisture repellent' paint which 'can take the dirt and moisture build-up in bathrooms.'
Mildew-resistant paints: with many manufacturers now producing mildew-resistant paints perfect for bathrooms (and kitchens), this is a great place to start and there are so many colors to suit every scheme.
Eggshell: with its subtle sheen, eggshell paint is more washable and you can use acrylic eggshell in bathrooms and kitchens. Intelligent Eggshell is also ideal for walls and woodwork, as it's durable and tough as well as formulated to resist moisture.
Satin: Satin paint is a little glossier and is fine to use in bathrooms with low moisture levels; it can be used on walls but is better limited to woodwork and trims. Weighing up satin vs eggshell? Think about your preferred sheen level as either will perform well.
Semi- or high-gloss: ideal for bathrooms, gloss paint resists moisture. We wouldn't suggest using it for walls; instead, stick to woodwork and trims. 'A glossy finish protects walls from water damage, but is also easy to clean, making gloss and satin a great choice of finish for the bathroom,' says Dominic Myland, CEO of Mylands.
You can also choose from a variety of other finishes, especially useful if you want to use the same paint in other rooms. The main thing to keep in mind is that you should really avoid using flat or matte paint, as it's the least durable finish and absorbs moisture more than other paints. Unless you go for an Intelligent Matte, which is a washable finish making it suitable for walls and as a paint finish for ceilings in well-ventilated bathrooms.
Satin vs semi-gloss: which is best for bathrooms?
If you are considering satin vs semi-gloss paint for a bathroom, these are the differences: satin has a subtler sheen than semi-gloss, while semi-gloss is marginally tougher than satin. Both can be used on walls, with satin more suited to this application; however, both are much more suited to woodwork and as paint finishes for trim in a bathroom, with bathroom-specific paints or eggshell a better choice for walls overall.
Why choosing the right paint finish for bathrooms matters
It's really important to choose the right paint finish for bathrooms if it is to resist moisture, mold and to last.
Though opening a window when running a bath or shower, installing an extractor fan, ceiling heater, watertight shower screen and backsplashes or tiled surrounds behind the bath and shower will stop condensation forming on or damaging painted walls, any bathroom paint finishes not up to the job will quickly deteriorate if not designed to withstand the moisture or splashes.
At best, they will stain, at worst, they will peel or develop patches of mold. This is why paints designed for bathrooms, eggshell, satin or semi-gloss finishes are your best choices.
Hayley is an interiors journalist, content provider and copywriter with 26 years experience who has contributed to a wide range of consumer magazines, trade titles, newspapers, blogs and online content. Specialising in kitchens and bathrooms, she has twice won the CEDIA Award for Best Technology feature. Hayley writes for H&G about kitchens, bathrooms, cleaning, DIY and organizing.