A guide to matte paint – and when to use it
Renowned for its beautiful chalky finish, matt paint suits both contemporary and period properties – here's how and when to use to it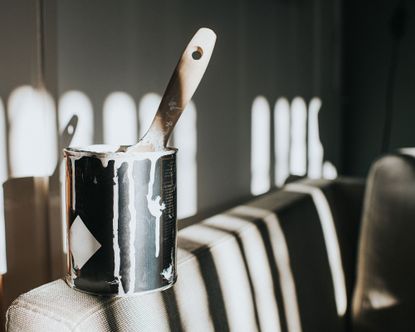 (Image credit: Getty Images / Catherine Falls Commercial)
Matte paint is one of the most popular finishes but is it the right one for you – to help you decide, we've put together a guide to matte paint and when to use it.
When decorating our homes, we tend to focus mainly on color. However, the paint finishes we choose can have just as much of a bearing on the overall look and feel of a room. With its chalky good looks, matte paint exudes character and looks beautiful in both modern and period properties, making it one of the most popular finishes for interior walls.
'I love a luxurious matte finish, it appears especially rich and sumptuous in darker shades; it affords a real depth of color due to the subtle texture of its chalky surface', says Ruth Mottershead, creative director at Little Greene.
Due to their low paint sheen level, matte paints are great at hiding existing imperfections, however, they tend not to be as durable as their glossier counterparts. Experts usually recommend them for low-traffic areas and ceilings, however, advancement in paint technology has led to modern formulas that are much more sympathetic to daily wear and tear, giving you the option of a matte finish in any room – even kitchens and bathrooms . Although the choice can appear daunting and the best methods for paint application when painting a room can seem time-consuming, our expert tips will help guide you through the process of choosing the best matte paint for your space.
What is matte paint?
A matte finish is defined by its low level of sheen, resulting in a smooth, almost powdery appearance. Unlike higher-gloss finishes, it absorbs rather than reflects light, meaning it disguises imperfections brilliantly – great if you're painting uneven surfaces. Its low-shine, velvety finish makes it one of the most popular choices for interior walls, however, it is susceptible to marks and stains so best not used in high-traffic areas.
Satin vs matte? Matte has less sheen. In the head to head of eggshell vs matte? It's again the less reflective of the two.
What's the difference between matte and flat paint?
The difference between flat and matte paint is so small they're largely interchangeable. Ultimately, it comes down to gloss level. Flat finish has an ever so slightly lower gloss percentage, around 5%, with matte finish around 5-10%. Even though it's small, this difference does affect durability.
Due to their minimal sheen level, flat finishes are the most sympathetic to an uneven surface, but they aren't washable or wipeable', says Charlotte Cosby, head of creative at Farrow & Ball. 'Matte paints are a little more robust (usually wipeable, but not washable) with a slightly more solid finish overall'.
Where to use matte paint
As a general rule, the lower the sheen level, the less durable the paint finish. As well as being susceptible to marks and stains, matte paint finishes are more difficult to clean, so experts recommend using them as one of the best paint finishes for ceilings or in low-traffic areas to ensure they stay in good condition for as long as possible.
Having said that, modern advancements in paint technology have resulted in matte emulsions that are much more sympathetic to daily wear and tear, so it can be one of the best paint finishes for living rooms. In fact, some manufacturers have formulated scrubbable versions that allow for easier cleaning.
'We have a range of products ideal for areas of high traffic, such as Crown easyclean which enables use of matte finish paint as it is a highly washable and scrubbable surface', says Justyna Korczynska, senior designer at Crown. This product is perfect for children's bedrooms and stairwells as it can be easily cleaned without damaging the color and finish'.
It's also now possible to get matte finish paints specially formulated for use in kitchens and suitable as paint finishes for bathrooms.
'Our easyclean bathroom is tough and washable, plus it features Crown's patented Mouldguard+ technology for added mold, steam and condensation resistance', adds Justyna.
What are the benefits of using matte paint?
There are many reasons to use matte paint. 'One of the major benefits of using it in interiors is that it hides surface imperfections so well', says Mike Mundwiller, product experience manager at Benjamin Moore. 'It's shine-free surface provides excellent depth of color and its ease of application and smooth feel after drying makes it a professional painter's favorite'.
Another great thing about matte paint is that it works beautifully in any style of interior, from period properties to modern homes. Its chalky appearance softens bright colors so you can afford to be more daring, while it's tactile finish creates a cozy feel in any room.
Is matte paint easy to apply?
Due to its high pigment levels, matte paint provides great coverage regardless of color choice, making it quick and easy to apply. Its lack of shine means it blends well, resulting in a smooth, non-streaky finish.
'In general, matte paints can be applied with a roller, brush or sprayed, but if you're using a lower-sheen finish, a brush is your best option', says Charlotte.
Does matte paint scratch easily?
Despite being forgiving of imperfections already present in the wall, matte paint finishes tend not to be so forgiving of scuffs and marks. For this reason, experts would usually recommend against using them in high-traffic areas. However, thanks to advanced technology in premium paints, matte finishes are now as durable as gloss finishes, meaning they can be used in any room – even humid areas such as kitchens and bathrooms.
Sign up to the Homes & Gardens newsletter
Decor Ideas. Project Inspiration. Expert Advice. Delivered to your inbox.
For 10 years, Tara King worked as a Content Editor in the magazine industry, before leaving to become freelance, covering interior design, wellbeing, craft and homemaking. As well as writing for Ideal Home, Style at Home, Country Homes & Interiors, Tara's keen eye for styling combined with a passion for creating a happy – and functional – family home has led to a series of organization and cleaning features for H&G.