Bath ideas – 18 statement bathtubs for a blissful soak
These bath ideas will transform your bathroom design, providing a stunning centerpiece as well as a sumptuous spot for relaxation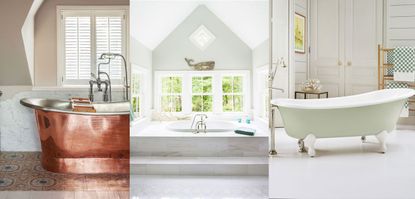 (Image credit: Future)
Sign up to the Homes & Gardens newsletter
Decor Ideas. Project Inspiration. Expert Advice. Delivered to your inbox.
Thank you for signing up to Homes & Gardens. You will receive a verification email shortly.
There was a problem. Please refresh the page and try again.
The right bath ideas are a sanctuary, providing you with a private space where you can totally relax and wash away the stresses of everyday life. Therefore, it is vital that you carefully balance aesthetic appeal with comfort when thinking about your bathroom ideas.
Historically the bath was a large metal tub, placed in front of the kitchen fire, serving a purely functional job of cleaning the family and staving off illness. However, today, the bath is not just somewhere to wash; it is also a work of art which will define the backbone of your bathroom design.
As well as aesthetics and comfort, there are also practical considerations that will feed into your final choice. 'A lot of people forget that it is vitally important to check the weight of your bath, especially if you are going for heavier material like metal, cast iron or even solid surface. Don't forget to also take into account how heavy it will be when it is full of water and you are in it, as well as the empty weight,' says Barry Cutchie, BC Designs. 'Another key consideration that is often overlooked is whether or not your boiler has the capacity to generate enough hot water to fill a larger bath. One way to check is to have a look at your boiler manual or if you are still unsure ring a plumber.'
Bath ideas – 18 looks for every bathroom scheme
When planning and designing a bathroom the first thing we think about is the bathtub – and for good reason. It is often to focal point in the room.
Whether you are planning on updating your bathroom design, maybe giving your modern bathroom ideas a traditional twist, upgrading your shower room ideas or turning unused space into a luxurious ensuite bathroom, there is a vast array of bath ideas available to suit your taste, from colors and materials to finishes and shapes.
1. Consider a clawfoot bath for timeless elegance
Considered a luxury in the late 19th century, claw-foot bath ideas were the epitome of bathing opulence. However, they fell out of favor after the 1920s flu epidemic as people saw the space under the tub as potentially unclean – while untrue, this still saw the decline in this elegant style.
Thankfully, however, these beautiful bath ideas have seen a resurgence in popularity in recent years, particularly in period homes. They are loved both for their historical grandeur but also for the fact that many feature adjustable legs, meaning it's easy to level your bath on an old, uneven floor – something that is often a struggle in traditional bathroom ideas.
'Clawfoot bathtubs are a beautiful and elegant addition to a bathroom, but the key thing is to ensure you have the space for a freestanding tub of this nature. Since they float in a room and typically look best as a central feature in larger spaces,' says Amy Leferink, designer at Interior Impressions .
2. Select a copper style bateau bath for a chic statement
Boat baths, also known as bateau baths, are named after their silhouette which is reminiscent of a traditional fishing boat. Effectively a double-ended slipper bath, it gives you the option to bathe at either end, offering excellent support and comfort.
A must for cottage bathroom ideas or country bathroom ideas – the boat bath's iconic frame will cut a smart figure in the heart of your bathroom design.
'A freestanding boat bath can be a real show-stopper and instant focal point, working as a chameleon to blend contemporary and traditional bathroom schemes,' says Barry Cutchie.
3. Add elegance with a slipper design
Coming to prominence in the Victorian era, the slipper bath was originally designed for use in public bathhouses, where its high-sided design allowed bathers to protect their modesty while washing communally. The name comes from the fact that when a towel was draped over the flat edges to cover the body, it gave the bath a slipper-like appearance, perfect for vintage bathroom ideas.
A collaboration between designer Susie Atkinson with luxury bathroom brand Drummonds, the piece combines traditional style with a more modern pastel colorway. 'I wanted to design a bath that is both elegant and supremely comfortable. The bath has particularly graceful proportions and is designed to create impact in both large and more compact bathrooms,' says Susie Atkinson of the design.
4. For a a minimalist look try a skirted design
If you don't want your freestanding bath on feet, then your other option is a solid skirt. Skirted bath ideas give you the opportunity to hide your bath's plumbing from view for a more sleek and minimalist look. The additional space also lets you make the most of your bath's colorful design. Perfect for more compact spaces, skirted designs are a great choice if you're looking for bath ideas to incorporate into your guest bathroom ideas or a practical piece for your family bathroom ideas.
5. Create a bold statement with paneling
The enclosed bath became popular in the latter half of the 20th century, praised for its easy maintenance, cleanliness and compact nature. Whether a solid unit or a panelled design, these bath ideas have undoubtedly endured throughout recent decades.
'Paneled baths are on the rise as homeowners become braver with their design choices. Post-pandemic, people want their homes to feel less clinical and cold, and paneling brings in a tactile and warming finish. It also helps bring a sense of grandeur and allows you to upscale the home with a luxurious yet timeless finish.' says Emma Deterding, founder and creative director at Kelling Designs. 'Continue bathroom paneling ideas on the bathtub to keep the look cohesive and bring more warmth to the space. Gone are the days of completely neutral rooms, so don't shy away from color!'
If you are nervous about going bold with your bathroom colorway, there are plenty of inspiring schemes to get you started from red bathroom ideas and yellow bathroom ideas through to blue bathroom ideas and green bathroom ideas.
6. Select a sunken bath for spa-style
Sunken bath ideas have seen a spike in popularity in recent years, providing an elegant alternative to freestanding designs. Rather than standing above the ground, the floor is raised and the tub – like this design from Connecticut Stone – sits level to the elevated floor height. Though still not a common sight in bathrooms, sunken baths have a luxurious air, evoking a spa-like ambience and is the perfect addition to your luxury bathroom ideas.
They are also a great addition to wet rooms – especially small wet rooms – where an above the ground bath would overwhelm the space.
7. For a traditional bath choose a roll-top
The quintessential traditional bath, roll-top bath ideas top the wishlist for many homeowners. These classic bath ideas strike a smart silhouette in any style of bathroom and are a great way to bring color into your bathroom design – there are plenty of bathroom color ideas to inspire your color scheme.
Whether you're looking for a statement piece for your master bathroom ideas or a timeless addition to your farmhouse bathroom ideas, this versatile design will instantly add character to your space.
8. Consider a space-efficient corner bath
When curating your small bathroom ideas, efficiency of design is paramount –especially if you hope to integrate bath ideas. Using less wall space than a classic tub, corner bath ideas are a practical addition that still provides a luxurious bathing experience – an ideal addition to your spa bathroom ideas.
'A corner tub like this is a great solution for a bathroom that is tight on space. Nestling the bathtub like this maximizes every square inch of the bathroom and creates a cozy corner. It is a great way to still include a bath feature without sacrificing the freestanding shower, as well,' says Amy Leferink.
9. Introduce calm symmetry
Positioning a double-ended bath centrally on the wall harnesses the power of symmetry in interior design to make a more impactful statement. In this main bathroom of an imposing 18th-century country home, the balanced proportions of a panelled double-ended bath are boosted by the precisely positioned artwork and wall lights above. 'The bath works with the wall lights to complete a harmonious ensemble with a spa-like sense of calm,' says designer Lisa Persse.
10. Opt for smart layering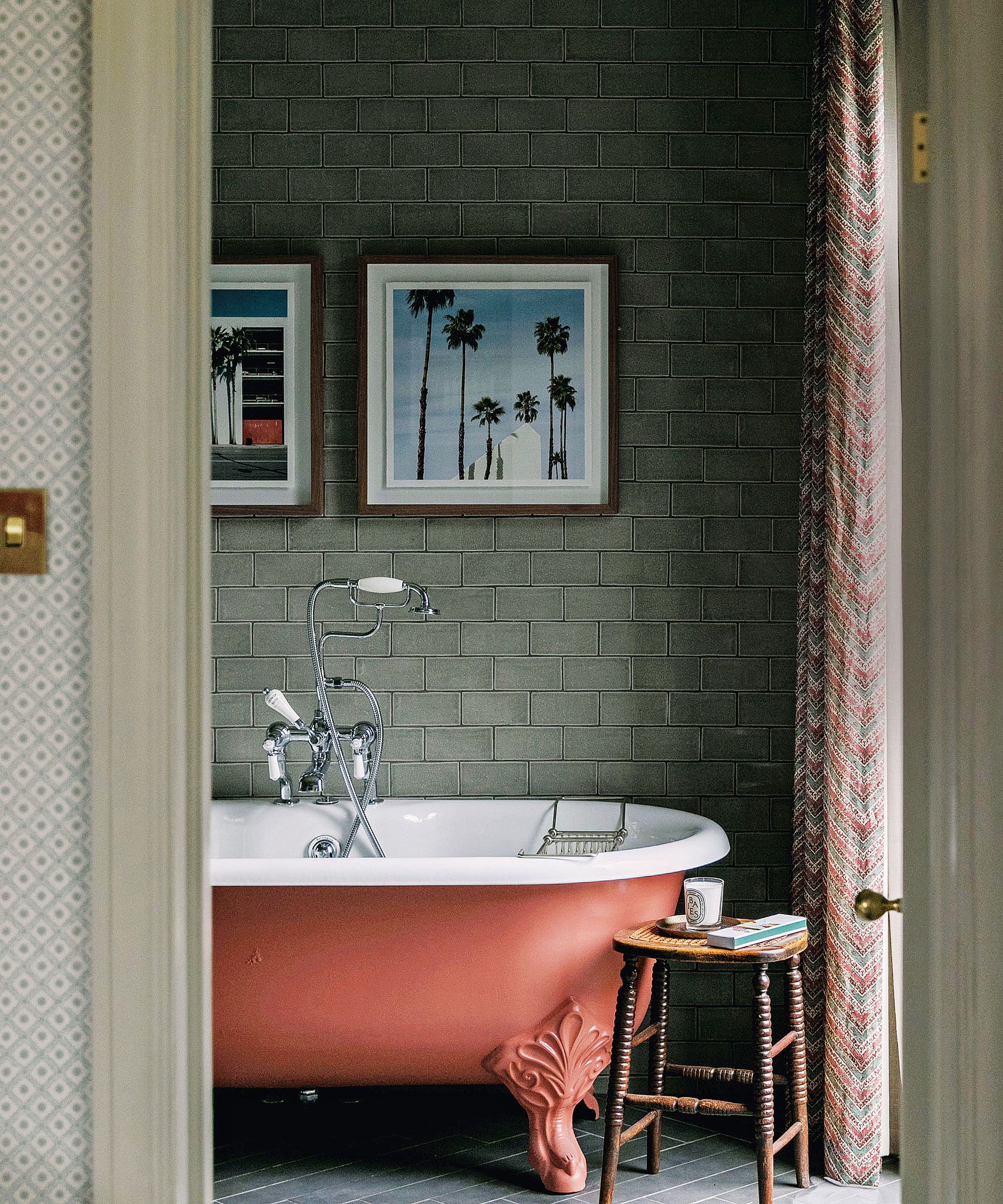 Roll-top baths are a prime target for painting, which makes color coordination a breeze. Best of all, the color can be switched up whenever it's time for a change.
'In this project, we used a coral hue on the owner's existing bath to give it a refreshed look and complement the curtains and tiles,' explains Tiffany Duggan, founder of Studio Duggan and Trove. Consider a brightly painted roll-top bath to add a luxurious statement to your Jack and Jill Bathrooms.
11. Be bold with brass
Brass is popular for its gleaming presence. 'When sourcing a copper bath, whether reclaimed or new, always ensure that, once polished, it is sealed with a lacquer to prevent oxidization,' says Georgina Cave, director, Cave Interiors.
Able to work well in a wide range of schemes, from adding warmth to white bathroom ideas or giving boho bathroom ideas a glamorous edge, brass is also praised for its inherent properties which means that it heats up faster and retains its warmth longer than enamel or acrylic tubs.
12. Evoke luxury with rock
'There is no real substitute for the timeless elegance, luxury and wow factor of a natural stone bath,' says Louise Ashdown, head of design, West One Bathrooms. 'Although beautiful, stone baths are very heavy so floor reinforcements may be required. Marble is also porous and thus susceptible to staining; the correct cleaning products and regular sealing will help protect its natural beauty.'
13. Make a splash with an egg-shaped bath
Accentuate the silhouette of a modern egg-shaped bath by setting it against a contrasting backdrop, like this botanical print wallpaper. Treat the surface with a protective sealant.
14. Set your tub in prime position
A freestanding bath deserves to take center stage in your master bathroom, but do plan carefully to prevent it appearing marooned.
'You can feel rather exposed bathing in the middle of an empty space. The solution here was to bring the shower to the center of one wall, with a statement marble slab backdrop to anchor the freestanding bath,' explains Victoria Wormsley, director, French-Brooks Interiors.
'A vintage rug, comfortable chair and colorful prints enhance the relaxing feel.'
15. Take an old meets new approach
Classic marble bathroom ideas may be centuries old, but this versatile material can feel just as relevant in a contemporary setting. Carved from a solid piece of Carrara marble, the crisp, modern lines of Piet Boon's freestanding bath for Cocoon is a case in point. Shown here on polished concrete flooring with a neutral backdrop, the designer's signature clean lines truly celebrate Carrara's gentle veining.
16. Soften your space with a rounded design
To accentuate the curve of a washbowl, wall-hung basin or basin vanity unit, consider an eye-catching color, pattern or texture for your bath ideas. 'This is an organic style that lends itself to a looser feel,' says Emma Scott, director of client design, C.P. Hart. 'Try mixing finishes to create a warmer, more relaxed space than one where everything must strictly match.'
'Round baths are typically 1,400-1,800mm in diameter, so suit larger rooms. A back-to-wall rounded design, oval option or rectangular bath with softly curved edges may be better for small bathroom ideas. Use a seamless water-resistant material, such as polished plaster, microcement or Senso resin surface, to highlight the smooth shape of a contoured wall, ceiling or arch.'
17. Embrace the opportunity to play with pattern
Across the board, bathware pieces are taking bold strides away from the age-old unwritten rule they should only ever be white. From the 1970s favorites of avocado or dusty pink to sunny yellows and elegant navy, there has been an explosion of color in the bathroom. But why stop at a plain bathroom color ideas when you can have pattern? That's the approach that decorator Irene Gunter took here when she had the bath wrapped in a woven fabric.
'It was all about creating warmth,' she says. 'There was no natural focal point, so I hung the mirror behind the bath to ground the space and painted the walls in mustard yellow to tie in with the brassy tones of the tapware.'
18. Pretty up with a colorful bathtub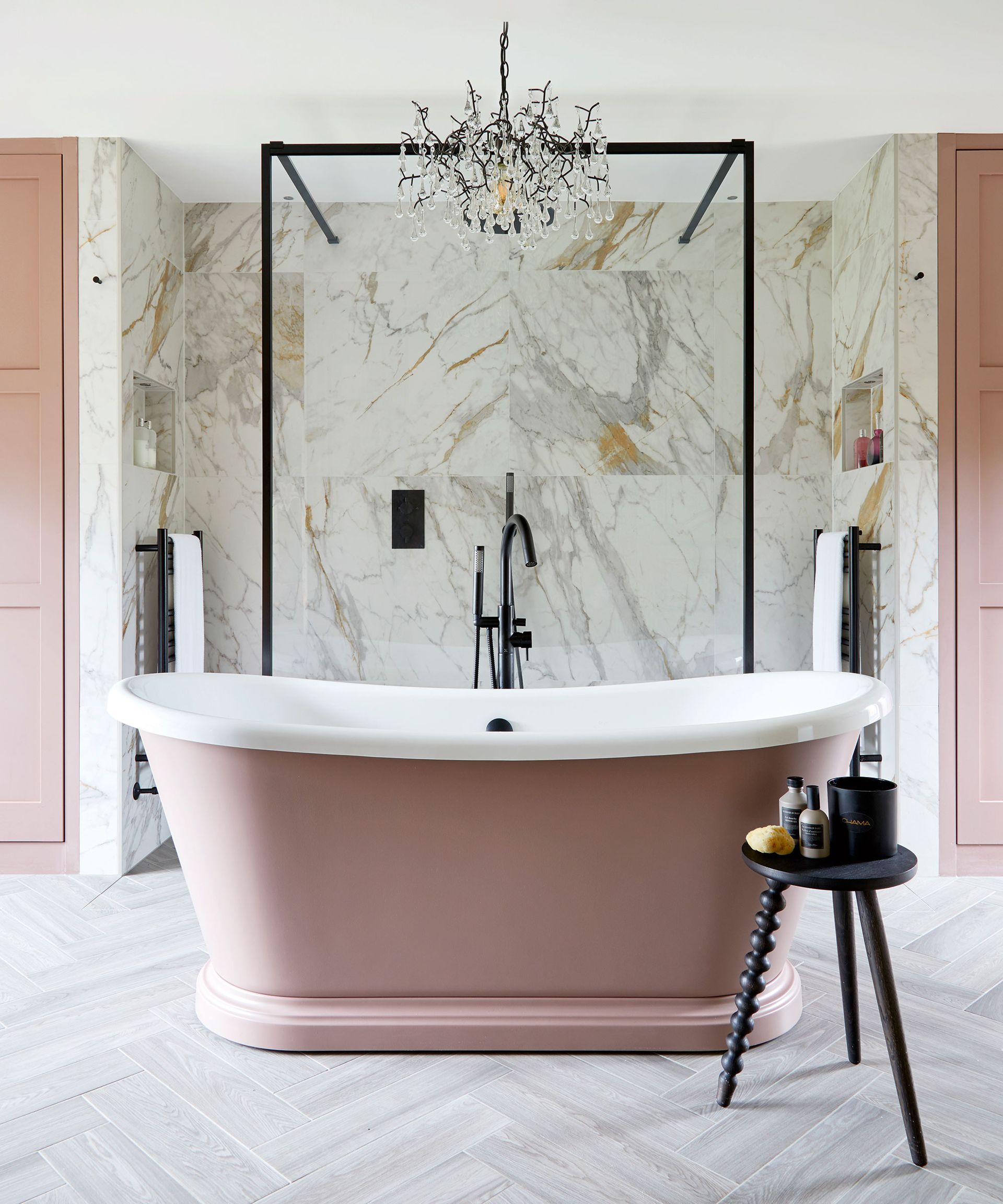 Seen from the bed, grand antique French double doors open on to the ensuite bathroom with a freestanding bath as the focal point. Painted in a soft pink for a classically feminine look, the double-ended design allows you to lie in whichever direction she chooses, able to gaze out of the windows at both ends of the room.
The director of design at C.P. Hart, Yousef Mansuri, took up the challenge of creating the new room. 'We wanted to bath to be the real star of the show, and what better way to do so then by painting the bathtub in your favorite color,' he says.
Which bath is the best for the environment?
If a bath is a must-have for your then consider choosing a slightly smaller bath which holds less water,' says Rachael McInnes, marketing manager at Ripples. 'Alternatively, you can choose a bath where the overflow has yet to be drilled. By positioning a lower overflow at a level you're comfortable with, you can limit the amount of water your bath can hold.'
How can I make my bathtub more luxurious?
One of the best ways to make your bathtub more luxurious is to opt for a freestanding curved bath. 'Perfect as either a standalone feature or as part of a wider curved design theme, they are much softer on the eye than other models. Offering a luxurious bathing experience, the curved sides of baths tend to mould to the contours of those relaxing in it,' explains Barrie Cutchie, Design Director at BC Designs.
Sign up to the Homes & Gardens newsletter
Decor Ideas. Project Inspiration. Expert Advice. Delivered to your inbox.
Linda graduated from university with a First in Journalism, Film and Broadcasting. Her career began on a trade title for the kitchen and bathroom industry, and she has worked for Homes & Gardens, and sister-brands Livingetc, Country Homes & Interiors and Ideal Home, since 2006, covering interiors topics, though kitchens and bathrooms are her specialism.