Bath ideas – 10 statement bathtubs for a blissful soak
Classic or contemporary, focal bath ideas provide a stunning centerpiece as well as a sumptuous spot for a relaxing soak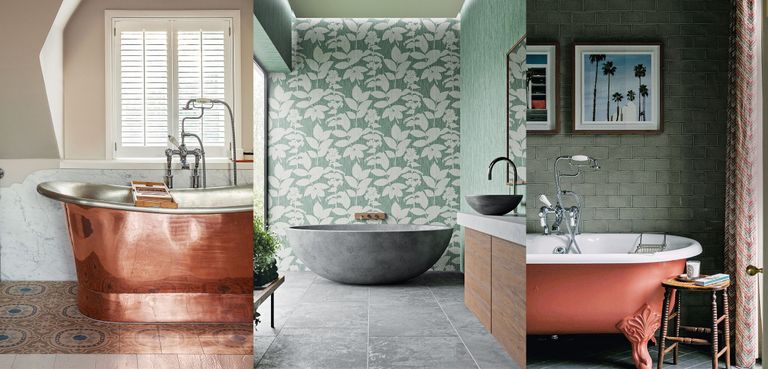 (Image credit: Cave Interiors / Smithers of Stamford / Studio Duggan)
Where bath ideas might once have been a straightforward project anchored in practicality, we now approach the task with a lot more care and consideration, with the aim to create a space that centers around the bathtub.
Usually considered purely utilitarian, functional spaces, bathrooms have since evolved into our own personal wellness sanctuaries. Bath ideas should be beautiful but never at the expense of their functionality.
Bath ideas – 10 looks for every bathroom scheme
Whether you are planning on updating your bathroom ideas and master bathroom, upgrading your shower room ideas or turning unused space into a luxurious ensuite bathroom, there are now a vast array of bath ideas available to suit your taste, from colors and materials to finishes and shapes.
1. Introduce calm symmetry
When planning and designing a bathroom the first thing we think about is the bathtub – and for good reason. It is often to focal point in the room.
Positioning a double-ended bath centrally on the wall harnesses the power of symmetry to make a more impactful statement. In this main bathroom of an imposing 18th-century country home, the balanced proportions of a panelled double-ended bath are boosted by the precisely positioned artwork and wall lights above. 'The bath works with the wall lights to complete a harmonious ensemble with a spa-like sense of calm,' says designer Lisa Persse.
2. Opt for smart layering
Traditional bathroom ideas with roll-top baths are a prime target for painting, which makes color coordination a breeze. Best of all, the color can be switched up whenever it's time for a change.
'In this project, we used a coral hue on the owner's existing bath to give it a refreshed look and complement the curtains and tiles,' explains Tiffany Duggan, founder of Studio Duggan and Trove.
3. Be bold with brass
Brass is popular for its gleaming presence. 'When sourcing a copper bath, whether reclaimed or new, always ensure that, once polished, it is sealed with a lacquer to prevent oxidization,' says Georgina Cave, director, Cave Interiors.
4. Evoke luxury with rock
'There is no real substitute for the timeless elegance, luxury and wow factor of a natural stone bath,' says Louise Ashdown, head of design, West One Bathrooms. 'Although beautiful, stone baths are very heavy so floor reinforcements may be required. Marble is also porous and thus susceptible to staining; the correct cleaning products and regular sealing will help protect its natural beauty.'
5. Make a splash with an egg-shaped bath
Accentuate the silhouette of a modern egg-shaped bath by setting it against a contrasting backdrop, like this botanical print wallpaper. Treat the surface with a protective sealant.
6. Set your tub in prime position
A freestanding bath deserves to take center stage in your master bathroom, but do plan carefully to prevent it appearing marooned.
'You can feel rather exposed bathing in the middle of an empty space. The solution here was to bring the shower to the center of one wall, with a statement marble slab backdrop to anchor the freestanding bath,' explains Victoria Wormsley, director, French-Brooks Interiors.
'A vintage rug, comfortable chair and colorful prints enhance the relaxing feel.'
7. Take an old meets new approach
Classic marble bathroom ideas may be centuries old, but this versatile material can feel just as relevant in a contemporary setting. Carved from a solid piece of Carrara marble, the crisp, modern lines of Piet Boon's freestanding bath for Cocoon is a case in point. Shown here on polished concrete flooring with a neutral backdrop, the designer's signature clean lines truly celebrate Carrara's gentle veining.
8. Soften your space with a rounded design
To accentuate the curve of a washbowl, wall-hung basin or basin vanity unit, consider an eye-catching color, pattern or texture for your bath ideas. 'This is an organic style that lends itself to a looser feel,' says Emma Scott, director of client design, C.P. Hart. 'Try mixing finishes to create a warmer, more relaxed space than one where everything must strictly match.'
'Round baths are typically 1,400-1,800mm in diameter, so suit larger rooms. A back-to-wall rounded design, oval option or rectangular bath with softly curved edges may be better for small bathroom ideas. Use a seamless water-resistant material, such as polished plaster, microcement or Senso resin surface, to highlight the smooth shape of a contoured wall, ceiling or arch.'
9. Play with pattern
Across the board, bathware pieces are taking bold strides away from the age-old unwritten rule they should only ever be white. From the 1970s favorites of avocado or dusty pink to sunny yellows and elegant navy, there has been an explosion of color in the bathroom. But why stop at a plain bathroom color ideas when you can have pattern? That's the approach that decorator Irene Gunter took here when she had the bath wrapped in a woven fabric.
'It was all about creating warmth,' she says. 'There was no natural focal point, so I hung the mirror behind the bath to ground the space and painted the walls in mustard yellow to tie in with the brassy tones of the tapware.'
10. Pretty up with a colorful bathtub
Seen from the bed, grand antique French double doors open on to the ensuite bathroom with a freestanding bath as the focal point. Painted in a soft pink for a classically feminine look, the double-ended design allows you to lie in whichever direction she chooses, able to gaze out of the windows at both ends of the room.
The director of design at C.P. Hart, Yousef Mansuri, took up the challenge of creating the new room. 'We wanted to bath to be the real star of the show, and what better way to do so then by painting the bathtub in your favorite color,' he says.
Which bath is the best for the environment?
If a bath is a must-have for your then consider choosing a slightly smaller bath which holds less water,' says Rachael McInnes, marketing manager at Ripples. 'Alternatively, you can choose a bath where the overflow has yet to be drilled. By positioning a lower overflow at a level you're comfortable with, you can limit the amount of water your bath can hold.'