Green bathroom ideas – 10 ways to decorate in a verdant color palette
From forest to sage and many shades in between, these green bathroom ideas will invoke a sense of calm and relaxation in your bathing space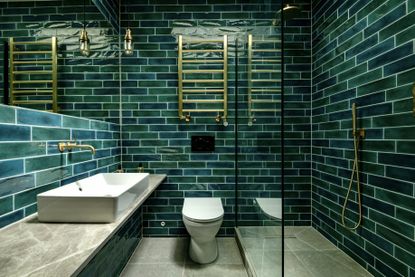 (Image credit: Industville)
Sign up to the Homes & Gardens newsletter
Decor Ideas. Project Inspiration. Expert Advice. Delivered to your inbox.
Thank you for signing up to Homes & Gardens. You will receive a verification email shortly.
There was a problem. Please refresh the page and try again.
These versatile and stylish green bathroom ideas will have your bathing space feeling refreshing first thing and relaxing at the end of the day.
We all know the healing properties of green. It comes in a huge array of shades, which is why a green bathroom is such a good choice. Get the tone right and you'll wonder why you've never considered this bathroom color idea before.
If the thought of an all-green bathroom scares you a little, remember you can use the 'less is more' theory.
You can use green on one wall to create a statement, or simply on the floor of otherwise plain and simple bathroom ideas for a pattern boost.
Green bathroom ideas
Below, we've sourced our favorite green bathroom ideas to inspire you; some with dark shades, others with pale. And don't forget you can use wallpaper as well if you want a decorative feel.
1. Go for an all-over green color scheme
Regardless of the size of your space, you can still have fun with an array of colors, patterns and bathroom paint ideas, as this stunning green bathroom shows.
Decorating with green walls, such as this all encompassing bright shade creates a happy feel despite the lack of natural light.
'With its association with nature, green is a comfortable, nurturing, harmonious color. Perfect for use in the bathroom, it can be used on the walls, floor and ceiling.
'It's a wonderful way of creating a sense of opulence and drama, particularly when paired with warm-toned brassware, such as brass or antiqued finishes,' says James Lentaigne, Creative Director at Drummonds.
2. Or would you prefer a hint of green instead?
If an all-over look isn't for you, then opt for a section instead.
Here, a charming cottage-style white bathroom teamed with a green checkered bathroom floor tile idea and half wall is ample for adding color into an otherwise neutral scheme.
Sometimes less is more and you can still tie in your chosen shade throughout the bathroom by using accessories – a green vase, towels or beautiful bathroom art ideas, for example.
3. Not keen on a painted scheme? Use a single color wallpaper
It's a common misconception that you can't use wallpaper in bathrooms.
Today you most certainly can, as manufacturers have come up with paper that can cope better with moisture, so there's no reason why you can't choose a lush botanical wallpaper idea to perk up your bathroom.
'Green works very well in bathrooms as it reflects and compliments the aquatic tones of water. We love using wallpaper in bathrooms to add a pattern and texture, which can have prepped or glass lining to prevent it getting wet,' explains Penny Morrison, Founder and Design Director at Penny Morrison Studio.
4. Go dark and dramatic for a cozy feel
If you love a moody, dark bathroom, then green is a good choice because you can pick a shade like Little Greene's Mid Brunswick Green that's deep in tone.
To continue the drama, add in a copper tub and rustic wood floor boards - this combination will create a cozy scheme.
Shutters are a great idea for bathrooms as they give you privacy and control over how much light comes in. These from Shutterly Fabulous can be painted in any custom color to match your walls.
5. Pale can be interesting
Barely-there greens have been gaining in popularity and one such shade is 'sage'.
Almost a neutral, sage is a hint of green without the intensity which makes it easy on the eye and a good way to introduce a color, as you can see in this modern bathroom designed by Irene Gunter, Founder of London design studio, Gunter & Co.
It goes well with black which gives it an edgier finish. Team that combination with white and your green bathroom will be sleek and stylish.
6. Copper and pewter looks great with green
'One of the most common mistakes when it comes to lighting is not providing enough of it. That said, people will often counter this issue with a plethora of fixtures on the ceiling, which can look busy and overcrowded.
Consider combining decorative bathroom lighting ideas with LED lighting strips that provide functional light, especially in areas around mirrors,' advises Marketa Rypacek, Managing Director at Industville.
'This will create a design that's spot on in terms of both the look and the functionality. Try choosing copper or pewter designs to create a relaxed, cozy environment, or glass for a brighter, luxurious look.
'Brass designs work really well with dark green bathrooms, which have become very popular recently, as the brass really stands out against green tiles.'
7. Mix light and dark, plain and pattern
We love this bathroom created by M. Lavender Interiors. It's full of contrast, which is why it works so well from a design point of view.
The deep shade of green on the walls and ceiling are dramatic against the crisp white floor and units.
The link between the two is the subtle wallpaper, which is delicate against the 'heavy' drama of the green paint. The gold frame, faucets and handles are the finishing touch that adds warmth to both sides of the bathroom.
8. Use green marble to zone a space in an open-plan room
If you're lucky enough to have a large bathroom you can zone different areas using green tiles, or in this instance, green marble.
Designed by luxury bathroom company Drummonds, this dual walk-in shower idea has been zoned using eye catching green marble.
'Our clients are increasingly opting for green marble in the bathroom, either for whole walls or for smaller pieces – currently our Verde Guatemala marble that we offer for our vanities is extremely popular.
'Green marble works extremely well with brassware and accessories in warm brass tones or dark antique finishes, helping to create a refined, luxurious look,' says James Lentaigne, Creative Director at Drummonds.
10. Mid-toned yellow based greens work well in North facing bathrooms
The kind of light that pours into your bathroom should dictate the shade of green you pick.
A South facing room can cope with a cooler blue-based shade, whereas a North facing bathroom needs to be warmed up with a yellow-based green.
Farrow & Ball's Calke Green is a traditional color that was originally found in the breakfast room at Calke Abbey. It has deep sage notes yet a richness that warms up a room visually.
Is green a good color for a bathroom?
Absolutely. Each shade will have a different feel so you need to find a green that resonates with you and your space. Do you want a light and airy feel or dark and dramatic? You can use green to create either of these looks as it's so versatile.
What color goes with green in a bathroom?
Green is one of those colors that works well with a wide spectrum of colors. You can team it with neutrals like stone and taupe, or use a punchy pink or turmeric. It's particularly good with yellow as they are adjacent on the color wheel and therefore harmonious.
Green is a great accent color in white bathrooms. This color combination is earthy and fresh and it always works whatever shade of green you combine it with.
Sign up to the Homes & Gardens newsletter
Decor Ideas. Project Inspiration. Expert Advice. Delivered to your inbox.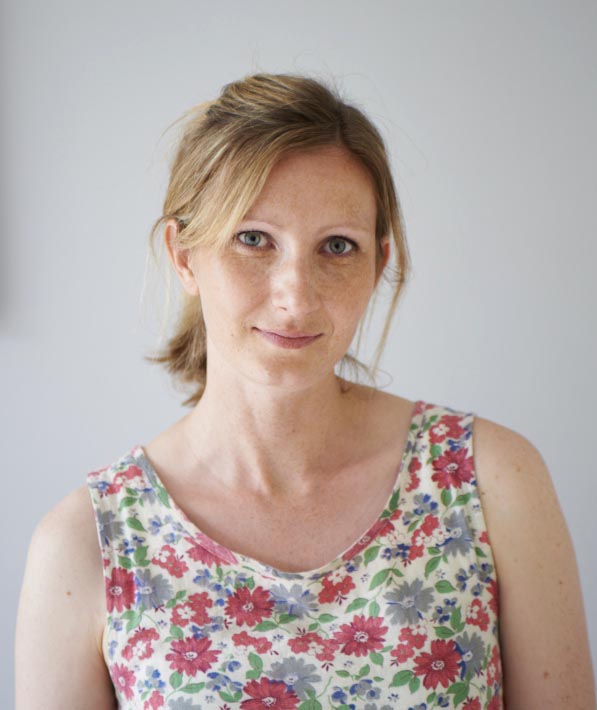 Sophie has been an interior stylist and journalist for over 20 years and has worked for many of the main interior magazines during that time, both in-house and as a freelancer. On the side, as well as being the News Editor for indie magazine, 91, she trained to be a florist in 2019 and launched The Prettiest Posy where she curates beautiful flowers for modern weddings and events. For H&G, she writes features about interior design – and is known for having an eye for a beautiful room.