Farmhouse bathroom ideas – 34 ways to combine rustic with chic
Give your farmhouse bathroom oasis a rustic redo with statement sinks, cozy linens and earthy colors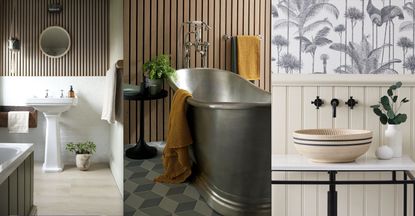 (Image credit: Carpetright/BC Designs/London Basin Company)
Sign up to the Homes & Gardens newsletter
Decor Ideas. Project Inspiration. Expert Advice. Delivered to your inbox.
Thank you for signing up to Homes & Gardens. You will receive a verification email shortly.
There was a problem. Please refresh the page and try again.
A well-done farmhouse bathroom is the epitome of luxury when it comes to straddling the line between cozy and chic. Not only is it rustic and charming, but it also offers a sophisticated oasis for you to unwind at the end of the day, or get a jump-start on a new one.
If you're looking for some bathroom ideas that are both cozy and rustic-inspired, these brilliant farmhouse bathrooms are sure to help you create a sumptuous design that is both liveable and aesthetically pleasing.
Farmhouse bathroom ideas: rustic bathing style
Farmhouse bathrooms have a warmth that some bathing sanctuaries don't share. Typically, they will feature wood across floors, walls or ceiling, as well as cabinetry. Farmhouse decor ideas will incorporate other natural materials, too, such as stone, slate and marble. And will have a toned-down color palette of warm neutral tones that bring a sense of comfort and ease.
We've curated an edit of stunning rustic bathroom ideas, and included advice from experts on how to bring this elegantly relaxed look to your own home. Dive on in.
1. Paint the bath a bold color
A painted freestanding bath can add just the right amount of color while contrasting against other neutral shades in your farmhouse bathroom. For a sunny outlook, yellow bathroom ideas will bring a smile to your day.
'While we think yellow is here to stay for a while, a painted boat bath can be changed when fashion dictates, or you can change the shade of yellow as and when you wish,' suggests Barrie Cutchie, Design Director at BC Designs.
'There are several different yellow hues to pick from, from pale pastels to dark mustard, all of which can work in contemporary or traditional spaces. Homeowners are also turning to brass finishes and accessories, which also feature the warm undertone of yellow.'
Whichever color you choose, ensure it complements rather than clashes with the rest of the decor in your home – after all, harmony is a key feature of this style.
2. Put up wall paneling
Wall paneling ideas are the go-to option when you want to cover up uneven wall surfaces, which can be an issue in farmhouse homes. For bathroom paneling ideas, you'll want to choose a material that can withstand moisture and humidity, such as marine grade ply.
Paneling can be a way to introduce warmth and texture to the cool, clean atmosphere of a bathroom. It could be shiplap on the lower half of the walls, a paneled bath surround, or a contemporary ridged design, as shown here.
'If you're feeling bold, go for floor to ceiling wood and contrast finishes, tones and plank direction,' says David Snazel, Hard Flooring Buyer at Carpetright.
3. Ensure there's plenty of light
Good lighting is a functional essential in any bathroom but its effects can be enhanced by the materials you use in the space.
'Smooth, reflective materials bounce light around and so tend to make a space feel bigger and brighter – think mirrors, gloss-finish tile, paint and brassware,' explains Barrie Cutchie, Design Director at BC Designs. 'Alternatively, rougher textures like unpolished stone and wood absorb light to make a bathroom feel warmer and more comfortable.
'Adding both finishes in different areas to create zones can be a fantastic way of bringing your bathroom to its full use. Think beautiful wooden finishes close to areas such as the bath for relaxing, while statement lights, mirrors and gloss tiles near to a vanity unit can help to keep this area fresh and bright.'
You'll also want to consider the style of any fixtures you choose for your bathroom lighting ideas.
4. Opt for elegant monochrome
This stylish oatmeal and ebony scheme takes the farmhouse look in a new direction, adding in a smart wallpaper – Crane Fonda from Divine Savages – to elevate the finish. It's a great interpretation of black and white bathroom ideas.
The focal point is the beautifully textured bowl-shaped Sadie basin from London Basin Company. The design features shallow diagonal carvings, which gives it a natural, woven look that suits the modern farmhouse style.
5. Bring in a wood floor
If your farmhouse bathroom doesn't already have a wood floor, consider laying one to introduce the beauty of natural grain to your sanctuary. You can be assured that wood flooring is suitable for a bathroom, as long as you make the right choice.
'There are many choices when it comes to wood and wood effect flooring,' says Carpetright's David Snazel. 'Be guided by the room and your budget, and consider engineered wood or luxury vinyl.
'There's something with beautiful tones and finishes in every price range, and recent advancements mean these grains and knots can be particularly realistic.' It's why wood flooring ideas are so popular throughout our homes.
6. Choose a traditional bath tub
A deep metal bath, reminiscent of traditional tin tubs but with an updated air of luxury and style, can be the key element of your farmhouse bathroom ideas.
There are many different approaches to planning your bath ideas. If you have the space, consider positioning the bath in the center of the room as a focal point, rather than against the wall. And style the space around it – with a side table for bathing products, or a chair to relax in while the water is running.
Graphic tiles and contemporary wood paneling will update the look for modern farmhouse style.
7. Introduce a marble splashback
While wood is frequently used in a farmhouse bathroom, marble bathroom ideas can also find a place in your scheme.
'As a natural material, marble is perfectly suited to a farmhouse look,' agrees Lucy Searle, Editor in Chief, Homes & Gardens. 'Choose a muted honed finish rather than a high-shine surface, such as this Calacatta Oceana Oro tile from the Elements collection at Artisans of Devizes.
You could also add an element of surprise with the addition of colored sanitaryware. Here, a pale green basin enhances the natural balance of the decor.
8. Turn up the texture
We usually think of texture as being a tactile element; something we can touch and feel. In the context of interior design, texture is also about adding visual interest and balance to a space.
'There are different types of texture you can add, such as reflective, tactile and natural,' explains Barrie Cutchie, Design Director at BC Designs. 'It's important to mix up the textures in a space to create a balanced look that, while interesting, doesn't overstimulate the senses.'
It doesn't just have to be about a single object in a room either as texture can be about layering various materials, colors, metals and textiles in a space. Here, the softly textured tile plays against the smooth Nimbus cabinet and gleaming brushed gold Victrion faucet for a look that's rich in texture.
9. Focus on simplicity
If you prefer your farmhouse bathroom ideas to be more pared back, look to the East for inspiration. The Zencha bathroom collection by Sebastian Herkner for Duravit was inspired by traditional Japanese rituals and craftsmanship. Bathers are invited to immerse themselves into the deep water, an experience reminiscent of a Japanese Onsen bath.
'When paired with natural wood finishes in the bathroom, this look is a serene interpretation of modern farmhouse style,' suggests Melanie Griffiths, Editor of Period Living magazine.
10. Add a splash of color to elevate rustic elements
'Minimalist color scheme like creams, whites and soft browns are best to achieve the farmhouse bathroom style but don't be afraid to experiment with rich greens and blues, which can add character to kitchens and bathrooms,' says Richard Petrie, interiors expert at Thomas Sanderson.
Green bathroom ideas bring a verdant look that suits this aesthetic. Adding a bold tile design is a perfect way to enhance rustic elements and fuse modern and traditional styles.
11. Introduce warmth with a rustic cabinet
'Modern farmhouse bathrooms are all about the natural elements and chunky furniture, seamlessly blended with modern fixings and fixtures to create the perfect balance,' says Connor Prestwood, interior designer at Dowsing & Reynolds.
'Source a beautiful rustic wooden side cabinet from a charity shop or reclamation yard and combine with a worktop basin and modern mixer tap to create the ultimate statement.'
12. Stay traditional with wooden beams
'A main feature of the farmhouse bathroom is the fusion of old and new,' says Richard Petrie who suggests pairing classic features such as wooden beams to give a vintage charm with more modern elements.
In this space, crafted by Alexander Waterworth, the neutral color scheme and wooden beams create a traditional style which is complemented by a modern freestanding bath. 'Standalone baths are becoming an essential look to the farmhouse approach,' says Waterworth.
13. Go for the rustic look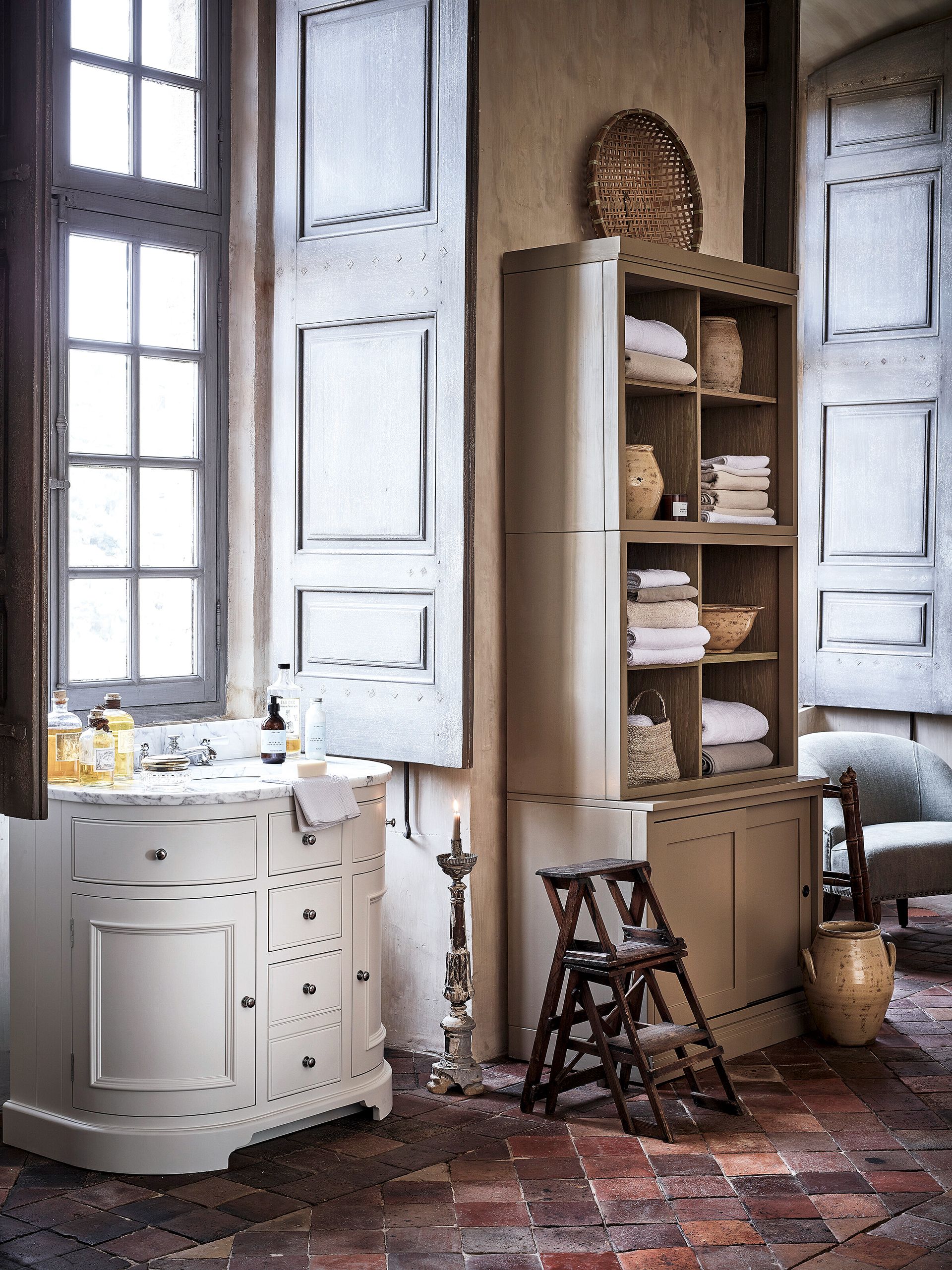 Introduce rustic fittings and furnishings to get traditional farmhouse bathroom ideas in the mix. The rustic elements will add warmth which perfectly complements the modern white tones and clean lines.
Connor Prestwood from Dowsing & Reynolds recommends styling worn wooden shelving with ornaments to create a homely feel.
14. Incorporate pops of color for a modern look
Light and bright colors are easy farmhouse bathroom ideas.
In this space, crafted by Kate Lester, the pink cabinet and patterned flooring enhances the clean lines and challenges the traditional neutral palette.
15. Go for a clean black and white finish
'I think the concept of farmhouse bathroom ideas is all about taking the traditional farmhouse vibe and making it your own,' says Kate Lester of Kate Lester Interiors.
'To me, it means warm bright whites, pops of black, and infusions of traditional pine or elm woods. I think it's really important to push the boundaries and introduce juxtaposition with textiles, patterns and artwork that may not feel traditionally farmhouse-inspired.'
16. Go for brass bath taps for a contemporary look
'I find that I lean towards chrome and brushed brass when working on farmhouse bathroom ideas,' says Amala Raj Swenson of Amala Raj Interiors. 'Both these finishes add a nice "jewelry " statement to the space.'
The space, crafted by The Residency Bureau, combines rustic and wooden elements with modern features such as the brass taps which creates a warm feel.
17. Go for natural wood cabinets
'For cabinetry, I love using natural wood tones,' says Amala Raj Swenson. 'I think many people stick with white but by incorporating more color, your space has an extra vibrancy to it.
'The wood tones also add to that perfect contemporary farmhouse feel without being too heavy of a look.'
18. Mix clean lines with natural textures
'When creating farmhouse bathroom ideas, mix clean lines with natural textures, high-contrast finishes, like dark bronze hardware and black grout on white tile,' says Bevan Talbott of Bevan & Co. 'Farmhouse bathrooms are all the creature comforts of home, a visible artist's hand, mixed with the clean lines of modern furniture.'
19. Opt for dark tones for a rustic feel
'Textures, natural materials such as wooden panelling or exposed brick, and earthy tones exudes a farmhouse feel,' says Emma Joyce, brand manager at Fortune Brands.
'Darker tones including black, navy and burgundy help to build a cosy, farmhouse look in the bathroom.'
20. Consider adding a stock tank bathtub
In lieu of a shower, a claw tub or a stock tank are options that blend beautifully with modern farmhouse ideas. Laura Mooney, Owner and Head of Creative at The Mohicans Treehouse resort suggests choosing a white cast iron tub for a more classic approach, or go with a copper sitting tub or repurposed stock tank as alternatives for a bolder scheme.
21. Bring outdoor elements inside
'Anytime you bring in a natural element like wood it bonds your spirit with the outdoors,' says interior designer Channa Alvarez. 'When I think of farmhouse bathroom ideas, I lean towards fun modern touches like a white crisp walls with country inspiration.'
Alvarez suggests starting by making everything somewhat monotone, then adding back your favorite pieces, keeping things simple and not cluttered. 'It's a cleaner look with tints of whimsy country touches.'
22. Add sliding barn doors
If you are combining farmhouse bedroom ideas with farmhouse bathroom ideas, it makes sense to separate the areas with a traditional door.
'If you are gutting a room – as would be expected with a dated bathroom – one should be thoughtful with their choice of materials as to not disrupt the flow of the vintage aesthetic,' shares Mooney. 'Everybody wants a modern bathroom and there is a way of accomplishing this without compromising continuity – like using old barn doors as the main farmhouse feature.'
23. Don't be afraid to mix modern and rustic
Mooney also suggests juxtaposing modern countertop materials by using elements like soap stone – which adds a natural, earthy ingredient – alongside more rustic woods for a modern farmhouse approach that isn't overly kitschy.
24. Add warmth with linens
Consider adding warmth to the space by adding a textured linen – whether that's a fabric shower curtain, a spectacular window treatment, or a vintage Turkish rug. According to Mooney, the added texture will bring a homey feel to the space.
25. Consider a farmhouse-inspired sink
'We love to incorporate farmhouse-style sinks, which are a signature statement,' says Erin Coren, Co-Founder of Curated Nest. Coren often opts for a brass apron sink or wooden fixture to really pop against more classic cabinets.
26. Go for minimal clutter
'For me, farmhouse style really is about a lifestyle – cozy, comfortable, easy fabrics, light and airy,' says interior designer Karen B. Wolf. 'The idea is for the interior to reflect a welcoming attitude that is relaxed, friendly and uncluttered.'
To achieve this, particularly in a small or compromised space, you may need bathroom storage ideas made for purpose.
27. Skip shiplap
While it can be tempting to go for shiplap, according to Jill Valeri, owner of The Welcome Home: Interior Design Solutions, very few parts of the United States actually used shiplap in their early construction techniques. 'Shiplap is simply not appropriate in every home,' she says. 'Instead, add the warmth of natural wood or outdoor-inspired wallpaper.'
28. Go for a natural color palette
You don't have to stick to an all-white color palette to achieve the coveted light and airy farmhouse look – instead, Valeri suggests incorporating colors that relate to nature. 'Greens, blues, and creamy whites will all work well,' she says.
29. Repurpose existing items
'One thing I always think about whenever I walk into a farmhouse-inspired space is that the decor feels lived-in, but still inspired and tasteful,' explains interior designer Beth Brown. 'Buying all new decor items will make it feel more like you walked into a showroom rather than a carefully designed country-inspired space.'
30. Mix and match furniture
Likewise, all new furniture will hardly achieve the desired rustic farmhouse aesthetic. If you absolutely must purchase all new furniture, Valeri suggests combining wooden, antique, and mismatching furniture for a collected feeling.
31. Consider reclaimed wall art
'For wall decor, try a quilt, framed map or poem, or reclaimed wood shelves adorned with towels, and extra toilet paper,' suggests interior designer Liz Walton. 'An antique brass or wood mirror above the sink will help the space feel larger and more cozy.'
32. Go for aesthetically-pleasing storage
Michelle Harrison-McAllister, Founder of Michelle Harrison Design, suggests adding a vintage basket to store bath towels that are either rolled and tucked neatly or placed in a holding spot to be washed – this allows for a laissez-faire style that's easy to maintain and actually looks good.
33. Opt for playful tile patterns
Bathroom tile ideas are a great way to add interest to a farmhouse bathroom.
'What we are seeing a lot of for bathrooms is adding textures in new ways by mixing textures and colors in tile,' shares Heather Fujikawa, Owner and Principal Designer of House Sprucing. 'This offers an intentional farmhouse look that feels old and new all at the same time.'
34. Consider adding a surprising pop of wall color
'I keep the base in farmhouse bathrooms very clean and white. By keeping it light, simple, and neutral, you can get away with a stronger palette wallpaper to add a pop of color,' explains Angela Reynolds, Owner of Angela Reynolds Design.
What makes a farmhouse bathroom?
What makes a farmhouse bathroom can be architectural elements, fittings and – or – accessories. For architectural elements in a farmhouse bathroom, think wooden floors, stone or brick walls on show, wooden ceiling beams exposed or shiplap panelling on walls. For fittings, curvaceous, traditional-style faucets in aged brass or copper can create an atmospheric farmhouse bathroom style. Plus you can add farmhouse bathroom ideas such as traditional-style bath towels with trim or detailing that hints at the rustic, or even stone vases on display.
Thanks to The Expert for providing imagery for this feature.
Sign up to the Homes & Gardens newsletter
Decor Ideas. Project Inspiration. Expert Advice. Delivered to your inbox.
Andrea has been immersed in the world of homes, interiors and lifestyle since her first job in journalism, on Ideal Home. She went from women's magazine Options to Frank. From there it was on to the launch of Red magazine, where she stayed for 10 years and became Assistant Editor. She then shifted into freelancing, and spent 14 years writing for everyone from The Telegraph to The Sunday Times, Livingetc, Stylist and Woman & Home. She was then offered the job as Editor on Country Homes & Interiors, and now combines that role with writing for sister title homesandgardens.com.