15 farmhouse bathroom ideas – mix rustic decor with chic design for true luxury
Give your bathroom oasis a rustic redo with statement sinks, cozy linens and earthy colors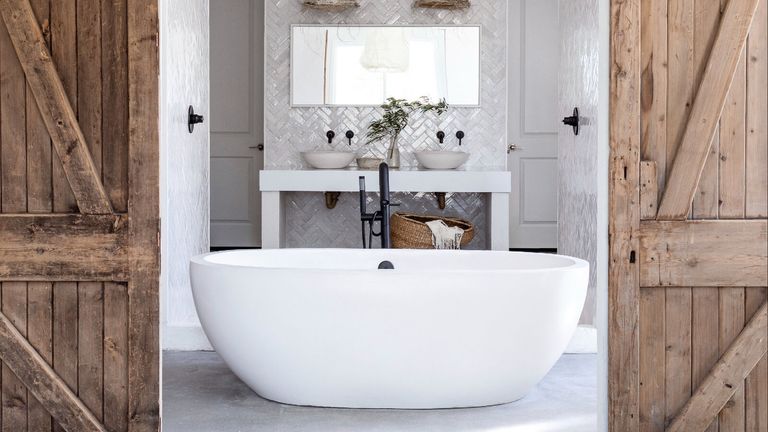 (Image credit: The Expert/Leanne Ford Interiors)
A well-done farmhouse bathroom is the epitome of luxury when it comes to straddling the line between cozy and chic. Not only is it rustic and charming, but it also offers a sophisticated oasis for you to unwind at the end of the day, or get a jump-start on a new one.
If you're looking for some cozy and rustic-inspired bathroom decor ideas to get the creative juices flowing, here are fifteen brilliant farmhouse bathroom ideas that are sure to help you create a sumptuous design that is both liveable and aesthetically-pleasing.
See: Bathroom ideas – stylish decor ideas for all bathrooms
1. Consider adding a stock tank bathtub
In lieu of a shower, a claw tub or a stock tank are options that blend beautifully with the farmhouse aesthetic. Laura Mooney, Owner and Head of Creative at The Mohicans Treehouse resort suggests choosing a white cast iron tub for a more classic approach, or go with a copper sitting tub or repurposed stock tank as alternatives for a bolder scheme.
See: Modern farmhouse ideas – creative ways to perfect this style in your home
2. Bring outdoor elements inside
'Anytime you bring in a natural element like wood it bonds your spirit with the outdoors,' says Interior Designer Channa Alvarez. 'When I think of farmhouse decor, I lean towards fun modern touches like a white crisp walls with country inspiration.'
Alvarez suggests starting by making everything somewhat monotone, then adding back your favorite pieces, keeping things simple and not cluttered. 'It's a cleaner look with tints of whimsy country touches.'
3. Add sliding barn doors
'If you are gutting a room – as would be expected with a dated bathroom – one should be thoughtful with their choice of materials as to not disrupt the flow of the vintage aesthetic,' shares Mooney. 'Everybody wants a modern bathroom and there is a way of accomplishing this without compromising continuity – like using old barn doors as the main farmhouse feature.'
4. Don't be afraid to mix modern and rustic
Mooney also suggests juxtaposing modern countertop materials by using elements like soap stone – which adds a natural, earthy ingredient – alongside more rustic woods for a modern farmhouse approach that isn't overly kitschy.
5. Add warmth with linens
Consider adding warmth to the space by adding a textured linen – whether that's a fabric shower curtain, a spectacular window treatment, or a vintage Turkish rug. According to Mooney, the added texture will bring a homey feel to the space.
6. Consider a country-inspired sink
'We love to incorporate farmhouse-style sinks, which are a signature statement,' says Erin Coren, Co-Founder of Curated Nest. Coren often opts for a brass apron sink or wooden fixture to really pop against more classic cabinets.
7. Go for minimal clutter
'For me, farmhouse style really is about a lifestyle – cozy, comfortable, easy fabrics, light and airy,' says Interior Designer Karen B. Wolf. 'The idea is for the interior to reflect a welcoming attitude that is relaxed, friendly and uncluttered.'
8. Skip shiplap
While it can be tempting to go for shiplap, according to Jill Valeri, Owner of The Welcome Home: Interior Design Solutions, very few parts of the United States actually used shiplap in their early construction techniques. 'Shiplap is simply not appropriate in every home,' she says. 'Instead, add the warmth of natural wood or outdoor-inspired wallpaper.'
9. Go for a natural color palette
You don't have to stick to an all-white color palette to achieve the coveted light and airy farmhouse look – instead, Valeri suggests incorporating colors that relate to nature. 'Greens, blues, and creamy whites will all work well,' she says.
10. Repurpose existing items
'One thing I always think about whenever I walk into a farmhouse-inspired space is that the decor feels lived-in, but still inspired and tasteful,' explains Interior Designer Beth Brown. 'Buying all new decor items will make it feel more like you walked into a showroom rather than a carefully designed country-inspired space.'
11. Mix and match furniture
Likewise, all new furniture will hardly achieve the desired rustic farmhouse aesthetic. If you absolutely must purchase all new furniture, Valeri suggests combining wooden, antique, and mismatching furniture for a collected feeling.
12. Consider reclaimed wall art
'For wall decor, try a quilt, framed map or poem, or reclaimed wood shelves adorned with towels, and extra toilet paper,' suggests Interior Designer Liz Walton. 'An antique brass or wood mirror above the sink will help the space feel larger and more cozy.'
13. Go for aesthetically-pleasing storage
Michelle Harrison-McAllister, Founder of Michelle Harrison Design, suggests adding a vintage basket to store bath towels that are either rolled and tucked neatly or placed in a holding spot to be washed – this allows for a laissez-faire style that's easy to maintain and actually looks good.
14. Opt for playful tile patterns
'What we are seeing a lot of for bathrooms is adding textures in new ways by mixing textures and colors in tile,' shares Heather Fujikawa, Owner and Principal Designer of House Sprucing. 'This offers an intentional farmhouse look that feels old and new all at the same time.'
15. Consider adding a surprising pop of wall color
'I keep the base in farmhouse bathrooms very clean and white. By keeping it light, simple, and neutral, you can get away with a stronger palette wallpaper to add a pop of color,' explains Angela Reynolds, Owner of Angela Reynolds Design.
Thanks to The Expert for providing imagery for this feature.