Farmhouse bedroom ideas – 25 rustic designs for your sleep space
Take a look at the key ingredients to bring a successful farmhouse feel in the bedroom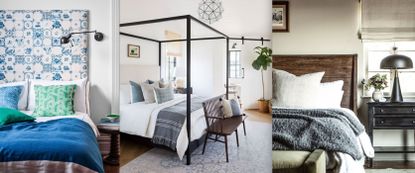 (Image credit: Future)
Farmhouse bedroom ideas and decoration are so much more than just shiplap and reclaimed barn doors – in fact, they can be extremely sumptuous and sophisticated with the right design elements and statement pieces.
Whether you're looking for ideas to inspire your own bedroom or you're hoping to spruce up a guest bedroom or cottage, these farmhouse bedroom ideas are sure to spark your creativity.
Farmhouse bedroom ideas: create the look
From repurposing headboards and decor to opting for classic linen and warmed-up window treatments, these expert-approved bedroom ideas are the perfect balance of elegant and eclectic.
1. Add height with a supersized panel
In a lofty farmhouse room, the ceiling can look a very long way above the bed. One way to bridge the gap is to choose a bed with a taller headboard, or else introduce a large panel behind that draws the eye upwards.
'This will also help to create a cocooning effect, adding the comfort factor which is always a box to tick when you're looking for bedroom ideas,' confirms Andréa Childs, Editor of Country Homes & Interiors.
Of course, the bed is the most crucial element when you're pinning down your farmhouse bedroom ideas. Pick one that resonates with the aesthetic, either in its use of natural materials or the simplicity of its design.
'The Salina bed is perfect for the modern farmhouse look,' suggests Rachel Galbraith, Creative Director at Ercol. 'Clean-lined design and natural materials are the cornerstones of this relaxed aesthetic, which encapsulates our founding principles: a commitment to beautiful and honest furniture, produced by craftsmen who take pride in their jobs.
'With its comfortingly familiar lines, the Salina bed is a direct descendant of our Windsor Chair, an icon of British furniture design.'
2. Introduce distressed finishes
Celebrating rustic materials is key to farmhouse bedroom ideas, whether that's in the architecture, furniture – or as in this project, both.
'Exposing and regenerating finishes that have been there since the property was formed was extremely satisfying,' says designer Alexander Waterworth, who was responsible for the transformation of this traditional farmhouse into an elegant country villa.
The beamed ceilings were left exposed but whitewashed to bring a lightness to the look. The surface is replicated in the distressed wardrobe, which contrasts with the simple comfort of the bed and upholstered chair.
'We have sourced an assortment of antiques and contemporary, tailored furniture pieces,' Waterworth explains. 'Naturally sourced pastel colors blend seamlessly, providing a light, yet romantically dignified feel to complement the magnificent views
3. Add form and texture with lighting
In a simply decorated bedroom, every piece earns its spot – a mantra that's key to modern farmhouse ideas.
Lamps are a great way to introduce form – think about organic, curved shapes that will bring softness to an interior.
Textured surfaces, including aged clay or vessels that show the marks of the artisan who made them, introduce authenticity and a connection to the landscape through natural materials. Or you can choose more contemporary bedroom lighting ideas with an industrial style lighting scheme that contrasts with pretty soft furnishings.
4. Luxe-up the look with layering
A mix of warm wool and crisp cotton, combined with soft velvet and soft-sheen fabrics, will bring a touch of refined luxury to bedding. Pile on blankets, quilts, pillows and cushions for the ultimate comfort.
For a true farmhouse bedroom look, it's not just the bed that's layered. Take inspiration from this room, where panelling ideas for walls, a rug laid over flooring, and ambient lighting from a low-level pendant, combine to bring depth to the scheme.
5. Find a focal point
Having a focal point, such as an artwork or a mirror on a wall – or even, as in this room, a beautiful quilt – will draw you into your farmhouse bedroom and give a simple scheme a sense of identity.
Work with the dimensions of your space to decide the scale of your eye-catching piece. Here, the simple but bright print is the only color focus in the room, which helps it compete with the stunning ceiling.
6. Inject interest with personal pieces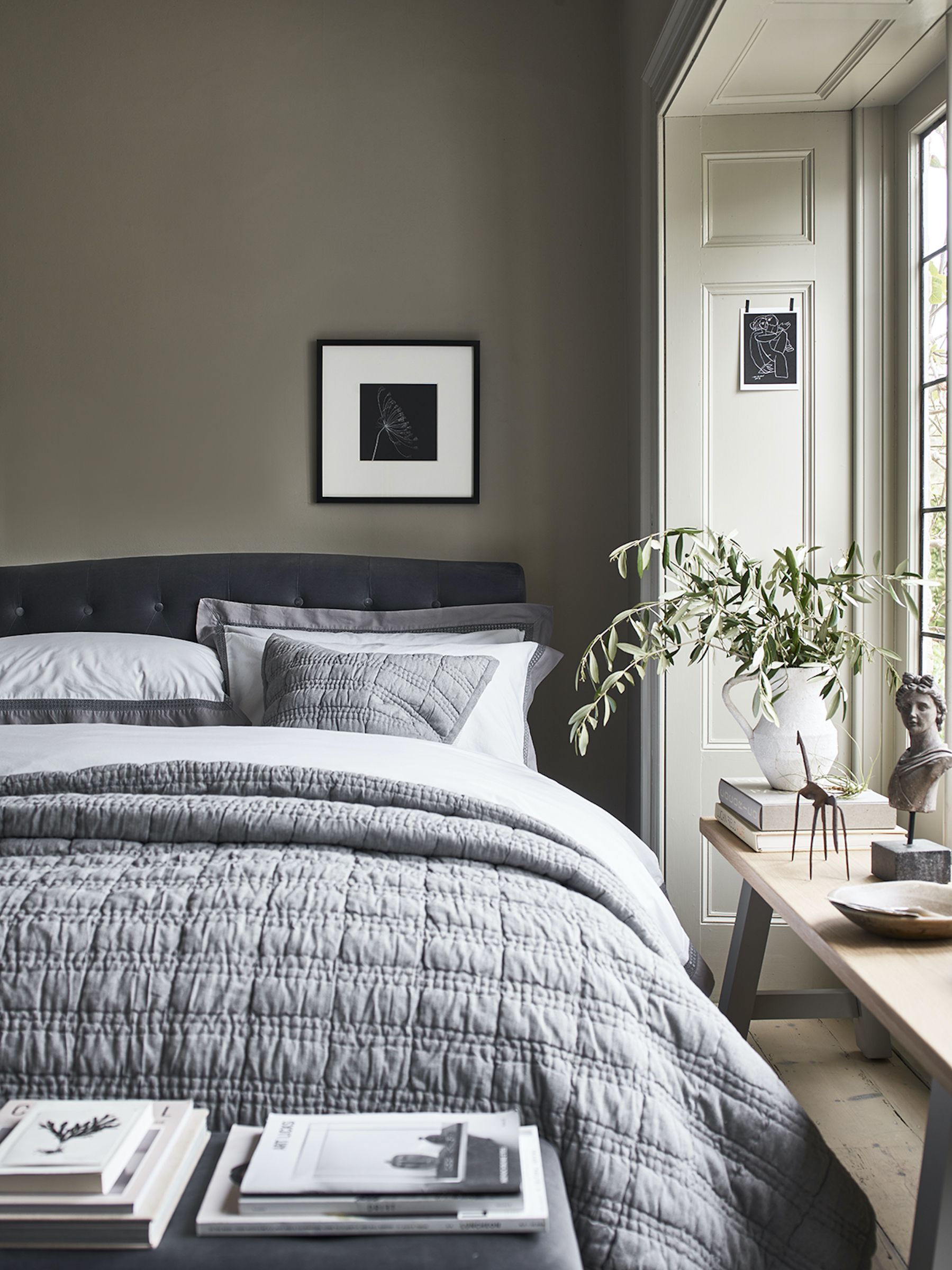 While farmhouse bedroom ideas are defined by their restraint and simplicity, that doesn't mean they are lacking in detail or personality.
The bedroom is the perfect place to let both shine through. Create displays and vignettes that showcase your passions or favorite pieces, whether that's books and artworks, objets, or simply a love of plants and gathered foliage.
The trick is to keep a sense of order and curation to maintain a calm and serene look. You can translate this to other rooms, such as farmhouse living rooms, too.
7. Respect the architecture
It's the distinctive architecture of modern farmhouse style, barns and country homes that makes them so special – and thinking about the 'bones' of the building when designing your decor will help create an elegant and elevated rustic look.
In this farmhouse bedroom, the scale of the space allows for an indulgent standalone bath tub. Installing the wall behind the bed conceals the bathroom and dressing room, and also serves to make the bedroom area more intimate. Adding a curtain rail inset from the windows and doorway also makes the room seem more enclosed and cozy, without detracting from the vaulted ceiling and stone walls.
'It was critical that we retained as many of the existing wall arrangements, staircases and finishes in as possible in this farmhouse to ensure a natural evolution of the property,' explains interior designer Alexander Waterworth.
'Each of the eight bedrooms maintains their own singular identity. Passing through each space, there's a rustic purity with exposed brick walls, floors and graceful vaulted ceilings, maintaining many of the original features.'
8. Draw some charcoal into your color palette
When you're considering ideas for your farmhouse bedroom decor, chances are neutral tones are top of your list. But don't forget to ground your chalky palette with some charcoal grey or black.
A few key touch points in a darker shade – the headboard, a rug or radiator, say – is an interior designer's trick to bring depth and dimension to your scheme.
9. Don't be afraid to mix things up
'When I work on an interior design project, the most important thing for me is to have the possibility to mix and match furniture, colors, textures, artworks,' says interior designer Valerie Barkowski.
'I also like the idea that farmhouse bedroom ideas can be nomadic; that everything can change places if wanted. Here I have used a kind of tonal palette between gray, white and black. I can change elements easily, swap places, replace and add on for a constantly evolving look.'
10. Choose serene tones
'Colors as well as textures are important tools for me to work with,' says Julie Cloos Mølsgaard, the interior designer who created the Vipp Farmhouse decor.
'I chose neutral tones for Vipp Farmhouse to create a sense of serenity and to achieve a similar look in the different rooms.
'I added tactile textures for vibrancy and movement and to create an identity and personality of the space.'
11. Use wallpaper for a pretty farmhouse look
For a pretty, embellished take on farmhouse bedroom ideas, introduce decorative details in wallpaper, embroidered bed linen, delicate artworks and elegantly shaped furniture.
The oatmeal and cream tones of the decor, combined with rustic finishes, keep the look within the farmhouse style, but add an extra dimension of texture and design.
12. Invest in repurposed or wooden headboards
'When choosing a headboard for a farmhouse bedroom, a wooden or iron crafted headboard can make for a good choice,' says Susan Peters, Virginia-based Designer and Owner of 9108 Designs.
'Decor aside, I would suggest one that is sturdy enough to lean against if you are someone that likes to lean back in bed. A pretty headboard that isn't functional doesn't fit the bill for me.' For this reason, Peters suggests focusing on a wooden headboard – from simple to intricate, there are millions of choices.
13. Choose classic quilts and ruffled linens for a farmhouse bedroom
'Bed linens chosen with your theme in mind can even be more important than your bed frame when trying to achieve a particular look,' says 9108 Designs' Susan Peters. 'You can choose a simple linen ruffled comforter cover in a solid color and pair it with patterned sheets, a few patterned throw pillows and even a bolster pillow in coordinating colors.'
In this rustic farmhous bedroom, designed by Jeffrey Alan Marks Design, the team have ensured that the space has a fresh informality, good nature and playful charm.
14. Warm up window treatments
Modern farmhouse decor, such as window treatments, can warm up your room and help achieve the look you are going for. 'Consider using white shutters with linen drapery that is close to the color of your walls,' suggests Susan Peters. 'I like to use drapery similar to the wall color sometimes and it adds to the room in a seamless fashion, making the room look put together and cozier.'
Jake Arnold, of Studio Jake Arnold, designed this rustic bedroom scheme to be a place or relaxation and calm.
15. Use mismatched nightstands in a farmhouse bedroom
When choosing nightstands, keep in mind that they don't have to be from the same 'set' as your bed. In fact, this is a great opportunity to incorporate antiques into your farmhouse bedroom ideas, and they don't even have to be two of the same kind.
Susan Peters suggests finding two whose styles complement each other and your bed frame and that are near the same height as each other. If their colors don't work together with the room, consider having them refinished or painted. Matching lamps on your nightstands will help bring some continuity to your room.
16. Consider French-style barn doors
According to Atlanta-based interior designer, Beth Halpern Brown, the standard wooden barn door has been done to death. Instead, why not try elevating the same concept with French style barn doors fabricated from steel and glass instead of wood?
'An updated more modern approach, French-style barn doors give the same sliding door effect except it provides a clean and sleek look with tempered steel and either clear or frosted glass,' she says.
17. Go for playful wall treatments
'Forget shiplap,' says Beth Halpern Brown, 'the trend is on its way out.' Instead, she suggests trying something a bit more playful – like board and batten, which is simply wood and MDF strips in a simple and effective design on your wall.
In addition to being a different option than shiplap, it also provides a level of depth that shiplap misses and is more timeless, lasting far longer than the overused shiplap look.
18. Source reclaimed signage and vintage art
Instead of the home decor shop 'Live Love Laugh' signs, Brown suggests opting for fun, unique reclaimed signs or interesting artwork that you can find at vintage and antique shops. It's far more interesting to have a piece that holds history to it and can be a fun addition to a room, rather than something bought from a mainstream store.
19. Keep it light and neutral in a farmhouse bedroom
Beth Halpern Brown suggests avoiding super dark colors when going for farmhouse-inspired decor. You want to keep the bedroom light, airy, and feeling clean. This means white and neutral paint colors (think off-white, light beiges, creams) and the same goes for decor, including bedding, pillows, ceramics, and additional furniture pieces.
'If you do plan to incorporate darker colors, make sure it's few and far in between and sticks with outdoorsy-inspired colors, including navy, green, and yellow,' she says.
20. Repurpose existing pieces
'One thing I always think about whenever I walk into a farmhouse-inspired bedroom is that the decor and furniture feel comfortable, lived in but still inspired and tasteful,' says Beth Halpern Brown.
'Buying all new decor and furniture items will make it feel more like you walked into a showroom rather than a carefully designed country-inspired space.'
The solution? Grab an antique ceramic jar from your grandma, a throw from your parents, and framed artwork from a local garage sale, and thoughtfully put together these farmhouse bedroom ideas for a more natural look.
21. Decorate in a simple, calm palette
Don't over-accessorize or decorate. The more minimal the better when it comes to pieces and colors.
'Farmhouse bedroom-inspired makes me think about wide-open fields, breathtaking views, and the idea of the outdoors and open space,' says Brown. 'Don't cramp the bedroom with items just to fill it. Select a couple of standout pieces and work around them for heightened results.'
This farmhouse bedroom, designed by Jersey Ice Cream Co., is the epitome of cool, calm and collected.
22. Do add dried flowers for interest
Dried florals not only look great but also last forever. 'Dried florals are a super easy and fun way to bring the beauty of the outdoors inside and show off some unique styles with different variations of dried florals and plants,' explains Brown. 'Whether you want to throw some lavender, phalaris grass, or echinops in vases, they'll all work to bring some lovely tones and textures to the room.'
23. Employ a four poster bed frame
A smart four poster bed frame is a great way to add a subtle farmhouse effect to an otherwise modern or contemporary-inspired bedroom. Opt for bed ideas with a reclaimed wood for a more rustic approach or go elegant with a neutral colored canopy.
24. Opt for beautiful wall sconces in a farmhouse bedroom
Not only are wall sconces a simple way to add atmosphere to farmhouse bedroom ideas, they're also extremely convenient come night time – especially if you're big into reading in bed. Consider going for a more modern fixture to round out an otherwise rustic space – or do the opposite and employ farmhouse elements through an antique or vintage pick.
25. Decorate with subtle equestrian nods
It can be tempting to add an abundance of horse or barn animal-inspired decor elements – but a couple of small nods are really all you need. Go for an antique horse shoe or a simple lamp with very subtle equestrian detail.
26. Light up with candlesticks
Decadent candle pots make for a wonderful at-home spa day addition or decor piece on the coffee table – but full sized candlesticks in a dramatic candlestick holder add a rustic element to the space without coming off as kitsch.
Rebecca Wakefield, of Studio Fortnum, is a master when it comes to the detail, as shown here in this rustic yet modern bedroom.
How do you decorate a farmhouse style bedroom?
The key design elements for a modern farmhouse bedroom are rustic furniture, neutral color palettes and soft industrial pieces. If you are after a more classic farmhouse feel, and want to enhance the rustic aesthetic, do consider wood flooring or wood beams on the ceilings.
Keep furnishings unfussy and instead opt for one or two key pieces – such as a sisal rug, rattan headboard or decorative wall sconces.
Can you mix farmhouse and boho?
Farmhouse bedroom ideas and bohemian bedroom ideas can be mixed because they are not a million miles apart – both rely on lots of natural textures and materials, a relaxed aesthetic and homespun accessories to create a warm, inviting space. However, boho tends to feature much brighter, warmer colors, including pinks, yellows, orange and even gold, while farmhouse is much more muted and subtler, using natural, neutral colors to create a more restful space. To combine the two, you can take elements of both – perhaps a neutral decorating scheme with the odd brightly-colored accessory.
Sign up to the Homes & Gardens newsletter
Decor Ideas. Project Inspiration. Expert Advice. Delivered to your inbox.
Andrea has been immersed in the world of homes, interiors and lifestyle since her first job in journalism, on Ideal Home. She went from women's magazine Options to Frank. From there it was on to the launch of Red magazine, where she stayed for 10 years and became Assistant Editor. She then shifted into freelancing, and spent 14 years writing for everyone from The Telegraph to The Sunday Times, Livingetc, Stylist and Woman & Home. She was then offered the job as Editor on Country Homes & Interiors, and now combines that role with writing for sister title homesandgardens.com.