Farmhouse bedroom ideas – 15 rustic designs for your sleep space
Take a look at the key ingredients to a successful farmhouse feel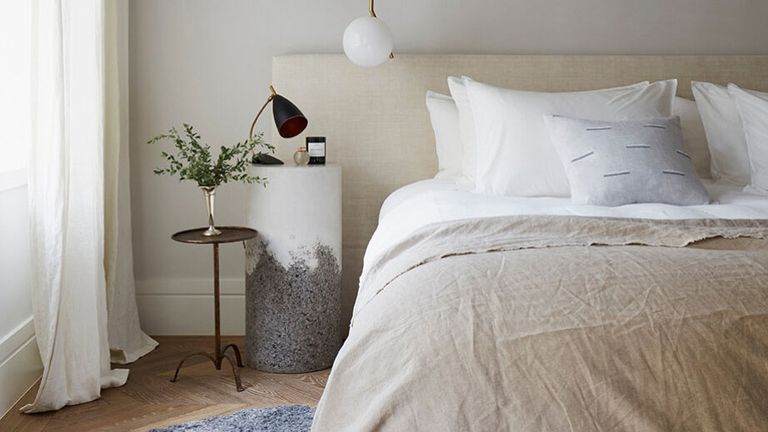 (Image credit: The Expert / Rebecca Wakefield)
Farmhouse bedroom ideas and decoration is so much more than just shiplap and reclaimed barn doors – in fact, it can be extremely sumptuous and sophisticated with the right design elements and statement pieces.  
Whether you're looking for ideas to inspire your own bedroom or you're hoping to spruce up a guest bedroom or cottage, these farmhouse bedroom ideas are sure to spark your creativity.   
From repurposing headboards and decor to opting for classic linen and warmed up window treatments, these expert-approved bedroom ideas are the perfect balance of elegant and eclectic.
1. Invest in repurposed or wooden headboards
'When choosing a headboard for a farmhouse bedroom, a wooden or iron crafted headboard can make for a good choice,' says Susan Peters, Virginia-based Designer and Owner of 9108 Designs. 
'Decor aside, I would suggest one that is sturdy enough to lean against if you are someone that likes to lean back in bed. A pretty headboard that isn't functional doesn't fit the bill for me.' For this reason, Peters suggests focusing on a wooden headboard – from simple to intricate, there are millions of choices.
2. Choose classic quilts and ruffled linens for a farmhouse bedroom
'Bed linens chosen with your theme in mind can even be more important than your bed frame when trying to achieve a particular look,' says Peters. 'You can choose a simple linen ruffled comforter cover in a solid color and pair it with patterned sheets, a few patterned throw pillows and even a bolster pillow in coordinating colors.'
In this rustic bedroom, designed by Jeffrey Alan Marks Design, the team have ensured that the space has a fresh informality, good nature and playful charm.
3. Warm up window treatments
Window treatments done well can warm up your room and help achieve the look you are going for. 'Consider using white shutters with linen drapery that is close to the color of your walls,' suggests Peters. 'I like to use drapery similar to the wall color sometimes and it adds to the room in a seamless fashion, making the room look put together and cozier.'
Jake Arnold, of Studio Jake Arnold, designed this rustic bedroom scheme to be a place or relaxation and calm. 
4. Use mismatched nightstands in a farmhouse bedroom
When choosing nightstands, keep in mind that they don't have to be from the same 'set' as your bed. In fact, this is a great opportunity to incorporate antiques into your bedroom, and they don't even have to be two of the same kind. Peters suggests finding two whose styles complement each other and your bed frame and that are near the same height as each other. If their colors don't work together with the room, consider having them refinished or painted. Matching lamps on your nightstands will help bring some continuity to your room.
5. Consider French-style barn doors
According to Atlanta-based Interior Designer, Beth Halpern Brown, the standard wooden barn door has been done to death. Instead, why not try elevating the same concept with french style barn doors fabricated from steel and glass instead of wood. 'An updated more modern approach, French-style barn doors give the same sliding door effect except it provides a clean and sleek look with tempered steel and either clear or frosted glass, she says'
6. Go for playful wall treatments 
'Forget shiplap,' says Brown, 'the trend is on its way out.' Instead, she suggests trying something a bit more playful – like board and batten, which is simply wood and MDF strips in a simple and effective design on your wall. In addition to being a different option than shiplap, it also provides a level of depth that shiplap misses and is more timeless, lasting far longer than the overused shiplap look.
7. Source reclaimed signage and vintage art
Instead of the home decor shop 'Live Love Laugh' signs, Brown suggests opting for fun, unique reclaimed signs or interesting artwork that you can find at vintage and antique shops. It's far more interesting to have a piece that holds history to it and can be a fun addition to a room, rather than something bought from a mainstream store.
8. Keep it light and neutral in a farmhouse bedroom
Brown suggests avoiding super dark colors when going for farmhouse-inspired decor. You want to keep the bedroom light, airy, and feeling clean. This means white and neutral paint colors (think off-white, light beiges, creams) and the same goes for decor, including bedding, pillows, ceramics, and additional furniture pieces. 
'If you do plan to incorporate darker colors, make sure it's few and far in between and sticks with outdoorsy-inspired colors, including navy, green, and yellow,' she says.
9. Repurpose existing pieces
'One thing I always think about whenever I walk into a farmhouse-inspired bedroom is that the decor and furniture feel comfortable, lived in but still inspired and tasteful,' says Brown. 
'Buying all new decor and furniture items will make it feel more like you walked into a showroom rather than a carefully designed country-inspired space.' The solution? Grab an antique ceramic jar from your grandma, a throw from your parents, and framed artwork from a local garage sale, and thoughtfully put these items together for a more natural look.
10. Decorate in a simple, calm palette
Don't over-accessorize or decorate. The more minimal the better when it comes to pieces and colors. 'Farmhouse-inspired makes me think about wide-open fields, breathtaking views, and the idea of the outdoors and open space,' says Brown. 'Don't cramp the bedroom with items just to fill it. Select a couple of standout pieces and work around them for heightened results.'
This farmhouse bedroom, designed by Jersey Ice Cream Co., is the epitome of cool, calm and collected. 
11. Do add dried flowers for interest
Dried florals not only look great but also last forever. 'Dried florals are a super easy and fun way to bring the beauty of the outdoors inside and show off some unique styles with different variations of dried florals and plants,' explains Brown. 'Whether you want to throw some lavender, phalaris grass, or echinops in vases, they'll all work to bring some lovely tones and textures to the room.'
12. Employ a four poster bed frame
A smart four poster bed frame is a great way to add a subtle farmhouse effect to an otherwise modern or contemporary-inspired space. Opt for something with a reclaimed wood for a more rustic approach or go elegant with a neutral colored canopy.
13. Opt for beautiful wall sconces in a farmhouse bedroom
Not only are wall sconces a simple way to add atmosphere to a bedroom, they're also extremely convenient come night time – especially if you're big into reading in bed. Consider going for a more modern fixture to round out an otherwise rustic space – or do the opposite and employ farmhouse elements through an antique or vintage pick.
14. Decorate with subtle equestrian nods
It can be tempting to add an abundance of horse or barn animal-inspired decor elements – but a couple of small nods are really all you need. Go for an antique horse shoe or a simple lamp with very subtle equestrian detail.
15. Light up with candlesticks
Decadent candle pots make for a wonderful at-home spa day addition or decor piece on the coffee table – but full sized candlesticks in a dramatic candlestick holder add a rustic element to the space without coming off as kitsch.
Rebecca Wakefield, of Studio Fortnum, is a master when it comes to the detail, as shown here in this rustic yet modern bedroom.
How do you decorate a farmhouse style bedroom? 
The key design elements for a modern farmhouse bedroom are rustic furniture, neutral color palettes and soft industrial pieces. If you are after a more classic farmhouse feel, and want to enhance the rustic aesthetic, do consider wood flooring or wood beams on the ceilings. 
Keep furnishings unfussy and instead opt for one or two key pieces – such as a sisal rug, rattan headboard or decorative wall sconces.