Blue bathroom ideas – 15 ways to use this nature-inspired color in your bath space
These inspiring blue bathroom ideas will help you transform your space into a sanctuary using the color of the sea and sky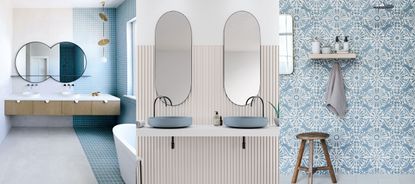 (Image credit: Future)
These smart blue bathroom ideas will help you introduce this popular, serene color into your bathing space.
Blue can represent the deep blue sea and bring back memories from a much loved holiday, or the color of the sky that you can see from your bathroom window. It's evocative and relaxing, and plays well with many other colors, too.
Below, we've listed our favorite bathroom ideas in this most relaxing of colors – there are warm and cool tones to suit every taste, room size and orientation.
Blue bathroom ideas
From navy blue to turquoise, we've sourced our favorite blue bathroom ideas to inspire your scheme, whether it's reminiscent of the strong colors of the Med, or simply a shade that you found on a paint card that resonates with you.
And if you're searching for bathroom color ideas that will help you relax and unwind, you need look no further. Blue room ideas are perfectly suited to bathroom. We've curated different ways to decorate with blue.
1. Embrace the versatility of blue
'We are profoundly influenced by the colors which surround us and blue, the colour of sea and sky, is amongst the most powerful shades, evoking a real sense of health and wellbeing,' says James Lentaigne, Creative Director of Drummonds.
'It's an easy palette to work with and perfect for bathrooms. From bright cerulean seaside shades through to paler, softer sky blues, they can work really well together, but steer away from the 'cold', greenish blues and towards the purple-tinged shades, which give a warmer and more luxurious look.'
There's something elegant and sophisticated about a navy-white combination. It exudes a hint of sophistication and luxury and it looks great with marble, which of course has beautiful gray-blue veining.
2. Add the perfection of a sky blue shade
Nothing beats looking up at the sky and seeing the fabulous shade of blue we get when the sun's out. You can mimic that feel-good moment in your bathroom by choosing a similar shade.
This sky blue bathroom designed by Penny Morrison, Founder of London based interior design studio, Penny Morrison, shows how pretty the shade can look when teamed with shades of pink and other darker tones of blue. It's perfect if you're looking for easy-to-coordinate bathroom paint ideas.
Add in a stripy carpet to tie in the colors and your scheme will work wonderfully.
3. Use patterned floor tiles to add decorative color
You can make an existing blue bathroom more interesting by changing the floor to something similar to this striking bathroom floor tile idea, for example.
We asked the designer Mindy O'Conner, Principal Designer of Philadelphia-based Melinda Kelson O'Connor Design her thoughts on adding pattern to a blue bathroom scheme:
'Tile is one of the simplest, most beautiful and lasting ways to add pattern and color to a space. A decorative floor tile like the one in this bathroom sets the color palette for the room, adds a fun energy to the space and connects to imagery from travel and history – all while providing a practical surface for a bathroom floor.
'Picking one bold tile pattern allows other choices in the room to remain simple, like the Carrara marble backsplash and countertop, and streamlined black mirrors and sconces here.'
4. Don't use blue all over
There's no rule that says you must paint all of your walls, though that's the style you'll see more often than not!
Your house, your rules, so if you fancy only painting ¾ of the way up then do just that. We love this look which features Farrow & Ball's Inchyra Blue and School House White.
We asked Joa Studholme, Colour Curator at Farrow & Ball, why this blue is a good choice, especially if you're looking for a complementary shade for your gray bathroom ideas:
'Inchyra Blue is the most complex of the dark blues, being a magical mix of gray, green and blue, which will endlessly fascinate you in different light conditions.
'Inchyra Blue on the walls gives an old-fashioned solidity and sense of drama, which works perfectly with any gray-on-gray scheme. Its uncertain tone makes it the perfect color in which to relax.'
5. Blue tiles are a great choice for the shower
'Herringbone is an absolute classic pattern dating back to Egyptian jewelry and Roman paving systems. While always beautiful on wood flooring, I love using herringbone patterns on bathroom walls, too,' says Mindy O'Conner.
'Herringbone allows the design to rely on a single, simple rectangular tile shape, with the interest and beauty created in the interlocking pattern and color. The intense blue of this tile makes the walk-in shower idea shown above a deep world of its own.
'I love how the herringbone and the richness of the blue combine in a way that is sophisticated, timeless and yet very modern and a bit dreamy. This tile is also made from 58.6% pre-consumer recycled content, making it as conscientious as it is beautiful to look at.'
6. Zone a corner of your bathroom with blue tiles
Color is great for zoning areas. This hexagonal bathroom tile idea has been used to create impact.
In this blue and gray bathroom idea the tiles are placed on the storage side of the bathroom, whereas the shower-wet room side is neutral in a soft gray. The blue tiles are the predominant feature, which makes it easy to accessorize with. The block color blue towels add a darker shade to the scheme.
Using blue in this way ensures the bathroom doesn't feel too 'blue' but still has more of that color than any other.
7. Torn between two shades? Go ombre
If you are a dab hand with the paint brush, then create your own one-off blue bathroom scheme that will be eye-catching and bold.
Ombre is a great paint finish to use especially if you can't decide on one particular color – just use 2-3 instead.
Annie Sloan, Color and Paint Expert, explains why blue is such a great color for a bathroom:
'I'm noticing people going for more statement bathrooms as they're spending more time in their bathrooms and rather than being clinical white spaces we want them to be glam escape rooms from the stresses of everyday life.
'Rich, jewel colors like Aubusson Blue will create an elegant and cozy feeling perfect for candlelit bath times.'
8. Not keen on plain blue walls? Choose a stylized wallpaper instead
Where once wallpaper was frowned upon for being impractical in the bathroom, it is now a big bathroom trend.
And you can match the background shade of most wallpaper ideas to a paint color to create a fabulously cohesive look these days, just like in the dark bathroom shown above.
Little Greene's National Trust wallpaper collection includes this stylised design called Bruges Snail, and the blue is their Juniper Ash – an easy on the eye blue that has warm tones, ideal for a bathroom that gets a 'cooler' light during the day.
9. Go for a pale and oh-so-interesting color
A very pale blue will help lighten and brighten your bathroom if it's small and generally dark. This pretty shade works well in gray and white bathrooms, as the combination of shades gives a fresh feel.
Note also that the ceiling is painted in the same color as the walls. This is a trend that's not going away. In fact, it's one we predict will run and run.
The coving is painted in white to create contrast between the two blue painted sections, which provides a visual break.
10. Go bright and bold with electric blue
A light and airy space can take a bright vibrant shade of blue. Smalt by Little Greene is one such color, and it looks fabulous with white. We love how this en-suite bathroom is framed by woodwork painted in the same color and enhanced by the Camellia wallpaper in the same colorway.
Sometimes it's worth going the extra mile and really considering the wider view and how rooms link from one to another. Choose accessories in a similar shade to bring the look together. The finishing touches are key to a successful scheme.
11. Focus on the detail
'Color, chosen well, can bring a sense of luxury to a bathroom, no matter its size,' says Damla Turgut of Otto Tiles & Design. 'And an accent wall is a great way to do this. Using a plain-colored or patterned tile to define a zone can create a real statement.' Shown here are Otto's Cats cement encaustic tiles.
12. Introduce a light touch
Although the trend for minimalism in bathrooms continues, as we look to create calm sanctuaries to retreat to, it is being updated with the introduction of nature-inspired colors. Here, blue basins bring a touch of softness to the graphic Stripes ceramic tiles from Domus.
13. Master the perfect blend
Interior designer Nicola Harding masterminded this bathroom in a Regency London villa. Nicola is known for her excellent eye for color, and indeed it is this flair that drew the client to her work in the first place. This chic scheme mixes the Rockwell bath in Blue from The Water Monopoly with a soft pink on walls and floors, creating a truly romantic space. The powder blue appears again on the Rockwell crosshead taps and shower handle – a nice additional touch.
14. Create contrast
Smart and sharp, this bathroom by Doherty Design shows just how sleek the blue and white bathroom ideas can be. The effect is graphic, thanks to the bold line that intersects the room and the oversized mosaic tile format. Lashings of white and accents of black and brass all ensure that the powdery hue remains contemporary and grown up.
15. Introduce a wall of art
Soft and chalky, calming and restorative, this evocative color is a leading tone in today's bathrooms.
To introduce gentle color to a neutral space, interior designer Fran Hickman turned to a collection of tiles in a variety of muted blues for the shower enclosure area. She used Emery et Cie zellige tiles, which have a wonderful iridescence and softness, and the result is timeless and elegant. The basin is from Lefroy Brooks and the mirror is by Pinch.
Is blue a good color for a bathroom?
Blue is perhaps the most popular color for a bathroom due to its nautical references, which means it is a great shade to choose.
There are so many options to choose from – aqua, cornflower, azure, cerulean, indigo and French blue.
You can use different shades to warm up or cool down a space too, for example, a warm blue will help a North-facing bathroom, whereas a cooler shade like navy will work well in a room that gets lots of sun.
What colors go with a blue bathroom?
It's super versatile and goes well in green bathrooms as well as with other shades of blue, crisp white, blush and neutrals like taupe, olive, ivory and vanilla. Or, you can mix and match other shades of blue together.
Winning combinations that we love are pale blue and coral, navy and white and sky blue and stone. If you want to add in some brights, consider a hot pink, bright yellow or an emerald green.
Sign up to the Homes & Gardens newsletter
Decor Ideas. Project Inspiration. Expert Advice. Delivered to your inbox.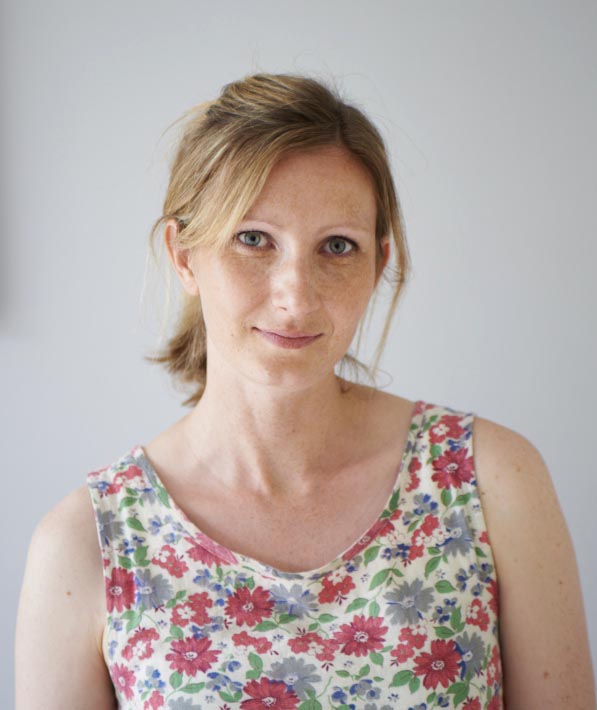 Sophie has been an interior stylist and journalist for over 20 years and has worked for many of the main interior magazines during that time, both in-house and as a freelancer. On the side, as well as being the News Editor for indie magazine, 91, she trained to be a florist in 2019 and launched The Prettiest Posy where she curates beautiful flowers for modern weddings and events. For H&G, she writes features about interior design – and is known for having an eye for a beautiful room.