Dark bathroom ideas – 10 ways to turn your washroom into a dramatic space
Embrace dark bathroom ideas for a daring and moody feel – and remember, it's not all about black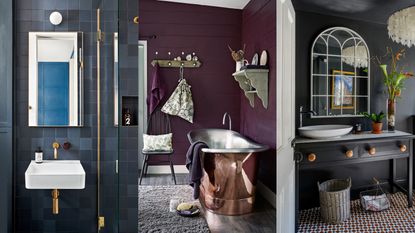 (Image credit: Davide Lovati/Mark Scott/Polly Eltes)
One of the advantages of choosing dark bathroom ideas over other designs is that they can create a truly, visually exciting space.
They allow you to really play with contrasts among your bathroom ideas: stunning dark walls with pops of marble, metallics and wood, and don't forget you can add in accent colors too.
Consider introducing patterns as well, such as with a dark-based wallpaper, or pairing fabulous monochromatic bathroom wall ideas with motif embellished floor tiles.
Dark bathroom ideas
Below, we've sourced our favorite dark bathroom ideas to inspire you. Remember, you don't need to go as dark as you may expect. There are some beautiful shades that will add depth, and balance is key. Break up the scheme with chunky marble, metallic accessories and other, brighter, bathroom color ideas.
1. Mix and match dark shades for variety
Two dark colors? Yes, why not. As long as you choose two that have the same tone it will work. This means they need to have the same depth of color, like Little Greene's Vulcan and Livid.
The former is a charcoal gray – an excellent choice if you're looking for gray bathroom ideas – named after the Roman God of fire. It's a good, solid shade that works well with Livid – a color that sits between blue, green and gray – which is really versatile, as it looks different at various times of the day.
We love how they're used in this dark bathroom, and you could easily swap them around so the green is on the walls and the gray is on the floor. Just remember to keep them balanced so they work well together.
2. Play with tile pattern for added interest
Dark bathrooms needn't be dull – in fact, they can be quite the opposite.
The herringbone patterned bathroom tile idea shown above creates an exciting decorative touch with a dark navy. It's important to create a balance between the light and dark so you don't feel like you're bathing in a cave, as Jo Olivier, Director at The Stone & Ceramic Warehouse, explains.
'Large scale bathrooms provide a great opportunity to go all out on design, and using bold tiles on a feature wall is a great way to introduce color and personality to your design.
'Dark and dramatic tiles look stunning when combined with a contrasting marble effect porcelain finish. This, against the bold navy tiles, creates a sophisticated and luxurious high end bathroom.'
3. Choose accessories that add drama
Drama is exactly what Anders Olsson, Head Stylist at OKA, had in mind when he set about creating this statement look.
'Taking inspiration from paintings by Dutch Masters, the decadent combination of black and gold is incredibly atmospheric,' says Olsson.
'This simple bathroom layout uses only a few key pieces. Each element has been carefully considered: small details like the door handles and wall lights contrast with the dark painted walls, while mirrors and reflective surfaces ensure the natural light is maximized.'
4. Dark doesn't have to mean cool colors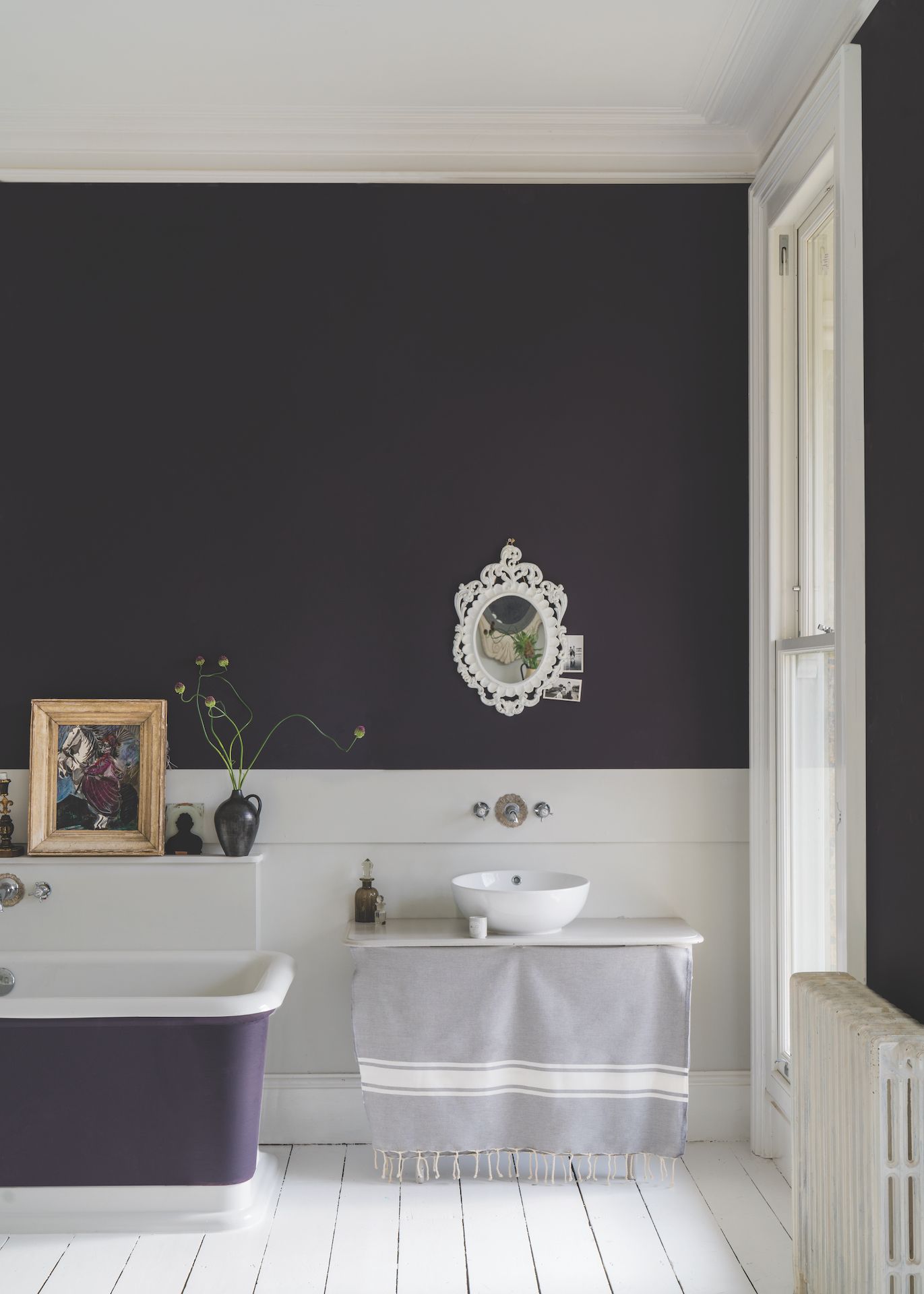 Farrow & Ball's Paean Black is a red-based black that, depending on the light, can look like a deep plum. It's a great color to consider when looking for bathroom paint ideas if you don't want to go as deep as jet black or dark blue.
If you want to lighten it up a little, team it with white or blush pink. The use of white here is a great example of how to create a good balance visually.
The Paean Black has been used on the upper wall and bath, leaving the rest white. The result is stunning, and is a great example of how to create a dramatic feel.
5. Choose a beautiful shade of eggplant
Called Brinjal – a name taken from the gorgeous deep skin color of the eggplant – this shade from Farrow & Ball is both dark and dramatic.
The beauty of a color like this is that its rich tone is warm and welcoming, making it ideal for a dark bathroom scheme, and it would even work in small bathrooms, too.
Added to a white bathroom, it creates a fresh contrast, or go for an all-over feel and paint the woodwork in the same shade, but with an eggshell finish.
6. Use metallics to add glamor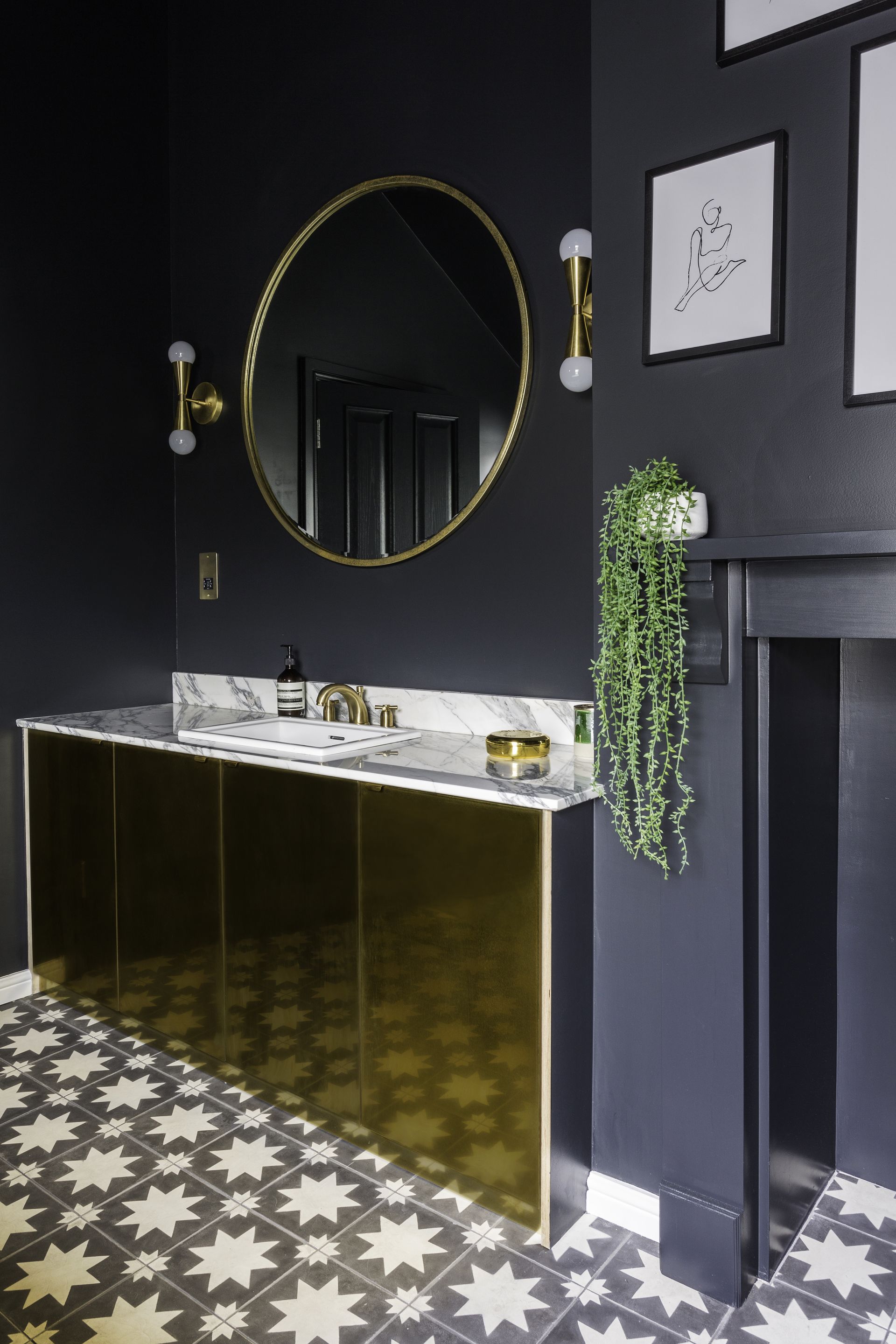 Metallics add glitz, and are the perfect foil when you have a dark bathroom scheme. They also help to reflect, which is always a bonus especially if your bathroom is on the smaller side, as you can see with the metallic units in the bathroom picture above.
Gold and brass are the best options as they add warmth, whereas chrome will cool the look – a distinctive choice, but not always what you want to achieve with a dark bathroom scheme.
7. Dark shades can work in narrow bathrooms
We tend to think that dark colors can only work in a larger space, but they can look great in small bathrooms, too.
When you opt for plain painted walls, create interest with a basin unit that has a weathered feel and team it with patterned bathroom floor tile ideas.
Both will add layers of texture to the scheme, which is what you want to achieve for a visually interesting dark bathroom.
8. Go decorative with bold floor tiles and shades
'We wanted this bathroom to have a moody feel and a fun vibe,' says Lauren Lerner, Founder and Principal Designer at Arizona-based interior design studio, Living with Lolo,
'We used a fun pattern on the floor tile and the Roman shades, and kept everything else pretty neutral to let these patterns play the starring role in this otherwise dark bathroom.'
9. A double helping of jet black
If you want to go for black, then choose a warm black. Yes, there are many different 'shades' of black: some are blue-based, red-based and yellow-based. Jet Black by Paint & Paper Library comes without the blue undertone, which gives it warmth.
To create an interesting look, consider playing with finishes. Use a matt black on the walls and team it with glossy black woodwork – it will make for an interesting and exciting design feature.
10. If black feels too dark, go for indigo
Indigo is a beautiful rich blue that works whether your scheme is modern or traditional. More interesting than navy – so we think – it's a friendlier version that works well with other colors.
The blush, navy and off-white tiles in the blue bathroom shown above are a good example of this, and the overall look is an eye-catching scheme that perfectly balances light and dark tones with a decorative aspect.
Are dark bathrooms in style?
Dark bathrooms are definitely becoming more popular – with deeper shades increasingly considered beautiful, dramatic and elegant, we're also seeing darker kitchens, too.
Although they aren't for those who love a bright and airy feel, they do have their place in the interior design world.
Yes, you need to be braver than if you were picking a more 'normal' shade, but the beauty of trying out dark colors in your bathroom is that it's the smallest room in the house – if you don't like it, it's not the end of world, and is easily rectified. But if you want to make a statement, then go for it!
How do I make my bathroom look moody?
The first step is to choose a color that resonates with you. It might be jet black, deep magenta, a dark navy or a steel gray. If you like green bathrooms, opt for an emerald green. They can all come under the theme of 'dark bathroom ideas'.
Creating a moody feel is about how you apply the color. You could go all in and paint the walls, floor and ceiling in one shade – that will certainly give you a dramatic feel.
Likewise, you could simply go for dark walls but keep the ceiling and floor light for contrast, or add in a second color, like a plummy tone, which will look fabulous with black.
Sophie has been an interior stylist and journalist for over 20 years and has worked for many of the main interior magazines during that time, both in-house and as a freelancer. On the side, as well as being the News Editor for indie magazine, 91, she trained to be a florist in 2019 and launched The Prettiest Posy where she curates beautiful flowers for modern weddings and events. For H&G, she writes features about interior design – and is known for having an eye for a beautiful room.