Bathroom layout ideas – the best layouts for bathrooms, ensuites and shower rooms
Smart bathroom layout ideas are key to every successful bathroom renovation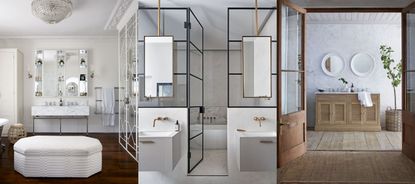 (Image credit: Anna Stathaki | Davide Lovatti | Neptune)
A carefully planned bathroom layout is key to a successful, functional and long-lasting bathroom design, so, getting your bathroom layout ideas right first time is vital.
When planning your bathroom ideas, working out the layout first is essential, as this will then allow for you to pick designs and objects that are suited perfectly to the exact needs of your space.
A bathroom needs to be an organized space that can help you feel energized at the start of the day and calm in the evenings, so choosing a layout that finds the perfect balance between function and relaxation will always be a success.
'Getting a bathroom layout right will make a huge difference to the enjoyment of the space', says Yousef Mansuri, head of design at luxury bathroom brand C.P. Hart.
Bathroom layout ideas – 17 inspiring ideas for your space
If you're wondering how to design a bathroom, before you begin browsing ideas, check the measurements of your bathroom and make a scale plan. Include elements that will affect your design, such as window positions and heights, external walls, drainage and door openings.
Then, create the main elements – a bath, shower cubicle, toilet, basic storage – to-scale so that you can better see what works where.
You should also consider your local planning and building codes for small things such as how much space you need between a toilet and a shower to prevent landing yourself in hot water.
'The room size undoubtedly has the biggest impact on what can be achieved, but you also need to consider door and window positions, as well as any fixed features like a fireplace or existing paneling,' agrees Yousef Mansuri.
'For a separate shower and bath, plus toilet and basin, we'd suggest a bathroom of at least 1.7m x 3m. Almost all bathrooms require compromises. If you want a large, luxurious shower, prepare to settle for a small vanity. Prioritizing your preferences is a good place to start.'
To help with the bathroom layout ideas for your space, we have gathered some beautiful bathrooms for inspiration, as well as speaking to the experts to find out what works best when planning the layout for your bathroom.
1. Make the most out of natural light
Having lots of natural light in the home is not only good for your mindset and physical health, it can make a room feel more inviting, relaxing and functional.
For your bathroom layout ideas, positioning key pieces, such as a sink, bathtub or mirror, near a window can make your bathroom routine feel more refreshing and uplifting, as well as helping you to save on using artificial light at certain times of the day.
In this bathroom by Neptune, the basin has been placed so it faces the window – a common design idea often used for kitchen Feng Shui ideas. This layout idea embraces the natural light that floods into the bathroom space by positioning an essential, everyday bathroom appliance near the window.
2. Create a room within a room
Great for large bathroom ideas, creating a room within a room can establish a beautiful, zoned bathroom space.
With luxurious shower designs surging in popularity, from walk in shower ideas to unique walk in shower tile ideas, when planning your bathroom layout, why not section off your shower space to create a luxurious, spa-like layout in your own home.
In this unique bathroom, sleek glass and metal panels have been used to create a sectioned bath and shower room. The overall design makes for a stunning bathroom space, with a modern, Art Deco feel. The room within a room design not only showcases a beautiful collection of materials, but creates an inviting bathing area with an enhanced feel of relaxation and calm.
3. Establish unique focal points
'When planning your bathroom layout ideas, you may come across certain features or awkward room layouts that you are unable change, so why not use these as an opportunity to create a unique focal point in the space,' says Homes & Gardens' Editor in Chief Lucy Searle.
In this bathroom, where contemporary colors and paint ideas by Little Greene have been used to uplift a traditional interior, the room shape leaves an alcove with a small window to the left of the bath. The perfect cozy corner for a small seat, the petite window is beautifully framed by a mix of soft blue paint and traditional stone, creating both an elegant contrast with the dark gray walls and a charming focal point in the space.
Paying attention to small features and awkward spaces like these when organizing your bathroom layout ideas can make a difference to how you use and appreciate your space, allowing for unique design opportunities where you can get creative with paint and object placement.
4. Consider the view
One to consider for ensuite ideas or open-plan bedroom-bathroom designs, considering the view as you look into your bathroom space will ensure you create a layout that is not only pleasing to look at, but works in harmony with the rest of your scheme.
In this bathroom by Neptune, the beautiful wooden and glass doors lead onto a relaxed bathroom space that embraces the same natural textures and neutral color palettes to the bedroom.
By placing the twin basin and wooden cabinet design in this location, a unique, calming focal point is created as you look on from the other room. Enhanced by accessories such as the rounded mirrors and plants, this bathroom layout creates an attractive space that can be appreciated from up close and from afar.
5. Incorporate seating
Creating an area where you can sit – other than the toilet – in your bathroom can add a luxurious, relaxing feel to the space, great for master bathroom ideas.
George Miller, Home Designer at Neptune states, 'there is nothing more homely than a petite armchair in a bathroom if you have room, because it introduces the softness of fabric. It'll also make a nice spot for someone to perch and chat to you while you're in the bath, or simply be a place to temporarily drape your clothes. Try to incorporate a little stool or a side table next to the bath too, where you can keep soap or a candle - being comfortable is all about having everything you need within arm's reach.'
When planning your bathroom layout ideas, if there is an empty area of space which you want to fill but are unsure how, incorporating seating can be both a practical and aesthetically pleasing solution.
For larger bathrooms like above, to make a space feel more cozy and intimate, why not place an ottoman or bench in the center of the room, this can effortlessly make the room design feel more united and inviting – one to remember for ottoman ideas.
For small bathroom ideas, folding seats or stools can also neatly slot into place.
6. Use raised platforms
Experimenting with different height levels and platforms when planning your bathroom layout ideas can help with both practical needs, such as storage and pipes, as well as help to create cleverly zoned areas and space dividers.
In this stand out bathroom space by Ripples, the raised platform allows for the stunning bathtub to truly take center-stage. Working in harmony with cleverly positioned mirrors and lighting, the layout of the this bathroom creates a unique design that unites art with design – a beautiful example of luxury bathroom ideas.
With raised platforms for baths an enduringly popular design feature, considering raised platforms when planning your bathroom layout ideas can help you make the most out of the space available, as well as make an elegant design statement.
7. Cater to your bathroom layout's negative space
As you begin to experiment with them, remember the negative space, too; in other words, the space between the different elements of your bathroom layout.
'There must be sufficient space between fitting for usability, cleaning, and aesthetics,' advises Youself Mansuri at C.P Hart. 'Leave at least 10cm between a vanity unit and a wall or shower screen, and allow 80cm-width for the WC, to provide elbow room. The same for a shower; I wouldn't like to go below 80cm wide inside.
'Consider circulation space in the center of a room. Can you move around comfortably and is there enough space to fully extend the vanity unit drawer, or to bend your legs when sat on the toilet?'
8. Avoid emptiness in a bathroom layout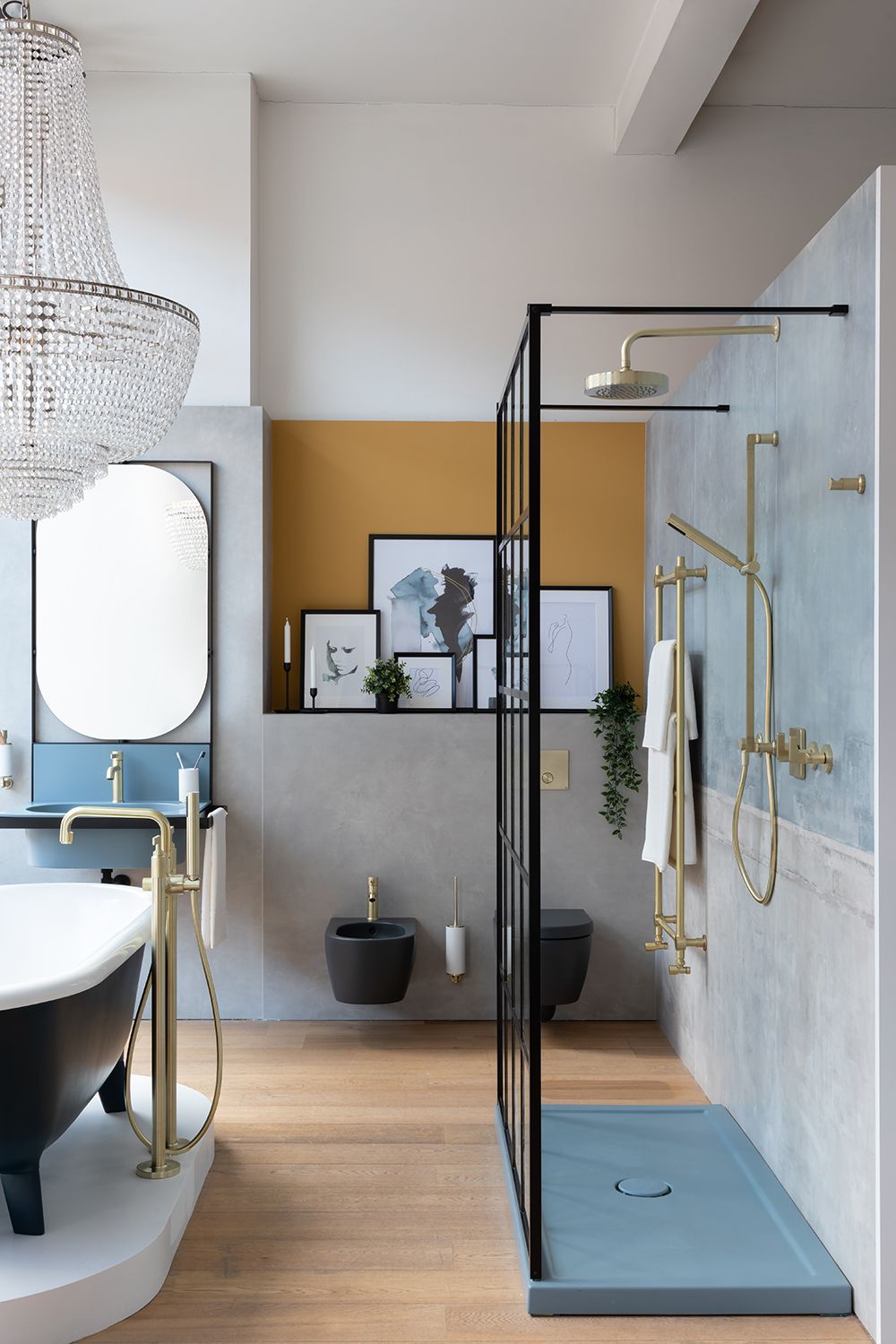 'In very large rooms, putting fittings around the edges can make the center feel cold and empty,' says Yousef Mansuri.
'I often try to play with interior architecture in big bathrooms. For example, using stud walls for separate shower and WC areas, placing large baths centrally, or creating double-entry shower scenarios.
It's also lovely to include seating. A bench, a side chair, or even a glamorous chaise lounge, to create space for relaxation.'
In bathroom Feng Shui, the layout of your space is vital. Having a bathroom directly opposite the front door means that when you walk into your home, the bathroom is the first thing you notice, and it is one of the Feng Shui features to avoid.
9. Revolve your bathroom layout around a key feature
'Take a look at your space and consider your wish list,' says Louise Ashdown of West One Bathrooms. 'The fittings for a family bathroom are likely to be different to a luxurious ensuite bathroom; a compact wet room different to a large spa-like bathroom.
'Decide on your key feature, be it a sculptural freestanding bath, a glamorous vanity unit or a double shower, and try to position it as the focal point, visible from the door.'
Yousef Mansuri agrees, 'Establish a focal point upon entering your bathroom. This could be a lovely vanity unit with mirrors and wall lights, or a beautiful freestanding bath. It should not be the toilet, if at all possible.
Where there is a window, the sill height is very important. Can you fit that toilet cistern frame under the window? If the window is large or particularly beautiful, you may wish to highlight it by positioning a bath below.'
10. Choose the statement bath layout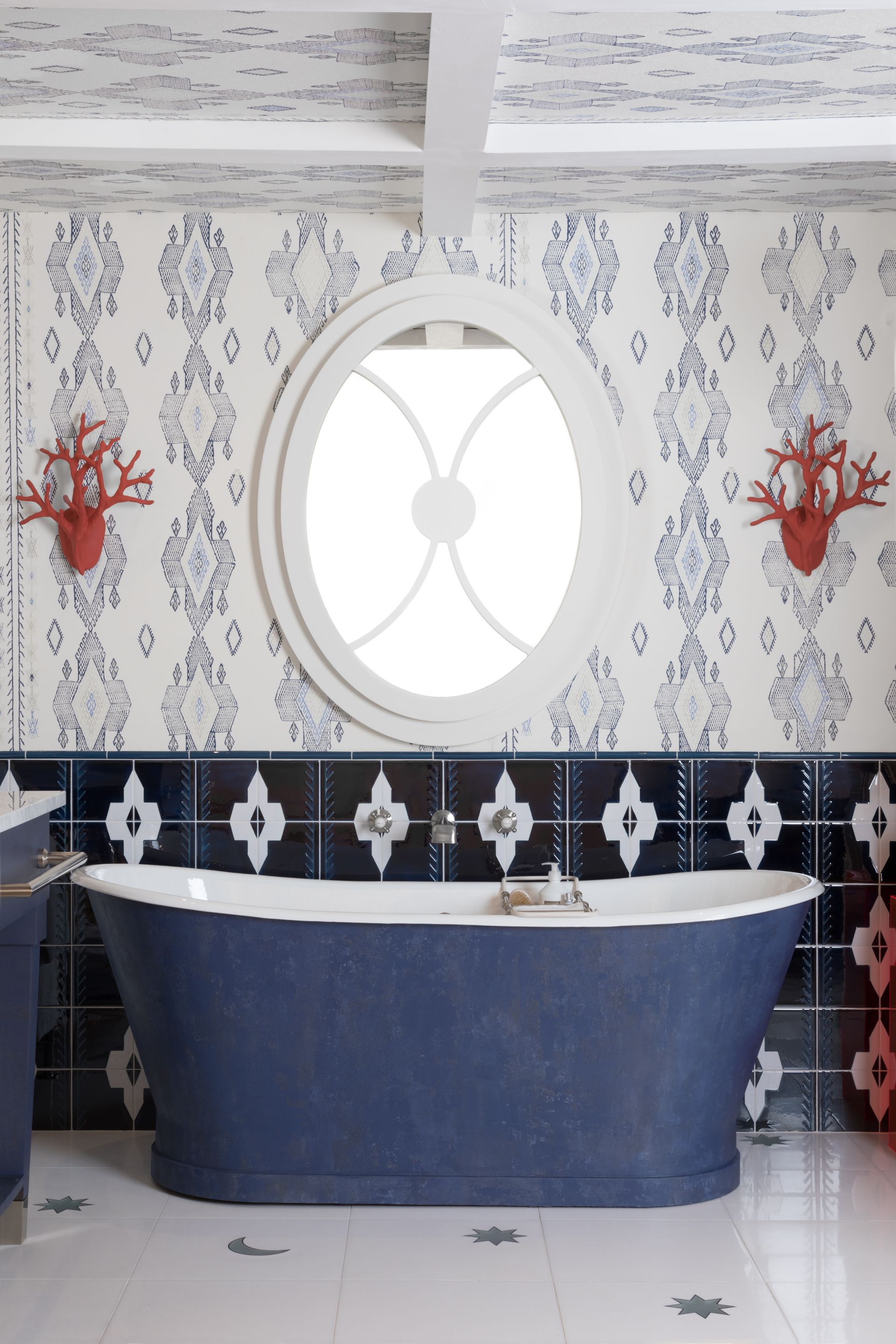 For anyone with a large bathroom or a master bathroom, putting the bath center-stage is often a priority.
The best place to position the bath in this case is centrally against the focal wall – usually the wall opposite the door to the bathroom or beneath the window. If you have plenty of floor space, a bath placed in the center of the room can give the space a real sense of occasion.
'A freestanding bath can look stunning, but it needs space to show off its shape, so may be better suited to a larger bathroom,' continues Louise Ashdown. 'A standard bath is L1700mm, but there are plenty of larger and smaller options: try out the bath before you buy, because comfort is king.'
If you are taking this approach, ensure the bath deserves the stardom you are giving it: a shapely freestanding bath will be most appropriate here.
And, of course, max out this bathroom layout by ensuring the bath is framed with beautiful bathroom tile ideas, a stunning window treatment of even just a stand-out paint color.
11. Pick the bath and separate shower layout for large bathrooms
If you have the space for a shower and bath in your bathroom, it is best to install them as separate elements. But do consider how you use your bathroom before devoting precious floor space to both.
If, for example, your family tends to shower more than take baths, consider sacrificing bath-size to ensure there is plenty of room for a spacious shower. By contrast, if you rarely shower, a smaller or space-efficient corner cubicle or even an over-bath shower (see more on that below) might be a better use of your space.
If you do have just enough space to include both a bath and separate shower, there are many inventive ways of maximizing the space.
One is to divide the room with a partition wall that the bath can sit against and which can be used as one side of the shower cubicle.
In modern bathrooms, using a glazed shower screen to create the division, as in the bathroom above, can make the bathroom layout feel more spacious. And, of course, it allows light to flow freely through the room.
12. Save space with the over-bath shower layout
If floor space is tight and you are looking for small bathroom ideas, it is wiser to incorporate the shower into the bath. A quality pairing can give you the best of both worlds: a spacious feeling bathroom, with all the functionality you need.
The over-bath shower above is beautifully decorative but if you are serious about practicalities, and the shower will be used very regularly, look for a bath designed specifically for showering.
L-shaped or bow-end baths will give you more room to stand in the shower end, without taking up too much floor space.
Relying on a hand-held shower attachment is the least preferred option. Having a proper shower fitted at the shower end of the bath is a must if it will be used often.
13. Select the shower room layout for small spaces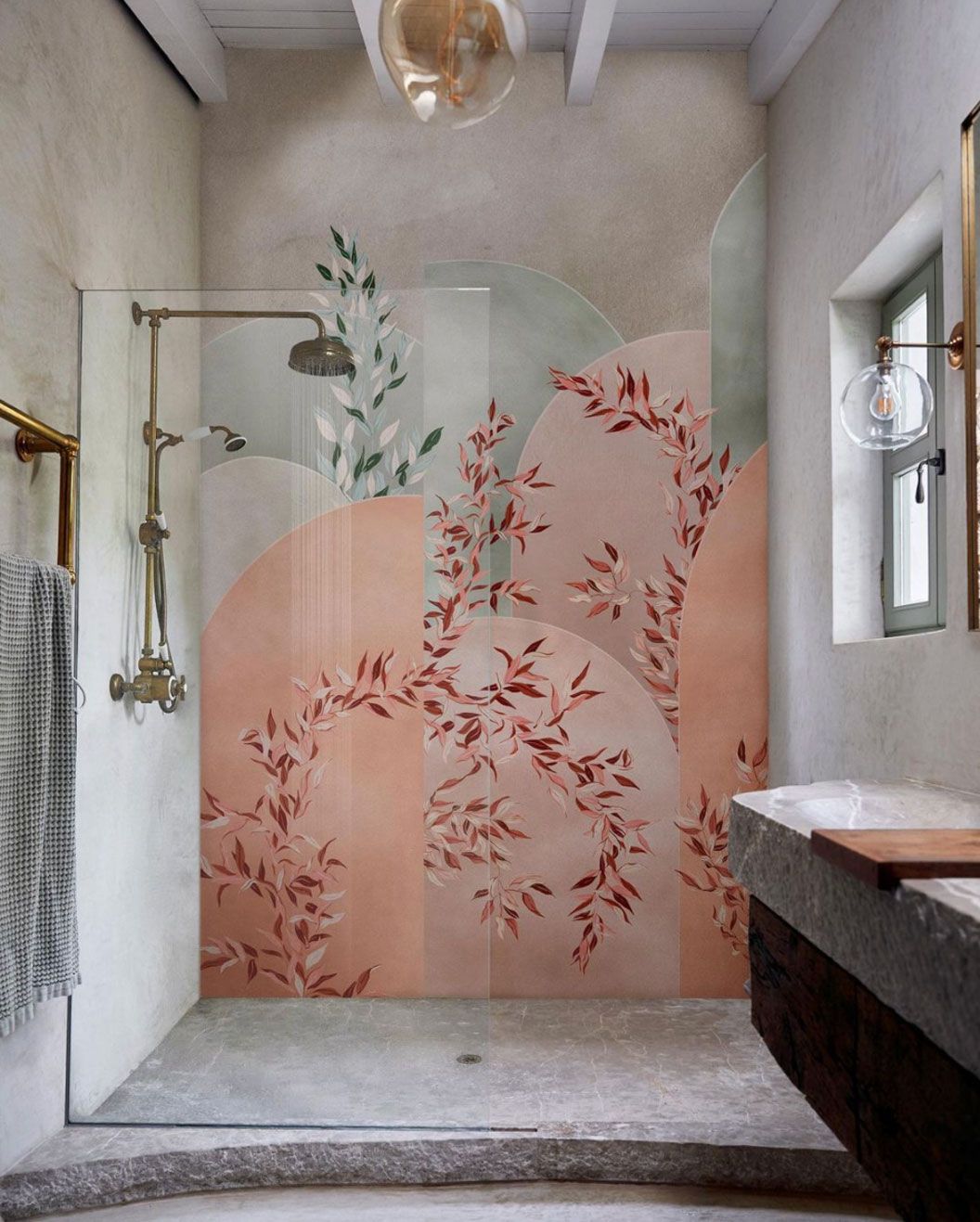 If you are looking for shower room ideas or wet room ideas, your bathroom layout may already be decided due to lack of floor space and, of course, drainage, which will be a major consideration and cost.
'You could decide to tank the whole floor for a wet room or a less expensive option is to create a walk-in design using a simple glass panel or panels to screen off a shower area with a flush-fitted tray or flush-tiled floor above a floor former.
In this case, you need a minimum of 1200mm x 900mm to be able to shower in comfort and prevent water splashing outside the shower area,' says Louise Ashdown.
'In a smaller space, an enclosure will prevent splashes and a minimum comfortable size is 900mm x 900mm. An enclosure is also essential if you want to install a steam shower, in which case you need a roof to the enclosure with a maximum height of 2200mm.'
14. Boost space with wall-hung fittings
Wall-hung fittings are amongst the most vital of bathroom layout ideas – even in larger spaces. They make bathrooms not just bigger-looking – because you can see right beneath them to the walls of the room – they also make them easier to clean, too.
The space-enhancing trick wall-hung units and fittings create is really useful if you are choosing large fittings, such as double vanity units or wall storage units. But the even smaller elements of your bathroom layout can contribute.
'A wall-hung toilet, supported on a concealed frame, frees up the floor and maximizes the sense of space in your bathroom,' says Louise Ashdown.
Yousef Mansuri discusses the practicalities: 'Wall-hung fittings allow you to see underneath, giving a better sense of space. A stud wall is built out by at least 12cm to 20cm to hide cistern and pipes but if you have a stud-partition wall already, for example it's a newly created en-suite, you can utilise the interior voids.'
If the wall-hung look is too contemporary for the bathroom style you have in mind, pick furniture and fittings with streamlined or neat proportions, or sleek, narrow legs.
15. Think vertically
You may not consider it immediately but your bathroom's height needs to be included in layout planning.
'If ceilings are particularly high, then I would stop the tiling at 2.2m or 2.4m high (picture rail height) and paint above,' advises Yousef Mansuri.
'High ceilings can push lighting out of IP-rating zones, affording more design choice – consider a glamorous chandelier. A low ceiling requires careful showerhead positioning. A flush-to-ceiling shower can help gain extra headroom, as will a low-level shower tray.'
16. Consider flooring in your bathroom layout, too
A change of level in a large bathroom layout can look wonderful – perhaps creating a stage for a centerpiece bath – and it can be a useful way of solving plumbing issues.
However, if your bathroom layout ideas revolve around furnishing a smaller bathroom, or maximizing space in a large bathroom, one-level, uninterrupted bathroom flooring ideas will have a similar effect to wall-hung furniture, making the room feel bigger.
'Wet room floors can give the illusion of extra space as there is no break in the floor type. Underfloor heating can free up wall space for other fittings,' advises Yousef Mansuri.
17. Consider storage right from the start
No bathroom can function without cleverly thought-out bathroom storage ideas, so this needs to be one of your earliest researched elements.
Using otherwise dead space is the most-efficient way to furnish your bathroom with storage. Think bathroom shelf ideas like shelving over a toilet or other small bathroom storage ideas, such as drawers beneath vanity units; niches within partition walls over baths or within shower cubicles and over-basin mirrors with storage hidden behind.
For bathrooms with little floor space, think tall, narrow storage that can either be wall-hung or floorstanding. These units can usefully hold everything you need them to but take up little room.
Adding a mirror to the front of this type of storage will help your bathroom layout feel more spacious and will help the storage blend away.
If, of course, you have plenty of space, a floor to ceiling run of mirrored cabinetry is a wonderful option. Consider the reflections cast, though, as few people want to see themselves on the toilet or in a shower. And remember, sliding doors are more space efficient than those that open outwards.
And, bear in mind that storage with doors is always going to be a better choice in what is often a small space than open shelving.
How do you lay out a small bathroom?
To lay out a small bathroom, draw out a to-scale plan and use cut outs of the priority elements – bath, toilet, basin, storage – to see what can fit comfortably.
Then, being careful to measure the space between each element to ensure there is enough room to move around, consider whether there is space for a separate shower or whether you have to consider an over-bath shower, a bath-only option or a shower room that sacrifices the bath.
Good ways to save space in a small bathroom layout is to choose underfloor heating over wall-hung heating options, and to pick slim but tall storage units or those that can be hung in otherwise dead wall space.
Finally, consider wall-hung bathroom vanity ideas and other fittings, as these will give an impression of space.
Where should a toilet be placed in a bathroom?
You may well find that there is little choice in where you place a toilet in a bathroom due to the position of the soil pipe.
However, if you can be flexible, never place the toilet opposite the door to the room and ideally, always tuck it away out of sight from the room's entrance.
You want your bathroom to look like a spa space as you enter it and a visible WC doesn't promote that.
Sign up to the Homes & Gardens newsletter
Decor Ideas. Project Inspiration. Expert Advice. Delivered to your inbox.
Linda graduated from university with a First in Journalism, Film and Broadcasting. Her career began on a trade title for the kitchen and bathroom industry, and she has worked for Homes & Gardens, and sister-brands Livingetc, Country Homes & Interiors and Ideal Home, since 2006, covering interiors topics, though kitchens and bathrooms are her specialism.