One-wall kitchen ideas – 9 ways to transform the smallest layout into a standout design feature
One-wall kitchen ideas, with their uncomplicated simplicity, have a timeless appeal no matter how big or small your space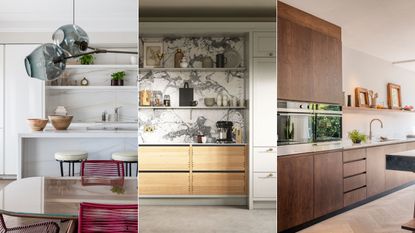 (Image credit: Kitesgrove / Magnet / Naked Kitchens)
A one-wall kitchen or single-line kitchen aligns every piece of the kitchen cabinetry, appliances, and often workspace along one single wall to create a cohesive streamlined kitchen.
This type of kitchen layout follows a clear and clean design script to ensure the arrangement of a working kitchen across one wall in a room is both efficient and chic.
We explore the clarity of design used to create this contemporary kitchen design. Not just for studios, apartments, or smaller homes, the one-wall kitchen is often used by designers for much larger spaces and as a fresh new way to lay out a home kitchen.
Our kitchens are the beating heart of our homes, they work extremely hard to provide workspace for your culinary arts, as environments to spend time with friends and family. It is often the most used, busiest, and industrious room of the entire home, so the bar is set extremely high to ensure a one-wall kitchen plan is slick, effective, and du jour to boot.
One-wall kitchen ideas
We take a look at the design roots of the one-wall kitchen, talk to interior and kitchen designers to get the intel from those who know how and share our favorite designs for both large and small kitchen layouts.
1. Maximize your space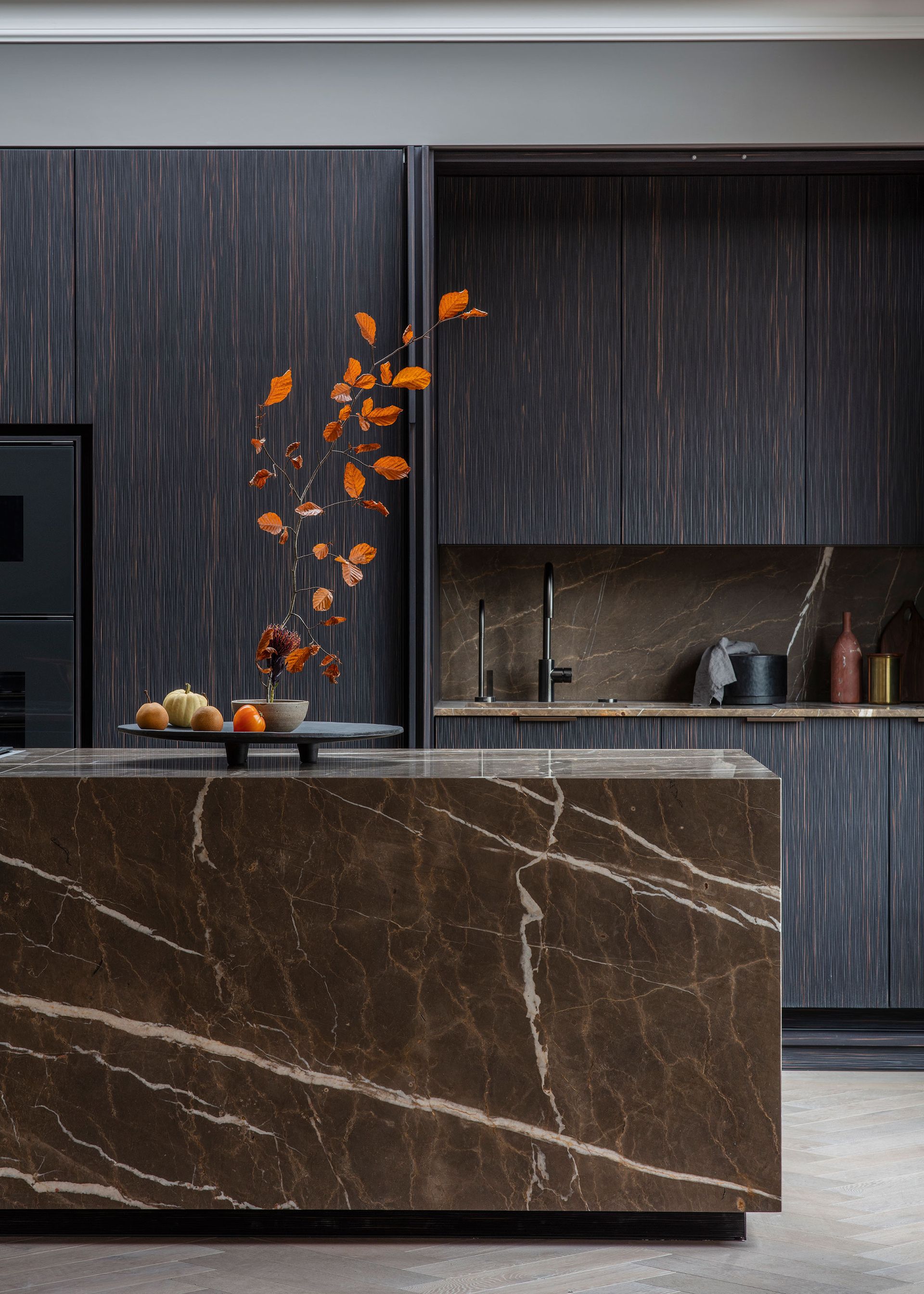 'Having a one-wall kitchen is a functional layout that helps maximize existing space, especially when space is at a premium,' says Jen Nash, design excellence manager at Magnet Kitchens. 'Utilizing one wall for kitchen countertops and kitchen cabinets means you can consolidate all major workstations into one area, with zero fuss.'
It is also a great solution for making room for other important family functions such as dining and relaxing. For people with busy lifestyles, this kitchen style offers efficiency and the potential for seamless integration. For more compact spaces futility can become utility by keeping kitchen shelving open and using peg rails to ensure everything is easily accessible and super convenient. Utilitarian but kept beautifully natural and elegant.
With a smaller space to work with, utilizing just one wall to house every element of a kitchen provides a compact solution for a smaller home and in effect allows the room to feel much larger. If you have a narrow kitchen to work with then the one-wall kitchen is a fantastic design solution.
2. Put storage at the forefront of your design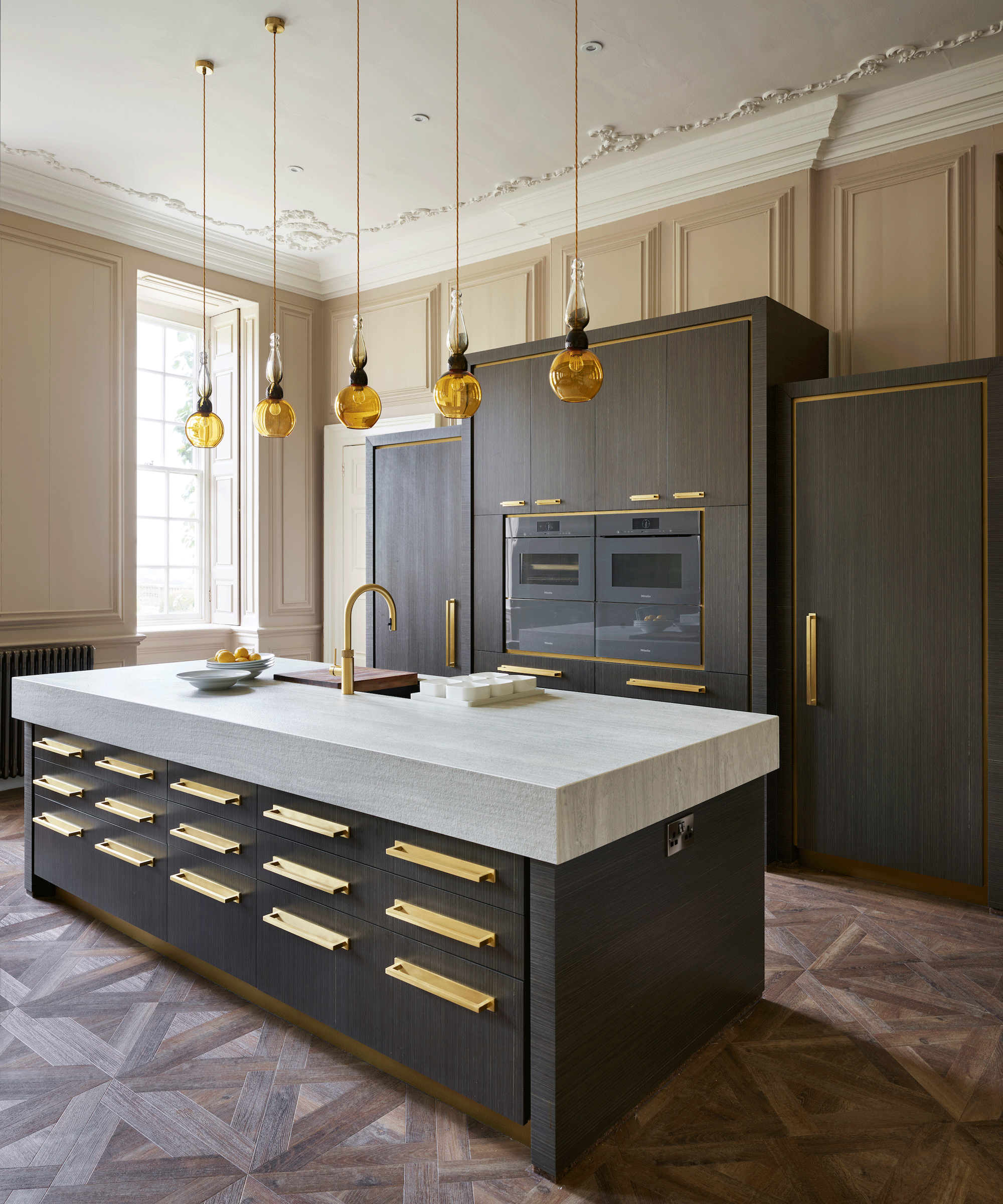 'The priority is identifying ways to maximize efficiency while making a strong aesthetic gesture,' says Alfredo Paredes, Interior Designer at Alfredo Paredes Studio.
Expertly planned kitchen storage is central to the design of the one-wall kitchen, if you have height in the room then maximize this, utilizing the potential height of the space through stacking configurations of cabinets and tall units, to create all of that much-needed storage. When designing a single-run kitchen work consider the starting points: where are the water, power, and drainage? Once you have established these key features, you can plan where your sink, fridge, and cooker will sit and then you can begin to build your storage around these central work spots.
Simon Temprell, interior design manager at Neptune, adds: 'Take your wall cabinets double-height for storing things that you don't use on an everyday basis. A brass rail and ladder system would be the perfect way to reach the top cabinets and would add personality to the finished design.'
3. Integrate appliances and create a sense of flow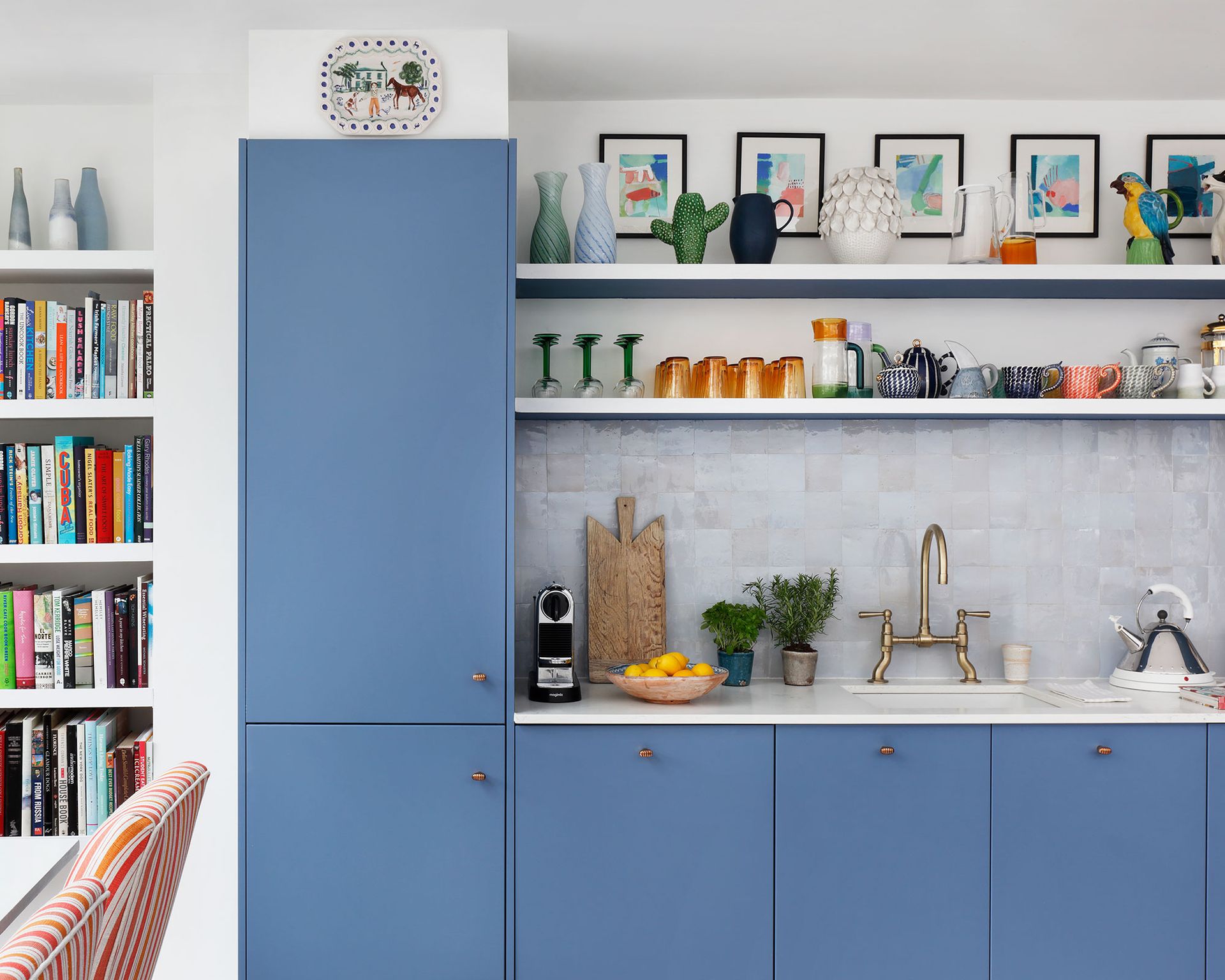 Having your kitchen located across a single wall will ensure you can achieve a sleek and contemporary look in a very simple way. But, when considering the layout of your kitchen, flow is key to the design and so ensure you consider using integrated appliances to create that flow.
'Integrated appliances will help to save space and allow for seamless placement within the visual design concept, never disrupting the flow, and creating an overall design that is easier on the eye,' says Jen Nash, design excellence manager at Magnet Kitchens.
Interior designer, Sarah Peake of Studio Peake explains: 'If space only allows you to have one wall to install your kitchen, then pay special attention to the kitchen layout and flow to ensure that everything is incorporated into one run. You're much more on show while cooking and prepping than you are when you have an island to hide behind. Integrating the appliances helps to reduce the number of different finishes and materials going on in a small area.'
'In this one-wall kitchen, I have incorporated artworks above the top shelf which helps to inject some personality and ties it in with the rest of the room.'
4. Don't fill your entire wall with cabinets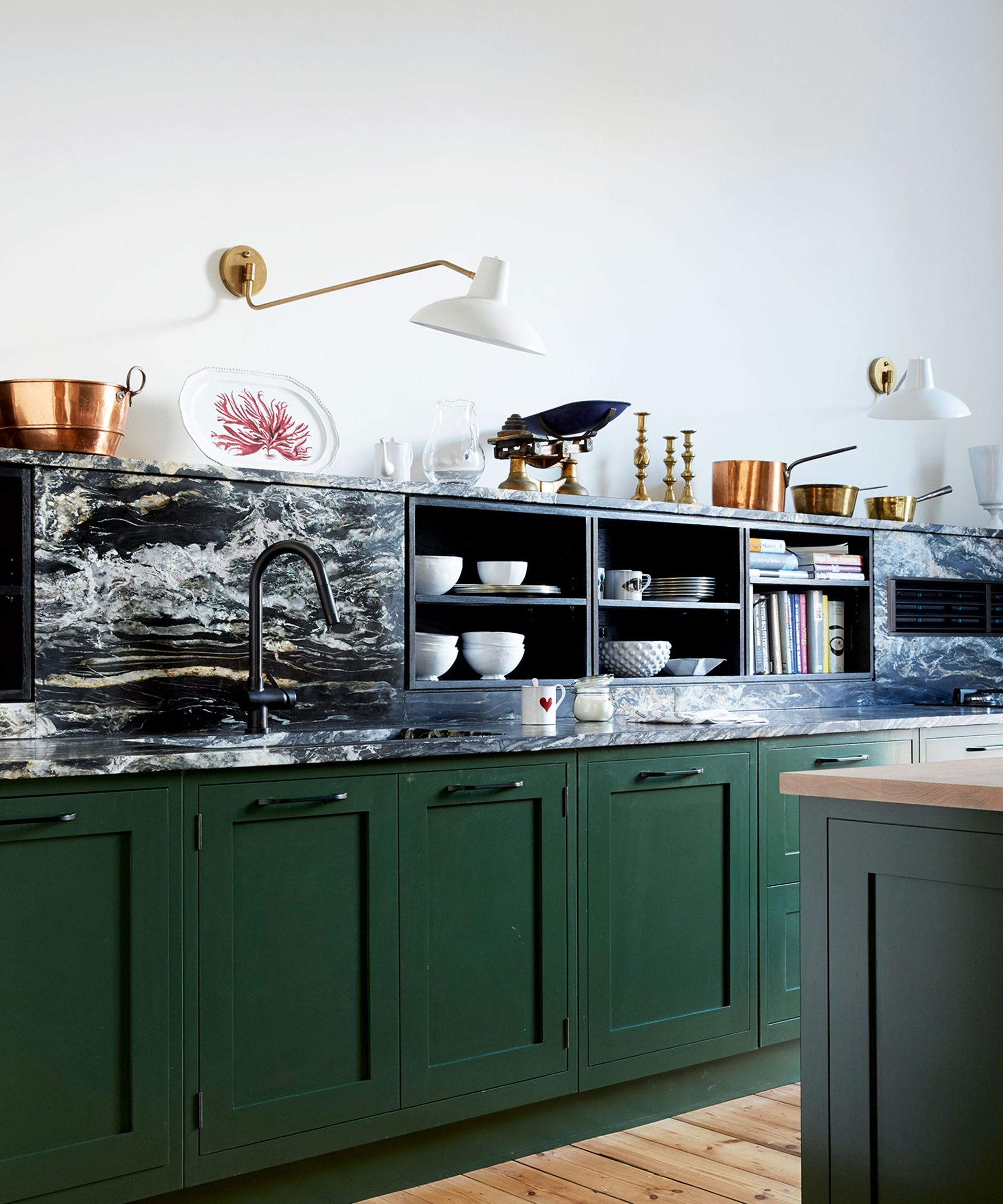 'Despite your need for maximum storage, try to allow some breathing space between wall cabinets so that it doesn't start to feel top-heavy,' says, Simon Temprell, interior design manager at Neptune. 'A few open shelves, especially with concealed lighting, will open up the space and introduce a point of interest.'
If you're wondering how to fill the extra space, there are a plethora of beautiful kitchen wall decor ideas. You could even experiment with decorating above kitchen cabinets; this is a wonderful way to fill the space with an attractive feature, rather than just letting it gather dust.
5. Balance aesthetic with functionality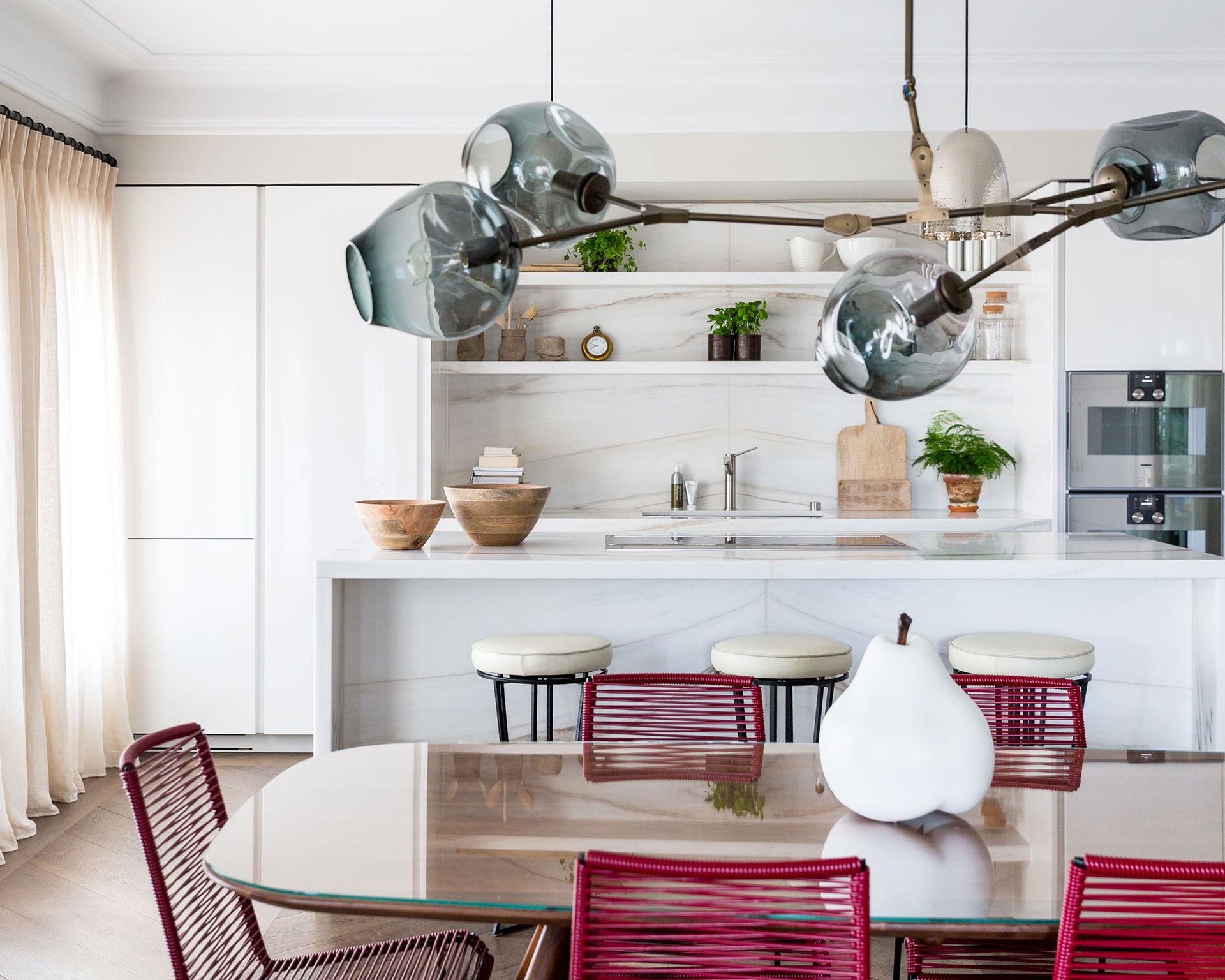 When planning a kitchen, it is important to balance the overall aesthetic with functionality, particularly with a smaller space. Designing a kitchen along one wall maximizes the rest of the space inside the room for open-plan living. So, every centimeter of cabinetry must be well-considered to provide hard-working storage. Adding a beautiful aesthetic to this resilient design is a priority to secure charm.
'The introduction of natural materials such as marble, stone, and timber create a warm but sophisticated feel and decorative ironmongery will help to add a touch of personal style,' says, Clara Ewart, head of design at Kitesgrove.
6. Use multi-use furniture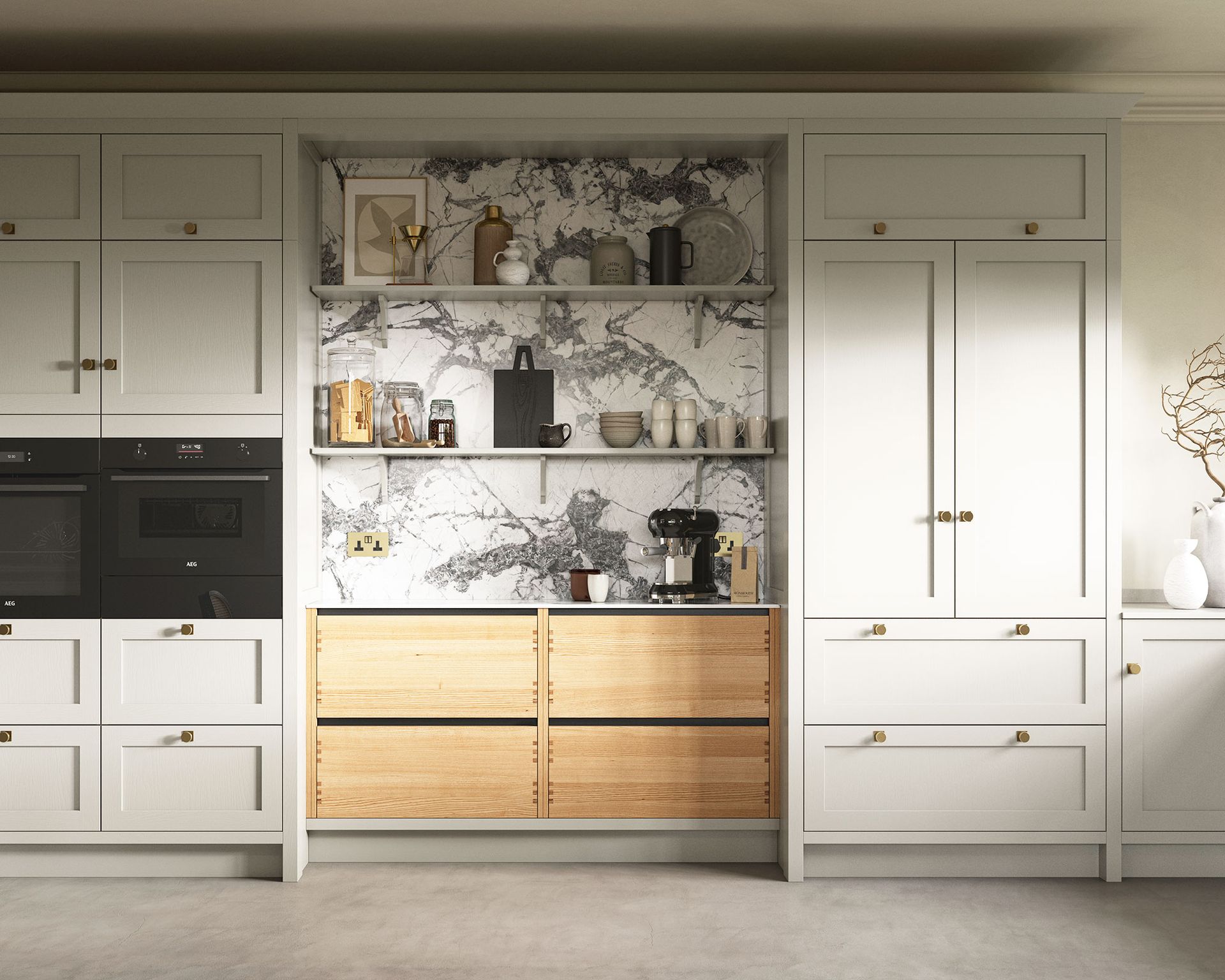 Look for clever furniture solutions to use within the space created by a single-line kitchen to maximize your living space beyond.
'A drop-leaf dining table is useful for small spaces,' explains Simon Temprell, interior design manager at Neptune. 'Something as simple as a cabinet door that drops down on hinges with two folding chairs that stack neatly away – perfect for dining or working from home.'
A drop-down table can also double up as extra preparation space in the one-wall kitchen, this gives some flexibility to those who only have a small kitchen space to work with.
7. Add a kitchen island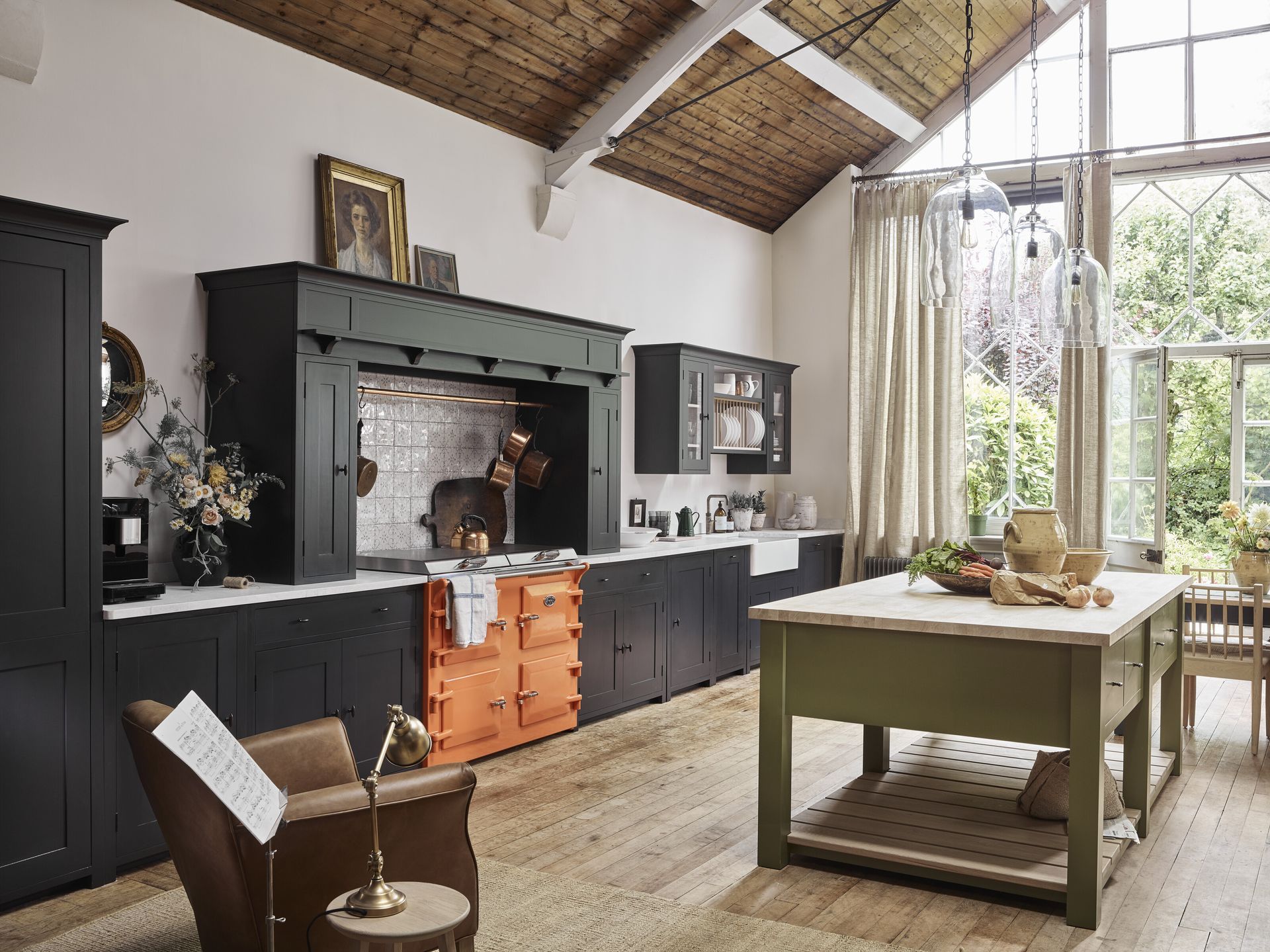 The one-wall kitchen is a design that isn't just used for a smaller room or building, many interior designers and homeowners will select this as a design option, and if the space allows adding a kitchen island to embrace the space and provide further opportunities for food preparation and or hosting and dining.
Due to the one-wall kitchen taking less floor space, there is ample opportunity to add further kitchen furniture into the space created. Creating two clear zones, one for working in the kitchen and one for relaxing and working.
8. Consolidate elements
The one-wall kitchen consolidates the major elements such as the fridge, sink, and oven into one area and therefore takes up less space than other layouts. This is not only perfect for homeowners who have smaller kitchens to work with, but also allows flexibility for those with larger square footage to create additional areas within the overall space.
'Using as a mixture of tall and lower based cabinetry with varying widths based on your storage needs,' says Elizabeth Sherwin, creative director, of Naked Kitchens. 'Considering all of these elements in the design stage will ensure you create a beautiful and highly efficient space to prepare meals and entertain guests seamlessly.'
9. Introduce clever color combinations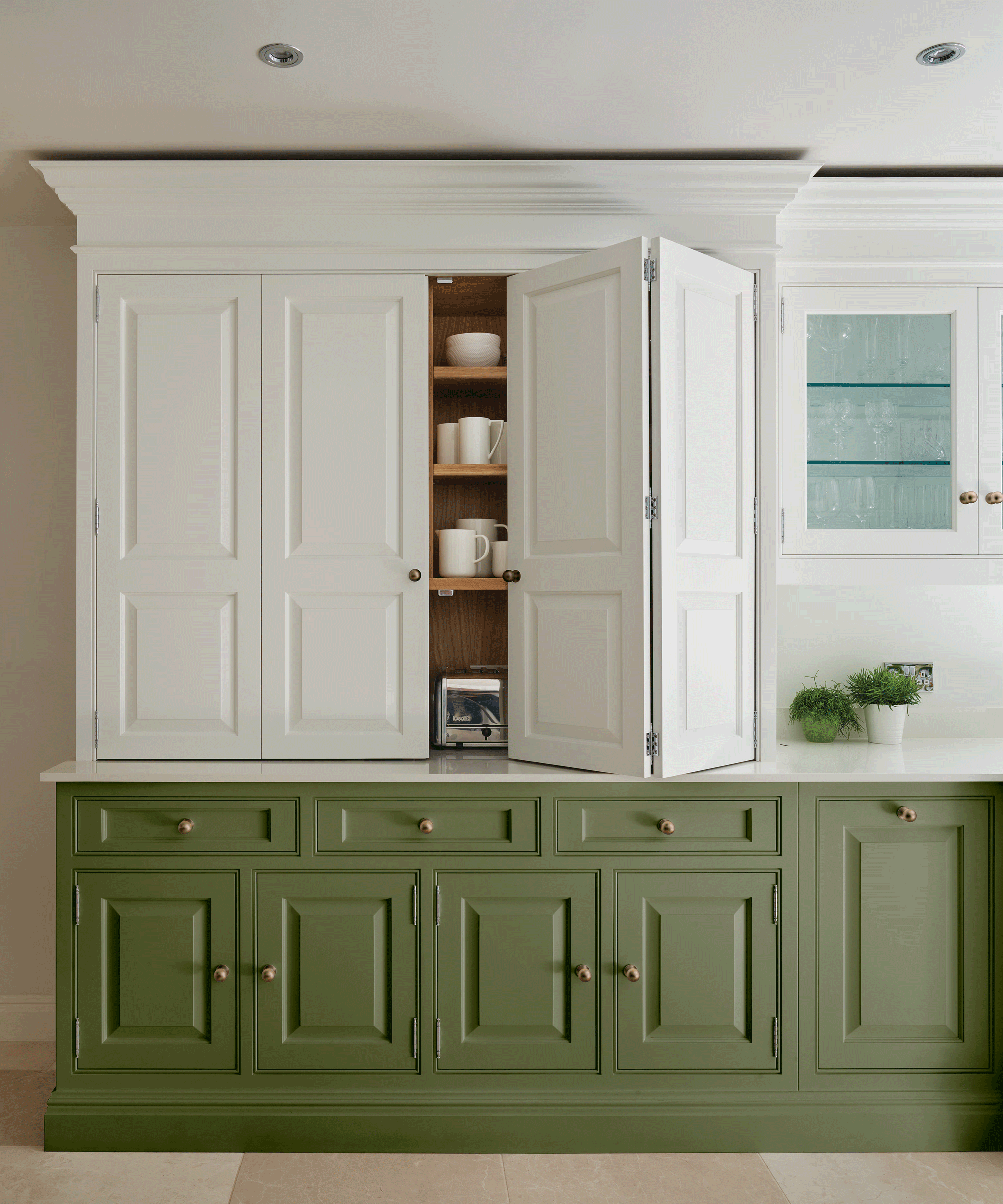 The advantage of choosing just one wall in a room to house the entire kitchen means you can select a bright color and be bold in your design tones. This injection of an entirely new colorway can bring a bright and joyful element to your kitchen. If you are torn between two kitchen color ideas or looking to have a kitchen design with more depth and interest, a two-tone kitchen may be for you.
Choosing to forgo a classic all-white environment in your one-wall kitchen design will add instant personality and originality to your home and provide you with much-needed vibrancy when you make your coffee on a grey Monday morning!
How do you plan a one-wall kitchen?
Choosing a one-wall kitchen is a fantastic design solution for smaller, compact or narrow homes. Begin by working out where the most important services will be located, sink, oven, and fridge.
Utilize height to bring in plenty of storage, but ensure that you create open spaces along the wall, to incorporate extra design elements and encourage an open feeling. An open-wall kitchen can be cost-effective with fewer cabinets and worktops needed, keeping the all-important kitchen functions close to hand.
Although there are fewer working areas in the design of a single-wall kitchen, there are advantages of having more space in the rest of the room for socializing or adding an extra design element like an island.
Sign up to the Homes & Gardens newsletter
Decor Ideas. Project Inspiration. Expert Advice. Delivered to your inbox.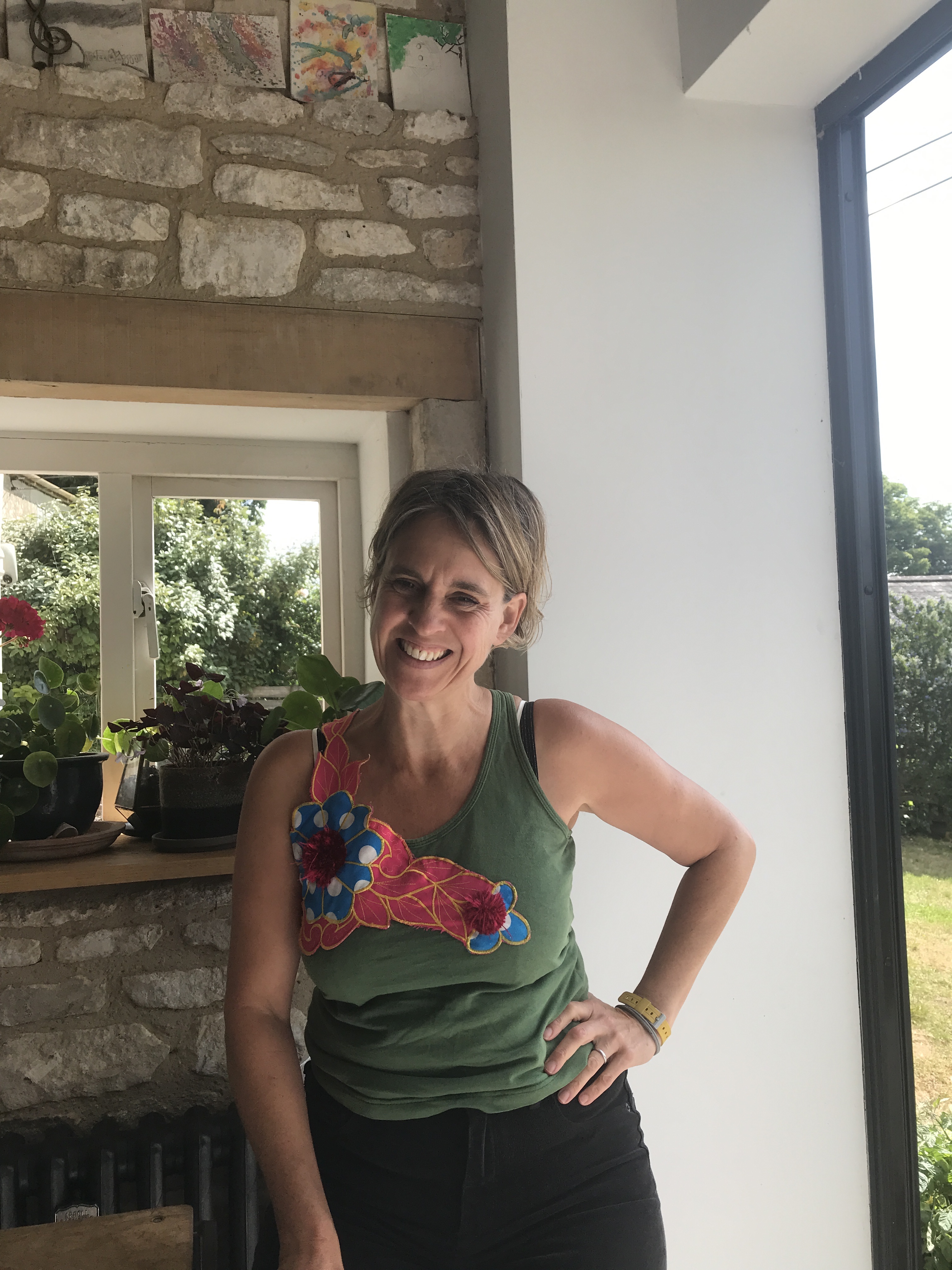 Hannah Newton is a lifestyle, interiors, travel and design journalist and editor who has been writing for the past two decades, she has written for national newspapers including The Times, The Telegraph, The Guardian and The Observer as well as interiors titles Elle Decoration and Architectural Digest in the UK and across Europe, South Africa and Australia.