Kitchen wall decor ideas – 11 stylish looks with paint, tiles and wallpaper
If you're looking for some kitchen wall decor ideas to give your space a lift, these beautiful designs will provide vertical visual inspiration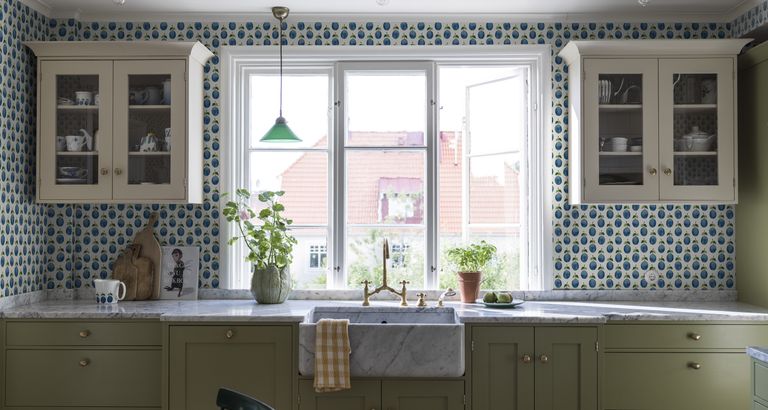 (Image credit: Boråstapeter)
Kitchen wall decor ideas are important to consider: as the veritable heart of the home, the kitchen sees a lot of action day in, day out. It's rush hour busy every morning, it's where meals are cooked and dishes washed in the evening, and, more often than not, it's where the whole family ends up repeatedly throughout the day, seven days a week.
There's no denying that kitchen ideas need to be functional, but that doesn't mean they can't be stylish, too. Your existing furniture, cabinetry and appliances will usually influence the room's decor, yet how you decorate your kitchen's walls can enhance the space and crucially, your mood, too.
'The kitchen wall is an imposing part of any kitchen, so it needs to be beautiful, but it must be hardy. There is no getting around it, it's going to get a bashing,' says Rodrigo Moreno Masey, director at Moreno Masey.
'Not only will there be sauces and splashes, but also knocks and scrapes. Whatever you choose needs to be robust and cleanable,' he adds.
Kitchen wall decor ideas
If you're keen to give your kitchen wall a whole new look, we have a whole a host of super stylish, yet brilliantly practical kitchen wall decor ideas – along with inspiring pictures of kitchens – to help you transform your space for the better.
1. Add drama with a mural
Going big, bold and dramatic with your decor doesn't always mean you have to have lots of space to do it. This enlarged botanical wallcovering by Anna Glover creates a striking focal point in this small kitchen, allowing the space to feel more expansive.
Wherever possible, try to avoid using wallcoverings that come into direct contact with heat, steam or water. Non-woven wallpaper ideas are an ideal choice for kitchens, as not only are they easier to apply, but they can also be wiped clean of any marks or splashes.
2. Contrast a neutral scheme with bold color
'Vivid hues and lively tones work well in rooms that are made for entertaining or see a lot of activity, such as kitchens,' says Ruth Mottershead, Little Greene's Creative Director. 'A pop of bright, rich contrasting color is a great way add impact and an element of surprise to an otherwise muted scheme.'
The bold painted wall in this green kitchen – Sage and Onions by Little Greene – adds a welcome touch of vibrancy to an otherwise neutral scheme. You don't necessarily have to paint a large space in a strong shade either. Even just a small section of wall in a contrasting color is enough to give a space a welcome lift.
3. Split the difference with wood paneling
When planning a kitchen makeover, a relatively straightforward (and oh-so classic) way to give your space a smart new look is to add wall paneling. Try experimenting with different panel widths, and layer the look with a special backsplash in a contrasting color.
'If you're painting a kitchen, bear in mind that you'll see some wear and tear over time, so it's important to opt for a paint that can resist oil or food splashes and can be wiped clean easily, too,' advises Helen Shaw, Benjamin Moore's UK Director.
'Eggshell or acrylic is the perfect choice for this, it's easily cleaned, and stains will wash off to ensure a long lasting and fresh look,' adds Helen.
4. Go halfway with a backsplash
A kitchen backsplash (or splashback) is often the most hassle-free wallcovering to install in a cabinetry-packed kitchen. The surface is super easy to wipe down after cooking and the range of kitchen backsplash ideas available offer a layer of visual variety if your aim is to avoid plain, painted walls.
If you prefer a more subtle approach to color, try a pale marble or marble-look backsplash to compliment white walls. Perfect if your cabinets are painted in a deeper shade, a simple marble backsplash protects the wall, as well as adding adding interest in a pared-back scheme.
5. Introduce artwork into an open plan space
Open plan kitchens can often be difficult spaces to decorate with a cohesive scheme. They need to be multifunctional and spacious, yet with clearly defined zones to give each area a different feel.
As dining spaces are still part of the kitchen in an open plan space, try adding a bold piece of artwork to the walls beside the table. Not only will this draw the eye over to the dining area, it will add color and texture to the entire scheme while keeping the artwork far from any possible humidity or damage if hung nearer the kitchen.
6. Strip it all back
The exposed brick wall look is a kitchen trend that homeowners never seem to tire of. Its beauty is in its non-uniformity – anything too symmetrical or clean simply doesn't have the same organic look and feel of a patchy, messy bricked surface.
Even better is a brick wall's resilience to any knocks or splashes, provided you have sealed the surface beforehand. A few coats of acrylic sealant will do the trick, protecting the surface against humidity and and water damage.
7. Inject warmth and depth with color
A plain white kitchen space can be given a welcome dose of warmth and depth simply by painting a feature wall in a vibrant color, like the fresh chartreuse shade used in this galley kitchen.
The effect is enhanced thanks to its positioning opposite the window - the light making the shade even more vibrant when the sun shines in.
Subtle coordinating elements, such as the deep green painted door and window frames and the paler green blinds on both ensure a harmonious scheme.
8. Take note(s)
Perfect for making instant lists or leaving reminders for the rest of the household, chalkboard paint turns virtually any surface into an instant notepad – and not just a black one either.
Many paint companies offer a chalkboard finish on a wide selection, if not all of their color ranges. As seen here, Benjamin Moore's Gettysburg Gray HC 107 shade comes in a chalkboard finish, as does the rest of the brand's 3,500 colors.
9. Wrap the space in pattern
Kitchen wall decor ideas are the perfect opportunity to embrace pattern, and covering all four walls in wallpaper is one of the easiest ways to create an elegant, yet impactful decor transformation.
Here, the kitchen walls have been papered in a simple repetitive design that features a complementary tone to that on the green base kitchen cabinets and is further reflected through the coordinated kitchen styling and accessories.
10. Keep it simple with white tiles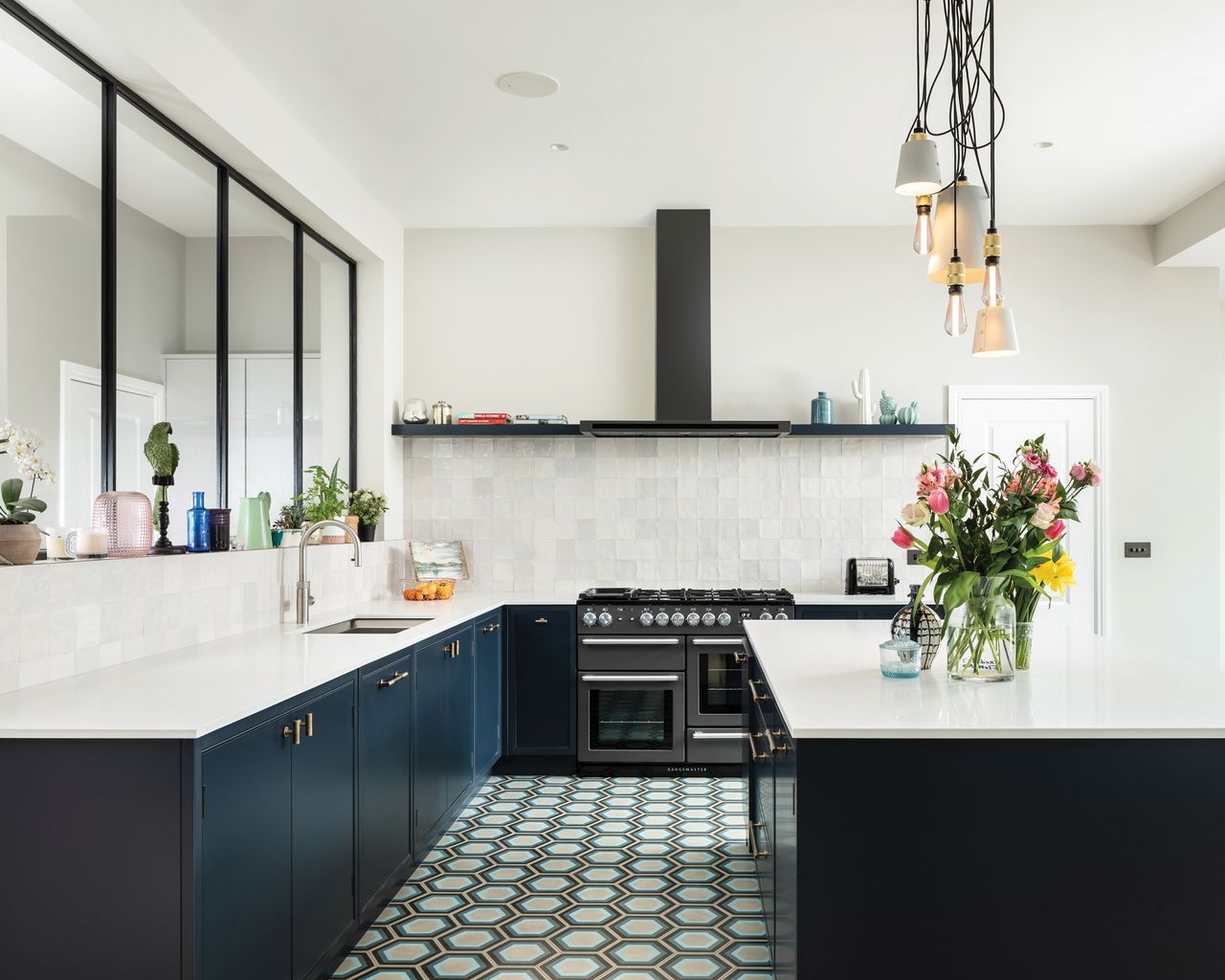 If you've chosen a bold pattern or color for your kitchen flooring, a simple white tiled half wall backsplash adds texture and interest to the scheme without clashing with the flooring.
Rodrigo Moreno Masey, Director at Moreno Masey is a fan of timeless kitchen tile ideas. 'Tiles work well not only because they are tough and resist cracking under heat, but because there is so much choice out there that this single decision can transform the whole space at a relatively low cost,' he explains.
11. Go bold with a feature wall
The tendency to steer clear of color and pattern on kitchen walls is waning, thanks to the cottagecore trend and its promotion of floral wallpaper prints.
'Cottagecore references natural materials and heritage prints to capture a feeling of comfort and rural simplicity,' explains Paula Taylor, color and trend epecialist at Graham & Brown. 'These familiar countryside motifs can prevent a kitchen from feeling purely functional by breathing life and vitality into the space.'
To achieve this look in your kitchen, Paula advises to choose a rich palette of kitchen color ideas – shades like yellow ochre or terracotta work well – to inject a sunny dose of color.
'This will add warmth to a cold north-facing kitchen, or radiate a dazzling glow when bathed in natural sunlight. Pair with unbleached wood for a rustic style which evokes a homely country cottage,' she adds.
What can I use to decorate my kitchen walls?
There are so many ways to decorate a kitchen wall. You can paint, tile or wallpaper. You can install paneling, hang artwork or shelving or strip it all back to the bare bones with the exposed brick.
Daylight has a huge affect on wall color, so before you make your final decision its important to see the shade of paint, sample of tile, swatch of wallpaper and so on in the space to see how it reacts to the light. Remember that color changes depending on what time of day it is, whether it's in natural or artificial light.
What is the easiest way to decorate a kitchen?
Paint is certainly the easiest option, as it requires very little preparation and can make a dramatic difference in a relatively short amount of time.
Alternatively, you can apply any of the aforementioned kitchen wall decor ideas to a single feature wall instead, therefore reducing the upheaval, cost and hassle compared to decorating all four walls – a clever way to save on the average cost of a new kitchen.
How do you decorate a large blank kitchen wall?
While a large wall is the equivalent of an artist's blank canvas, how you decorate a similar untouched wall in a kitchen is determined in part by the existing furniture and fixtures.
If you're not sure what you want or where to start looking, use your kitchen cabinet colors or styles as the starting point of your design and try to find a combination that sparks joy.
Ginevra Benedetti is Associate Editor on the Homes Content Team at Future. She has been writing about interiors for the past 16 years on the majority of Britain's monthly interiors titles, such as Ideal Home, Country Homes & Interiors and Style at Home, as well as Livingetc and of course, Homes & Gardens. This naturally lead her into writing for websites like HomesandGardens.com.