Farmhouse kitchen wall decor: 12 rustic wall decor ideas
Find out how farmhouse kitchen wall decor and rustic wall decor ideas can give your space character and charm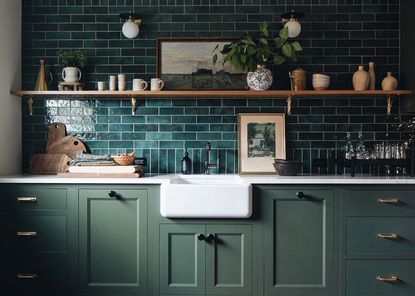 (Image credit: The Expert / Jean Stoffer Design)
Farmhouse kitchen wall decor and rustic wall decor ideas are crucial to setting the tone, and bring character and interest to the heart of the home. What's more, adding rustic elements to the walls can create fantastic focal points in your kitchen.
The kitchen is probably where you spend the majority of your time, so considering how to integrate farmhouse-style wall decor into your kitchen ideas is a great first step to creating the mood you want. Rather than a last-minute add-on, you'll achieve the best effect when rustic wall decor is a part of your overall kitchen styling, incorporating open shelving, display cabinets, and decorative features.
By introducing artwork, texture and color to farmhouse kitchen walls, these spaces can become a strong feature of the home and bring a sense of individuality and creativity.
Farmhouse kitchen wall decor and rustic wall decor ideas
Of all the rooms in your home, the kitchen probably features the fullest walls. Cabinets, shelving and racks all take up vertical space, while windows and doors carve out necessary square footage.
But taking time to consider the decorative element of your walls when you're planning your farmhouse kitchen ideas will pay dividends when it comes to the look and feel of your room. Factor in how to add an element of display to existing furniture and fixings, then identify the spaces where you can add in farmhouse kitchen wall decor and rustic wall decor ideas to best effect.
1. Go for open shelving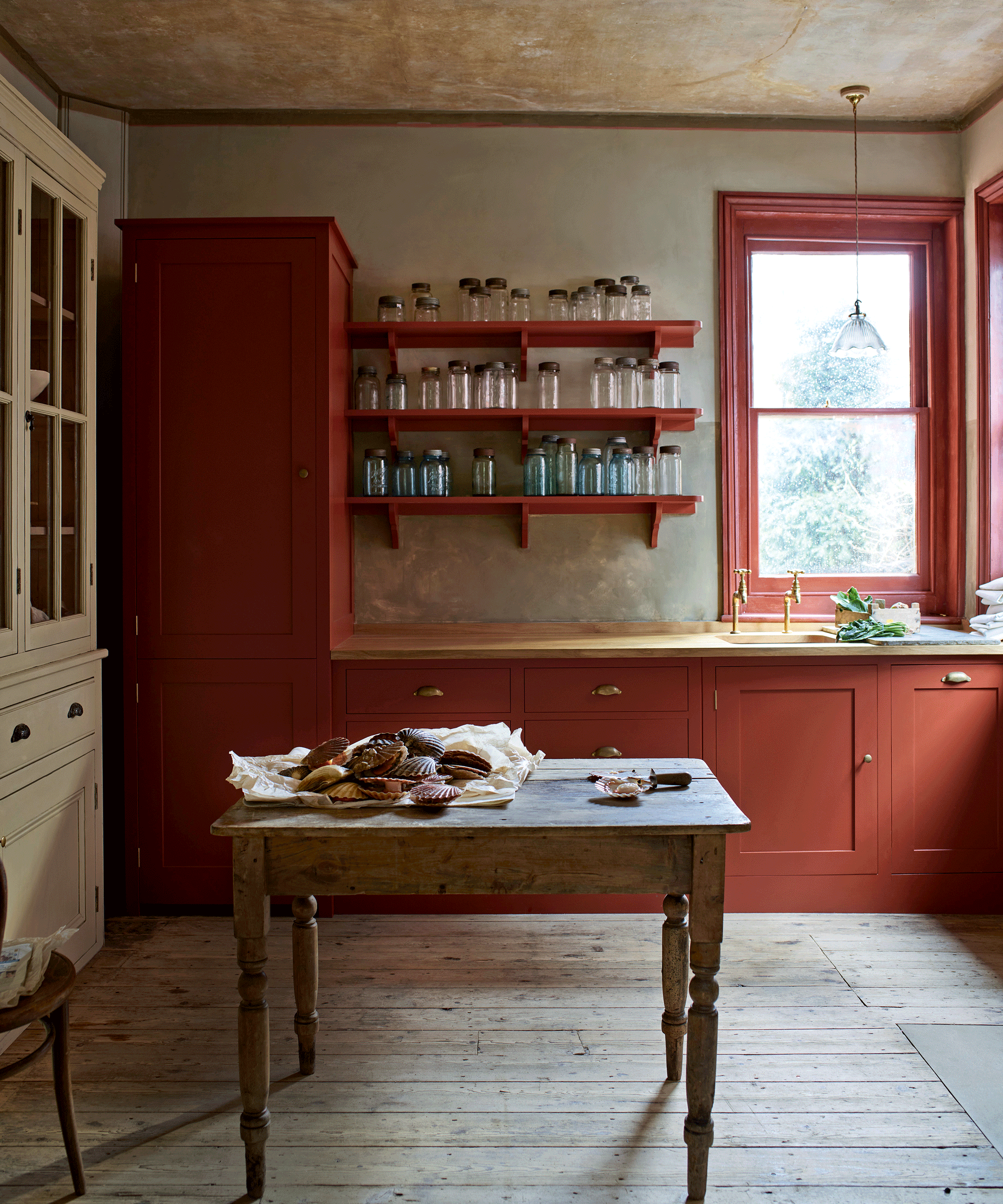 Open kitchen shelving ideas are a staple piece of the farmhouse style kitchen. This feature gives your kitchen a more expansive look and allows a space for displaying kitchen ornaments and interesting pieces.
'The trick to shelves that look curated, rather than a jumble of jars and canisters, is to choose matching vessels to decant dry goods and ingredients into,' says Country Homes & Interiors editor, Andréa Childs. 'Search out vintage vessels at farm sales and thrift stores, or buy new pieces with a rustic vibe.'
If sustainability is important to you, open shelving can help keep you on track. 'Buy in bulk to reduce packaging or use subscription services that take an eco approach to packaging, recycling and delivery,' suggests Andréa. 'Then decant into your smart jars for a good-looking option that benefits the planet, too.'
2. Elevate rustic pieces into art
Get creative when you're considering your farmhouse kitchen wall decor and rustic wall decor ideas, and don't be too stuck on high design. There's plenty of rustic inspiration in the barn or farmyard.
'I grew up in a household that loved to collect beautiful objects from around the world,' says New York interior designer Phillip Thomas, founder of PT Inc. 'Within that, there were often a selection of utilitarian pieces, like the C-Clamps incorporated into the wonderful light fixtures in this space.'
'Good design and a sense of history can be found even in the most mundane of pieces, and incorporating these utilitarian objects into modern farmhouse spaces gives them a sense of authenticity. I like to elevate rustic pieces to make them feel like works of art!'
3. Decorate with hanging copper pots
To achieve a farmhouse kitchen look, depend on authentic kitchenware.
'Hanging collections of copper pots, ceramic pottery or baskets creates visual interest and texture,' says Nashville-based interior designer Robin Rains, who suggests adding a brass rod near the range and hood to hang cookware for easy use.
'This is a charming design element that provides visual interest. Of course it's nice if the cookware is beautiful!'
Rains also recommends decorating cabinets with a gathered fabric, as shown in this design. 'This exudes softness and creates a rustic style to any space.'
4. Opt for a black window frame
A window can appear like a piece of wall art in its own right, framing a view and bringing the beauty of nature inside.
Consider building a window into your kitchen wall that will bring a visual element to a previously blank wall, or replace the frame of an existing opening to turn it into a decor feature.
A black window frame complements wooden features and neutral tones nicely, creating a bold and modern look against the traditional white, clean lines of the farmhouse style. It looks just as good when you're working on ideas for your farmhouse living room wall decor too.
5. Decorate with plants and ornaments
Place plants and ornaments on open shelving to create a feature of your kitchen wall. This is a great way to personalize your space and add some natural character as well as a splash of color.
If you've chosen darker colors for your walls and cabinets, then stick to light and neutral colours for your pottery to brighten the space. It's the contrast that will make your rustic wall decor truly stand out.
Of course, you can use farmhouse kitchen lighting ideas to highlight your pretty pieces at night, too.
6. Hang artwork to add character
Hanging artwork on your kitchen wall is a great way of adding some character to the heart of the home. Choose a piece that reflects your personality or one that ties in with the decor and opt for a traditional wooden frame to achieve the farmhouse style.
'Artwork can help the eyes to travel around a space, appreciate corners and create little scenes within the home,' says Helen Armon-Jones, founder of The Art Buyer.'For smaller nooks, I love compact still-life studies.'
7. Create a floral shelving display
An easy way to emulate an authentic style in your farmhouse kitchen wall decor and rustic wall decor ideas is by creating a display using a shelving unit.
Simply add flowers and vintage ornaments to your open white shelving unit to bring natural color and character to your kitchen wall. Use this opportunity to show off your personality in a stylish and elegant way.
8. Go for copper canisters and traditional materials
A farmhouse kitchen wall decor idea can be as simple as styling the space between your countertops and wall cabinets.
The key is to choose materials with an intrinsically rustic look, such as copper cookware and canisters and wooden chopping boards.
The warm tones will soften the clean lines of the farmhouse style.
9. Create a rustic hanging rail
For the ultimate in rustic wall decor for your farmhouse kitchen, suspend a branch across the wall, add some S hooks, and use it as a hanging rail for oven mitts, cloths, or utensils.
For another version of the look, interior designer Robin Rains recommends hanging crockery and cookware over a tiled backsplash that goes up to the ceiling. Use a rack screwed to the wall or suspended from the ceiling as the basis of your display.
10. Fashion a wooden display cabinet
Installing a wooden display cabinet is a practical way of achieving the farmhouse style. In this space, the wooden cabinet has been painted off-white to create a more modern look.
Simply add beautiful ornaments and crockery that can be displayed through glass doors. Choose items that match the color scheme for a simple look or go for contrasting shades to draw attention to the feature.
11. Go for hanging plates
Looking for farmhouse kitchen wall decor and rustic wall decor ideas that bring color to your kitchen? Displaying china – hanging plates on the wall, or leaning them on a shelf or dresser, is a great way to add a splash of color and create a rustic feel. This is a perfect opportunity to introduce some personality to the wall and display some of your favorite patterns.
For a modern look, go for brighter colors. If you want a more classic rustic look then stick to neutrals and natural materials.
12. Reveal a rustic brick wall
Kitchen wall decor ideas needn't be limited to display. Leaving brickwork exposed is a great way to add some texture into your farmhouse kitchen wall decor ideas and create a dramatic contrast between the brick and softer materials, such as hangings, rugs and curtains.
'Brick or stone walls bring authenticity to a rustic room,' agrees interiors stylist Sara Bird. 'While they look beautiful on their own, layering more wall decor ideas on top brings an extra element to the scheme that will really elevate your space.'
What do you put on farmhouse kitchen walls?
What you put on farmhouse walls is a great mixture of natural materials and collectibles. For example, if original brickwork or stonework can be exposed or recreated, that is a fantastic way to add character. If, however, you are working with a new-build farmhouse, you may want to resort to easier-to-apply shiplap, which you can paint in a light, neutral color. For the walls themselves, it's a wonderful idea to fix farmhouse style light fittings and shelving to show off a display of old artwork, authentic kitchenware and flea market finds.
Sign up to the Homes & Gardens newsletter
Decor Ideas. Project Inspiration. Expert Advice. Delivered to your inbox.
Andrea has been immersed in the world of homes, interiors and lifestyle since her first job in journalism, on Ideal Home. She went from women's magazine Options to Frank. From there it was on to the launch of Red magazine, where she stayed for 10 years and became Assistant Editor. She then shifted into freelancing, and spent 14 years writing for everyone from The Telegraph to The Sunday Times, Livingetc, Stylist and Woman & Home. She was then offered the job as Editor on Country Homes & Interiors, and now combines that role with writing for sister title homesandgardens.com.