How to achieve a farmhouse kitchen look – the materials and features that are key
The top 10 classic components to channel a rustic farmhouse feel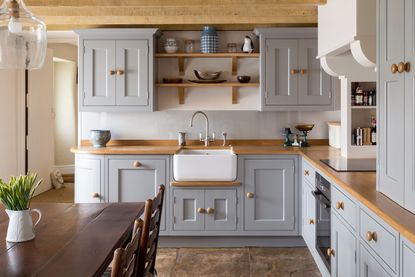 (Image credit: Drew Forsyth)
The traditional farmhouse kitchen is celebrated for its characterful features. Think exposed beams, inglenook fireplaces and leaded windows, all of which can be recreated in a newer property.
However, getting the farmhouse look is more about enjoying the laidback essence of relaxed country life, than slavish replication. 'The key is to focus on elements that add warmth, depth and authenticity,' says Richard Mason, furniture designer, The Secret Drawer.
Get the farmhouse kitchen look
When it comes to farmhouse kitchen ideas, it pays to be open minded.
'Don't be afraid to mix up styles – traditional finishes and fittings can combine very effectively with modern conveniences, such as stainless steel appliances. And it's often the finishes details that secure the look. An aged metal tap or handles, simple peg rails, wooden serving trays and traditional basketware can all evoke that cosy farmhouse atmosphere.'
1. Natural flooring
Natural stone floors are arguably the most authentic, not to mention practical, choice for a farmhouse kitchen. Go for large format stone slabs, and avoid perfectly cut, crisp installations – a slightly hand-knitted look works best in rooms with wonky walls and imperfect levels. Tumbled edges, antiqued and honed finishes will all add a weathered look.
Also consider aged-look or reclaimed wood flooring, which will be warmer underfoot and sound absorbing. Terracotta is another farmhouse-friendly favourite that's enjoying a return to the spotlight thanks to its naturally cosy colours; try Artisans of Devizes' reclaimed stock.
Photography / Border Oak
2. Painted panelling
Painted panelling is a classic feature on farmhouse style kitchen cabinetry, but it can also bring extra cosiness to walls and splashbacks. Paint with eggshell for an easy clean surface behind your cooker or sink.
Choose panels with vertical grooves to achieve simple, Shaker charm. Elaborate beaded panels are great for recreating a grander Georgian look. On the ceiling, white-washed tongue and groove cladding provides a relaxed, coastal feel that's more comforting than a plain plaster finish.
Photography / British Standard
3. Walk-in pantry
Before the invention of fridges, a cool pantry was the cornerstone of any farmhouse kitchen. Nowadays they're seen as a luxury, but a well-considered pantry will fulfil many of the same roles, as this pantry by The Secret Drawer reveals.
'Adjoining a traditional farmhouse kitchen renovation, the etched glass door showcases a combination of storage styles which are traditional but suited to modern life; open oak shelving, hand carved wooden boxes and food storage cabinets with fly screens,' explains furniture designer, Richard Mason.
'The quartzite cold shelving is for additional cold food storage, with fully tiled walls and cabinet backs to help keep the temperature down.'
Photography / Nicholas Yarsley for The Secret Drawer
4. Wooden worktops
Wooden worktops may have lost favour to modern composites in recent years but there's a lot to love about this natural surface that's synonymous with farmhouse style.
Visually and physically warming, wooden worktops are naturally antibacterial and, with a small amount of care, extremely long-lasting. Best of all, any damage can be sanded out and a quick re-oil will see wooden surfaces restored to new.
'From a style point of view, wooden worktops combine very easily with virtually any colour scheme, giving you free rein with your painted furniture,' adds George Forsyth, director, Drew Forsyth & Co.
Photography / Drew Forsyth & Co
5. Belfast sink
'The appeal of a farmhouse kitchen is often in its homely style, but authenticity comes from the robust practicality of its design,' says Shaws of Darwen's Nigel Palmer.
'Central to this is a farmhouse sink, which should be deep, solid and durable. It will come up clean, beautiful - and 100% hygienic - whatever is washed in it, from wellington boots to small children. The most quintessential fireclay sink is arguably the Belfast, with its distinctive weir overflow.'
A Butler sink is similar in style but has a modern overflow, which takes up a little less space inside the bowl.
Photography / Shaws of Darwen
6. Wall lights
Farmhouse kitchens tend towards lower ceilings, often heavily beamed, which can bring modern ceiling spotlights a bit too close for comfort. Instead consider wall lights, which will be less glary overhead and still offer decent directional illumination exactly where you need it.
Jim Lawrence recommends positioning the top of wall lights at eye-level so you are not looking directly into the bulb. Designs that echo the style of old-fashioned oil lamps or vintage factory-inspired shapes are great choices style wise. For ambiance, add a pendant or two above the table or island, where they won't hit your head!
Photography / Jim Lawrence
7. Roman blinds
Ideal for small, cottage-style windows, Roman blinds can be hung above the reveal to let in maximum light. 'We like to use Romans in fresh but interesting fabrics to add softness in a rustic farmhouse setting,' says interior designer Emma Sims Hilditch.
'In this old farmhouse we went for a firm favourite paisley pattern with stripe detail, which filters bright sunlight while adding an element of contrast to the otherwise simple space.'
Photography / Alun Callender for Sims Hilditch
8. Simple tiles
When it comes to tiling in a farmhouse kitchen, it's hard to beat the simple subway shape for a laidback, utilitarian feel. 'Half tiles and subway tiles are perfect for adding character or colour behind a range cooker or sink,' agrees Emma Hughes, studio manager, Original Style.
'Opting for neutral tones will add warmth and a timeless feel, perfect for setting the scene for a rural idyll kitchen.' Add a modern twist with coloured grout – black or grey with white tiles works well – or stay closer to tradition with a creamy crackle-glazed design.
Photography / Original Style
9. Classic dresser
Early farmhouse kitchens were never fitted but rather a mash up of sideboards, dressers and pot stands, all centred around the cook's table. While the seamless connections of fitted units are far more hygienic and space-savvy nowadays, adding one or two freestanding pieces will achieve a more relaxed atmosphere.
Antique and distressed furniture is particularly appealing; here a mix of open and glazed storage creates a homely display.
Photography / Champalimaud Design
10. Cast-iron cooker
The beating heart of any farmhouse kitchen has long been the classic cast iron range cooker, preferably one that provides welcoming ambient heat.
Inside, cast iron range cookers use radiant heat, rather than modern fan-assisted, which promises succulent roasts and crispy pastry, without drying food out.
The latest models support induction cooking, controllable temperatures and energy-saving 'sleep' modes, so there's no need to sacrifice technology to enjoy the look of a traditional heart-warming range.
Photography / AGA at Border Oak
Sign up to the Homes & Gardens newsletter
Decor Ideas. Project Inspiration. Expert Advice. Delivered to your inbox.
Linda graduated from university with a First in Journalism, Film and Broadcasting. Her career began on a trade title for the kitchen and bathroom industry, and she has worked for Homes & Gardens, and sister-brands Livingetc, Country Homes & Interiors and Ideal Home, since 2006, covering interiors topics, though kitchens and bathrooms are her specialism.