How much does a new kitchen cost?
How much does a new kitchen cost? This guide explains all there is to know about kitchen costs for your latest kitchen remodel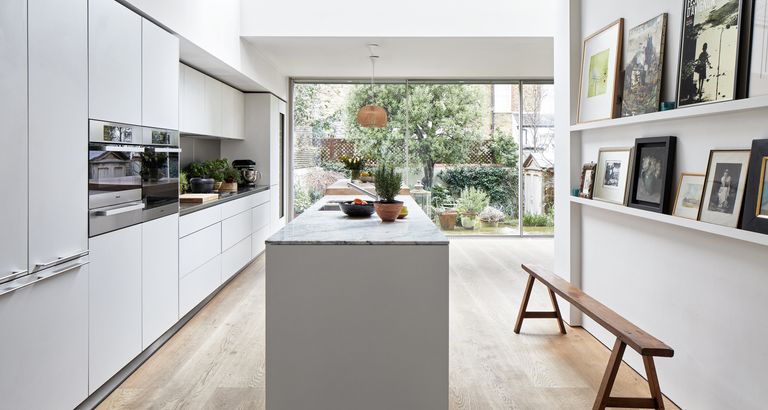 (Image credit: Future)
You may be wondering, how much does a new kitchen cost? 
Getting the heart of the home just right can seem like a huge undertaking but setting an accurate budget in advance will allow you to find the best way for you to achieve the look you're aiming for without over-stretching your finances.
Whether it's a cabinet refresh or an entirely new set up, we've outlined guidance for all your kitchen ideas below and broken down how much you can expect to pay when remodelling your kitchen.
How much does a new kitchen cost?
The answer for how much does a new kitchen cost is a tricky one simply because it can vary hugely, so carefully planning a kitchen renovation is important. 
For instance, if you are looking at kitchen extension ideas that involve knocking down walls or changing doors and windows, your budget will soar compared to a more superficial job. On average, for a dry fit installation you'll be looking at around $4,000/£3,000.
'The great thing about kitchens is the cost is incredibly broad and there's no set amount of money that you should spend on a new kitchen. But it is important to create a realistic budget for you and the kitchen's size,' advises Andy Briggs, interior designer at Optiplan Kitchens.
A useful rule of thumb is a kitchen remodel should cost no less than 5% and no more than 15% of the value of your home. Once you have this number in mind, add an extra 20% of this budget on top to set aside for unexpected costs. 
How much are new cabinets?
As they are typically the only storage in a storage-heavy space, cabinet choice can have a huge impact on the overall look and feel of a kitchen. Unfortunately, when remodeling a kitchen, cabinetry is usually the most expensive element.
'The cost of a kitchen installation can of course vary depending on whether you opt for an off-the-shelf design or bespoke cabinetry,' says Melissa Klink, Head of Design at Harvey Jones. 'We recommend allocating around 50% of your budget for the cabinetry.'
If budget is a concern, note that 'the style/range of your kitchen will increase the cost. Kitchen cabinet ideas that require a high level of skill and carpentry will undoubtedly take longer to create and thus cost more than a more simple design,' advises Andy Briggs. 
'Do you need all that storage? Or can you do without the quirky magic corner? The more cabinets and storage accessories you add, the higher the cost.'
How much does the kitchen installation cost?
For kitchen installations, you're looking at around 15-25% of the overall cost of the kitchen remodel.
The actual installation price varies not only on the spec of the kitchen itself but on the location of your home and the location of the company you use. 
Prices will rise if you're in an area with a higher cost of living, such as a city center. To keep costs lower, using local labor will help.
How much does a full kitchen renovation cost?
If you're undergoing a full blown kitchen renovation then, predictably, prices will rise.
'On average I would advise from $3,400/£2,500 plus VAT for a dry fit installation,' says Hayley Robson, Creative Director of Day True. 
'But a full renovation, including plumbing, electrics, new flooring, decorating etc, I would advise is probably more around $34,000/£25,000 plus VAT.'
Budgeting properly for a full renovation is key. When possible, avoid paying for the work in advance and instead agree with the contractor to keep a small retention (up to 5% of the total cost of each payment as work progresses) to be released at the end when your snagging list has been completed. 
In addition to the cost of the kitchen itself, you need to include build costs, professional fees and possible planning permission. Getting building regulations approval needs to be factored in, too.
As with any project, there will be unexpected costs. 'No matter how carefully you budget for refurbishment works, there's always a degree of uncertainty because at any time you could stumble upon an expensive hidden defect,' says Brian Berry, Chief Executive, Federation of Master Builders. 
'So it's normally a good idea to include a contingency sum of at least 10%.'
'When it comes to materials, don't forget to factor in delivery charges and allow for lead-in times for items like kitchen units and bathroom suites. Can any existing materials, such as old slates for example, be salvaged and reused or sold?' advises Brian. 
'Produce a written brief, including detailed architectural drawings where possible, and give a copy to each builder who quotes.'
Can I fit a kitchen myself?
If budget is a concern, or you just want a project, then fitting your own could indeed be the answer. 
Fitting your own kitchen is a relatively simple job and could save you between $1,400/£1,000 and $6,800/£5,000, but relies on you having the DIY know-how and the time.
That said, be aware that it's still best to use professionals for electricity and plumbing. Fitting worktops, too, can be a costly mistake to fix, so if possible, outsource this work to a professional.
How can I make a kitchen more affordable?
Remodeling a kitchen is a huge undertaking, but there are plenty of ways to make this more affordable. 
However, do be aware that you're making an investment and be prepared to spend money where you need to. 
'Don't downplay the value of a well-designed kitchen, which could prove to be well worth the investment in the longer term. After all, this is the room you will use day in day out, but also make sure you can afford your payments,' notes Andy Briggs.
These tactics, below, will help you cut down on a new kitchen's costs.
1. Fit the kitchen yourself
As we've described above, fitting a kitchen can help you cut costs considerably, so long as you have the time and the skills. 
Again, be aware that there will be elements of this that should only ever be done by a professional, such as the electrics.
2. Go for a superficial refresh
As cabinetry can account for up to half of the kitchen costs, so long as your inner cabinets are in good condition, stick to upgrading the outside only.
'A cost-effective way to update the look of your kitchen is to keep your inner cabinets and simply buy new doors or paint the existing ones,' says Andy. 
'You will immediately get a whole new look at a fraction of the cost, but be mindful of you door sizes if you look to replace them and any damages to doors if you look to paint them.'
3. Save with backsplashes
'Backsplashes are another area where you can save on – you don't have to spend a fortune to add character to your walls with ceramic tiles,' says Melissa Klink, Head of Design at Harvey Jones. 
'Functional and easy to clean, kitchen backsplash ideas come in a variety of interesting patterns, textures, shapes and sizes.'
4. Be clever with materials
'The worktop is also likely to be in your kitchen for a long time, so make sure you opt for a durable material in a neutral color that will suit different schemes as you redecorate,' says Melissa.
Additionally, choosing composite or quartz surfaces over marbles and granites will save you a small fortune, and you won't lose out on style or durability.
Hardware, too, can be worth a look. 'Handles play a large part in how the kitchen looks and they can complete the overall style of the space, but materials like copper and antique bronze can come at a premium,' says Graeme Smith, Head of Retail and Commercial Design at Life Kitchens. 
'This can easily be worked around, however, as there are now great alternatives out there that mimic the finish.' 
5. Be smart with appliances
As Hayley Robson, Creative Director of Day True points out, if you have the right cabinetry, then, 'with appliances, you can find more cost effective solutions for the integrated options, as they will be hidden behind a door.'
Either way, do bear in mind the costs of the appliances. 'A big trend at the moment is internal extractor fans within hobs, but these will cost a pretty penny in comparison to a traditional extractor above the counter,' notes Andy. 
'Similarly, there are a broad range of oven and dishwasher suppliers at varying costs so do your research, look at deals and offers, and try to find the best quality and specification for your budget.'