Remodeling a kitchen – 28 best kitchen remodel ideas for any space
Remodeling a kitchen can transform a cramped space into an inviting room for cooking, dining and entertaining if you use the right kitchen remodel ideas for your space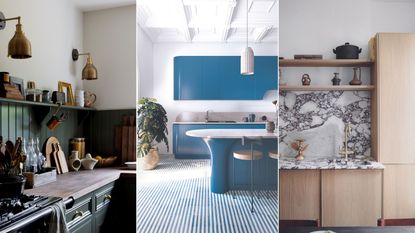 (Image credit: Future)
Remodeling a kitchen is one of the top projects in period and country properties, with kitchen remodel ideas also proving popular in new homes too.
This is because a generous kitchen is now the epicenter for modern home life and a hub for cooking, entertaining, working, and more.
From side and rear extensions to conservatories and basement designs, there are a number of options available when it comes to planning a kitchen layout for your remodel.
To help you decide on the most suitable extension for your needs, start by asking your kitchen designer for advice. Kitchen extensions are now a common request, so many kitchen companies will be able to recommend a good builder or architect to help bring your kitchen ideas to life. It's also worth asking friends and family for recommendations of tradesmen in your area.
Best kitchen remodel ideas
Charlie Kingham, director of Charlie Kingham Cabinetmakers, lists the main benefits of taking steps to remodeling a kitchen: 'Firstly, your kitchen will become a more sociable space. Secondly, you can improve light-levels, traffic flow and overall comfort so that cooking is more pleasurable. And thirdly, done beautifully, you should see a return on investment, if not profit, when it comes to your property's value.'
Here, we take you through the options for your kitchen remodel – plus give you plenty of inspiration for choosing the right kitchen layouts and designs.
1. Let there be light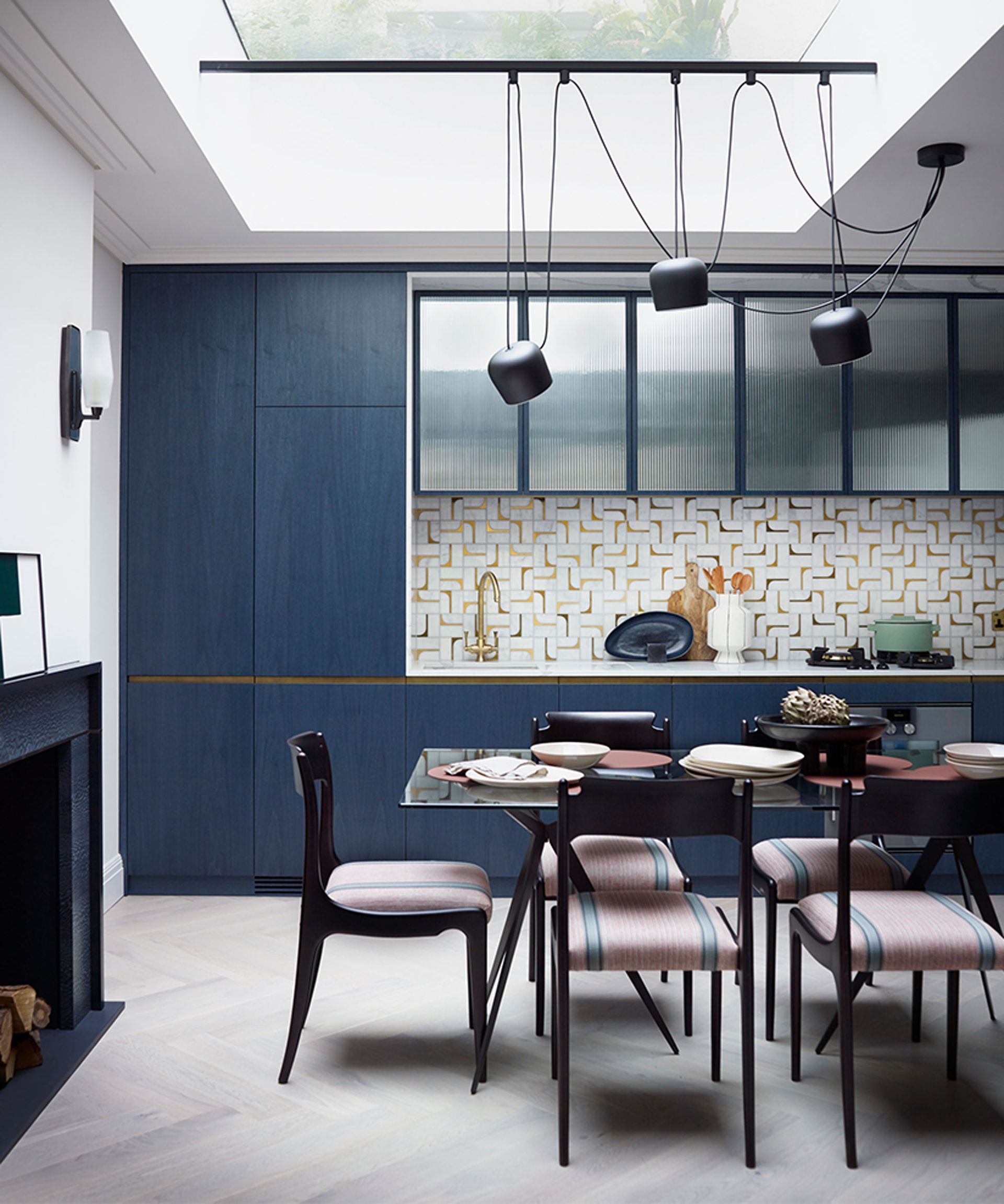 Remodeling a kitchen will give valuable extra floor space, but factoring in an additional source of light with kitchen ceiling ideas is a must to prevent the extended space from feeling dark and gloomy. With flat-roofed extensions or kitchens that extend out to the side, a roof light, lantern or skylights are a popular option that will optimize natural light and help to increase the sense of space in a kitchen extension.
A flat roof light can be a good choice for a modern property if you don't want to see it from the outside as they sit very low to the roof. Alternatively, a roof lantern is a raised structure and can be a more decorative option, as well as providing additional height to the ergonomic of the extension.
Position is key if you want to maximize the levels of natural light coming in. Think about where and at what time of day you'll need the most daylight. And bear in mind the aspect of the room - whether north or south facing - which will affect how much light your extension receives.
'We worked with a palette of rich colors to make the most of the daylight on offer in the property, from lighter colors in light-filled spaces to warm and rich shades in darker spaces,' says design guru Irene Gunter of interior architecture and design studio Gunter & Co.
2. Merge old and new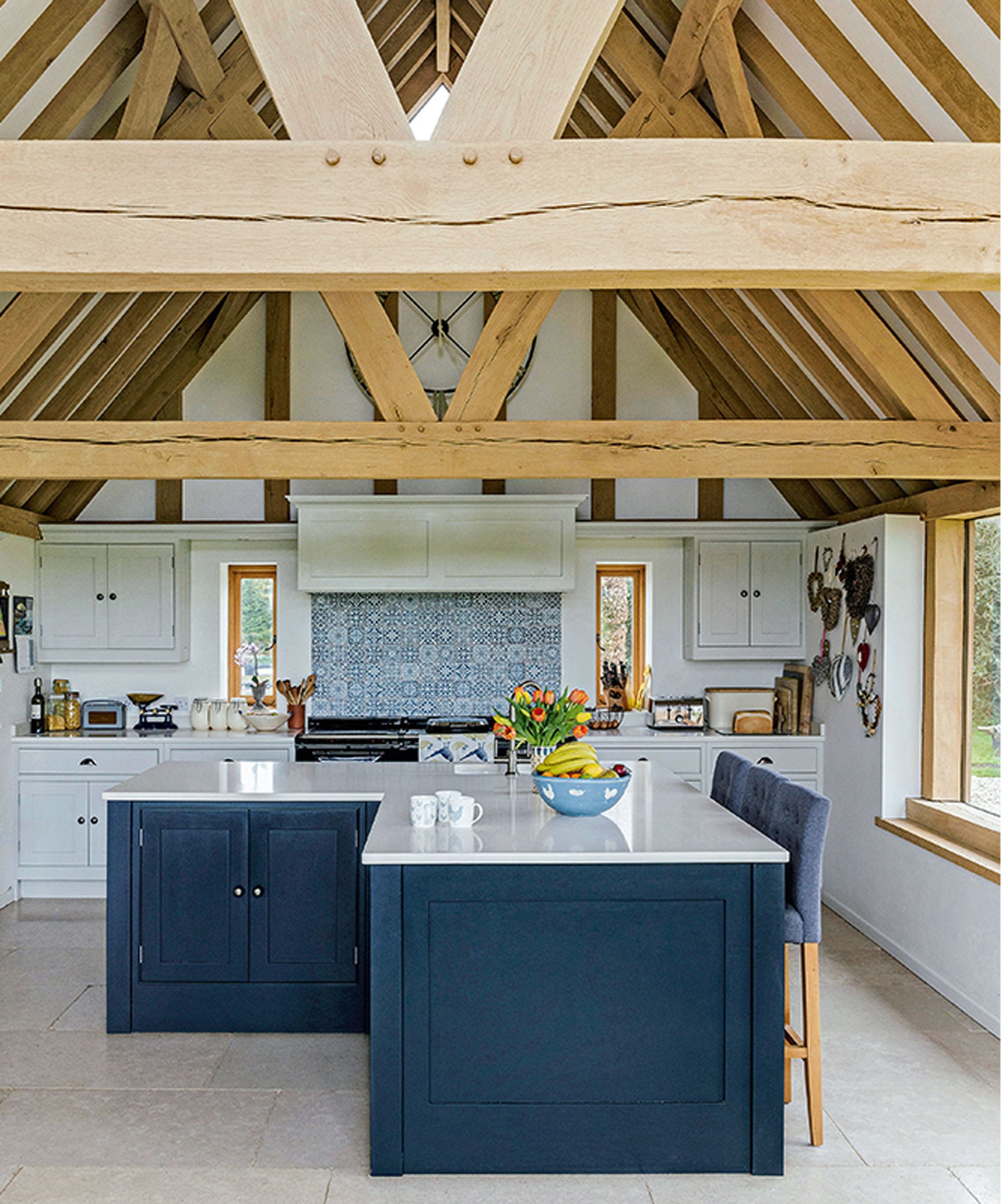 When remodeling the kitchen in a period home, choose a design that enhances the build and character of the original property for a more sympathetic look. Using materials that complement the existing property and a design that is sensitive to the heritage will help new additions look like they've always been there, rather than standing out as new.
This oak-framed extension by Hartwood Oak was designed in keeping with the original period cottage and its surroundings, with a weathered timber facade and large windows that allow uninterrupted view over the countryside. Inside, a vaulted ceiling creates the wow factor and makes a stunning setting for traditional kitchen ideas and seating area.
3. Reconfigure an awkward layout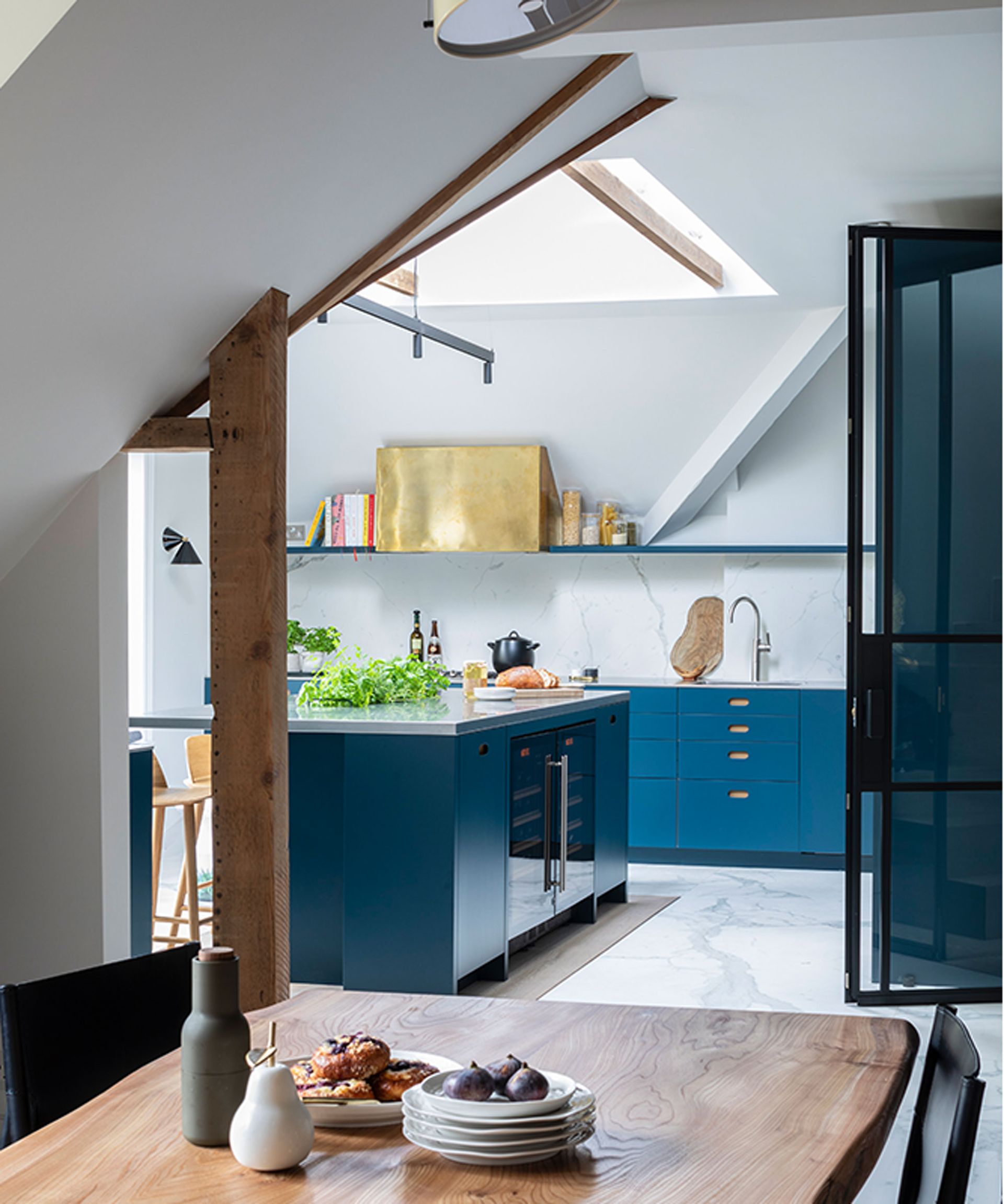 Rather than an extensive re-build, re-working a clunky layout can often be the remedy that's needed, from knocking down walls or reconfiguring floor space, to moving awkwardly-positioned doors and staircases or L-shaped kitchen ideas.
'Our brief was to maximise the interior space available, transform the awkward layout to make better use of the balconies and to maximise the views out to the treetops on all sides of the building,' says architect Irene Gunter. 'The clients' love for cooking, coffee and entertaining was reflected by creating a new layout centred around the large kitchen and dining room, making it the hub of the home.'
4. Step up a level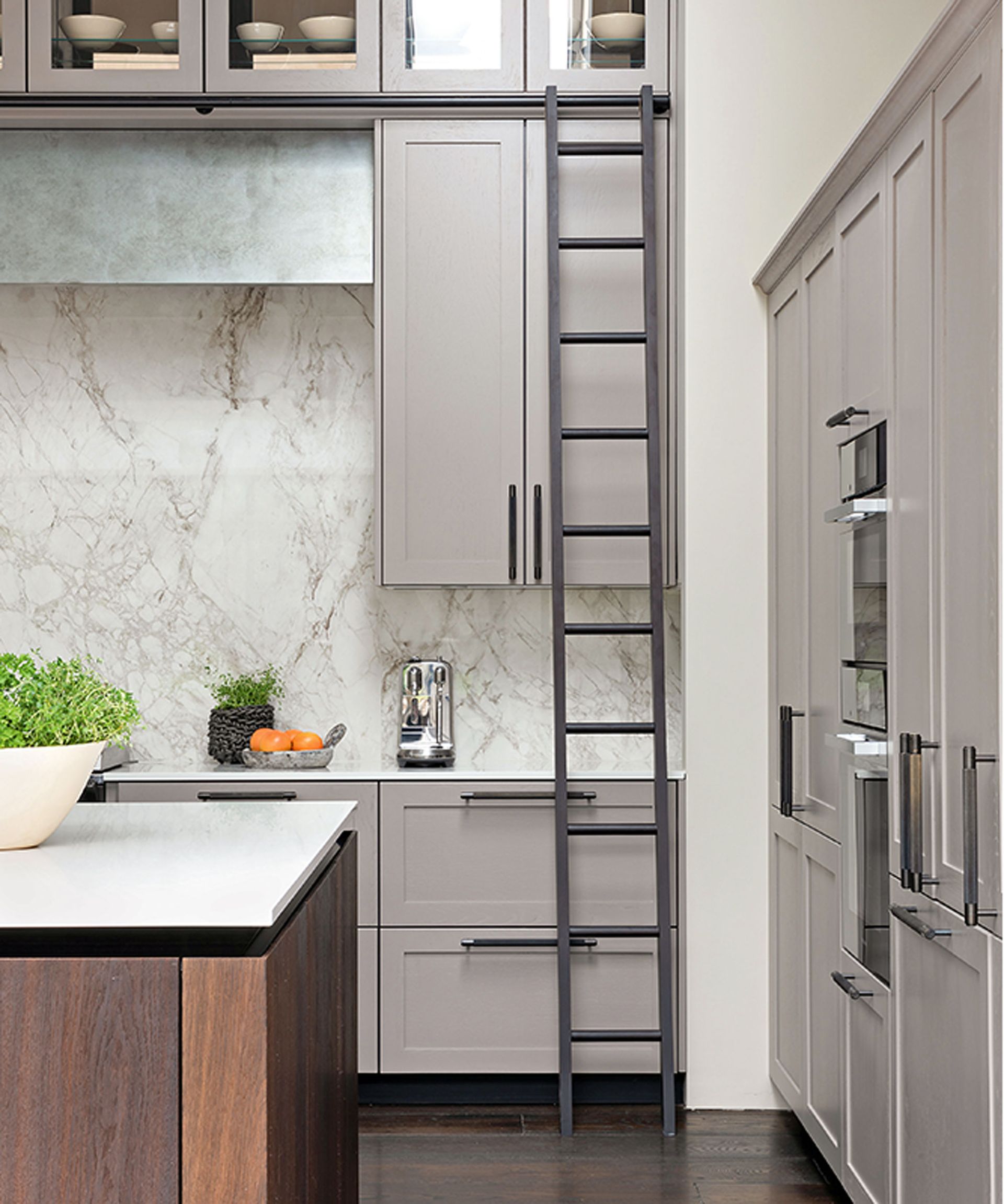 If the footprint of your kitchen can't be altered to create more space, then using the height of the room to its full potential is an alternative way of achieving extra storage in a small space or modern kitchen ideas. Opt for full-height wall cabinets that extend to ceiling level, rather than standard-height designs. Taking cabinets higher will mean that there are no dust-gathering gaps above units, for a sleeker look, plus it will give valuable extra inches of cupboard space inside.
Make the contents of cupboards easily accessible by installing a rolling kitchen ladder so you can reach into the loftiest top units. 'A permanent ladder is about so much more than accessible high-level storage,' says designer Keith Myers, founder of The Myers Touch. 'A beautiful ladder provides an interesting, eye-catching feature, while the metal rail introduces a punchy design detail in this SieMatic SLX kitchen project by Adam Knibb Architects.
5. Add wow with a glass extension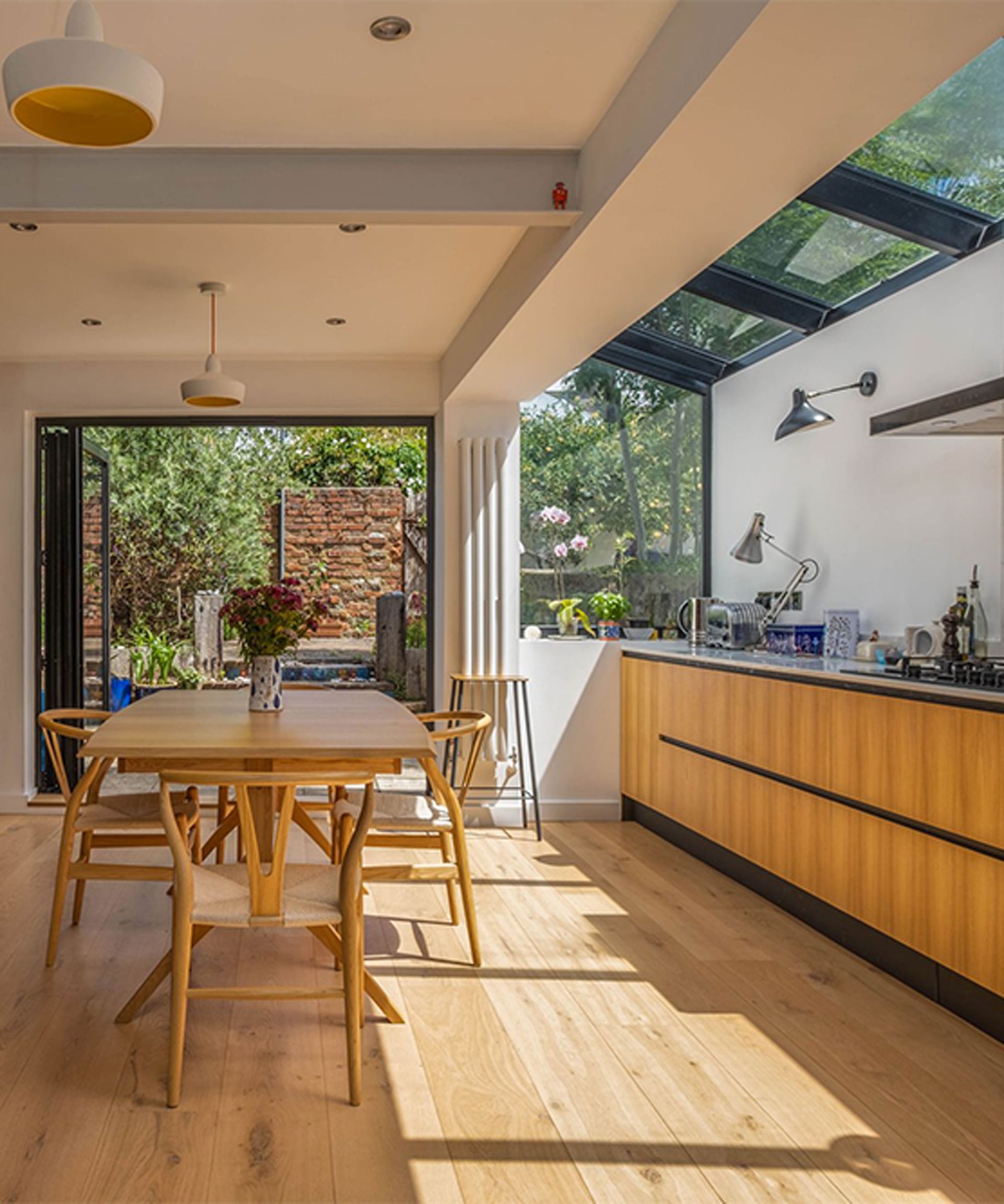 Extend your living space and add more natural light in one move, by opting for a modern glass kitchen extension. A dramatic glass structure will add space and a sense of openness to a property, whether a simple glass side return to create extra kitchen space, a standalone glass box structure or an elegant all-glass conservatory at the rear of a property.
Heritage property? Don't rule out adding a glass structure as a way of gaining extra space. Adding a modern glass extension on to a period house can be a striking way of making a clear distinction between old and new, while still maintaining the integrity of the building fabric.
6. Go big with a wraparound extension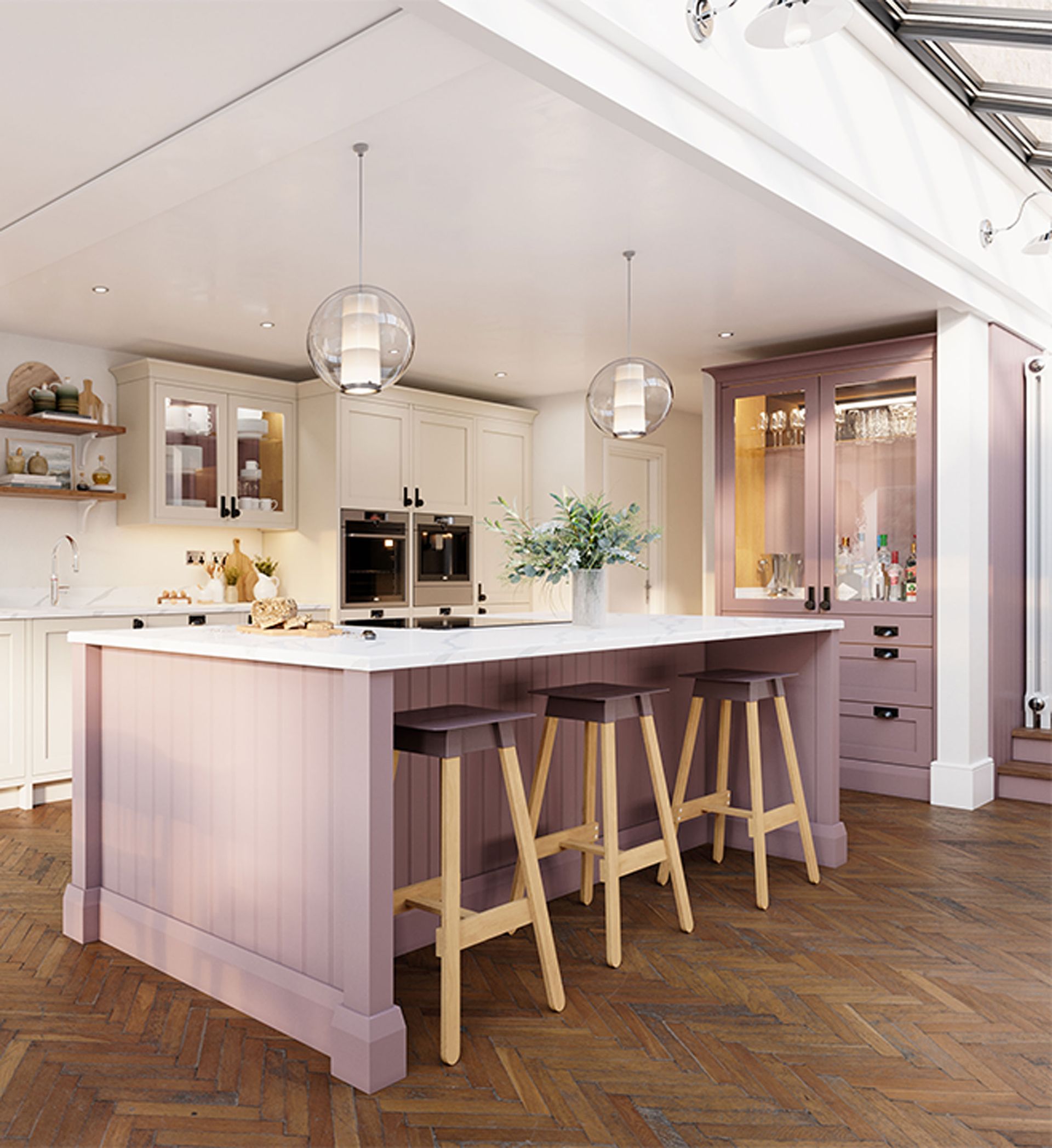 If you're already considering extending your property to the side to give you a large kitchen, then why not go one bigger and opt for a wraparound extension instead. A wraparound is a hybrid of a side and rear extension that literally wraps itself around two sides of a property, not only extending the depth at the back but adding extra width to the layout too.
A wraparound extension can pretty much double the existing floor space, so is ideal if you want to create an open-play layout that incorporates kitchen, dining and living space in one large, open area.
7. Opt for a walk-in pantry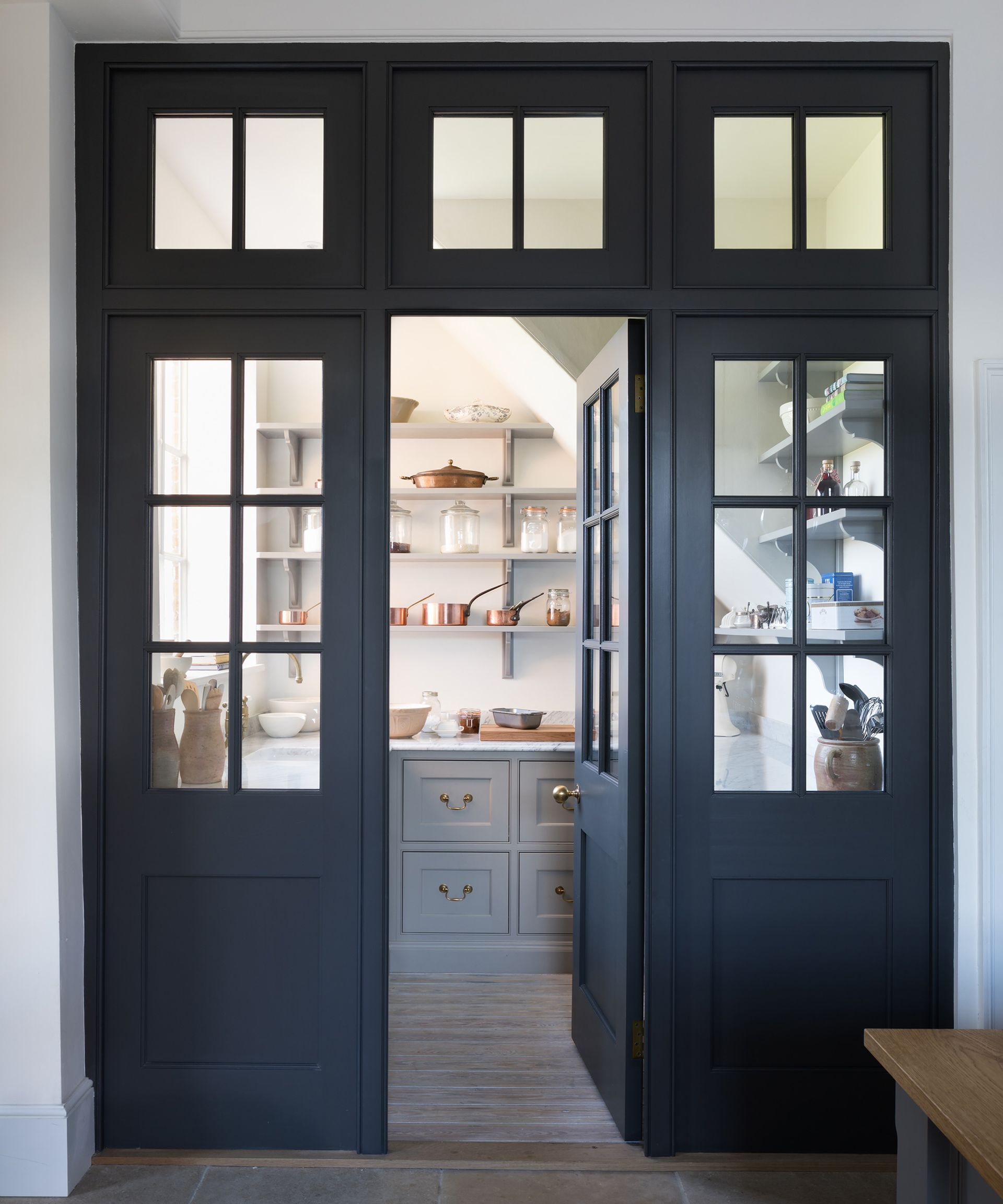 If a full-sized kitchen extension is out of the question, consider down-sizing your options and remodeling kitchen space on a smaller scale. Pantry ideas and larders are the latest kitchen must-have and are a great way of streamlining kitchen space, with kitchen food stuffs, store cupboard ingredients and small appliances like toasters and mixers all located in one place.
If you have an unused downstairs closet, alcove or vacant box room downstairs, turning it into a purpose-built walk-in larder is a great way of utilizing it and will free-up cupboard space in the main kitchen. Alternatively, if space is tight, consider remodeling the kitchen layout to include a built-in cupboard-style pantry or a freestanding larder cupboard.
8. Bring the outdoors in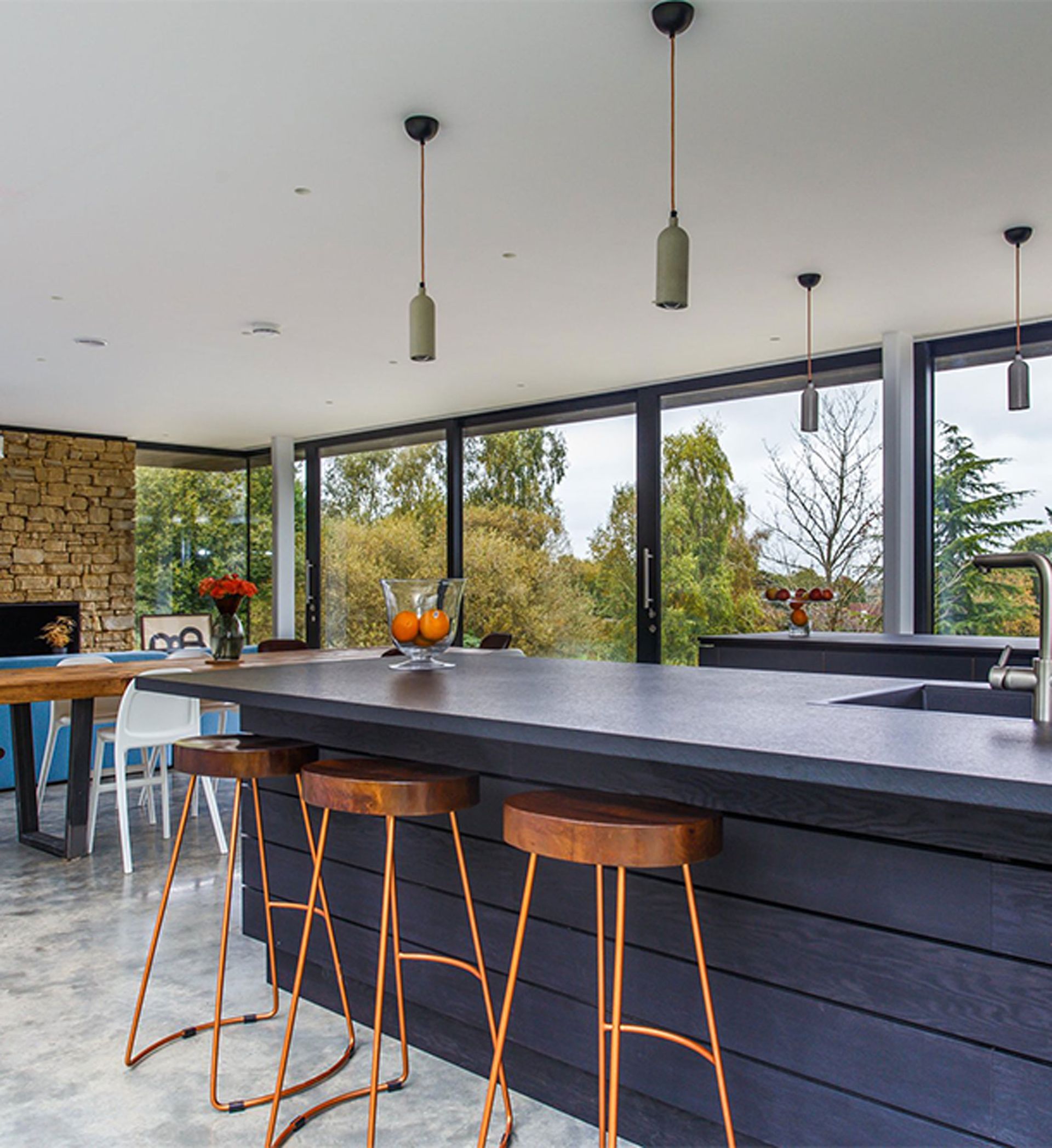 While a kitchen extension can generate much-need space, remodeling the layout is also a great way of letting more natural light into your home which in turn will make the kitchen feel brighter and more spacious.
Make the most of a fabulous view outdoors by sacrificing one wall to an entire wall of glazing, with either bi-folds or sliding glass doors that will let maximum light flood in. As long as you have sufficient wall space in the rest of the room to house kitchen cabinets and appliances – or space for a supersized kitchen island – then wall-to-wall glazing can be a fabulous addition to a kitchen extension.
Bi-fold doors are an excellent choice for modern kitchens, with doors neatly stacking together when opened to leave a wide uninterrupted view out onto a garden, as well as giving a neat flooring threshold that creates a seamless effect indoors and out.
9. Supersize the island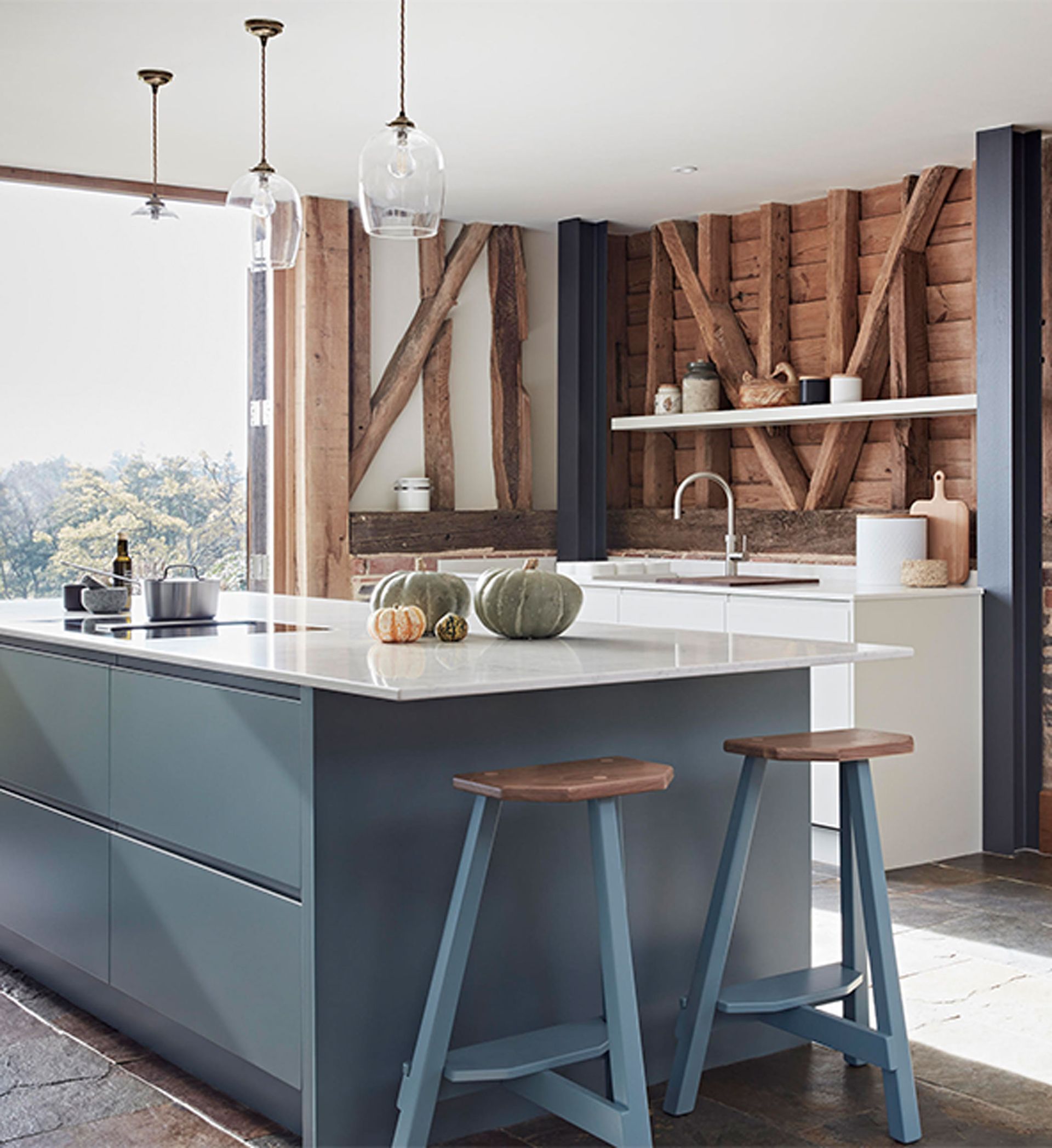 Make an island the hub of your kitchen with a supersized model that incorporates a hob, prep space and a sink area. A useful addition to a kitchen if wall space is limited, an island can also be useful for creating a natural room break when positioned centrally in a large open-plan area
'If space allows, a generous kitchen island is ideal for creating a focal point that can be both stylish and practical,' says Rebecca Nokes, head of design & Brand Creative, John Lewis of Hungerford. 'To get the most from your kitchen island, think about incorporating a number of different elements such as a hob, sink or even wine fridge. Or if you're looking for extra storage think about including large drawers to neatly stash small appliances and cookware.'
10. Go broken-plan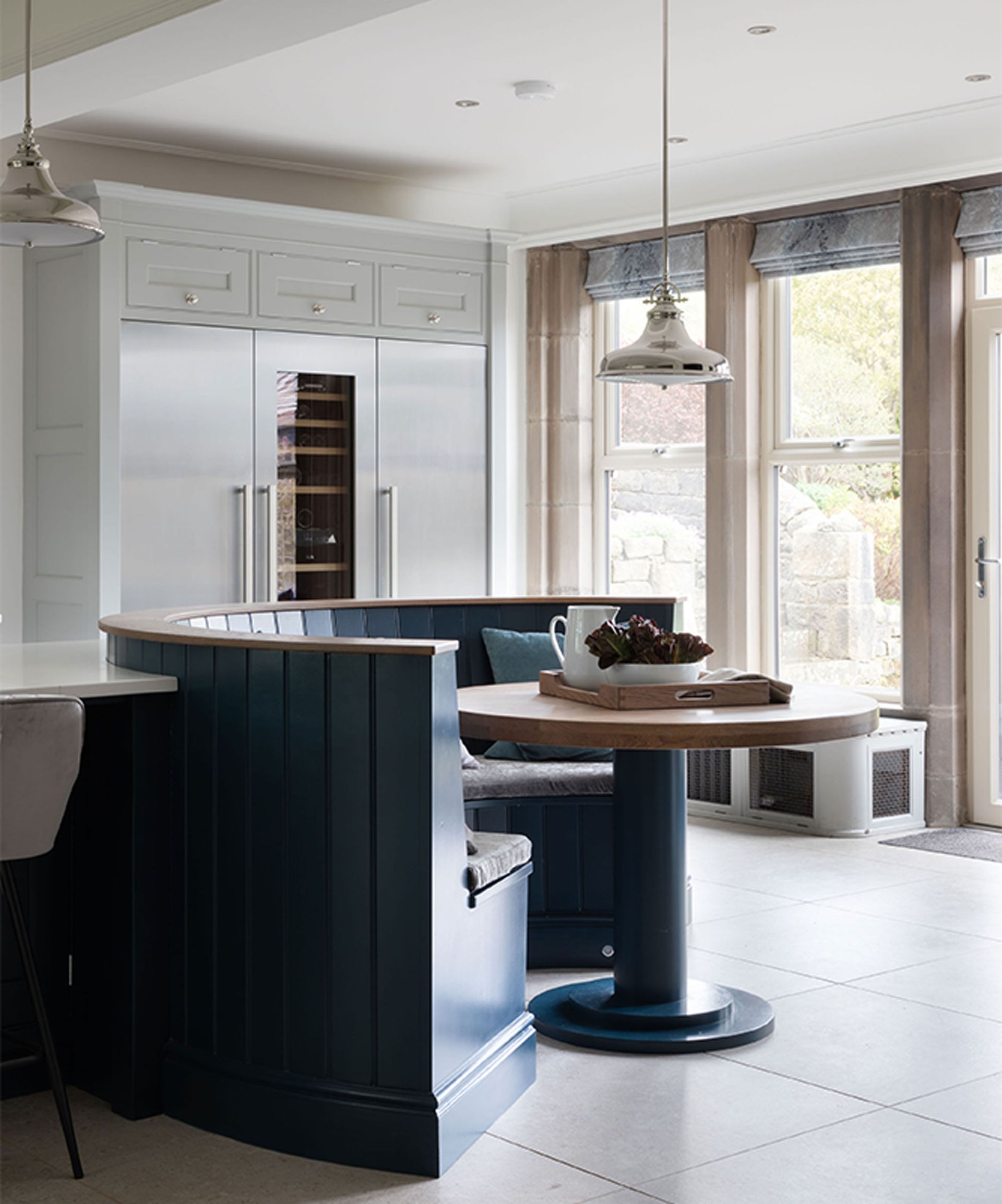 Where open-plan has been the preferred layout for kitchens and living spaces over recent years, designers are seeing a move away from this, with 'broken-plan' living now the go-to approach.
Drawbacks of open-plan living are the lack of privacy, noise issues and difficulty to heat large spaces. While broken-plan living is all about using space cleverly and creating zones for different activities, but still offering connectivity too. Cleverly-placed screens, partitions and furniture are used to subtly partition areas off and create zones for cooking, dining or entertaining while still retaining the feel of a spacious open-plan space.
'We're predicting a big rise in broken-plan living, as homeowners seek to create multi-functional spaces with added privacy,' explains George Forsyth, MD of Drew Forsyth & Co. 'A lot of projects now ask for an open-plan layout, perhaps merging kitchen and living room by knocking the adjacent wall down, and incorporating seating areas and large islands. And now we are seeing a definite shift from open-plan to broken-plan too. This is a likely result of working from home more and the completely open-plan layout now allowing for cozy or quiet areas.'
11. Take the kitchen out to the conservatory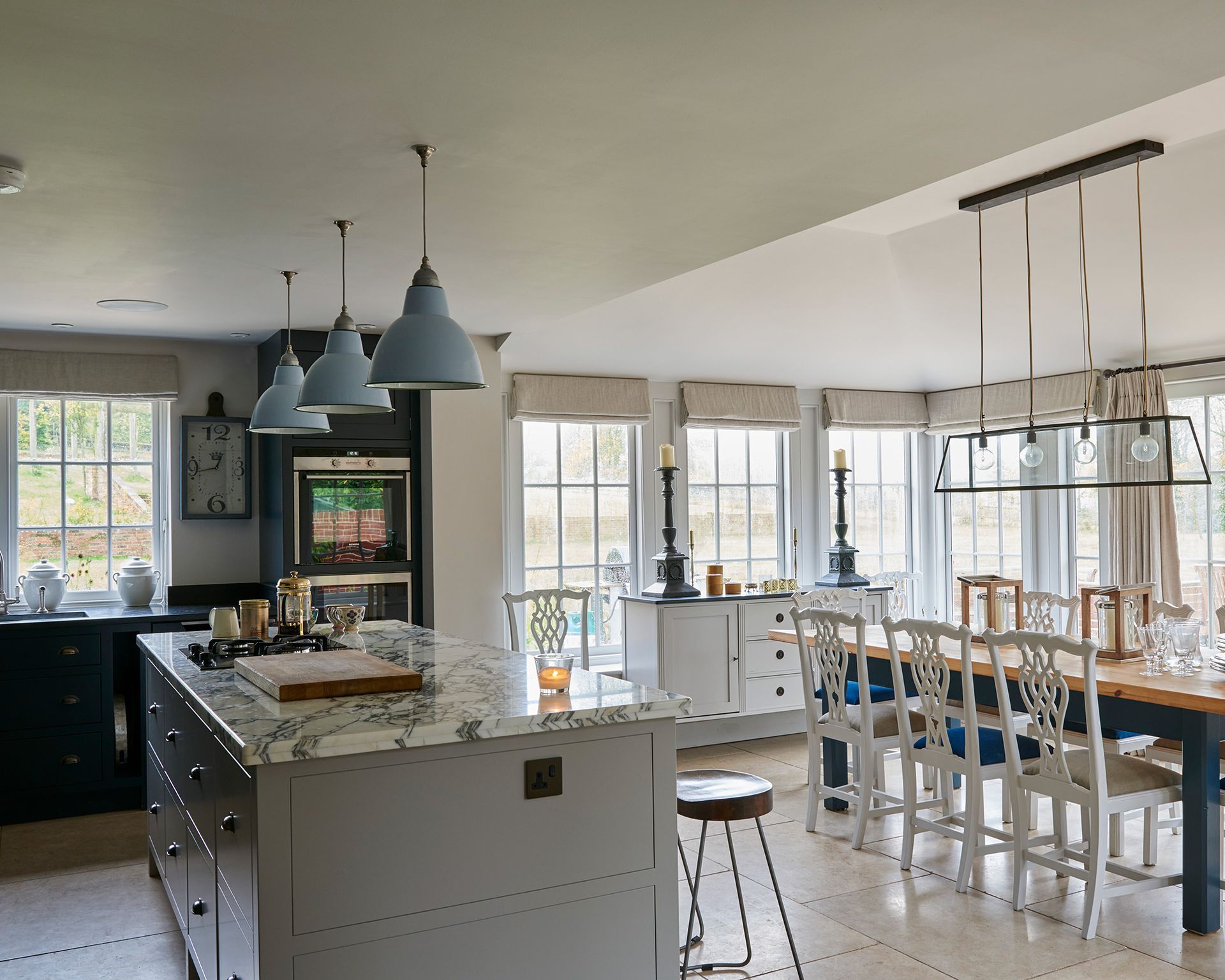 Light-filled from morning until night, expanding a kitchen via a conservatory is a particularly popular kitchen extension idea in properties that are north-facing or generally dark inside.
It can also be the best way to maximize a great view. Although conservatories often come under your 'permitted development' rights and don't require planning permission, if they are open to the main house (i.e. not self-contained, with a lockable door) building regulations do apply.
The main downside to locating a kitchen inside a conservatory revolves around heat loss/gain. Unmanaged, conservatories can be unpleasantly hot in summer and chilly in winter.
Solar control glass, underfloor heating and automatic ventilation can all be used to ensure a comfortable environment year-round but will add significantly to your kitchen renovation cost. Part of your budget should be allocated to these aspects appropriately.
Be aware that so much glazing can also limit a kitchen layout and design, as there are fewer solid walls to support cabinetry.
12. Be aware of bleaching issues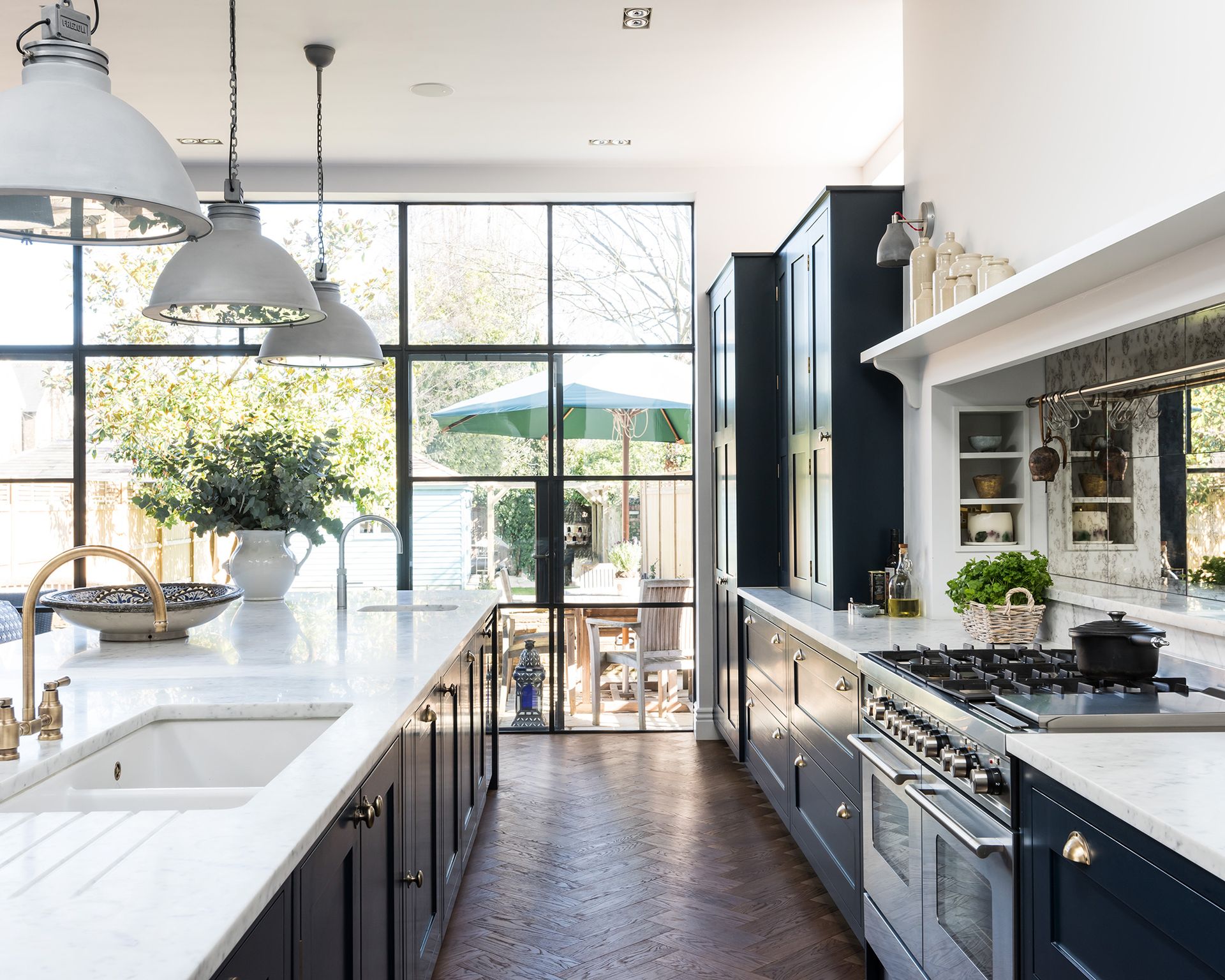 It is also important to remember that, all heavily glazed structures require careful consideration when it comes to choosing the finishes and materials for cupboards and worktops, as bleaching is an issue.
As well as using glare-reducing glass and installing blinds, it pays to select paler kitchen countertops that won't show the effects as noticeably.
'Using UV protective varnishes on woods and light paint finishes on stable materials will significantly minimize sun damage to furniture and cabinets,' says Peter Humphrey of Humphrey Munson.
13. Take it down to the basement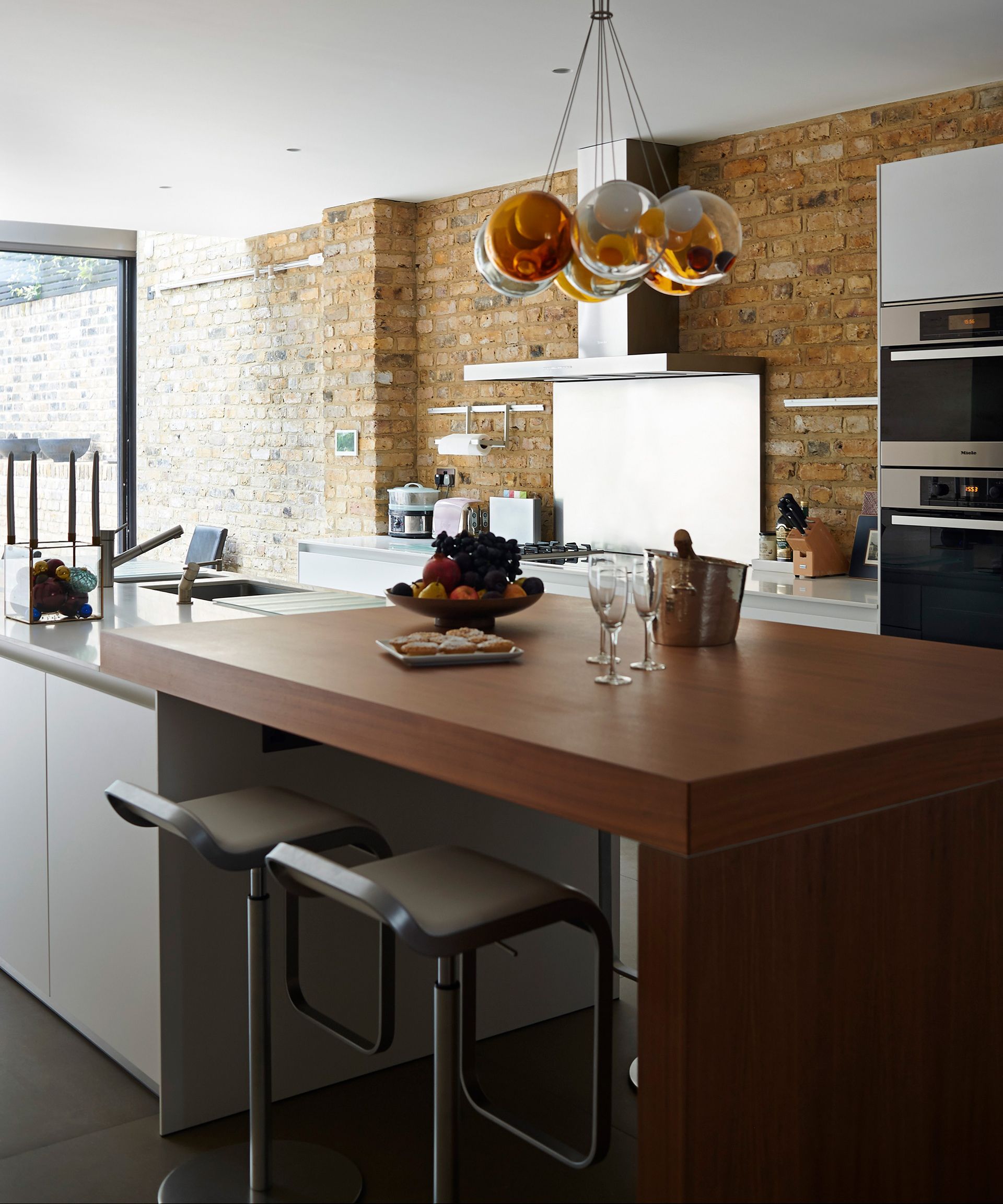 A basement conversion can offer a whole extra floor of space within your home's existing footprint and is perfectly placed for a generous open plan kitchen and diner that opens out onto the garden.
If you love entertaining at home and want a spacious kitchen-dining-living area to suit all the family, but don't have enough space on the ground floor, a cleverly designed basement conversion or lower ground floor extension might be just the way to create what you want.
'Basement kitchens can command the same square footage price as other floors in a property, as an average, and they have become far more accepted over the last few years thanks to modern engineering and design,' says Michael Wilson, director and head of sales for London-based estate agents, Mountgrange Heritage.
14. Extend your kitchen into the side return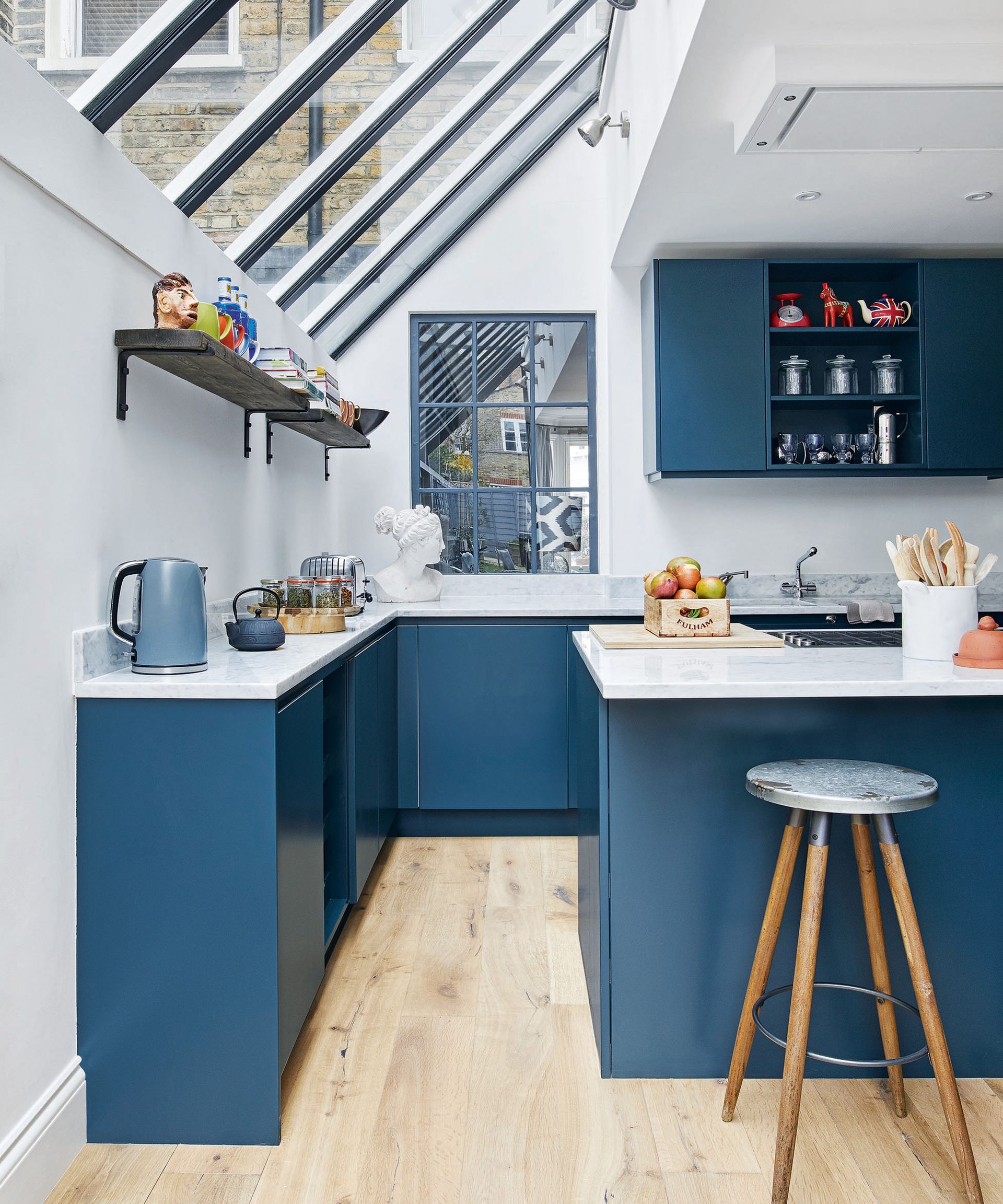 If you are struggling for cooking and dining space, creating a bigger kitchen with side extension ideas could be the answer.
For period terraced homes, the path or back garden to the side of a kitchen at the rear - called the side return - can be extended into to create a kitchen that runs the full width of the house. You can also combine rear and side extensions for a stunning wrap-around kitchen.
One of the most popular building projects for homeowners, the side return extension can create a big open-plan room with space for dining and seating. As well as adding more space it can also increase the value of your home, if you decide to sell, too.
Extending out to the side is a good option if you live in a semi-detached or detached home, as it doesn't mean using garden space. You may lose side access to your garden though, and planning permission can be trickier as it will be determined by how close you are to you neighbour's boundary.
Remember also to consider how light will reach the rooms the new space will extend over.
15. Sympathetically add a kitchen extension to a period building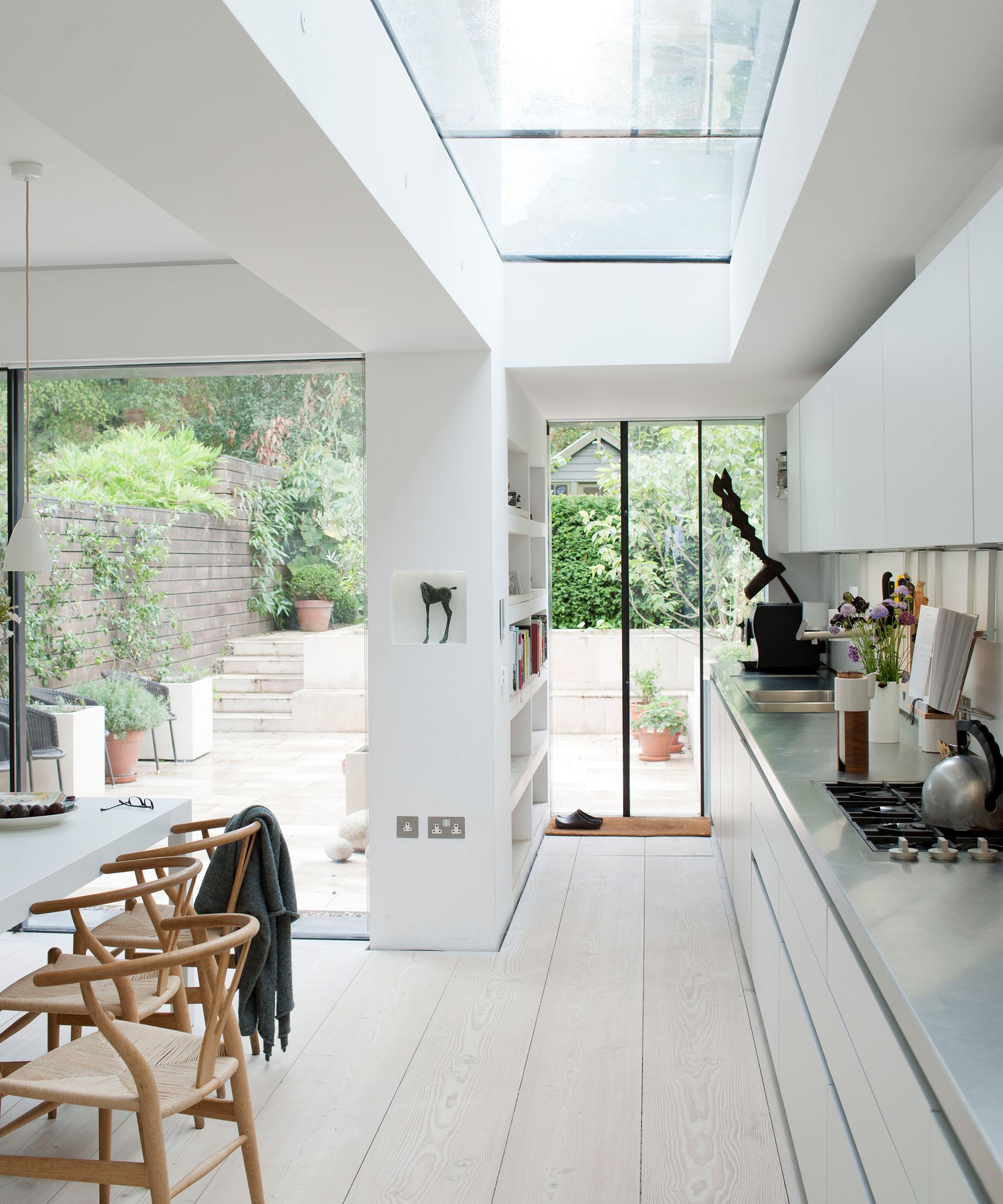 When thoughtfully designed, a modern kitchen remodel can enhance an older building, enabling you to create a home which is more suitable for modern living.
Perhaps you could add a light-filled, open-plan kitchen-diner which opens out onto the garden, or a family living space with floor-to-ceiling glazing.
Many period homes suffer from a lack of light and space – or indeed from unattractive additions – so a well-planned extension can transform the flow and feel.
'Start by understanding what is special about the existing building: an extension should respect what is already there as well as adding another layer of history,' advises Trevor Mitchell, Historic England.
'Generally it's best to avoid the front elevation: the extension should sit more quietly to avoid a shouting match between old and new.'
16. Choose materials carefully in a period building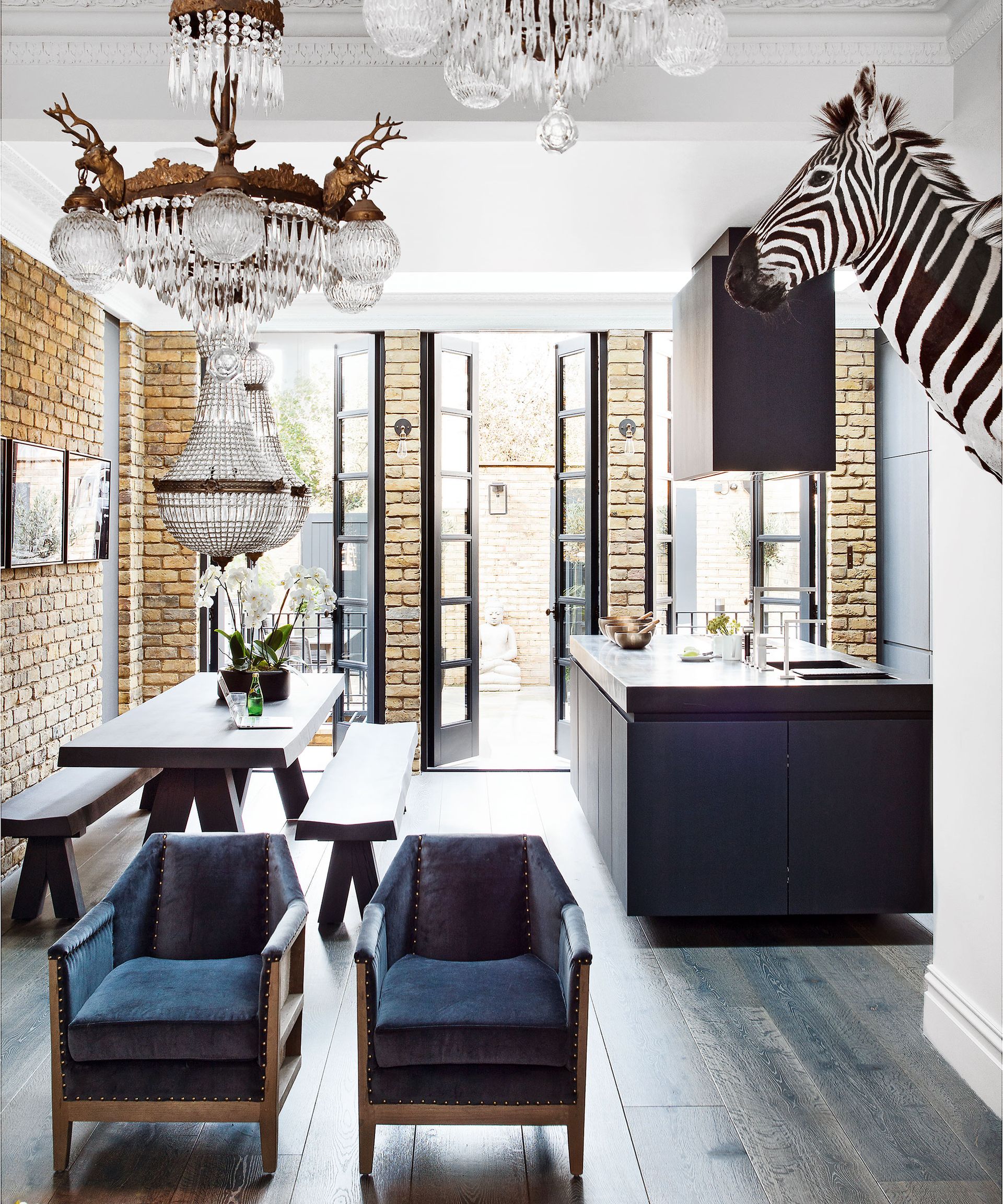 Careful choice of materials is crucial. An expanse of glass – paired with characterful brickwork – is often effective. Not only does it serve as an attractive foil for a period home, but can introduce a sense of light and space. Glass walkways are useful in delineating the transition between two phases of development as well as creating visual separation.
Do consider the scale of the kitchen extension: the aim is to complement rather than dwarf the original property and planners will tend to look more favorably on a design which respects the proportions and keys features of it. It's also worth doing some research on the building's history to contextualize its heritage.
17. Build your kitchen around existing structural support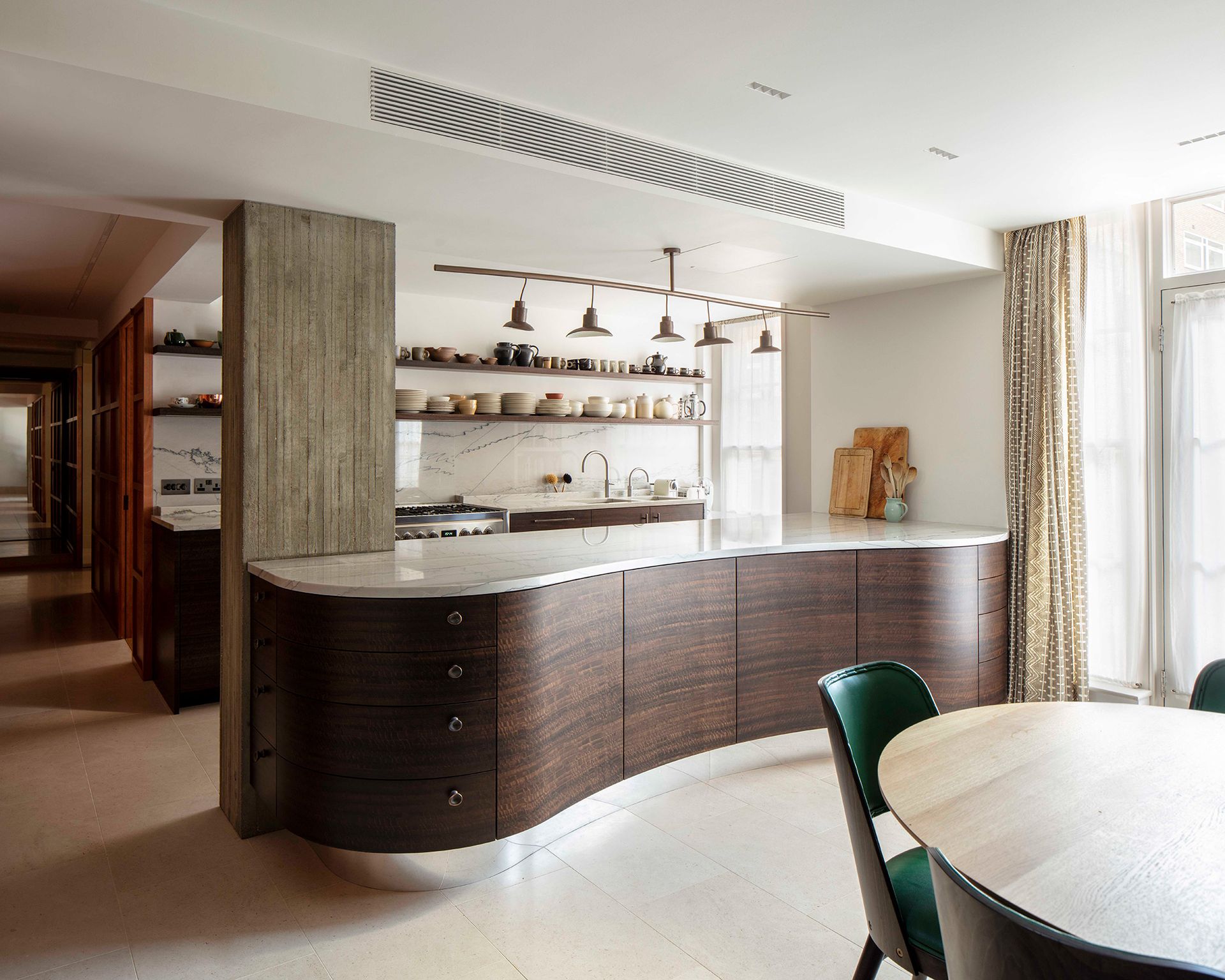 As we gain more experience and become more imaginative with our kitchen projects, embrace the realization that when designing a kitchen, moving it to an entirely new space when remodeling can make it an even more successful design.
Robert Burnett, Head of Design, Holloways of Ludlow Kitchens, comments on the logistics of removing wall and working around structural beams to change a kitchen space:
'If the aim of removing a wall is to create the appearance of a single large room then consider positioning the supporting steel beam within the ceiling space. This may be more disruptive and expensive than locating the supporting beam below the ceiling, but it helps remove any visual reminder that the space was ever split, especially if there are no visible columns – and has the end result of a clear and uncluttered transformation'
18. Extend your space by moving walls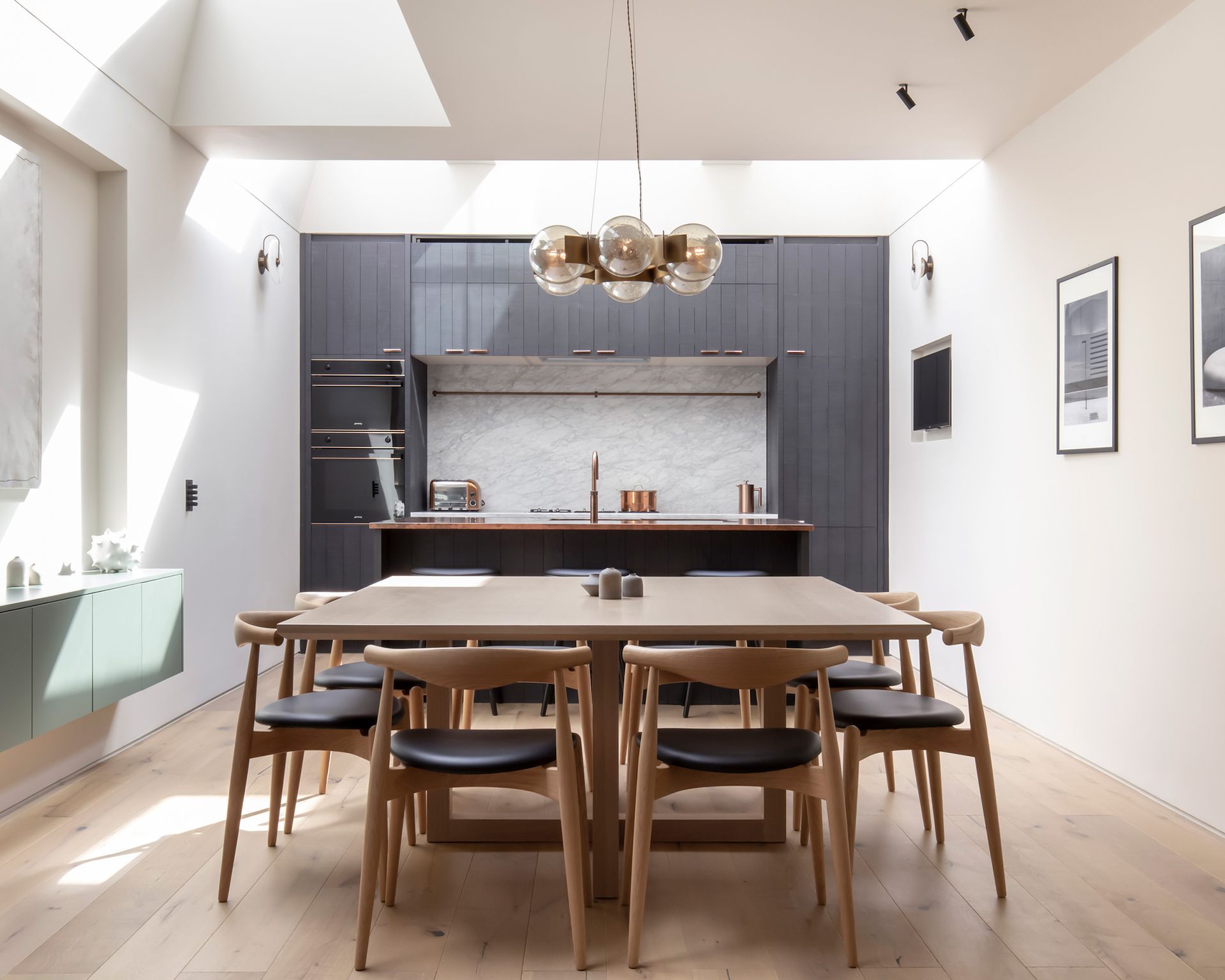 It's important to retain a sense of integrity when remodelling a kitchen. Employ an architect throughout the building process, as they will be able to follow the concept through from the initial sketch to the smallest detail and liaise with the builders to ensure that your plans are brought to life.
In this space, 'the basement floor was lowered to improve the head height, the un-used rear courtyard was fully enclosed, and a glass roof was added for light,' explains Tom Rutt, found of TR Studio.
19. Allow the light to pour in with a picture window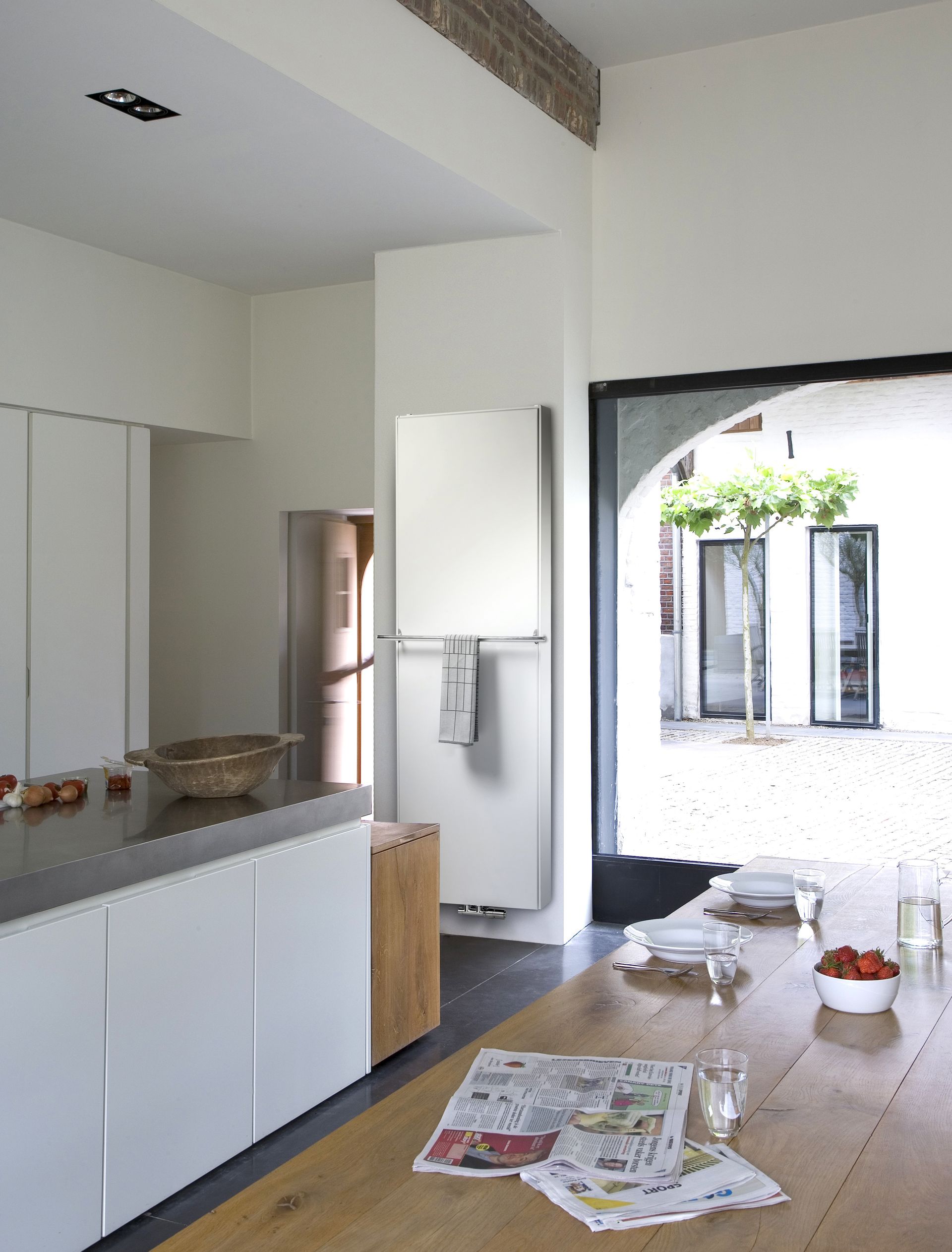 'While a kitchen remodel in a conservatory or with large picture windows, certainly makes a lovely light-filled room, there can be a lack of wall space with so much glass – vertical radiators or trench heating are a good option in these circumstances,' says Nick Duggan, managing director of The Radiator Centre.
20. Use a combination of open and closed shelving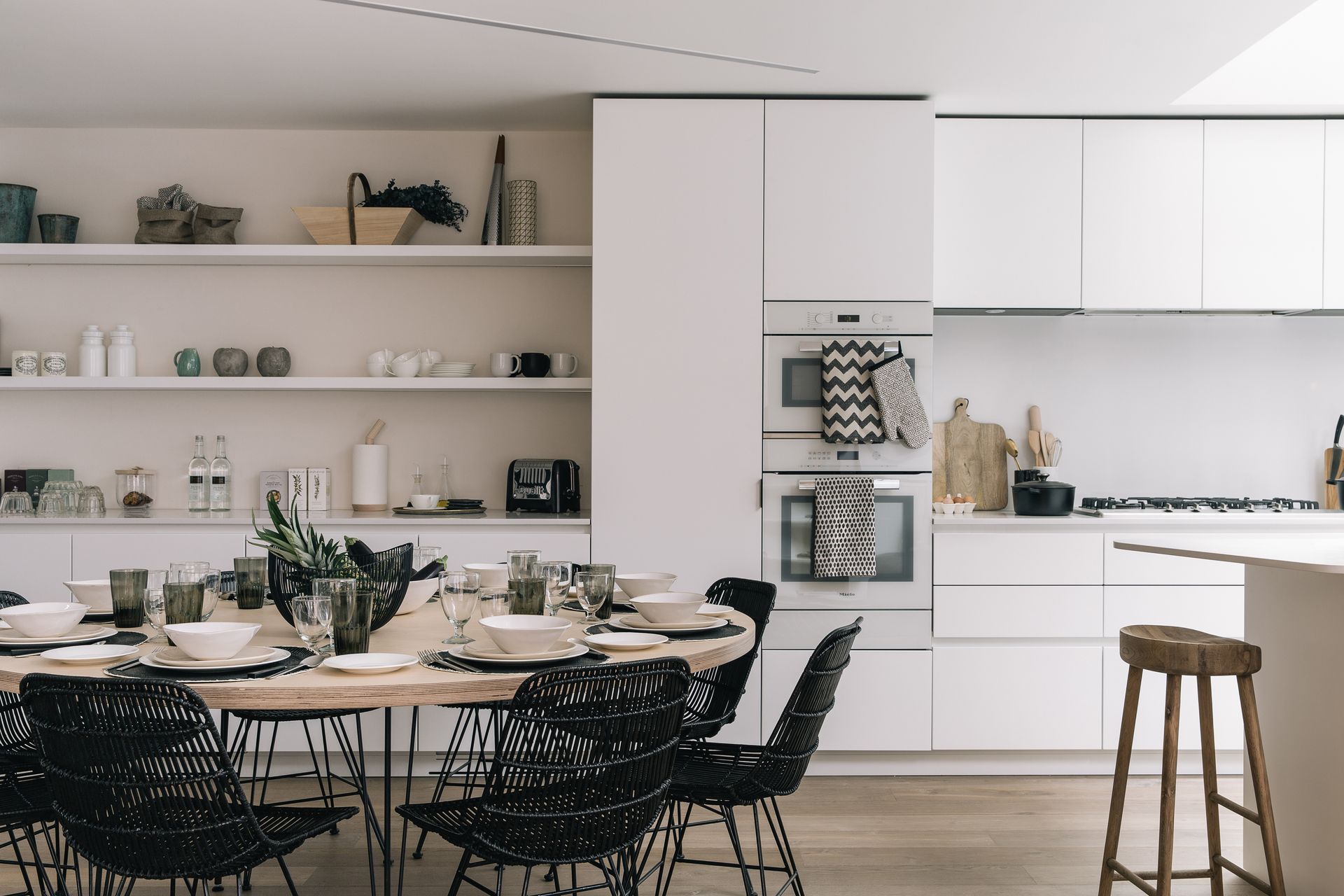 Kitchen shelving ideas – whether open shelving or hidden within a cupboard or behind pocket doors – are a great option if you have the wall space.
'We tend to think we can only have either open shelving or enclosed, but in an open plan kitchen dining space you can mix it up with both – and spread out – so in this area some of the kitchen essentials are kept on the open shelving for ease near the dining table,' says Lucy Searle, global editor in chief, Homes & Gardens. 'The consistency comes from the lower cabinetry being the same in each space.'
21. Go wild with wood and incorporate floating stairs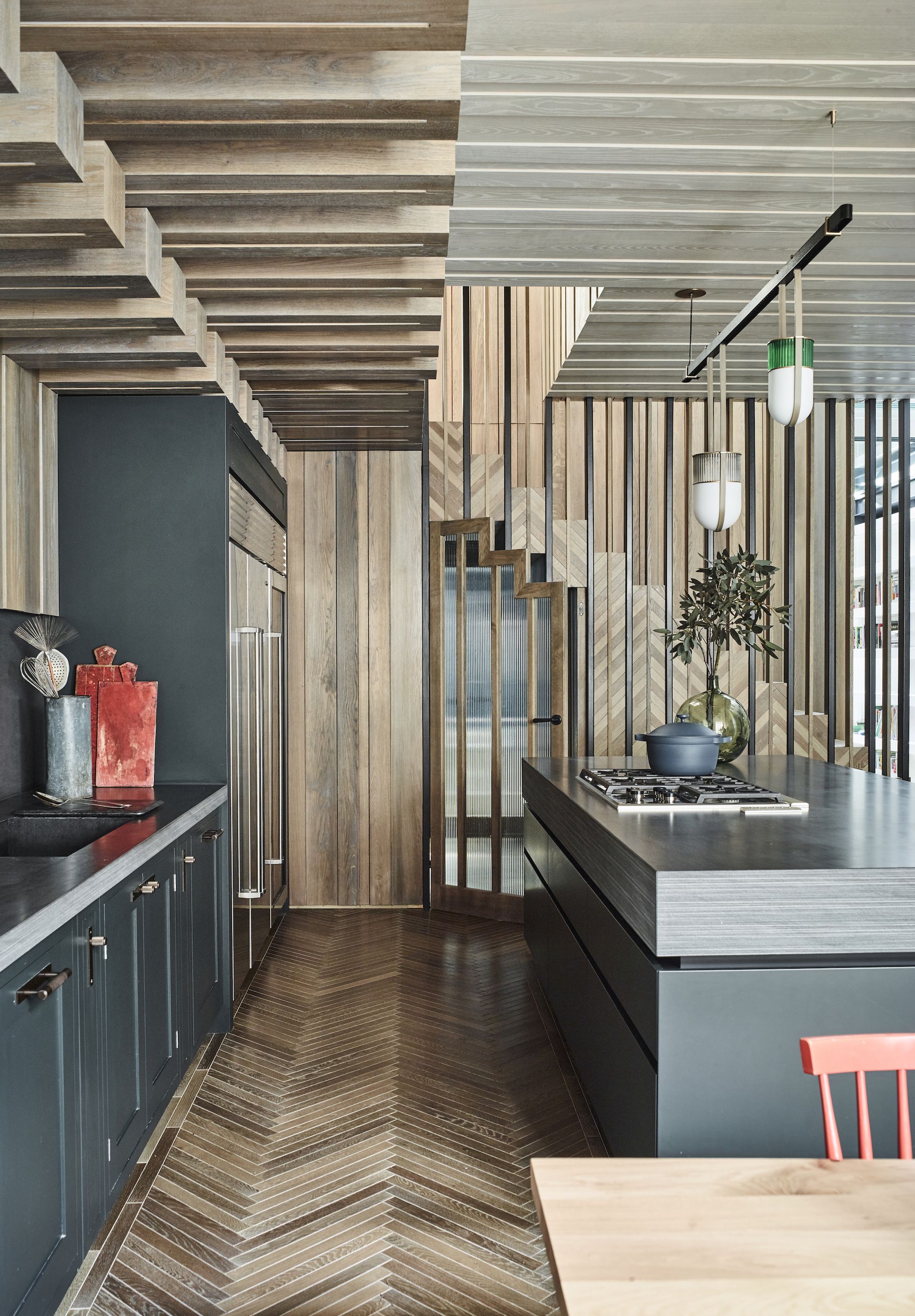 A kitchen can be so much more than just a purely functional space. The very best decorative kitchen ideas include unusual visual elements, too.
'Interesting shapes and materials can be used to achieve an articulation and rhythm with architectural features elsewhere – in this case the floating stairs that lead from the kitchen to the living spaces above,' says Trevor Morriss of SPPARC.
22. Incorporate full-height storage (and a ladder)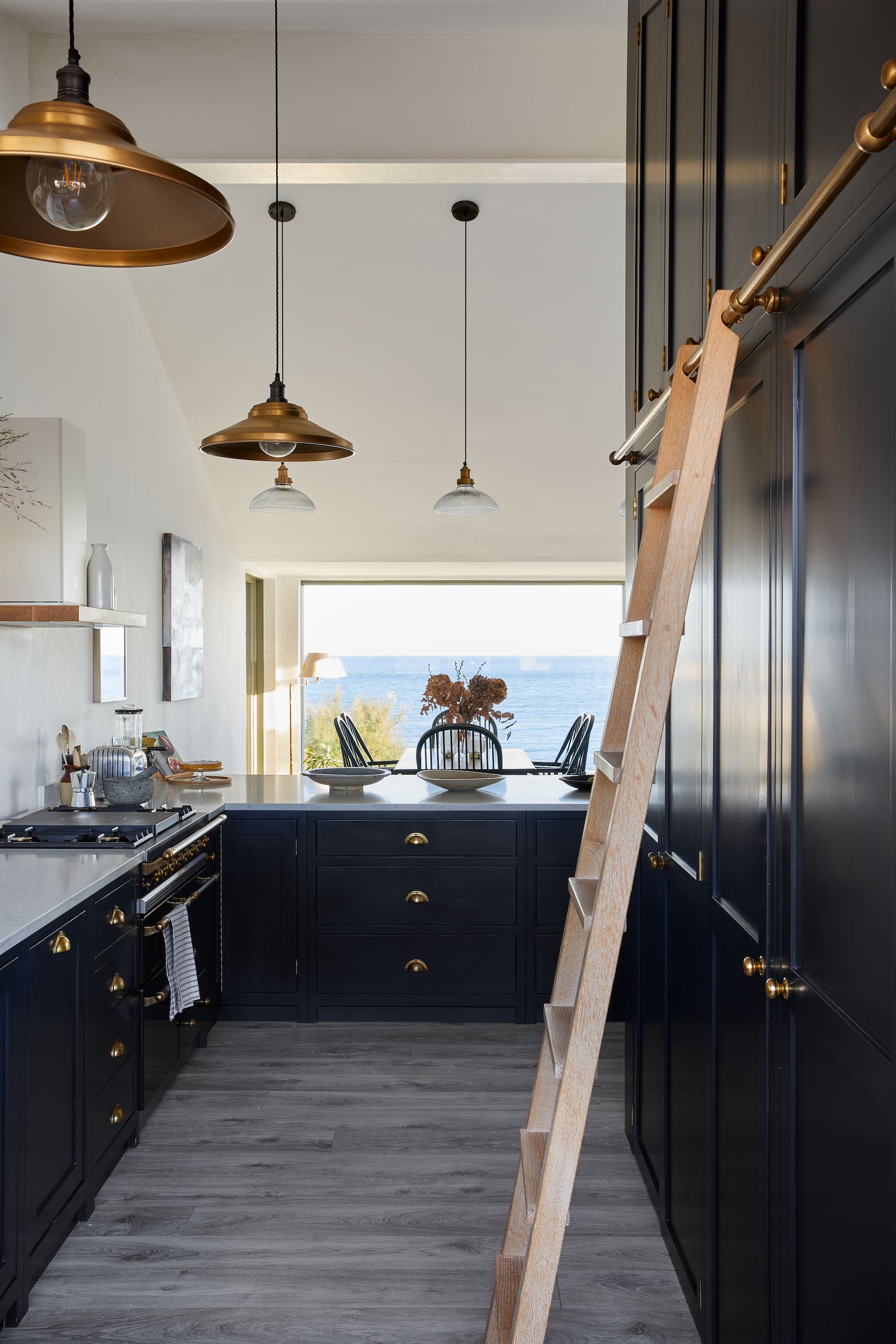 'There are a multitude of creative ways to maximize storage in the kitchen. 'One way is to invest in full ceiling height cupboards with a traditional sliding ladder, which also makes a great decorative feature.
Alex Main, director of The Main Company agrees: 'For those working with a smaller kitchen configuration or galley-style arrangement, a ladder with floor-to-ceiling storage can be a great way to make the most of the space. By building in full-height storage on one side of the kitchen and keeping the other wall clear, you can still retain that bright, light and airy feel whilst also allowing for ample storage space for all your kitchen needs.'
23. Create a cozy seated area by the window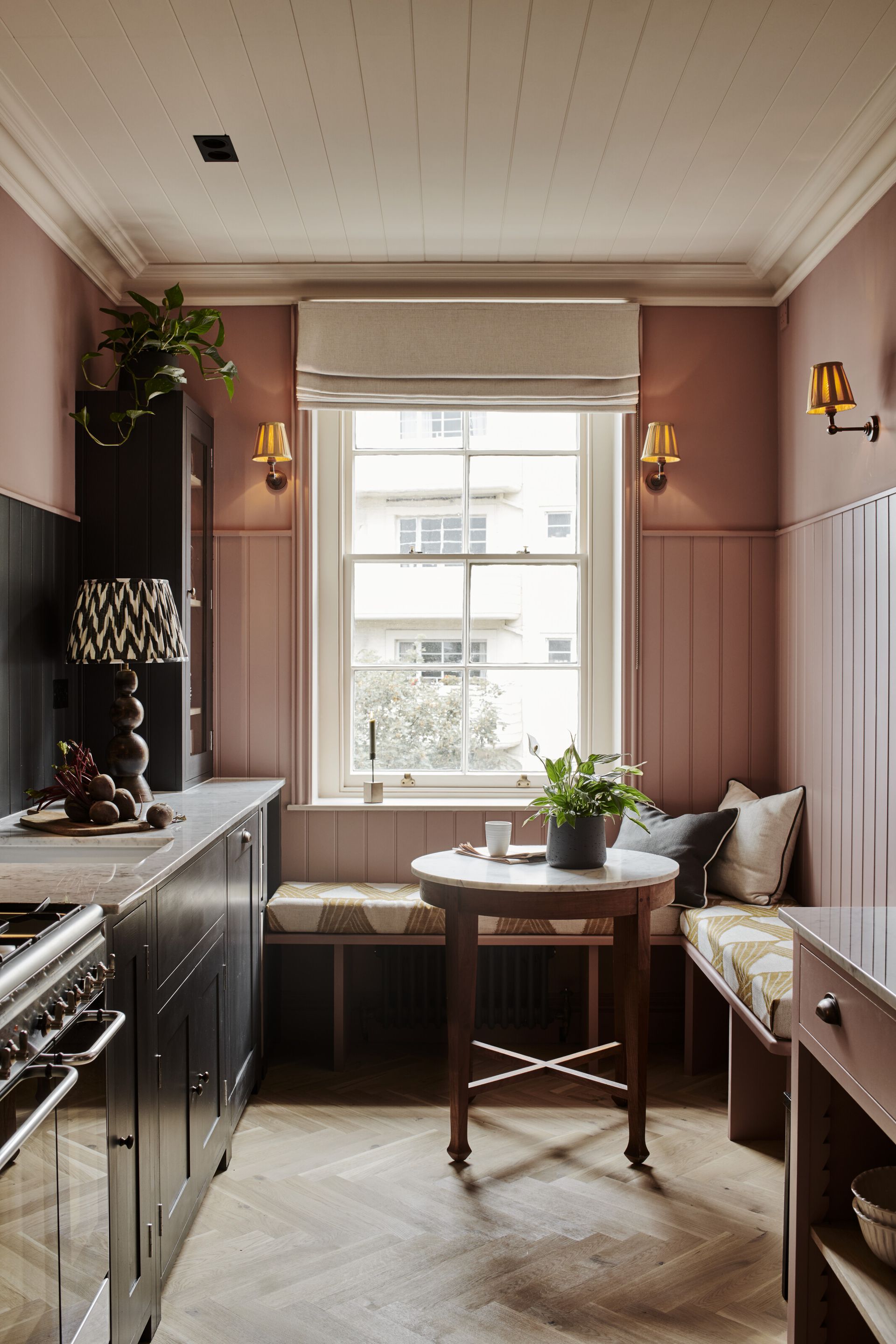 'When space is tight, it's key to be clever with what you have,' says Melanie Griffiths, editor, Period Living. 'In a galley kitchen, consider creating a cozy nook with a window seat and a circular table (this will create a flow rather than an angular one). This charming corner in this Neptune designed kitchen enhances this space and note the shiplap, anything vertical will elongate and give the illusion of height.
24. Opt for an unconventional kitchen island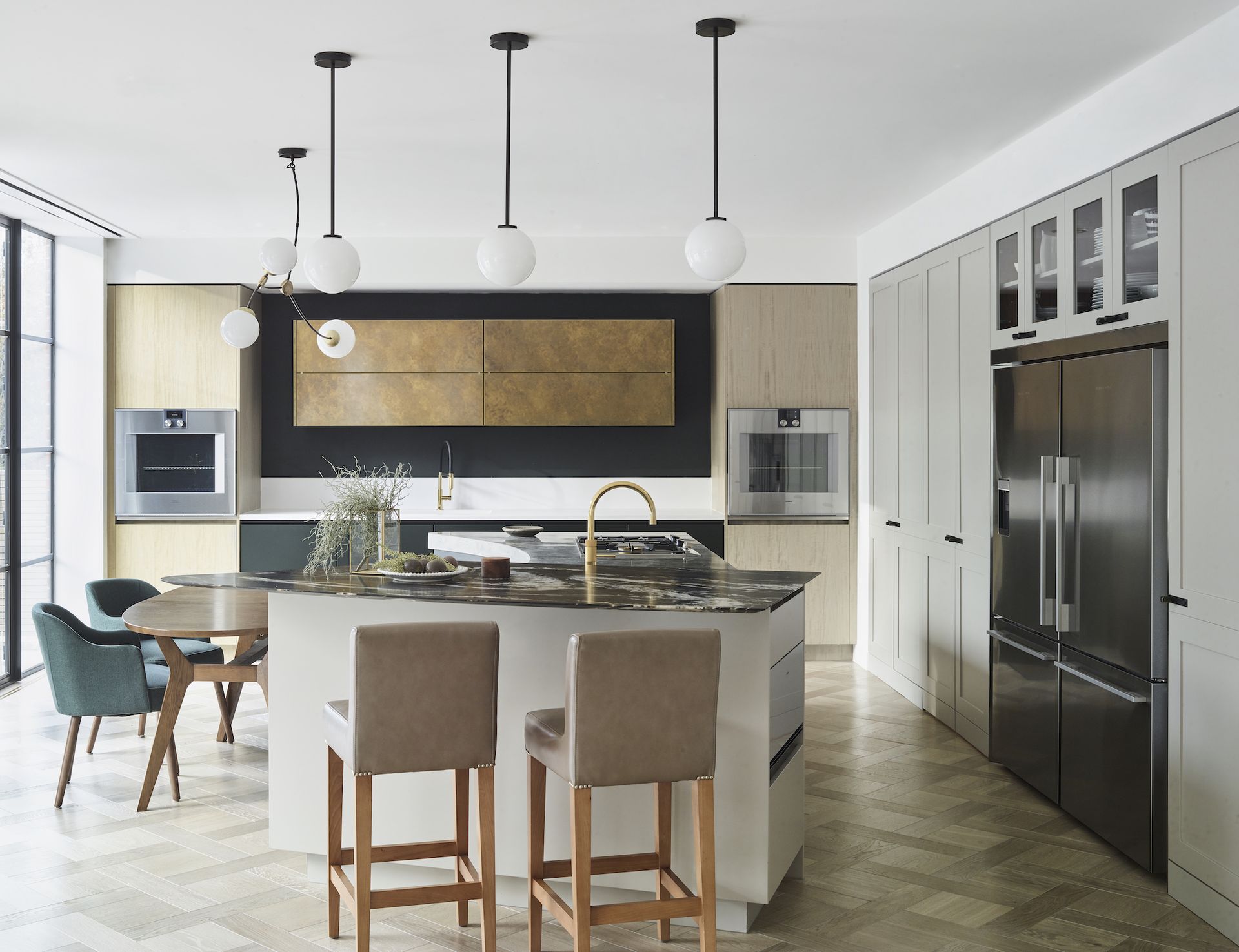 Due to the popularity of open plan spaces and large expanses of glazing, islands are becoming important practical elements in the kitchen where wall space is limited. Where some kitchen islands provide a clear and clean space to prep and socialize, others play a vital part in the working dynamics of the kitchen.
'Multiple levels and a variety of surfaces can create distinct yet fluid zones for cooking, working and socializing,' says Lauren Wright, senior design consultant at Roundhouse. 'Building in banquette seating to the back of an island incorporates the informal dining area to form one dynamic island rather than two separate elements, often taking up more floor space. Shapes with curves, offset angles or perpendicular breakfast bars are unique ways to design islands to suit individual spaces, face key views and influence the flow of traffic through a room.'
25. Consider bespoke storage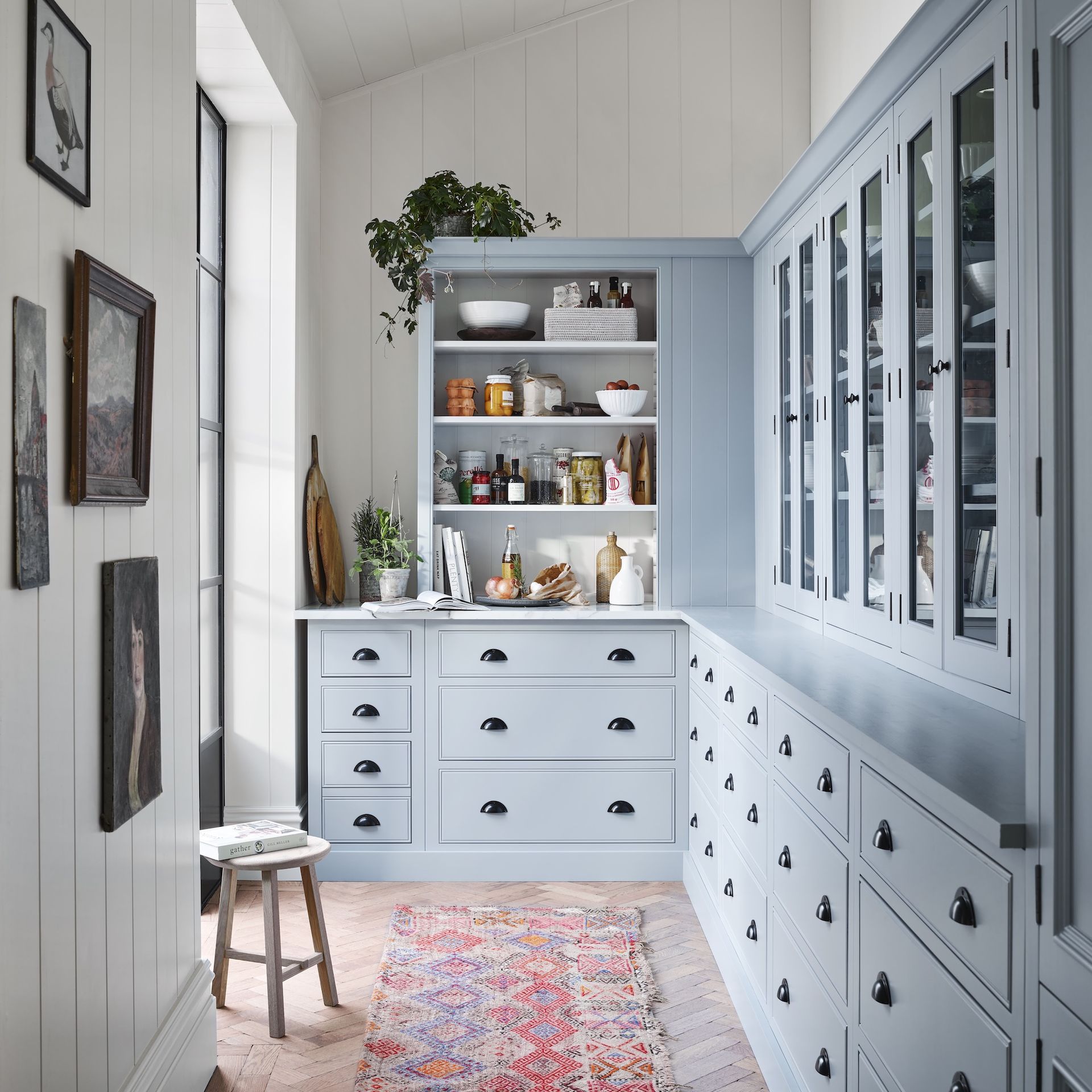 Before embarking on a kitchen project, it's always a good idea to have a good clear out and to take stock of your kitchen possessions so you know how much you need to store and how.
To break up a large wall of kitchen cupboard storage ideas, it's also a good idea to use a combination of closed and open solutions. Items such as ceramics or less frequently used china can be placed on open shelving to be enjoyed when not in use, while delicate glassware or 'special occasion' table linens are best placed in closed cupboards with multiple inner configurations so that they carefully cared for but easily accessed.
26. Connect to nature with extra glazing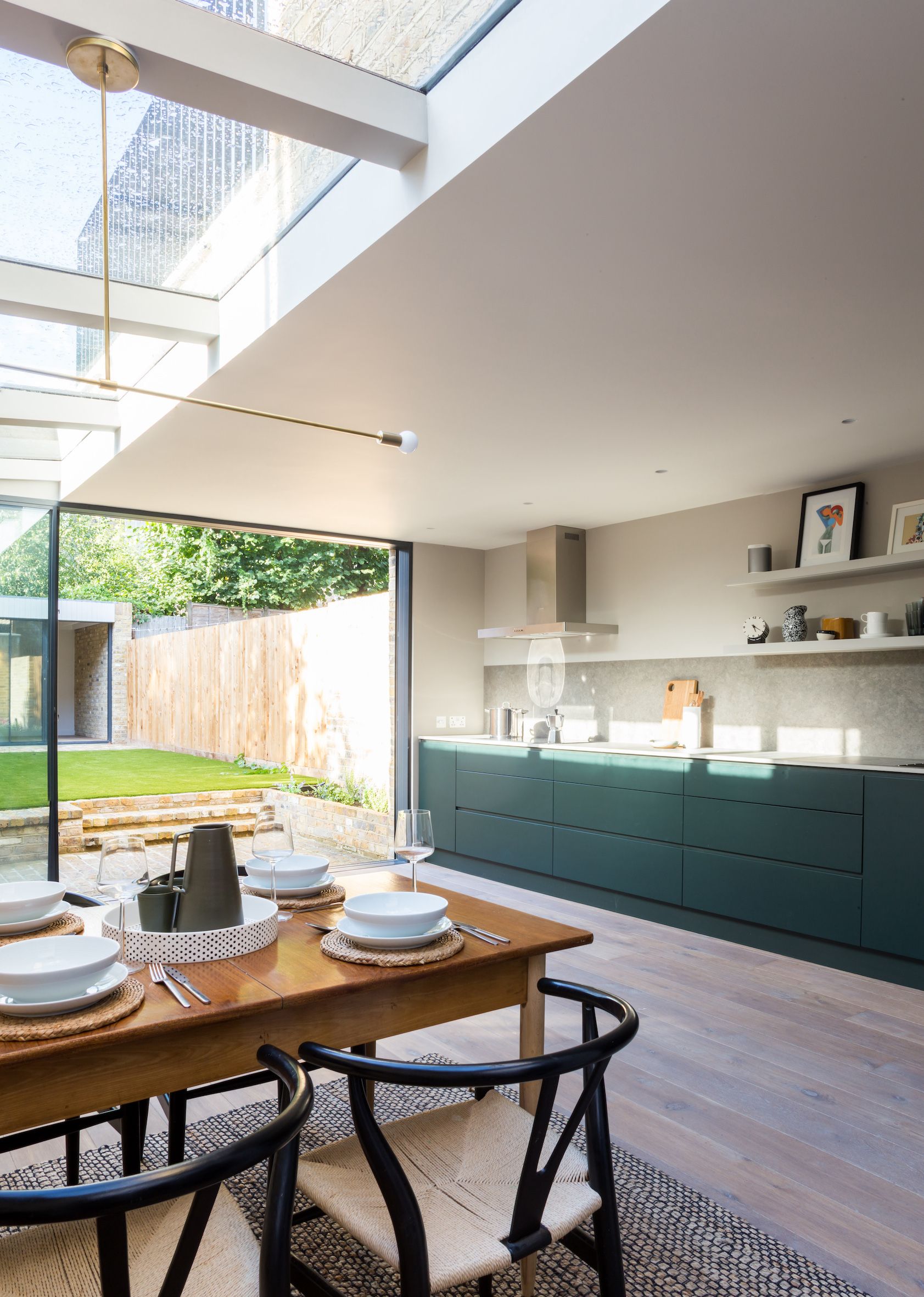 When updating your kitchen, it's easy to just think about changing the cabinets, the countertops, the tiling, but a great way to really transform a kitchen, if the architecture of the space allows, is to introduce a glazed roof and glazed doors – either sliding or steel-framed doors.
'Bringing natural light into the space in this way will really change the atmosphere and feel and create a more airier interior,' says Tom Rutt, director of TR Studio. 'Using glazing also connects our homes to the seasons and the world beyond which we feel is really important when designing homes for clients.'
27. Invest in luxurious marble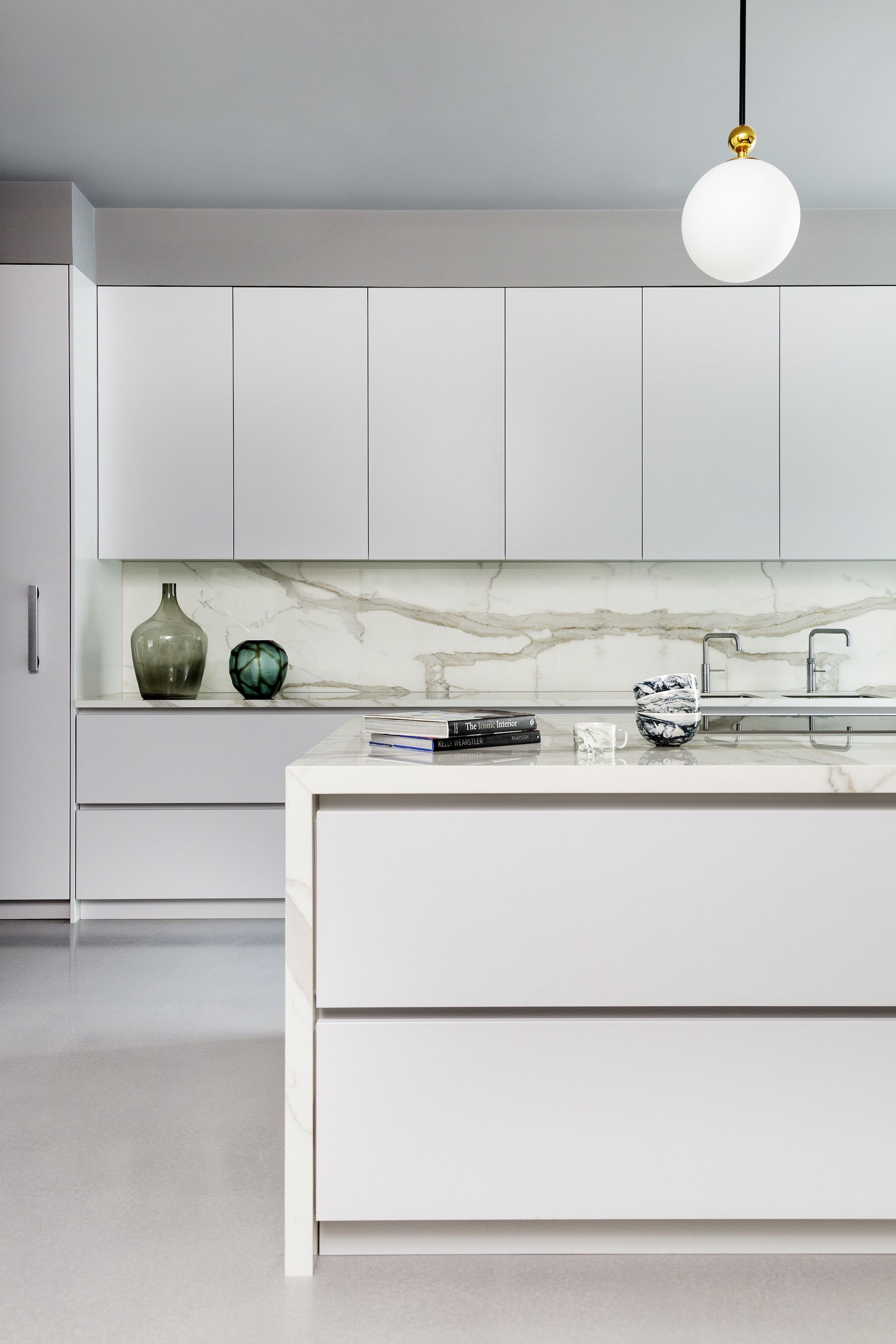 Luxurious and timeless, marble still remains one of the most popular and lusted after materials to use in a kitchen or bathroom. Marble is naturally water-resistant, which makes it perfect for your kitchen backsplash ideas.
'The concept for this sophisticated clean-lined kitchen created in partnership with HUX London was to serve both as an informal family dining zone and busy working family kitchen,' says Caroline Milns, head of interior design at Zulufish.
'The island is clad in Neolith Calacatta marble which is continued across the backsplash to give a feeling of flow through the surface materiality. The addition of overhead pendants, hanging as white orbs, reflects the clean, contemporary aesthetic, bouncing the light and illuminating the heart of the space
28. Incorporate a sink within your island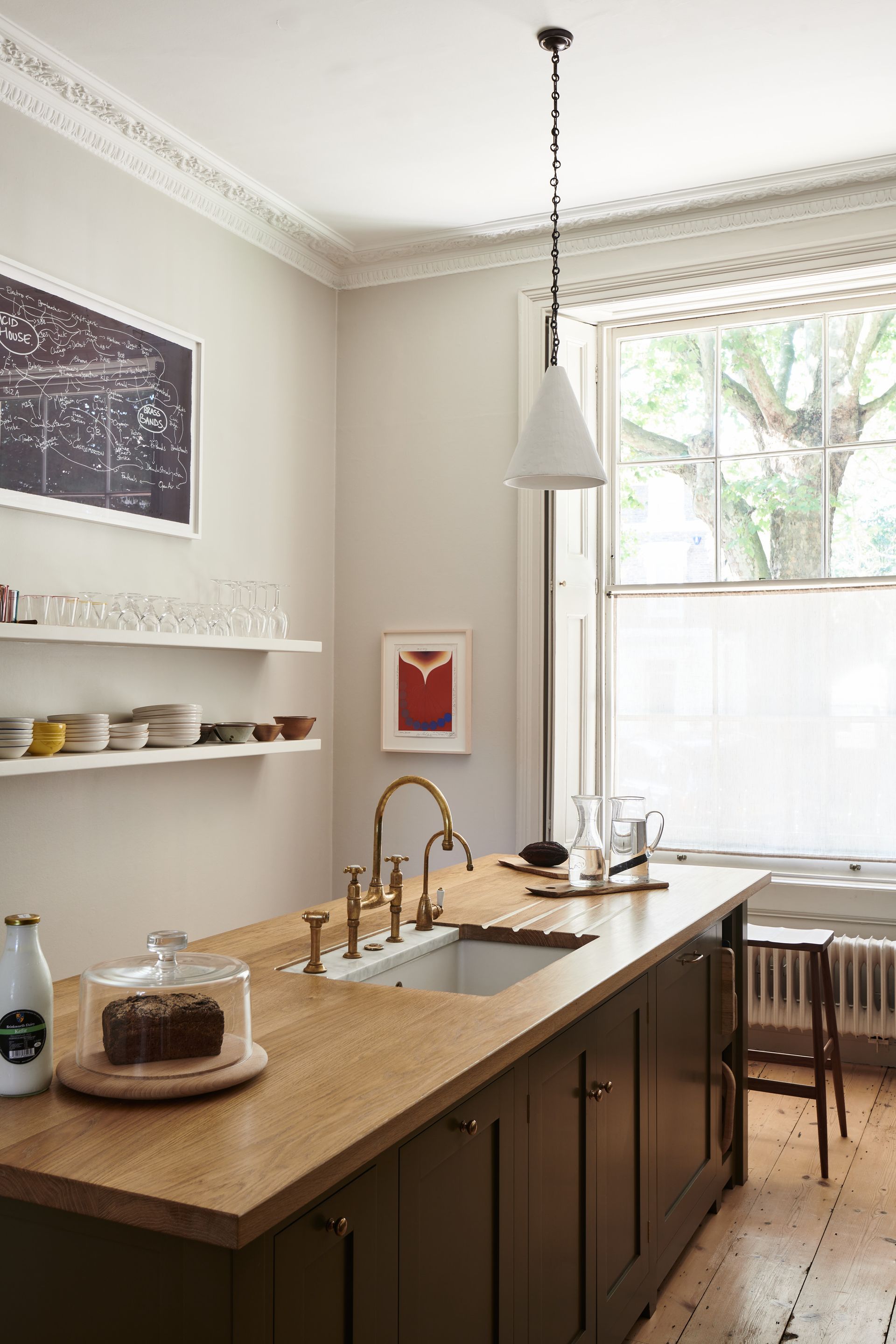 So much more than somewhere to rinse the dishes, invest in a kitchen sink that is awash with good design to flatter your kitchen.
If your layout includes a large kitchen island, then it is worth considering adding a kitchen sink to create an efficient workspace, and to create an efficient 'kitchen triangle'. A well-equipped kitchen sink with space either side for draining is useful. 'Get the largest sink you can fit,' advises chef and food writer Judi Rose, brand ambassador for Franke.
What is the first thing to do when remodeling a kitchen?
Start by creating a project plan, so you can work out exactly what your kitchen remodel will involve, from project managing and planning permission to employing trades people, demolition and rebuilding work, down to choosing kitchen cabinets, appliances and finishing touches. Once you have a plan, you'll be able to work out the project timescale more accurately and be able to calculate the full costs involved.
How can I remodel a kitchen?
There are several ways to remodel a kitchen and scale-up space, from combining adjoining rooms to building a completely new room, or digging out the basement. Be under no illusions – all the options require time and money. However, once the dust has settled, it is a decision few regret.
Some of the largest properties come with surprisingly small kitchens, allocated in the days when cooking was done behind closed doors. Reconfiguring the existing space, and perhaps stealing extra inches from a wide hallway, unused storeroom or internal garage, will usually prove far easier, quicker and affordable than any new-build project.
Do you put flooring or cabinets in first?
There's a bit of a debate over which is the correct order…flooring first or cabinets first. Some fitters prefer to lay tiles or wood flooring prior to the installation of cabinetry, while others feel it is best to leave laying flooring until last.
One benefit of installing cabinets before flooring is that by laying flooring afterwards, you'll use less flooring as it will only be laid in the areas where it is on show (and not underneath cabinets where it won't be seen) thus cutting costs. Any gaps where flooring meets cabinet will be hidden by plinths or trims.
In spaces where there might be an anomaly between the height of appliances and cabinets, then laying flooring first is advised, so you can make height adjustments to fittings afterwards and not end up with everything out of sync.
How much does a typical kitchen remodel cost?
In US dollars, a kitchen remodel is around $48K-$137K.
'Generally, you can expect to pay anything between £35K-£100K for the cabinetry, worktops, sinks and taps, before considering your appliances and any additional style elements or features,' says Will Lyne Master designer and co-owner of UK luxury brand, Christopher Peters Kitchens and Interiors.
'Personally, we recommend our clients allocate between $13K/£10K and $52K/£40K for this, plus $13K/£10K-$20K/£15K for any structural work required before the installation begins. It's imperative that the foundations – literally and figuratively – are in place and sound before you start thinking about cabinets, especially if you're opting for a handmade kitchen that could last 20-30 years.'
According to George Forsyth of Drew Forsyth Co: 'It is difficult to pin-point exactly how much a kitchen remodel will set you back, as it will depend on several factors, including whether you are opting for bespoke furniture or an 'off-the-shelf' alternative.
Structural alterations, such as removing walls, extending the space and re-siting plumbing and electrics will also have an effect on the overall cost. This is why budget plays such a vital role in the process and should be one of the first areas to address when planning your kitchen renovation.
Setting out your budget early on will help you make practical and informed decisions, to ensure that you get the best possible end result. While how much to spend on a new kitchen will be down to personal circumstances, as a guide, it's usually 5%-10% of the value of your home.
What is the most expensive part of a kitchen remodel?
One of the most expensive components of remodel projects can be the new kitchen itself - especially if you are opting for bespoke kitchen cabinet ideas, such a cabinetry that is handcrafted and hand painted, or considering kitchen flooring ideas such as marble or stone.
With that being said, high-end appliances can certainly add a significant cost to the project, depending on which brands you opt for.'
Sign up to the Homes & Gardens newsletter
Decor Ideas. Project Inspiration. Expert Advice. Delivered to your inbox.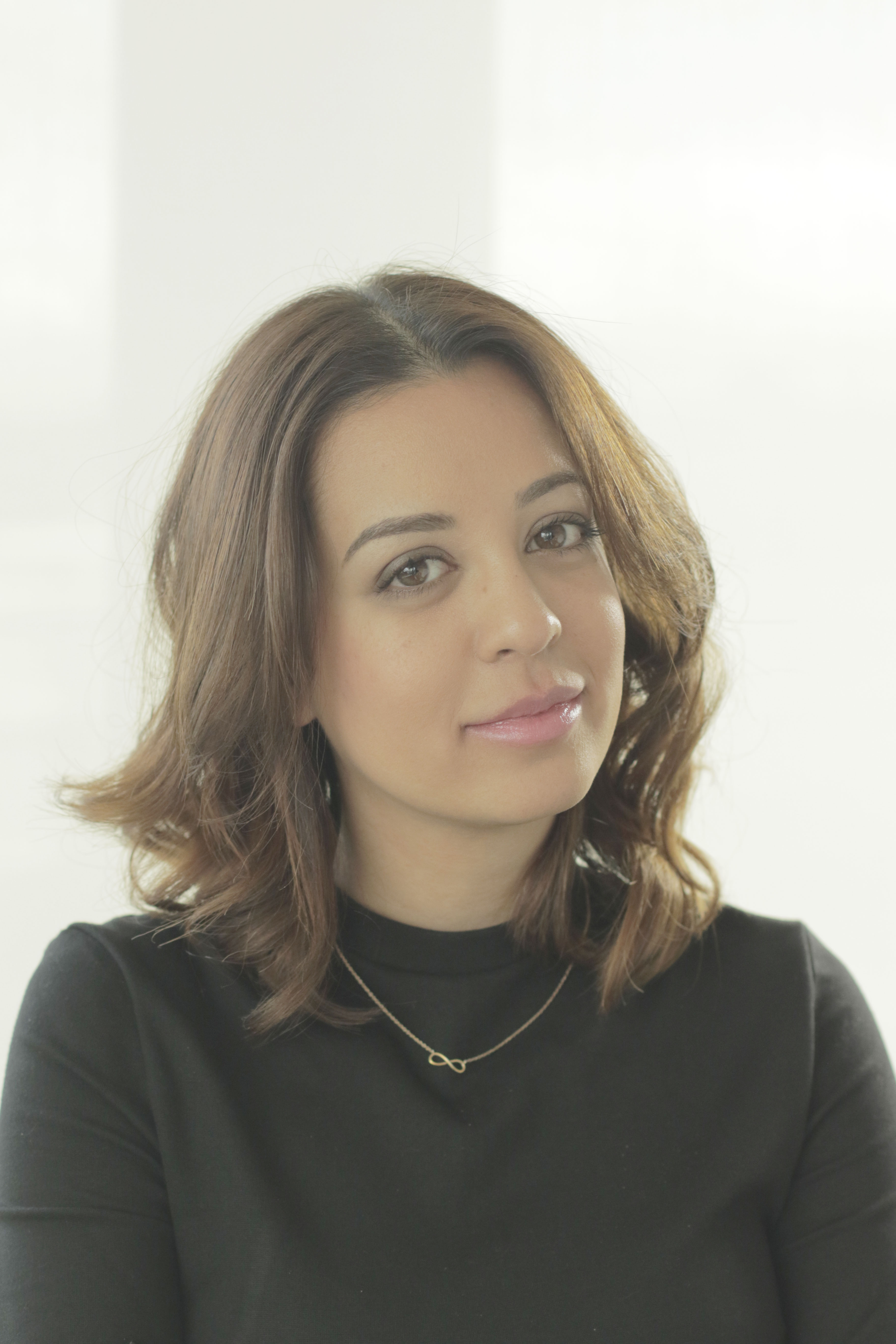 Jennifer is the Digital Editor at Homes & Gardens. Having worked in the interiors industry for a number of years, spanning many publications, she now hones her digital prowess on the 'best interiors website' in the world. Multi-skilled, Jennifer has worked in PR and marketing, and the occasional dabble in the social media, commercial and e-commerce space. Over the years, she has written about every area of the home, from compiling design houses from some of the best interior designers in the world to sourcing celebrity homes, reviewing appliances and even the odd news story or two.