Kitchen ceiling ideas – 12 designs for the heart of the home
Add interest and intrigue to your fifth wall with our favorite kitchen ceiling ideas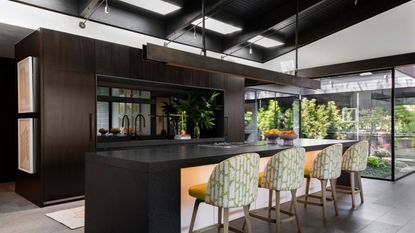 (Image credit: Creative Tonic Design)
Our kitchen ceiling ideas can help you establish a stand out design for this central hub of the home.
When planning out a scheme for a room, the ceiling is generally not considered in the design, usually painted white, however, this surface area provides a whole host of creative possibilities. From modern paint and wallpaper designs, to uncovering traditional architectural features, exploring ceiling ideas can ensure that every inch of a room has been thoughtfully considered.
The kitchen is often one of the largest rooms in the home, so is the perfect place to make a statement with the ceiling. No matter the size of style of your kitchen, factoring in the ceiling for your kitchen ideas can elevate your whole design, adding unique visual interest and character to a surface that is often ignored.
Kitchen ceiling ideas
To help with the kitchen ceiling ideas in your home, we have curated an inspiring collection of designs.
Whether you want to be bold with ceiling paint ideas, or establish a relaxed look with the use of natural materials, we explore a variety of uplifting options.
1. Embrace the rustic charm of original architecture
Great for country kitchen ideas and traditional kitchen ideas, embracing the beauty of the founding bones and structure of your home can make for a beautiful ceiling.
As shown in this inviting, rustic kitchen by Kara Childress Inc., the space is rich with original features and details, with the stone wall and exposed wooden ceiling establishing a charming contrast with the more modern kitchen units, appliances and pendant lights.
The historic wooden ceiling is defined by an aged, rustic appearance, adding a cozy and inviting character to the kitchen space. With the natural materials complemented by a neutral color palette used throughout, this kitchen is a beautiful embodiment of the traditional and the modern.
2. Make a statement with your lighting
Whether you have a large open plan kitchen, or benefit from the space provided by a double height ceiling, making a statement with a dramatic light feature can uplift this functional space with a stunning decorative element.
In this open plan kitchen-diner in a remodeled Georgian townhouse in London, the breathtaking, custom made, modern chandelier hangs beautifully from the ceiling in the large atrium space, adding a truly impactful focal point for your kitchen lighting ideas.
With the organic, sculptural design hanging like a piece of art, this design shows just how adventurous you can be for kitchen ceiling ideas.
3. Be inspired by nature's palette
If you want to incorporate the ceiling into your painted kitchen ideas, and establish the ideal balance between a subtle and bold color, using a restful shade inspired by the palette of nature can be a great choice.
This farmhouse kitchen by Little Greene has been painted in Garden Green on the ceiling and Pea Green on the walls, creating a beautiful, two-toned look that perfectly complements the traditional kitchen space but with a contemporary feeling of vibrancy.
Ruth Mottershead, creative director at Little Greene states, 'for a considered coordinated feel, combine colors from the same color scale families for a harmonious finish. Use a deeper strength of the same pigment on walls, alongside a lighter shade on the ceiling for a gentle contrast.
I love to see the color drenching trend being embraced, with a single shade or closely related colors adorning everything from skirting to ceiling: walls, window frames doors and radiators. By immersing an interior in one color and incorporating all elements including the ceiling within the space, you can create a truly engaging scheme.'
4. Incorporate a skylight
A feature that can work it kitchens of all sizes, but is a great option for small kitchen ideas and galley kitchen ideas where there may be limited natural light, a skylight can transform the look and feel of a room, making a space feel more open and inviting.
They can also add great depth and an element of contrast to a ceiling space, providing an attractive window to the beauty of the outdoors.
Ben Burbidge, managing director at Kitchen Makers says, 'if you want to create an organic feel in your kitchen, keep natural light to a maximum and weave in natural materials, such as simple wooden cutting boards, a touch of greenery or a rustic oak table'.
As shown in this modern, open plan kitchen-diner, the skylight allows for natural light to flood in over the dining table, ideal for creating a bright and comfortable seat space when eating, relaxing and entertaining.
5. Wow with wallpaper
Wallpaper ideas are used throughout the home to bring vibrancy, color and pattern into a room.
Tobie Lewis, senior brand manager at Valspar Paint, says 'a kitchen is so much more than just pots, pans and cooking – it's a space for creation, so it's important for our interiors to encourage confidence and fun when cooking, hosting or relaxing.'
For some time, the kitchen has been seen as a purely functional space, but as time has gone by, we are seeing more and more adventurous and characterful kitchen designs that celebrate the importance and use of this hub of the home, with kitchen wallpaper ideas a great option to bring in added personality and style.
The recessed ceiling in this beautiful kitchen by Arianna Danielson has been decorated in Divine Savages Deco Martini Arsenic wallpaper. Inspired by the roaring twenties and the decadence of Gatsby glamour, the dark green and gold geometric pattern creates an elegant contrast with the more relaxed, Bohemian vibe in the rest of the kitchen.
A ceiling wallpaper idea that helps to unite contrasting styles, colors and textures, the luxurious wallpaper injects glamour and grandeur into this cozy kitchen space.
6. Create a relaxed, Scandi inspired space with light wood
Scandinavian kitchens, defined by the beauty and warmth of organic, natural materials and a more minimalist look, prove ever popular for kitchen design in the home.
Often defined by calming color schemes, using a light wood on your ceiling can still create a cozy cabin decor feel but with a slightly more softer and serene look.
As shown in this kitchen, the light, paneled wood ceiling adds inviting, warming texture. With the light wood a great option for the low ceiling, ensuring the space doesn't feel too dark or enclosed, this kitchen embodies an elegant, Scandinavian inspired look.
7. Embrace an industrial look with concrete
A style that celebrates leaving materials raw, exposed and imperfect, creating a minimalist and modern appeal, looking to industrial decor for your kitchen ceiling ideas can create a simple and uncomplicated design.
This kitchen, designed by Elizabeth Krueger Design, is defined by beautiful exposed concrete on the walls and ceiling.
A relatively cheap and exceptionally versatile material, concrete can create a smooth gray finish, ideal for modern kitchen ideas. Mainly used for building work and hidden by other materials and structures when used in the home, leaving concrete constructions exposed can establish a unique, industrial look.
The concrete ceiling in this kitchen has been softened by the feathered, fabric chandelier, adding warmth and soft texture to the cool space.
8. Be bold with a black ceiling
We are often told to steer away from using dark colors and materials on the ceiling in fear that it can make a room feel dark and oppressing, however, when done correctly, a dark ceiling can make for an elegant and unexpected look.
Of course, there are many factors to consider when working with darker shades on the ceiling, such as the size of the room, how much natural light it receives and your color pairings, but for many kitchen spaces, a dark ceiling can help to make the room feel more cozy.
In this larger kitchen, from a project by Creative Tonic Design, the stunning vaulted ceiling has been elevated by black painted wooden paneling, enhancing the height and drama of the tall ceilings in this kitchen space.
With the black color adding a sleek contemporary twist to the natural wooden construction, the dark colors used throughout this space work as one to establish a luxurious and impactful design.
Decorating with black is not for everyone, but as this modern kitchen shows, it can be a great choice for many interior designs.
9. Use your ceiling to zone the space
A kitchen is a busy, high-traffic area in the home, so you want your kitchen layout ideas to benefit from a range of features and techniques that can work to cleverly zone the space, helping the room feel more organized and functional.
With kitchen islands now an essential for many kitchen designs, these can be a great tool for helping to section the kitchen for different activities, as Ben Burbidge states, 'an island helps to anchor and zone the kitchen, creating a focal point for flowing conversation whilst food prep is taking place.'
However, making use of the ceiling space above your kitchen island, or over another section of the kitchen can also help to create an enhanced, sectioned design, as shown in this contemporary open-plan kitchen.
The ceiling above the two large kitchen islands has been cladded in light wood paneling, adding warming texture to the area, as well as a visual contrast from the ceiling in the rest of space.
Whether you use different materials, paint, lighting or wallpaper, do not underestimate how your ceiling can help transform the look and feel of your kitchen.
10. Make it pretty with pink
From millennial pink to bright magenta, decorating with pink is proving ever-popular in interior design, with many lighter, more muted shades being considered in recent years as versatile, 'new neutrals'.
This kitchen has been painted floor to ceiling in Powdered Clay by Crown Paints, creating a welcoming and uplifting kitchen space that embraces the bold beauty of color drenching.
Justyna Korczynska, senior designer at Crown says, 'injecting colors we love into our homes can give us a boost of positive energy and improve the comfort in the spaces we live in. Color drenching is a simple and effective way to achieve a dramatic transformation of the bleakest of rooms in our homes.'
This pink kitchen is balanced by the use of black and white on the kitchen island and complemented by the warming tones of the wooden sideboard, establishing a colorful, contemporary space.
11. Establish a luxurious look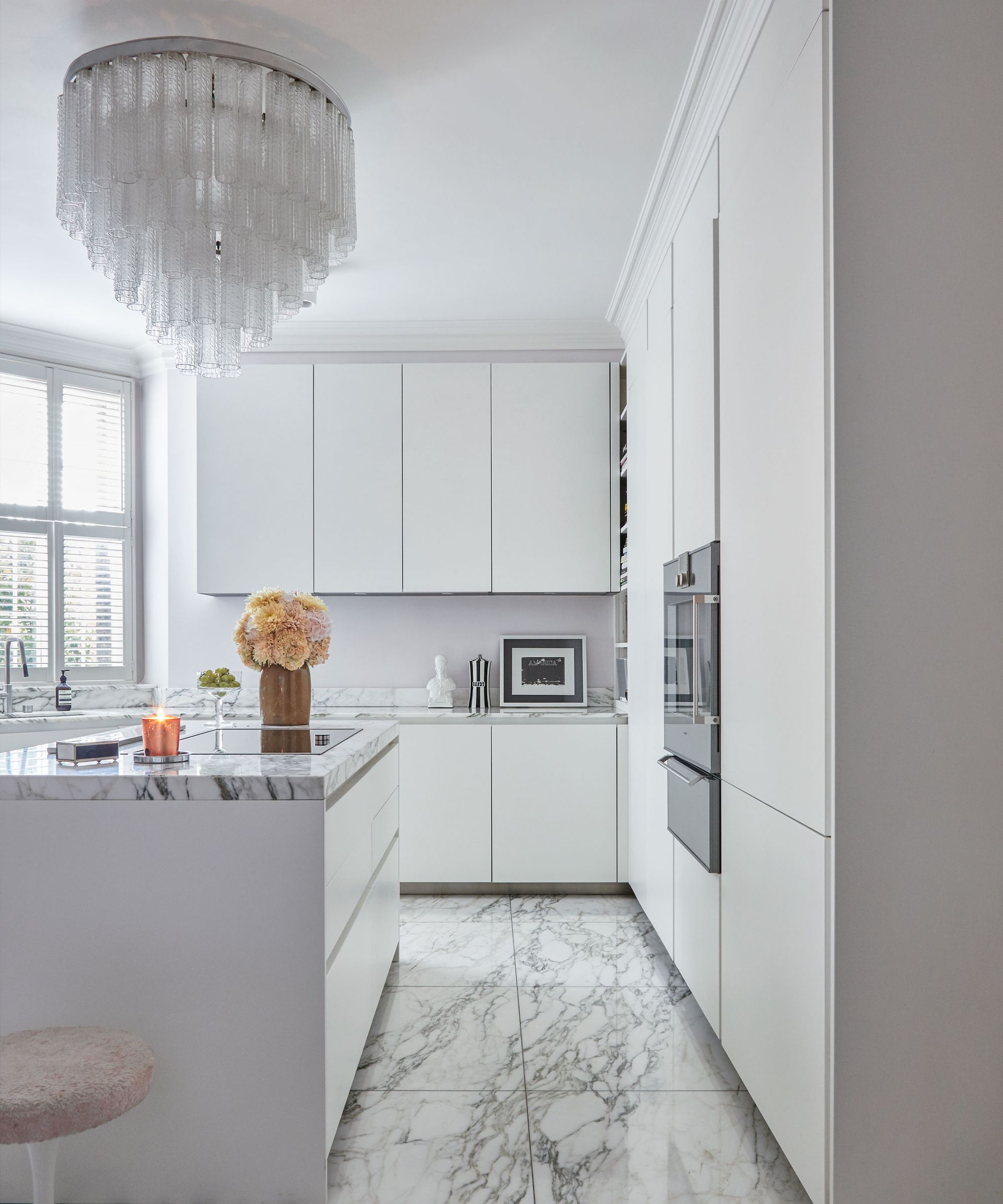 Many kitchens are defined by simple lighting designs such as spotlights, however, bringing in element of luxury through your kitchen ceiling lighting ideas can not only elevate your ceiling space, but make your kitchen feel beautiful as well as functional.
In this modern white kitchen, the glass chandelier truly takes center stage. With chandelier's often used in hallways, bedrooms and living rooms, these opulent designs can also work wonderfully as a centerpiece in a kitchen.
Whether you choose to hang a glistening glass chandelier above a kitchen island, or a statement pendant for above a dining table, integrating a grand lighting design into your space for kitchen ceiling ideas can add an elegant touch of luxury.
12. Keep it light and bright with white
Of course, you cannot go wrong with keeping your kitchen ceiling light, bright and white, with white ceilings able reflect large amounts of light, and establishing a timeless and elegant look.
For some added texture, depth and character, why not install painted white wood paneling, or refresh the existing, darker woodwork in your kitchen with a coat of white paint.
In this large white kitchen by Creative Tonic Design, the tall, wooden beamed ceilings and walls have been painted in a refreshing white, making the large room feel even more spacious and open, with the orange, lantern style pendant light creating a colorful contrast.
Tobie Lewis says, 'choosing the right white can be crucial to the impression of a room. Using the right white can transform your entire room, creating the illusion of more space or light, but the seemingly endless options can be overwhelming. The easiest place to start when choosing a white paint is to identify the colors that call to you the most and to pick off-whites with a hint of these hues.'
If you choose to decorate with white for you kitchen ceiling ideas, bringing in accent colors and different materials will ensure the space does not feel cold or lackluster.
What should I put on my kitchen ceiling?
When considering what to put on your kitchen ceiling, using this area as a platform for vibrant, stylish and unique designs can make your kitchen space feel truly unique.
Whether you choose a bold wallpaper, or paint the ceiling a dramatic color, properly integrating this fifth wall into your design can make for a unified and cohesive look.
However, not all kitchen ceiling ideas need to be big, bright and bold, functional elements such as lighting and windows can be used to enhance the space with both practicality and decoration.
No matter the size or age of your home, adding unique visual interest to your ceiling and rediscovering the creativity that can be had on this surface will make for a well-considered and stylish space.
Sign up to the Homes & Gardens newsletter
Decor Ideas. Project Inspiration. Expert Advice. Delivered to your inbox.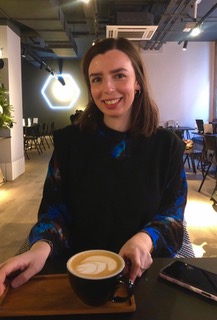 Zara joined Homes & Gardens in February 2022 as a Content Editor. After studying English Literature at University, she worked as an Ecommerce Website Editor, Content Writer and Buying Intern at multiple independent businesses within the luxury retail and lifestyle sectors. Her role at Homes & Gardens unites her love, experience and passion for the world of design and desire to create inspiring written content. She enjoys nothing more than discovering new trends, brands and products, whether that be in fashion, interior design or lifestyle.