Cabin decor ideas – 15 ways to create a cozy, rustic space
From moody and modern to vintage and eclectic, these cabin decor ideas will elevate any rustic retreat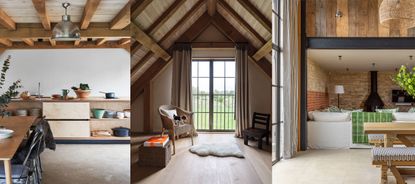 (Image credit: Future)
It's no wonder that cabin decor ideas are all about creating a sense of warmth and retreat, given the wild landscape that often lies beyond the doors. On the peak of a snowy mountain, or tucked in a pine forest overlooking a lake, cabin decor typically pays tribute to nature, while also creating a reprieve from it.
The cozy cabin look is an obvious choice for log homes, Adirondack camps and midcentury A-frames, but it's an appealing decorating idea for anyone after a look that's casual, nostalgic, and welcoming.
15 cabin decor ideas for a welcoming retreat
Whatever the style of your current home, there are country decorating ideas to achieve a cabin decorating look to suit it. Here are 10 beautiful ideas for cozy cabin vibes.
1. Use hides and leather
The textiles you choose for your home play a big part in setting its overall tone and style direction. In this Long Island cabin, choosing materials that speak to nature and the local landscape, like hides and leather, are a key part of this rustic bedroom idea, and help create the cozy atmosphere we associate with cabin decorating.
2. Choose neutrals
If you love the charm of a rough-hewn space, but prefer a more polished or sophisticated style, choose organic, neutral furniture and decor.
Neutrals feel calming and chic, and create a more contemporary design. Opting for organic shapes and fabrics, like un-bleached linen, concrete, and natural wools maintain an elevated look that still fits within the rustic shell of a cabin home.
3. Set the scene with green
If cabins are all about paying homage to nature, then green is the ultimate cabin accent color. Above, designer Kate Hunt of Kathryn Hunt Studio chose a classic subway tile for her clients' cabin bathroom, but instead of going for stark white, she chose a soothing jade color that underscores the home's connection to the outdoors.
4. Incorporate stone
In case we haven't made this clear, the key to decorating a cabin so that it has a sense of place (i.e., it feels like a cabin) is incorporating natural materials to tie the interiors to the outside.
While wood is an obvious choice, especially in log cabins, stone is another must-have material for cabin decor. Try a floor-to-ceiling stone fireplace, or use it to frame your range for a standout rustic kitchen idea, like designer Bria Hammel did for this Stone Lake, Wisconsin, cabin.
5. Retrofit rusticity with reclaimed materials
Just because your home doesn't have a traditional cabin structure doesn't mean you can't make it feel that way inside. If you're looking for a way to make your ski condo feel a little more authentic, for example, or you want to add mountain charm to a new construction, look to reclaimed materials, like salvaged barn board, which lend a authentic, weathered look to any space.
Designer Kate Hunt added historic charm back to her client's gut-renovated Long Island home with reclaimed, salvaged and repurposed materials, including wood from a local barn.
6. Pile on the texture
In a home with a rough-hewn shell, like a log cabin, texture plays a central role in creating an inviting atmosphere. Design firm Rumor Designs achieved a welcoming bedroom idea by mixing a vintage wool rug, a metal and linen bed, and plenty of pillows.
'In our Behr Cabin project, we added character through layers of pillows, throws with plenty of texture and wooden logs mixed with fresh painted chinking to achieve the ultimate cozy feel,' says Lindsey Jamison, lead designer at Rumor Designs.
7. Add camp blankets
Camp blankets, or thick wool blankets often adorned with Southwestern or Adirondack-style prints, are the cabin bedding of choice. Amy Brightman chose them for Warner's Camp, an 1880s farmhouse she owns and designed in the the Adirondack State Park, to create a space she calls 'cozy and true to the area.'
You can purchase similar blankets new from brands like Pendleton or Hudson's Bay, but they're also a flea market favorite and you shouldn't have to search too long to find a vintage version.
8. Go minimalist to let nature shine
If you're after a soothing, zen-like space, take a minimalist approach to cabin decorating. Simple furnishings, white bedding, and few window treatments allow nature and the views beyond the windows to add the decorative element. Plus, sleek design juxtaposed with the rustic architecture of a cabin home creates a balanced, harmonious feel.
9. Create a vintage cabin feel
Cabins are the perfect canvas for vintage finds, so indulge your desire to visit your local antique malls and flea markets.
Items like pennants or camp flags, antler mounts, signs and postcards can be gathered to form a retro wall decor idea, like this one at Camp Wandawega in Wisconsin. Or, start a collection of antique objects like lanterns, oars, skis, or tools to create a display with a story.
10. Add antique pieces
The lived-in nature of antique pieces make them a natural fit for cabin decor.
'In our Cow Creek project, we incorporated a dining table that has been in the owner's family for generations and added tea kettles/pots from the owner's grandmother to bring this slowed-down rural look to life,' says Jamison, whose firm also designed the above space. 'The owner has stories of babies being born on this table way back in the day!'
11. Paint the walls white for a Scandi feel
Cabin decor tends to skew dim and cozy, but there's no hard-and-fast rule that is has to be. Just take a look at the bright and cheery wall paneling idea at the Cedar Point Aframe.
The angled walls of the cabin are painted white to open up a smaller living area, while the perpendicular walls are left au natural. Owner Sarah Scott took a cue from the combination of white and wood tones, and chose a clean-lined sofa and ceiling fan for a Scandinavian look. A vintage chest adds a subtle rustic element.
12. Add leather (and antlers)
This room, at Camp Wandawega, is a study in cabin decorating. It sets the scene with deep colors like rich browns, forest green, and navy, and rounds out the look with the most classic of cabin decorating trios: a pair of leather sofas, taxidermy mounts, and an antler chandelier.
13. Mix old and new for an updated cabin look
'When designing a space, I generally like to get creative and pair old with new,' says Brightman. 'I think the look we achieved here is a blend of mid century and art deco, with a nod to the Adirondack Great Camp style.'
To get the look, layer vintage furnishings with unexpected contemporary pieces, like the white armchair in the corner of the entryway above.
14. Pull your color palette from nature
Since cabins are all about embracing the outdoors, the paint ideas and decorative elements you incorporate into your home should pull from its surroundings.
This entryway from Rumor Designs uses a color palette of sage green, gray-blue, and brown for the walls and furnishings, which are echoed in the Earth-toned rug.
15. Soak in the view
Cabins celebrate nature, and what better vantage point from which to take in the great outdoors than a soaking tub filled to the brim with bubbles? (Especially if it follows a long day on the hiking, biking, or skiing trail).
In this space by Stonorov Workshop Architects the simple, contemporary lines of the Duravit bathtub add just the right amount of modern contrast to this primitive bathroom.
How do you modernize a cabin?
Modernizing a cabin isn't like updating any other home, because the characteristics that may make it feel dated are likely the same ones that give it its rustic charm. So, you can't exactly give it a gut renovation. But, you can achieve both the goal of having a modern cabin space without stripping away its character. Here are a few ideas:
Update kitchens and baths. Perhaps the biggest impact you can make on an old cabin is to update the kitchen and bathrooms. Replacing (or painting) old cabinetry, adding new fixtures, and re-tiling floors can make the entire home feel renewed.
Replace the flooring. Old carpet or peeling linoleum will make your cabin feel dirty and dingy no matter what other updates you do. Replace old flooring with hardwoods, or luxury vinyl plank flooring with a wood look.
Paint a wall or two. Painting interior timber beams can feel like a sacrilege, but it's not. There are a lot of ways to use paint for wood ceiling ideas so it adds character to your cabin. For example, if you own a chalet-style cabin with a pitched interior roof, you can paint the walls below the roofline to preserve the wood tones while adding a modern element. Or, in a bedroom, paint only the wall behind the bed for an accent wall idea that creates a focal point. Even giving an old brick fireplace a coat of black or white paint can make it feel more modern.
Add in modern furnishings. Vintage decor is a natural fit for cabins, but if you use only vintage, you'll run the risk of an older cabin looking like a time capsule. Instead, choose new furniture with clean lines, and pepper in vintage pieces as accents, and a way to tie together new style and old.
Sign up to the Homes & Gardens newsletter
Decor Ideas. Project Inspiration. Expert Advice. Delivered to your inbox.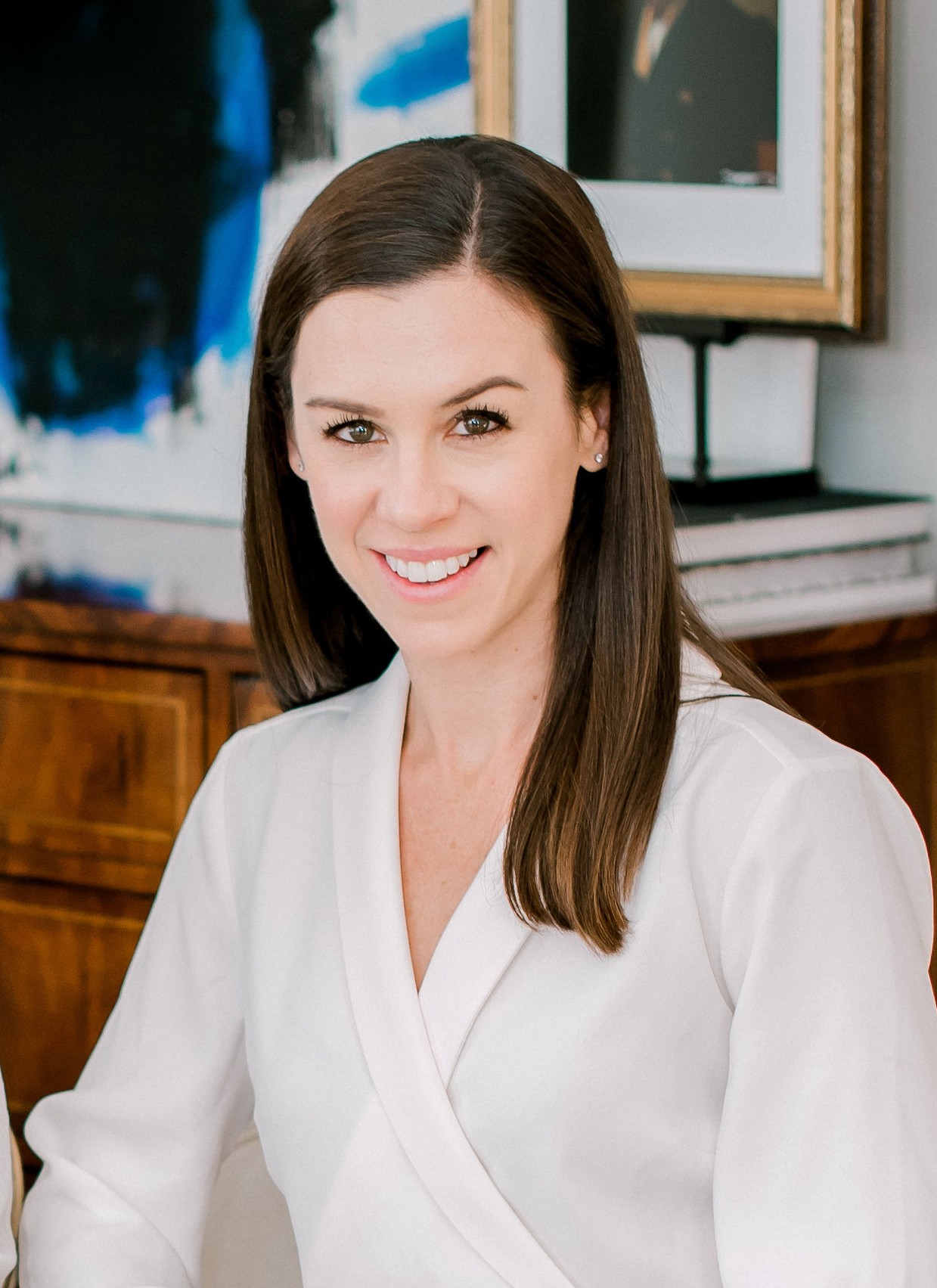 Executive Editor, Homes & Gardens
Kaitlin Madden Armon is a writer and editor covering all things home. Her work has appeared in Real Homes, Architectural Digest, Martha Stewart Living, Refinery29, Modern Luxury Interiors, Wayfair, The Design Network, and lots more. She graduated from Northeastern University with a degree in journalism and currently lives in Connecticut with her husband, three kids, and black lab.