Rustic kitchen ideas – 12 ways to fill your space with period charm
These rustic kitchen ideas will bring cozy character to your kitchen design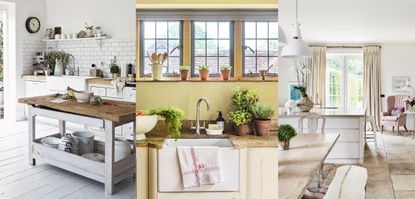 (Image credit: Future)
Sign up to the Homes & Gardens newsletter
Decor Ideas. Project Inspiration. Expert Advice. Delivered to your inbox.
Thank you for signing up to Homes & Gardens. You will receive a verification email shortly.
There was a problem. Please refresh the page and try again.
These rustic kitchen ideas aren't just for rural or period home dwellers. As many of us are spending more times in our homes thoughts have inevitably turned to interior surroundings and how we can make them cozier, more comforting. And for many, that brings to mind a rustic, country aesthetic.
Rustic kitchens are characterized by a pared-back look that celebrates the world of antiques and reclamation, while also bringing the beauty of natural materials to the fore. It's no surprise that they are one of our favorite kitchen ideas. Think wooden cabinetry, repurposed furniture, open shelving and antique-inspired hardware. It is a functional look, edging towards the industrial, but one that also retains the inherent warmth that comes from traditional kitchen ideas.
Rustic kitchen ideas – 12 ways to get the look
A key tenant of rustic kitchen ideas, according to Adrian Bergman, design manager at British Standard by Plain English, is to 'embrace the natural warmth and charm of architectural details in the kitchen such as beams or stone walls, which have aged and weathered over the years'.
However, many homes aren't lucky enough to have these rustic kitchen ideas with which to ground their design, instead 'look to introduce elements such as timber cladding, reclaimed countertops and antique pieces of furniture that have built up that rustic patina over time. Distressed wood is a key component to achieve this look,' continues Adrian.
1. Define your kitchen with a rustic kitchen island
The kitchen island is the central component for any rustic kitchen ideas. Positioned in the center of the room all the other elements of your kitchen design orbit this central point. Therefore, it is vital that you get it right.
A key consideration is its size. Rustic style kitchens usually tend to be smaller and more intimate spaces, and therefore need furniture to match. Your kitchen island doesn't have to be an expansive space, like the sort seen in modern kitchen island ideas. In fact, it can be quite a compact design, a reclaimed butcher's block is perfect.
2. Add interest and color with reclaimed wall tiles
It is important when collating rustic kitchen ideas to pick designs that retain the warmth of the space. Exposed brick walls and stone flooring can lead to the kitchen feeling cold and unloved. Color is a great way to inject a burst of warmth. Pick a palette that evokes a fall garden and you won't go far wrong. Warm oranges, burnt umbers and rich browns set against a cream backdrop will create a cozy environment.
Kitchen tile ideas offer a great and easy way to add in color into your space. These reclaimed tiles from Bert & May add a warm backdrop to the rest of the design, while their slightly faded look ties the rustic kitchen ideas together in a harmonious look.
3. Create an organic space by rejecting symmetry
While symmetry in interior design is an important tool, the opposite often rings true in a rustic kitchen or farmhouse space.
'For rustic kitchens, I like finding ways to balance reclaimed wood with simple neutral cabinetry. The two play so well together and can have a really calming effect on a space. It also helps to not be overly symmetrical with the layout. The looser you are with the space planning, the more organic and natural the kitchen will feel,' advises Greg Dutton, designer at Midland Architecture.
4. Add color to your rustic kitchen ideas with painted cabinetry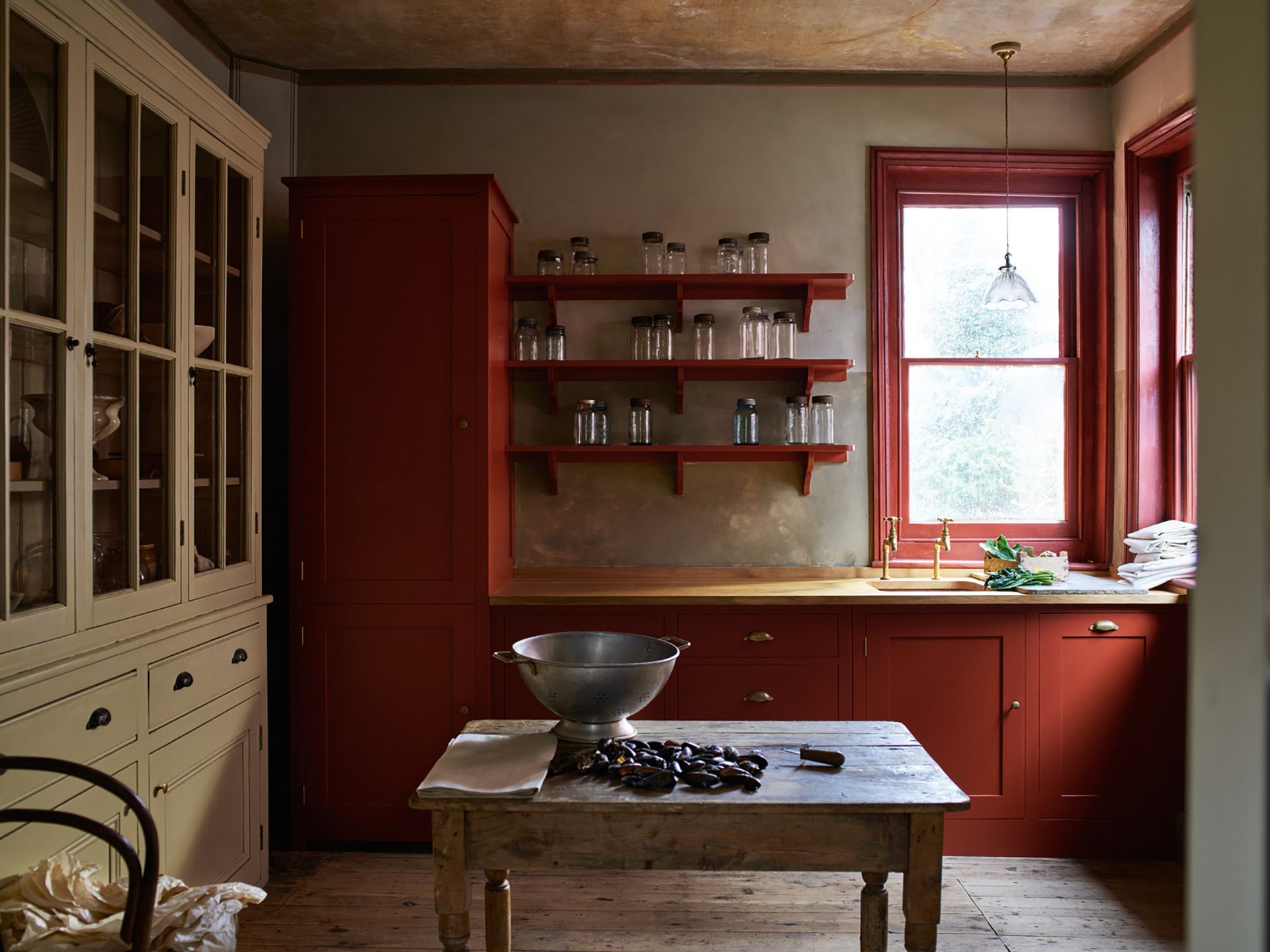 Painted kitchens are having something of a moment. Here, traditional Shaker-style cabinetry in a deep russet shade to bring warmth to a rustic kitchen scheme. Finding the right painted kitchen ideas for your space will breathe life back into dull cabinetry and is also easy to update in the future.
Pair with exposed wooden floorboards, worn wooden table and exposed plaster walls to counteract the modern look of the cabinetry. Brighten a dark kitchen by painting the window surround in the same warm tones to draw the eye and emphasise the natural light entering the room.
5. Use open shelving to give your rustic kitchen character
Add to the homely and lived-in atmosphere of your rustic kitchen by creating a functional display on open kitchen shelving ideas. Showcase antique tableware, vintage finds and accessories on open shelving, like this original beech pantry rack by Jamb.
'Having raw or organic items on display also adds to the charm of a rustic kitchen. Think glass storage jars filled with oats or flour, bowls of artichokes, a loaf of sourdough within its waxed paper, and pots and pans hanging from a ceiling rack,' says Jen & Mar, co-founders of Interior Fox. Complete your jars with chalkboard labels to add to the rustic look.
6. Establish a rustic backdrop for your kitchen with a durable stone floor
All stone flooring types offer timeless style that will only enhance any rustic kitchen ideas – it leaves a lasting impression that only gets better with age. 'Stone is one of the most natural, versatile products in the world. A good-quality stone floor, which has been installed well and sealed properly will help to add value to your home. A stone floor has many advantages including beauty and durability, making it perfect for high traffic areas such as the kitchen,' Jason Cherrington, director at Lapicida.
Opt for stone flooring in a dark shade, like Floors of Stone's Mohala grey limestone, as this is more tolerant of the stains and spills which are inevitable in the kitchen. Also select stones with a tumbled surface and edge as this process instantly ages the look and will make it seem as though your flooring has been in situ for centuries.
7. Blend rustic chic with modern cabinetry
Combining the worlds of modern kitchen ideas and rustic kitchen ideas can seem like an unachievable task. However, the key is balance.
Start by creating a rustic backdrop to the space. Celebrate the rustic bones of the room and make features of exposed brickwork and beams. In this kitchen, the warmth of the exposed brick wall is echoed in the red brick flooring. The warm wooden door and beam over the unused fireplace further add to the character for the space.
Having established a rustic look, you can then pair this with modern kitchen cabinet ideas and barstools for a contemporary space that still embraces rustic kitchen ideas. Complete your design with aged brass hardware, such as sockets, light fittings and door handles to give a nod to period design.
8. Incorporate natural materials into your rustic kitchen ideas
The rustic ethos is all about celebrating natural materials and making them core to your rustic kitchen design. When searching for kitchen sink ideas, this is a good ethos to bear in mind.
This Yorkshire stone sink, from Hush Kitchens, retains the character and undulations of the original stone and has been paired with an aged zinc countertop and backsplash which is both hardwearing and beautiful. Mixing materials and textures like this is a great way to add depth to your design, while still retaining an edge of modernity.
'To modernize the rustic appearance opt for stainless steel appliances or try painting your cupboards in a more contemporary color,' says Adrian Bergman.
9. Introduce softer elements into your rustic kitchen ideas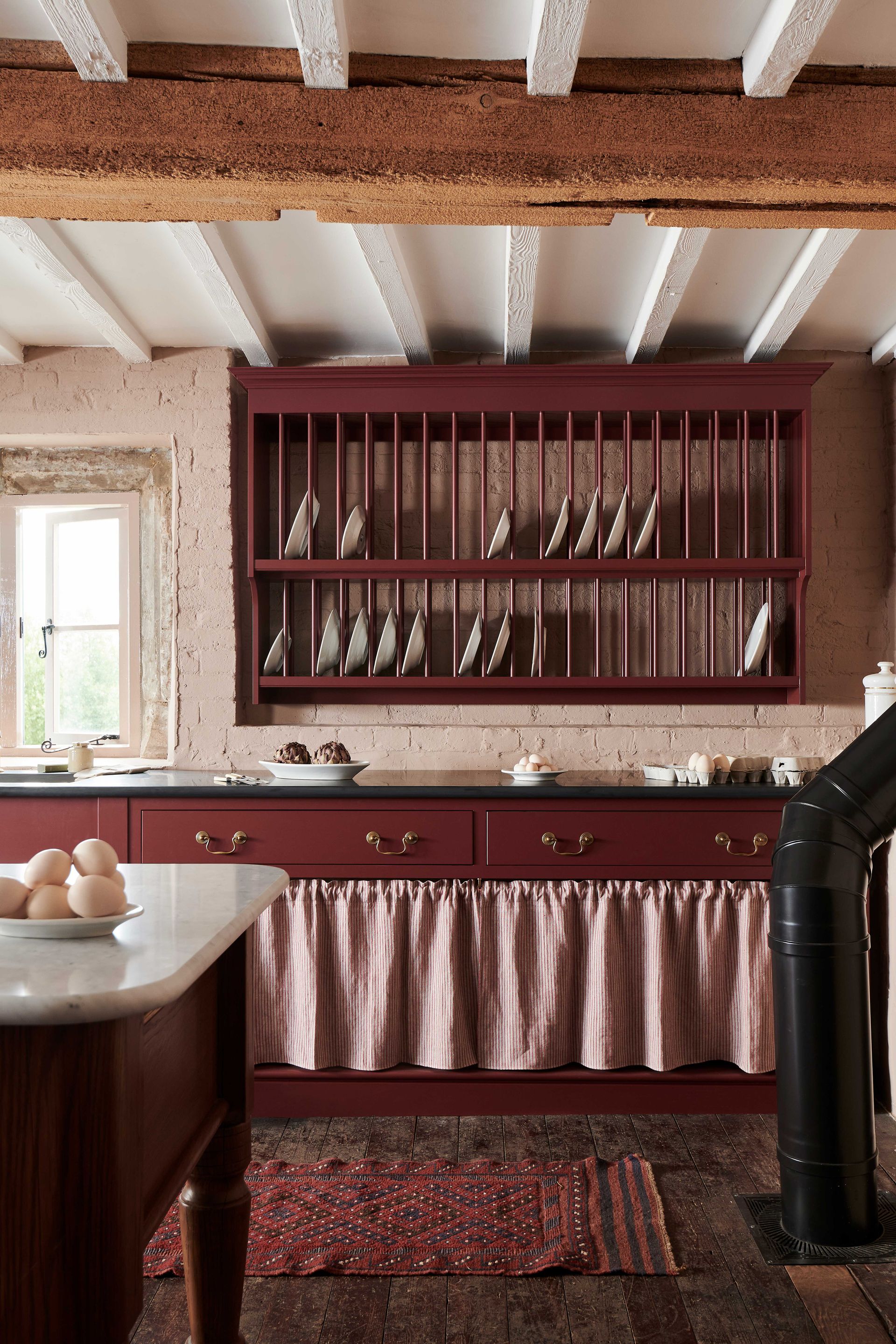 Be sure not to overlook the softer touches in your rustic kitchen ideas. Open kitchen shelving is the ideal way to add personality to your kitchen – offering a space to showcase your crockery while also keeping it accessible. Try dressing your cabinetry with fabric as opposed to solid drawers for a softer edge that evokes vintage kitchen ideas.
10. Display rustic finds and vintage accessories in a kitchen dresser
'Designing a rustic kitchen is not just about the kitchen style you decide to go for – it's about the lived-in feel that it creates,' advises Leisha Norman, designer at Harvey Jones.
Adding a freestanding dresser, like this classic design from Neptune, gives you the space to display vintage finds and add your own personality to your space and evoke the essence of rustic kitchen ideas. 'Incorporate antique details and display pre-loved ornaments that won't overpower the room, but will still give it a charming, welcoming feel,' continues Leisha.
11. Add pops of color to increase warmth in your rustic kitchen ideas
Available in every shade of the rainbow, the range cooker makes for a charming centerpiece in rustic kitchens and country kitchens alike. However, they offer so much more than just a pop of color. The powerhouse of the kitchen, its radiating heat creates a warm welcome, while its generous ovens offer the perfect space to cook delicious meals for all the family. This range cooker from Lacanche adopts a warm orange shade that brings both visual and physical warmth to the room.
12. Optimize storage with wall to ceiling cabinetry
Installing built-in cabinetry against one wall helps achieve the minimalist kitchen look by offering plenty of kitchen storage ideas that will help to keep your kitchen tidy and organized. Pair with a library ladder, as in this kitchen by Heaven & Stubbs, to add a quintessentially rustic detail as well as helping you reach the highest cupboards.
Adding an expanse of cabinetry also offers the opportunity to bring color into the space. If positioned opposite a window, opt for a light color that will help to increase natural light by reflecting it back into the room. Alternatively, if you have a larger kitchen, you can experiment with some bolder colors to incorporate your own personality into the space.
How do you mix elegant and rustic style?
You can mix elegant and rustic style by combining new cabinetry with larger reclaimed freestanding pieces and rustic accessories.
'The best way to tie together older pieces with new elegant cabinetry is to use vintage inspired hardware and taps,' advises Jen & Mar, co-founders of Interior Fox. 'Try using an antiqued bronze which almost looks black but has a bit of warmth and charm, or you could use oversized aged brass taps as another way to tie old and new. The styling will also help tie the space together when you incorporate vintage or repurposed art, ceramic pots, and linen napkins and tablecloths,'
How do you brighten a rustic kitchen?
You can brighten a rustic kitchen by maximizing the light that floods into the room. Opt for reflective and glazed surfaces opposite windows to help the light bounce back into the room. You could even increase the number of windows in your kitchen. However, if that's not an option 'then your choice of paint color can transform the space. The materials will bring a natural warmth so choosing a pale neutral will do the trick,' advises Adrian Bergman, Design Manager at British Standard by Plain English.
Sign up to the Homes & Gardens newsletter
Decor Ideas. Project Inspiration. Expert Advice. Delivered to your inbox.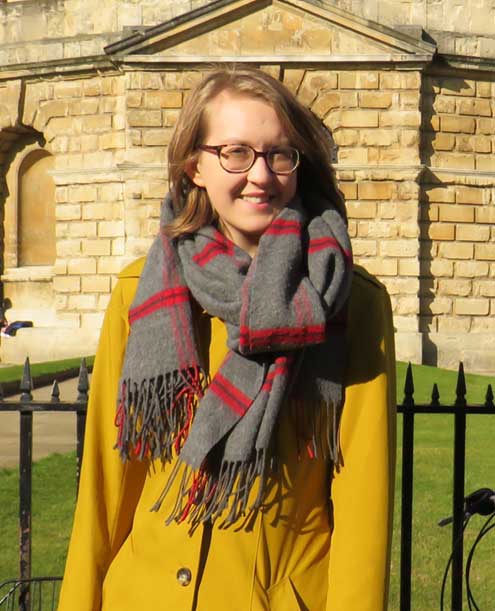 Content Editor and Sub-editor
Having graduated with a first class degree in English Literature, Holly started her career as a features writer and sub-editor at Period Living magazine, Homes & Gardens' sister title. Working on Period Living brought with it insight into the complexities of owning and caring for period homes, from interior decorating through to choosing the right windows and the challenges of extending. This has led to a passion for traditional interiors, particularly the country-look. Writing for the Homes & Gardens website as a content editor, alongside regular features for Period Living and Country Homes & Interiors magazines, has enabled her to broaden her writing to incorporate her interests in gardening, wildlife and nature.