The five pantry design rules only kitchen experts know – but you should too
These pantry design secrets will ensure even the smallest of spaces is indispensible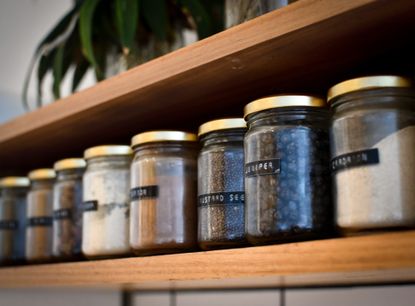 (Image credit: Heather McKean/Unsplash)
Pantry design is sometimes somewhat overlooked. Typically a functional space for storage, it can easily become overrun with spices, dry pasta, over-purchased items and other small kitchen appliances. But what if we told you that even the smallest of pantries can be efficient, user-friendly and aesthetically pleasing all at once?
From space-conscious cabinets to clever walk-in ideas, there are many fantastic pantry ideas to copy for a space that's really well designed. To get to the absolute core pantry design rules, we spoke to five interior experts who share their top tips.
1. Design in innovative storage for easy access
Pantry design rule number one: pull-out storage is a must for easy access. After all, pantries can get in a mess when we are looking for an item all the way at the back, or when our shelves get filled with clutter.
Enhance your available shelf space by installing pull out kitchen cabinets or installing a two-tiered Lazy Susan to allow for each access to your items. Take advantage of empty, vertical spaces by placing risers in cabinets. This will separate items that usually get bundled together.
'A successful pantry is all about optimized storage and luxury is created through a well thought out use of space. We always recommend using layered pull-out drawers that enable the use of the whole drawer depth whilst maintaining easy access to items within,' Lena Cottray, Senior Designer at Rigby&Rigby.
'This is particularly important in optimizing smaller spaces. Vertical pull-outs are also a good way of utilizing leftover spaces in a cabinetry run.
'Make sure the shelving you install is adjustable and consider the integration of an interchangeable labeling system for optimum organization,' she adds.
2. Ensure shelf depths are just right
Pantry design rule number two: pantry shelf depth. This might seem like a small detail but it is actually vital to get right if your storage is to be really useful and the items on the shelves accessible. The agreed best depth of pantry shelves is 16 inches to 20 inches deep. However, if you have a tiny pantry space, shelves the depth of just one tin – four to five inches – will still be useful. Bear in mind that shelves that are too deep will require constant restacking to ensure items don't become out of date.
The upper shelves will also benefit from being shallower, unless of course, you have space – perhaps on the back of the door – to store a foldaway step ladder to make seldom used items easier to access.
See: Pantry organization tips – our top ways to keep yours clutter-free
3. Designate zones in the pantry to different uses
Pantry design rule number three: designate zones in the pantry at the design stage for different types of items.
This will affect the storage and shelf depth you choose and it's a niche design detail that's really worth taking care of early on. So, you might need a deep shelf just for cereal packets, for example, or shallow, high-up shelves just for seldom-used or seasonal items, or a door-hung spice rack to free up drawer and shelf space around the walls.
Color coding these sections can make finding items quickly even easier.
'Color coordination and category coordination are the perfect way to design your pantry,' explains Ella Jade. 'Use parallel lines to stack your shelves, and organize using color, category, and also height to create the most beautifully designed pantry.'
4. Make room for counter space
Pantry design rule number four: make space for a counter – if you can.
Pantries, like laundry rooms, often serve double duty in the never-ending search for storage space. Try to install a mixture of cabinets, drawers, and counter space in your pantry, obviously, but incorporating counter space in even a small pantry will make it easier to place your shopping bags down and pack everything away into its designated spot.
5. Use a pantry door to its full potential
Pantry rule number five: pantry doors should never be overlooked for useful opportunities.
If you're unsure where to begin when designing a pantry or renovating one, start with your door. Whether you have a small or large walk-in pantry, you will want to cover up the inevitable clutter. When considering what type of pantry door to invest in, deliberate its function. Perhaps you would like to turn your doors into more storage, or for chalkboards for family members to write sweet notes or grocery lists. The only exception to the rule? When you have a small kitchen and want to install a sliding barn door to save space.
'A pantry door can serve as a visual and audible barrier for your secondary storage area, particularly if it houses your dishwasher. We have had a lot of requests from clients for glazed pantry doors in order to make space feel as though it isn't entirely separate from the kitchen,' says Jennifer Jarvis, Senior Designer at Helen Green Design.
See: Under stairs pantry ideas – dream larder cupboards to sit beneath a staircase
'Steel framed doors with internal glazing are a great way to make a design statement whilst still showing off the attention to detail and design of the internal joinery of the pantry. A freestanding pantry cabinet can be great for smaller spaces. They work well as breakfast stations and you can utilize the inside of the doors as additional storage that, when opened, are easily accessible.'
Sign up to the Homes & Gardens newsletter
Decor Ideas. Project Inspiration. Expert Advice. Delivered to your inbox.
As the Deputy Editor of Livingetc's print version, Busola Evans works across both the physical magazine and digital and specializes in kitchens, bathrooms and projects. She is an expert at explaining how to improve, extend and convert your home. Prior to her current role, she was Associate Editor on both Livingetc and Homes & Gardens, where she authored kitchen and bathroom articles. Busola has also written for The Guardian, The Sunday Times Magazine and Grazia, and was an interiors columnist for the London Evening Standard's ES Magazine.